It's pumpkin spice time of year!
So whip out the cute Halloween print fabric you've stashed away all year and sew up some (non-sugary) treats with the Funky Friends Factory Halloween patterns!
Let's start with the MOST POPULAR Halloween Patterns
The most popular of the Funky  Friends Factory patterns which were specifically designed for Halloween, are Whitney Witch, and Batty Bat and Boo the Ghost but the Silly Scrap Snake and Patch Pussycat are also popular. Check out the examples of these patterns below, along with some regular Funky Friends in autumn-theme fabrics.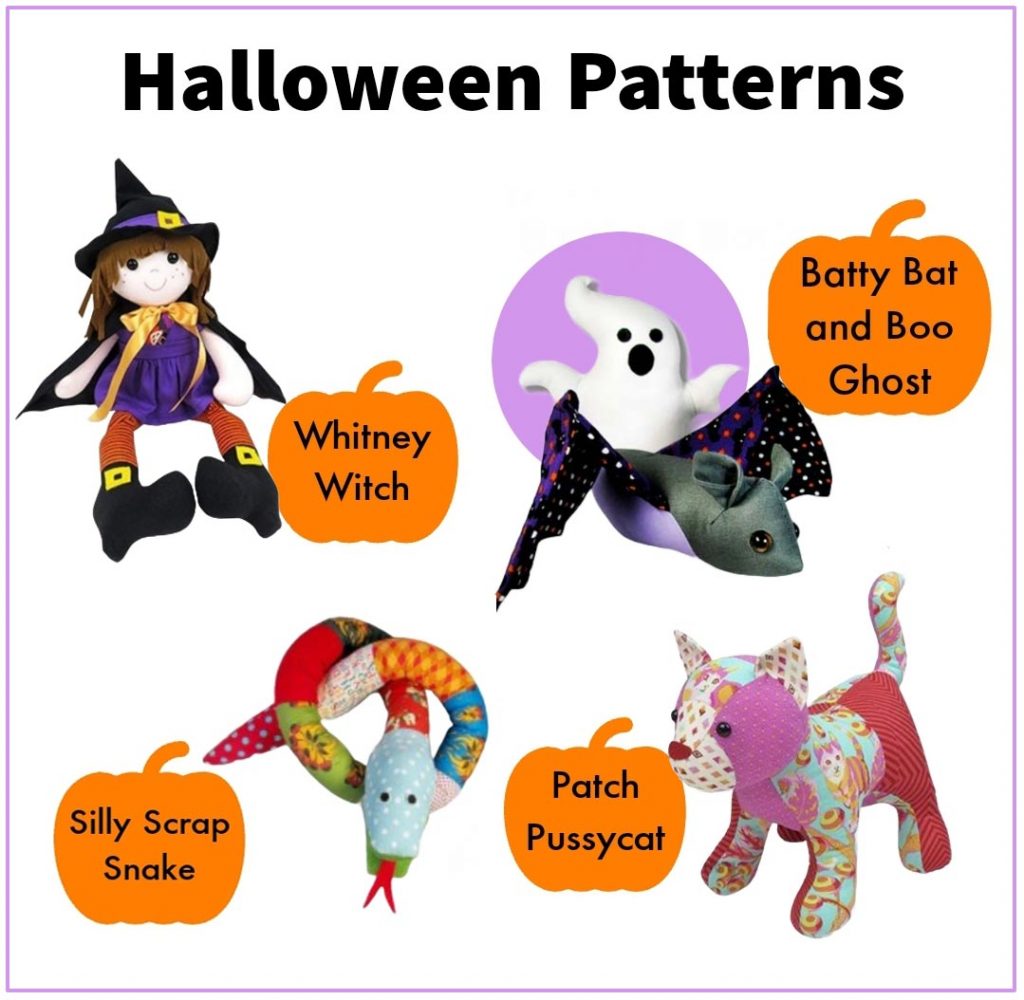 Some (NOT so scary) Ghosts!
Jennifer Newman Brown whipped up some spooky treats with Boo the Ghost…
LOOK ~>
Ghosts don't have
to be WHITE!!!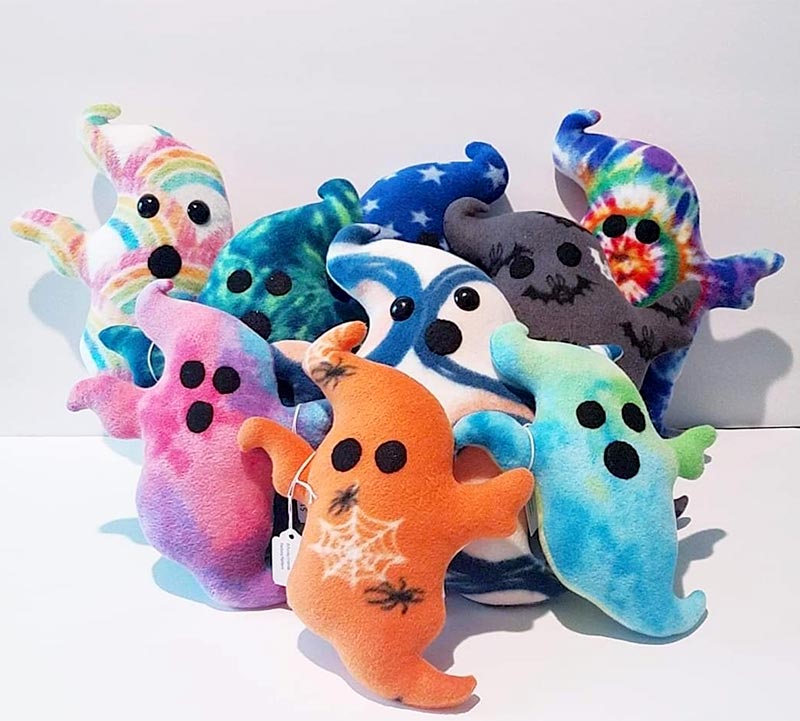 AND this sweet combo of Halloween Funky Friends toys was sewn by Jonell Hart. She added some cord to hang Batty Bat & Boo the Ghost for Halloween decorations!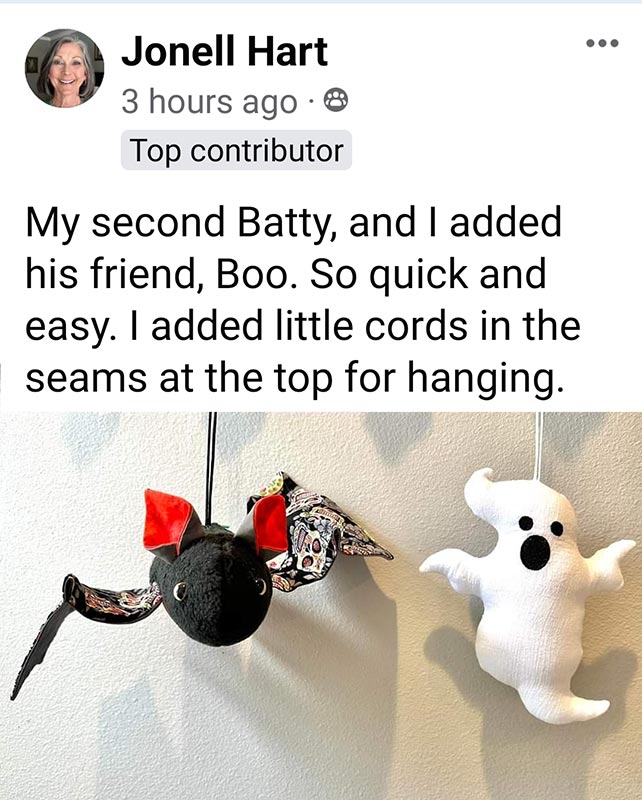 Click HERE to purchase the Bat & Ghost Pattern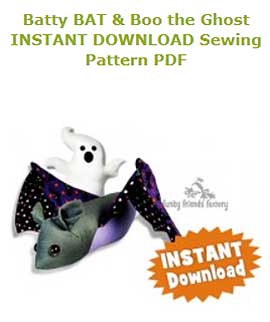 Next, a sweet couple of Witch toys!
Inga Feldhaus used a fun combo of spots and stripes for her adorable Whitney Witch.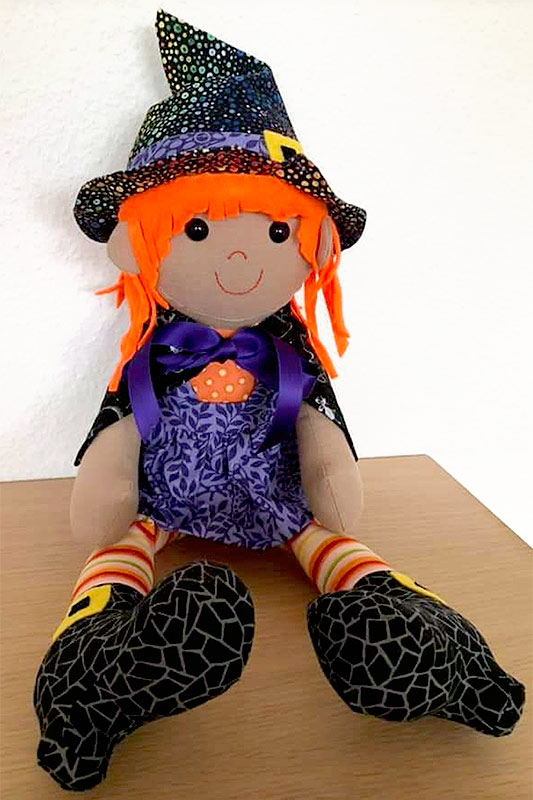 AND this sweet Whitney Witch, was spotted sitting on some bolts of Halloween fabric in the Oh Sew Sweet Shop in the UK. (They are my Funky Friends Factory distributor in the United Kingdom for my printed patterns)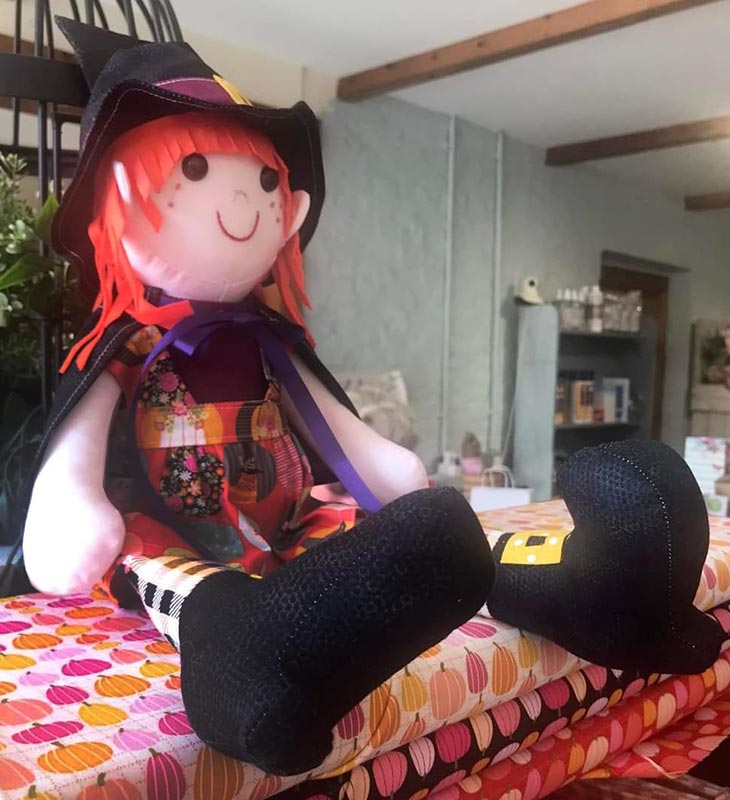 Click HERE to purchase the Witch Sewing pattern.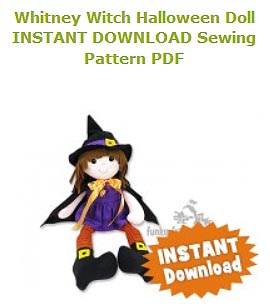 It's not All Hallow's Eve without a black cat!
Lindy Eversole's Patch Pussycat has a coy, kitten-ish look to it…
Isn't she perfect
for a sewing buddy?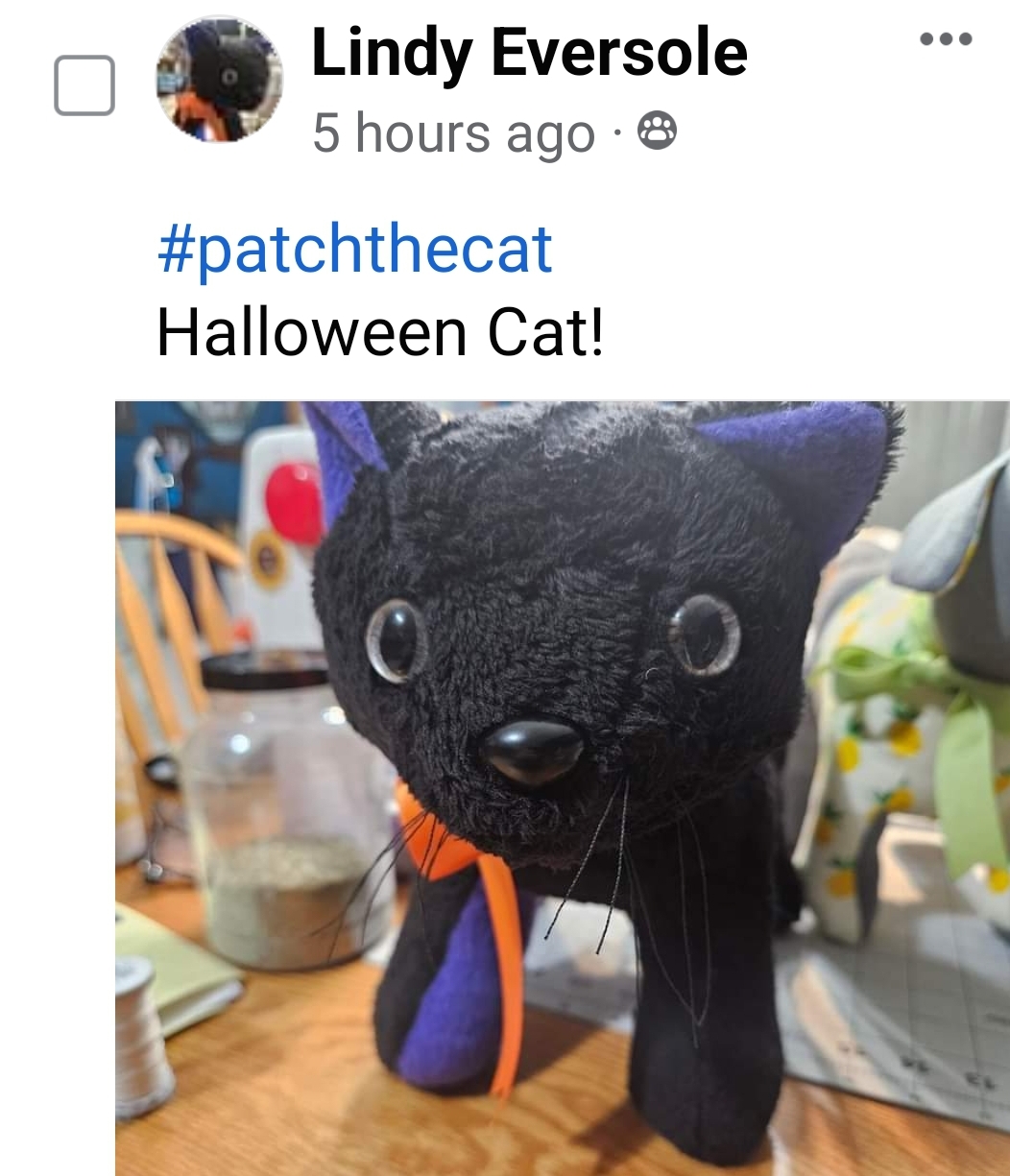 Pam Collins sewed up Patch Pussycat for the occasion in Halloween print quilting fabrics. What's NOT to love about cats and pumpkins? 🐈‍⬛🎃

This terrific trio of Patch Pussycats was sewn by Stacie Elkins.
Don't they look
'fantastically Halloweeny'?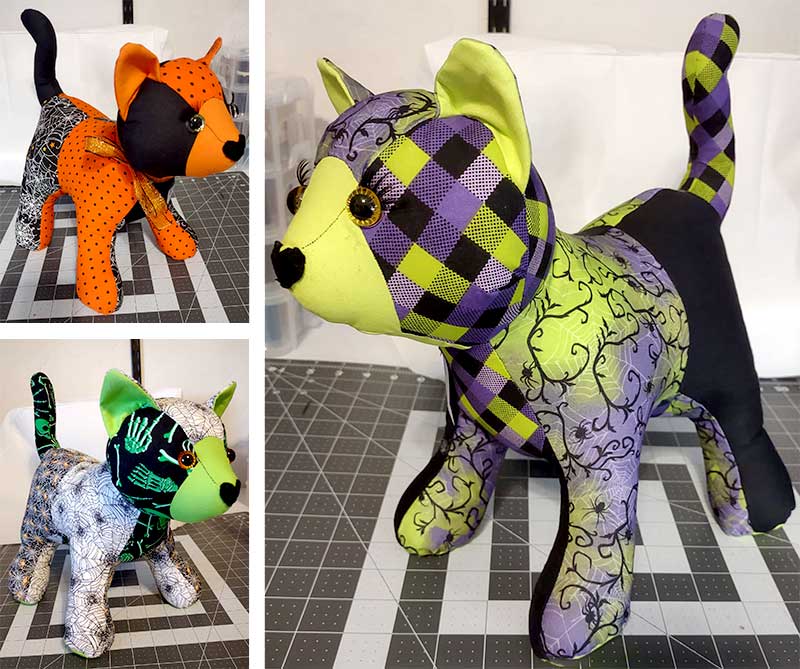 I LOVED all the Halloween Patch Pussycats Stacie Elkins sewed I had to add some more…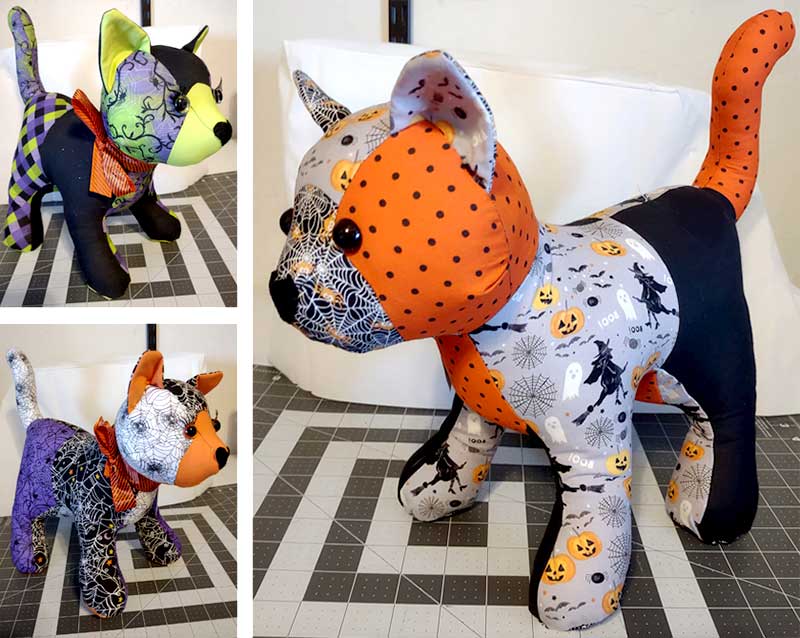 Click HERE to purchase the Cat Sewing pattern.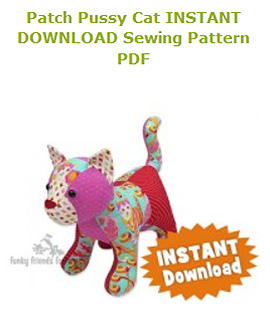 Other (non-Halloween) Patterns Sewn up for Halloween!
Betsy Ray sewed up the Silly Scrap Snake Sewing Pattern for Halloween in spider prints! 🕷️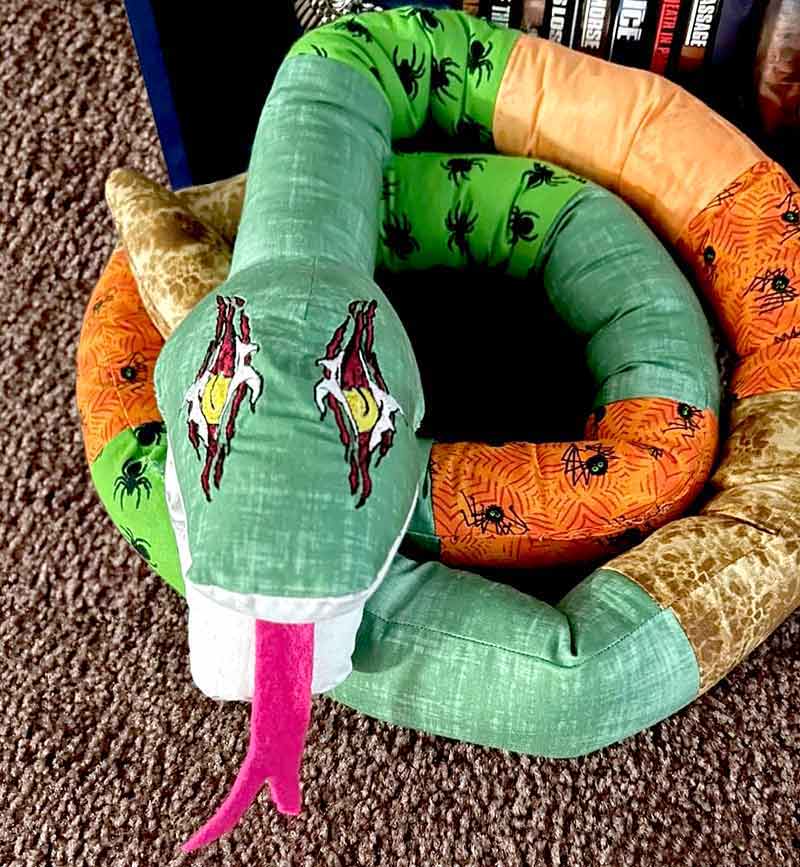 Click HERE to buy the Scrap Snake Sewing Pattern.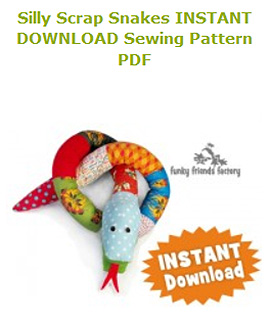 Teddy Bear pattern sewn for Halloween
I love this Ben the BEGINNER Bear sewn for Halloween by Nancy M Ciccosanti from a T-shirt. What a cool keepsake bear!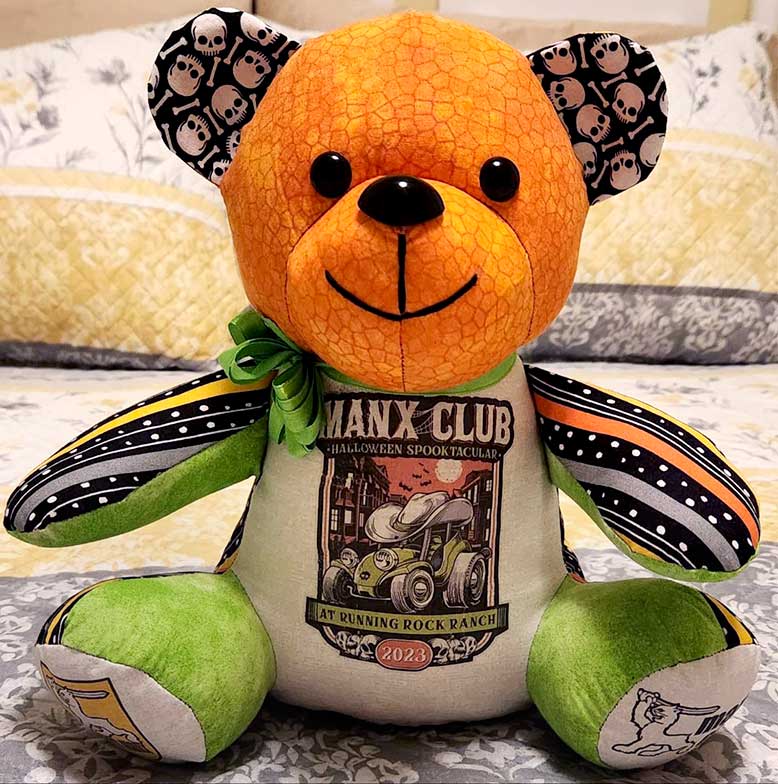 Click HERE to buy the BEGINNER Bear pattern.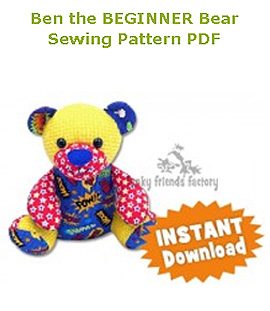 We had some super cute memory bears this month!
This Melody Memory Bear was sewn by Julie Silguero Garza. She has fussy-cut her fabric so the spider is in the centre of the dears forehead!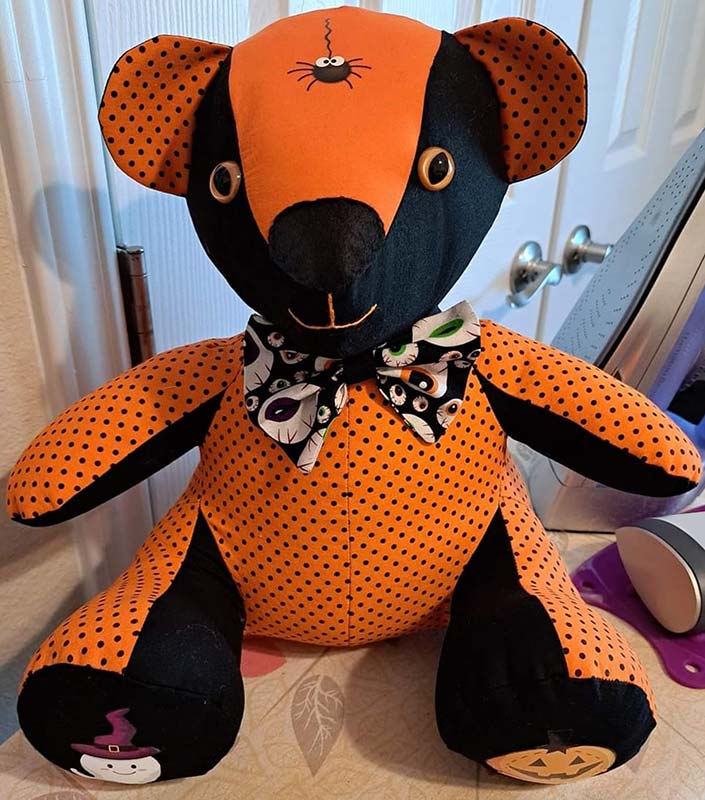 Click HERE to purchase the Melody Memory Bear Pattern.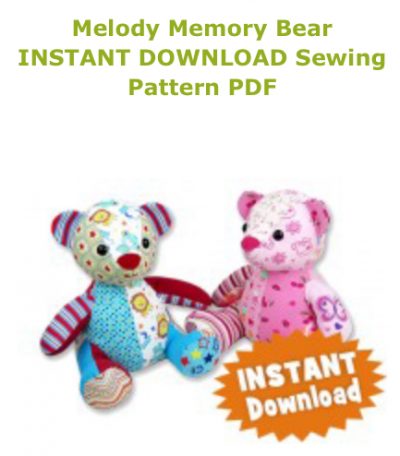 Candy Corn Critters!
This candy corn  Batty Bat & Boo the Ghost was sewn by Jonell Hart using Halloween fabric.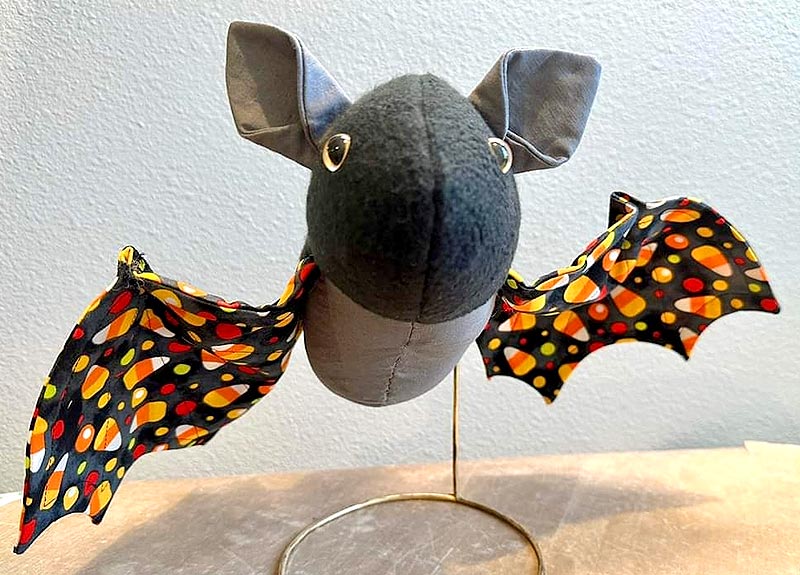 Click HERE to purchase the Bat & Ghost Pattern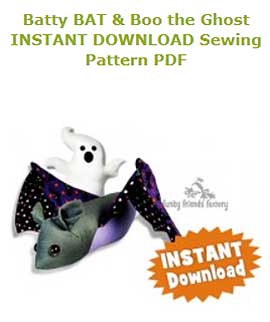 Look how cute Sue Squirrel looks sewn by Jenell Wilbanks – she used Halloween fabric with candy corn!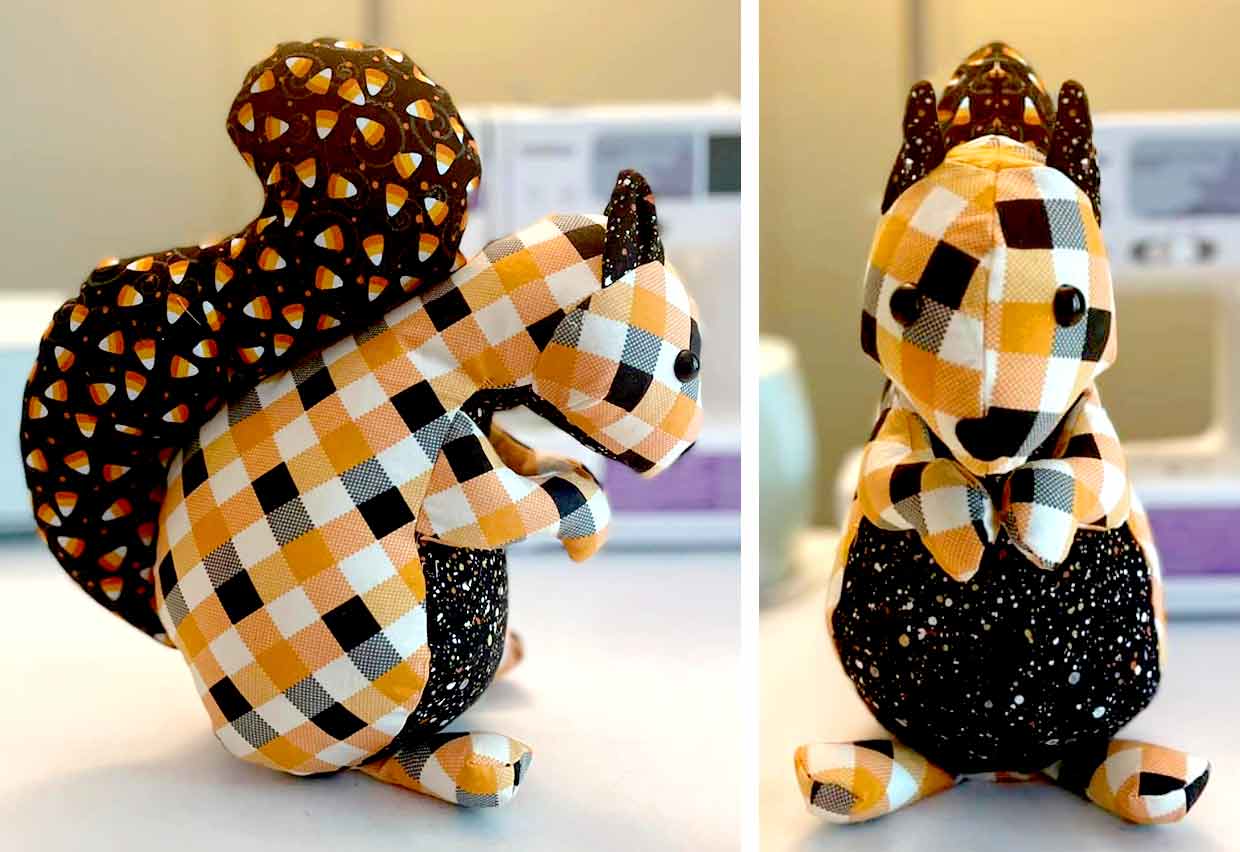 Click HERE to buy the Squirrel pattern.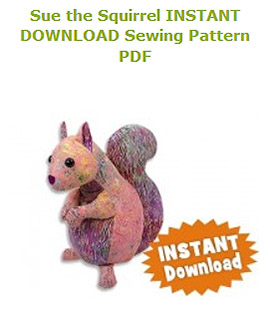 This Kelsey Keepsake Unicorn is from LAST year's Halloween feedback pics BUT I love it so much I wanted to show it off again because Jonell Hart has used candy corn colors to create a perfect candy corn tribute!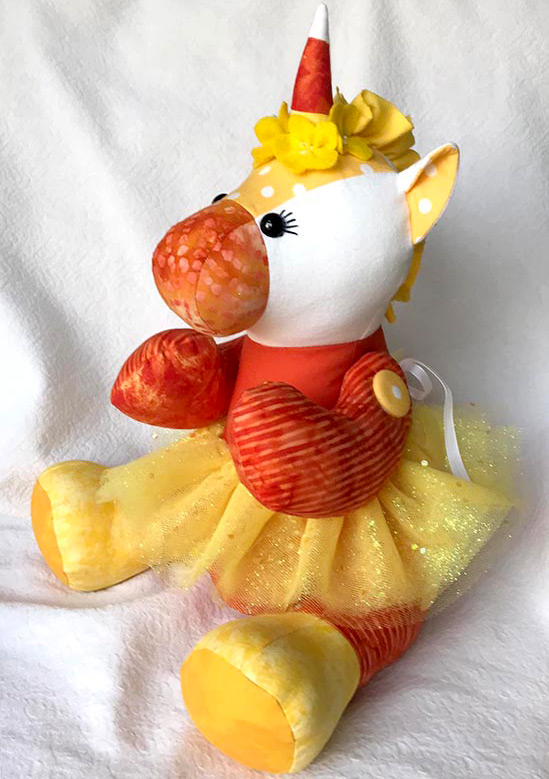 Click HERE to purchase the Keepsake Unicorn pattern.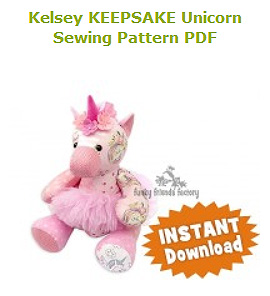 Still want to see more Halloween toys?
You can checkout some Halloween toys from 2022 HERE and also Halloween toys from 2021 HERE (including a free Dracula costume add-on (for your toys) in this blog post)!

Can't wait to see your Halloween toys!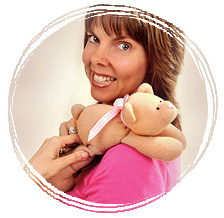 Till next time, happy sewing!
Pauline
xxx