Posted under A day in my lifeBlogFFF NewsInspirationsOther crafty stuff I love!Toy-making TIPS & TUTORIALS on 2018-01-24 11:37:23
I was only going to tell my newsletter subscribers about this HUGE, BIG, exciting project that I am working on because I was a little nervous about how it was going to be received. My newsletter subscribers are my biggest fans – they're always keen to hear from me, they love it when I release a new pattern and I think they generally (genuinely?) love what I do. So THEY would be the most forgiving audience, which is very important when you're trying
Online LIVE VIDEO CALLS




for the first time!!!
It seems… they are LOVING the LIVE CALLS… and I am having such fun!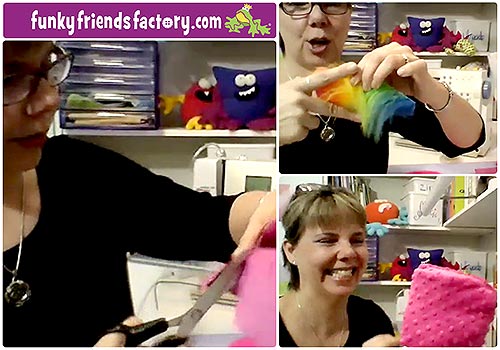 So I want to let you know – there's still time for yout come join us! As a grand kick-off celebration for the Sew Many Funky Friends Club… I'll tell you more about that later, I'm hosting a
FREE online
MONSTER SEW-ALONG!
The sew-along centred around my easy monster sewing pattern – The Mix & Match Monsters pattern. It's a quick, SIMPLE toy sewing pattern so you can ALL come and sew with me! AND guess what – if you come and join in for the MONSTER SEW-ALONG you will get the pattern for free!