I knew it was going to be tough to select the Testers for my NEW Highland Cow pattern when we had almost 1500 names suggested in our competition to choose her name!!! (I think that's a new  record!) So without further ado, here she is…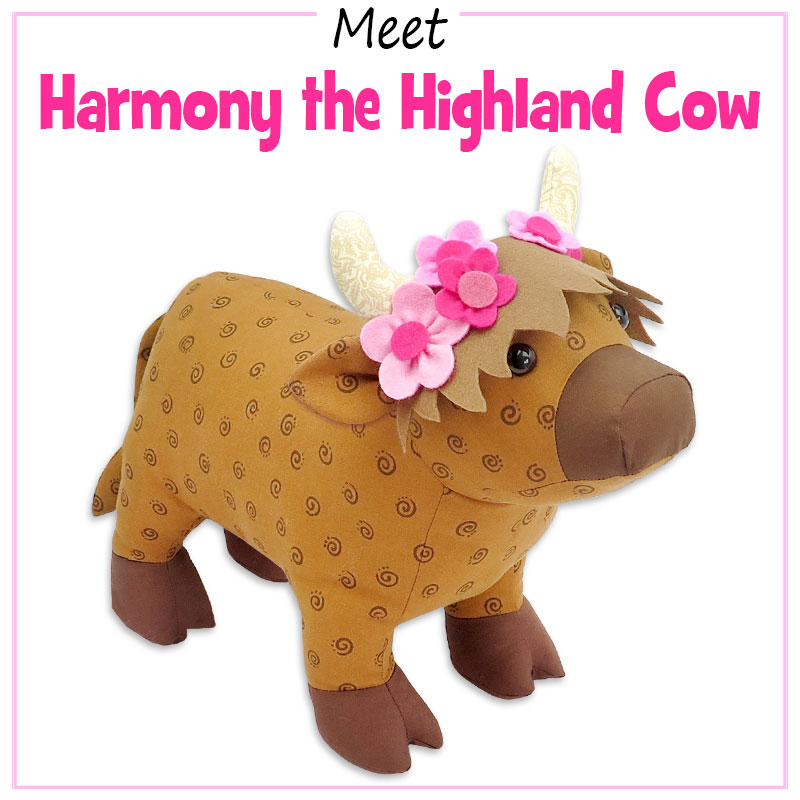 What fabric can I use to sew this toy Highland Cow?
I am very excited because Harmony the Highland Cow looks equally good in woven fabrics (like quilting cottons) AND fluffy fabrics like fleece, minky, Shannon's Cuddle AND Fake Fur!!! There areMORE fabulous feedback photos below BUT here you can see a beautiful Harmony Highland Cow sewn by Caroline Howse – so you can see how FUN Harmony looks in fur!
LOOK how cute
Harmony looks from behind!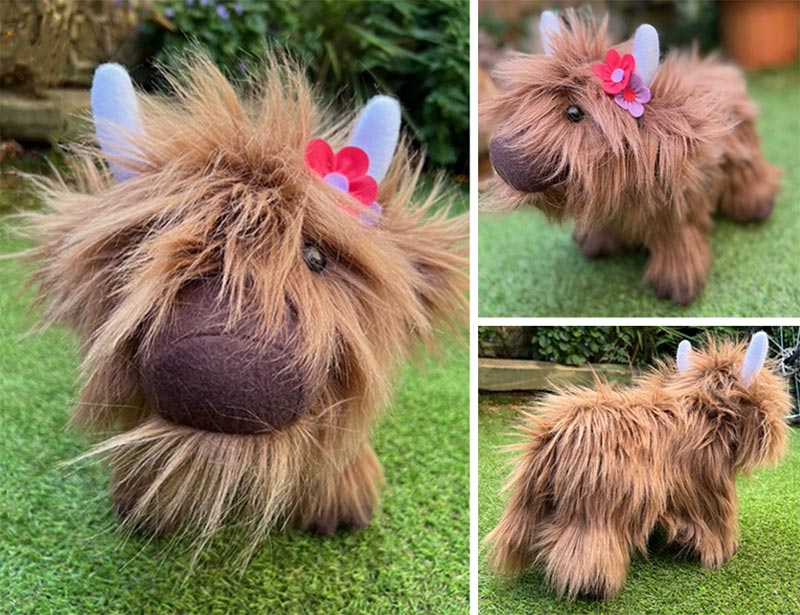 Fabric TIP:

You don't need fur – the felt FORELOCK PIECE is included in the pattern! (ALL the FLOWER PIECES are included in the pattern as well!)
What SIZE is the finished

Highland Cow

?
39cm / 15½inch long and 30cm / 12inch tall. She's a perfect toy for kids or decor item for trendy homes. 
Courtney Schreiner of Monkey in the Mailbox sewed this sweet Highland Cow from Shannon Cuddle fabrics  – such a sweet sisterly shot! 💜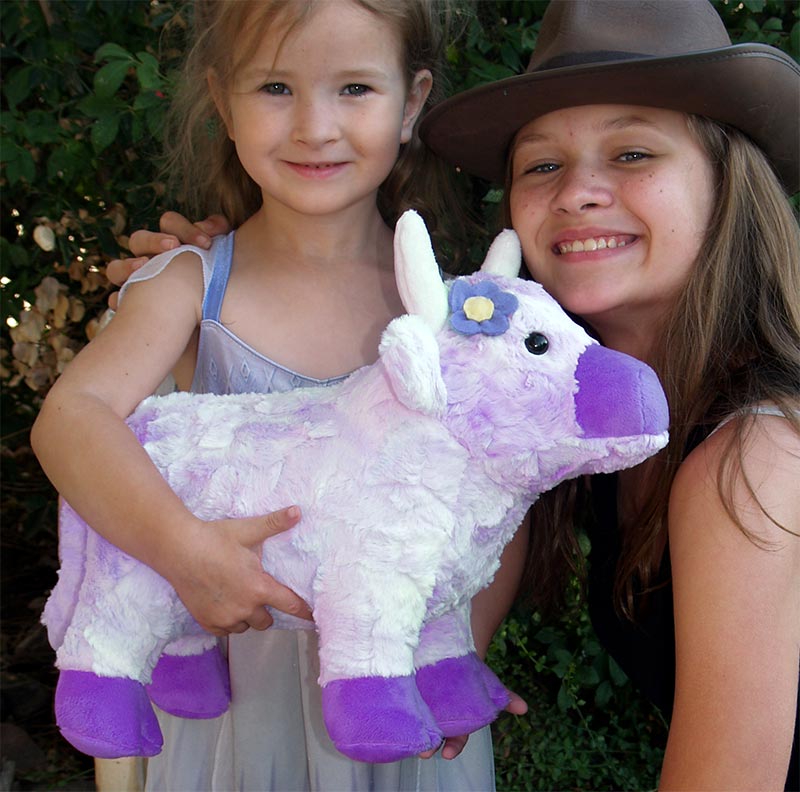 Is there a Photo tutorial for the Highland Coo (Cow) Pattern?
YES! I have created a step-by-step photo tutorial so you can see EXACTLY how to sew this cute Highland Cow Pattern – with lots of clever keepsake making tips and tricks!  As usual, you can access the tutorial using the link in the See-Me-Sew section of the pattern.
(*Please check you typed this link in correctly,
~> or you'll get an error page! 😱 )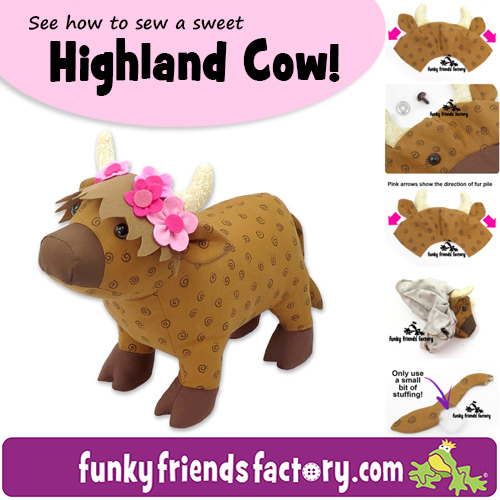 Is she easy to sew?
The Tester's feedback was that this would be a pattern for an advanced beginner.  I think someone who in mew to sewing might find the small pieces hard to sew – like the ears and hooves… but I wouldn't let that put you off if you want to sew your own Highland Cow – I bet you CAN! 👍
Here are just some of the lovely feedback photos…
This cute keepsake Highland Cow was sewn from pre loved clothing items by Elizabeth Percival of Dolli-Mixtures Keepsakes. If you look closely at her FORELOCK you can see that Elizabeth used 2 layers of needlecord sewn together from a piece of clothing! What an adorable memory toy! 💗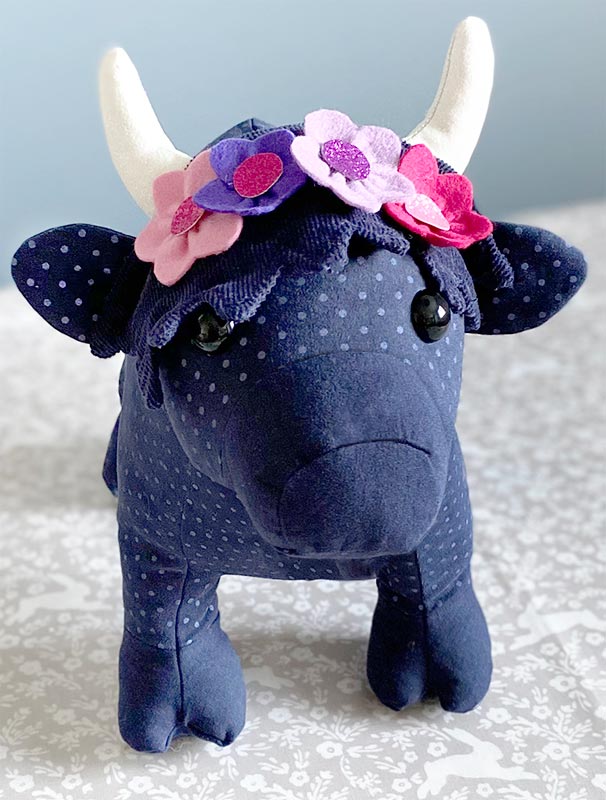 Paula Blevins used short-pile fake fur for her happy little Harmony Highland Cow… with some log-pile fur for her FORELOCK…. and the colour combo of her felt flower looks like she's wearing a daffodil!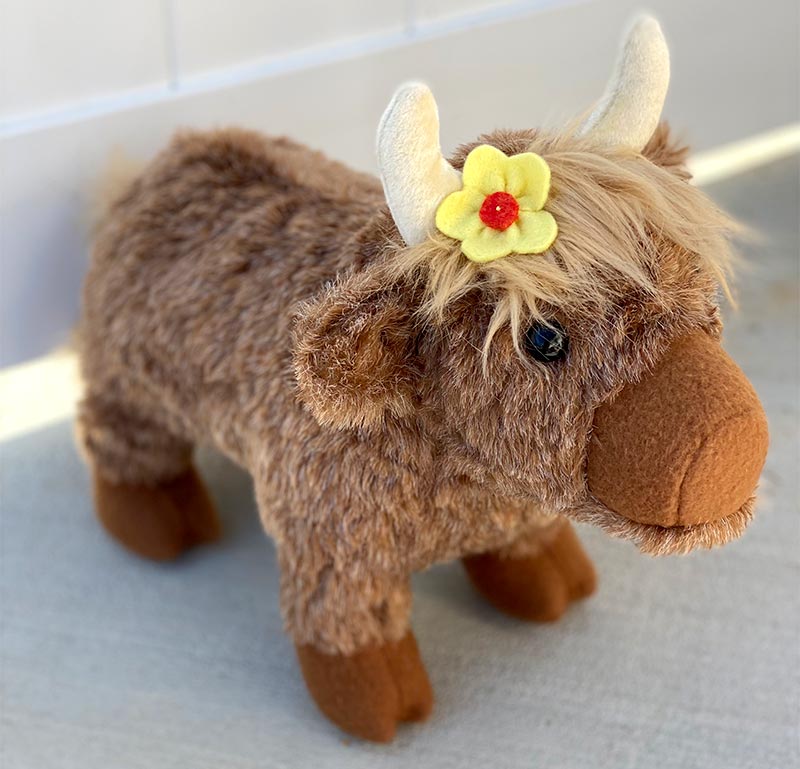 Holly Boatright used some interesting fabrics for her BEAUTIFUL Harmony Highland Cow – I love the leather look of her snout amd hooves!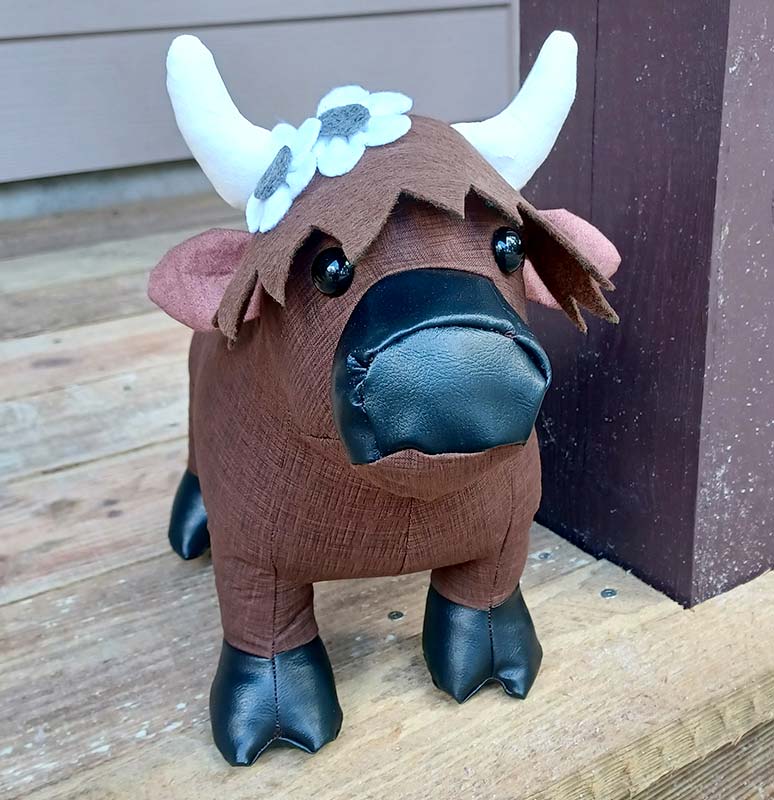 This happy Harmony Highland Cow sewn by Sandy Thurlow looks like she's plotting her escape to the heather fields…. or should I say lavender fields!!!!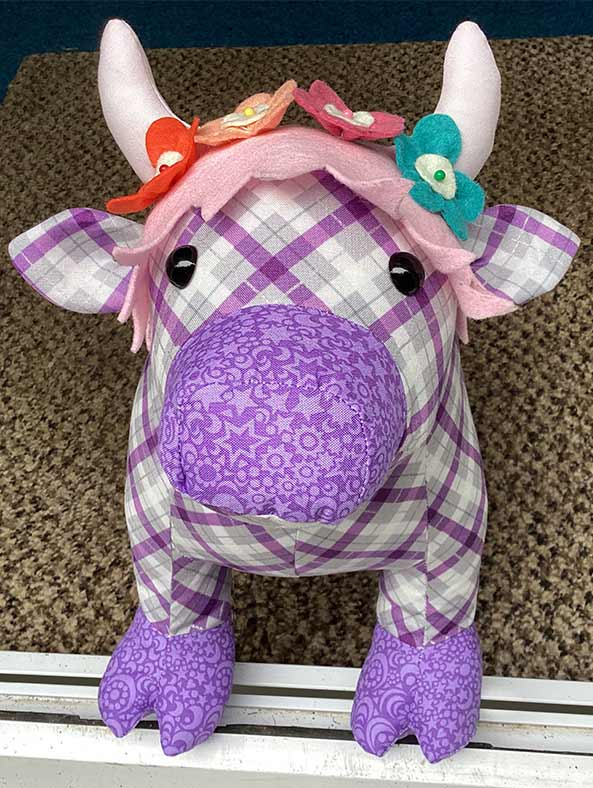 You can get an idea of her size – here you can see Harmony the Highland Cow sewn by Lindsey Mortimer, perfectly poised on a pretty garden seat!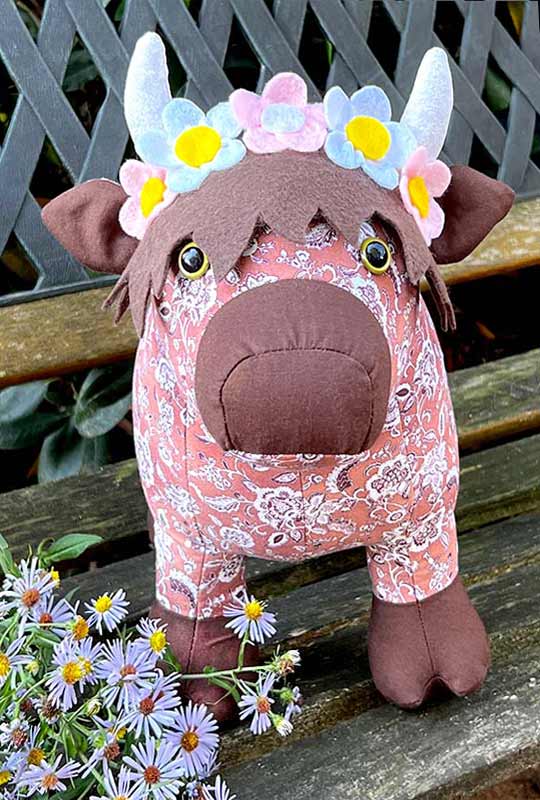 Courtney Schreiner of Monkey in the Mailbox also sewed a more realistic coloured Harmony Highland Cow ~> 
Also in Luxe Cuddle®
from Shannon Fabrics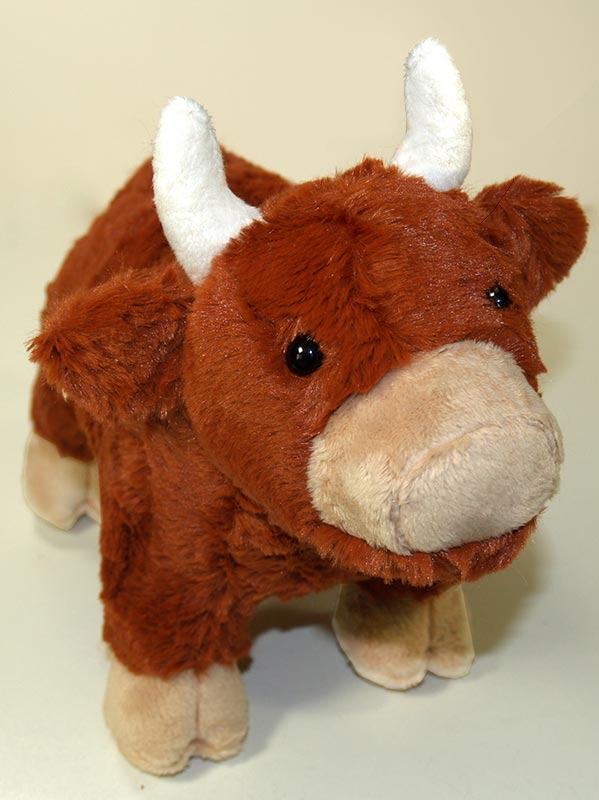 Jenny B. added some colour co-ordinated buttons to her Harmony Highland Cow's flower crown…. I think they look adorable!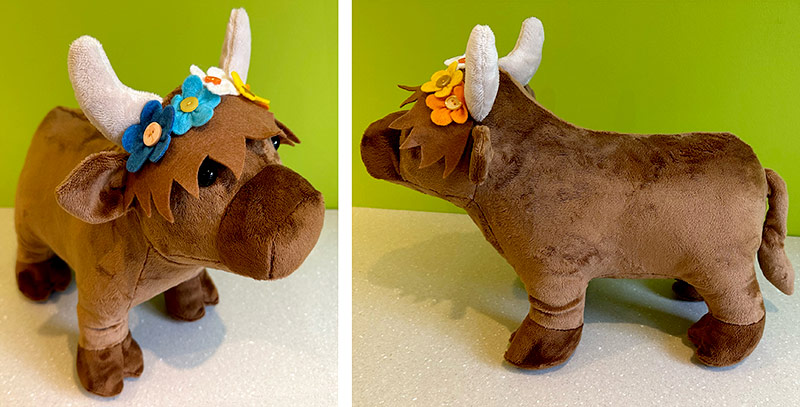 This shiny-nosed Harmony the Highland Cow was sewn using gingham and matching velvet for her snout by Wendy Hutton…
Isn't she a cutie?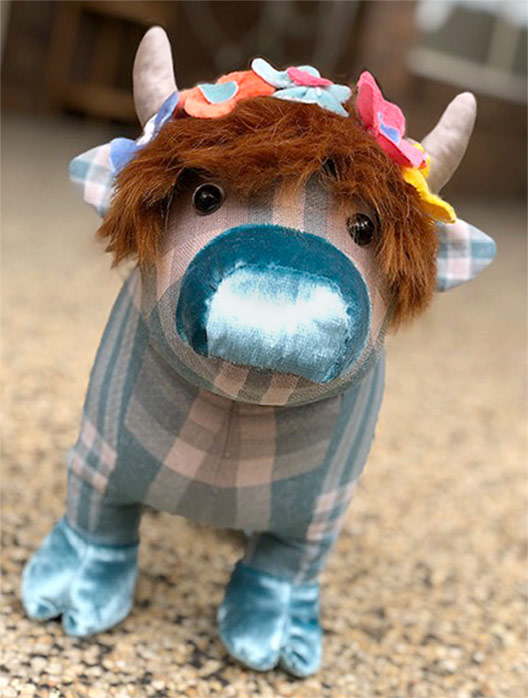 It seems, kiddies aren't the only ones who love highland cows… Ronel Meyer says her 'sewing assistant' Jax, also wanted to have photos with her Harmony Highland Cow!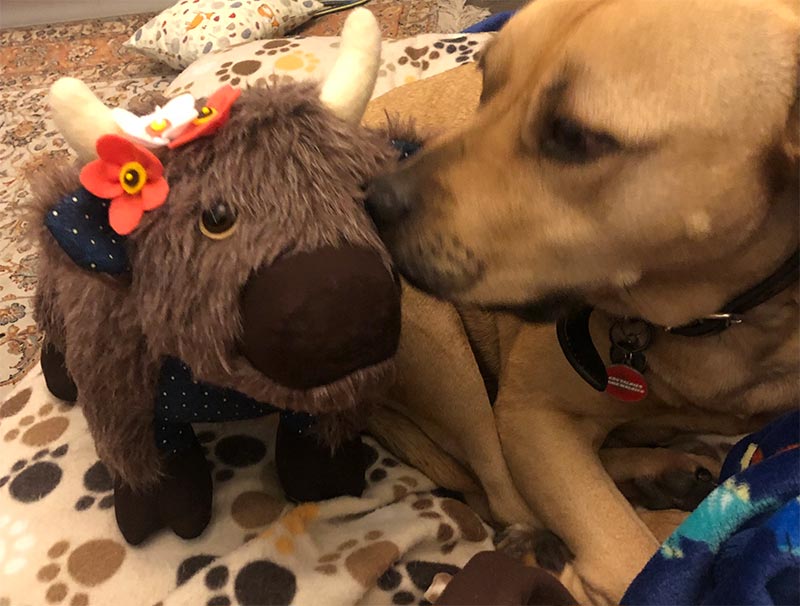 AND last BUT not LEAST!!!
Paula Blevins pup came in to checkout the newly arrived Harmony Highland Cow…. I think she approves of her new friend!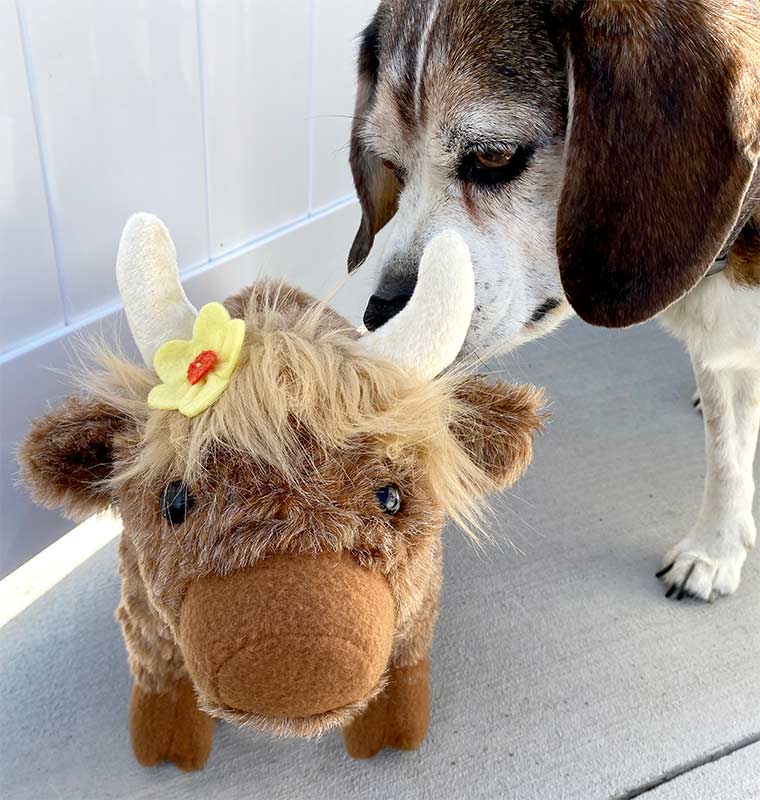 THANK YOU
to ALL the Testers ~>
I love ALL of your lovely feedback photos!!!!
In case you missed the link above – the Highland Cow Toy Pattern is available to download from the website NOW!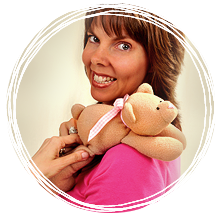 Till next time – Happy Sewing!
xxx
Pauline