It's celebration season!
With graduations, weddings, and other big days right around the corner there are lots of gifts to prepare. You know how to sew, so you can give an unforgettable custom gift – a SIGNATURE TOY! 
This post is all about sewing graduation toys!
Graduate toys can be for graduates of ALL ages – from kindergarten to college.
I'll show you lots of fun example photos and give you a link to a FREE MORTAR BOARD (graduation hat) PATTERN. Plus I'll explain HOW to make a graduation autograph toy (including the best fabric and pen choices). Pass the toy around at an event – graduation, end of school party, wedding reception, birthday party, baby shower – and guests can leave autographs and good wishes. It's like a yearbook, greeting card, and custom gift all combined in one cuddly package!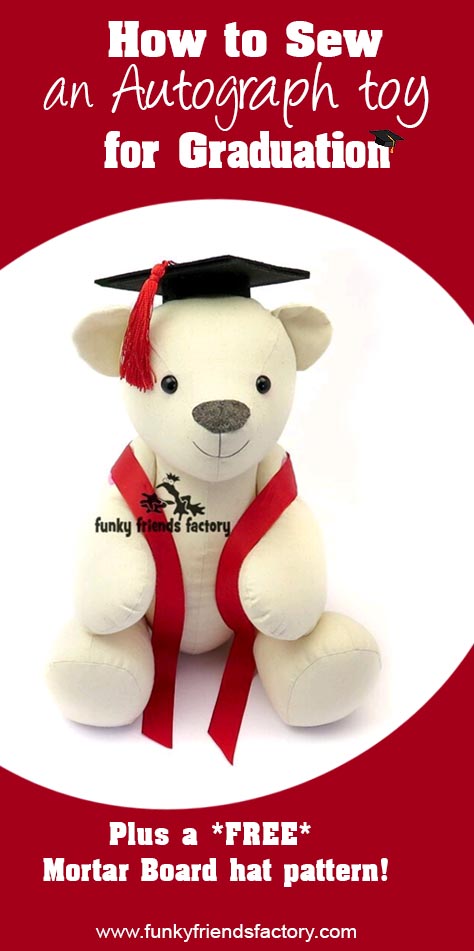 People use all of the FFF Bear Patterns for graduation toys.
Here you can see my MOST popular bear used for  sewing signature bears – Calico Signature Bear… sewn as a graduation memory bear by Glynis Shankland.
Isn't he a cutie!??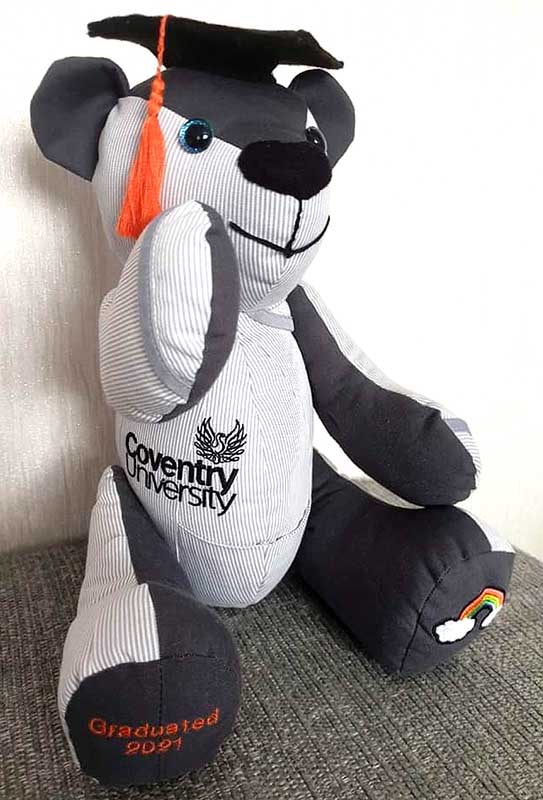 AND here is a wonderful example of a graduation autograph bear sewn by Kathy Cuthbertson who used the Keep Me Keepsake Bear pattern and customized it by adding embroidery on the feet and a photo pocket on the tummy! 
She kicked things off by doing the first signature herself!!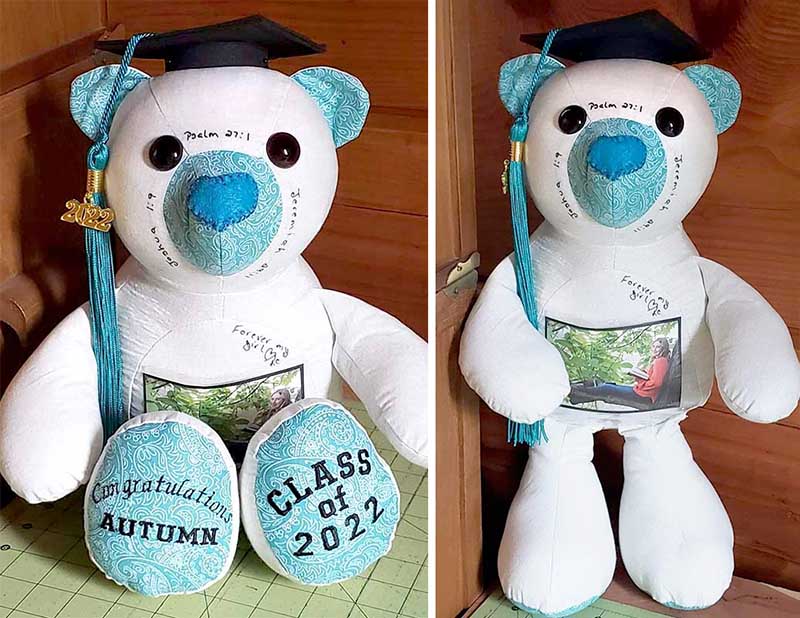 Looking for a FREE Mortar Board sewing pattern?
 You can use my free Mortar Board pattern (with video) to make a graduation hat for any Funky Friend, whether you want it to be an autograph toy or not (see the end of this post for more examples).
CLICK HERE for my
FREE MORTAR BOARD pattern!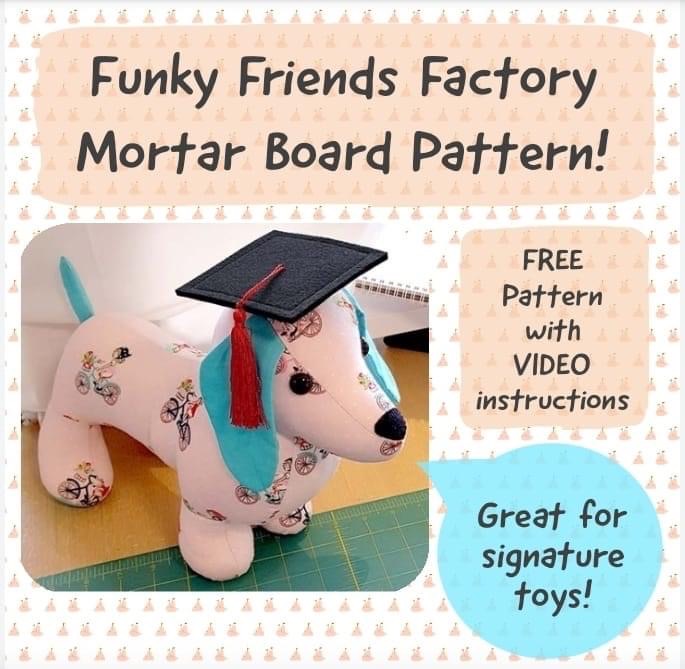 Graduation toys don't have to be a teddy bear!
Here is a graduation memory toy Digger Dachshund sewn by Jasmin Huchison of Designs by Jasmin. Jasmin has sewn so many of the Funky Friends Factory patterns as graduation toys – I think she must hold the record!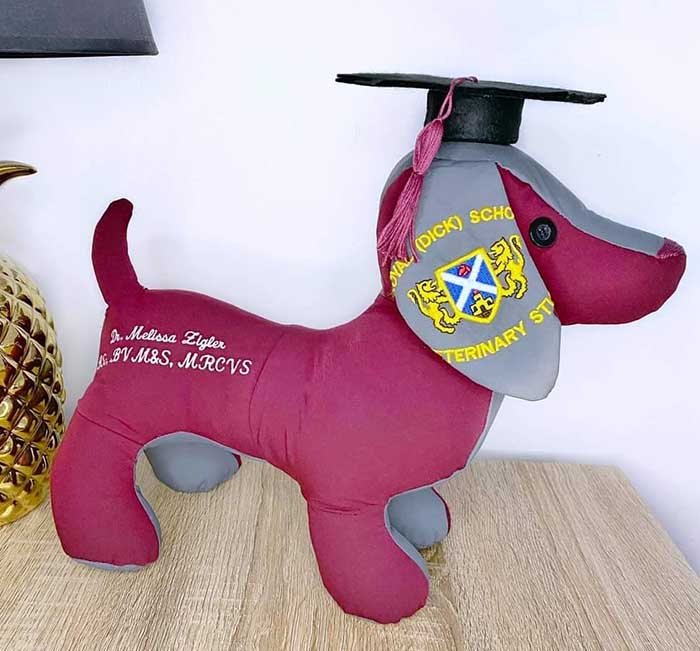 AND here is a graduation autograph toy Digger Dachshund (also sewn by – Designs by Jasmin!) which has lots of signing space on his long body!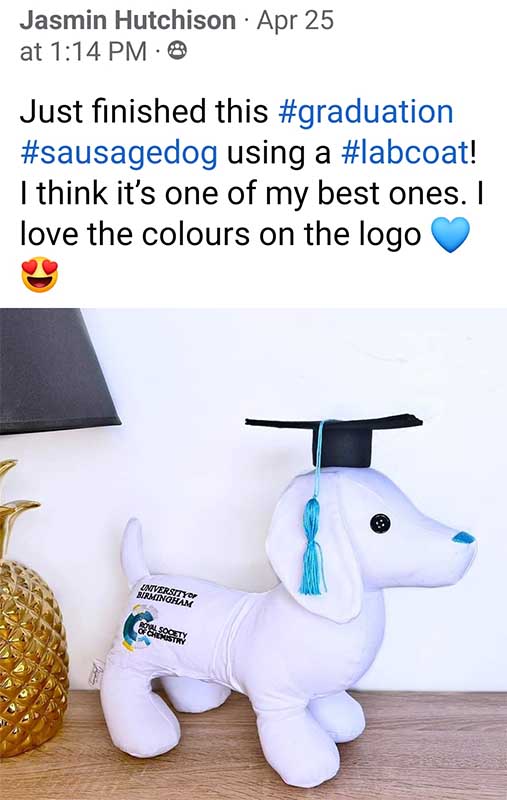 Jasmin has also made LOTS of other non-traditional graduation toys – like Timmy T-Rex and Tristan Triceratops for a dino-loving graduate, Easter Bunny Buddy, Patch Pussycat, Nate Narwhal, and an ADORABLE Gertrude Guinea Pig! These toys were all made from uniforms, lab coats, or student medical scrubs (all great fabrics to use for an autograph toys).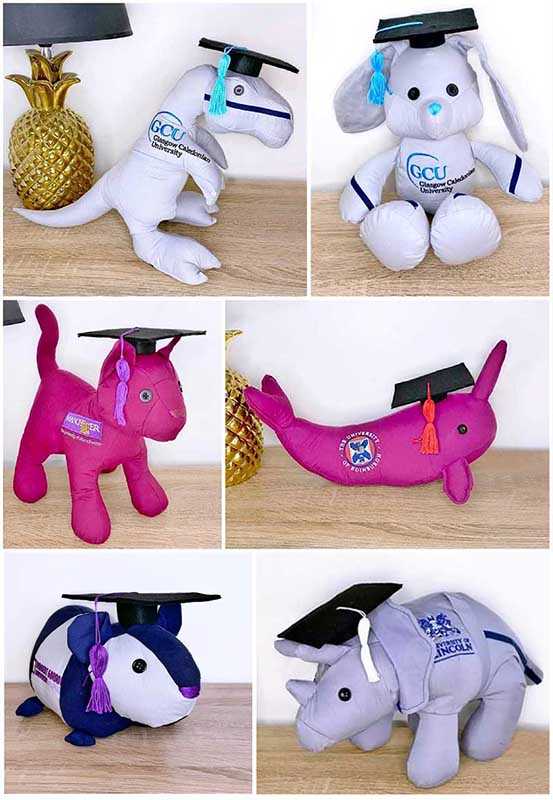 Would you like to BUY a unique graduation toy? 

If you're looking for a custom toy – Jasmin is one our featured home sewing businesses – visit this highlight to find out more about Jasmin and the F-A-B-U-L-O-U-S custom-made signature bears & toys she sews!  💗
Now for some graduation inspiration!
Gifts for young grads
High school and college graduations may get the most attention, but younger graduates like a momento, too. Margarita Montoya used school uniforms to make these Calico Signature Bears…
for an entire kindergarten class!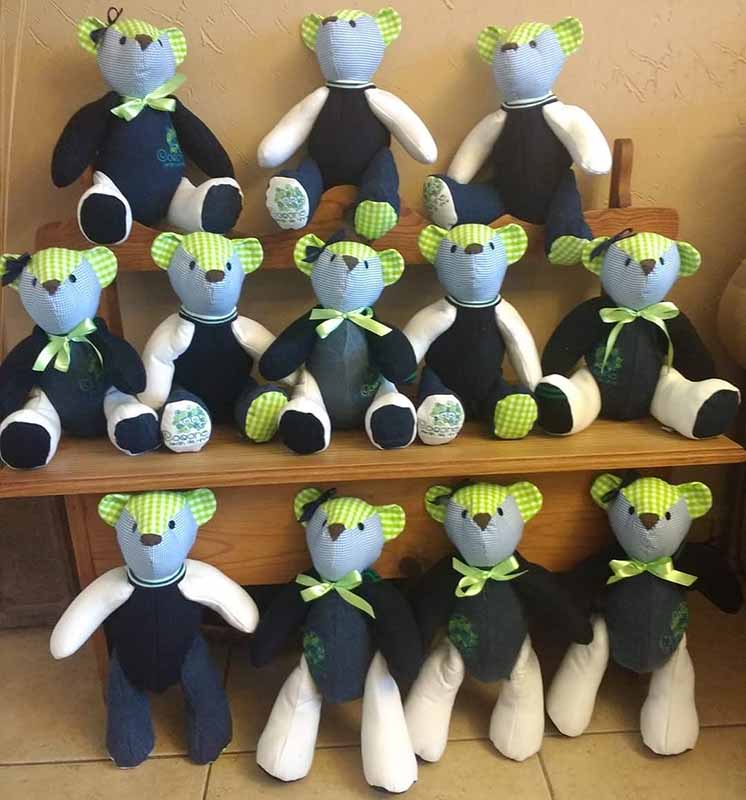 And Shannon Smith used school uniforms to make Melody Memory Bears – with neck ties – as graduation toys for some young Australian students.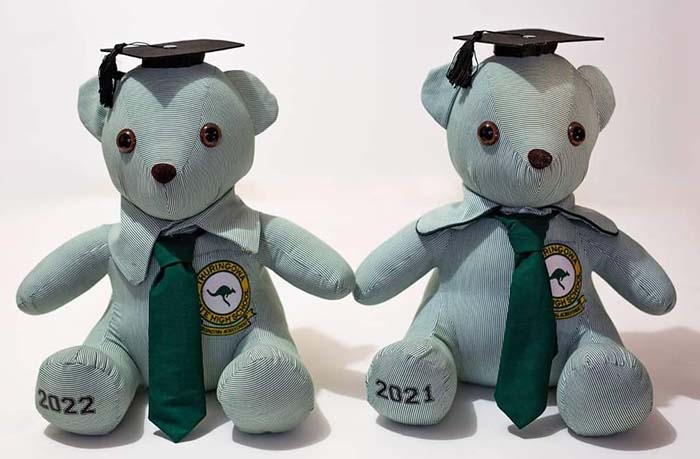 Looking for a FREE Tie sewing pattern?
 I designed this Tie Pattern for my  Mitch the Monkey Pattern BUT you can use my free Toy Tie Pattern for all your Funky Friends – just resize it to fit!
CLICK HERE for my
FREE Toy Tie pattern!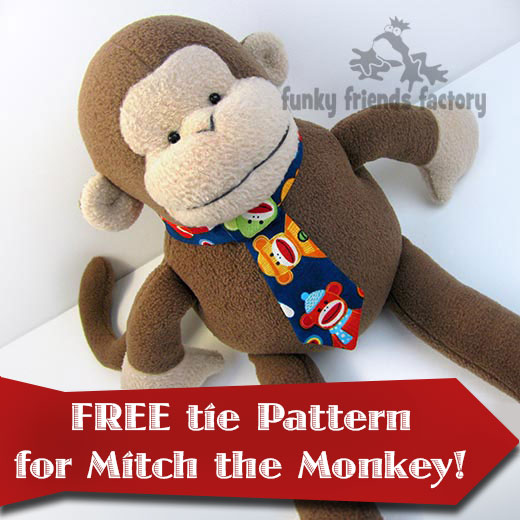 This sweet signature bear was sewn by Sarah McKee, who used plain white fabric, school colors, and the Keep Me Keepsake Bear pattern. This autograph toy was sewn for a graduating Year 6 student.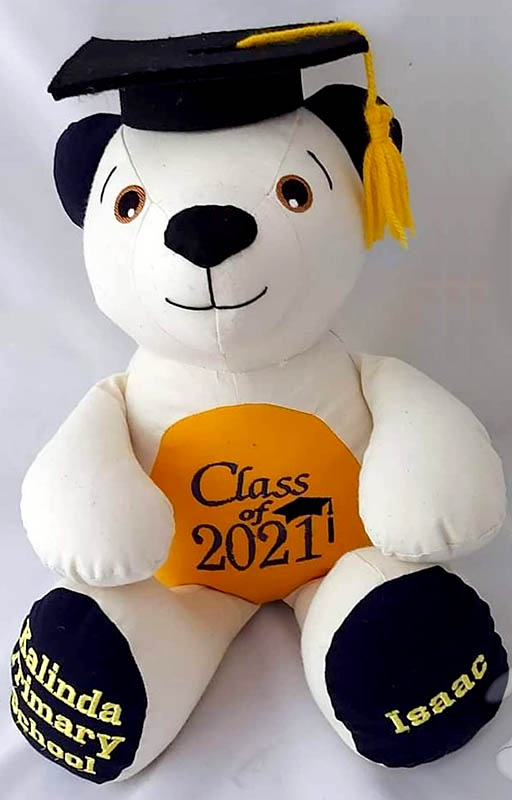 Teacher Gifts
An autograph toy signed by all the children in a class makes a perfect teacher present! Melissa Webeck's small town has only 38 students in the school, and she was so thankful for the return of the staff members after Covid that she made them AND the graduating Year 6 students each a Calico Signature Bear to mark the occasion!

How to Make an Autograph/Signature Toy.

I like to say – it's as easy as A B C!
The first question I always get asked about sewing signature toys is "what type of fabric should I use?" While the pen type is generally more important than the fabric, we can talk about fabric first.
A. Choosing a fabric
A solid color quilting cotton is best. While quilt shops will have higher quality fabric, you can use regular calico (which is called muslin in America) – thus the name of Calico Signature Bear! Using a sturdy fabric like denim might initially seem like the best option, but keep in mind that heavy fabrics like canvas, denim, and twill may have ridges that can cause a pen or marker to skip during signing. Select a fabric that provides a smooth, flat signing surface. I like calico (muslin) of course! 
Here are two high school graduation Melody Memory Bears made using calico (muslin) by Natalie Tiralongo.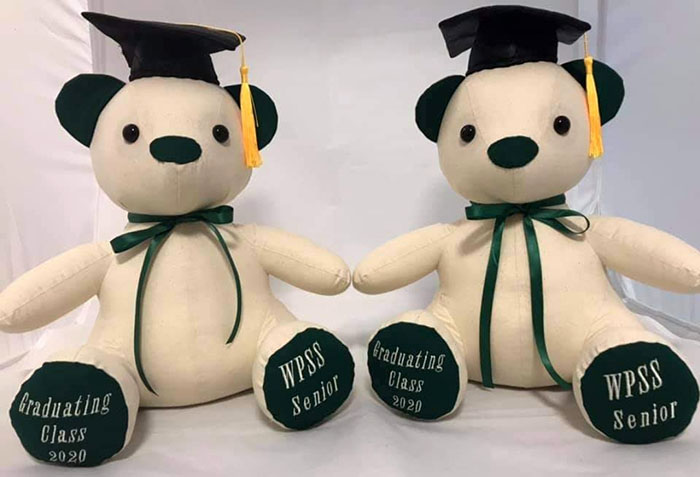 Brandise Munger made Bill the Bald Eagle for an Eagle Scout (it's the highest level of American Boy Scout). She cleverly made Bill in colored fabric on one side and in blank, "easy to sign" fabric on the other side!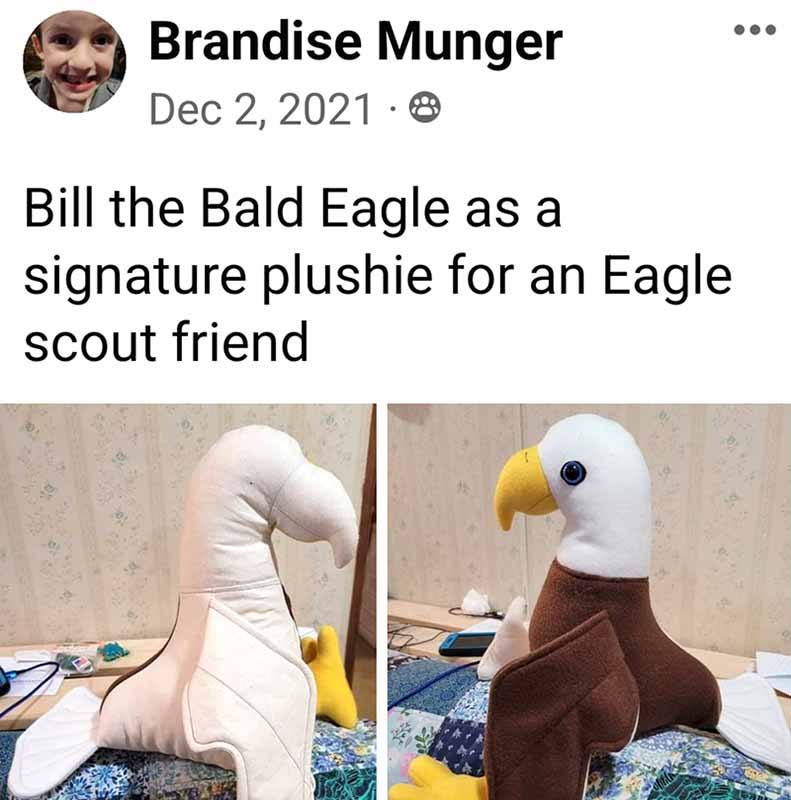 Clothing and uniforms also make a great autograph toy, as seen in this Patch Pussycat teacher gift sewn by Jenny Benfield.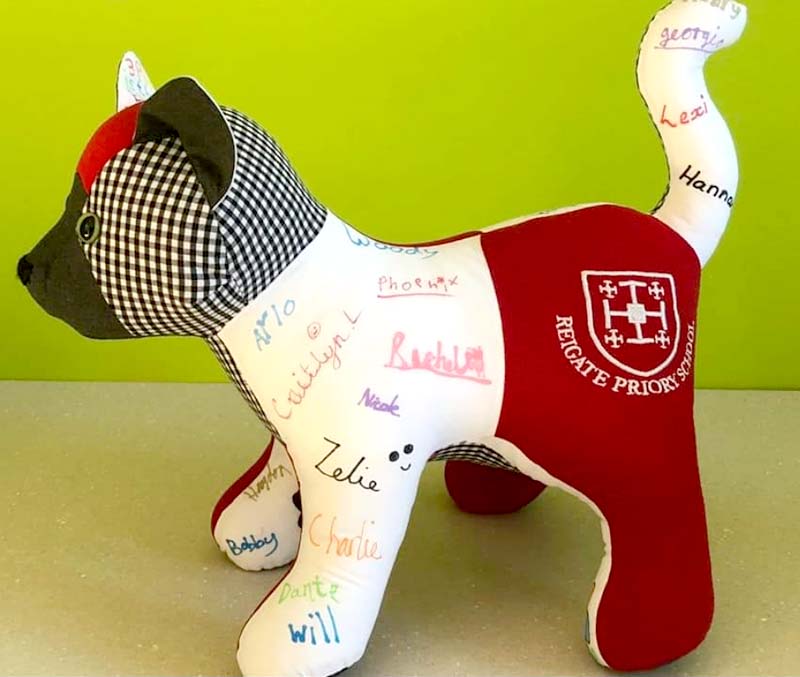 B. Choosing a pen or marker
The type of pen or marker is more important than fabric selection. You need to select a pen/marker that won't bleed or smear after signing. A laundry marker or fabric pen is generally the best bet. In the USA, and Australia the Sharpie brand makes a good laundry/fabric pen. 🛑 Always do a TEST first.
Here's a Fleur Flamingo sewn by Lucy-Jayne Gilbody and signed by a class of students.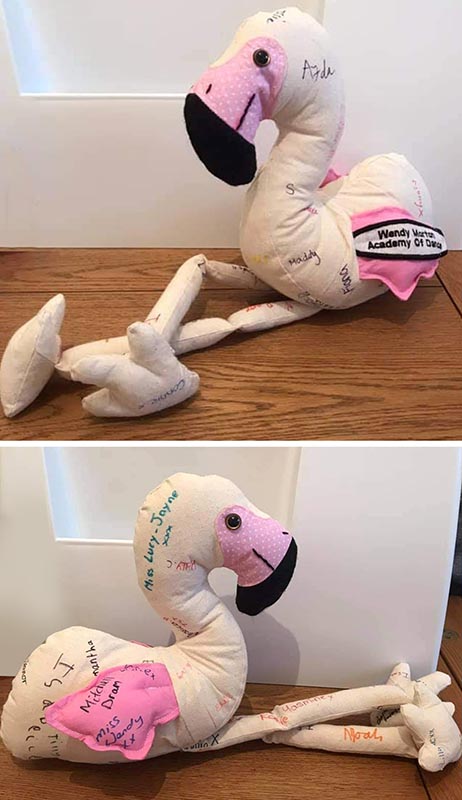 And this is a goody…
C. TEST, TEST, TEST!

I can't stress enough how important it is to test a fabric and pen/marker combo before making a final choice. Make sure the pen/marker dries instantly, as the toy will be handled frequently during signing.
A precious piece of clothing like a school uniform can't be replaced, so make sure you've made the pattern at least once before you start a keepsake. Here's a smiley Calico Signature Bear sewn by Lisa Nelson of Sewn 4 You Memory Keepsakes. I LOVE how she took such care to place the pattern pieces directly over the uniform logo (ears, shoulders, and tummy), as well as embroidering the feet.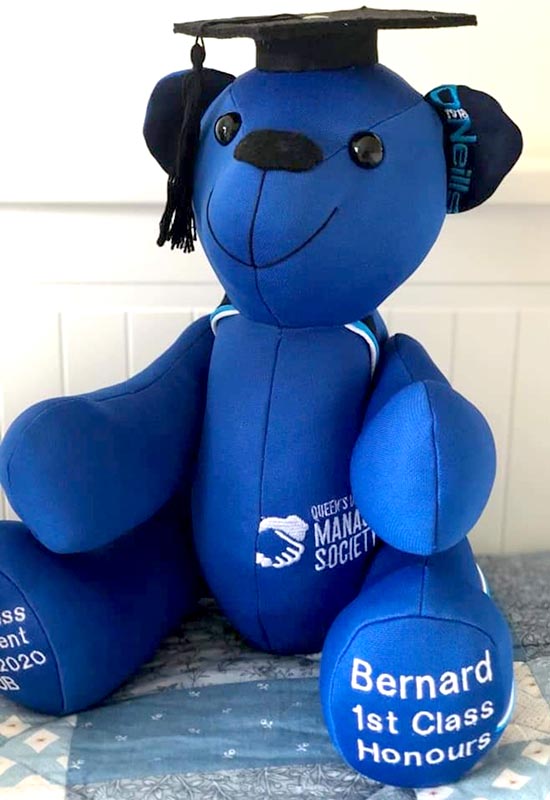 NEXT up are some tips…
Here are 6 Terrific TIPS for autograph toys (signature toys): 
TIP 1

Include a PEN.

Attach the pen to the toy on a ribbon, as Michelle Woodcock did with this Melody Memory Bear graduation toy.
TIP 2

Add a fabric swatch tor test a pen on.

This great idea is from Renee A. Phelps Crumley who always gives a swatch of the fabric with the toy for the new owner to test a pen. Here are two Calico Signature Bears sewn by Renee. It's important to test that the pen won't bleed–spreading the ink out–or smear. Make sure it dries immediately or it will smudge when people sign it.
TIP 3

Get the fabric signed first.

If the toy is going to be signed and given as a gift (such as a teacher present or retirement gift) and not part of an event (such as a baby shower, wedding reception, or graduation party), you can have each of the signers sign a piece of flat fabric first and then make the toy from the fabric pieces. Lucy-Jayne Gilbody took this approach when having children as signers. This Patch Pussycat was a goodbye gift for a student moving to another country.
TIP 4

Sew a patchwork toy.

Jenny Benfield recommends using the "sign first, sew later" method because she found that the kids in her child's classroom sometimes needed to start over (or redo their signatures) so she had them sign patches of fabric and then made a patchwork toy – this adorable Oscar Otter! His tummy, feet, and shell are perfect for text and dates.

Jenny also made an English paper piecing Lloyd Llama for a teacher gift using this technique.
TIP 5

Get creative with colour!

Get creative with color fabric markers! Sue Langlois made these blank Patch Pussycats for her granddaughters to color. It took them a while to finish, but here are the cats "in progress." Of course, there's always a potential messy danger in encouraging young children to use markers on fabric, BUT if you discuss the project with them first you can judge whether they understand that only SPECIAL toys should get their artistic treatment.
TIP 6

Add personal touches.

 Liz Adamson added school colors, a degree banner, and even EYELASHES to this Melody Memory Bear.

High school colors, a hair bow, earrings, a pin, and a National Honor Society sash decorate this graduation Melody Memory Bear by Julie Silguero Garza.

Jonell Hart used school colors and personalized embroidery on this Patch Pussycat.
And remember…
ANY toy can be a graduate!
You don't have to make a signature toy (autograph toy) to make a great grad gift, of course! You can use the FREE MORTAR BOARD / GRAD CAP Pattern to make any Funky Friend into the special guest at your grad's party.
Here's a "class photo" of some Funky Friends (in their mortar boards and with tiny diplomas!) from Shannon Fabrics. Pictured are Larry Lion, Lamkins Lamb, Mitch the Monkey, Raff Giraffe, Ellie Elephant, Lloyd Llama, Fleur Flamingo, and Unix Unicorn/Horsey pattern.
ooh here are the others!!!
AND here are some other 'well-educated toys' posted in our Funky Friends Factory Patterns Fan Club Facebook group!
Collage photo credits:
Calico Bear in school colors by Sam Quincey, Patch Pussycat in fleece by Donna Gasparetto-Kirk, Digger Dachshund in plush fur by Susanne Langley, Lloyd Llama by Sarah Butler, and Melody Memory Bears in fleece tie dye by Charity White.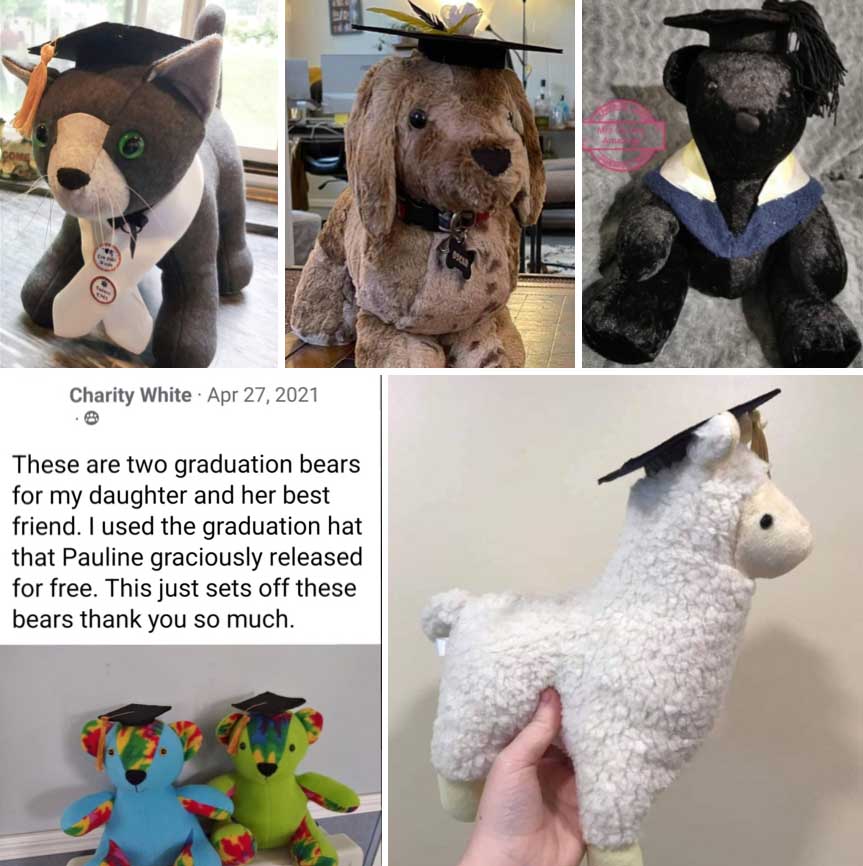 There are lots of other reasons to celebrate with a signature toy – like weddings, birthdays, baby showers, and retirements – and we'll be going over fun examples of each type in the coming weeks here on the blog. If you'd like to ask questions and get more advice and ideas like these, come join our Funky Friends Factory Patterns Fan Club Facebook group.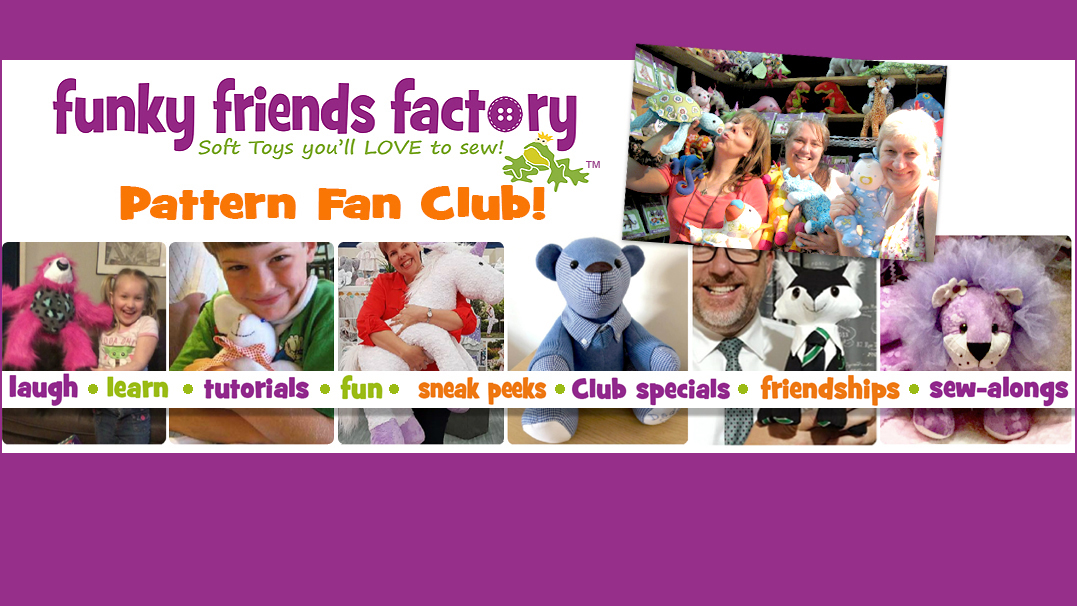 NOT on Facebook? ENTER by email! 😀
*** You can send me your photos by email too!
I'd love to see your celebration toys, so please share them with me online or via email at link! Be sure to tag your social media posts with #funkyfriendsfactory if you'd like them to come up in online searches!
So come on! Share your photos  ~> I can't wait to see YOUR Funky Friends Factory autograph toys!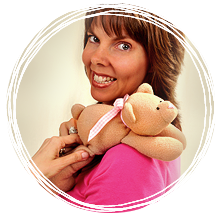 Till next time,
Happy sewing,
Pauline