In case we haven't met – Hi, I'm Pauline, and this is me in my little toy-design 'factory'(my sewing room). I like to say, IF you can sew… you can make & sew toys!!! You may call them something different – Plush, Plushies, Soft toys, Softies? No matter what we call them – we ALL love them!!!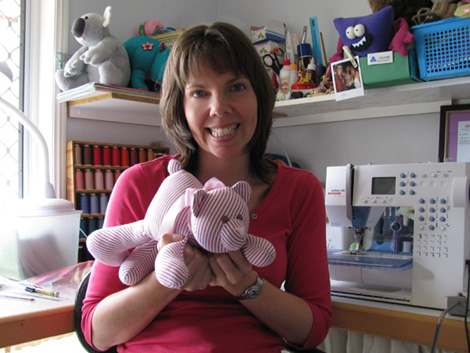 My main goal with my Funky Friends Factory toy patterns has been to create REALLY simple and quick patterns to introduce people to toy-making so they can make and sew toys their OWN wonderful home made toys! This has always been something that I am passionate about and I think once you get started – you'll understand why! 

 Let's get on with the Free patterns! 
Honey Teddy Bear
(my first FREE toy sewing pattern).

I wanted to use Honey as my beginner's soft toy pattern because she was MUCH EASIER than a traditional jointed teddy bear BUT NOT TOO SIMPLE, so that you can learn LOTS of general softie sewing skills by making her.  I also have a video on the website homepage for you to see how to sew Honey. Once you have learnt the basics of sewing your Honey Teddy, I am sure you will be able to make & sew toys using any of the Funky Friends toy patterns! 

* You can get the pattern for FREE when you sign up for the Funky Friends Factory newsletter.

So scroll down to the bottom of the page and sign up to get my newsletters and you'll get the pattern as my THANK YOU GIFT!!! 
A FREE Christmas
Gingerbread Man sewing pattern.

Christmas holidays are a great time to get stuck into something crafty and I thought it would be fun to make LOTS of little gingerbread men as Christmas decorations! Ginger is a great toy sewing pattern for introducing kids to sewing toys as he's quick to make, hand sewn with felt! 

* Visit this blog post to get the FREE Gingerbread man sewing pattern.
This felt food cup cake FREE pattern
was for my birthday!

It looks good enough to eat BUT it's not as fattening – YAY!!! You can also use the cup cake as a pin cushion, or add a rattle for a cute baby toy for a baby's first birthday present!

* Click this link to go to the blog post to get the Free Felt Cup Cake Pattern.
A FREE SHEEP KNITTING PATTERN
for Izzy INSOMNIAC.

My Izzy INSOMNIAC Teddy Bear pattern includes a Sleepy Sheepie made from FABRIC but later on I made this FREE KNITTED SHEEP PATTERN for those of you who also like to knit! If you are up all night knitting some sheep for your Teddy to count won't be as noisy as sewing some sheep – so you won't disturb any one else who is managing to catch some shut eye!!!!

* Visit this blog post to get the FREE knitted sheep pattern here.
A FREE toy TIE Pattern
designed for Mitch the monkey.

I am sure the tie can be adapted for other Funky Friends toys and dolls if you like! 

*Click here to download the Free Tie pattern.
Free Christmas Hats Pattern
for you  & your TOYS!

This was a free sewing pattern I designed for Christmas 2014. My FREE Christmas Hats sewing pattern comes in 6 sizes. At first I had planned to design the free Christmas Hats Pattern for all my Funky Friends soft toys only…

BUT I had so much fun sewing them that I have added to the pattern and included sizing the pattern for kiddies, teenagers/small adults as well as a large adult size so there's a size to fit everyone!

* Visit this blog post to get the FREE Christmas HATS pattern here.
Free Graduation Cap Pattern,

Free Bow Tie Pattern and

Free Party Hat Pattern for your TOYS!

This was a free sewing pattern I designed for the Calico Bear SEW-ALONG I did a while back… it's taken a while to get the content prepped BUT now it's available for EVERYONE to have fun embellishing their Funky Friends! 

As you can see ~>
the free graduation cap pattern is NOT just for Calico Bear

You can use these add-ons on any Funky Friends Factory toy!

(Dachshund Pattern sewn by Korina of Korinas Kreations)

* Visit this blog post to get the FREE Grad Cap, Free Bow Tie Pattern & Free Party Hat pattern here.
A FREE Cheeky Devil Pattern ADD-ON
designed for Calico Bear.

I am sure this cute Valentine's outfit (which I designed for my Calico Signature Bear Pattern) can be used for other Funky Friends toys and dolls if you like! 

*CLICK HERE to download the Free Valentines ADD-ON pattern.
A FREE Toy-sized
Flat Cap Pattern ADD-ON


I think this has been the most asked for pattern ADD-ON ever! I had no idea a flat cap was so popular! 

*CLICK HERE for the FREE Flat Cap Pattern!
A St Patrick's Day
Treat for YOU!☘️


I want you to be able to make ANY Funky Friends Factory toy their own lucky 4 leaf clover or shamrock from felt. So I have made a selection of sizes so you can choose according to the size of the Funky Friend you're sewing.

*CLICK HERE to get the
FREE shamrock & 4 leaf clover!
Want to win a FREE Pattern?

Hey, DID YOU KNOW – if you make and sew toys using ANY of my patterns – you can also WIN a FREE Funky Friends Factory pattern?

Check out my MAKER OF THE MONTH Pattern Giveaway

to find out how!

 
Enjoy my FREE sewing patterns!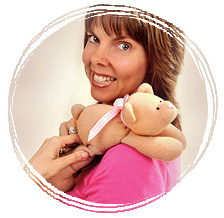 bye for now,
xxx
Pauline