Check out these highlights from this month's feedback pics. We had such a wonderful selection of GORGEOUS Funky Friends this month – it was hard to whittle them down to just these!
Take a look…
First up we have an AWESOME Larry Lion sewn by Laine Milne. This Lion was auctioned off for charity and the winner, this baby's mom, sent Laine a photo of her with her new Lion buddy.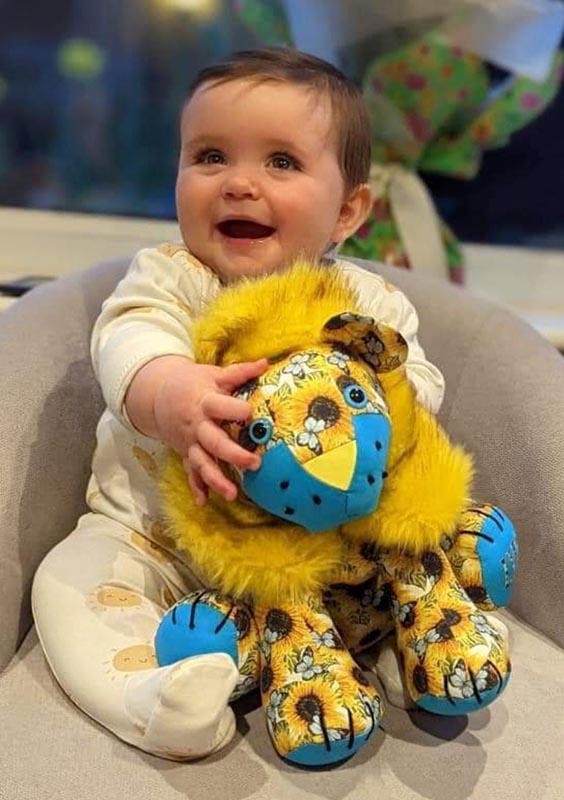 Click HERE to purchase the Lion pattern.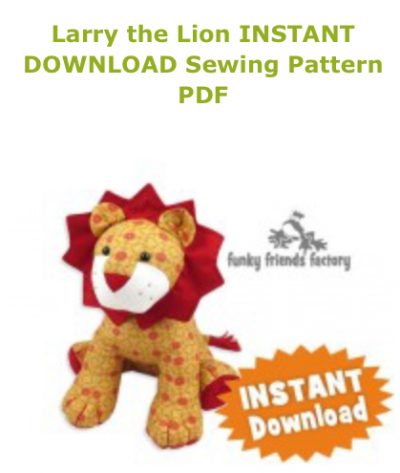 This happy smiley Sammy Shark was sewn by Kathryn Farmer… who had LOTS of fun creating this sweet fellow!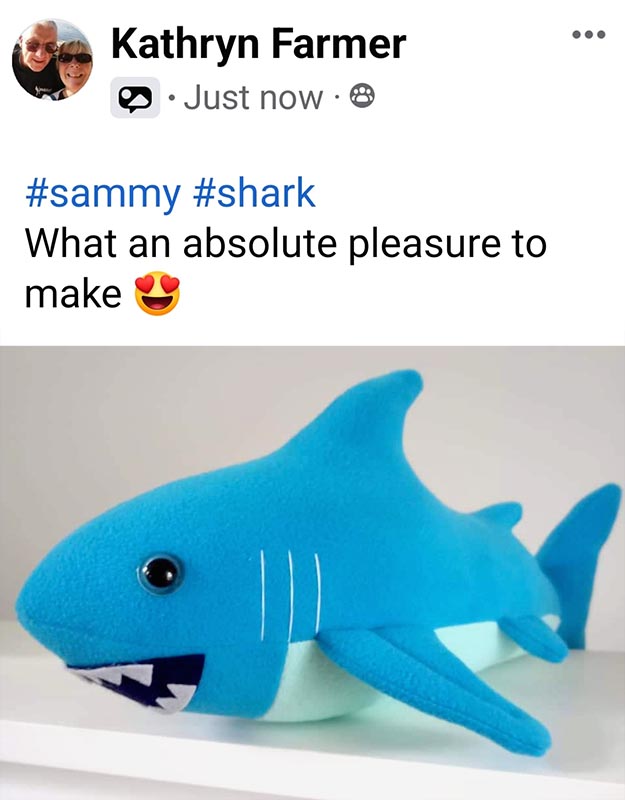 Click HERE to buy the Sammy Shark pattern.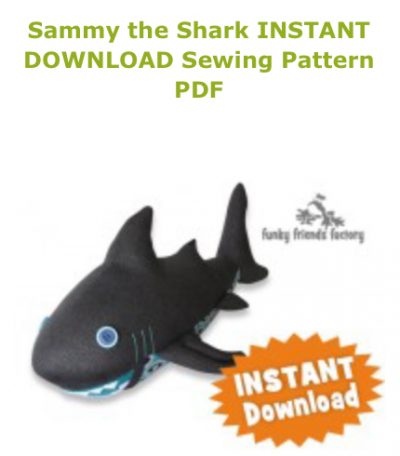 This vibrant, colorful Mickey Moose sewn by Susan Flora Kanour certainly cheers up a snowy day!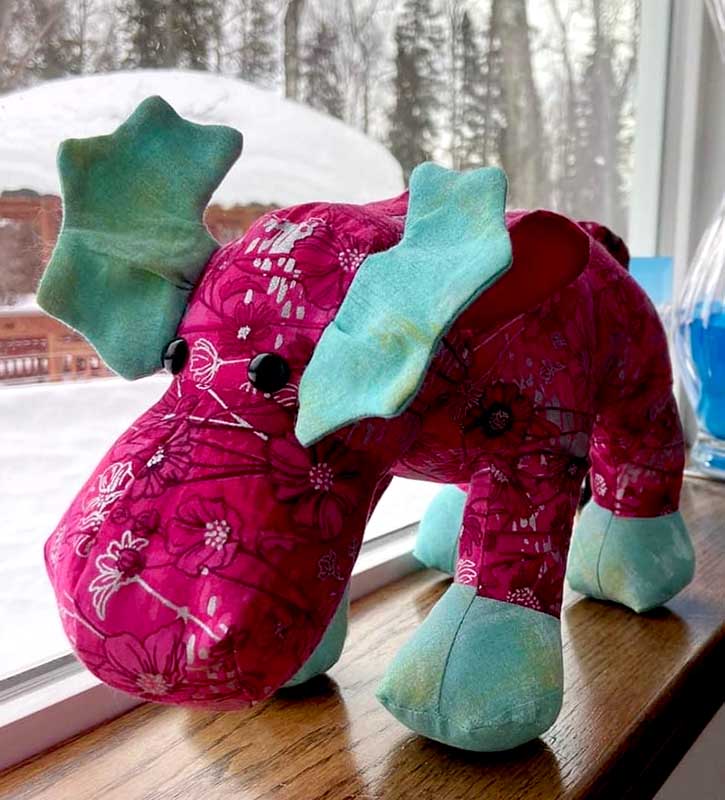 This kitty doesn't seem particularly cheered by the presence of this awesome Mickey Moose sewn by Dan Jen Marzu – hopefully she warms to him soon!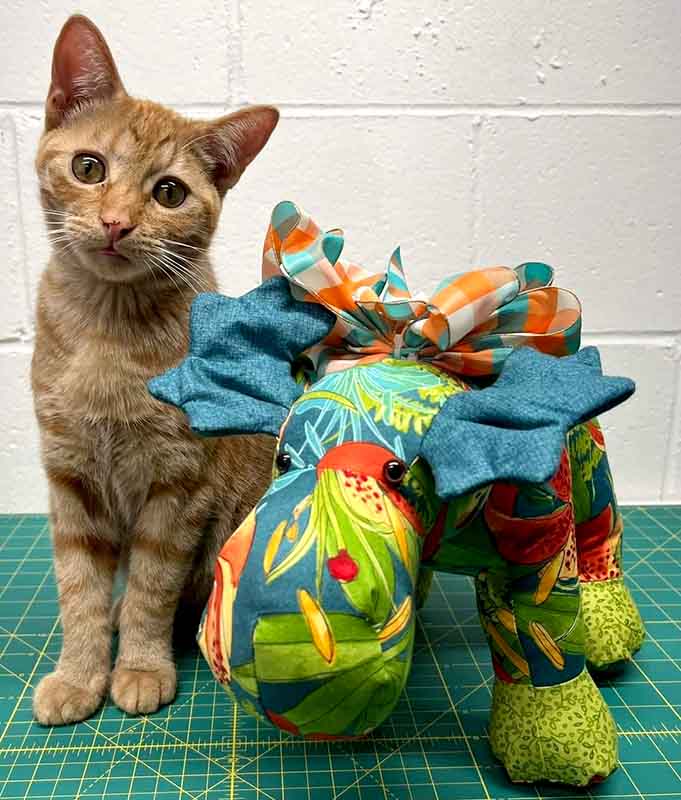 Click HERE to buy the Mickey Moose pattern.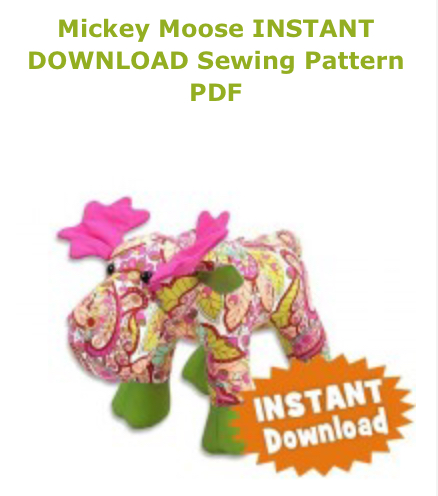 I think this sweet Lucky Labrador sewn by Trish Mcbride is so ADORABLE that I had to show you both photos she posted of her pup!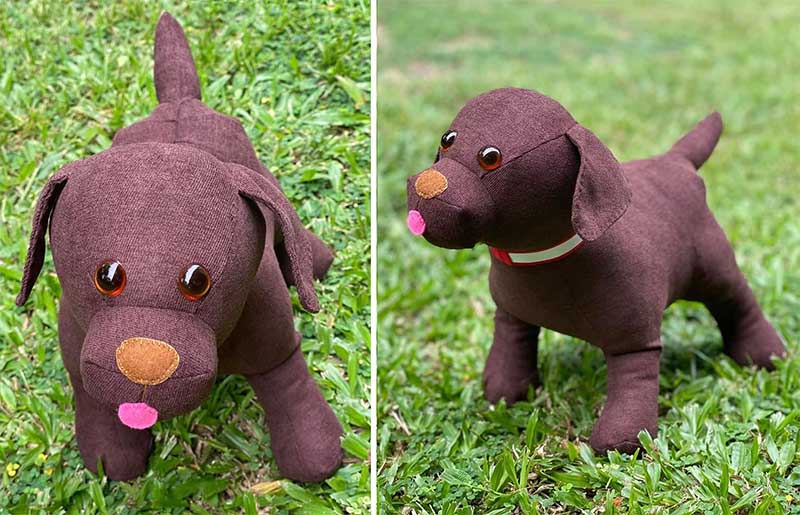 No, you're NOT seeing triple!!!! Pat Pruit has "gone the extra mile" and sewed 3 Lucky Labradors in 3 colourways – Black, Golden and CHOCOLATE!!!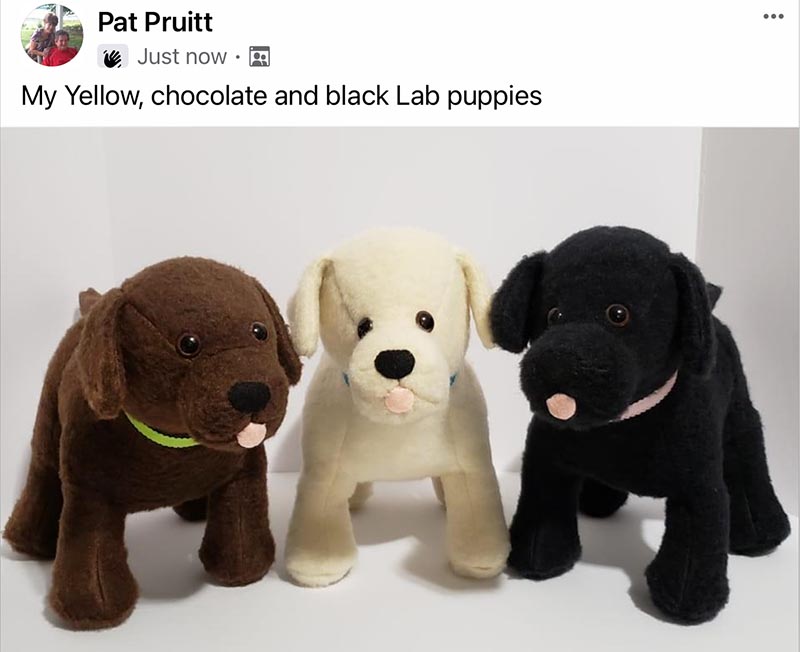 Click HERE to purchase the Labrador pattern.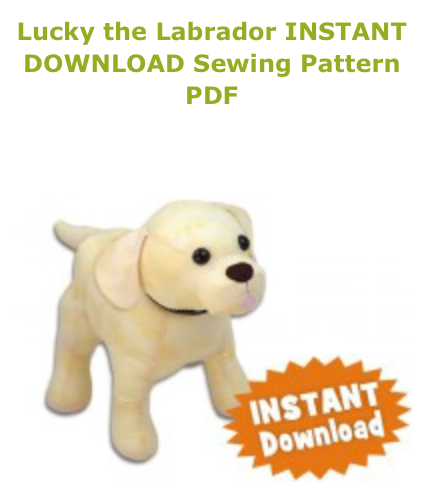 This pretty pair of tourquoise Patty Cows was sewn by Connie Hendrikson Sievers.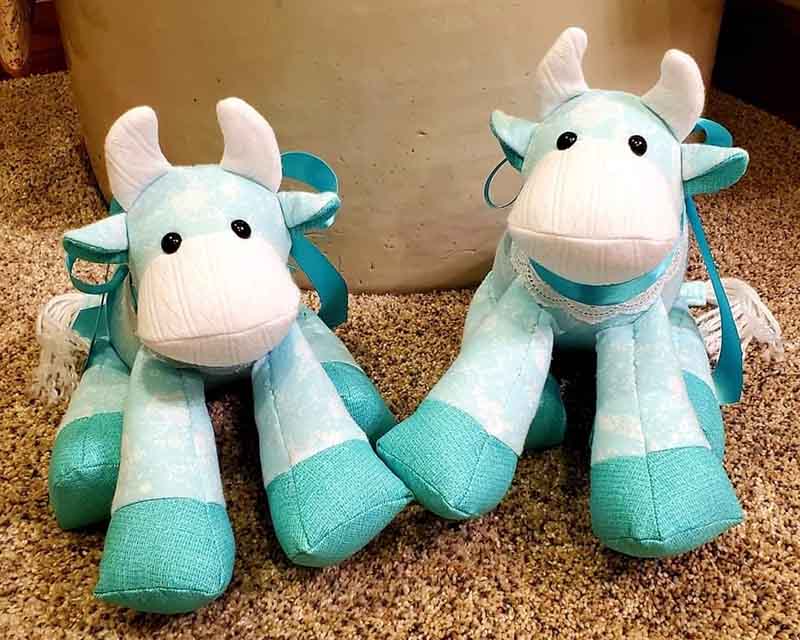 Click HERE to purchase the Cow pattern.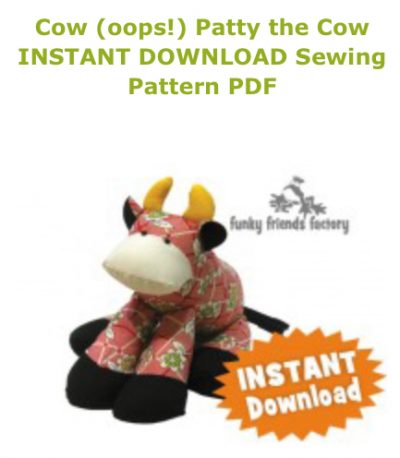 This is the very first Melody Memory Bear sewn by Jonell Hart sewed – and look how adorable she is!!!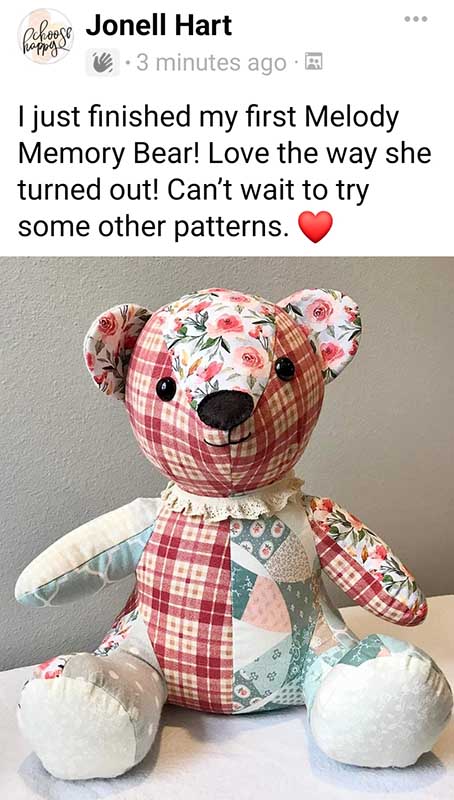 Carol Cullen sewed this very special Melody Memory Bear from her late husband's favourite items of clothing. He looks like a wonderfully comforting momento. 💙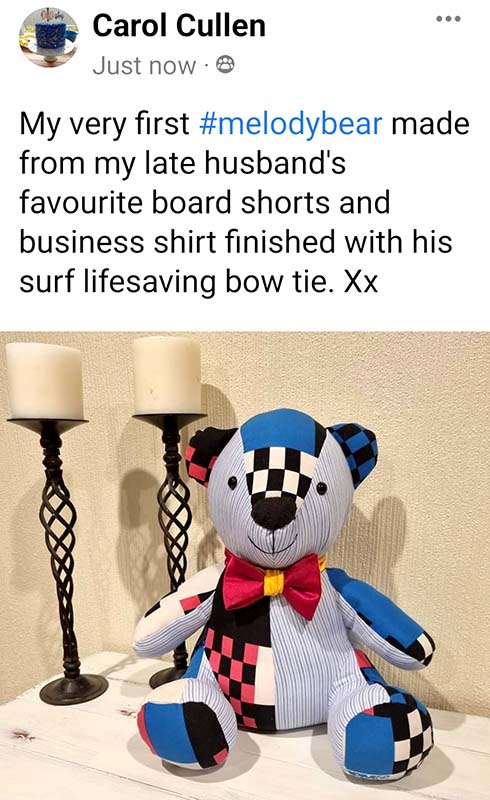 Click HERE to purchase the Melody Memory Bear Pattern.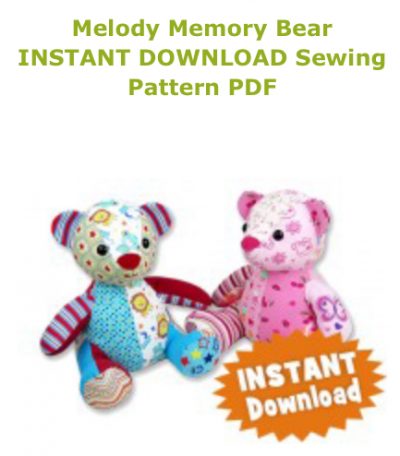 This Dilby Duck sewn by Alice Ready (from a pre-loved/recycled towel) was one of our most popular posts in the Facebook Pattern Fan Club this month – with a sweet little pout like that – I'm sure you can tell why he was such a hit!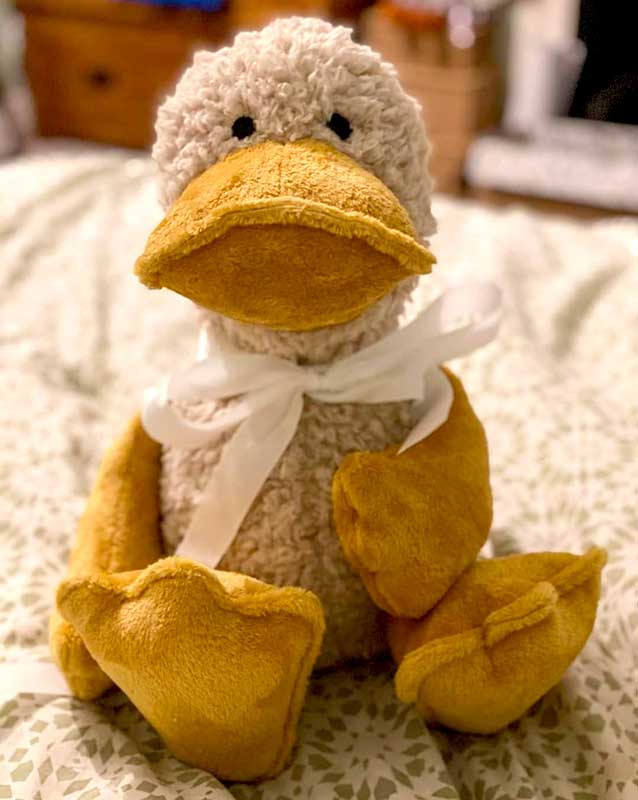 Click HERE to purchase the Duck pattern.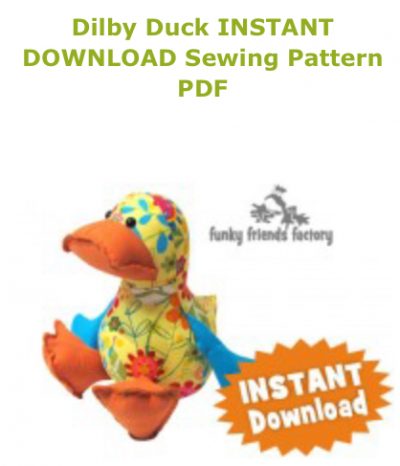 Look at these AWESOME embroidered eyes Laila Pye has added to her veryyyyy beautiful version of Bumble the Bee. I think this may be one of those instances where I say someone's Funky Friend is better than my original!!!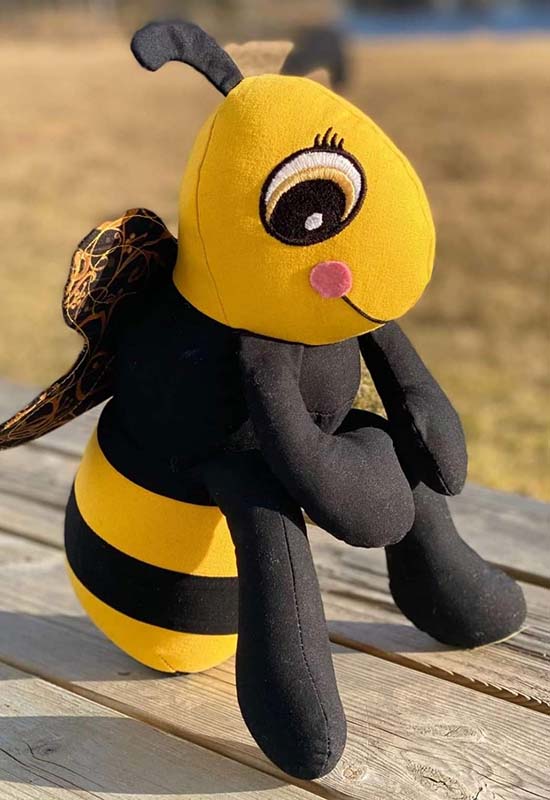 Click HERE to purchase the Bumble Bee pattern.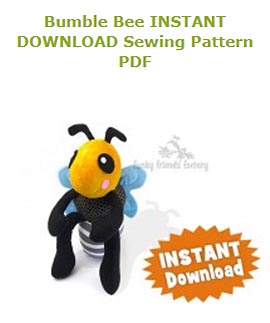 This pastel, cuddly version of Belinda Butterfly was sewn by Reen Wilcoxson using Cuddle fabric from Shannon Fabrics. I love how she has combined the different textures… and don't you love the sparkly wings?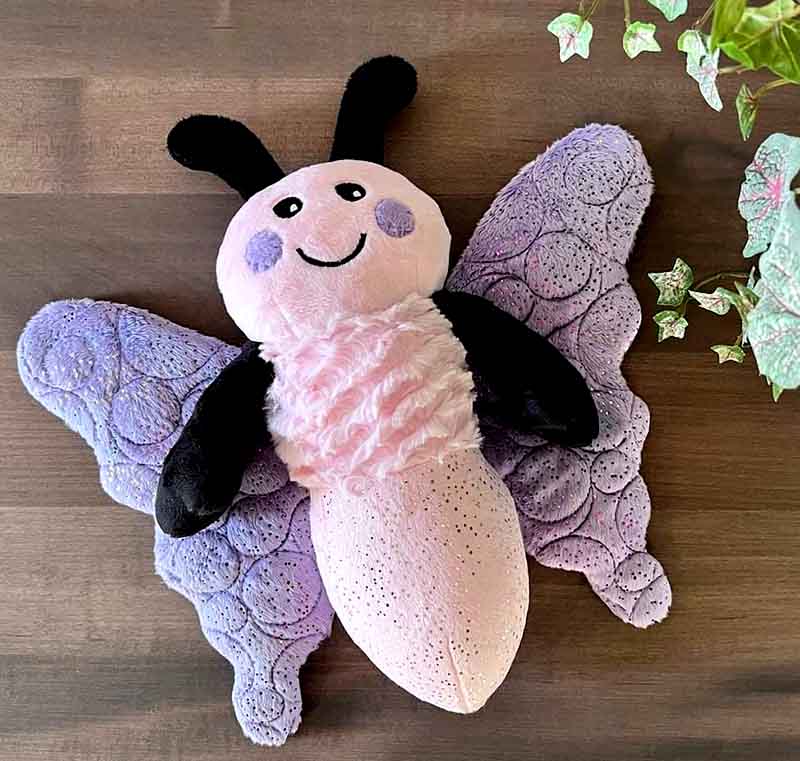 There's a sweet story behind these next (TWO) Belinda Butterflies sewn by – Melissa Bryden! The butterfly with the yellow head belongs to this baby's cousin, but she liked it so much (look at the grip she has it it!) that her grandmother Melissa made her one of her very own (the one with the purple head) for her first birthday! What a fun family photo, too.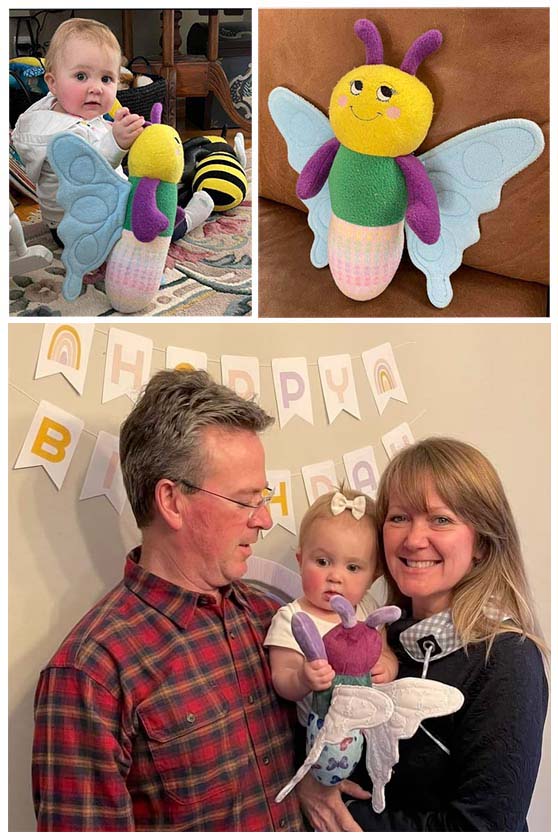 Click HERE to purchase the Butterfly Sewing Pattern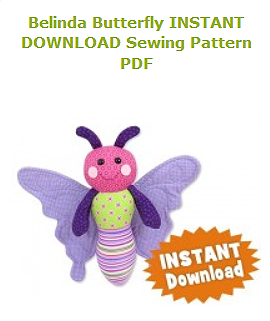 This super sweet version of the Prince Charming Frog Pattern was sewn by Ixora T. who perched him on a rock made from felt.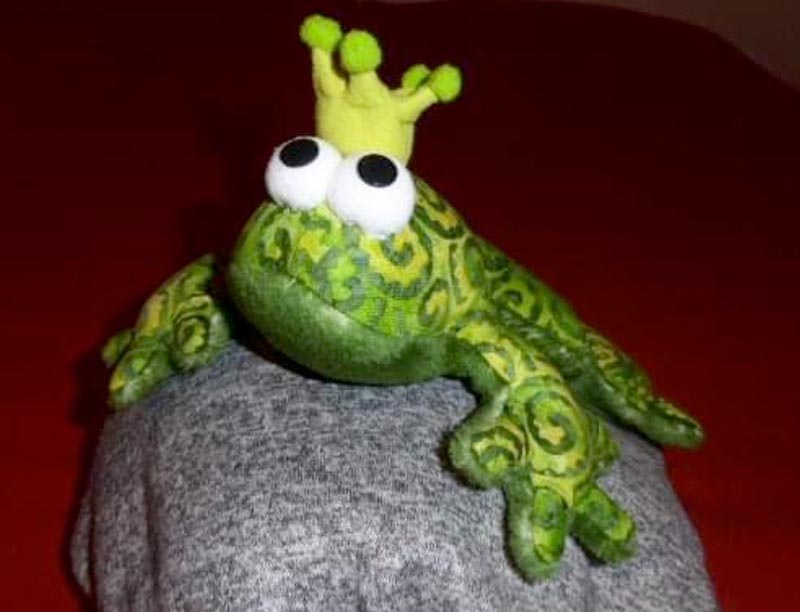 Click HERE to purchase the Prince Charming Frog Pattern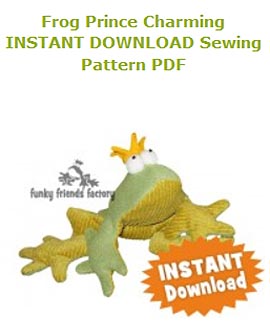 Look how sweet Fleur Flamingo looks made up as a keepsake toy by Julia Cox. I love the combination of tiny floral prints and the fussy cutting (special placement) of the graphic – Born in 2021 on her wing!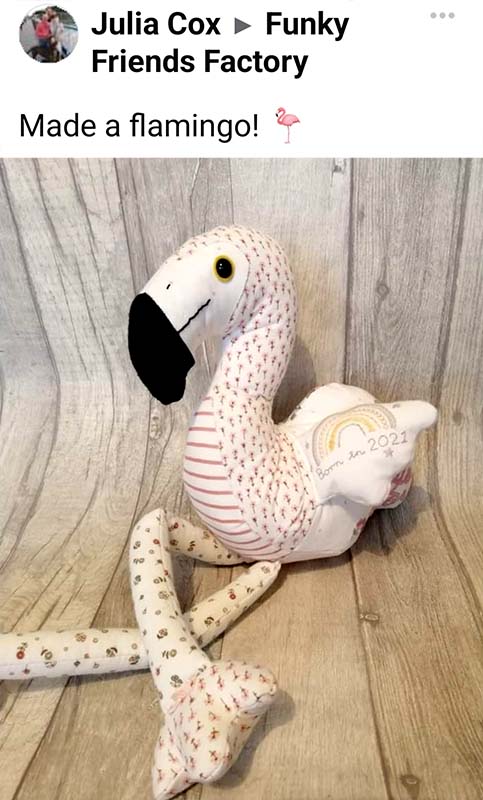 Click HERE to purchase the Flamingo Pattern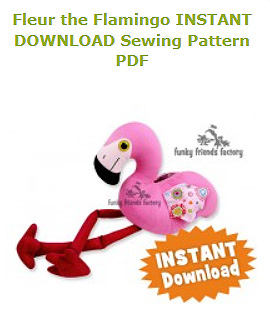 AND this month's winner is…
Congrats to this month's winner, Andrea Christensen! I love this version of the Joey Junior Kangaroo Pattern!
CONGRATS! You win




a FREE Funky Friends Factory Pattern ~>




of your choice!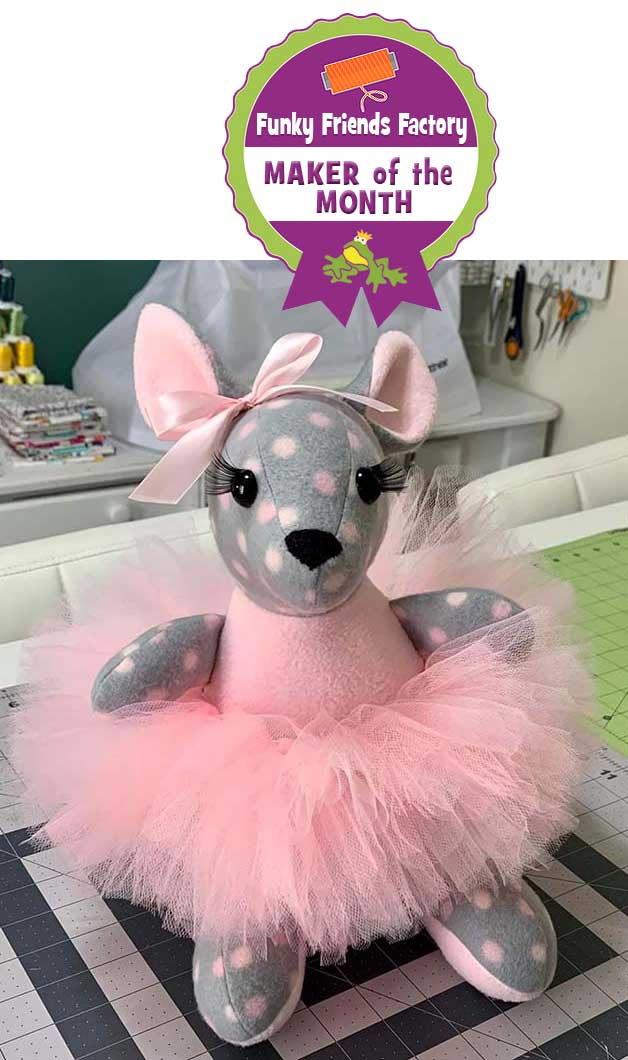 Click HERE to purchase the Kangaroo pattern.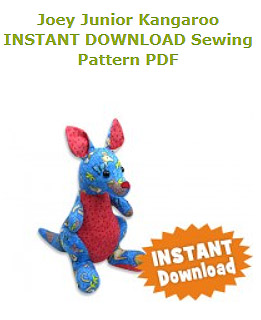 Want to win a
FREE toy pattern?
It's so EASY to enter the Pattern GIVEAWAY!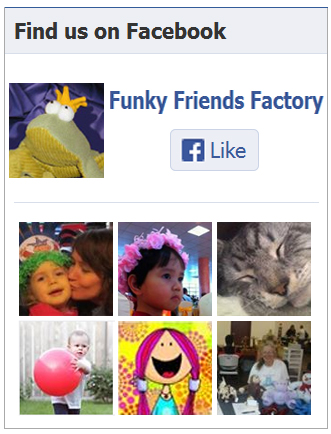 ALL you need to do is post a photo of a FUNKY FRIENDS FACTORY toy that you have made on the Funky Friends Factory Facebook Page .
At the end of each month I draw a winner and post the winner's name on the Blog the following MONTH. I have an Album on Facebook for all the MAKEROFTHEMONTH winners. You can check it out HERE!
NOT on Facebook? ENTER by email! 😀
*** You can send me your photos by email too!
So come on! Share your photos  ~> The next winner could be YOU!!!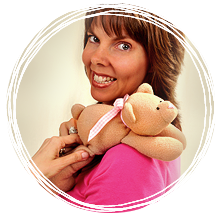 .
Till next time,
Happy Sewing,
Pauline
xxx