Shark Week occurs around the world in different weeks throughout July and August, so we've done a summer celebration of all things ocean this year. We're rounding out the festivities with fan favorite Stu the Sea Turtle – a fantastic pattern for showing off special fabric designs, "fussy cutting," personalizing, and just for fun!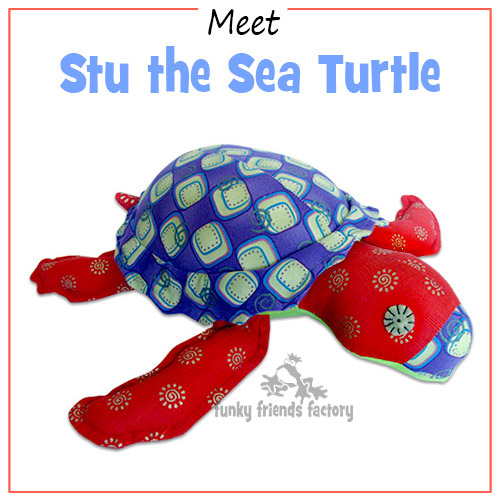 Is this an easy pattern?
I would say that Stu the Sea Turtle isn't in the "easiest" pattern category, but beginners have no problem with him. Make him in fleece if you've never sewn a toy before or enlarge the pattern to 120% for bigger pieces (resizing info below).
TIP: Need an EASY toy pattern?

It would be better for a beginner to start with one of my easy patterns first. I have put together a list of which patterns people say are my EASY toy patterns in this blog post about kids sewing soft toys.
What fabrics can I use to sew a sea turtle toy?
I think that one reason Stu the Sea Turtle is so popular is because he can be sewn in most fabrics AND he looks awesome in all sorts of colours and textures!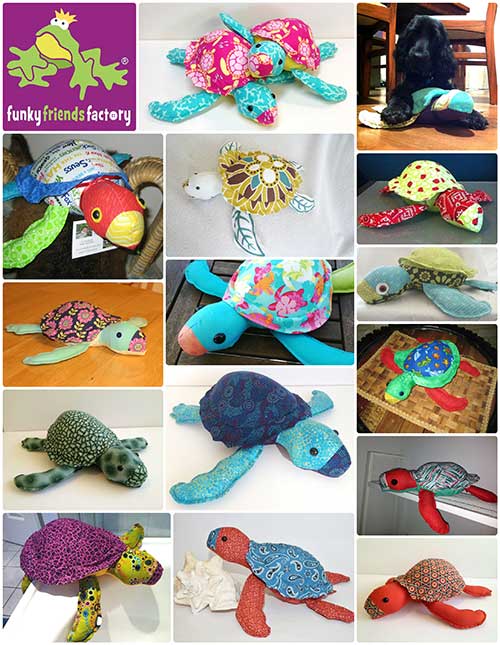 Here is the Sea Turtle pattern sewn in batik fabric:
Batiks are specially dyed fabrics often made with a wax relief technique. They have a tropical feel that works great on a sea turtle, as seen in this bright Stu the Sea Turtle sewn by Amy of The Silly Sea Turtle.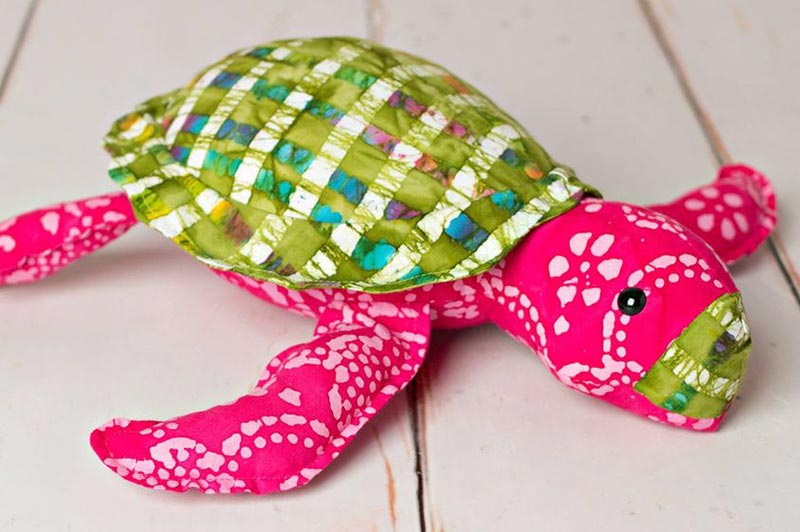 I can see the seaweed resemblance on this batik Stu the Sea Turtle by Debbie Hendricks Weideman.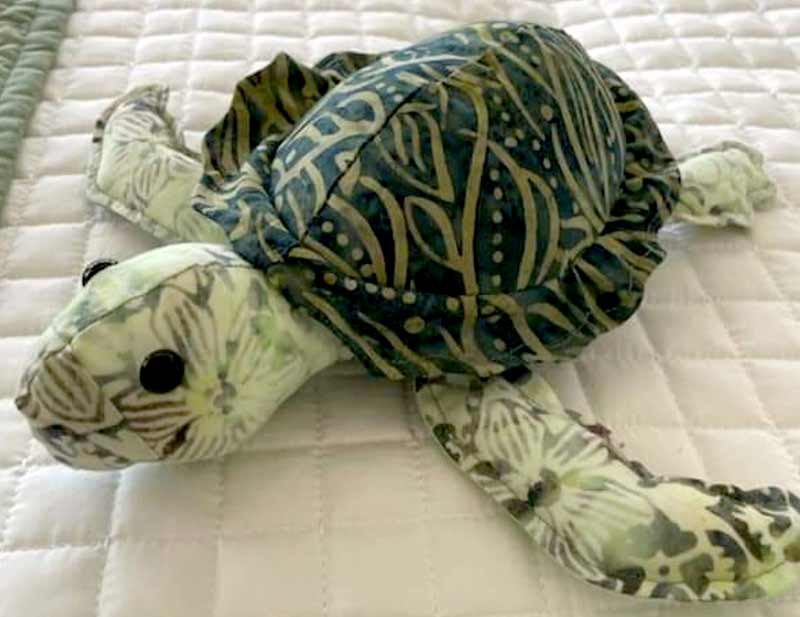 Sea Turtle pattern sewn in cotton fabric:
Stu Sea Turtle looks super cute in the very spotty (or is that dotty) cotton print sewn by Diane Segeser.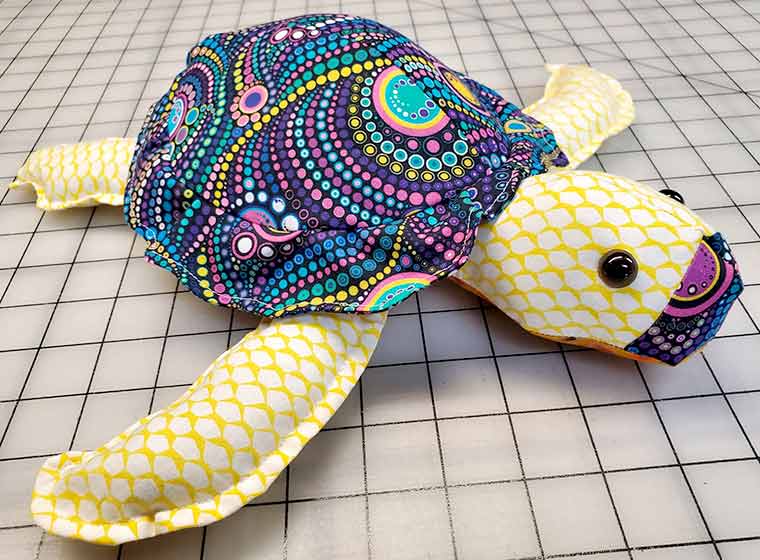 Teri Wolff took a stained glass-inspired approach on her Stu Sea Turtle twins.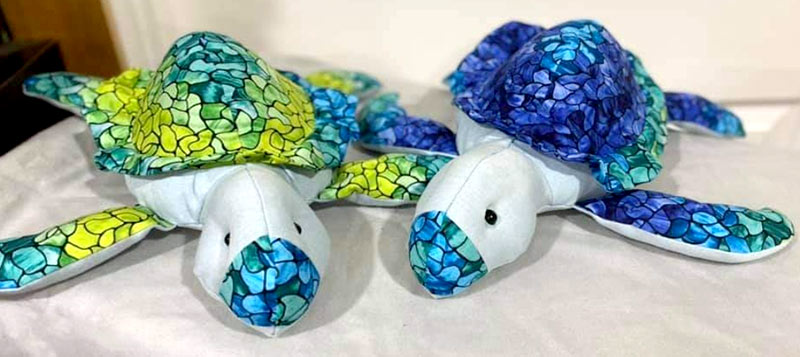 And Sea Turtles sewn in

Cuddle™️:
The Shannon Fabrics company makes their Cuddle™️ fabric is ocean colors perfect for a comfy day at the beach.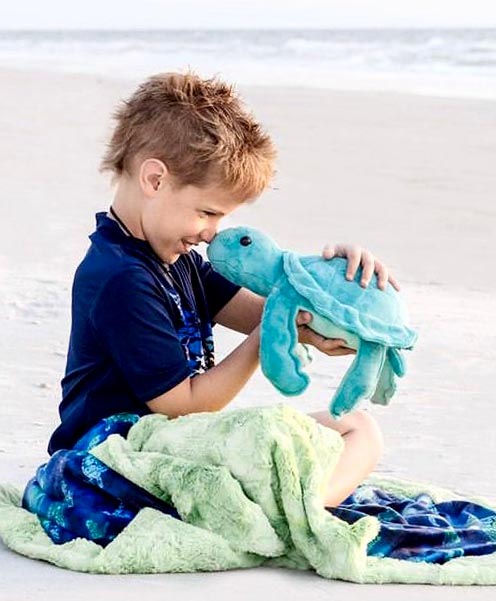 And look how cool Stu Sea Turtle looks in these Shannon Fabric's Cuddle™️ prints sewn by Courtney Schreiner of Monkey in the Mailbox.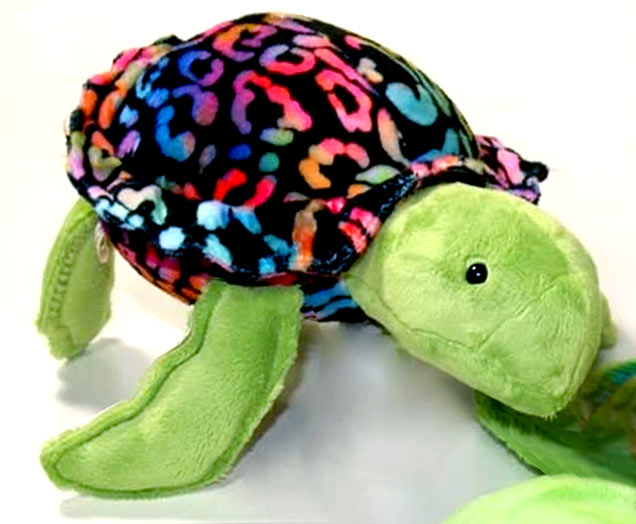 Sea Turtle pattern sewn in fleece and minky:
Fleece and Minky come in bright colors and patterns that can highlight the fun shape of Stu Sea Turtle's shell, as shown here in Lucy Creamer's fleece sea turtle sewn in a delightfully swirly fleece.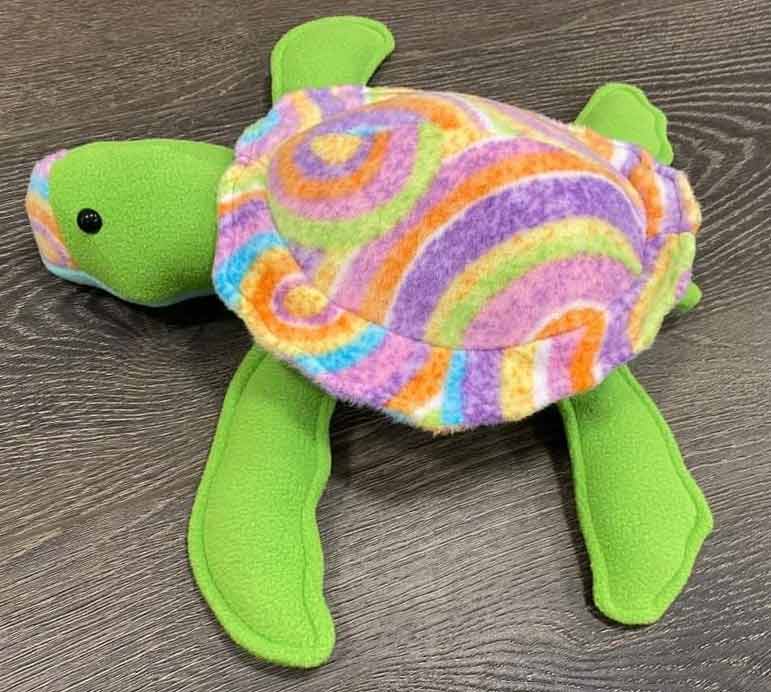 Stripes work just as well as swirls for Stu Sea Turtle's shell, as shown on this rainbow fleece turtle by Kathryn Farmer.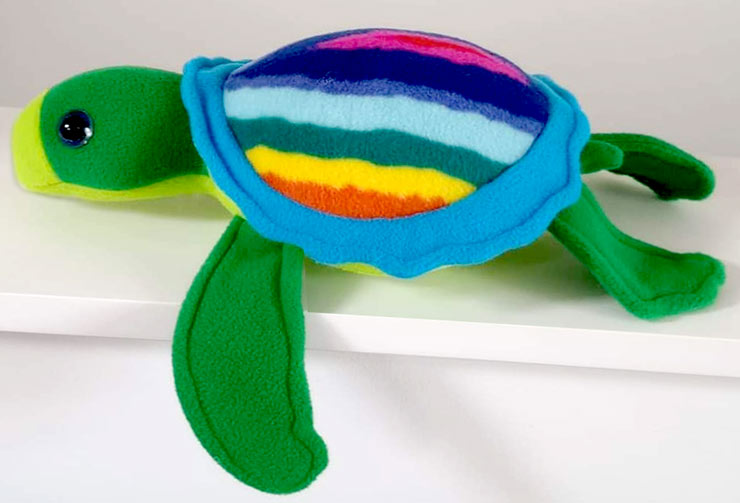 I love this fleece Stu Sea Turtle's sewn by Stephanie Pecor of Fleece Menagerie – it goes to show that plain and simple can be super cute!!!!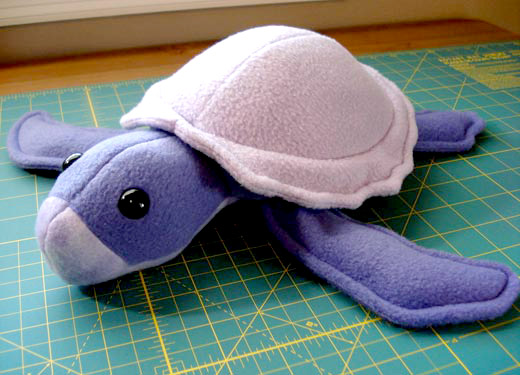 Sea Turtle pattern sewn in fake fur!
The words "turtle" and "fur" don't often end up in the same sentence, but when Stu Sea Turtle turns out this cute, they might as well! Sewn by Darlene Gowan.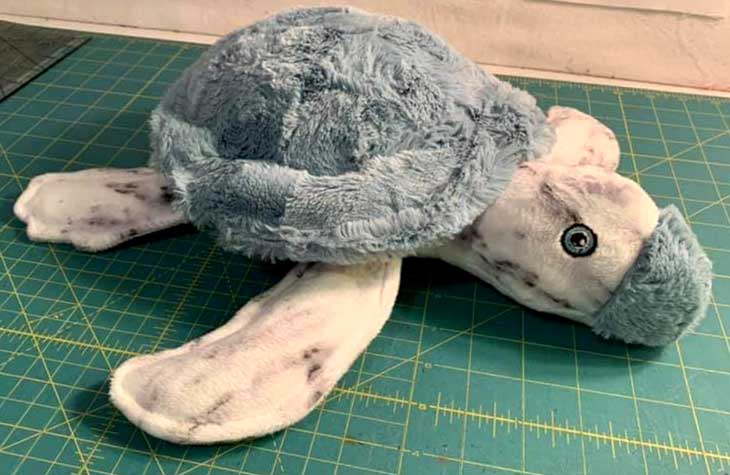 How about a Sea Turtle sewn in shiny fabrics?
You can't get much more sparkly than using sequin fabric! No doubt about it, this sequined Stu the Sea Turtle sewn by Alana Foxhall is fancy in every way.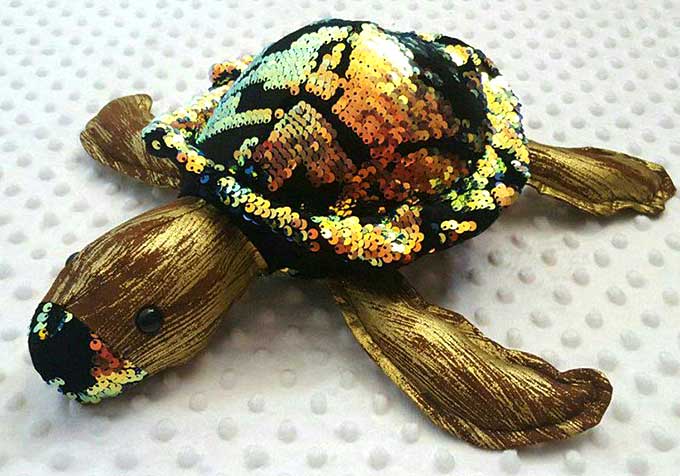 You can buy holographic dance costume or swimsuit fabric in lots of mermaid and shiny sea themes, and Dawn Rimby took on the challenge of making some into a Stu the Sea Turtle toy.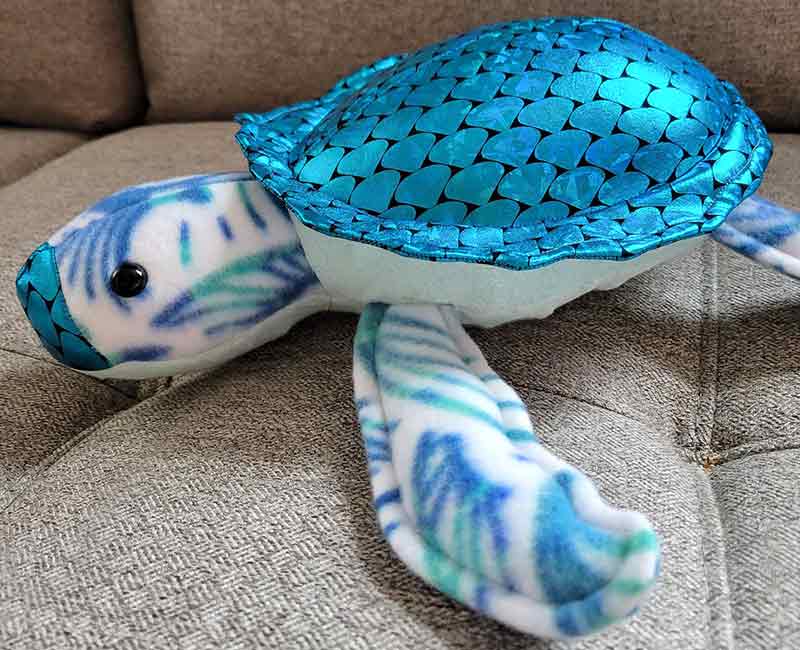 Sea Turtles sewn in ocean fabrics!
And we can't leave out one of the most popular themes for a stuffed Stu the Sea Turtle – ocean fabric! Sea Turtle design? Check! Polka dots? Check! Cute? Check! Sewn by Emma Boulton.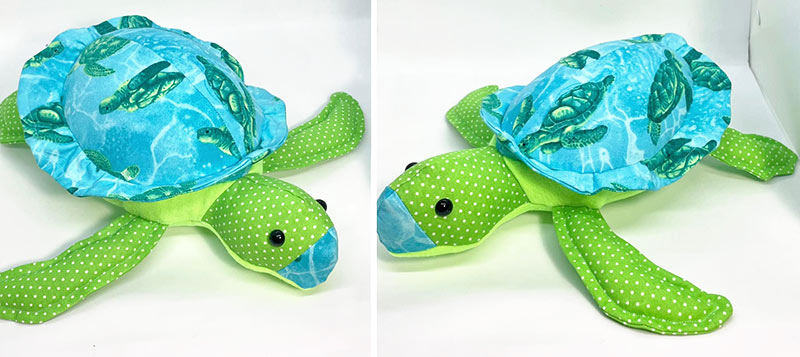 There's a colorful coral reef on this Stu the Sea Turtle sewn by Korina's Kreations.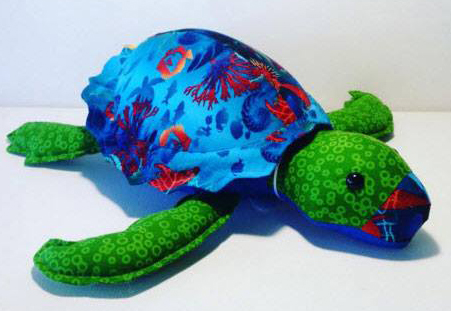 This cute little baby Stu the Sea Turtle sewn by Caroline Hillyard is covered in tiny baby sea turtles.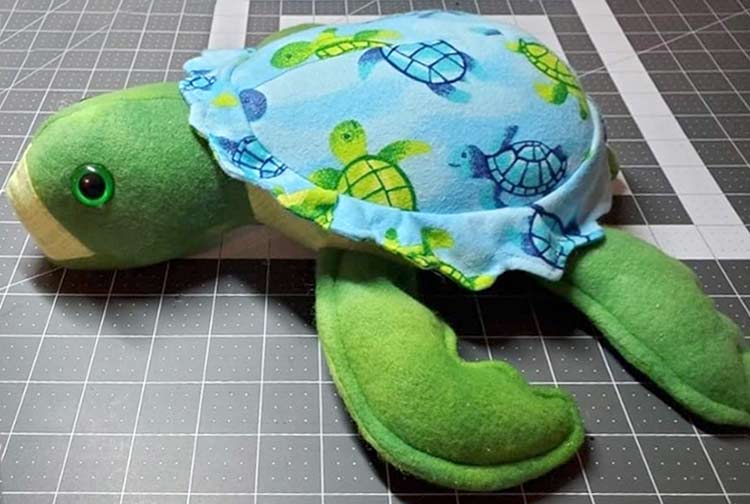 Another sweet sea turtle print used for Stu the Sea Turtle by Kylie of Voodoo Rabbit Fabric!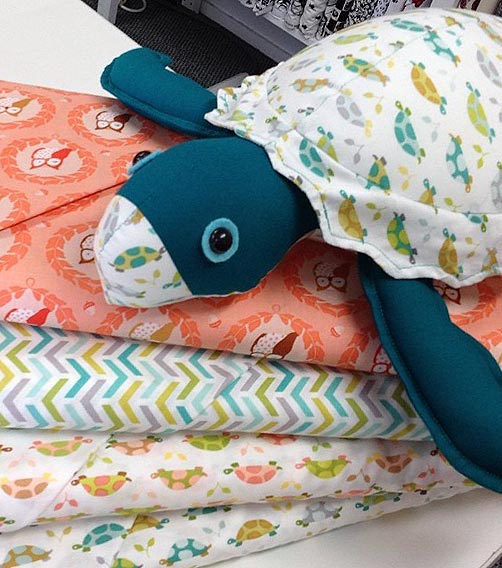 Sea Turtles of all Sizes:
Life-size & re-sized toys!
Whether you want a fully grown turtle or a tiny hatching, you can do both with this pattern. You can even make a mid-size teenage turtle (not the mutant ninja type, tho!). See the TIP box below for easy resizing instructions).
This Itty bitty Stu the Sea Turtle sewn by Lori Rodenbush is barely bigger than a spool of thread!
Sewn by hand, obviously!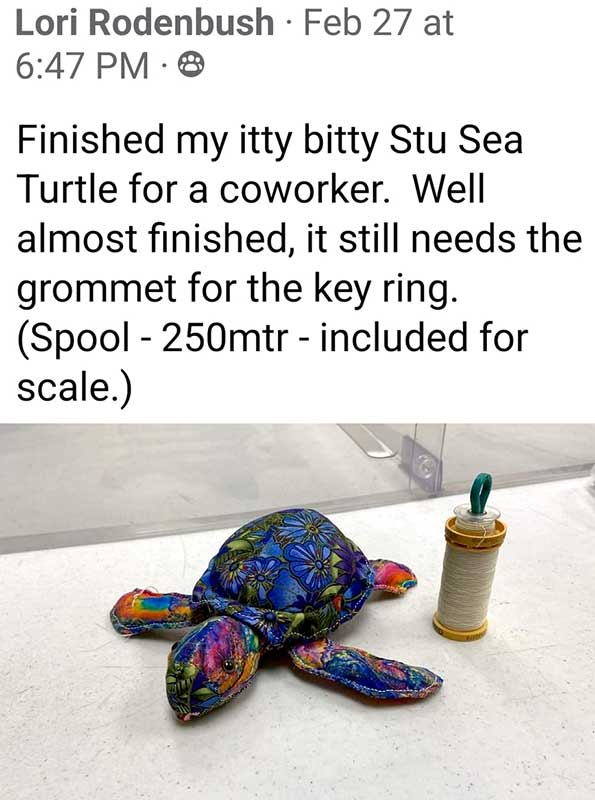 This mid-size "teenage" Stu the Sea Turtle of the hand-held variety was sewn at 60% by Debbie Young.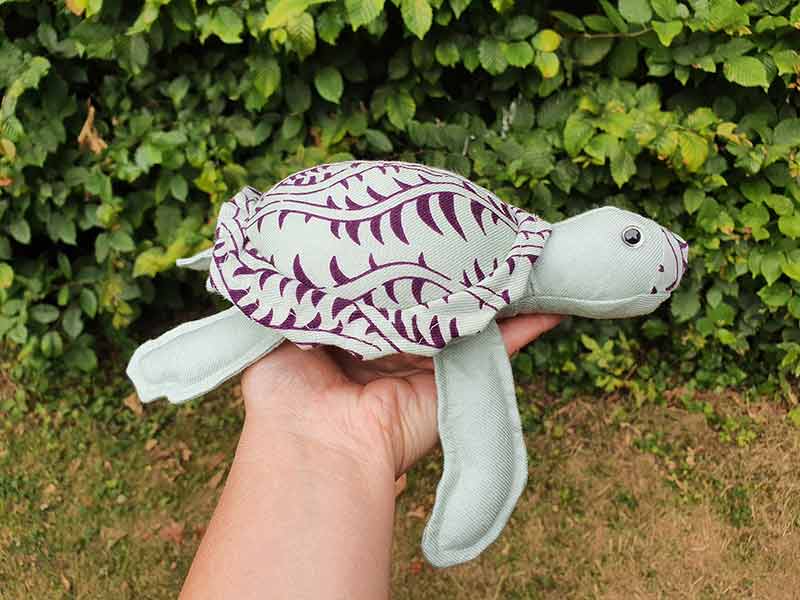 This humongous version of Stu the Sea Turtle was sewn by Sue of Little Luckies… it looks worthy of a tug-o-war to me!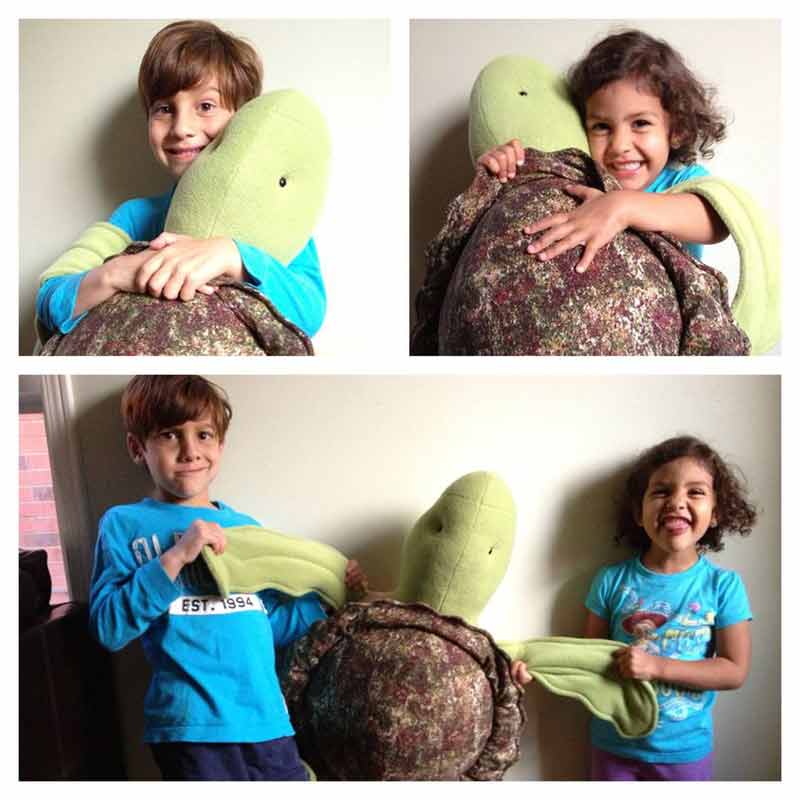 Finally, here's a super-sized Stu Sea Turtle sewn by Karen Bisset. We featured this photo in last week's blog post on making toy patterns into body pillows!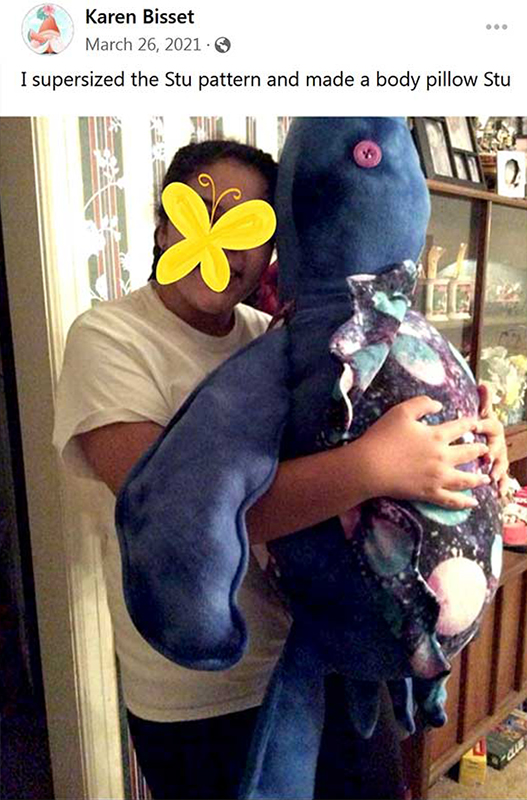 TIP: How to re-size a toy pattern?

If you want to know how to make a pattern bigger or smaller to sew a bigger or smaller toy – checkout the "How to resize a toy pattern" blog post HERE.

In this post you will find:

How to ENLARGE or REDUCE a pattern.

How to make an EXACT SIZE toy ( a simple math formula).

How to PRINT an enlarged pattern at home (poster print option).
Snap a fun sea turtle photo…
Don't forget to have fun posing your Stu Sea Turtle in photos like Sandy Thurlow did – she took him on a trip to the seaside!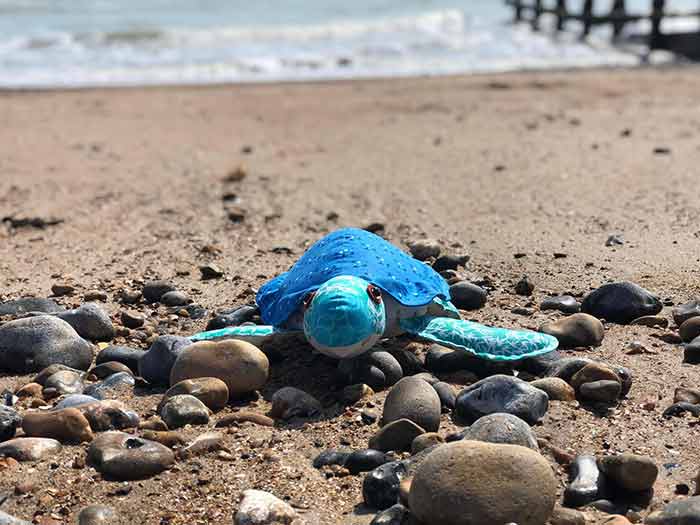 If you don't have an ocean nearby, just make some waves with fabric like Ixoria T. did for her Stu Sea Turtle!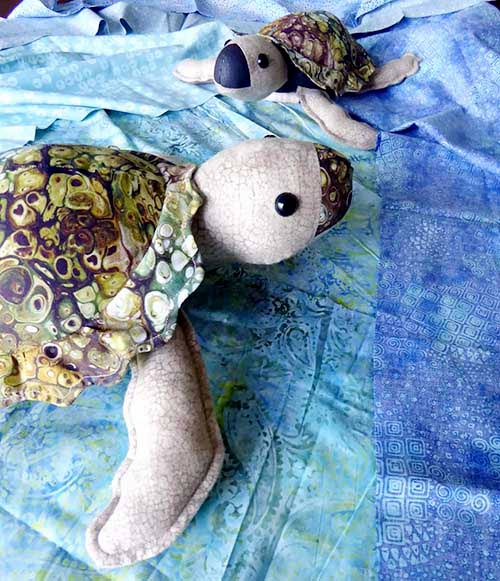 Cool ways to "pimp" your Sea Turtle!
The Stu Sea Turtle pattern is a perfect for "fussy cutting" and other fun customizations. I have put together another separate blog post with information about fussy cutting and to show you ways you can personalize your Sea Turtle (which you can use on other Funky Friends too) like this fabulous like the Batman outfit on this turtle sewn by Leanne Crump.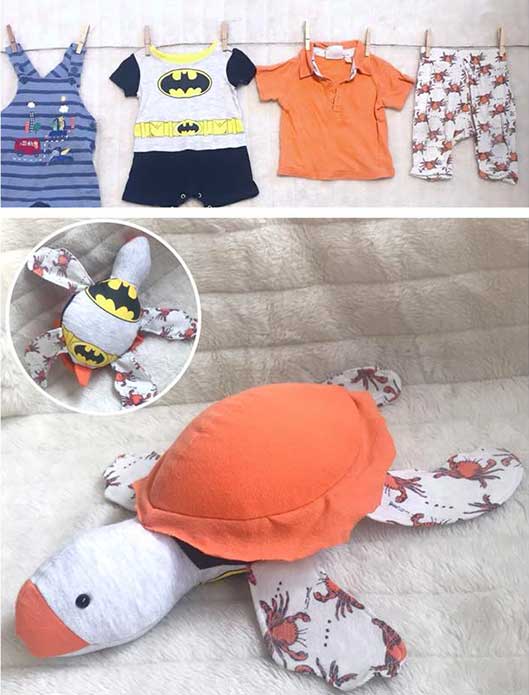 I hope you loved our ocean adventures during our Shark Week celebrations! It's been a blast sharing all these super sew themed toys with you. 
Want to win a FREE toy pattern?
It's so EASY – enter the MAKER of the MONTH Pattern GIVEAWAY!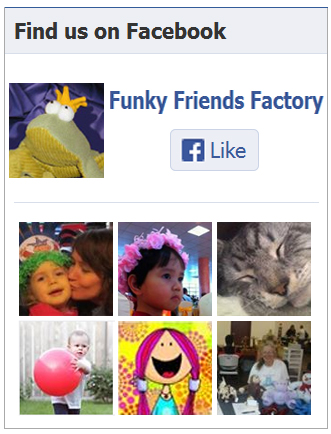 ALL you need to do is post a photo of a FUNKY FRIENDS FACTORY toy that you have made on the Funky Friends Factory Facebook Page HERE!
Each month I draw a winner & post the winner's name on the Blog the next MONTH. You can see an album on Facebook of previous MAKEROFTHEMONTH winners.
NOT on Facebook? ENTER by email! 😀
*** You can send me your photos by email too!
So come on! Share your photos  ~> The next winner could be YOU!!!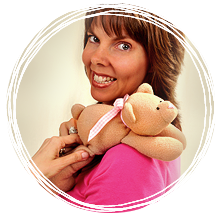 .
Till next time,
Happy Sewing,
Pauline
xxx