Posted under A day in my lifeBlogFFF NewsUncategorized on 2020-07-30 12:11:34
Yeehar! Finally, the time has come to release my NEW Keep Me KEEPSAKE BEAR pattern BUT first, I want to apologise to those of you who have been waiting so long, I think you'll understand once I explain why.
I haven't been keeping you
waiting for nothing.
I have been through what can only be described as a personal hell since February 2019, both mentally and physically. You may already know that I have been involved in a copyright dispute with one of my customers but now that the dispute has been settled in my favour, and the settlement money has cleared in my account – I feel it's important that I let everyone know what has happened and how devastating it has been for me to have to defend my life's work like this and hopefully I can have some closure and move on with my life! The settlement payment will cover my legal costs (I have paid over $20,000 in legal fees!) and also compensate for lost income from lost sales due to reduced web traffic BUT it will NEVER compensate me for the personal toll this has taken on me and my family – which has been so devastating that I feel I have literally lost 18 months of my life dealing with this. My health has been affected to the point I've needed medication. I have been put on anti-depressants because I was in such a bad way mentally, at the end of last year, that at times I was crying uncontrollably and unable to concentrate on work and unable to sleep through the night, waking up from grinding my teeth and disturbing my husband (as I was apparently thrashing around so much). I've spent over 20 years of hard work developing my sewing patterns and my business and it's a real body-blow when others copy my sewing patterns.
This matter, which I consider involved one of my customers blatantly copying one of my sewing patterns, has been legally settled and I can't even begin to explain how incredible it feels to say it's finally O-V-E-R!

It's a HUGE relief knowing I can rely on my copyright to protect my patterns and my business
The sad thing is that this situation is not unique to ME and the Funky Friends Factory sewing patterns… In writing this blog post I want to give hope to other pattern designers and members of the crafting community who have had their work copied.
I want you to know that when someone copies your original work you don't just have to "accept it" – something CAN be done!
Although I am a great believer in the concept that "everything happens for a reason" – I still haven't figured out why I had to go through an experience as stressful as this legal dispute. I guess one positive is that the delay has given me time to tweak my Keepsake Bear Pattern ~ and BOY did I tweak!
Here's me with the final Keepsake Bear – Prototype No.10 – which is why we decided to score him 10/10!!!!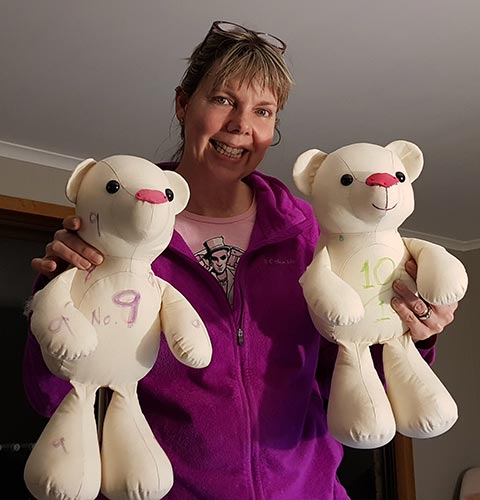 Let's get back to the HAPPY NEWS –
It's time to introduce the latest Funky Friends Factory pattern!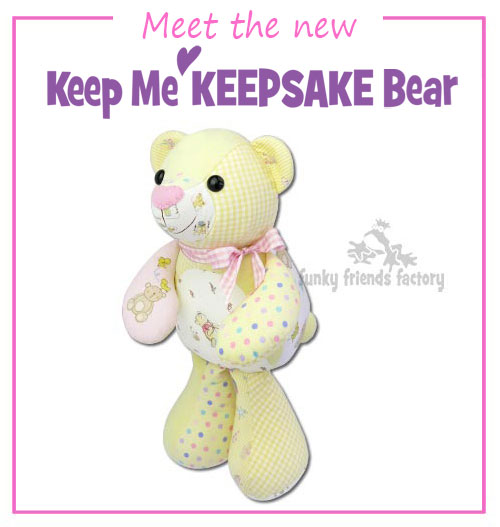 This baby-faced teddy bear was specifically designed for sewing keepsakes. With an adorable heart-shaped nose, cute upturned muzzle, arms and legs sewn into seams (for easy construction), large flat spaces for embroidery or HTV (heat transfer vinyl) letters….. and a chubby little bottom for extra "hugginess" – this is a perfect pattern for you to sew lovely keepsakes with!
How many items of baby clothes do you need for a baby bear keepsake?
I used about 8 – 10 pieces of baby clothing to make each baby keepsake. The Keep Me Keepsake Bear Pattern has a large flat TUMMY PIECE which is great for embroidery and there is enough space on the ARMS and the FOOT PADS to add birth dates and details – so this is also a great bear pattern for embroidery or HTV (heat transfer vinyl) lettering.
*** For the embroiderers out there – you can fit a 4inch/10cm square embroidery design on the TUMMY, ARM, BACK and PAW PAD PIECES. ***

The Keepsake Bear is not just for baby keepsakes, it can be used for a bereavement bear too. You can use most fabrics for the Keepsake Bear. One of the testers used some lovely soft Luxe Cuddle from Shannon Fabrics to create plain fluffy bears which were just as cute (if not cuter?) than anything I have seen in a store!!!!
Look at all these lovely feedback photos!!!!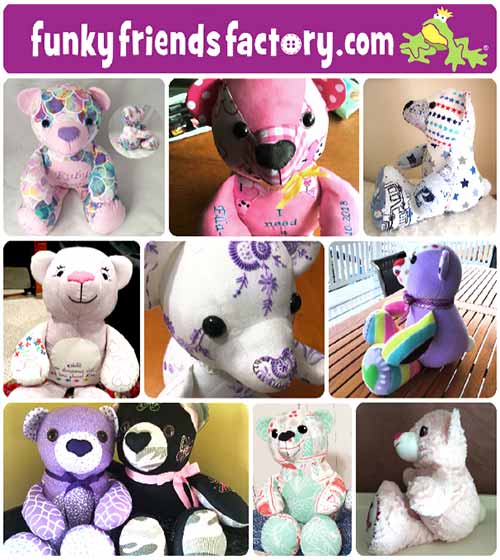 Is there a Keepsake Bear Pattern tutorial?