I know Funky Friends Factory fans love SUPER-SIZED toys, so the jumbo project in this blog post is sure to bring some smiles: ocean creature body pillows! Create a kooky, comfy bed with body pillows made from the patterns for Sammy Shark, Dizzy Dolphin pattern, Stu Sea Turtle, William Whale and Monty Manatee.
Check out these
body pillow sized
Funky Friends!
Now, that's BIG!!!
Alyssa King of Snuggle Soft Designs has sewed some HUGE toys. Here's a extra large Sammy Shark.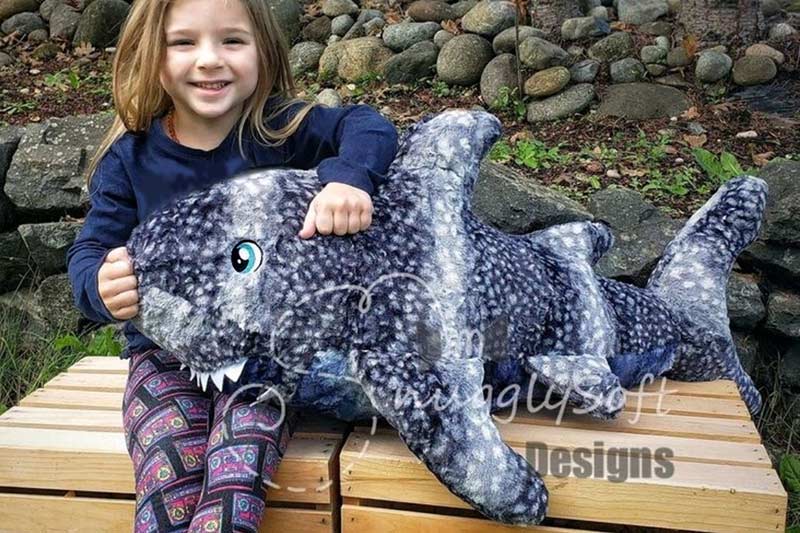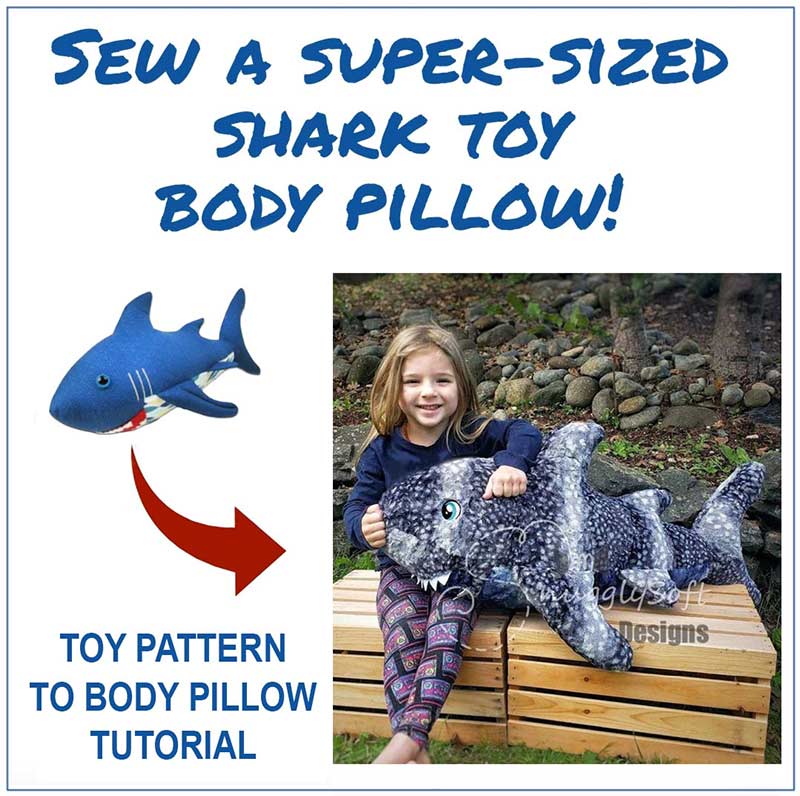 Click HERE to buy the Shark pattern.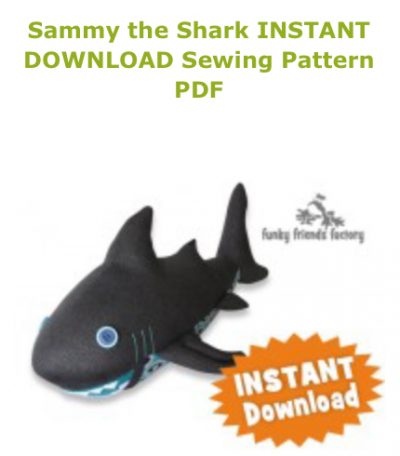 From coat to COOL!
Gabi Girndt used a coat to make a mega-size Monty Manatee.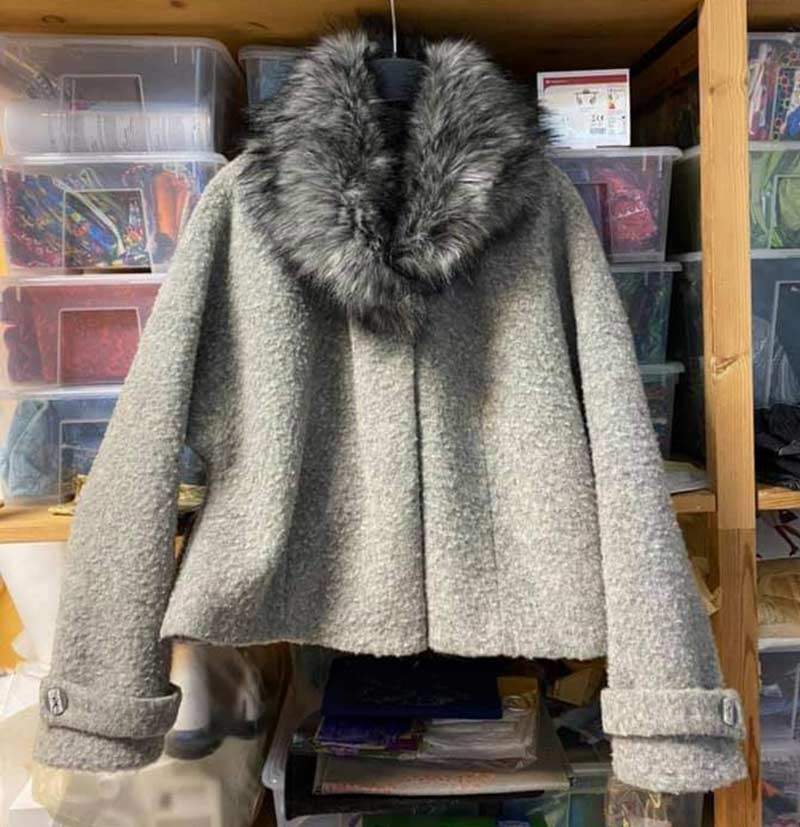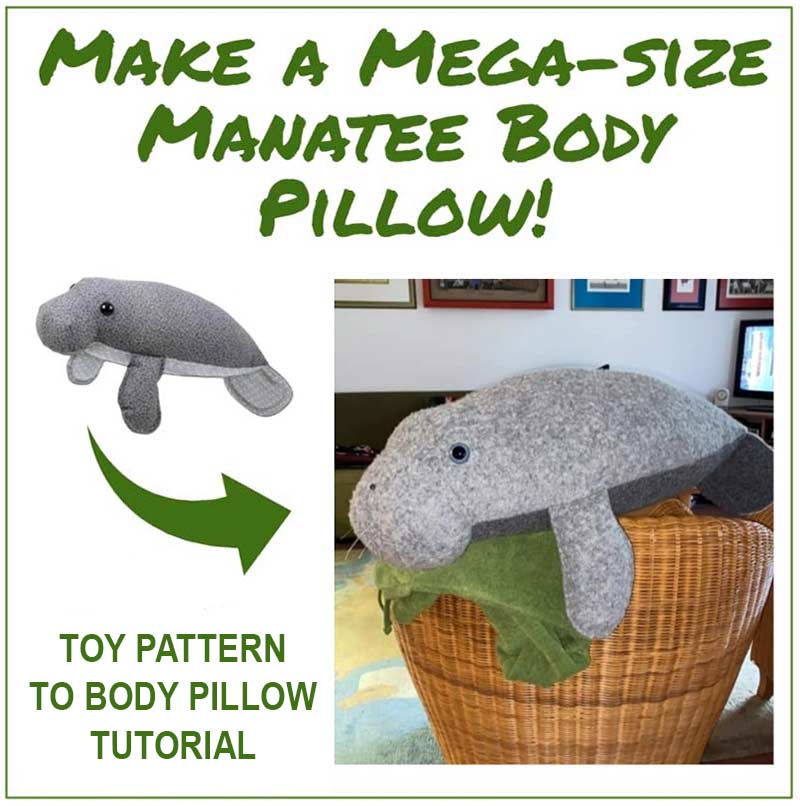 Click HERE to purchase the Manatee Pattern.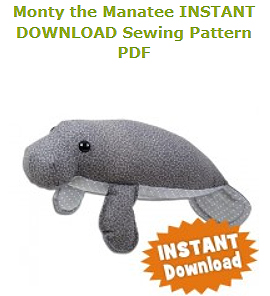 What a BIG HUG!
Karen Bisset has sewn a couple of huge Funky Friends including this awesome Stu Sea Turtle! While this pattern isn't as easy as the others in this blog post, it would make a great addition to an over-the-top ocean bedroom theme.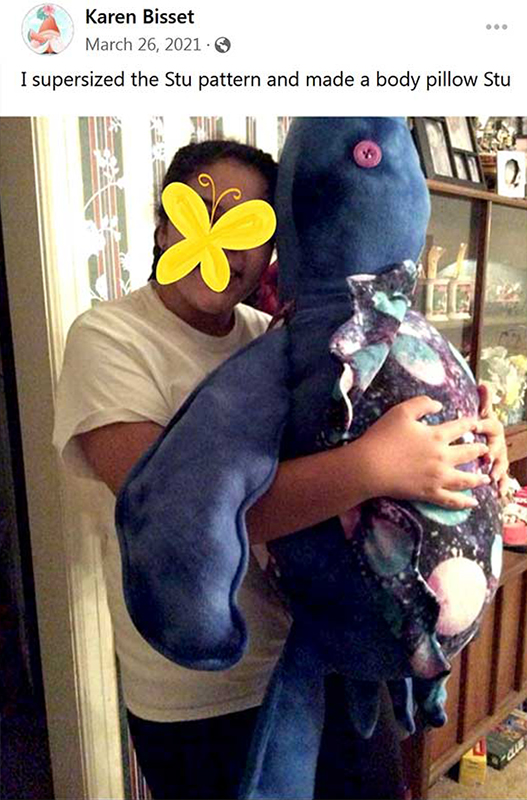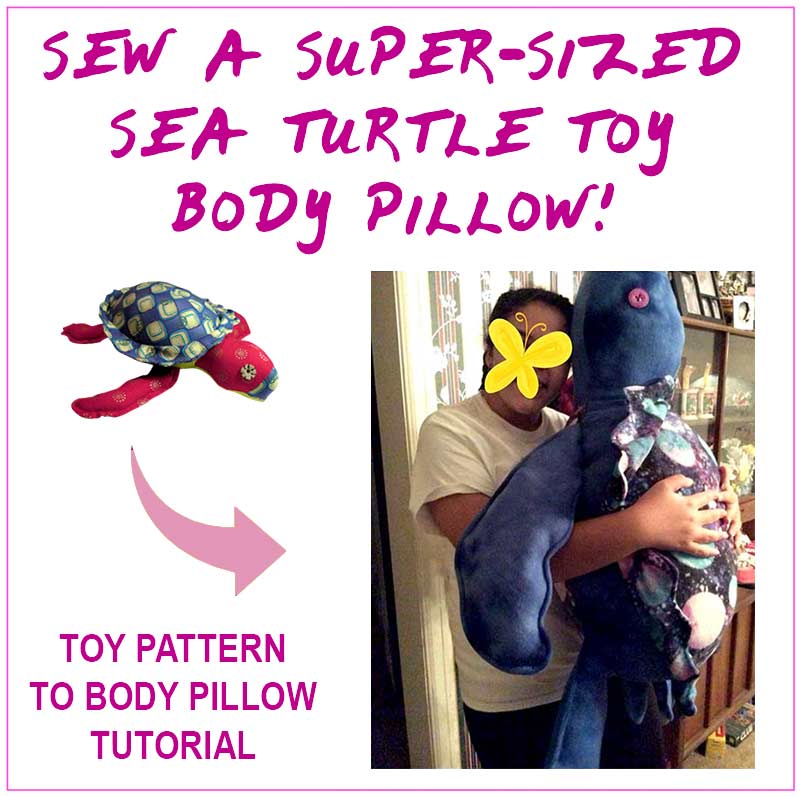 Click HERE to purchase the Sea Turtle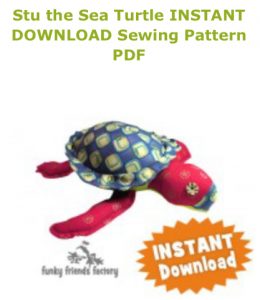 How big is a body pillow?
Bedding measurements vary greatly by country, but some Internet research has shown me that the most common size range for an adult body pillow is 48 – 54 inches (122 – 138 cm).  I've decided to use measurements for a child-size body pillow in this blog post, which are usually 38 inches/ 97cm.
TIP: Want to make an adult-size body pillow?

This blog post includes printer percentages for child-sized body pillows. But if you want to go bigger, I left some tips at the end of the post for the extra adventurous (or those with tons of extra toy stuffing!). Keep in mind you'd be making a nearly life-size dolphin if you enlarge Dizzy to adult body pillow size!! 
Why use an ocean toy pattern?
Re-sizing a pattern is easiest if you pick a toy pattern that has LARGE, easy to cut pieces. These Funky Friends Factory ocean patterns are some of the easiest patterns… plus I think they are also some of the cutest the bunch: William WHALE pattern, Sammy SHARK pattern, Dizzy DOLPHIN pattern, Stu Sea Turtle and Monty MANATEE pattern. Stu Sea Turtle is a little more challenging than the others, but if you've sewn him in regular size first (which I would recommend for any pattern before you super-size it) you should be fine.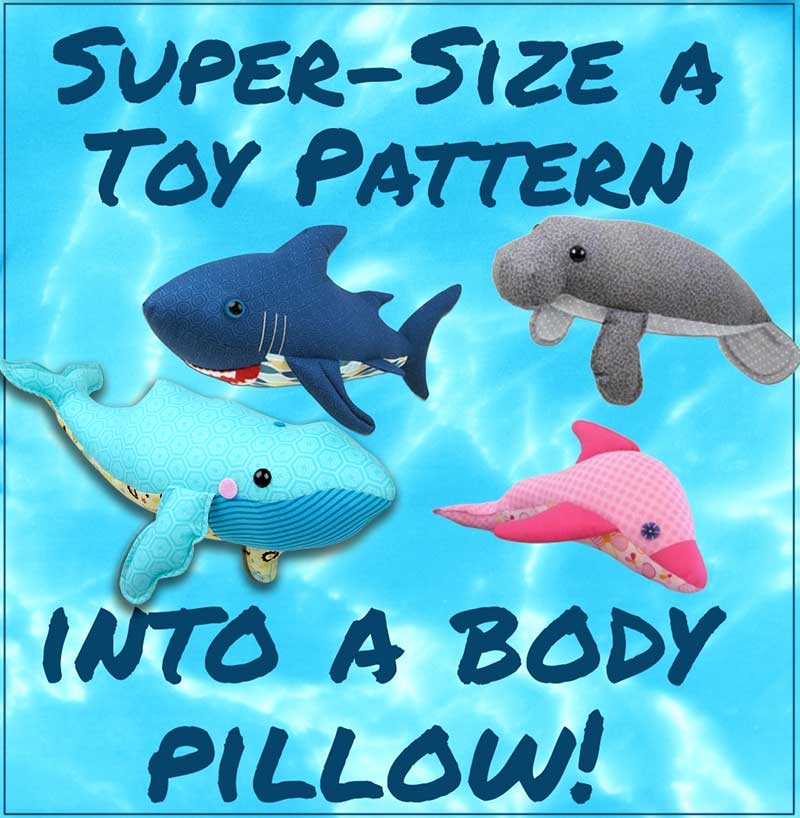 Re-sizing Basics (how to resize a pattern)
If you're new to re-sizing patterns, check out this guide to see how re-sizing works on a printer or copy machine. Then come back to this blog post to get the EXACT PERCENTAGES to use on your printer or copy machine when creating body pillows.
TIP: Exact Printing Percentages to make kid-size body pillows:

Please note that the mega-toys pictured with people in this post are just examples and were not printed at the exact percentages I give you below. In other words, the toys in the pics aren't all exactly 38 inches (97cm) long. Just whip out a tape measure first if you want to know exactly how big a 38 inch (97cm) toy will look in your home space.

length 16½"(42cm) ~> 38″(97cm).
Print at 230%

length 16½"(42cm) ~> 38″(97cm).
Print at 230%

length 20″(50cm) ~> 38″(97cm).
Print at 195%

length 18″(45cm) ~> 38″(97cm).
Print at 215%

length 15″(38cm) ~> 38″(97cm).
Print at 255%
Can you print large patterns at home?
Yes, most home computer printers have the "poster print" option that allows you to print large projects over multiple pages, and then tape the pieces together. (I cover this in the how to resize a toy pattern guide!) Of course, you can always take your pattern pieces to a photocopy shop and ask them to do the enlarging.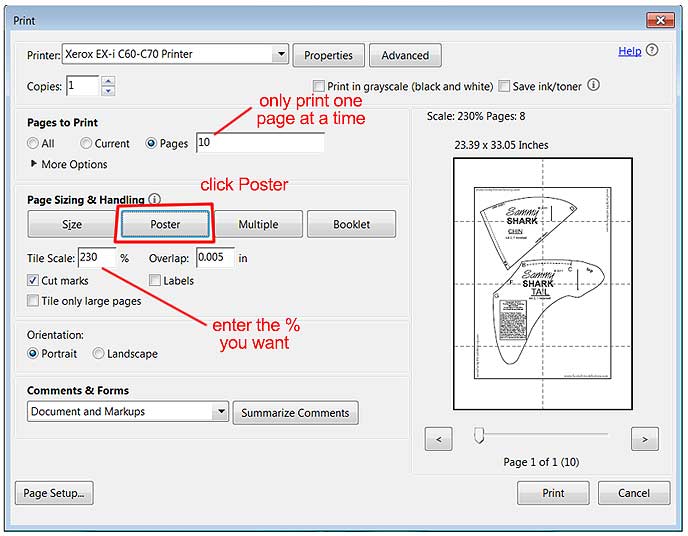 TIP: Want to go bigger? Or use a different pattern?

If you'd like to create a bigger pillow (or use a pattern I haven't included here), you need to have the original size of the toy. To get the initial length of the pattern, just find the measurements for any Funky Friends Factory pattern on the product description page in the SHOP section. Here I've circled the area listing the length of Sammy Shark.

Make sure to lay out a tape measure so you know exactly how big your new friend will be. Then do the simple math to come up with your printer percentage – using this simple formula: 

Length of pattern at 100% 

DIVIDED by length you want 

Then MULTIPLY BY 100
Are you going to go BIG????
I'd love to see your sea creatures! Please post a photo for me to see, if you do! 

Want to win a FREE toy pattern?
It's so EASY – enter the MAKER of the MONTH Pattern GIVEAWAY!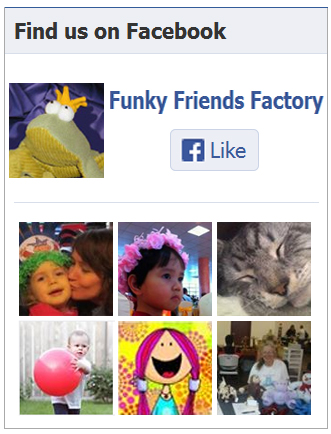 ALL you need to do is post a photo of a FUNKY FRIENDS FACTORY toy that you have made on the Funky Friends Factory Facebook Page HERE!
Each month I draw a winner & post the winner's name on the Blog the next MONTH. You can see an album on Facebook of previous MAKEROFTHEMONTH winners.
NOT on Facebook? ENTER by email! 😀
*** You can send me your photos by email too!
So come on! Share your photos  ~> The next winner could be YOU!!!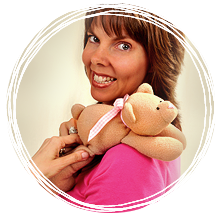 .
Till next time,
Happy Sewing,
Pauline
xxx