Stu the Sea Turtle has two large, symmetrical shell pieces AND a huge single tummy piece so he is a really great toy for customizing your toy to make something super unique! 
Look at these cool examples!
Fussy cutting is fun!
Here is a fantastic example of fussy cutting by Kathryn Farmer. Her Stu the Sea Turtle looks sea-worthy from the side and fun from the front… 
but there's a real treat on the top…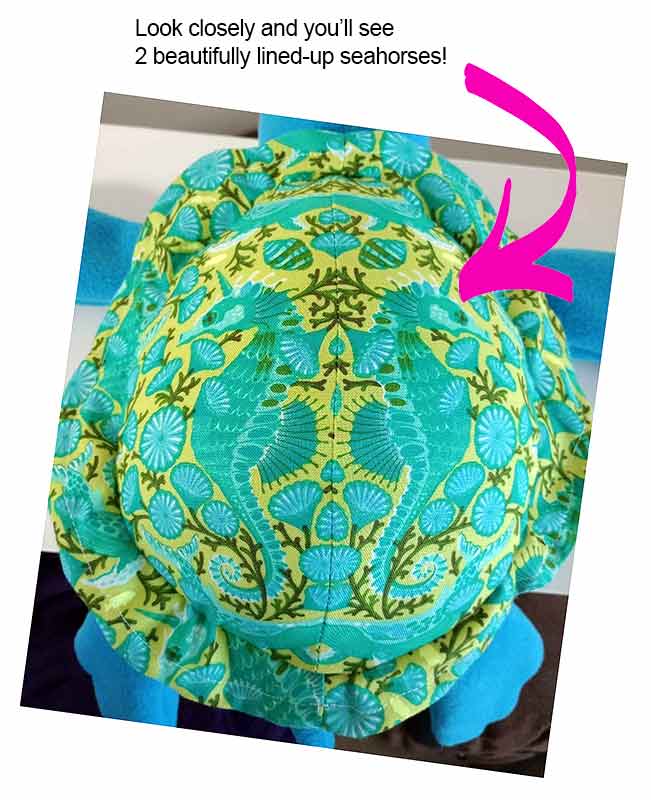 You may wonder how to achieve this effect when the shell is made from two pieces, meaning there's a seam down the middle. The trick is called "fussy cutting". 
What is Fussy Cutting?

Fussy cutting is a quilting technique for positioning the fabric to take advantage of a particular part of the design. In this photo below of Kitty Kate you can see that I positioned the bird on the fabric so it was on the face of my cat toy! I have a blog post with more information and HOW TO tips for fussy cutting HERE.
Here is a fantastic example of fussy cutting by Donna W. Her Stu the Sea Turtle looks like this fabric was designed specifically for him (her?) because of the way Donna has cut out her fabric so the flower is centered on the shell and the leaves run 'down' each of the flippers!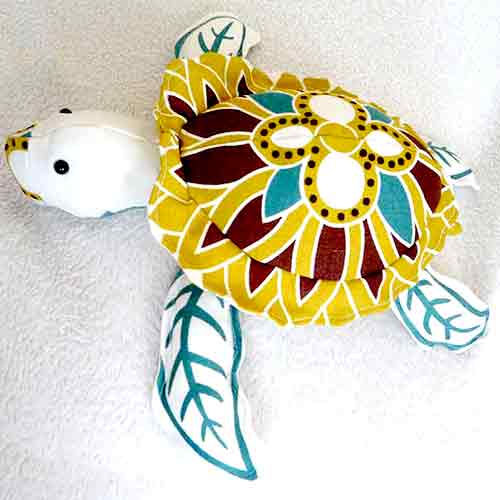 Here's another popular way to use "fussy cutting" on a toy pattern, and it will work for lots of the other Funky Friends patterns too. Place part of the fabric pattern as a background to highlight the toy's eyes like Kara Dover has done for her Stu Sea Turtle's eyes!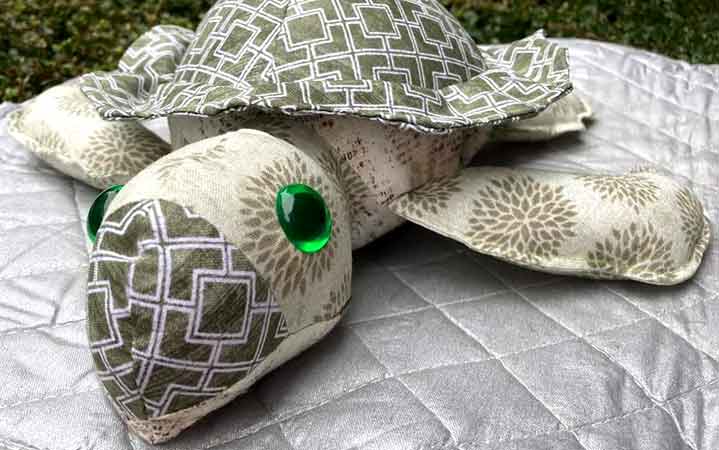 The compass star on this upcycled baby wrap sewn by Amanda Crabtree is ideal for a sea-navigating turtle AND you can see the star-shaped "fussy cutting" Amanda did for Stu the Sea Turtle's eyes!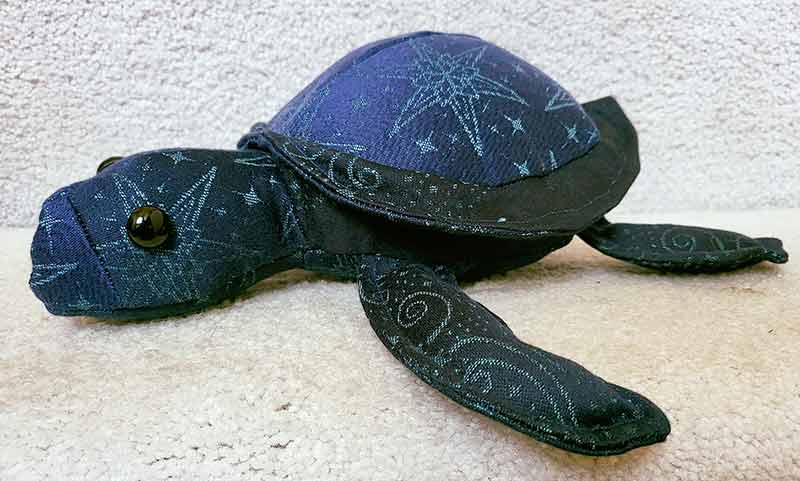 Got a cute fabric panel you want to use on a toy? You can line it up like Megan Lowndes did for her Stu the Sea Turtle.
Look how she positioned
a cute BUG
on Stu's beak!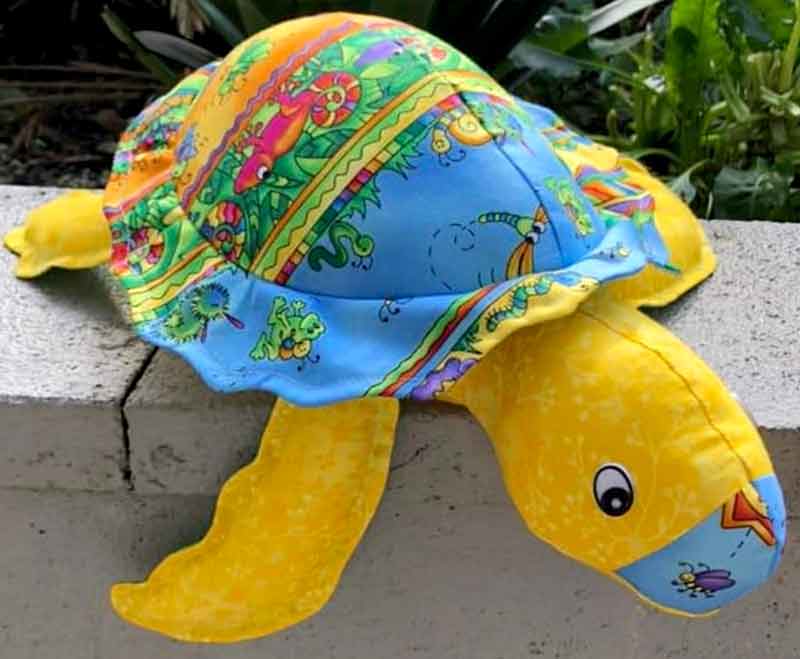 Customize – Monogrammed & Personalized!
Stu the Sea Turtle's tummy is a large flat piece, which makes it perfect for customizing with text using an embroidery machine or heat transfer vinyl (HTV) cut on a Cricut machine or similar tool. Darlene Gowan's sea turtle has the baby gift recipient's name on the tummy.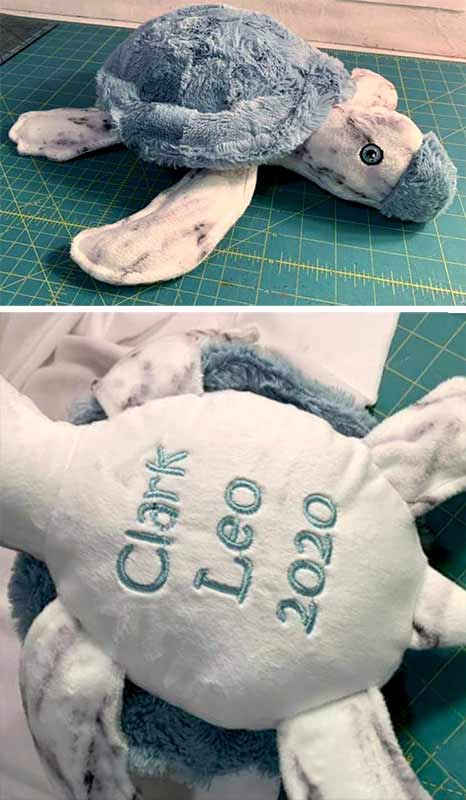 Here's another baby gift example with birth stats on the tummy on this Stu the Sea Turtle sewn by Debbie Hendricks Weideman.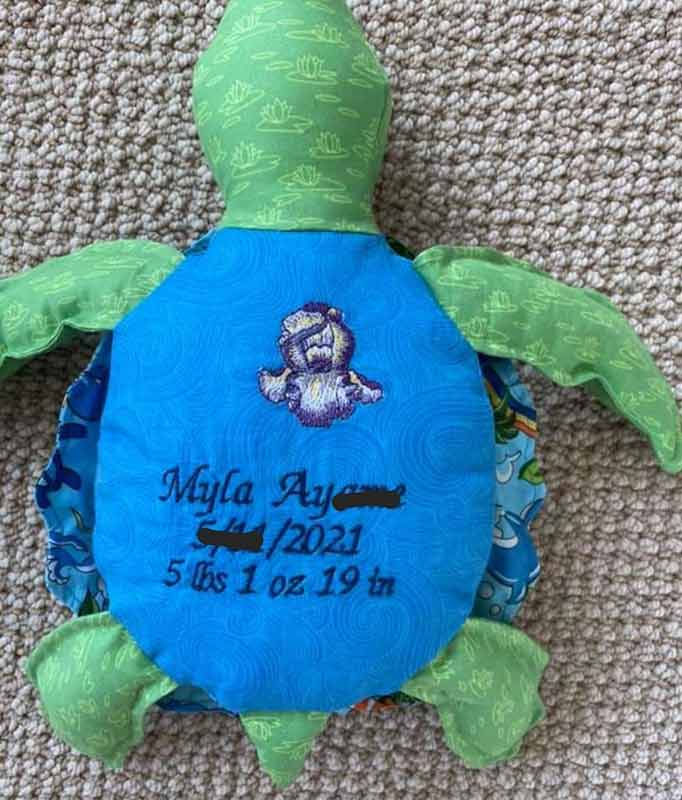 Sew a cute baby clothes keepsake!
Stu the Sea Turtle has enough large pieces to show off lots of different baby clothes, and his big tummy piece is perfect for the front of a onesie, like the Batman outfit on this turtle sewn by Leanne Crump.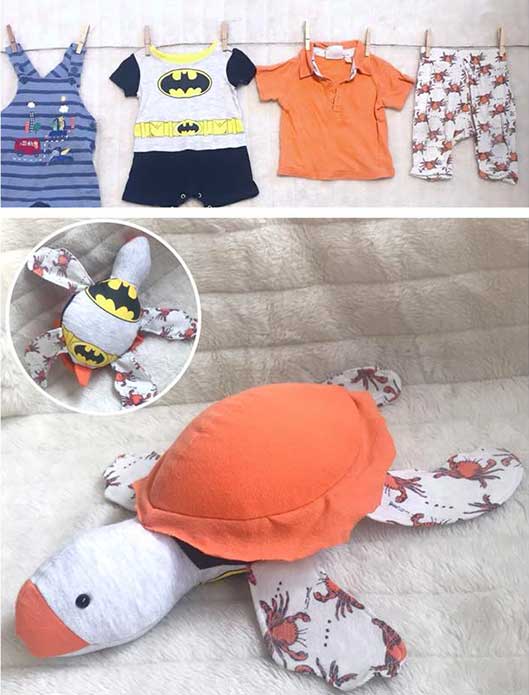 Here's a "girly" version of Stu the Sea Turtle with floral flippers made by Jane Tate.made from baby cloths and a baby blanket. Jane added birth stats on a patch and put them on the top of Stu's shell.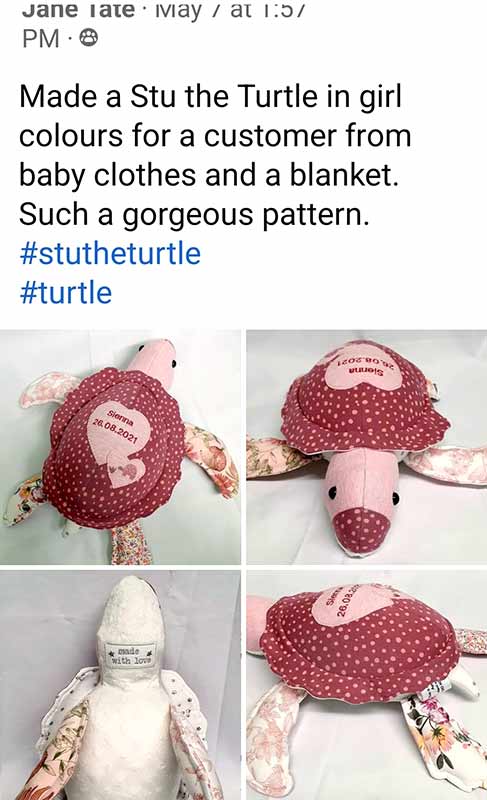 And yet another cute baby clothes keepsake sewn by Jane Tate. The striped flippers on this Stu the Sea Turtle are adorable!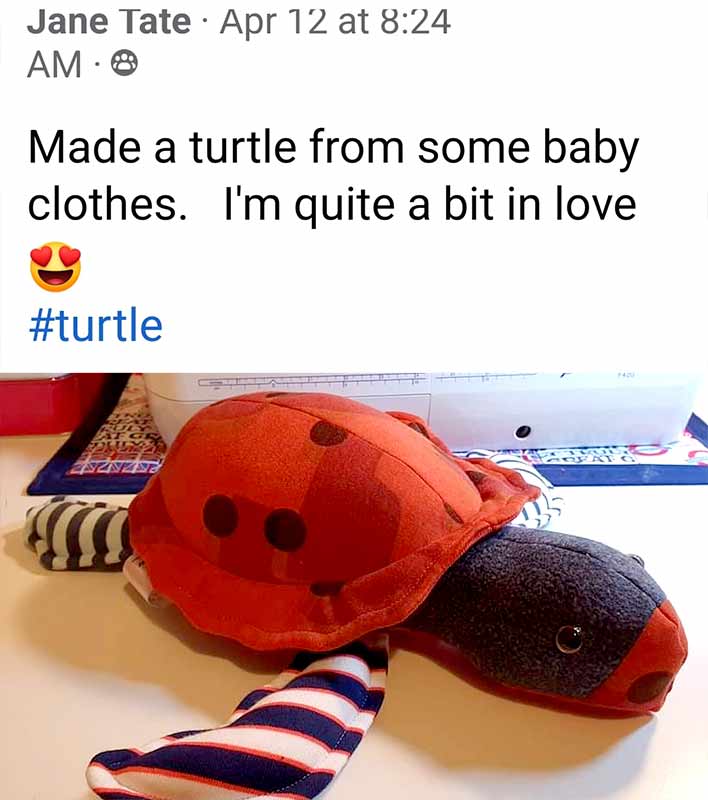 School uniform custom keepsake!
This is a great way to create a very personalized memento of someone's school years! Got a school blazer or uniform with a large crest on it? Cut it out and appliqué it to the top of Stu the Sea Turtle's shell like Janine MacKenzie did here. This would be a great way to show off scouting badges, too.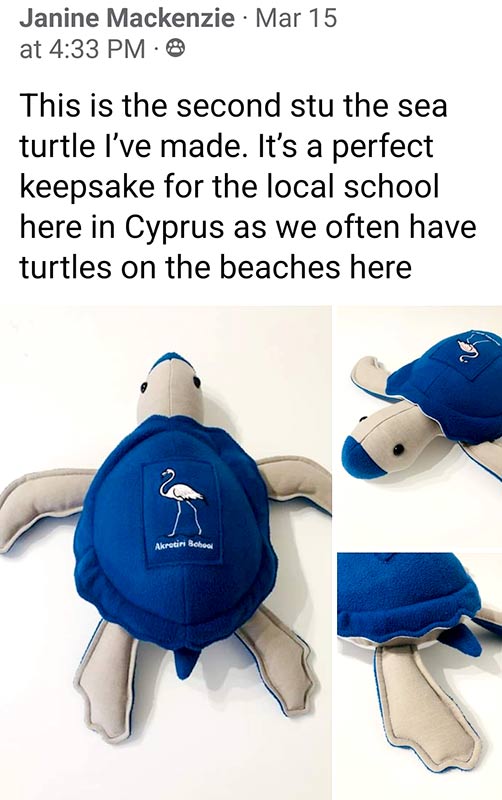 Sew a school leaver memory toy!
Stu the Sea Turtle sewn as a school leaver toy keepsake sewn by Debbie of Debbie's Memory Bears.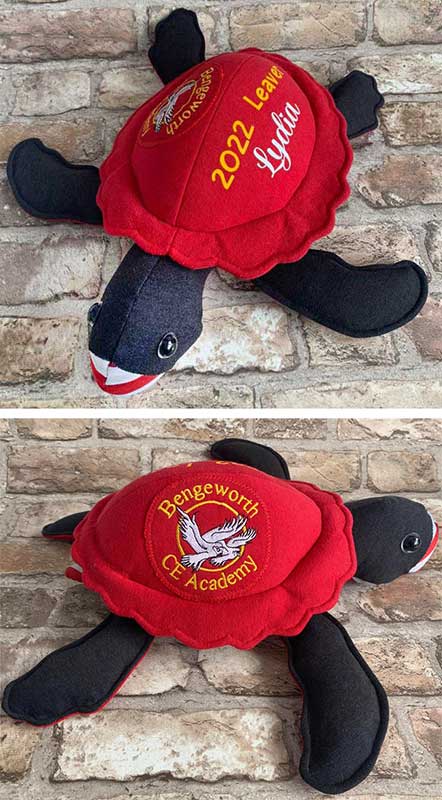 Make an adult memory toy!
This sweet Stu the Sea Turtle was sewn by Brittney Quidachay for a heart transplant recipient who LOVES turtles – perfect!!!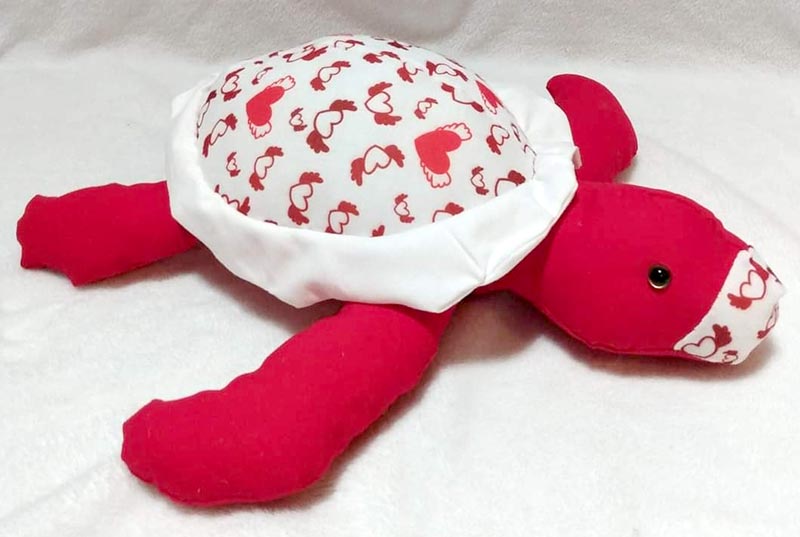 This "pirate" Stu the Sea Turtle was sewn by Lucy Jayne Gilbody from dance costumes as show memory gifts – what a clever idea!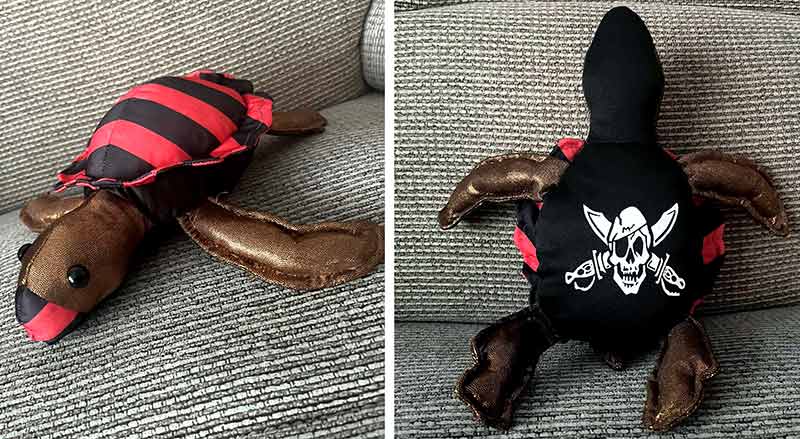 Sew a custom toy just for yourself!
Amanda Huggins of Arwren' s Joy sews LOTS of Funky Friends toys for her customers BUT she treated herself to a special "fandom fabrics toy". Stu the Sea Turtle turned out just to cute in this baby Yoda fabric print!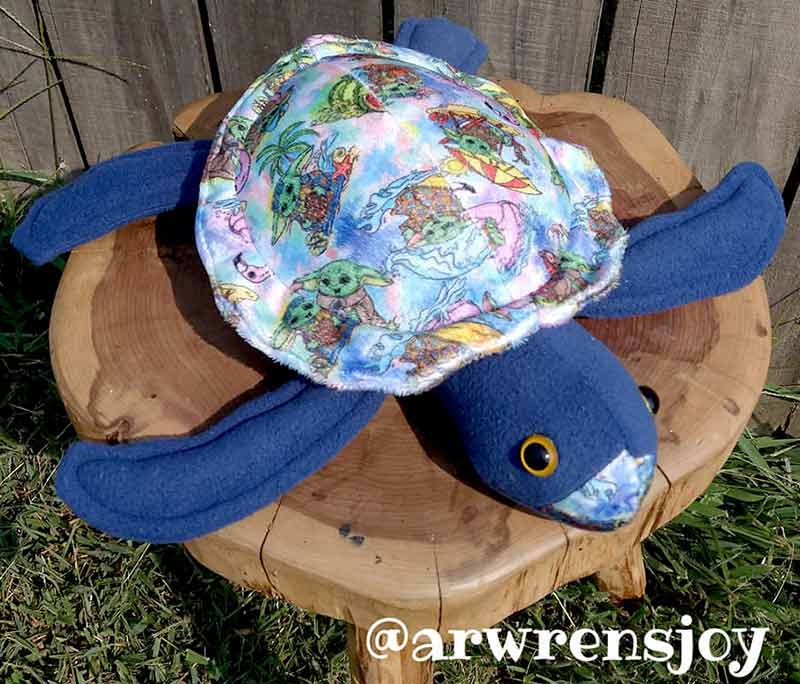 That should give you some ideas – I wonder who YOU will customise a sea turtle for?
Want to win a FREE toy pattern?
It's so EASY – enter the MAKER of the MONTH Pattern GIVEAWAY!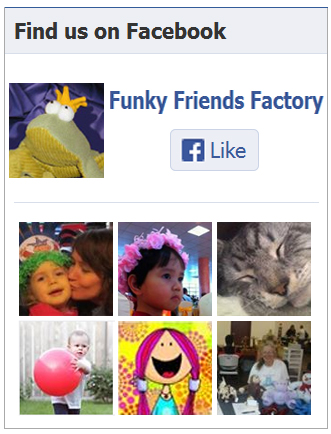 ALL you need to do is post a photo of a FUNKY FRIENDS FACTORY toy that you have made on the Funky Friends Factory Facebook Page HERE!
Each month I draw a winner & post the winner's name on the Blog the next MONTH. You can see an album on Facebook of previous MAKEROFTHEMONTH winners.
NOT on Facebook? ENTER by email! 😀
*** You can send me your photos by email too!
So come on! Share your photos  ~> The next winner could be YOU!!!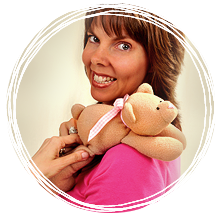 .
Till next time,
Happy Sewing,
Pauline
xxx