"Are your patterns suitable for
children to sew?"
I often get asked this by people looking for sewing projects for children.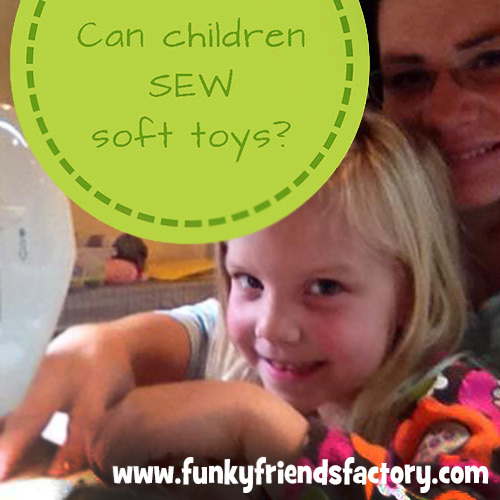 I started making my Funky Friends Factory Toy Sewing Patterns because I wanted FUN and EASY patterns, and so I began creating my own! I think I have made my toy patterns as simple as possible, without compromising on CUTE!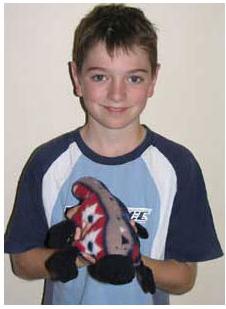 8 year old Jack is the youngest boy that I know of, who has made a Funky Friends Factory stuffed toy. His mum supervised him making his own Plattie Platypus on her sewing machine …
* Look how pleased he is with the result!
Which toy patterns are the easiest?
It is really hard to say which patterns are easiest. From the feedback I get it seems, everyone has their own opinion BUT I'd say the 'VERY easiest' ones to try would be:
…. and followed by the 'next easiest' patterns to try would be…
… and of course, the FREE Honey Teddy Pattern!
Every child is different!
This makes it really difficult for me to say from what age the patterns are suitable. You will have some idea of your child's ability and, of course, their level of interest in making the stuffed toys.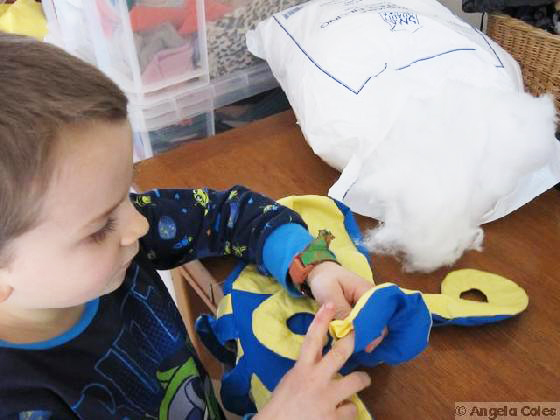 Young children from 8 – 10 years old should be able to sew some of the easy patterns with the assistance of an adult, whereas some older children and teenagers will be able to sew them under superviosion or even completely on their own.

*Angela's daughter is just 5 and she loves sewing Funky Friends –
with mum helping on the sewing machine.
Young children love making softies!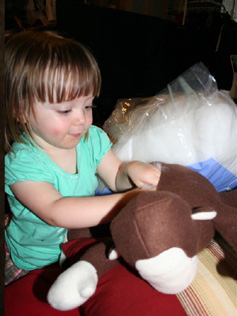 Your children don't need to actually sew the toy themselves to feel included. Children can help you with fabric selection. How much more will they love their toy if they chose the fabrics? They can also help with the toy stuffing. You can always add more stuffing before you sew up the stuffing gap if the toy is looking a little lumpy! Children LOVE helping with embellishment! Let them add ribbons buttons and any other bits and bobs to decorate their new friend!

A few feedback pics…
Helena's Unicorn
Hi Pauline, My daughter Helena and I made unicorn last weekend and I wanted to share a picture of the finished unicorn. Your pattern was so well written that it only took us a few hours. It was a fun project for both of us and a positive way to teach Helena begining sewing. We are already trying to decide what to make next!
Thanks! Nicole & Helena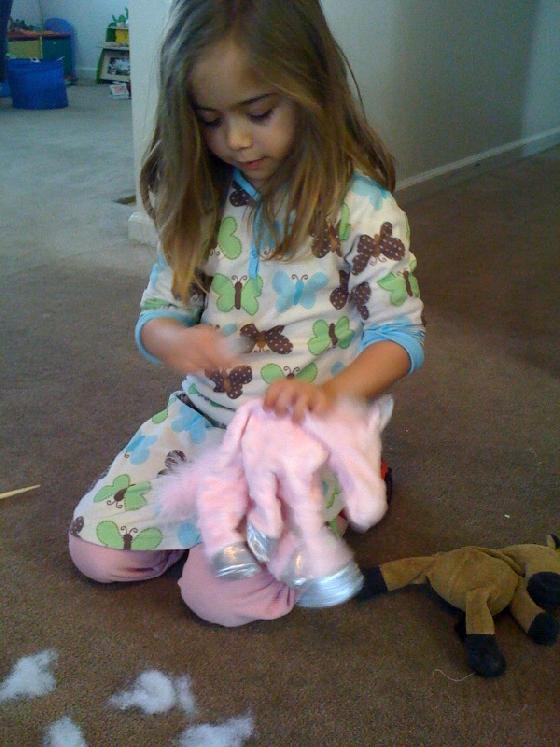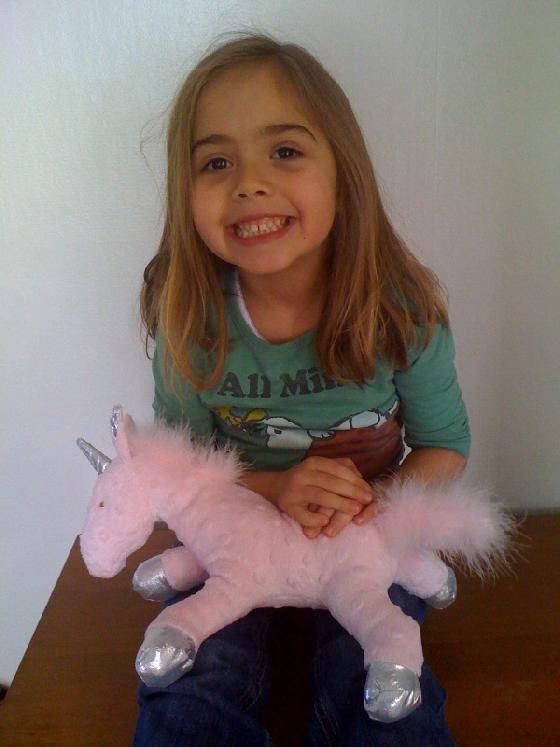 Jordy's starry-eyed Honey Teddy Bear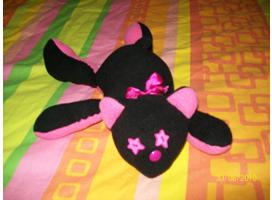 Hey Pauline,
My daughter was bored on these school holidays so she decided to have a go at one of your patterns.
Jordy is 13 and has started sewing at school. Last year I gave her my old machine and she has had a go at some very basic projects but this was her first funky friend.
Jordy made a very unique "Honey Bear". She looks like a rock star in black and pink, with hot pink stars for eyes. Jordy had a fun time…. and is very proud of her new bed buddy.
Love your work, Pauline… Deb
Christopher's Mouse – Connecticut, USA
Here are some pictures of the mouse my step son Christopher made. (He did have a little help but not a lot). The first view is Christopher holding his mouse and the second view is the underside of the mouse. Having fun with these. Nancy

Catherine's Toy monkey – Melbourne
Hi Pauline, I made Mitch the Monkey as a present for my nephews 3rd birthday. Abbey loved to help me stuff him, she was watching me make him, and was so good when I gave him away to her cousin. Thanks again, I cant wait to make another Mitch or try another pattern, Catherine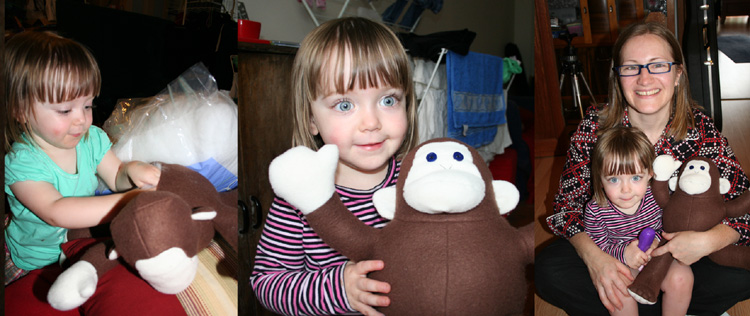 Ailsa's Honey Teddy Bear called "Berry"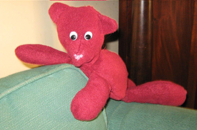 Hi Pauline,
I'm 9 years old and this is my first proper cuddly toy. I mainly did it on my own but I had help with a few bits. I really enjoyed making my bear and I am over the moon with the results. I named it BERRY after the wonderful colour it has. Thank you so much for the amazing pattern:)
Ailsa x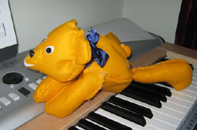 Hi Pauline,
Here's my second atempt at Honey. I renamed this one SUNSHINE. I did this one on my own and it's made of some bright yellow felt. It's for my brother, it's for his 8th birthday and it'll be so cool if he see's it on your website!!!!!!!!!! see ya:)
Ailsa age 9
Hannah (8) sewed hew own Hannah Hedgehog.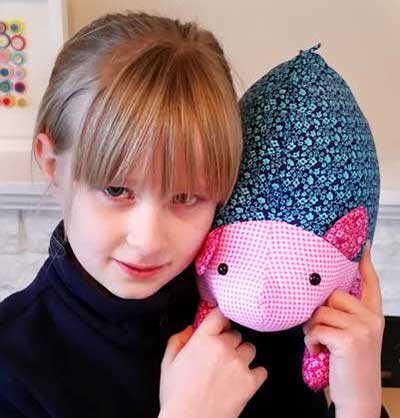 Hi Pauline, for Christmas I got a sewing machine so I am going to sew everything. I think in the future I will be like you and make my own patterns up and love animals espeshally dinosaurs raaaa!!! and monkeys lots of love Hannah
Pauline, I am more than happy for you to use our feedback and Hannah's picture on your website, we both love your patterns and they are giving me the opportunity to pass on my skills. Thank you so much for Hannah's pattern, you really are inspiring the next generation! Kind regards Niki
Jack's been pipped at the post by Jacob(7).

Hi Pauline, My 7 yr old son, Jacob, wanted to make a snake over the Easter holidays. I already have several of your patterns, so I know they are easy to follow. We bought the snake pattern and we made it together. Because he only wanted his snake to be one colour, we just made the body section all one piece. Jacob did all of the cutting (except the tongue), all the sewing (except the head), all the decorative diamonds, all the stuffing and all the hand stitching!!!! I couldn't believe it how much he wanted to do, and could do, by himself!! Thank you for such a great pattern! Kathryn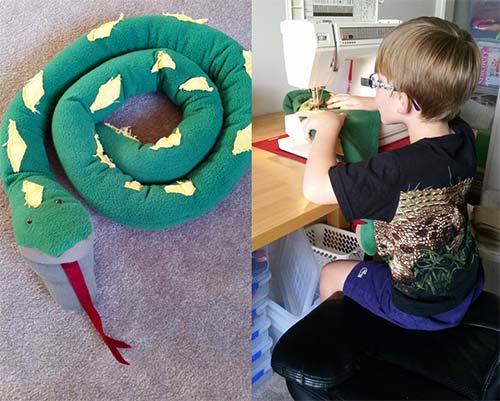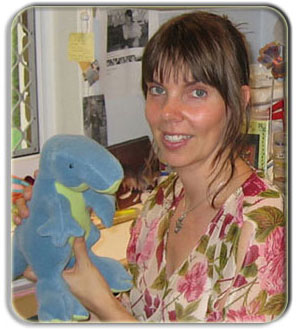 I love receiving feedback, so please drop me a comment and tell me if you have sewn some of the Funky Friends Factory toys with YOUR children or if you are a child yourself and have sewn one of the Funky Friends!
xxx
Pauline