With Valentine's Day just around the corner, I thought you'd like to see some customer feedback photos of LOVELY Valentine's toys – for ideas – AND I have a FREE Valentine's Pattern ADD-ON for YOU!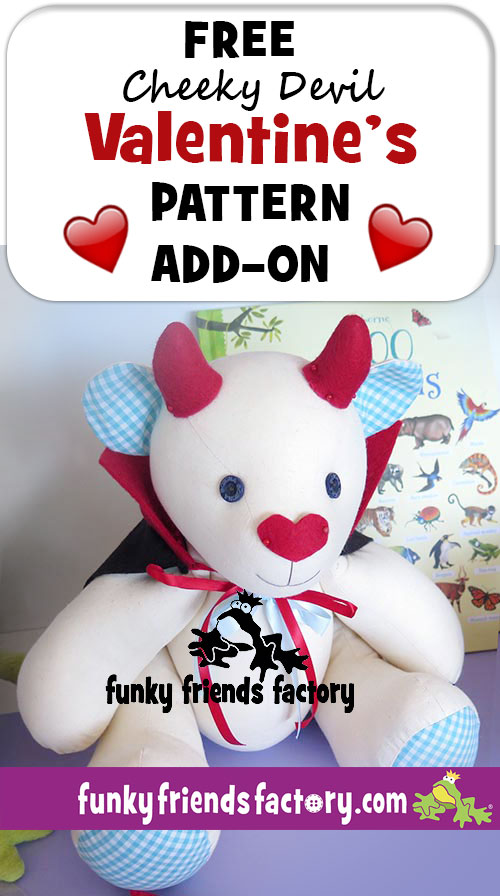 BUT first…
Let's check out
some fun examples of the
Love Monster pattern!
This is a great gift for kids of all ages and adults because you can customize the front! I included some common Valentine's sayings in the LOVE Monsters Pattern but you can add your own personal message, a name, or whatever you want!
Dawn Buel Fleischman used a cute western bandana-style print on these Love Monsters for her grandkids. This easy, versatile pattern looks great in plain fabric or all sorts of prints, and the front tummy panel is a great space for embroidery machine files, heat transfer vinyl (HTV), keepsake t-shirt panels, or even a photo!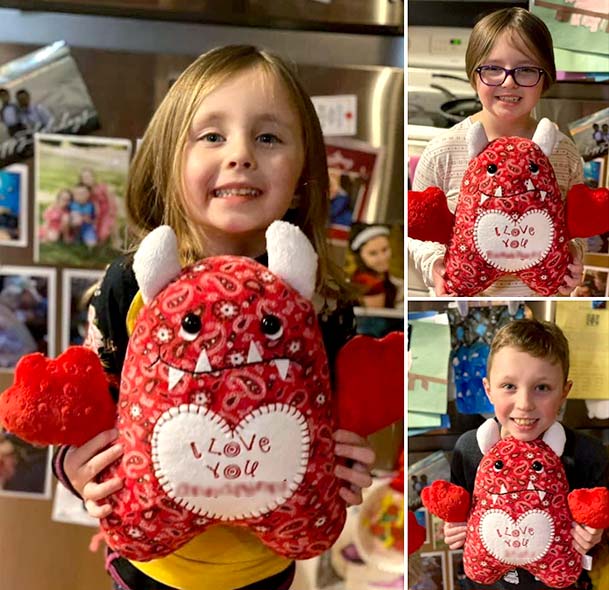 Colleen Forrester used a tiny tummy heart and some happy holiday prints for her Love Monsters. Based on those smiles, it looks like they were a big hit!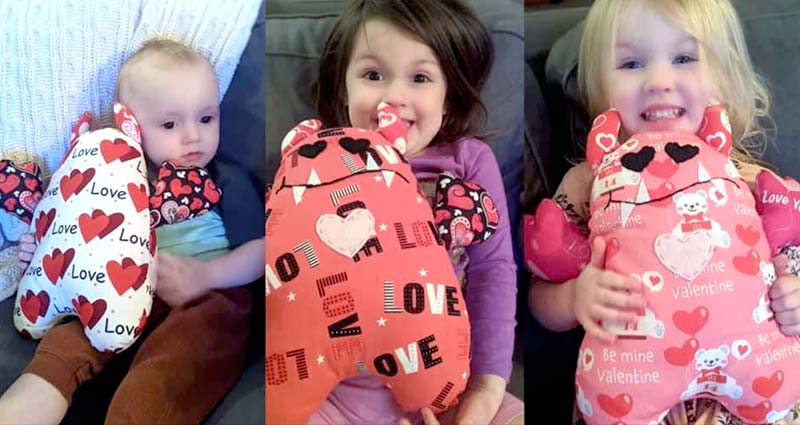 You can use hand embroidery or purchase pre-cut packs of iron-on letters to make a custom Love Monster for everyone in the family, as seen in these colorful toys by Mandy's Memory Bears.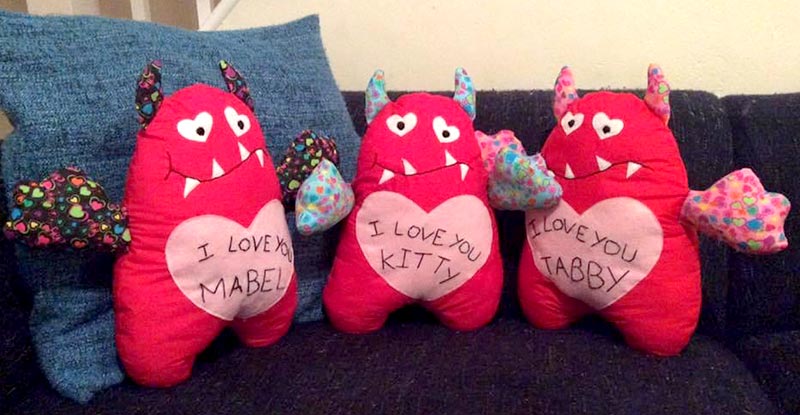 Click HERE to purchase the Love Monster pattern.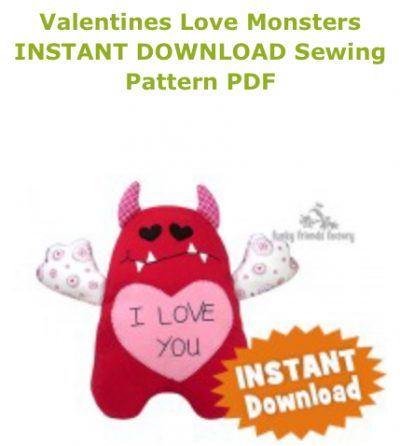 And here are some Mix & Match MONSTERS.
My other monster pattern – the Mix and Match Monsters is ALSO a great pattern for sewing Valentine's toys. It's also an EASY toy pattern for kids to sew themselves – so it makes a great Valentine's craft activity too!
Kristy Welling used the same pattern shapes as the toy above, but ended up with a totally different monster vibe with this little guy, who looks eager for a hug.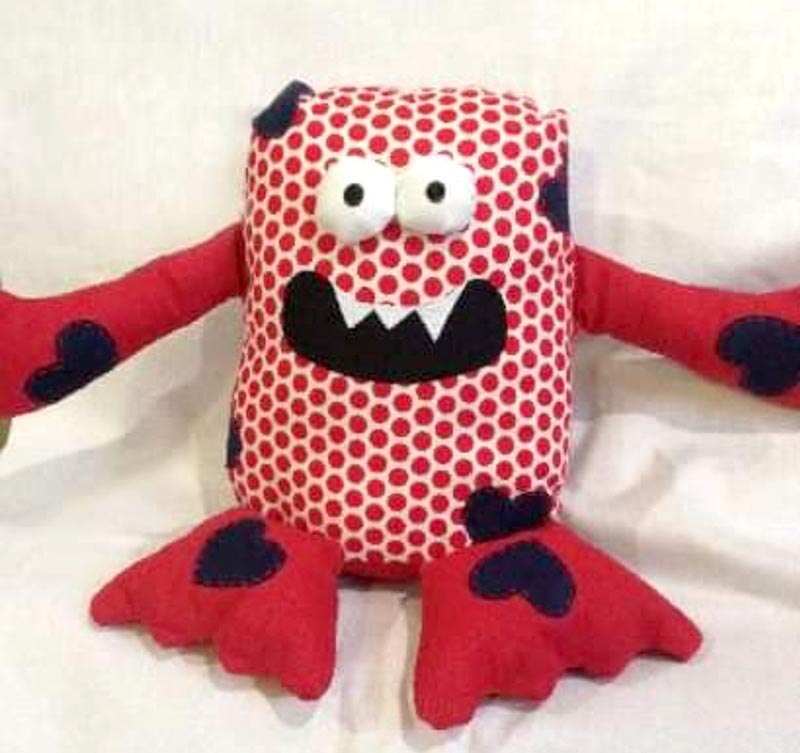 Sherry Kush made this happy, furry Mix & Match Monster for her granddaughter. I especially like the tongue!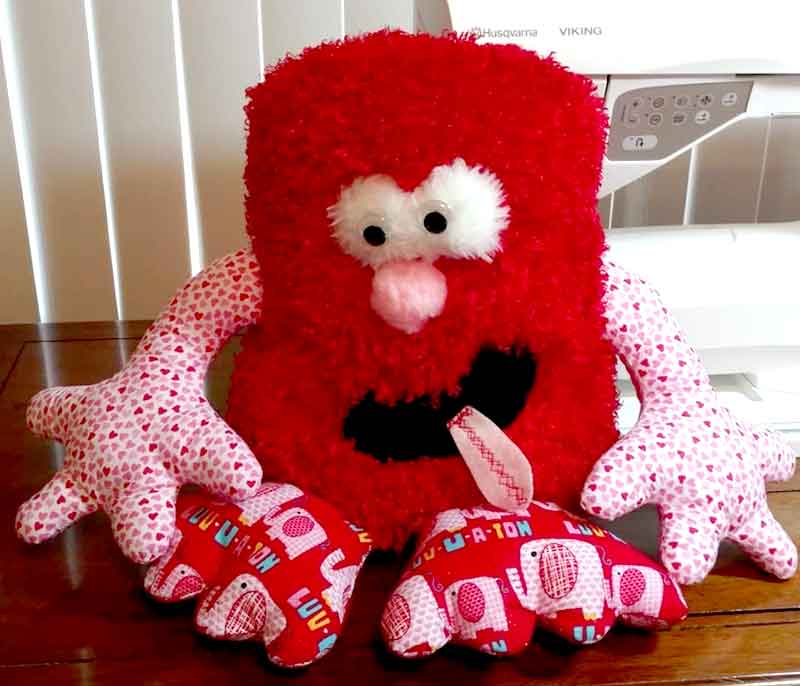 Click HERE to purchase the Mix & Match Monsters pattern.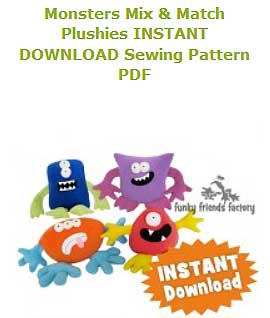 Use Valentine's FABRIC to make a Valentine's toy…
You can use ANY Funky Friends Factory Toy Pattern for Valentine's Day! Transform your pattern into a holiday hit with Valentine's fabric, or a mix of plain red, white, or pink…works great!
Emilie Gorham, one of our extremely generous Fan Club members on Facebook, makes tons of toys for a local children's charity. She always has the perfect fabric for each pattern and holiday. Here's a Joey Junior Kangaroo ready to hop into your heart.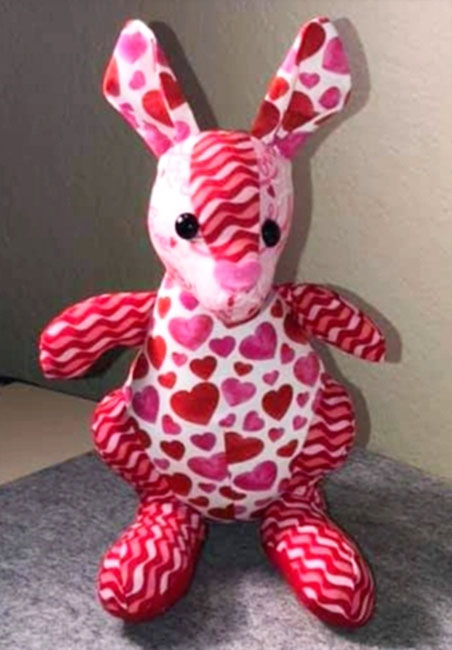 Click HERE to purchase the Kangaroo pattern.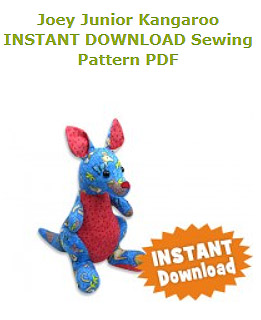 Emilie used the patchwork design of the Gertrude Guinea Pig Pattern to showcase some coordinating holiday prints. The sweet tiny feet look extra cute in this bold red design.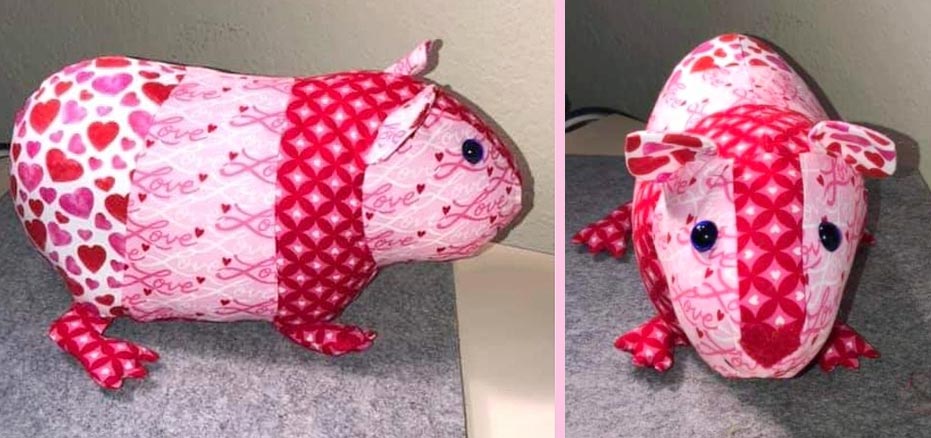 Click HERE to purchase the Guinea Pig Pattern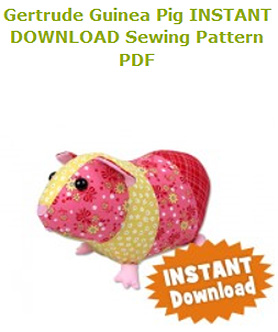 What kiddo wouldn't love a Giraffe toy covered in hearts instead of spots? Well done, Emilie!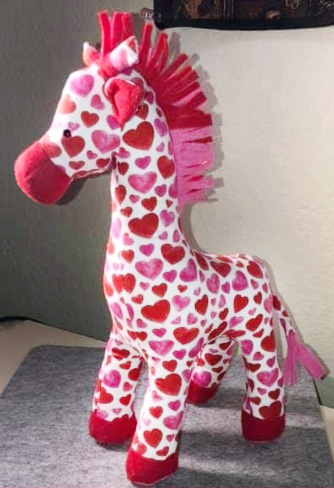 Click HERE to purchase the Giraffe pattern.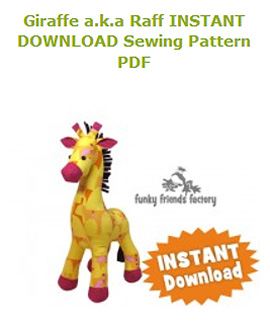 Lisa Banyard said she was "chuffed to bits" with her happy Keep Me Keepsake Bear. He's quite dapper in his red bow tie.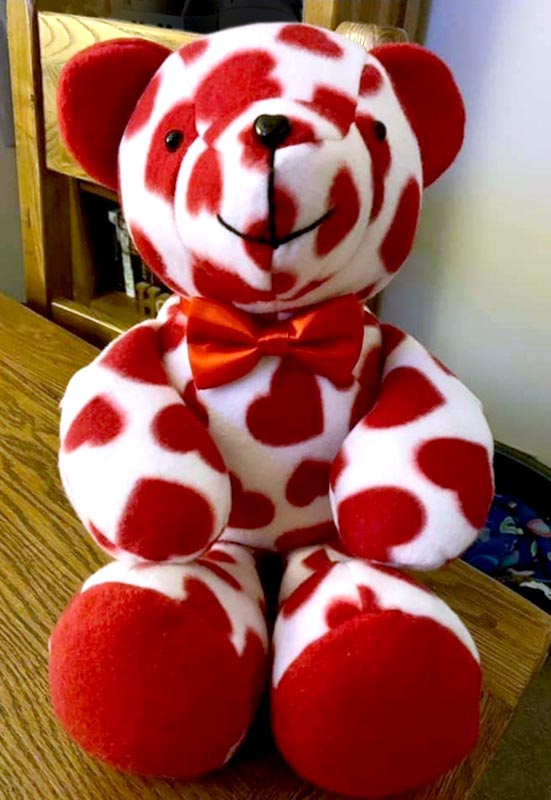 Click HERE to purchase the Keepsake Bear pattern.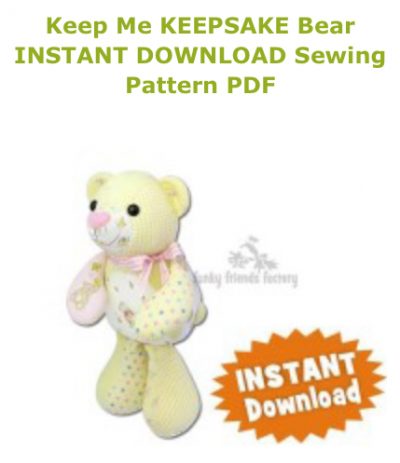 I love this kitty sewn by Amanda of Arwrens Joy! The Patch Pussy Cat Pattern looks great in almost any set of fabrics. You can use a different fabric for each piece, follow the suggested "patchwork" plan in the pattern, or come up with you own layout like this patterned body and solid color muzzle combination.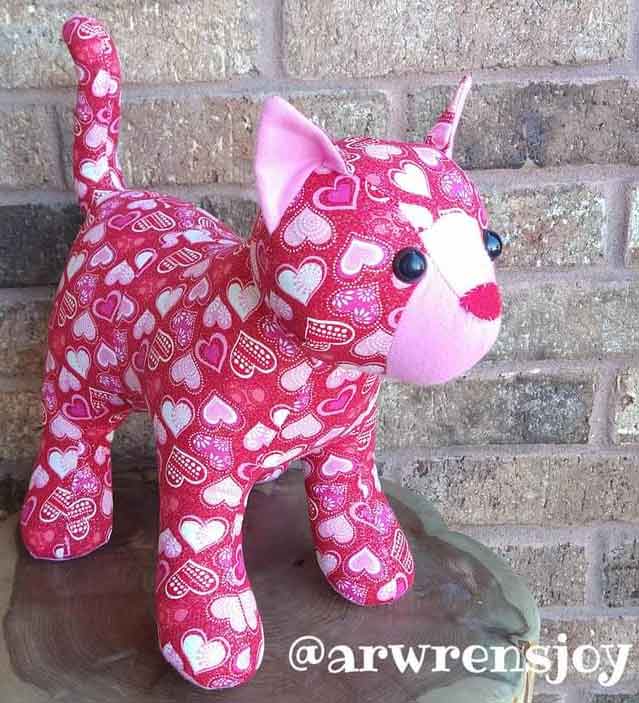 Click HERE to purchase the Patch Cat Pattern.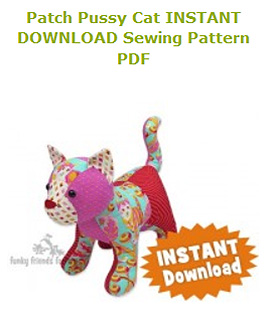 There's a lot to love in this huggable Heather Hippo. Cheryl Bock sewed this Valentine gift for her sister-in-law.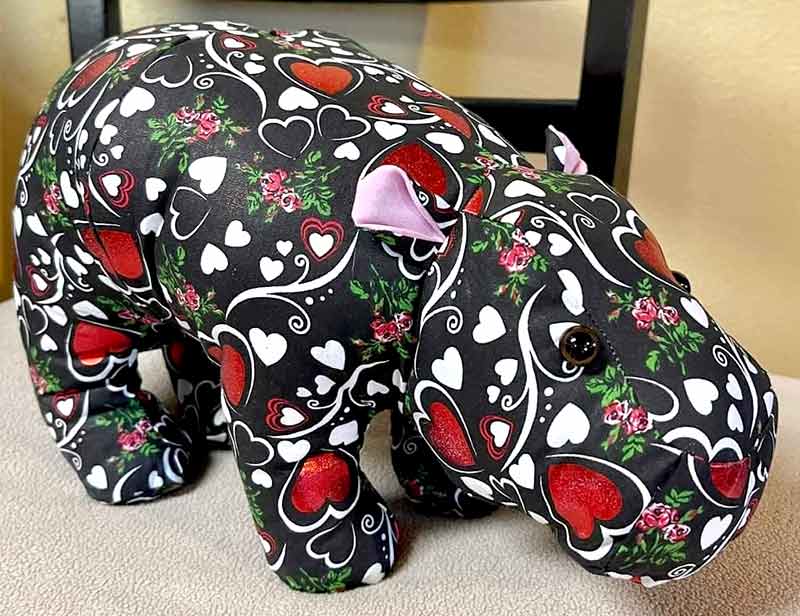 Click HERE to purchase the Hippo pattern.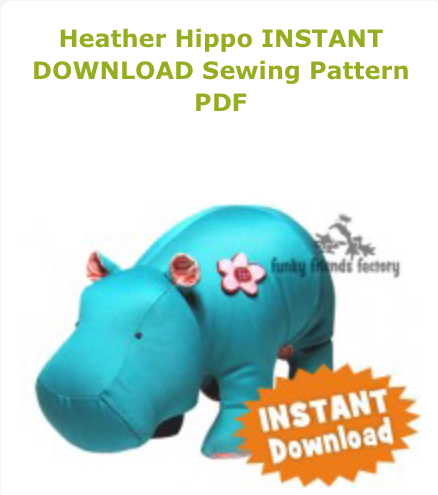 A seahorse might not be the first animal that comes to mind when you think of Valentine's Day, but the hearts are certainly sweet on this Sparkles Seahorse sewn by Orsolya Czili.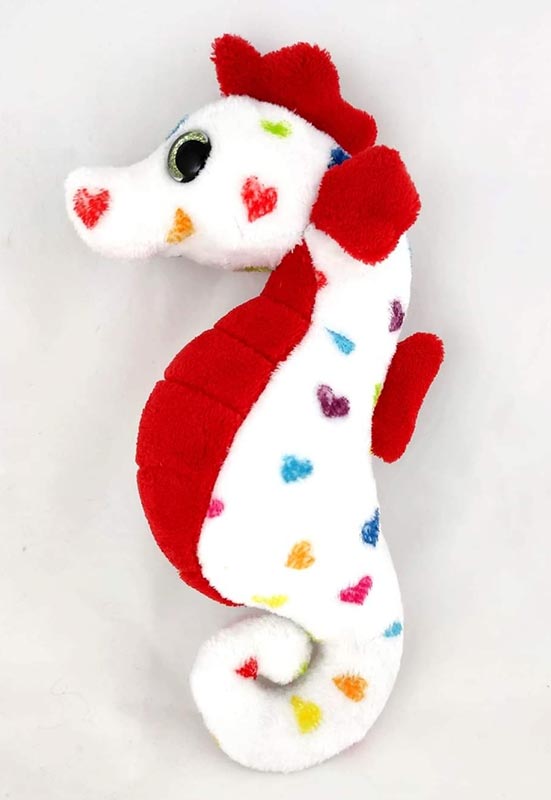 Click HERE to purchase the Seahorse pattern.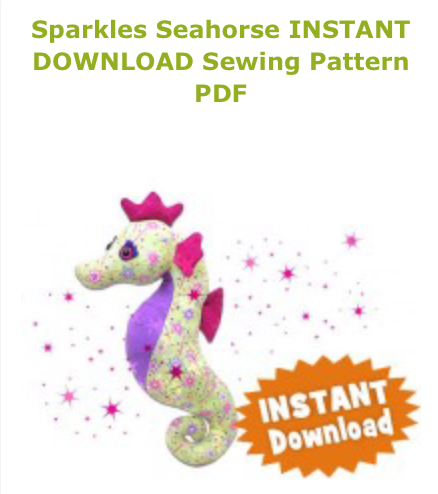 Judi Palmer clearly put a lot of love into this version of the Calico Bear Pattern, which she donated to a charity raffle.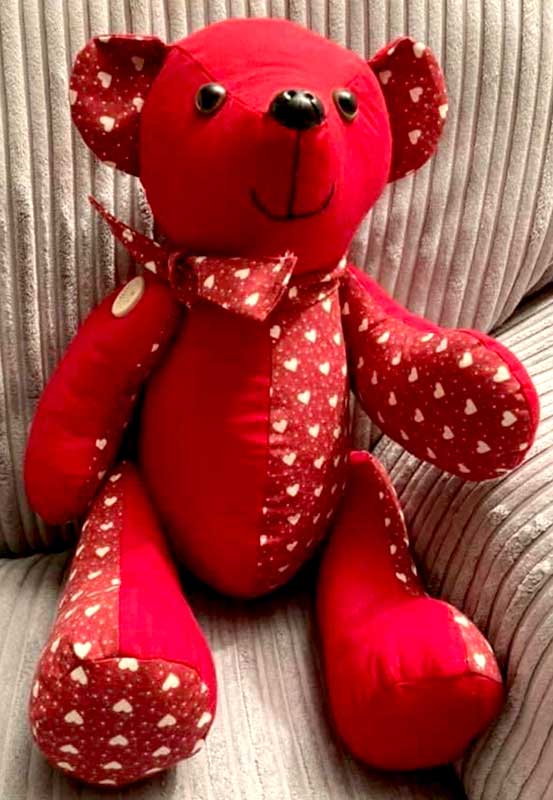 Click HERE to purchase the Calico Bear pattern.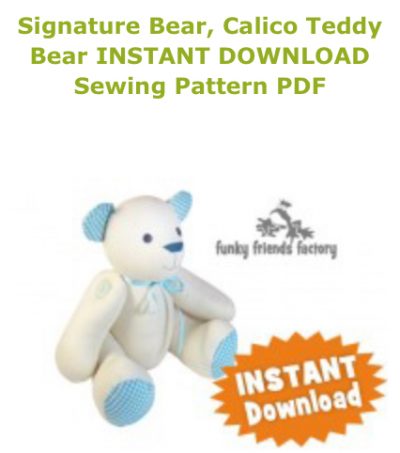 Use a HEART to make a Valentine's toy.
Don't worry if you don't have Valentine's fabric!
ALL you need to do is
add a fabric heart!!!
💘
Diane Montague hand sewed some hearts to her Diggles Dragon and named him "Valentino." 😂 This "love dragon" was a gift for his husband.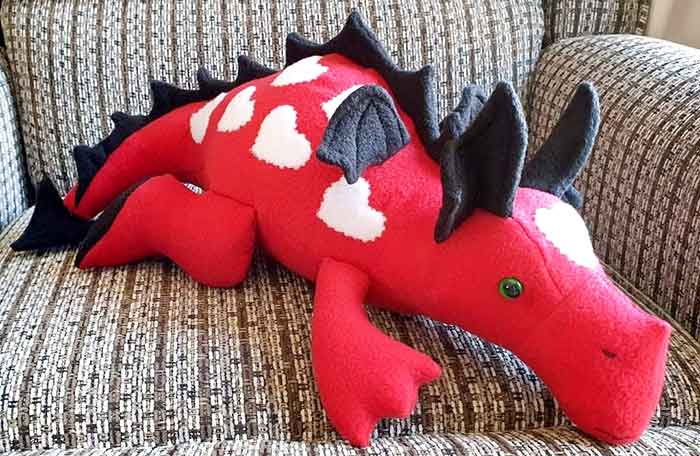 Click HERE to purchase the Dragon Sewing pattern.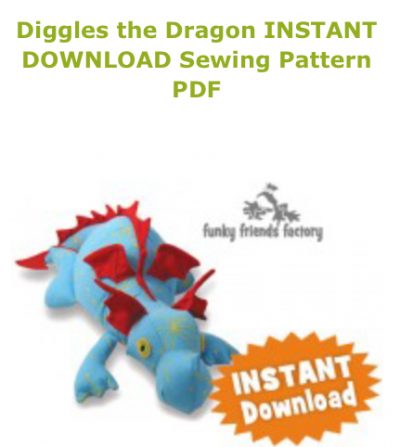 Jessica Cole made these coordinating Patch Pussycat toys for her daughters, and they were her first toy sewing projects!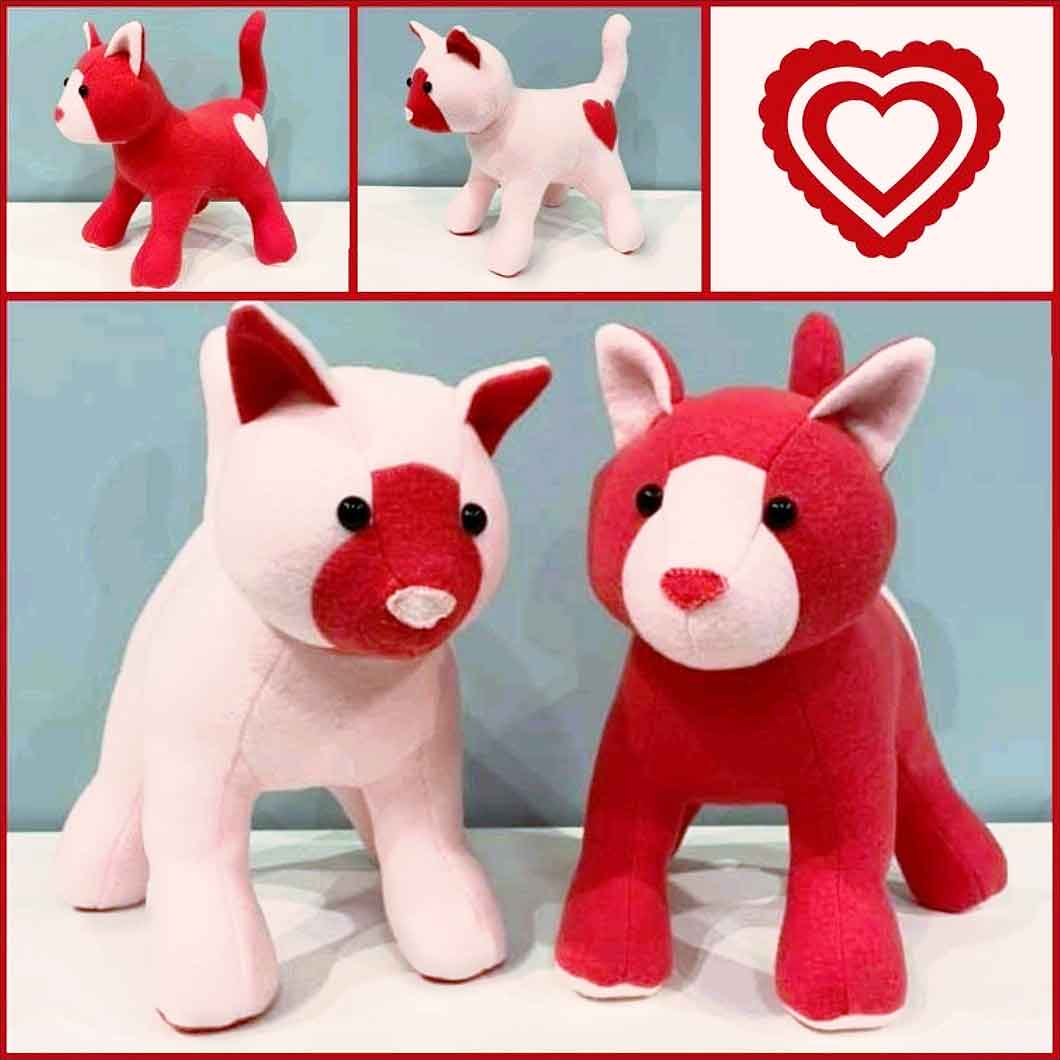 Click HERE to purchase the Patch Cat Pattern.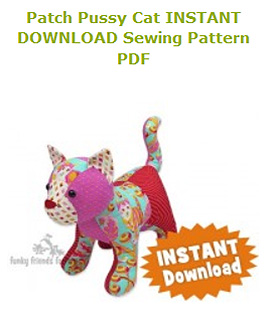 Janice Wray popped a pink fabric heart into Kiki Koala's hands for an extra bit of holiday fun.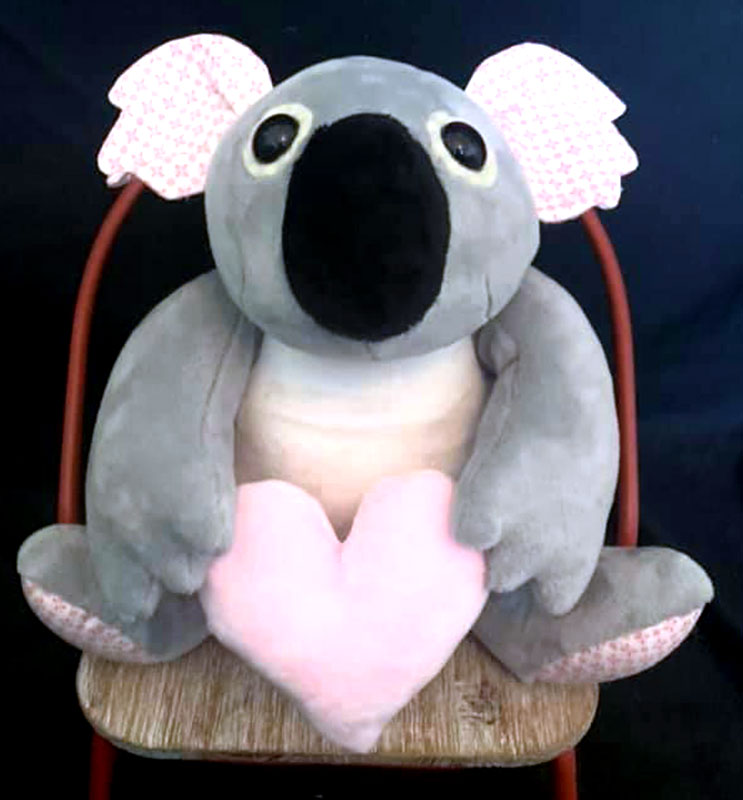 Click HERE to purchase the Koala pattern.

Puppy Pete looks especially sweet with and added heart "spot" on his eye. Fleece Menagerie made this pooch pal.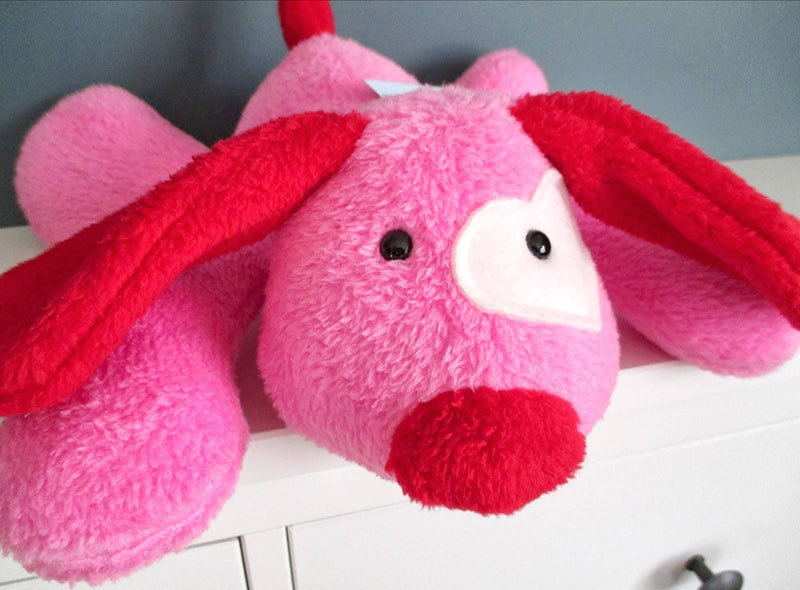 Click HERE to purchase the Puppy Dog pattern.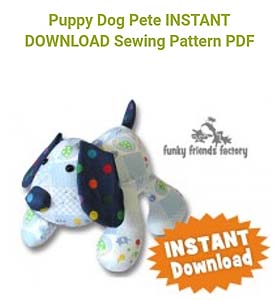 For even more Valentine's Day toy ideas, visit last year's Valentine blog post (more customer feedback pics) and the Shannon Fabrics blog to see more gorgeous toys sewn in Shannon Fabrics!💗
NOW for the FREE
Valentine's Pattern ADD-ON!

I'm excited to release the Free Valentine's Day "Cheeky Devil" ADD-ON for Calico Bear. Tell your sweetheart they're your favorite mischief maker by adding a special tail, nose, horns, and cape to your Calico Bear.  Please tag #funkyfriendsfactory when using this ADD-ON so I can come see your creation!


Where to get the ADD-ON Pattern:

I have added the Cheeky Devil ADD-ON to the FREE Patterns Page on my website as a Valentine's treat for YOU.

PLEASE NOTE!
This PDF file contains the ADD-ON pieces only
– it does NOT contain the bear pattern!

*** If you haven't got the Calico Bear pattern –
it is available on the website ~>

Click HERE to purchase the Calico Bear pattern.

I can't wait to see the Funky Friends you sew this Valentine's Day!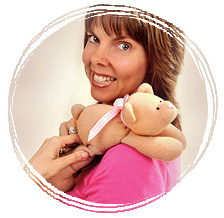 bye for now,
Pauline ❤️