Ready to see some super special sewing? The Maker of the Month contest celebrates the finest in creativity from Funky Friends fans all year long, so I thought you'd enjoy a 2021 wrap-up post! Below you'll find last year's 12 winners collected in one place for easy viewing… make sure to scroll to the end to find out how you can enter our MAKER OF THE MONTH competition to WIN a free  Funky Friends Factory Pattern of your choice!
Let's look back at the 2021 winners…
January 2021
Our winner was Arja Emilia who posted her polka dot "party" version of the Randy Rhino Sewing Pattern. She asked the other Members of our Pattern Fan Club how many rhinos she should make and the overwhelming answer was, "If they're this cute, you need a whole herd!"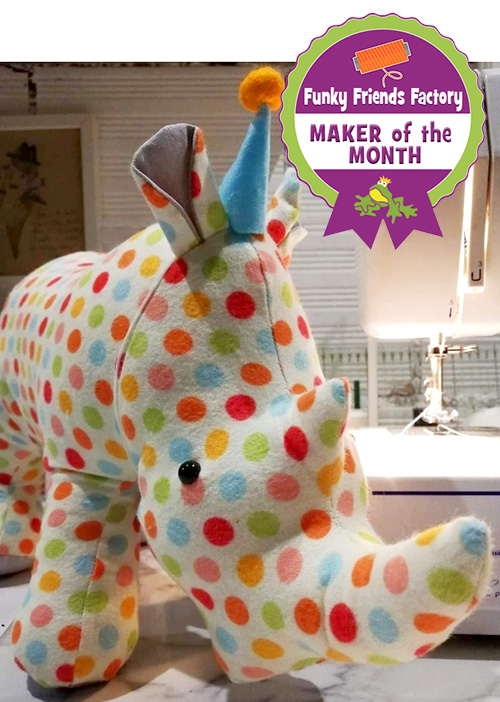 Click HERE to purchase the Rhino pattern.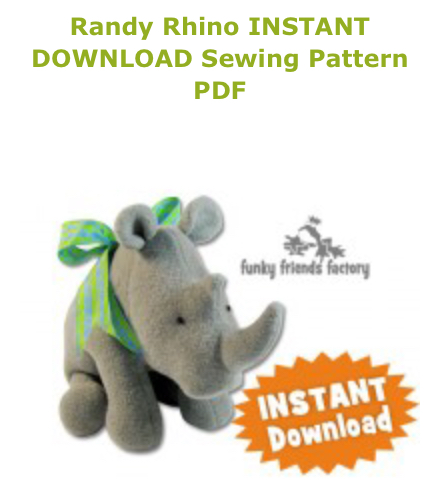 February 2021
Hayley Sayers taught her daughter to sew (by hand) and nine-year-old Rebecca made this Dizzy Dolphin all by herself! (Mom helped with a ladder stitch on the stuffing gap, but Rebecca did the rest on her own).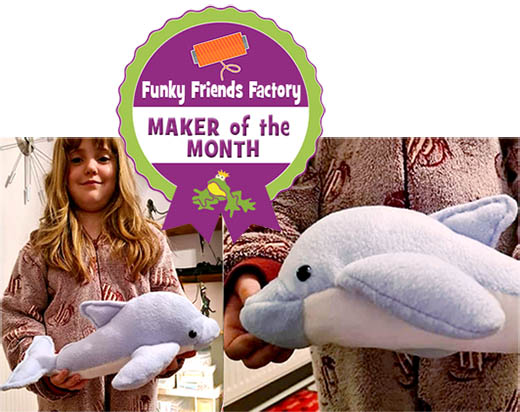 Click HERE to buy the Dolphin pattern.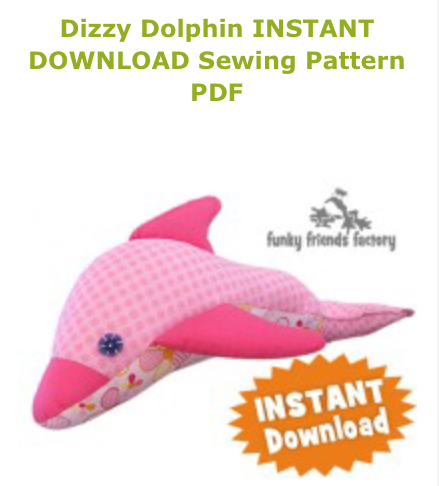 March 2021
March's winner combined spring flower fabric with the Calico Bear pattern to create a toy that will bring smiles all year long. Congratulations Lisa French!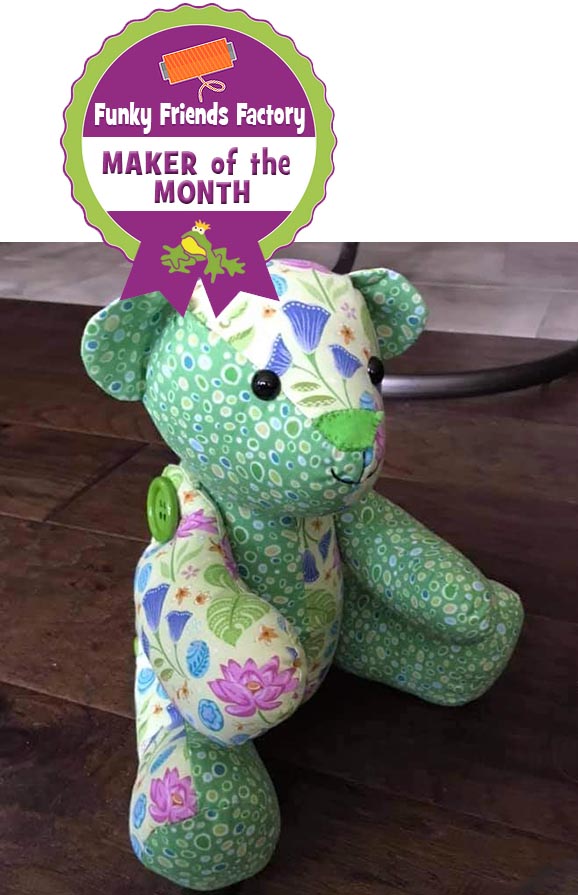 Click HERE to purchase the Calico Bear pattern.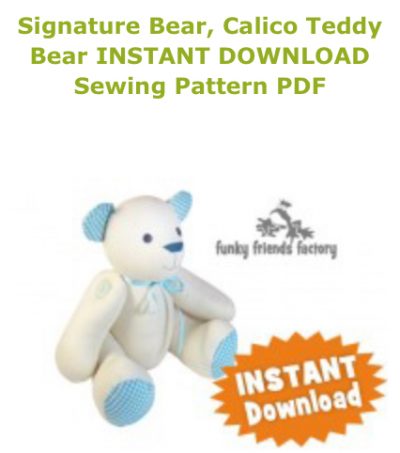 April 2021
Our winner, Jennifer Mueller, made this adorable version of the Raff Giraffe Pattern from a dress her daughter wore to the famous Cheyenne Mountain Zoo giraffe exhibit, where she got to feed a real giraffe. What a cute toy and a fabulous keepsake!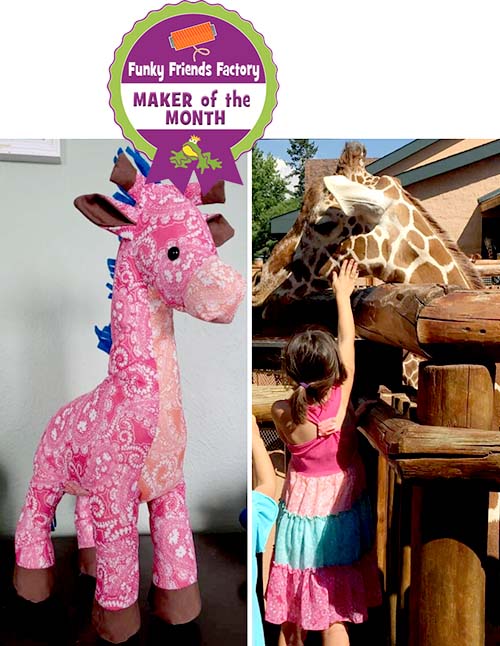 Click HERE to purchase the Giraffe pattern.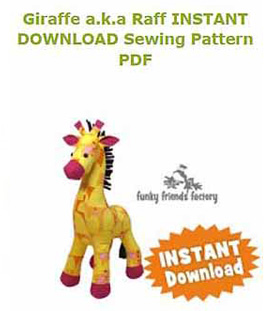 May 2021
Our May Maker of the month, Lizzy Newstead-Bentham, sewed this stunning Larry Lion as a wedding keepsake made from both the wedding dress and groom's suit. Even the back and tail include incredible details! This may be the first "wedding lion" I've seen, but I don't think it will be the last!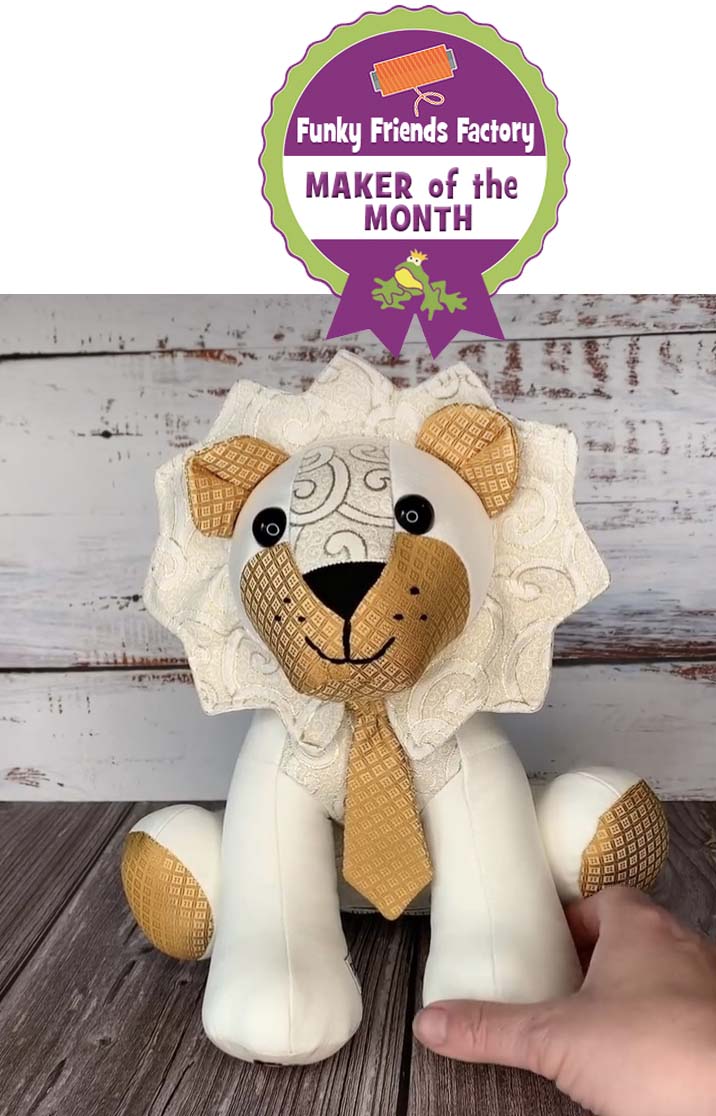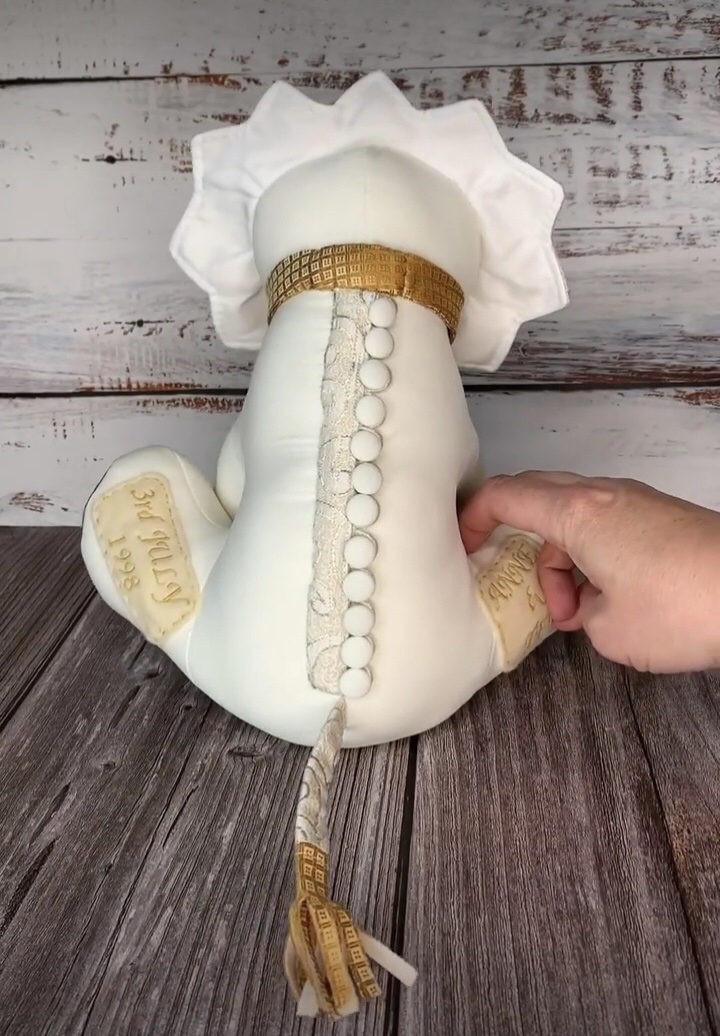 Click HERE to purchase the Lion pattern.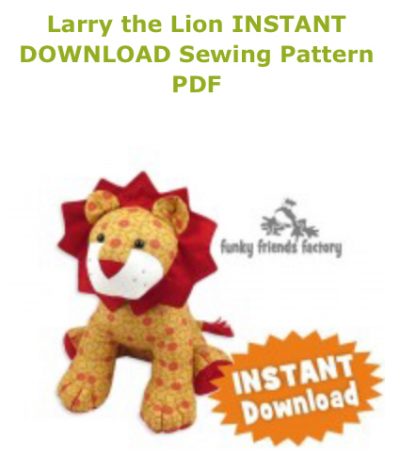 June 2021
Congrats to this month's winner, Elizabeth Percival! Ruffles, stripes, gingham and bows all blend beautifully in this delightful (and creative!) school uniform keepsake from Elizabeth Percival. This pattern is great for easily mixing coordinated fabrics, so I hope we see more keepsake versions of the Gertrude Guinea Pig Pattern in the future!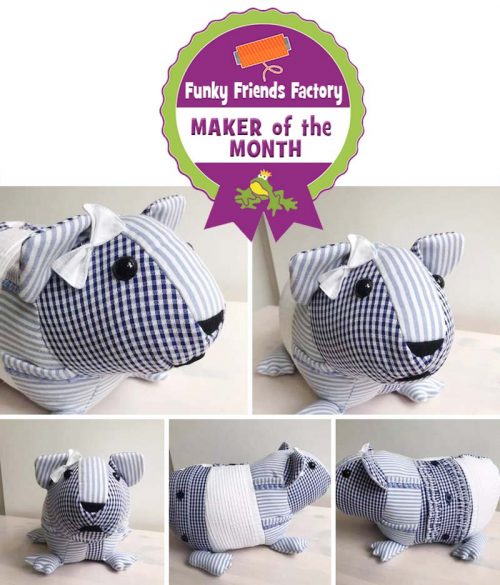 Click HERE to purchase the Guinea Pig pattern.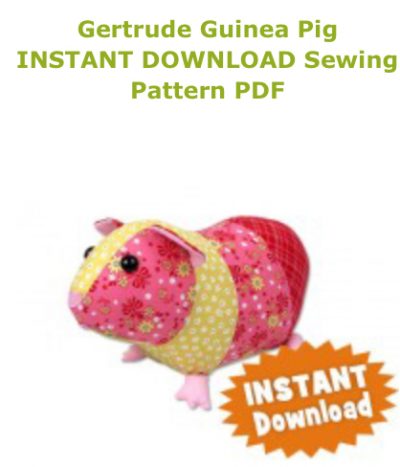 July 2021
 Ginny Murphy is this month's winner. Not only is this a wonderful version of the Melody Memory Bear Pattern, it has a great story. Plus this was Ginny's FIRST EVER BEAR, she used the challenging fabrics of denim tartan, and look how well she matched the stripes on the plaid! I'm going to let Ginny tell you this story herself! Here's her post: "A while ago I told you about a bear I made for a former neighbor. He had told me that he had never had a teddy bear, so for his 94th birthday I made my first ever Melody Bear and gave it to him today. He's Scottish so I made it out of Anderson tartan as that's his surname. As you can see, he was delighted with it." Happy 94th Birthday Mr. Anderson and congrats to Ginny!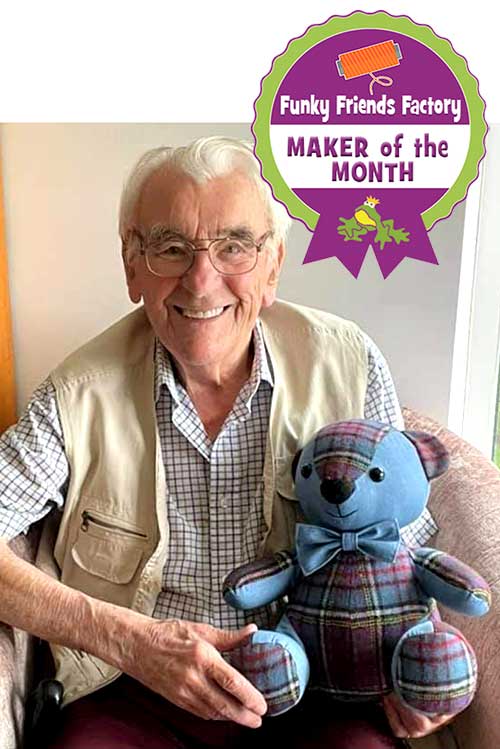 Click HERE to purchase the Melody Memory Bear Pattern.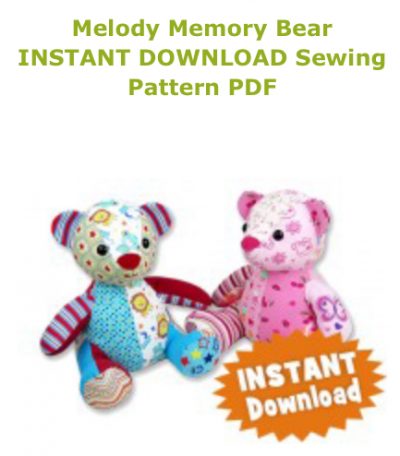 August 2021
Congrats to this month's MAKER OF THE MONTH – Rebecca Karstad! Talk about a fantastic fabric upcycle! Rebecca found this pink velvet in an old costume shop and gave it an extra fabulous second life as a Sue Squirrel! The "very rare Pink Squirrel," seen here in its natural habitat, has a poofy tail, fluff-tipped ears, and an added acorn treat.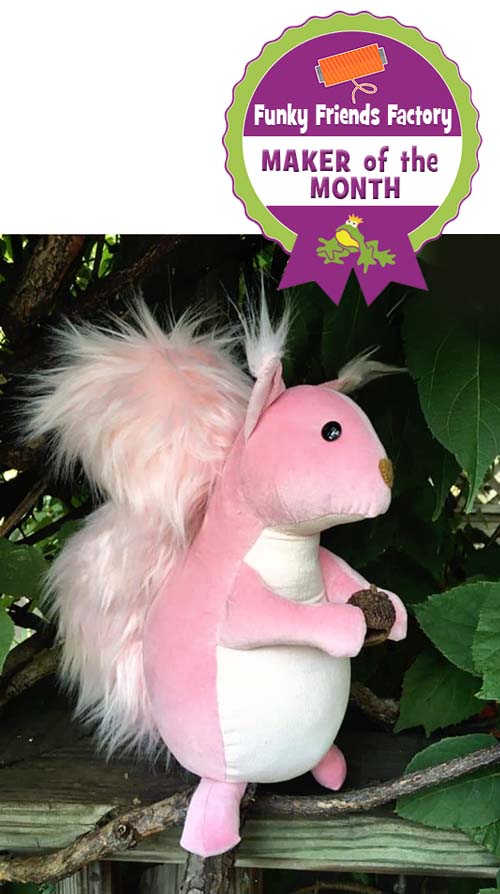 Click HERE to purchase the Squirrel pattern.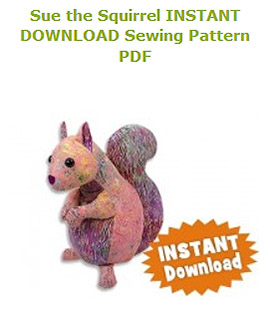 September 2021
This month's winner, with this version of the Larry Lion Pattern sewn by Judie Flower, is certainly a head-turner. Judie says Larry is constantly fluffing his mane to show he has the most luscious locks in the jungle.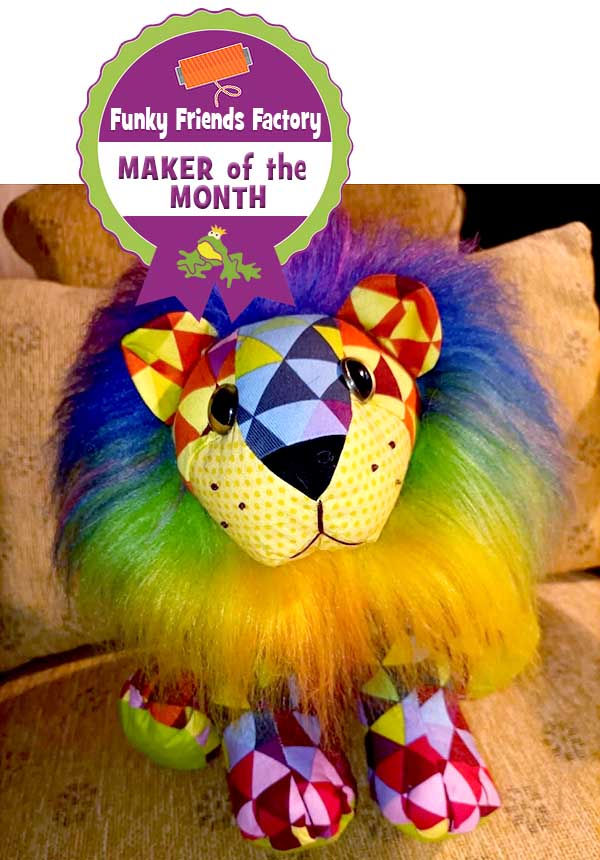 Click HERE to purchase the Lion Sewing pattern.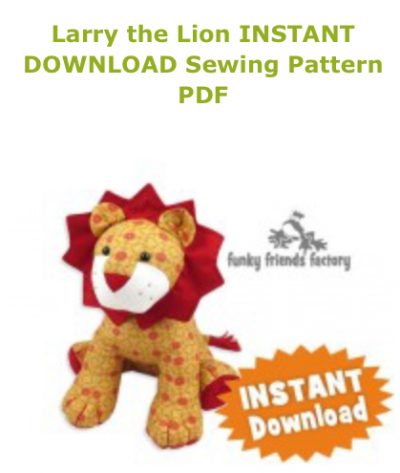 October 2021
Congrats to our October Maker of the Month, Jan Mitchell. Such happiness! Jan made a gorgeous version of my new Kelsey Keepsake Unicorn pattern for this little cutie's birthday. The tutu is included in the pattern, but Jan also added a necklace, a butterfly, and lots of other bling!!!!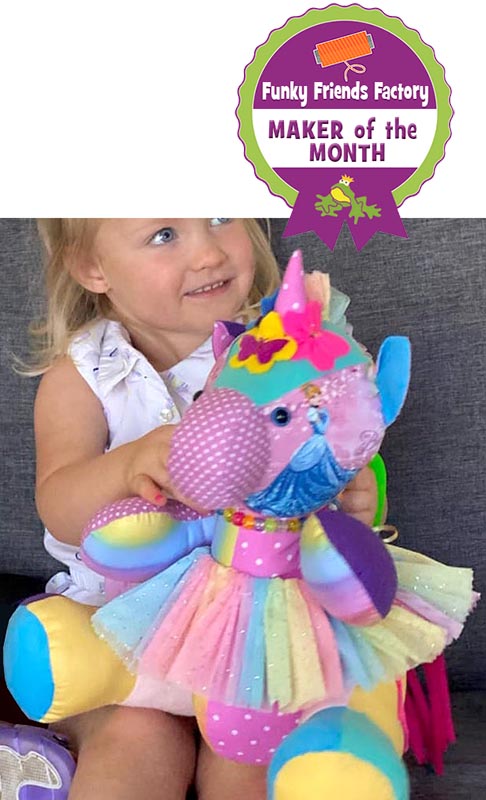 Click HERE to purchase the Keepsake Unicorn pattern.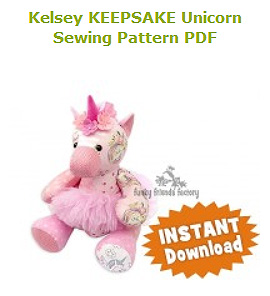 November 2021
Congrats to November Maker of the Month Julie Jordan!
 This Calico Signature Bear keepsake required lots of planning, as the vintage scarf and skirt materials were made of multiple fabrics and beaded embellishments. Julie reached out to our Facebook group for advice and the finished keepsake is lovely!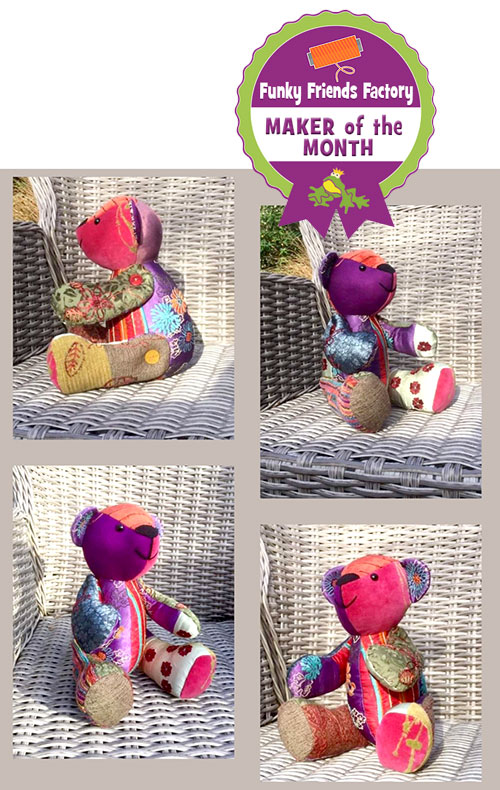 Click HERE to purchase the Calico Bear pattern.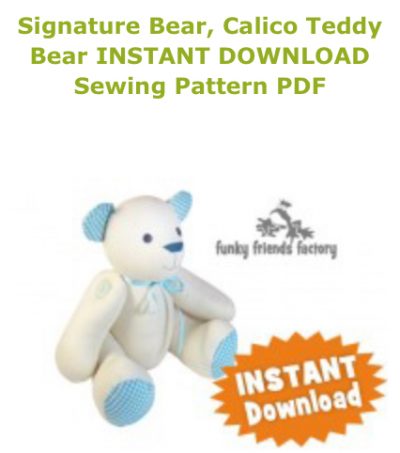 December 2021
Congrats to Jo Ann Carroll, our December Maker of the Month!  Jo Ann submitted multiple toys this month, and each one of them could have been the winner on its own but her delightful collection of Prince Charming Frogs took my heart!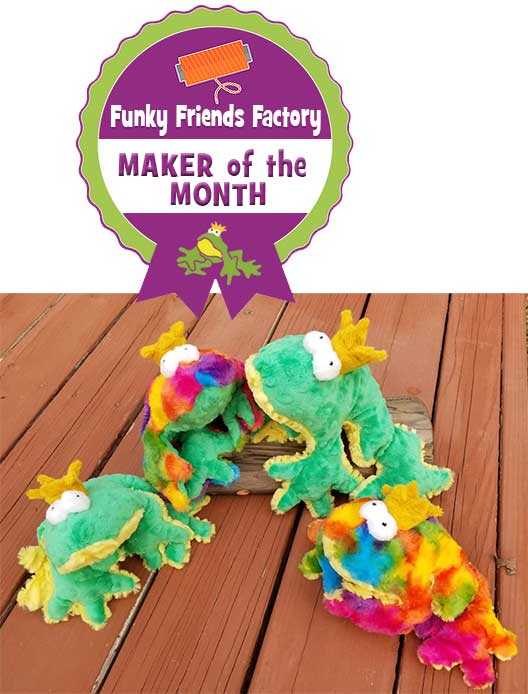 Click HERE to purchase the Frog Pattern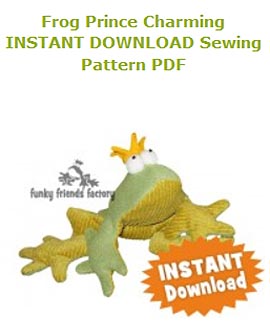 For more examples of fabulous toys, check out the "finalists" featured in each individual Maker of the Month post here on the blog. Just hit the button to view older blog posts and you'll happen upon them. 
Want to win a
FREE toy pattern?
It's so EASY to enter the Pattern GIVEAWAY!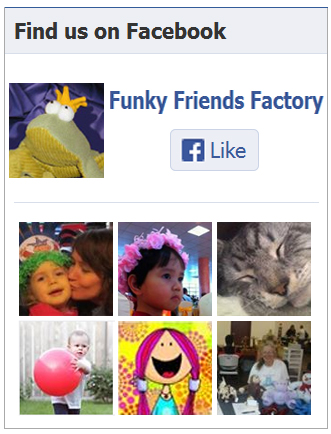 ALL you need to do is post a photo of a FUNKY FRIENDS FACTORY toy that you have made on the Funky Friends Factory Facebook Page .
At the end of each month I draw a winner and post the winner's name on the Blog the following MONTH. I have an Album on Facebook for all the MAKEROFTHEMONTH winners. You can check it out HERE!
NOT on Facebook? ENTER by email! 😀
*** You can send me your photos by email too!
So come on! Share your photos  ~> The next winner could be YOU!!!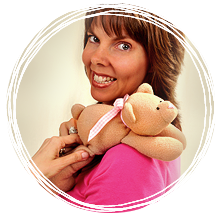 .
Till next time,
Happy Sewing,
Pauline
xxx