Shark Week doesn't start on the same day in every country  – which is why we'll be celebrating all of the under-sea Funky Friends for a whole month! This way we'll be able to introduce ALL the sea-themed toy patterns and show you some super-cute examples to inspire you – this week we're celebrating one of my favorite ocean creatures – the SEAHORSE!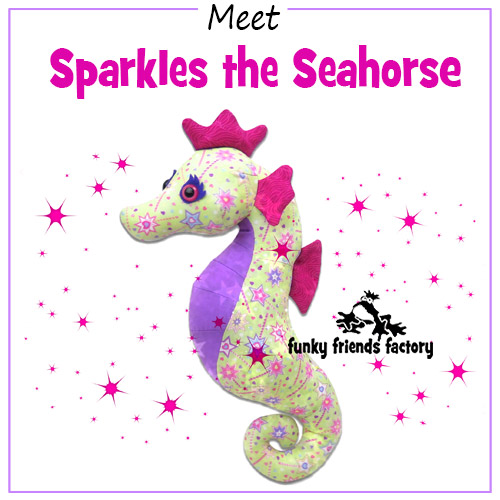 What gorgeous peepers!!!
I think the felt eyelashes on Sparkles the Seahorse are her BEST feature…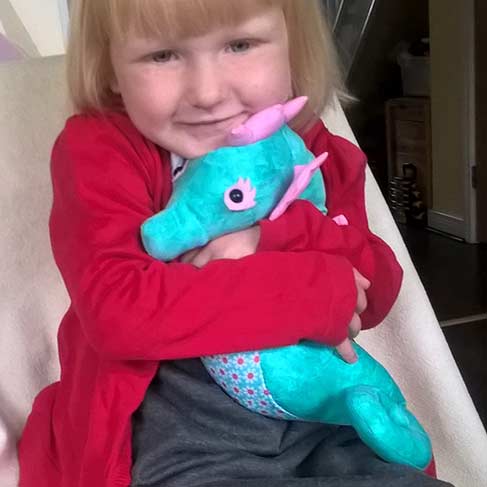 Here are some tips to help you cut felt

~ ACCURATELY!

TIP: How to trace felt:

 1. You can use anything that can mark felt – a pencil, ballpoint pen, permanent marker or fabric marking pen.

 2. Always do a TEST on your felt.

 3. Trace onto the BACK of the felt.

TIP: 

Don't have a fabric marker?

Don't worry! There are lots of other methods to cut out sharp and shapely eyelash pieces. Check out this blog post with LOTS of other methods for cutting out felt pieces accurately. 
Is this an easy pattern?
My Sparkles the Seahorse Sewing Pattern is not one of my easy patterns. It has lots of little pieces  – which is why I'd say it is a bit too fiddly for a beginner. 
 

TIP: Need an EASY toy pattern?

It would be better for a beginner to start with one of my easy patterns first. I have put together a list of which patterns people say are my EASY toy patterns in this blog post about kids sewing soft toys.
What fabrics can I use to sew a seahorse toy?
I think that one reason Sparkles the Seahorse is so popular is because she can be sewn in most fabrics… After all, a seahorse looks awesome in all sorts of colours and textures!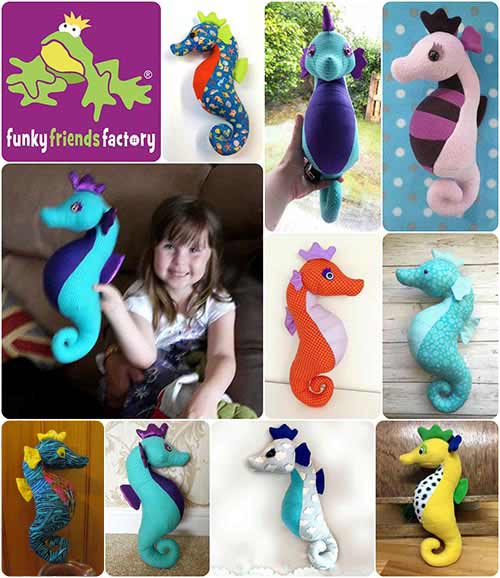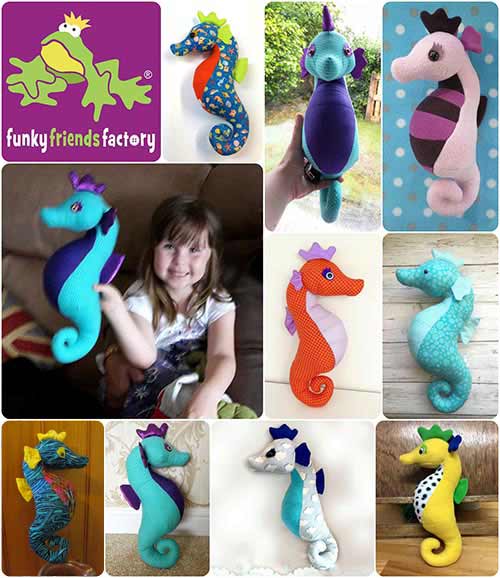 Here is the seahorse pattern sewn in quilting cottons:
 This starry rainbow Sparkles the Seahorse sewn by Erin Innes even has sparkle felt eyelashes!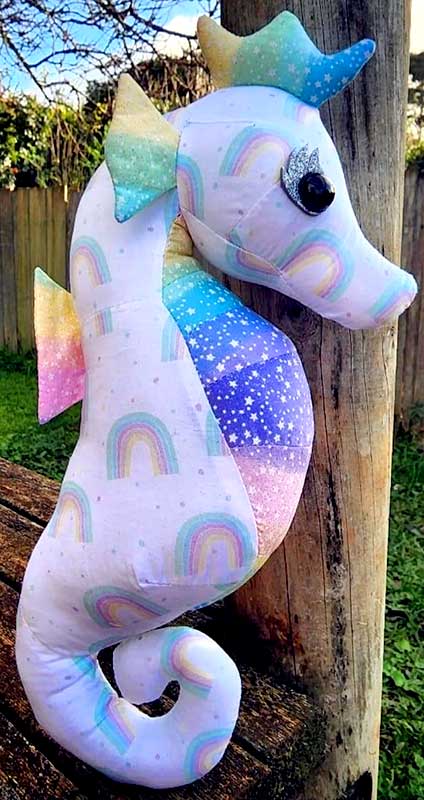 The tummy of this sweet spotty Sparkles the Seahorse sewn by Glynis Duckenfield is dancewear fabric, but you can find quilting cotton with non-shed embedded glitter designs in most shops these days.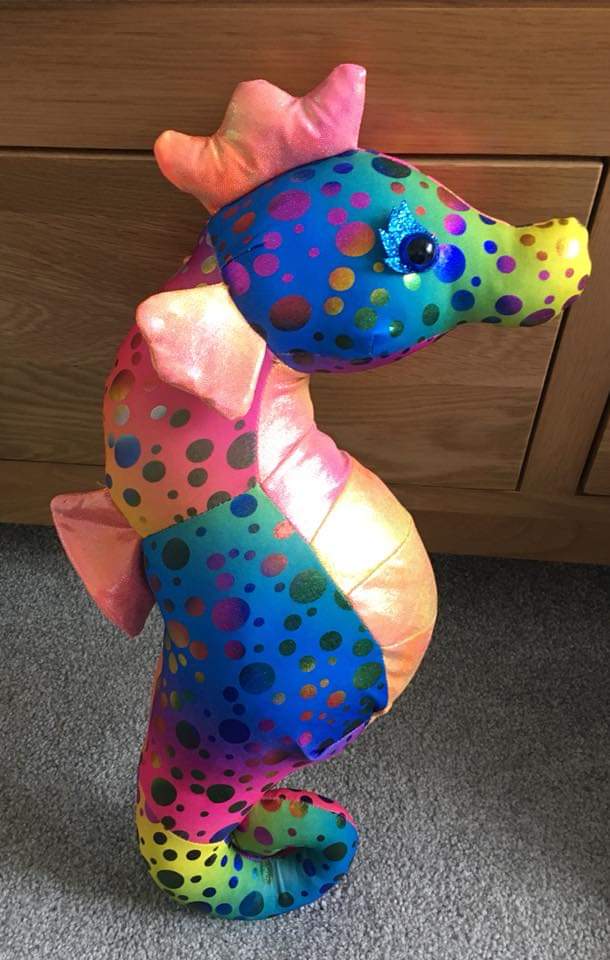 This monochrome blue version of Sparkles the Seahorse sewn by Lindsey Mortimer takes advantage of ocean wave and sea shell prints.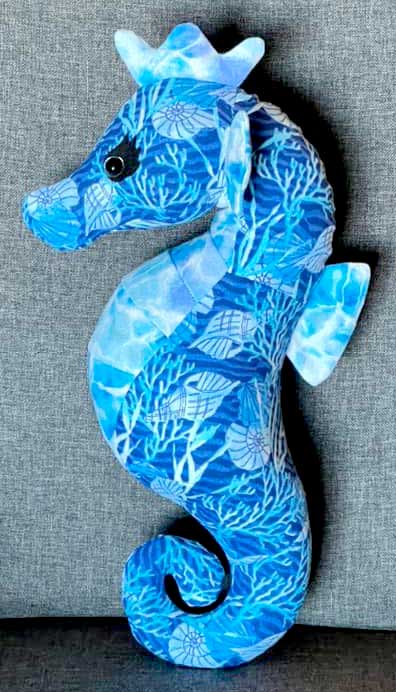 The Sparkles the Seahorse sewing pattern was one of Alicia McLean's first projects. She used a beautiful Tula Pink fabric.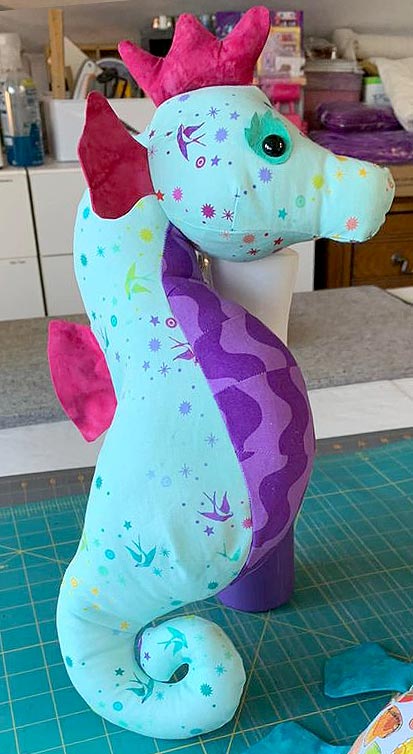 Tula Pink is one of my favourite fabric designers and I LOVE how cool her fabrics look made into Sparkles the Seahorse, this TWO twin seahorses are sewn by Korina of Korinas Kreations.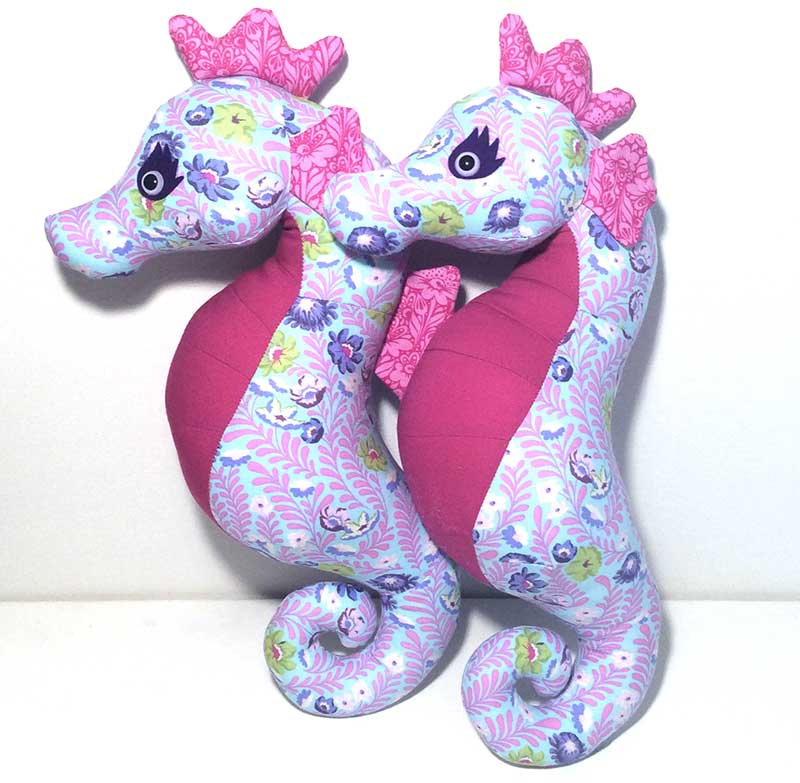 Here's another well-coordinated Sparkles the Seahorse, this one sewn by Tracey Hunter Vacek. I love the way she's picked up the colours from the body print to use for the tummy stripes!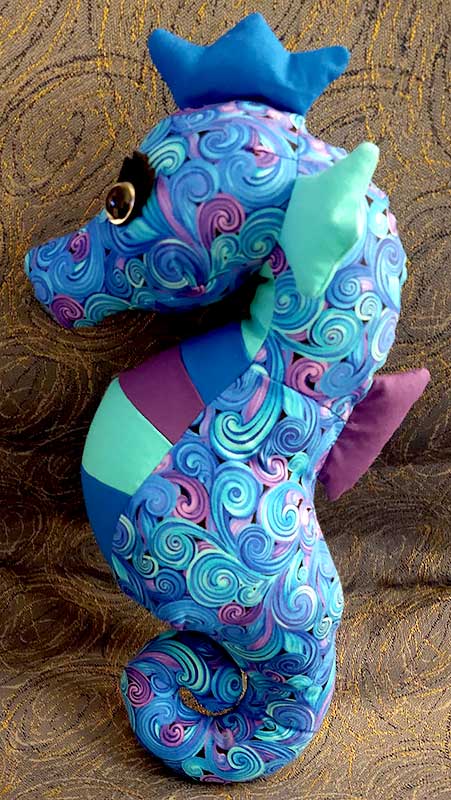 Tulsa Pink quilting cotton (this time from the Neptune line) makes a second seahorse appearance on this Sparkles the Seahorse sewn by Jessica Peele Shouse.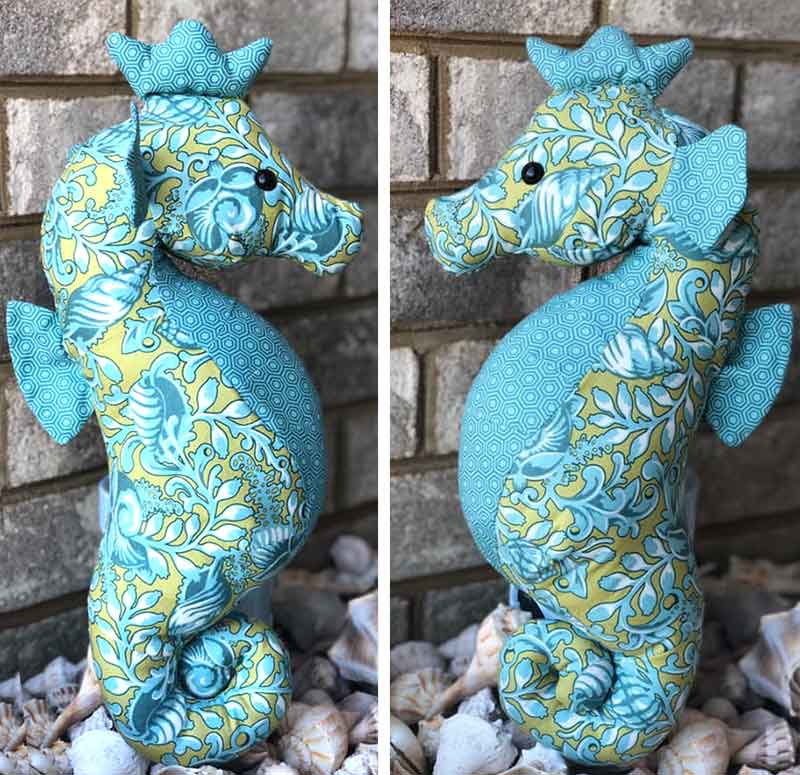 Here is the seahorse pattern sewn in fleece:
Here's a starry-eyed, super-cute, fleece and minky Sparkles the Seahorse sewn by Tina Winterborne.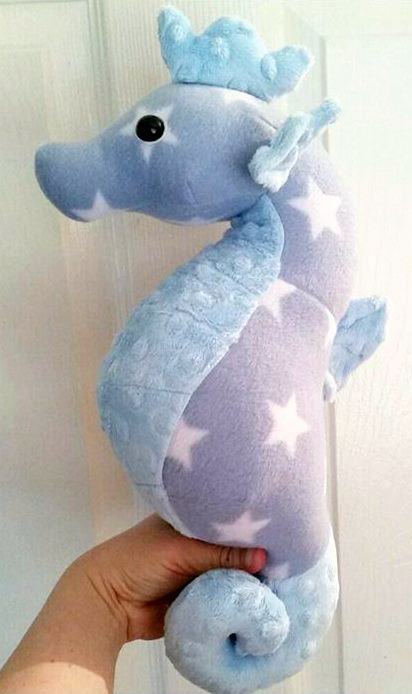 Mariah Wagner monogrammed this pretty pink Sparkles the Seahorse for a little baby. Her boys helped her stuff it as well!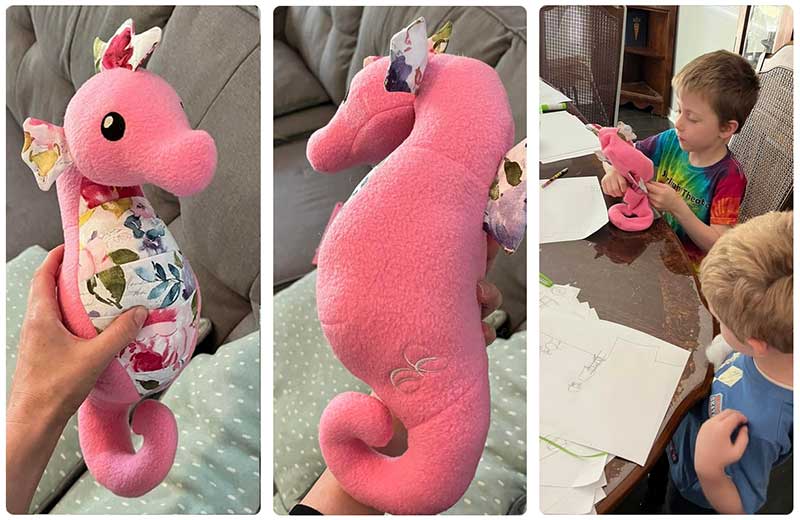 Bright solid color and tie-dye print fleece make this Sparkles the Seahorse sewn by Adele Odegaard a stand-out success.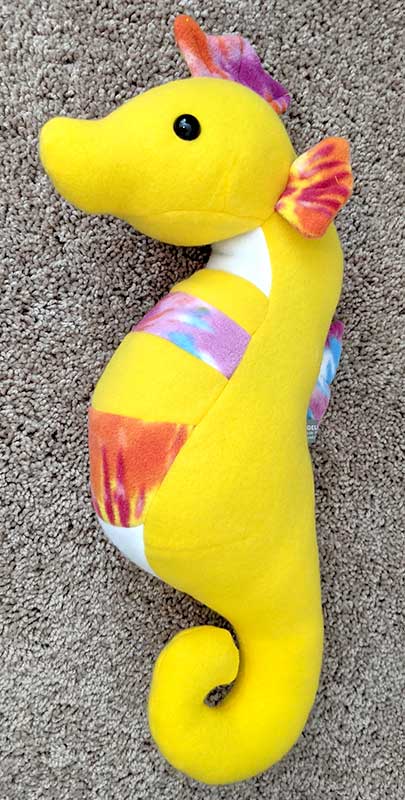 This sweet spotty Sparkles the Seahorse sewn by Roz Barnwell reminds me of cupcake sprinkles and other happy themes.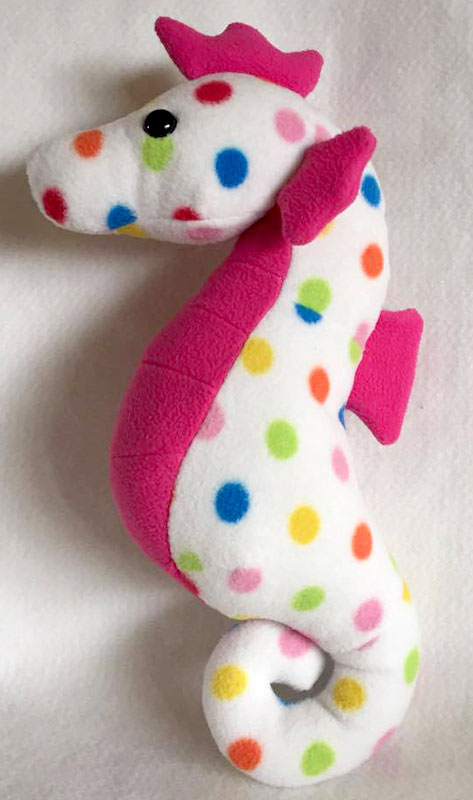 And seahorses sewn in minky…
Here are two fabulous sparkly minky Sparkles the Seahorses sewn by Courtney Schreiner of Monkey in the Mailbox. These colors coordinate beautifully!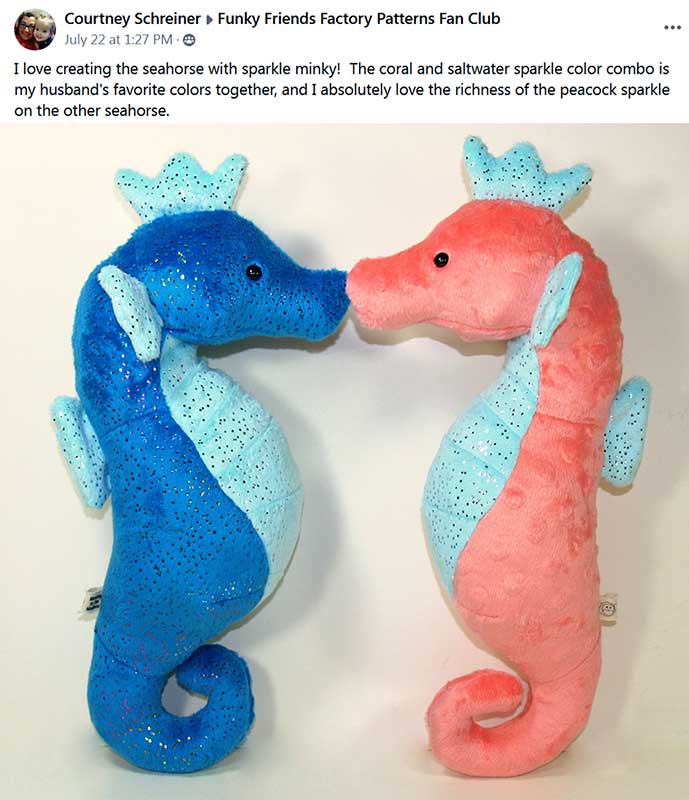 Look how cool Sparkles the Seahorses sewn by Sherri Wentz Lukens looks in scaly minky!!!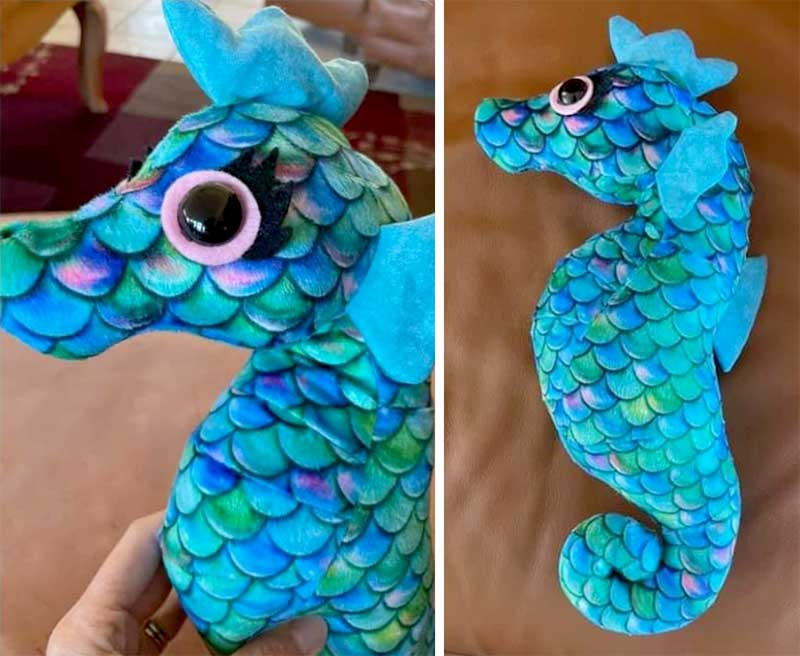 Happiness is your own minky seahorse! Leanne Martucci sewed this sweet Sparkles the Seahorse for her granddaughter.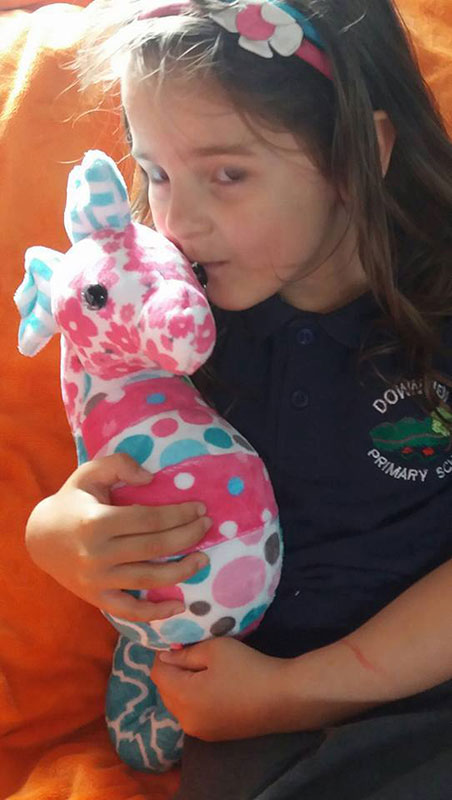 Here is the seahorse pattern sewn in organza:
Organza is a very slippery fabric so this would be hard to sew… but looks so pretty for a seahorse. Well done, Jennifer Newman Brown!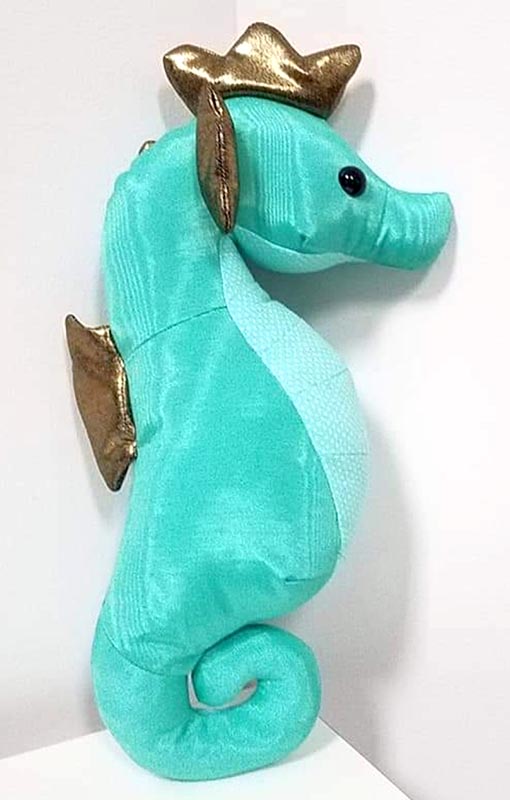 Here is the seahorse pattern sewn in fluffy fabics:
Orsolya Czili sewed this super-cute Sparkles the Seahorse in fluffy fabrics covered in hearts for Valentine's Day. She added an extra large glitter craft eye for added sparkle.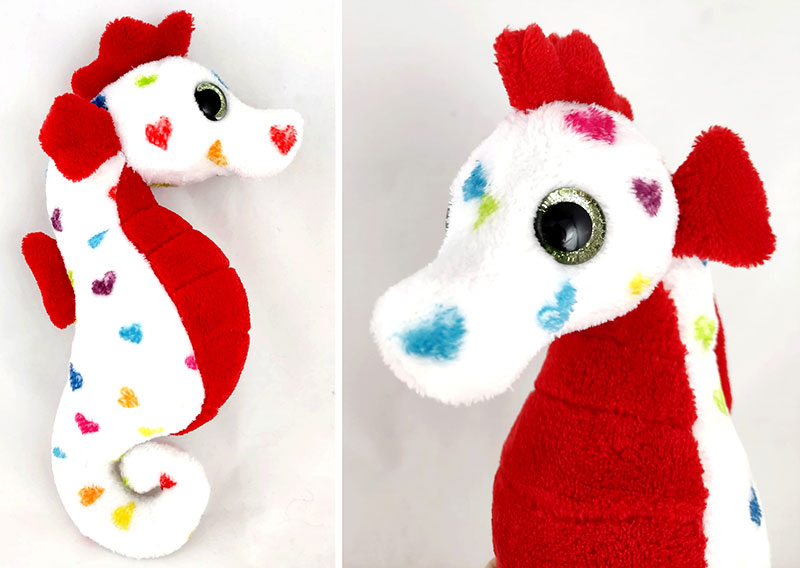 Hayley Sayers of Soft Federation hand-sewed this colorful raindrop Sparkles the Seahorse for her daughter. It was one of her first toy projects, too.
LOOK at that rainbow TUMMY!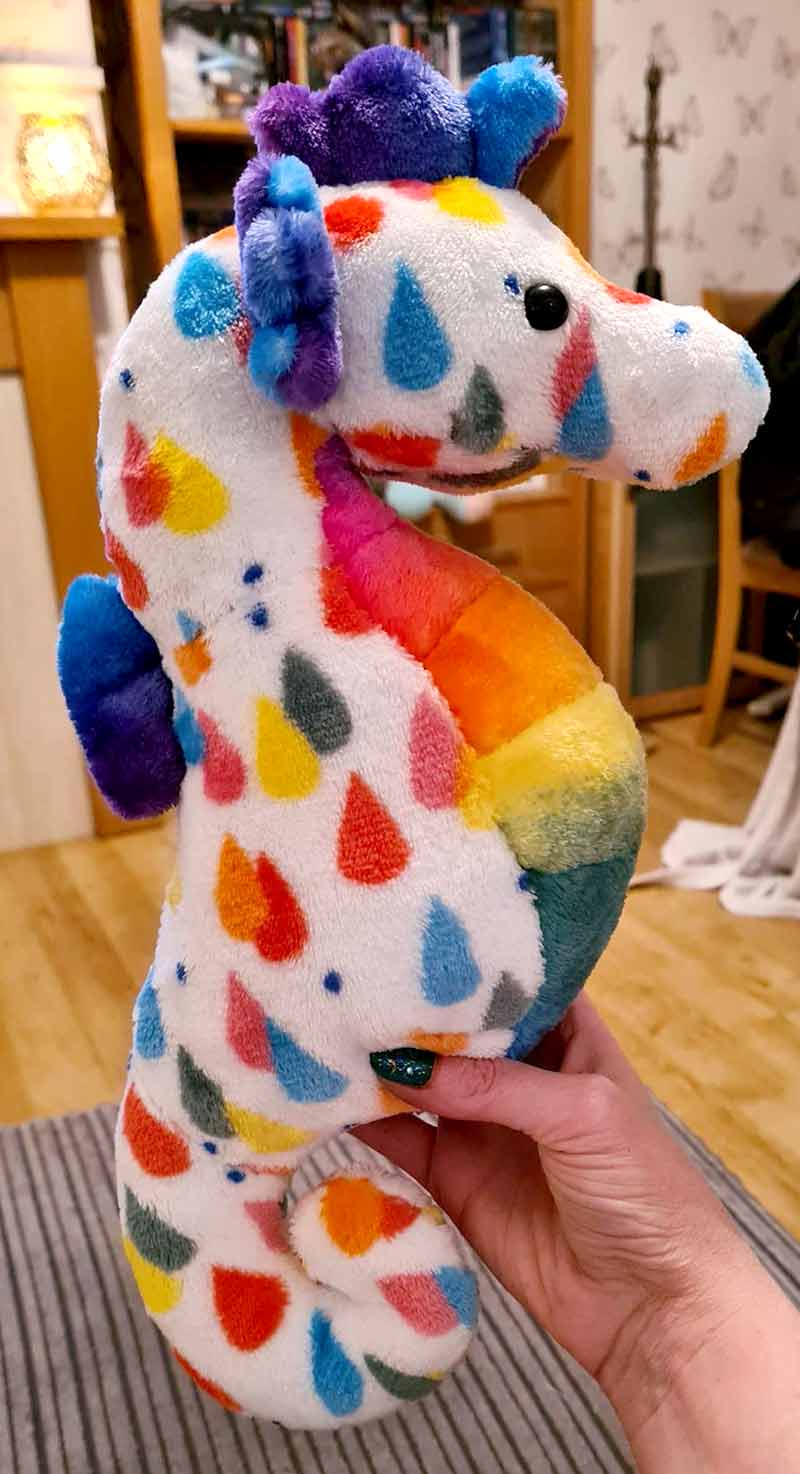 How about a seahorse sewn in sequins?
You can't get much more sparkly than using sequin fabric! This version of the Sparkles the Seahorse Pattern made by Nancy Redding features green sequin dance wear fabrics and satin highlights. Those are two difficult fabric to sew with, but what a funky fun look!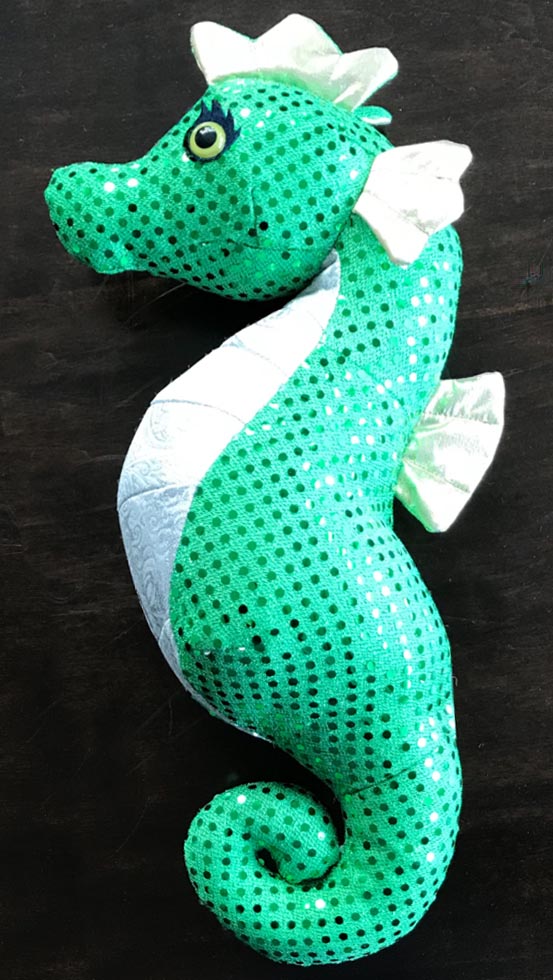 Angela Fleming used iridescent flip sequins for the smaller highlight pieces on this Sparkles the Seahorse. That's a brave fabric choice, but definitely worth it as the sequins look amazing!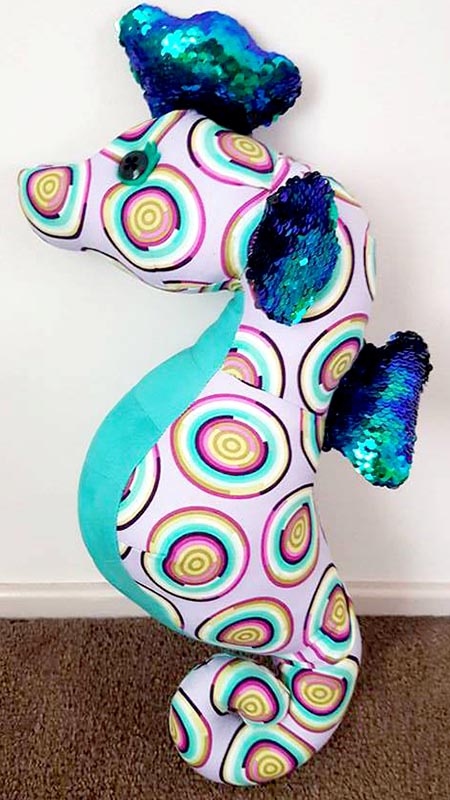 This may not be sequins BUT just as sparly? Kirsty Louise Barnett sewed this super-sparkly Sparkles the Seahorse in glittery fabrics combined with shiny eyes and sparkly trims for added "bling"!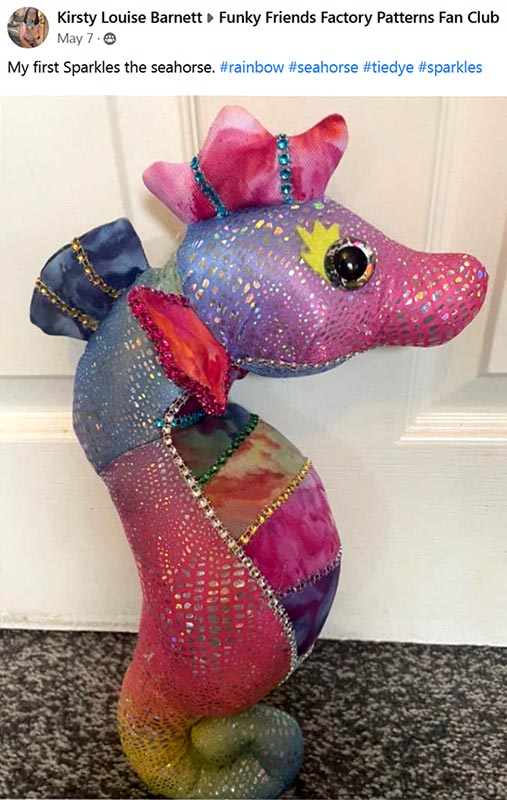 Seahorses sewn in seahorse fabrics!
Kathryn Farmer combined this seahorse print fabric for the body of the Sparkles the Seahorse combined with some Tula Pink fabric from her Zuma range – SEA STALLION in Seaglass.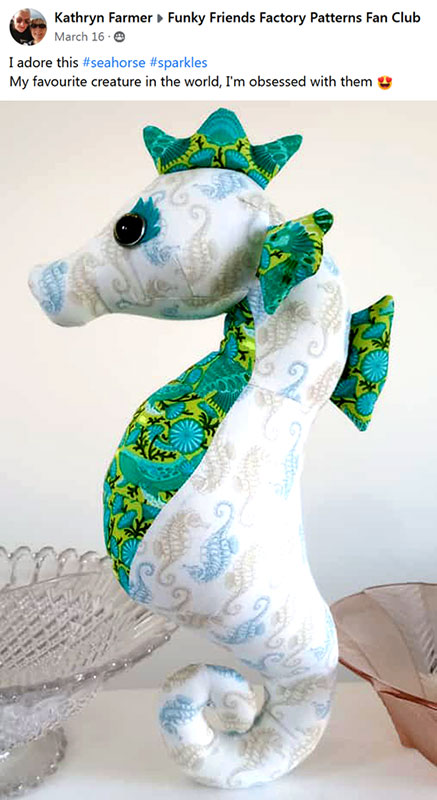 Emile Gorham often uses fabric perfectly themed to the sewing pattern animal, and this Sparkles the Seahorse is no exception. She offset the seahorse fabric with a bright pop of pink!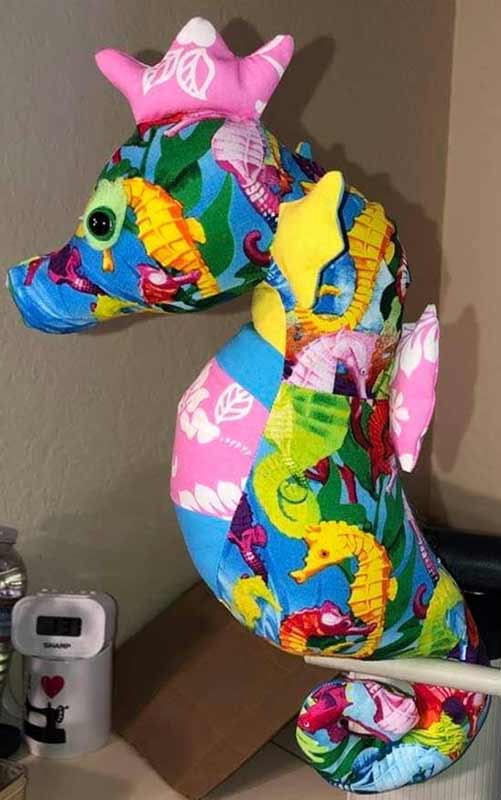 Here is the seahorse pattern sewn in Cuddle™️:
Diane Joy Kemple used Luxe Cuddle, a flat Cuddle, and some shiny gold mylar on this stunning Sparkles the Seahorse.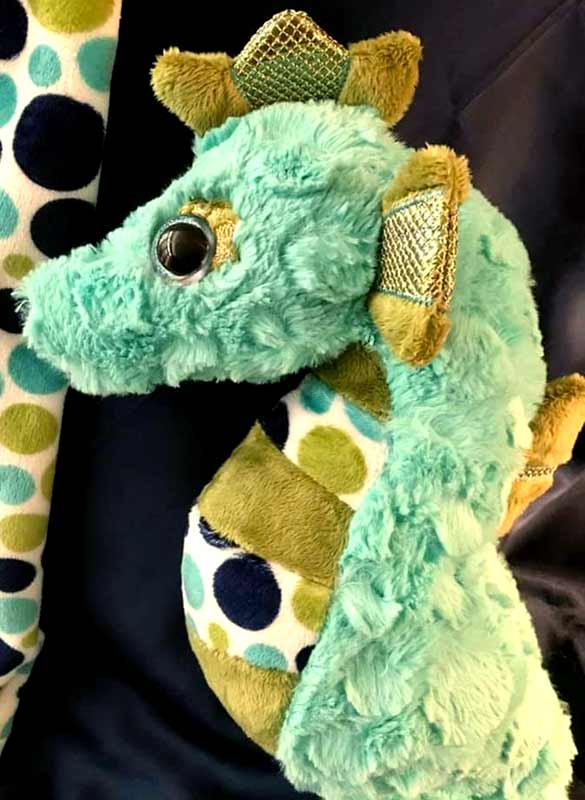 Seahorses of all Sizes!
Emma Chapman sewed an extra large Sparkles the Seahorse for her daughter to 'hang out with'.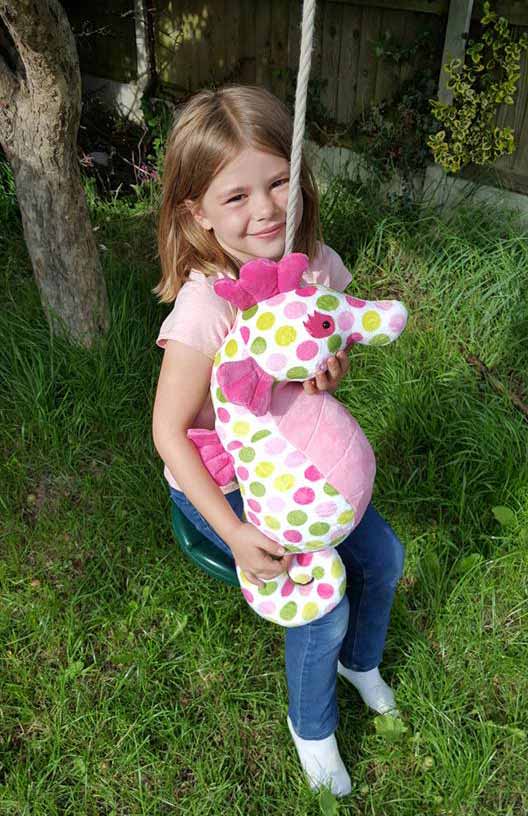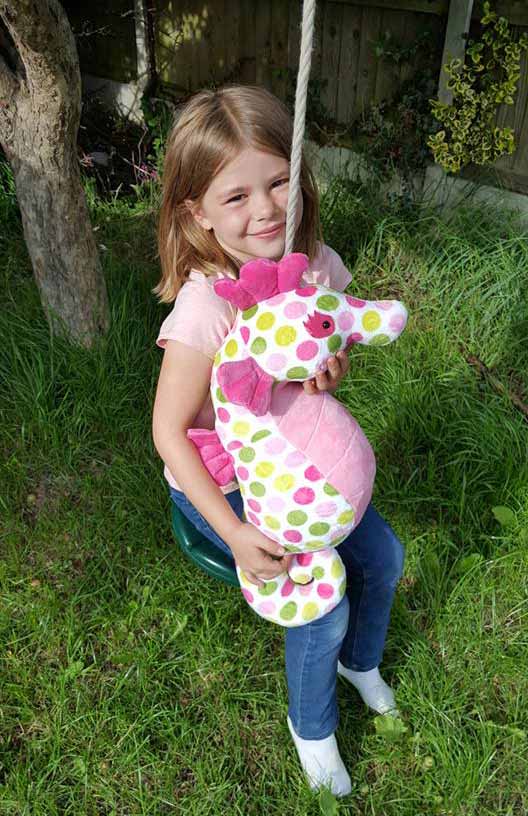 Courtney Schreiner of Monkey in the Mailbox sewed the Sparkles Seahorse pattern at 80%. I wouldn't recommend resizing this pattern too small – I think this is probably as small as you should go – or it will be too hard to sew tiny FINS.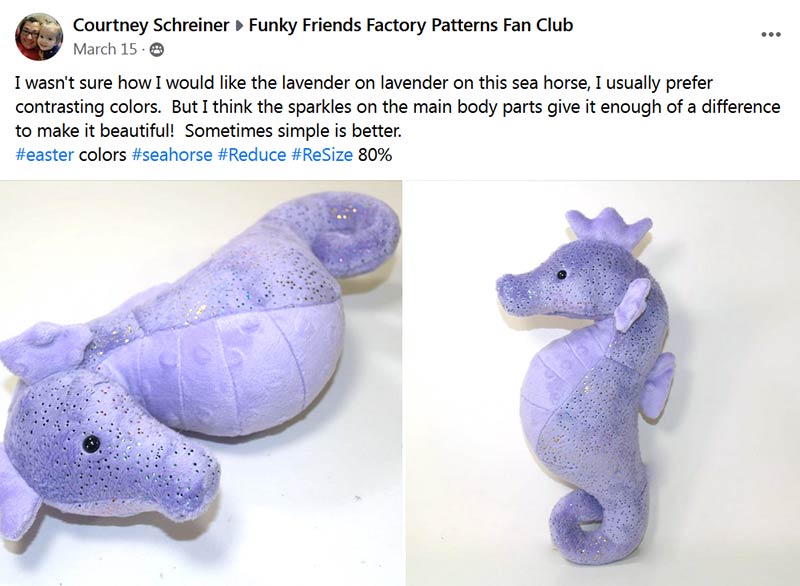 TIP: How to re-size a toy pattern?

If you want to know how to make a pattern bigger or smaller to sew a bigger or smaller toy – checkout the  "How to resize a toy pattern" blog post HERE.

In this post you will find:

How to ENLARGE or REDUCE a pattern.

How to make an EXACT SIZE toy ( a simple math formula).

How to PRINT an enlarged pattern at home (poster print option).
A seahorse for every age and stage…
There's a seahorse for every member of the family!
Anel Carson made her Sparkles the Seahorse as a baby toy by adding a squeaker in the tail, bells in the back fin, and crinkly paper in side fins! 😊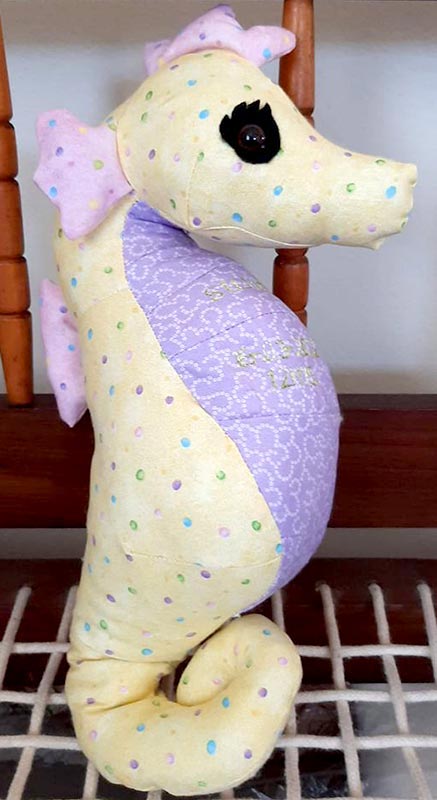 Some happy kids…
Lynette Kline-Chowning sewed this Sparkles Seahorse for her granddaughter – with a special embroidered message!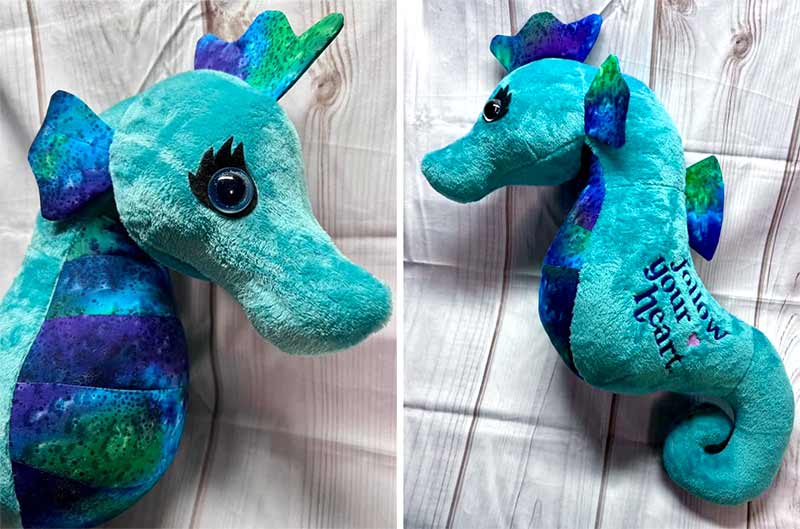 Paula Slater made 35 mascots for the Little Chute Middle School Dance team. They must have been good luck because the team danced itself to its seventh consecutive state pom championship and 3rd consecutive state kick championship. The lettering on the seahorses is made from a glitter version of iron-on heat transfer vinyl (HTV), which is a product you can use with a Cricut, Silhouette,mor similar brand cutting machine.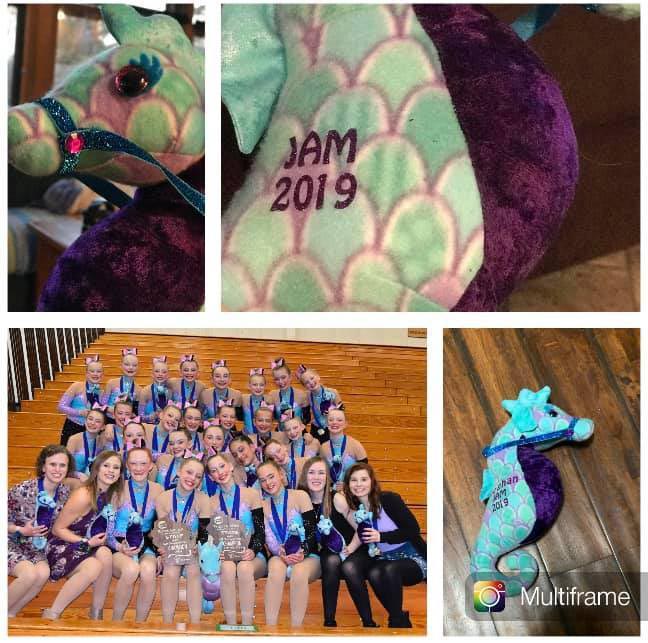 Snap a fun photo…
Don't forget to have fun posing your Sparkles Seahorse in photos like Jonell Hart did with these shells.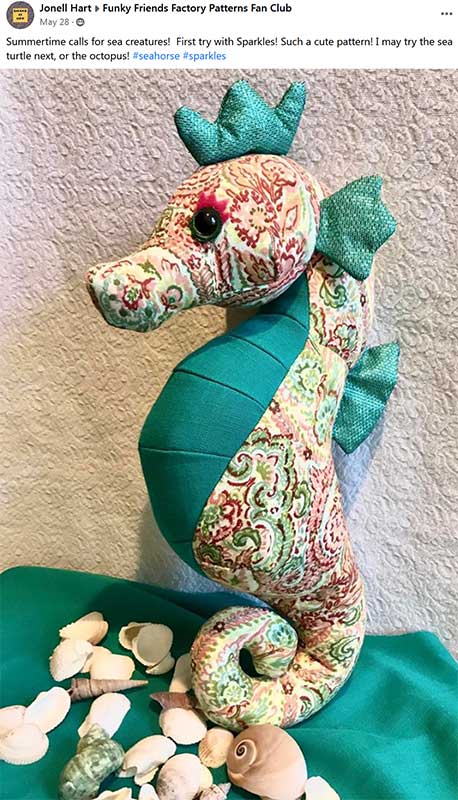 Teri-Wolff sent her Sparkles Seahorse to play on a blue cotton sea.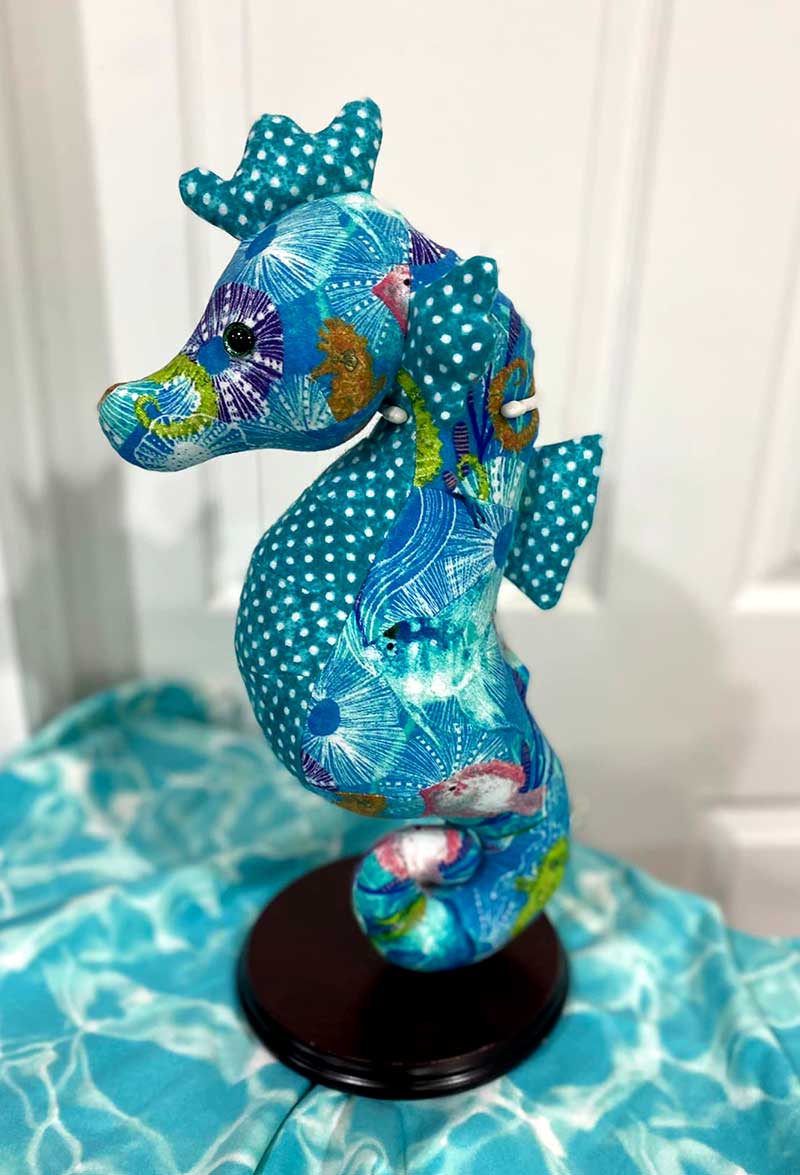 Use Sparkles Seahorse to Share Memories
And a Sparkles Seahorse makes a great KEEPSAKE because she is great for using small prints and patterns. You can embroider a message on her large side pieces or the smaller horizontal tummy strips.
Baby clothes…
This keepsake toy seahorse was sewn in pre-loved baby clothes by Leanne Crump.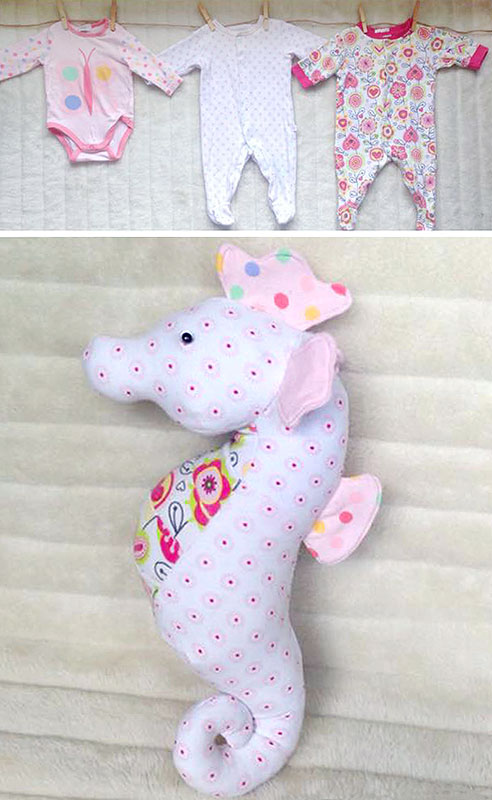 "Snap" to it and splash into Seahorse Week!
So what are you waiting for?
Why don't you whip up your OWN version of the Sparkles Seahorse pattern and share a pic with us online over the next few weeks. All seahorses are welcome, from the newly-sewn to your favorites from the past.
Want to win a
FREE toy pattern?
It's so EASY to enter the Pattern GIVEAWAY!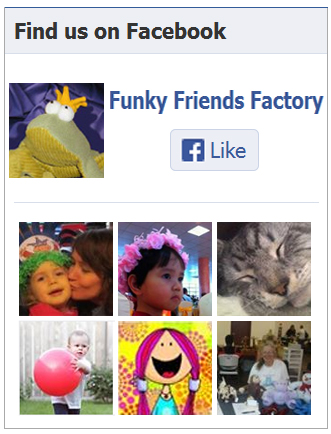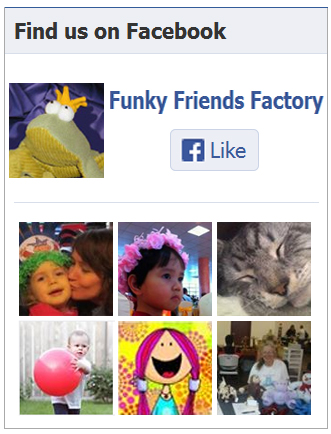 ALL you need to do is post a photo of a FUNKY FRIENDS FACTORY toy that you have made on the Funky Friends Factory Facebook Page .
At the end of each month I draw a winner and post the winner's name on the Blog the following MONTH. I have an Album on Facebook for all the MAKEROFTHEMONTH winners. You can check it out HERE!
NOT on Facebook? ENTER by email! 
*** You can send me your photos by email too!
So come on! Share your photos  ~> The next winner could be YOU!!!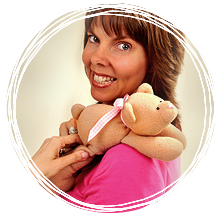 .
Till next time,
Happy Sewing,
Pauline
xxx