I love using felt for my softies and doll sewing patterns. These days it comes in so many groovy colours it's hard to pick! The best thing about felt is that it doesn't fray when cutting out so it's so easy to work with! BUT for great looking toys you want to make sure the pattern templates don't slip while you're cutting out your felt  pieces.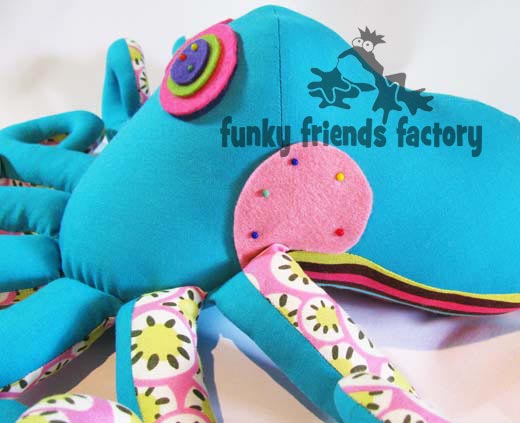 It's really HARD to be accurate when you are cutting out very small, fiddly pieces.
PINNING felt pieces is NOT as accurate as you'd think because the pattern templates move or slip as you cut and you can end up with some very wonky shapes!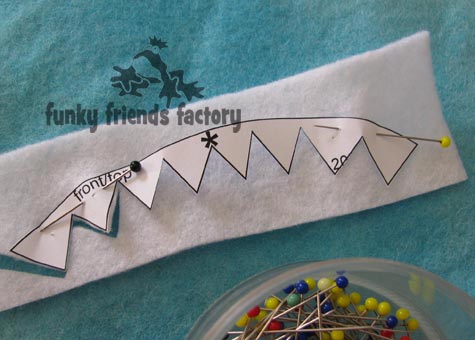 I no longer use pins myself, so I have put together this photo tutorial to show you 5 different techniques that I use to cut out felt EASILY and ACCURATELY!
First up is the K.I.S.S technique for cutting felt!
1. – 'Keep It Simple Stupid' Technique!
I love that saying!!! 🙂 AND it's true – most of the time the simplest techniques work just fine. So don't think you have to use anything fancy or expensive to get great results when you cut out felt pieces!
All you need – some sharp scissors and a steady hand!!! I use this technique for cutting out SIMPLE SHAPES that are an easy size to hold in place on the felt without slipping – so not too big and not too small.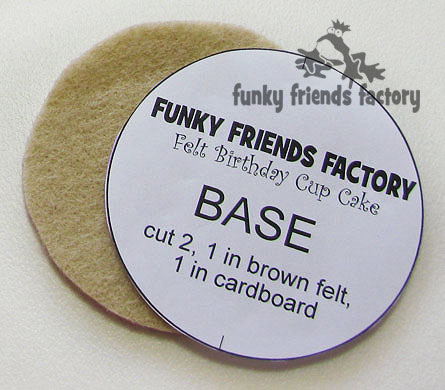 Hold the pattern piece and felt firmly together and cut out around the pattern piece, as far as I can go WITHOUT LETTING GO!
You will need to turn the pattern piece and felt to cut the last little bit under your thumb.
I put the scissors down while I turn the felt and pattern piece so I can hold the felt and pattern piece with both hands as I turn, this way it shouldn't slip.
Double check that the pattern piece is lined up with the part you have already cut, then cut out the last little bit. Too easy!
You'll be surprised how accurate you can get with a bit of practice!
2. – Trace and cut Technique.
There are lots of types of pens that will mark on felt. From right to left – fabric markers, black permanent markers (and laundry markers) ball point pen, EVEN pencil!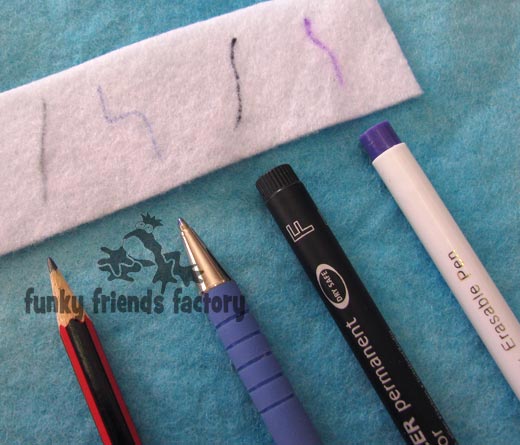 I like to use fabric markers. My favourite fabric markers are a purple disappearing fabric marker or a blue water-erasable fabric marker.  Usually I decide which pen to use, based on which colour will show up best on the felt… or whichever pen I can find at the time!
(This technique isn't good for darker felt because you can't see the fabric pen line.)
Trace around the pattern piece, directly onto the felt with a fabric marker.
Cut just 'inside' the line you traced so your felt piece is the same size and the pattern piece and you don't have too much pen ink on your felt piece.
Felt doesn't have a right or wrong side, so if the pen is still noticeable, you can turn the felt piece over and place it on your soft toy with the traced side down.
* If you cannot find one of these fabric markers in your local patchwork/quilting shop or craft store – I do have them in the my supplies section.
As they say, practice makes perfect so don't worry if you are a little bit shaky at first! If you have given it a good go and don't feel you have a good grip (on this technique!) you may need to use technique 3 or 4.




3. – Tape it down Technique!
I use this method for VERY FIDDLY SHAPES, like Sammy Shark's teeth, or VERY SMALL SHAPES of felt. The tape stops the template from slipping so you can be very accurate with your cutting!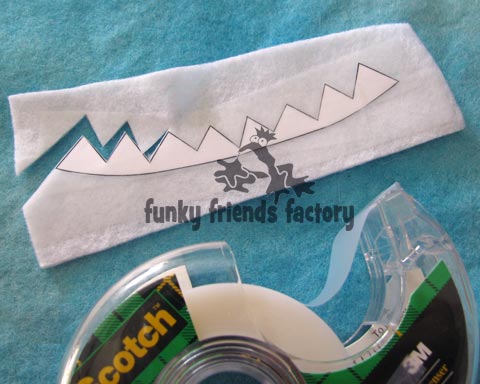 Tape the pattern piece to your felt using normal sticky tape for small pieces. Clear packing tape is great for larger pattern pieces.
Don't press it too hard, the tape sticks easily to the felt. If you press it on too firmly it can pull and stretch the felt when you pull if off.! Test the tape on a small piece of your felt, some thinner acrylic craft felt will distort, so try and use better quality wool or wool-blend felt if you can.
Cut out you pattern piece.
The felt and pattern pieces should come apart easily. Gently pull the tape off the remaining felt so as not to distort it.
The great thing about this technique is that you can tape the pattern piece again and again because you are only cutting through the new tape. Perfect pieces again and again! The other thing that is good about this technique is that you do not end up with marker pen ink on your pieces, which is great for lighter coloured felt. Great for black felt too – where it's impossible to see any traced lines!:D
4. – 'Fancy' Freezer Paper Felt Technique
This is probably the technique that I recommend the LEAST! Why???
Well… I like things that are simple! 🙂
Freezer paper can also be expensive, hard to find and a bit more of a pain to use as you have to use an iron. I avoid housework if I possibly can –  so ironing, in my mind at least, is extra work, especially when I find the tape method so quick and easy!  BUT having said that, it IS a very accurate way of cutting out felt and some people swear by it. I would recommend using this technique for very fiddly pattern pieces that are highly likely to slip as you cut out.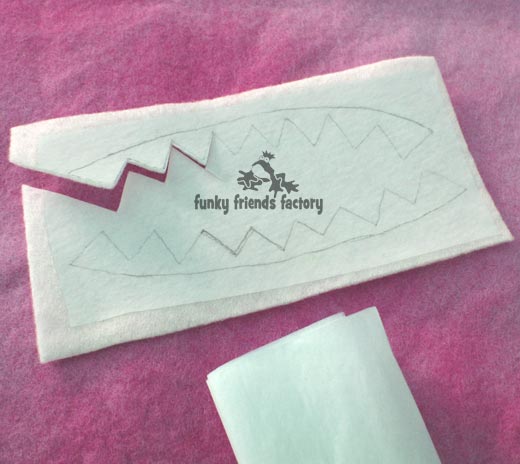 Trace the pattern piece onto the freezer paper, paper side, not the shiny side!
Turn on your iron to heat up – be sure to set it to a LOW heat setting WITHOUT steam.
Cut out a big square/rectangle shape around the pattern piece, and iron it onto the felt. I place a piece of cotton fabric over my felt and freezer paper when I iron to make sure I don't damage the felt with the heat of the iron.
Cut the piece out on the tracing line.
Peel off the freezer paper piece.
MAKE sure the iron is turned OFF!!!!!!
One good thing – is that at least the Freezer paper is reusable so it's great if you will be cutting out lots of the same piece!




5. – Last but not least, the 'Cheating'
or NO CUT technique!
I love this technique! 🙂 So simple, quick and guaranteed to give perfect results every time! You don't need to do any cutting either…. simply BUY the shapes pre-cut like these felt dots! So as far as cutting goes – it is cheating – BUT hey, the shapes look fantastic! haha!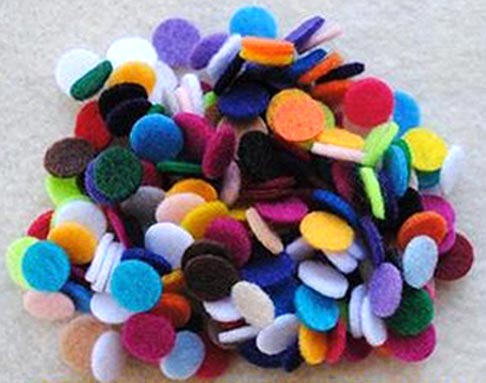 I found these pre-cut felt dots on Etsy…. So far I have only found acrylic/craft felt pre-cut pieces and there are so many ways to use them!
They work well for eyes – look how they really highlight Diggles the Dragon's eyes!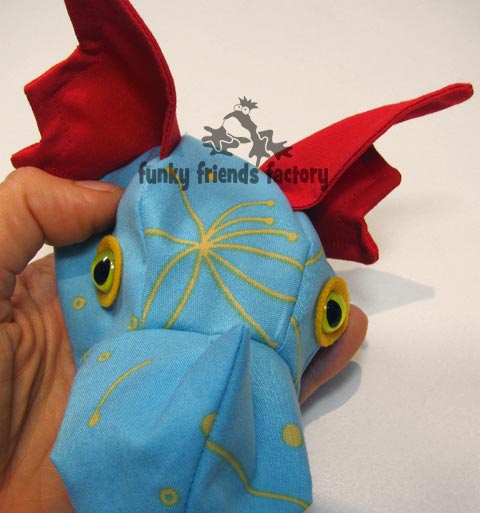 The craft eyes hold them in place – no glue needed!
You can also sew the felt spots in place so they are secure. I use a dot of craft glue in the middle of each felt dot/spot to hold them in position. Then once the glue has dried, I hand sew over the felt with embroidery thread. (If the toy is for a young child or baby, sewing over the pieces with a satin stitch gives a lovely raised eye that won't pill.)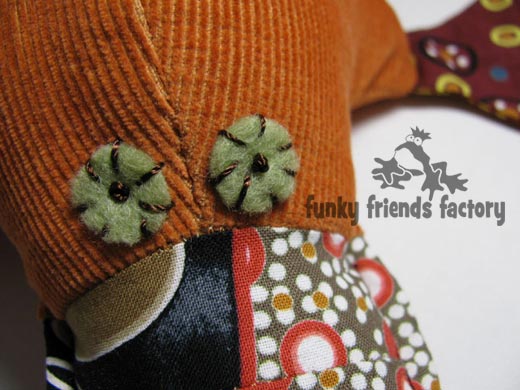 Felt dots look great for dolls faces too! I used them for the cheeks for my
Christmas Elf Doll Sewing Pattern. Red for the boy elf and lighter pink for the elf girl doll's cheeks!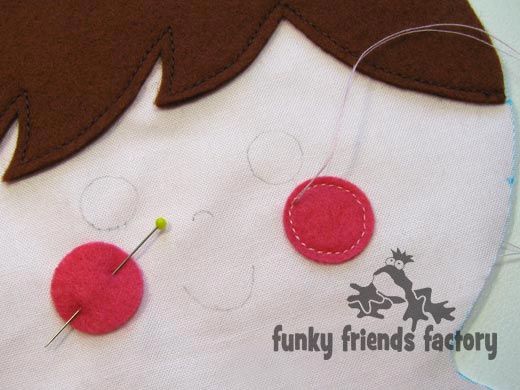 Well,
there you have it!
5 Felt Cutting Techniques to try!

If you haven't used them before, I hope I have inspired you to try them out for your next felt project! I always LOVE to see your creations so please post some pics of YOUR Funky Friends on the Funky Friends Factory Facebook page when they're done!
If you already use these methods – which technique is best for you?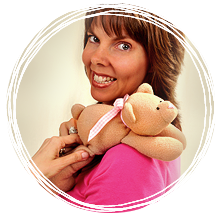 .
.
Till next time,
Happy Sewing,
Pauline