Shark Week doesn't start on the same day in every country  – which is why we'll be celebrating all of the under-sea Funky Friends for a whole month! This way we'll be able to introduce ALL the sea-themed toy patterns and show you some super-cute examples to inspire you – this week we're taking a walk in the octopus' garden with Ozzie Octopus!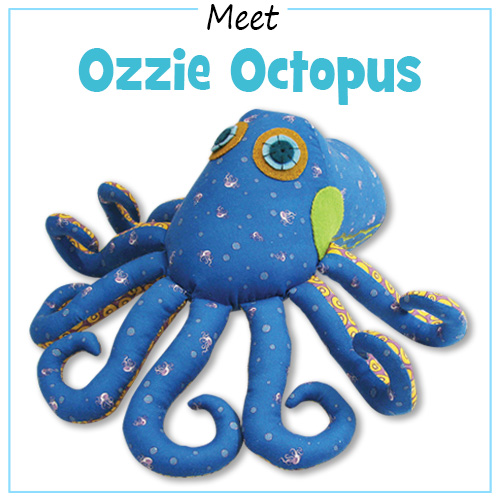 What fabrics are good for an octopus toy?
The Ozzie Octopus sewing pattern can be sewn in most fabrics… AND he looks awesome in all sorts of colours and textures!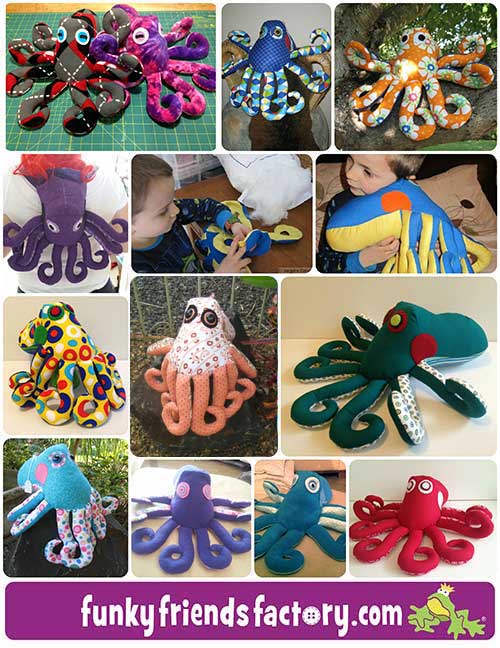 Is this an easy pattern?
The Ozzie Octopus Pattern is quite easy – he just has LOTS of legs to sew! BUT, as they say – once you've sewn ONE octopus leg… you can sew the rest pretty quickly! PLUS you can rope the kids in to stuffing the legs of their toy like Angela Coles did!
It's hardly "forced labour"
when it's YOURS to cuddle!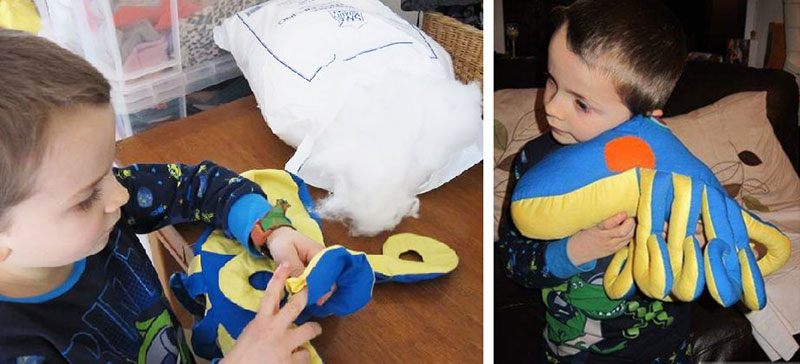 LOTS of lovely Octopii (sp?) EYES!
Ozzie's legs may get all the attention (and he does like to reach out and grab you while you're stuffing him!) but I think his eyes are what really draw you in… Ozzie Octopus has lots of options for amazing eyes! I wrote this pattern with instructions and template pieces for felt eyes, but you can use lots of eye ideas on him, including these: plastic craft eyes, buttons, embroidered eyes, false eyelashes, or fun felt shapes. Check out these Ozzie Octopus EYE examples below
~> you can use these EYE ideas
on other Funky Friends too!

First up – Felt eyes:
You can see that I layered 3 circular felt shapes and hand-stitched over them with some simple embroidery. On the left side you can see me with the ORIGINAL Ozzie (as you see him in his "glamour shot" on the pattern cover) and then made in Tula Pink fabric for Quilt Market in Salt Lake City 2016.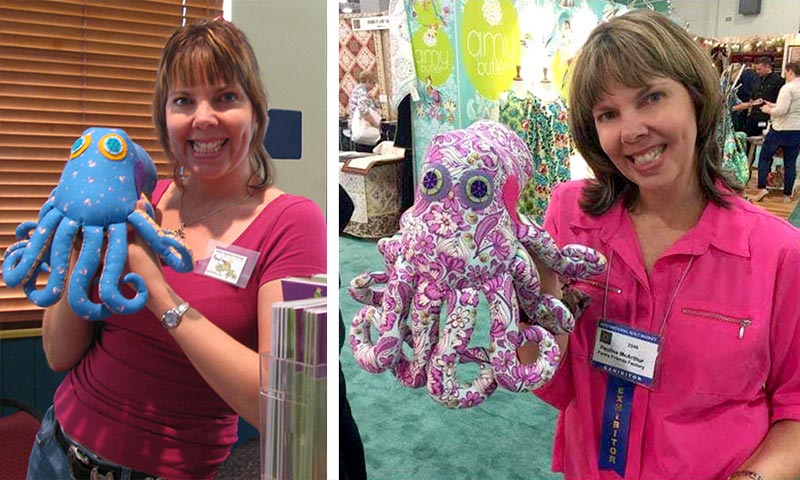 TIP: This is the FUN bit ~>

Go wild and use lots of different brightly coloured felt!!!
WOW, just look at the AWESOME colours in this cheerful Ozzie Octopuss sewn by Lorraine Leyva Rice – the bright yellow eyes are AWESOME because they stand out against all the rest of the bright colours!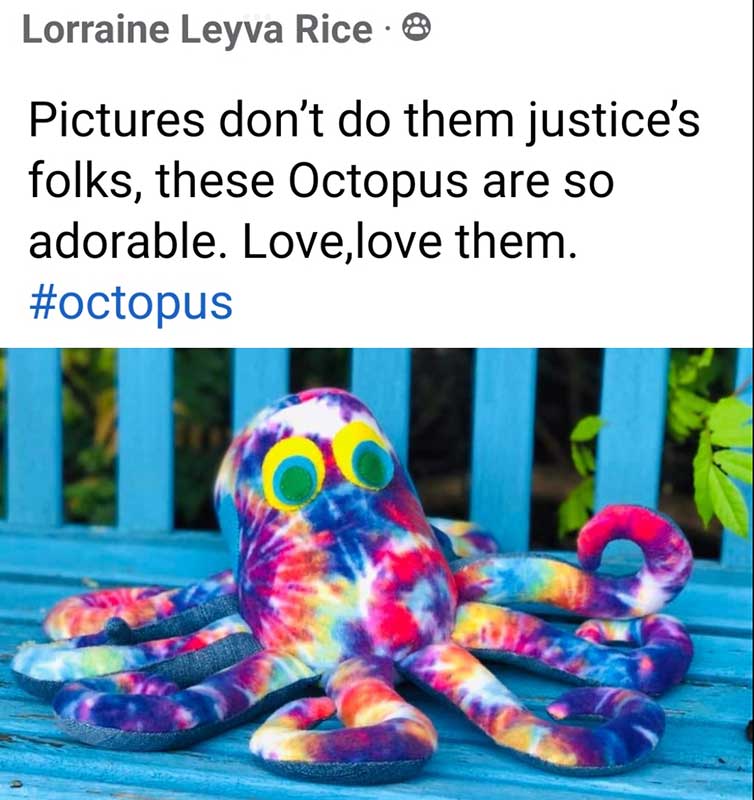 This is one happy octopus fan thanks to Dawn Rimby who sewed this cute colour-co-ordinated Ozzie Octopus.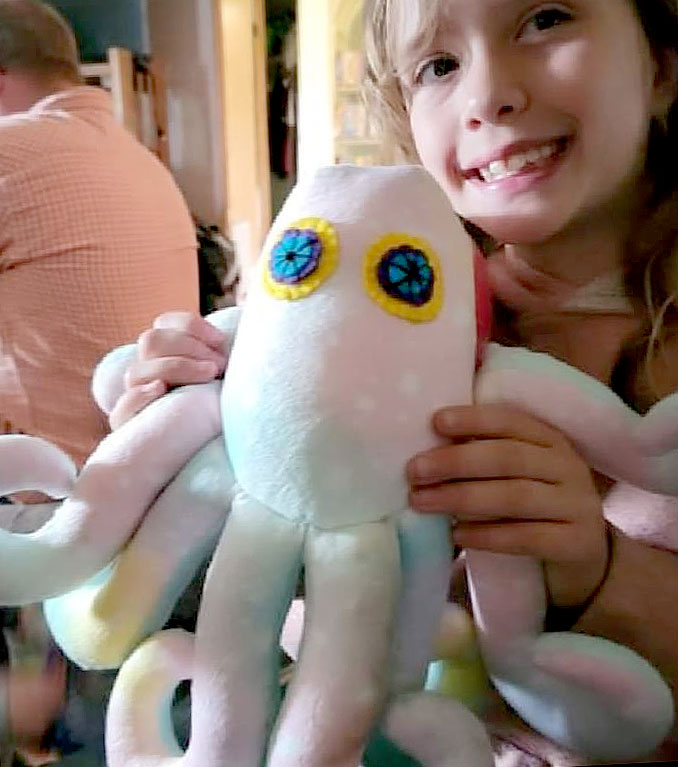 I just LOVE all the colours that Deb LaBelle used for her green and purple Ozzie Octopus – ooh it's MY colours!!! LOL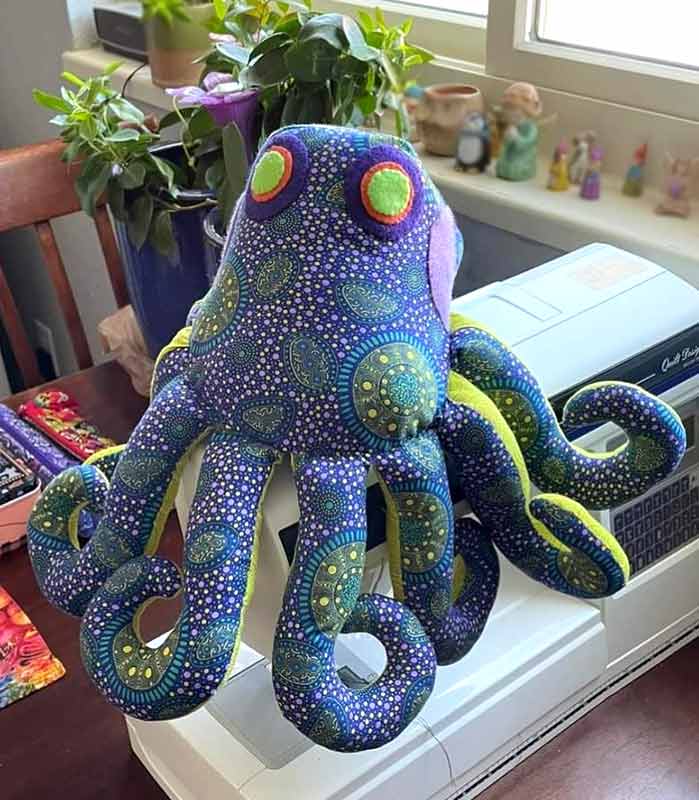 This REALLY cute and cuddly Ozzie Octopus with felt eyes was sewn by Andrea Nettles.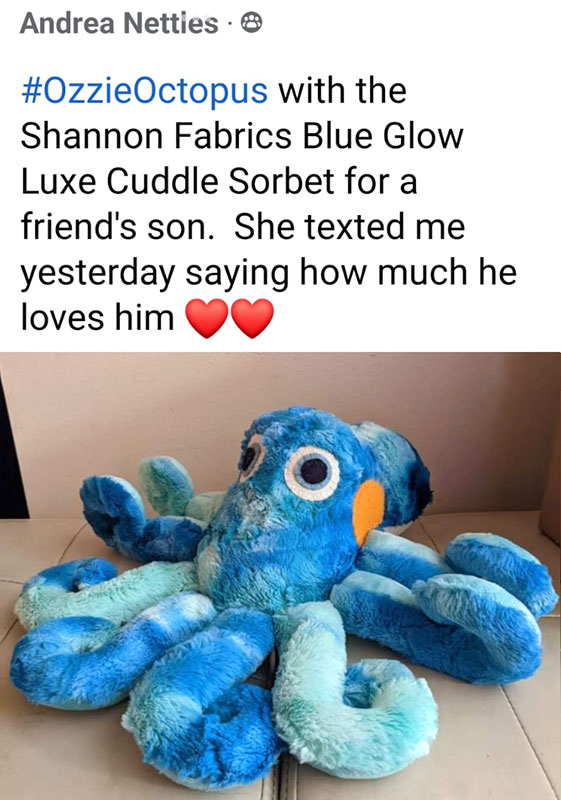 TIP: Felt EYES are BABY-SAFE!

l
This felt-eyed Ozzie Octopus sewn by Toni T. really felt like hanging out with some fishy friends!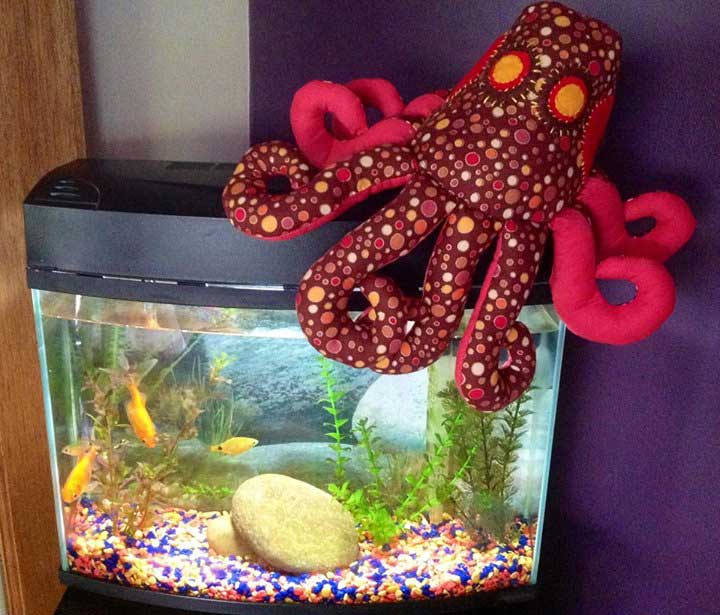 These pretty pink felt eyes are PERFECT with this Ozzie Octopus sewn by Cheryl Bock in "Australiana" fabric!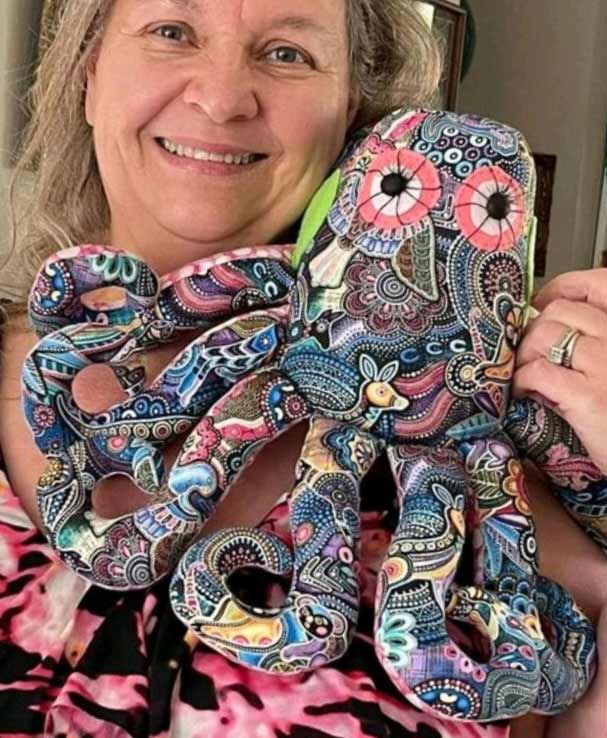 This  Ozzie Octopus has felt eyes sewn on with a sewing machine by Jonell Hart – I think sewing the eyes like this by machine is much quicker than by hand!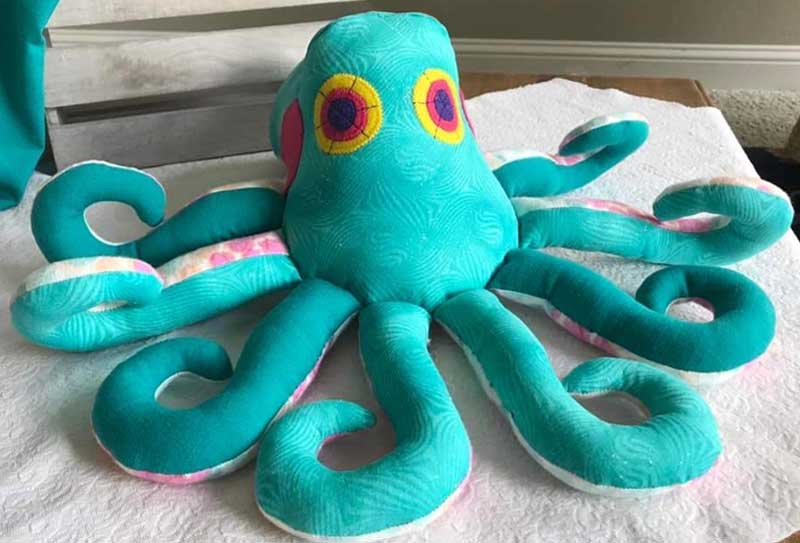 Craft Eyes are COOL:
Another fun look for Ozzie's eyes is combining felt and craft eyes. I got these BIG gold 'crystal' craft eyes (21mm) from Voodoo Rabbit Fabric Shop in Brisbane, Australia (still the best place to get craft eyes for Funky Friends if you're in Australia!).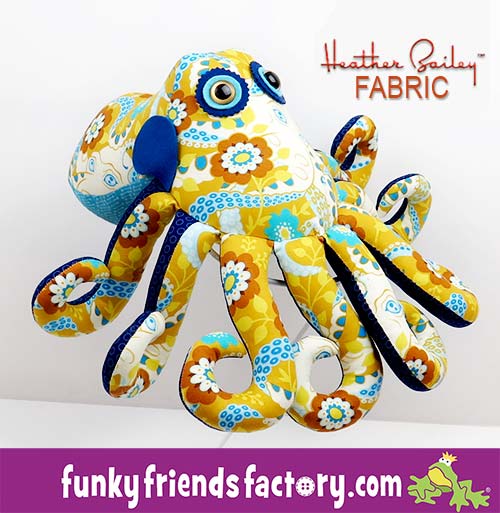 TIP: FUN Frilly effect ~>

I also used some pinking shears to create a ripple effect on the outer felt circle.

If you look closely you can see how Janet Conlon picked up the bright primary colours on the tentacle fabric that she used for her Ozzie Octopus – and she used these same bright colours for the felt pieces – VERY CLEVER!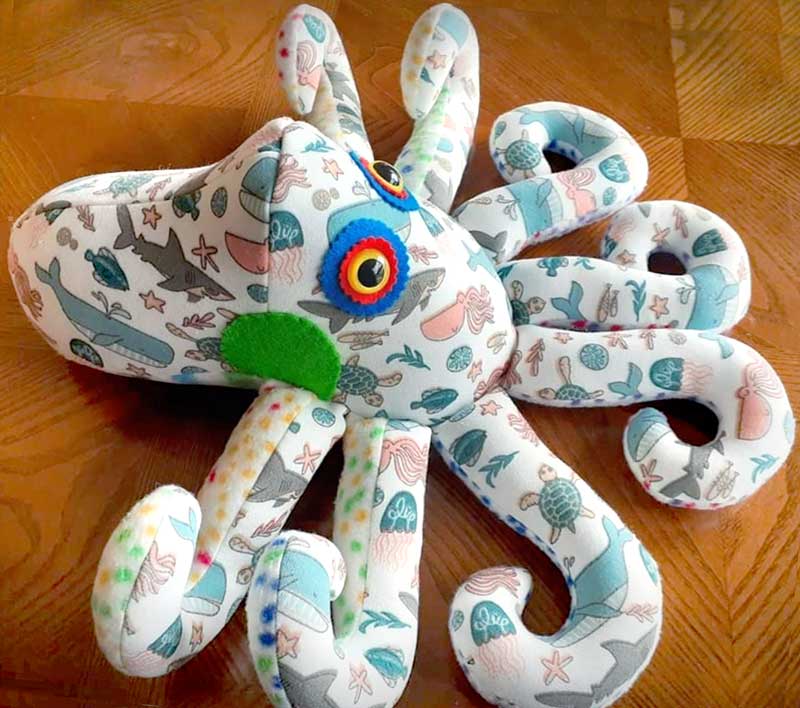 Here's another cleverly co-ordinated colour-scheme – Ozzie Octopus sewn in blue, green and yellow – sewn by Korina of Korinas Kreations.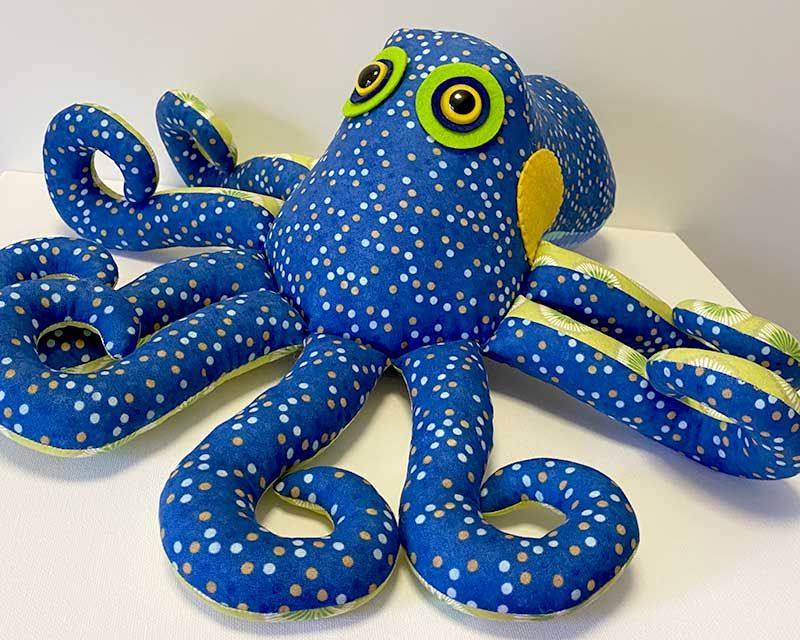 It looks like Heather Thomas's dog approves of her Ozzie Octopus craft eye and felt selections!!!!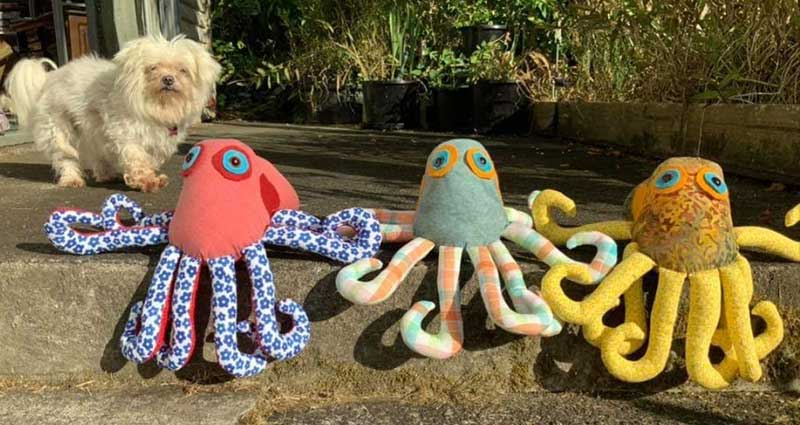 And these red and blue & gold eyes tie in PERFECTLY with this "hungry caterpillar" fabric Alana-Simons used for her spotty Ozzie Octopus.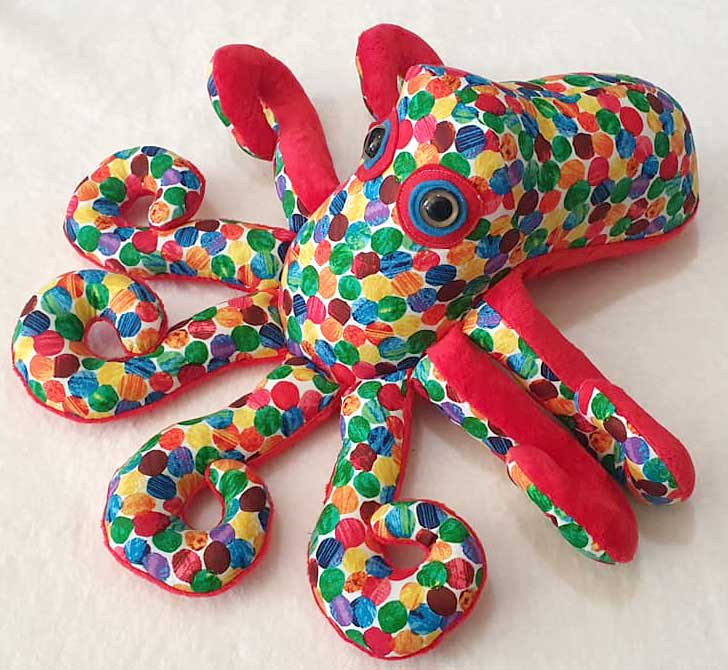 Craft eyes on their own:
You can always use regular size craft eyes on their own, WITHOUT any felt – as Diana Sageser did on this Ozzie Octopus below.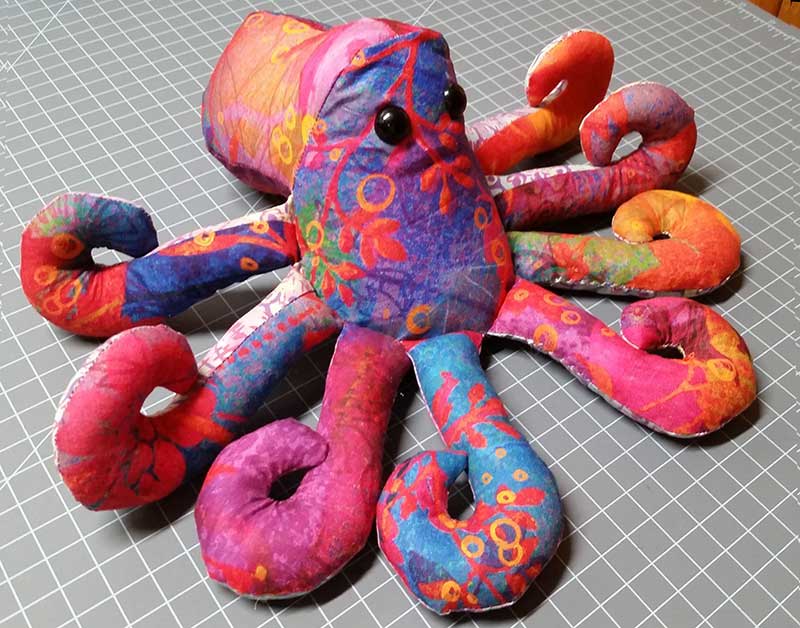 … and this beautiful Ozzie Octopus sewn in Kaffe floral fabric!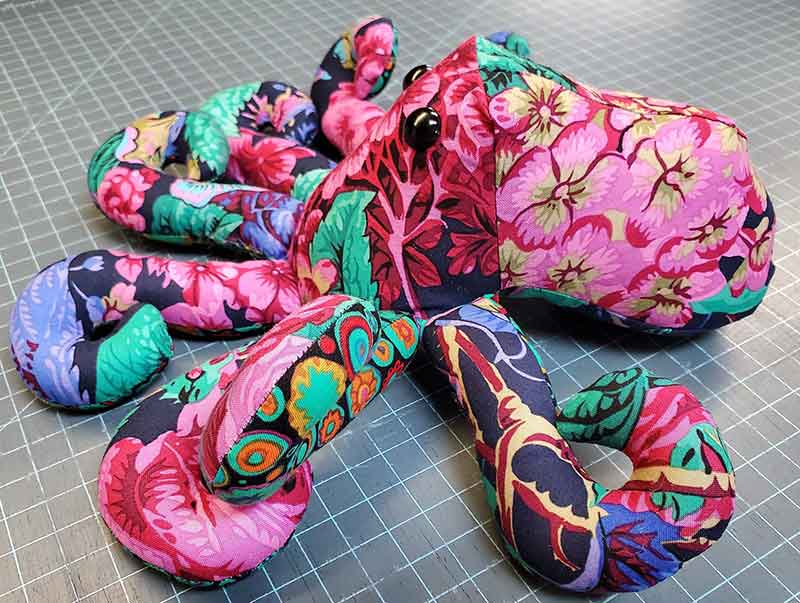 Buttons make good toy eyes too:
If you don't have large craft eyes, you can sort through your button collection for some perfect pupils for Ozzie Octopus, as Adele Odegaard did on this example. She also added a fun floral design to her felt!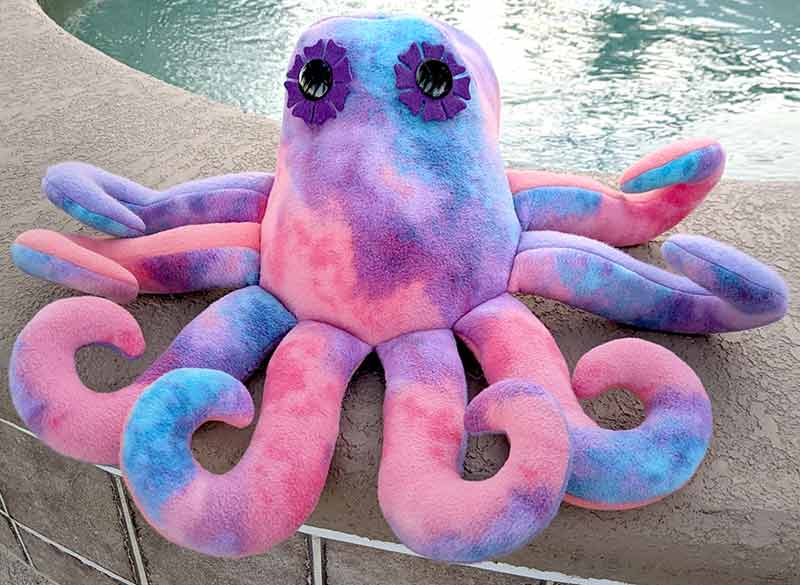 AND you can stack buttons of different sizes, sew them on on top of each other, like Linda Mason did on this bright and beautiful Ozzie Octopus.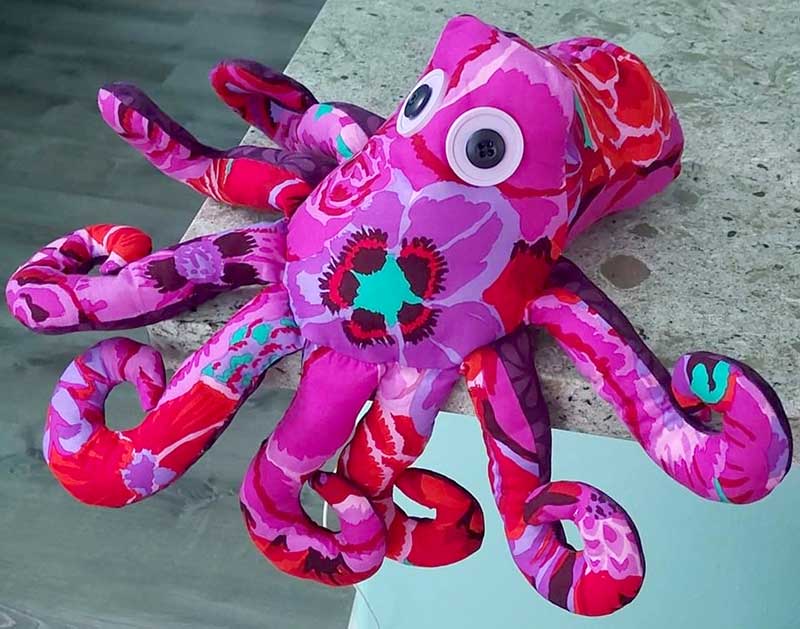 Googly eyes are FUN!
If your Ozzie Octopus is on the move, here's a fun idea: use googly eyes like Richard Cook did on this fantastic Maker of the Month winner. Googly eyes come in tons of sizes these days and even in craft-eye versions with plastic washers to hold them in place securely.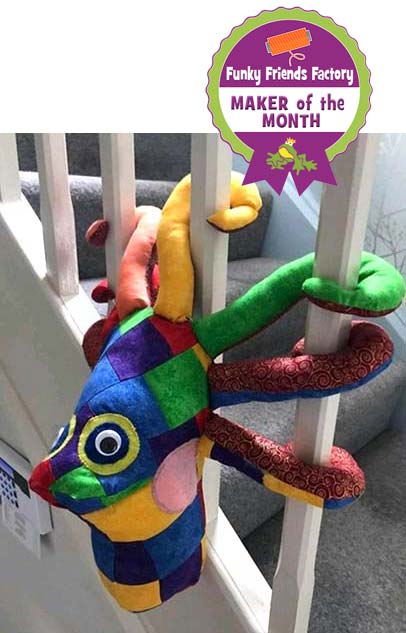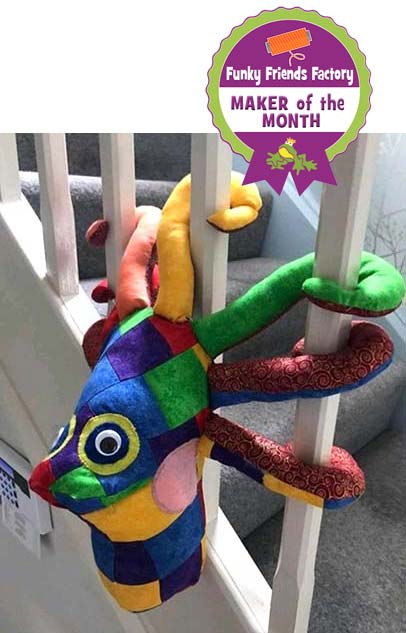 Machine Embroidered Toy Eyes:
If you own an embroidery machine, you can find a digitized file for a "thread only" design, or you can mix in fabric layers for an "in the hoop" creation like Karin Weeden did on her grandson's  red Ozzie Octopus below.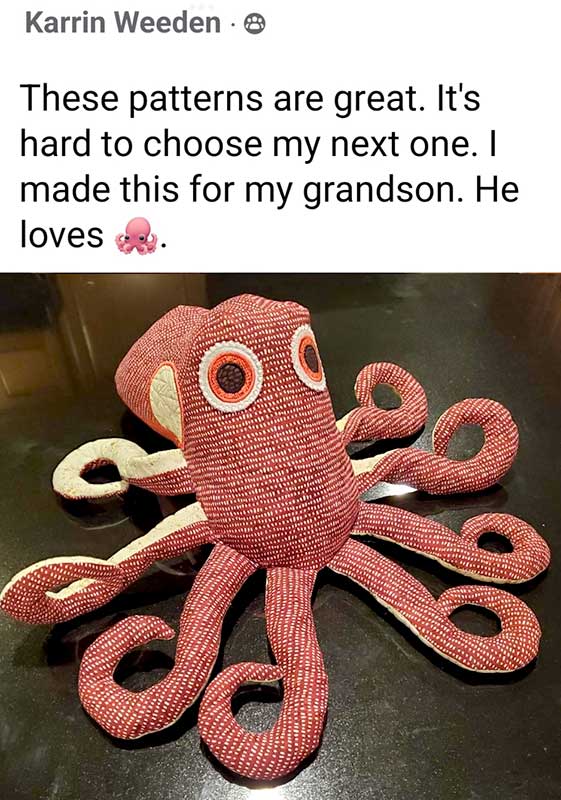 These embroidered eyes are so "alive" on this extra-large Ozzie Octopus sewn by Alyssa King of Snuggle Soft Designs. She used Cuddle® fabric from Shannon Fabrics which is super soft and cuddly!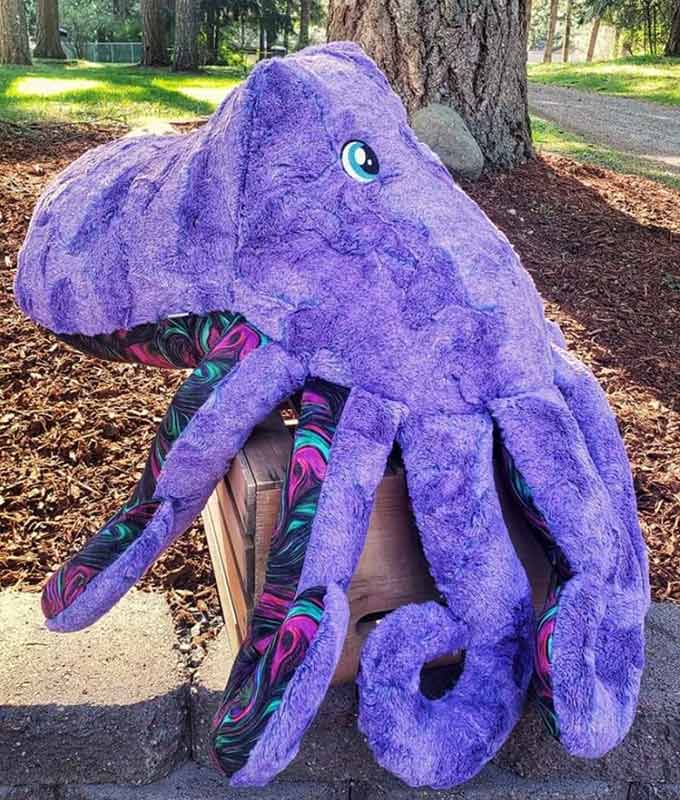 Creative eyes from Fabric Scraps!
Jonell-Lee cut up bits of fabric and added some special hand-embroidered details to this Ozzie Octopus sewn in Tula Pink fabric!
I LOVE this idea!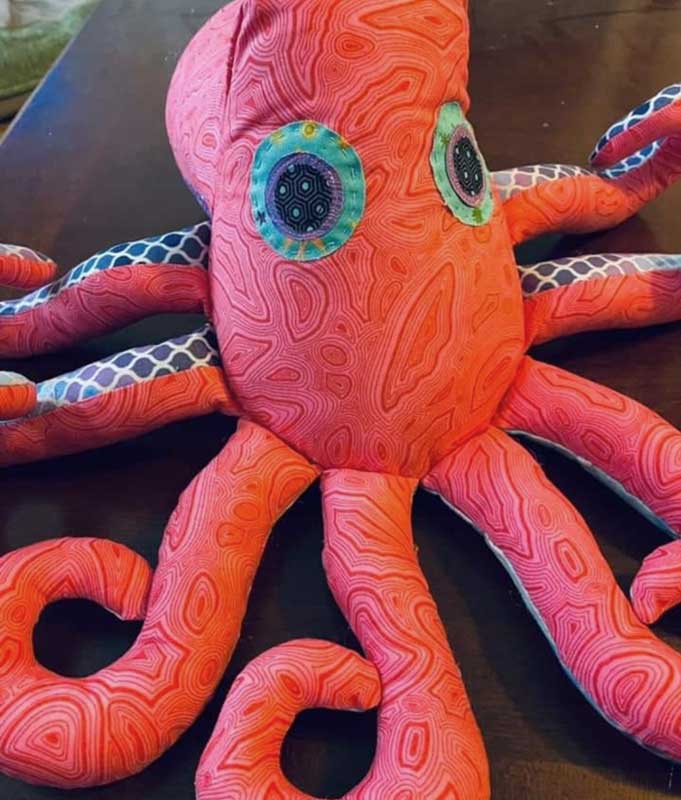 Clothing Eyes for Keepsake Toys!
The eyes on this keepsake Ozzie Octopus sewn by Amy Rutland-Jones were once the polka dots on a neck tie! You can see the same fabric of the tummy of the Sparkles Seahorse. (The Sparkles Seahorse pattern was our featured ocean friend last week, so hit the "older posts" button to see lots more awesome Seahorse feedback photos!).
What a clever way
to use a polka dot tie!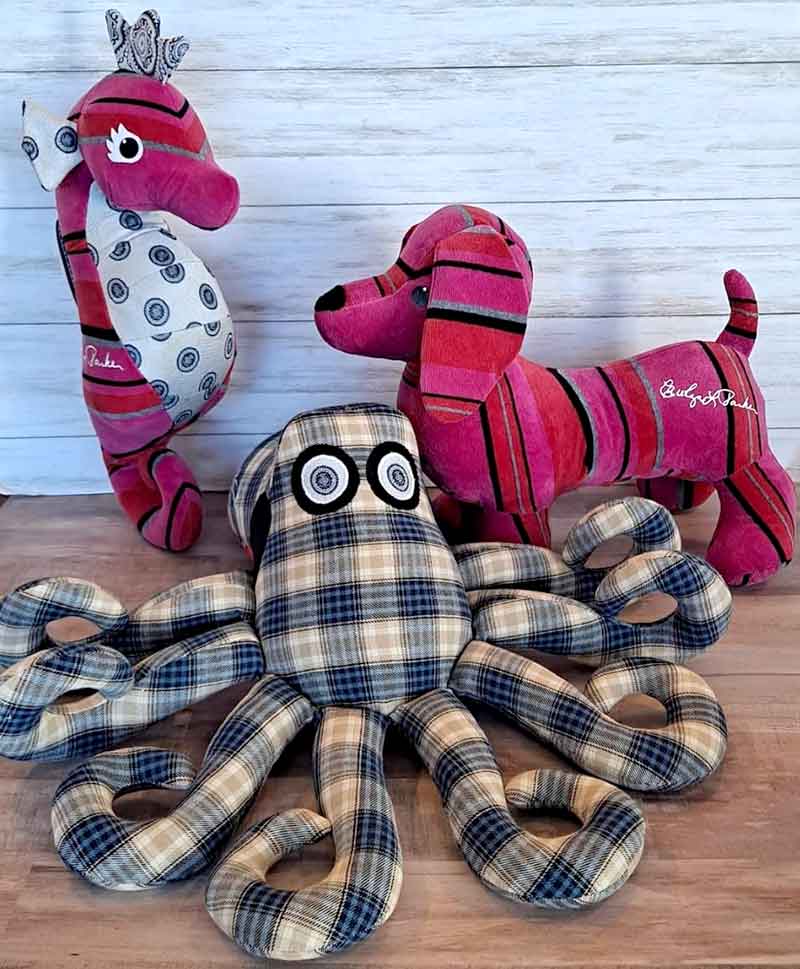 I hope you've enjoyed this eye-popping Octopus collection!
Why don't you whip up your OWN version of the Ozzie Octopus Pattern  and share a pic with us online over the next few weeks. All octopus pics are welcome, from the newly-sewn to your favorites from the past.
Want to win a
FREE toy pattern?
It's so EASY to enter the Pattern GIVEAWAY!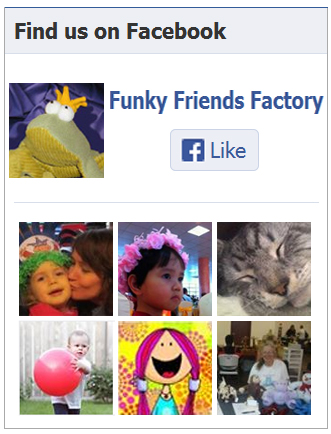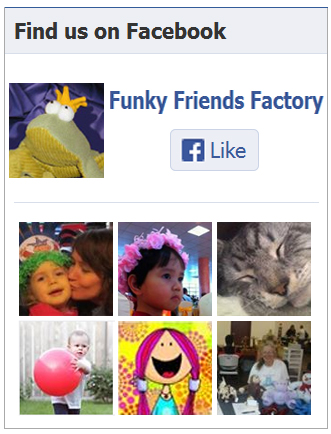 ALL you need to do is post a photo of a FUNKY FRIENDS FACTORY toy that you have made on the Funky Friends Factory Facebook Page .
At the end of each month I draw a winner and post the winner's name on the Blog the following MONTH. I have an Album on Facebook for all the MAKEROFTHEMONTH winners. You can check it out HERE!
NOT on Facebook? ENTER by email! 
*** You can send me your photos by email too!
So come on! Share your photos  ~> The next winner could be YOU!!!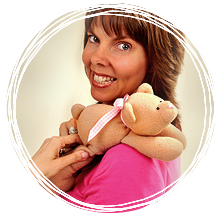 .
Till next time,
Happy Sewing,
Pauline
xxx