Check out this fun collection of some of the cute Funky Friends posted online in June 2022. The winner is revealed at the bottom of the post, but first you'll want to peruse these beautiful bears, bees, unicorns, and more! 
Take a look…
First up we have a very special Calico Bear sewn by Ange Angela. The young lady in the photo is celebrating a milestone birthday, so her mom had a keepsake bear made out of her childhood football uniforms. What a cute concept and memorable gift!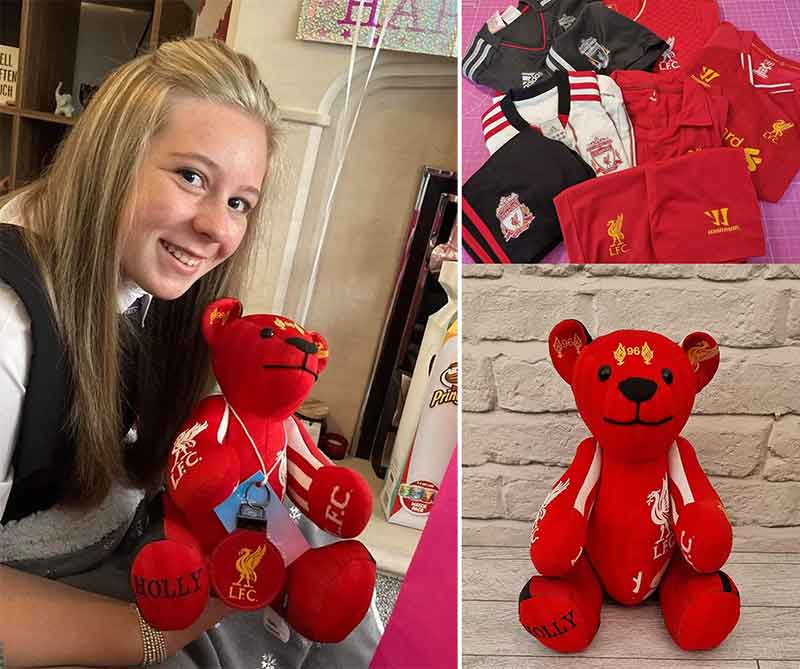 Click HERE to purchase the Calico Bear pattern.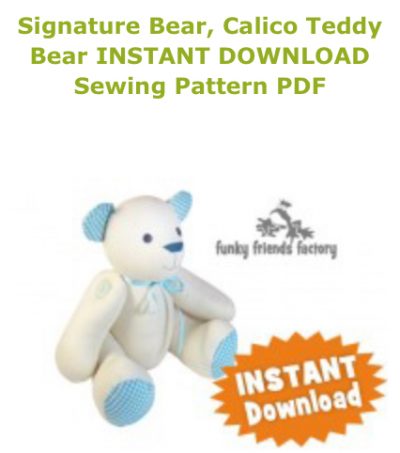 Here's special bear marking a milestone of a different sort. This Ben the Beginner Bear is Diane Luvate's very first attempt at a Funky Friends Factory pattern! I designed Ben to be easy for newbies – so it's lovely to see he was a success for Diane!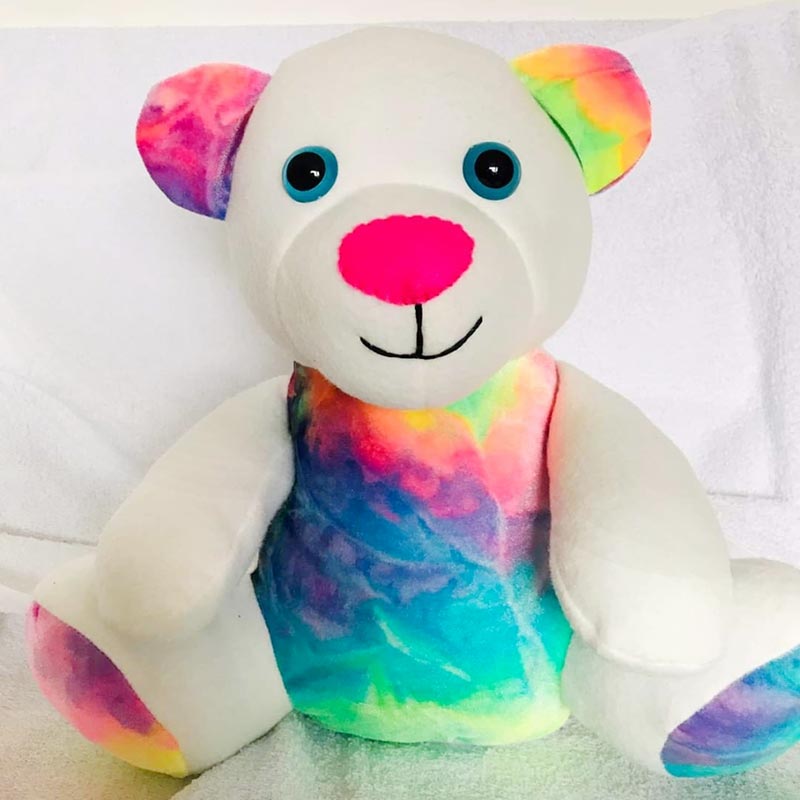 Click HERE to purchase the BEGINNER Bear pattern.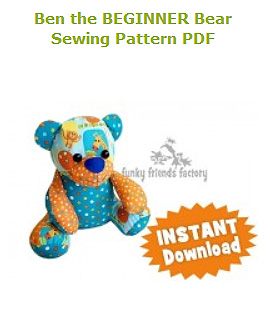 Bumble the Bee makes a great keepsake toy because of the large wing space for embroidery and the multiple pieces perfect for using different clothing items. A striped shirt worked perfectly for this particular toy sewn by Angie Edwards.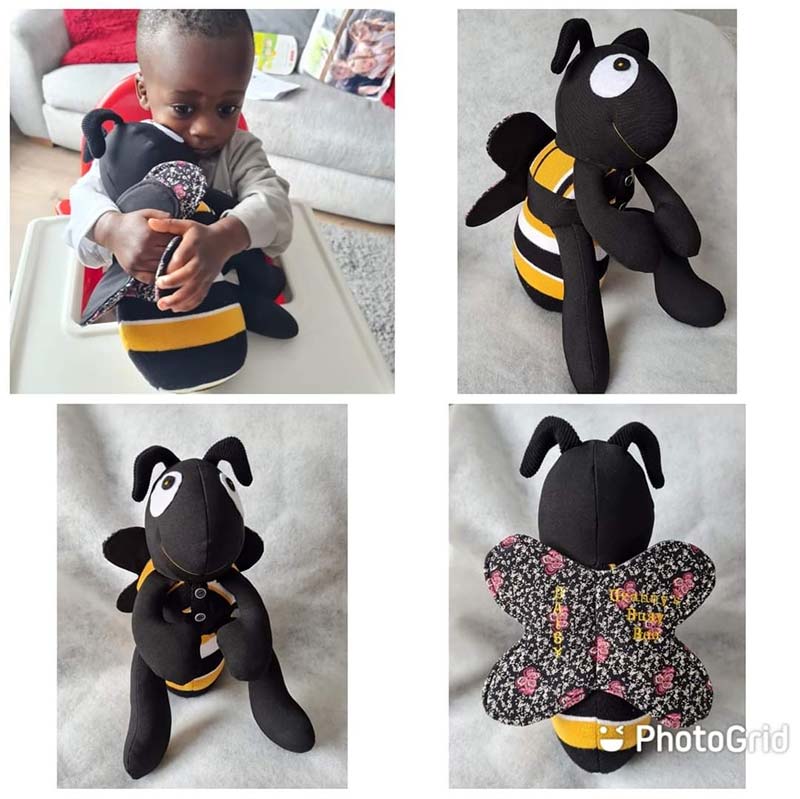 Larissa Toal sewed this cute pastel version of my Bumble the Bee pattern. I like how she paired the gray fleece fabric with a honeycomb pattern and floral fabric.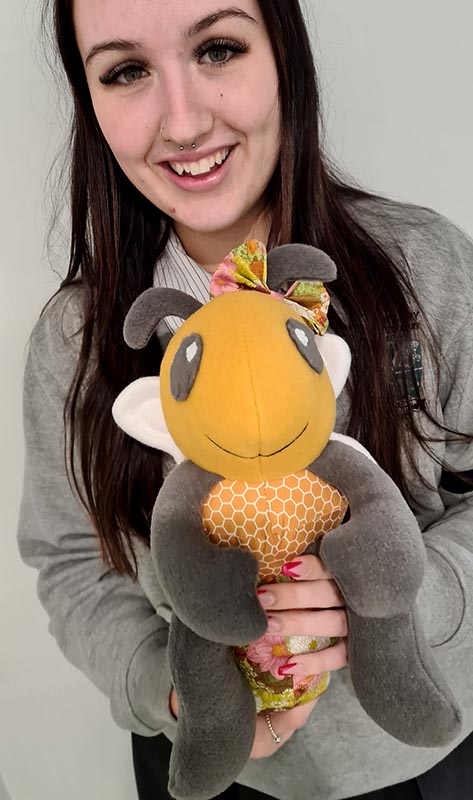 It seems she's not the only one who loves the softies she sews
Can you spot
her CAT???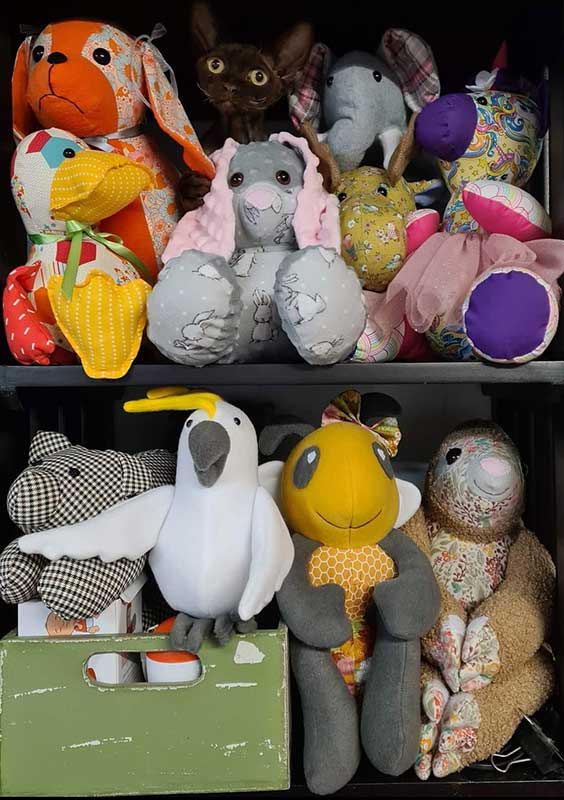 Click HERE to purchase the Bumble Bee pattern.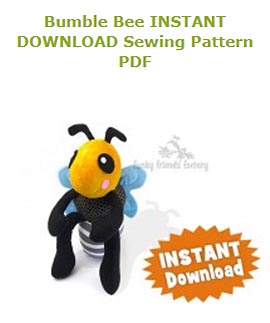 Debbie West paired music notes fabric with the versatile Mix & Match Monsters pattern to make some "music monsters" for a school classroom.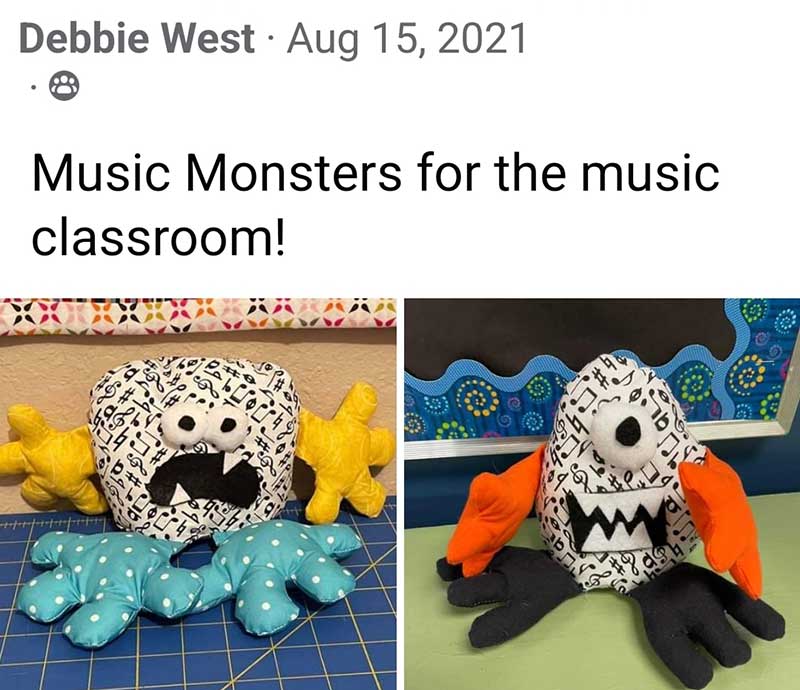 Click HERE to purchase the Mix & Match Monsters pattern.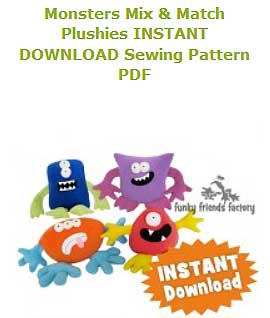 Now this is a creative custom gift! Betsy Ray made Prince Charming Frog as a 16th birthday present for a young woman. In the tummy she used an embroidery machine to add the phrase:
"You need to kiss
a lot of frogs
to find
Prince Charming."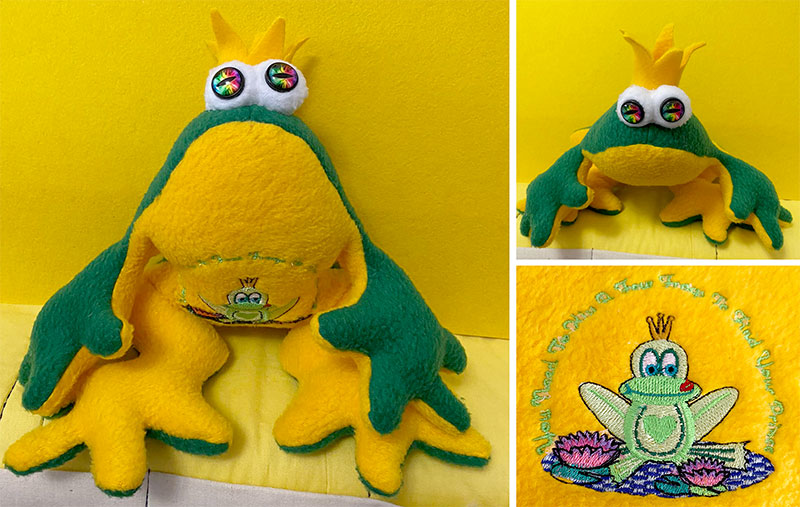 Click HERE to purchase the Prince Charming Frog Pattern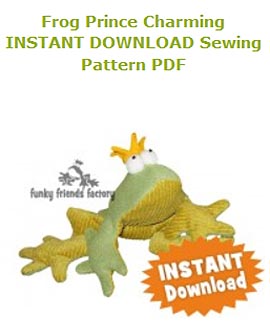 What a beautifully made and posed Belinda Butterfly sewn by Pat Pruitt. Belinda is always a happy flyer, but she looks especially pleased to have landed on this basket of flowers.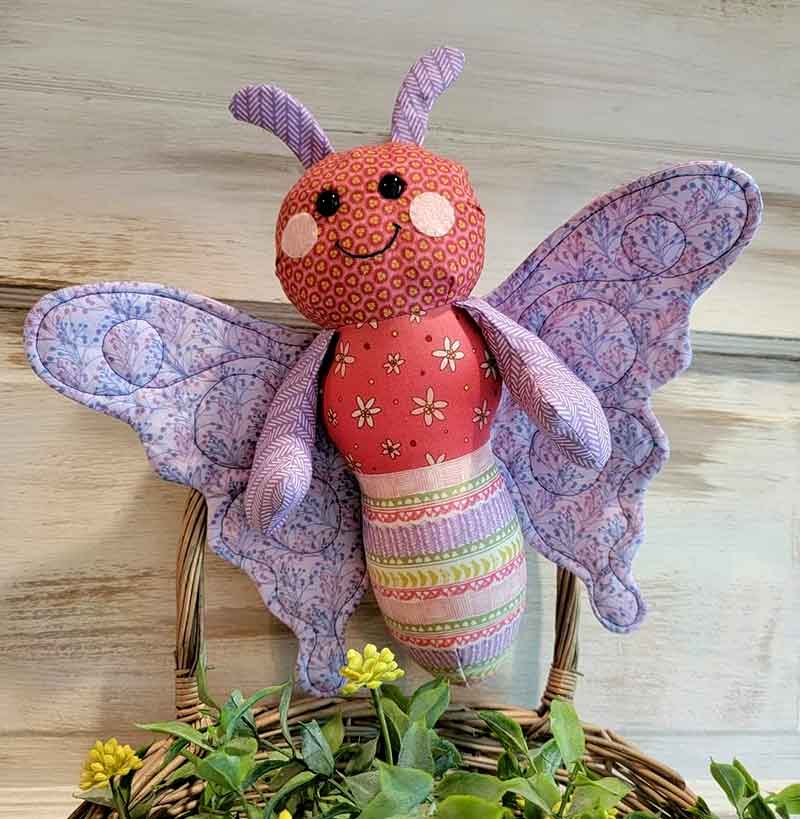 Click HERE to purchase the Butterfly Sewing Pattern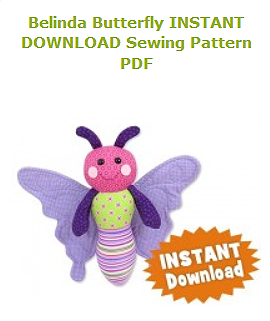 Little Zippy (left) is the next in a long and happy line of Guinea Pigs to have a Gertrude Guinea Pig made in their likeness! This Gertrude Guinea Pig was made by Misha MinaMoo.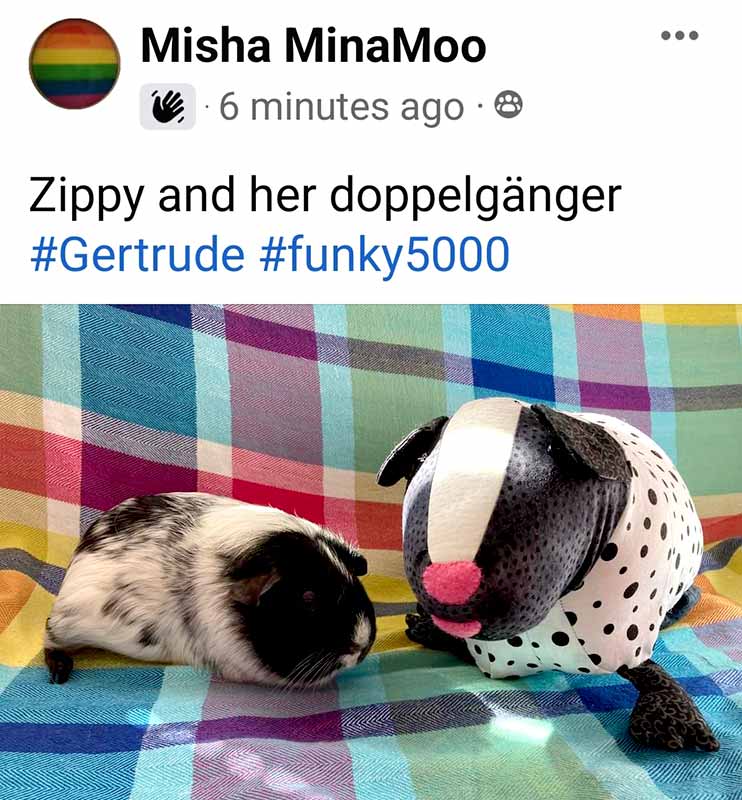 Click HERE to purchase the Guinea Pig pattern.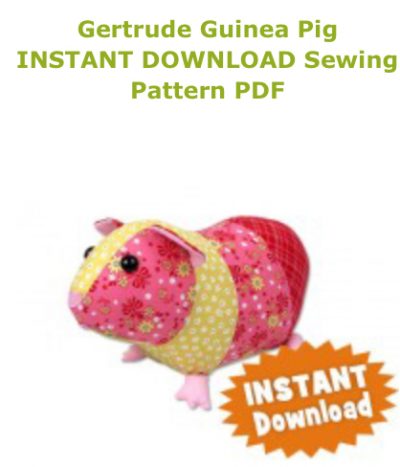 It's always so wonderful to hear that a Funky Friend has become a child's new best friend. Lori Jean sewed this Scrap Scrap Snake for her grandson and he takes it everywhere!
Click HERE to purchase the Scrap Snake Sewing pattern.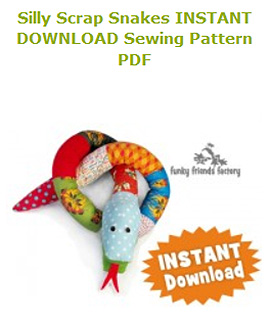 This trio of terrific tweed Larry Lions was sewn by Emma Herbert. Tweed and other specialty fabrics can be upcycled into eye-catching keepsakes or even home decor, like a doorstep.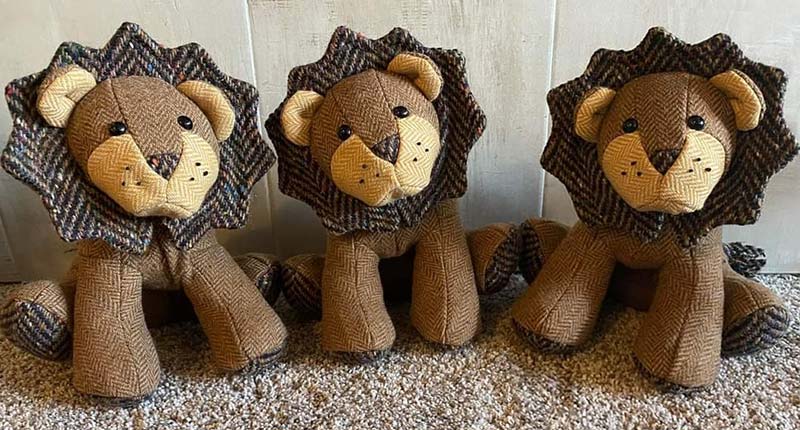 Click HERE to purchase the Lion pattern.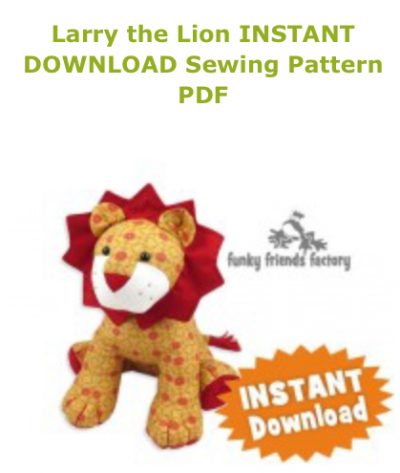 People often ask which patterns are good for use with embroidery machines, and the Easter Bunny Buddies Pattern is definitely high on that list. The large, single tummy piece, long ears, and big footpads allow for lots of cute creative customization, as with this pair of "big sister" and "little sister" keepsakes sewn by Robin Etherton.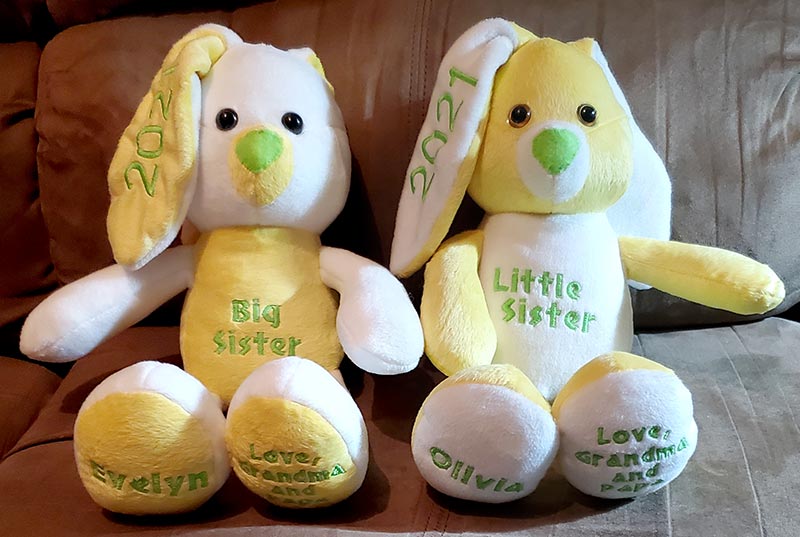 Click HERE to purchase the Easter Bunny sewing pattern.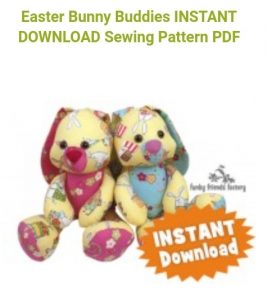 The Kelsey Keepsake Unicorn pattern inspires lots of creative interpretations, but I think this one is pretty unique.  Rebecca Karstad calls it her "little Goth Unicorn" and it certainly had a lot of fans in our Facebook Pattern Fan Club.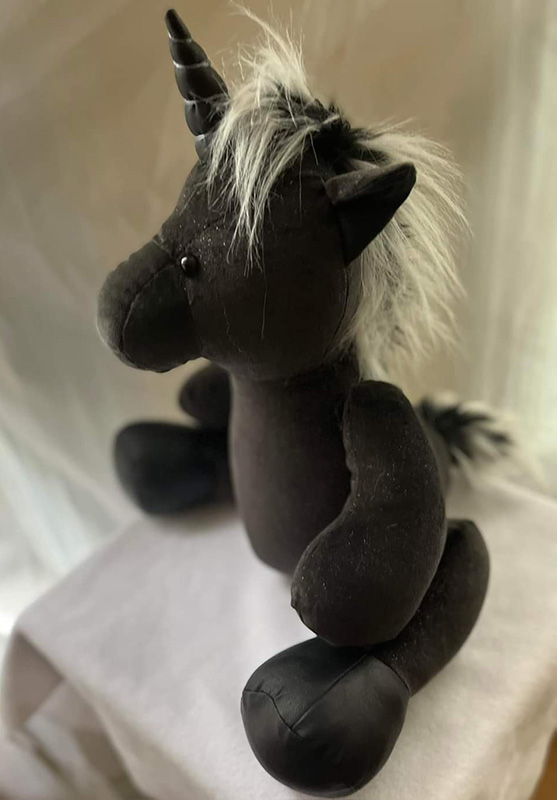 Rebecca Karstad also sewed this sweetie… with a TOTALLY different personality! So many fun textures on this Kelsey – including her leather hooves!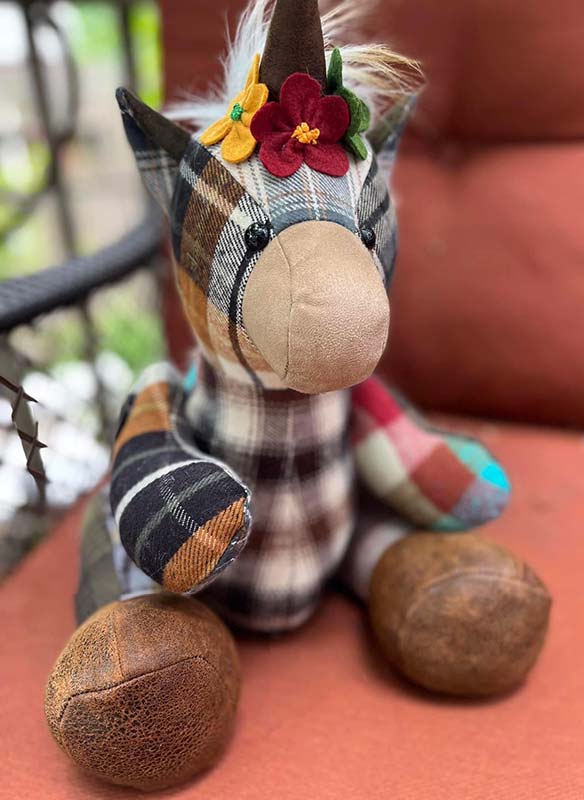 Here's another twist on the Kelsey Keepsake Unicorn pattern. This cheerful toy by Jonell Hart makes use of the included tutu pattern,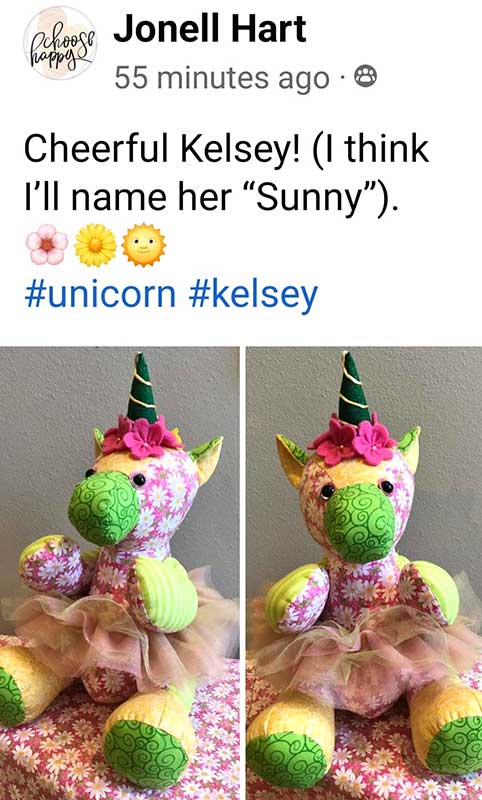 Click HERE to purchase the Keepsake Unicorn pattern.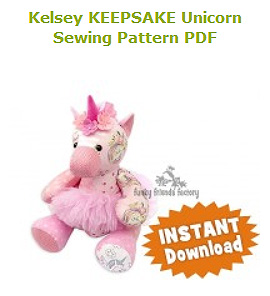 AND this month's winner is…
Congrats to this month's winner, Michelle Germain! I love this darling version of the Ben the BEGINNER Bear Pattern that Michelle sewed for a helpful co-worker. A sweet bear and a sweet gesture combined! This photo was the most popular post of the month in our Funky Friends Factory Patterns Fan Club on Facebook, too!
CONGRATS! You win




a FREE Funky Friends Factory Pattern ~>




of your choice!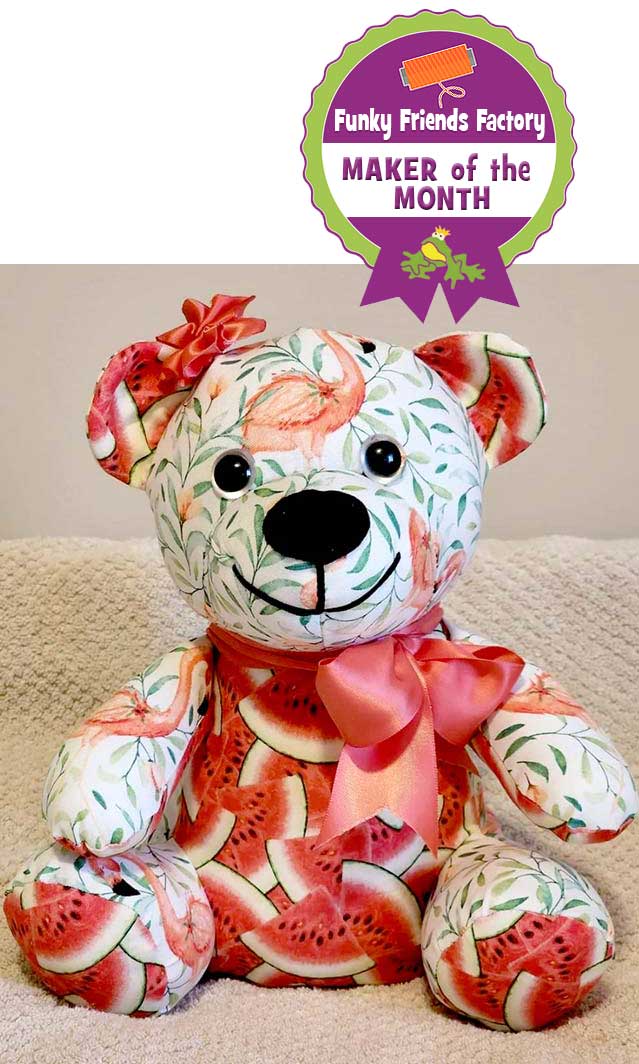 Click HERE to purchase the BEGINNER Bear pattern.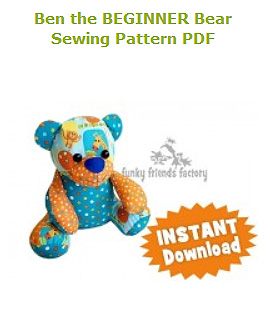 Want to win a FREE toy pattern?
It's so EASY – enter the MAKER of the MONTH Pattern GIVEAWAY!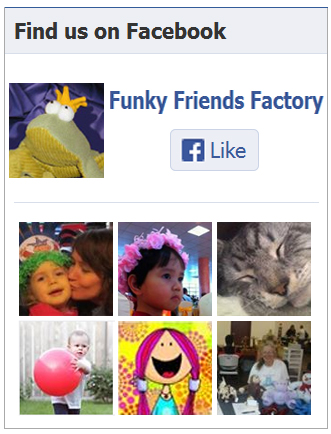 ALL you need to do is post a photo of a FUNKY FRIENDS FACTORY toy that you have made on the Funky Friends Factory Facebook Page HERE!
Each month I draw a winner & post the winner's name on the Blog the next MONTH. You can see an album on Facebook of previous MAKEROFTHEMONTH winners.
NOT on Facebook? ENTER by email! 😀
*** You can send me your photos by email too!
So come on! Share your photos  ~> The next winner could be YOU!!!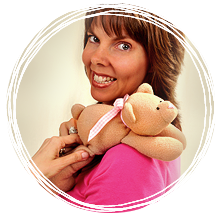 .
Till next time,
Happy Sewing,
Pauline
xxx