Father's Day is just around the corner!
What's the most popular gift for Father's Day? A neck tie, of course.  IF your dad or granddad have tons of ties hanging around –  you can make them a humorous and heartfelt gift this year: a toy made from old ties! This blog post includes lots of tips on how to turn neck ties into toys, plus other cool ideas for father's day gifts…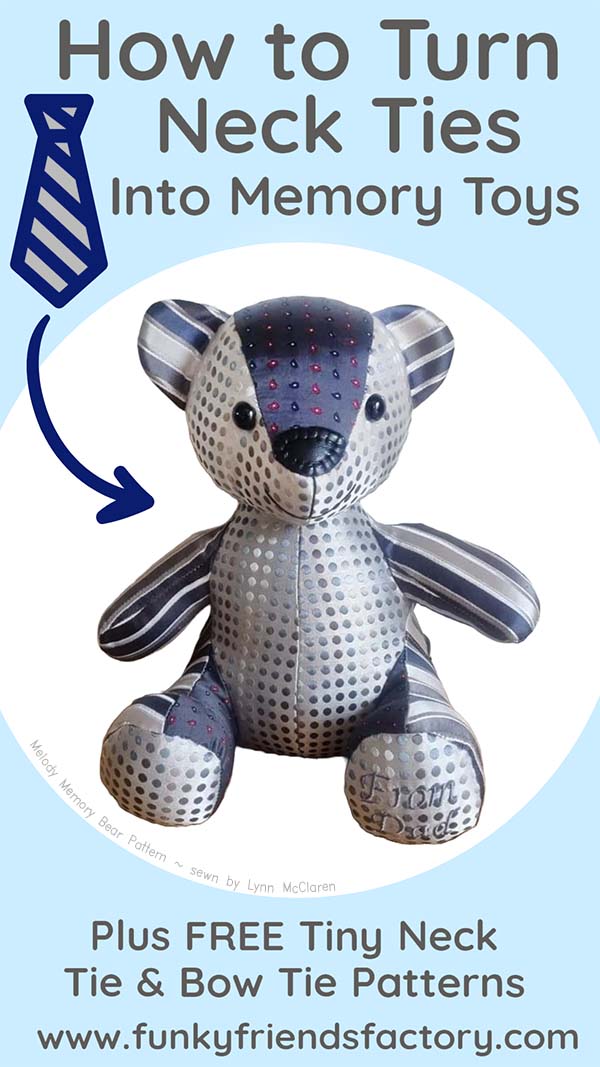 Is is a tie?
Is it a teddy bear?
Yes! It's a teddy bear sewn from neck ties!  
Look how sweet Calico Signature Bear looks sewn from neck ties by Lisa Armstrong.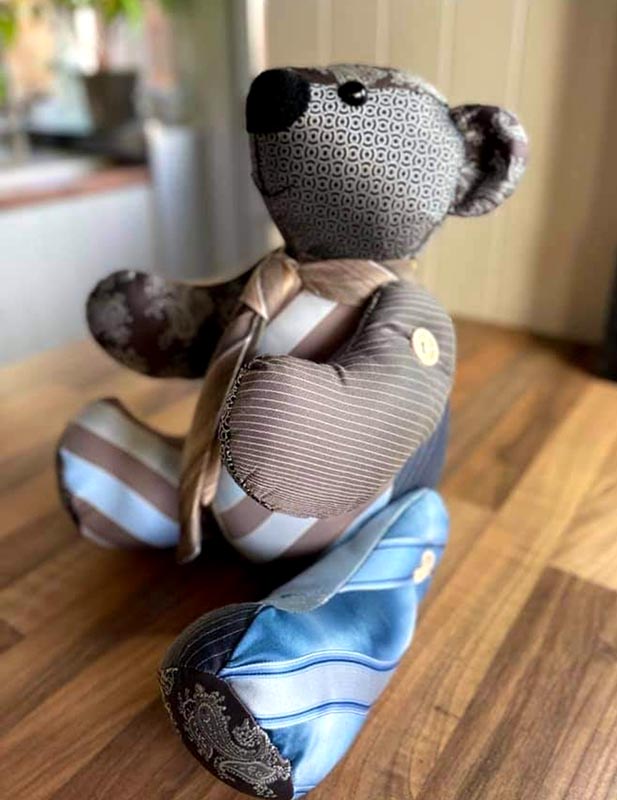 Here's how to make a terrific father's day Gift for YOUR Dad – from his neck ties!
Step 1:

Raid the Tie Drawer
IMPORTANT NOTE:
It's a good idea to ask first!
Debbie Frank used 19 ties to sew these Melody Memory Bears.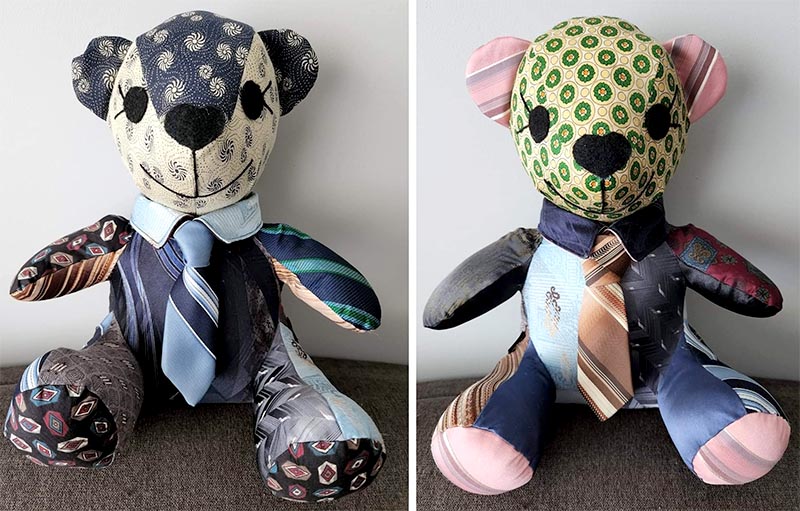 Want to add a collar to your tie toy?

CLICK HERE for
a handy guide to add a collar
to a Memory Bear

(Melody Memory Bear above sewn by by Gail McKnight Anderson of Gail's Little Sewing Room.) 
Step 2: Pick a Pattern
A homemade teddy bear is a popular choice, and you can compare all of the Funky Friends Factory bear patterns here. But don't forget the 80+ other animal options!

You could sew your dad's favorite animal…
Joey Junior Kangaroo Pattern sewn by Joy Davies.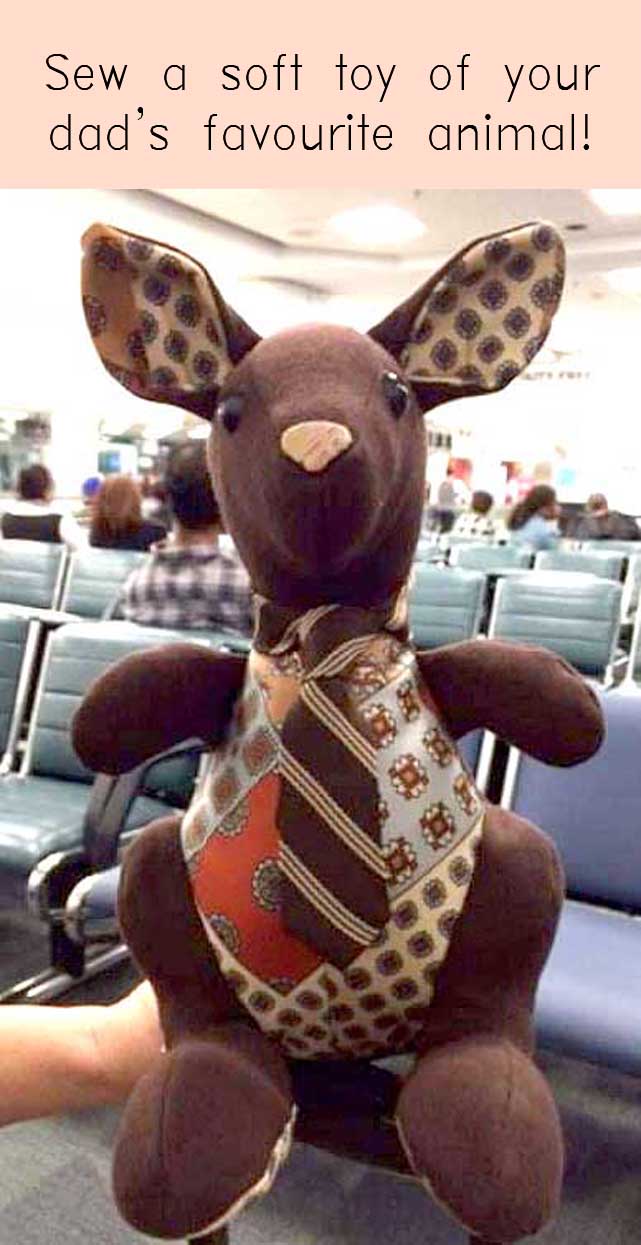 You could sew your dad's favorite pet…
Patch Pussy cat Pattern  sewn from ties by Alice Berntson. She calls him "Tie-ger."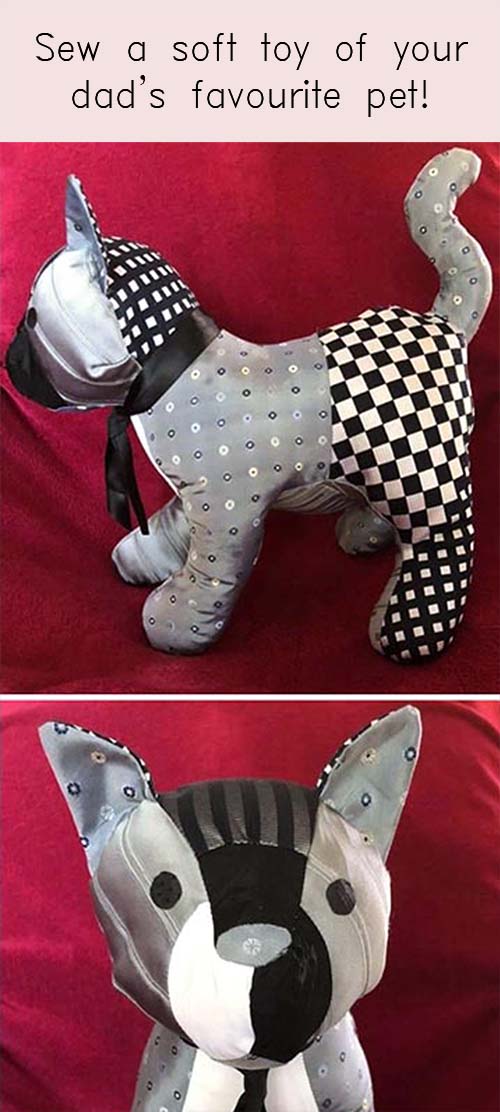 You could sew your dad's favorite sports team mascot…
Butch Bulldog Pattern sewn from clothing by Gemma Addison.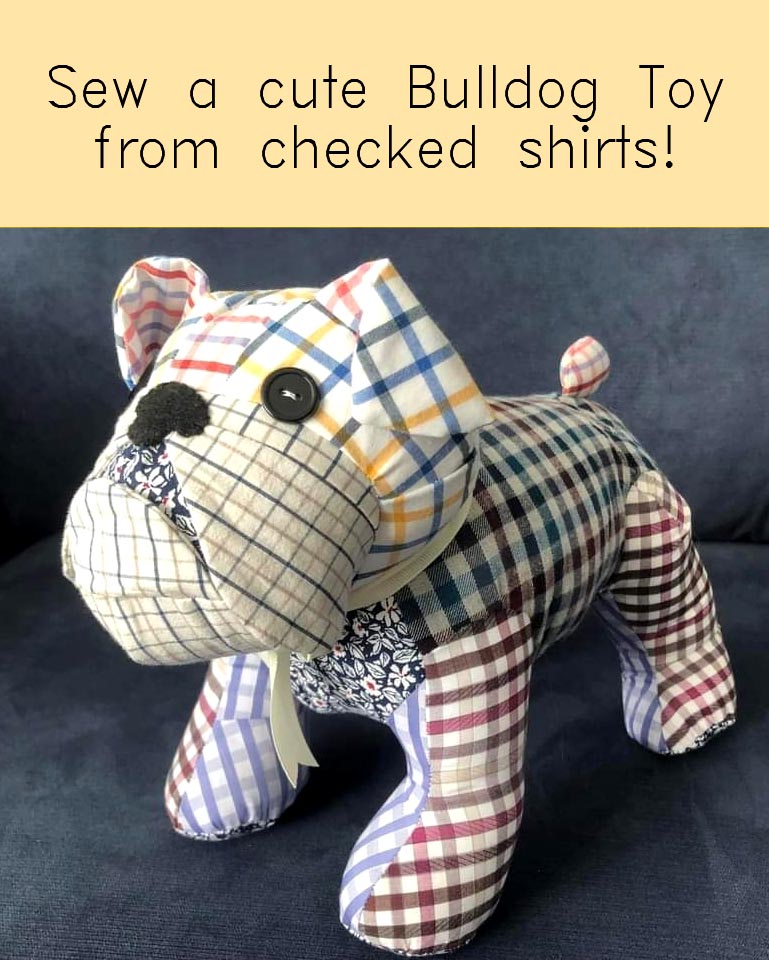 Or a pattern that just shouts, "Hey, Dad, this reminded me of you!" 
Igor Iguana sewn from concert memorabilia by Michelle Jones.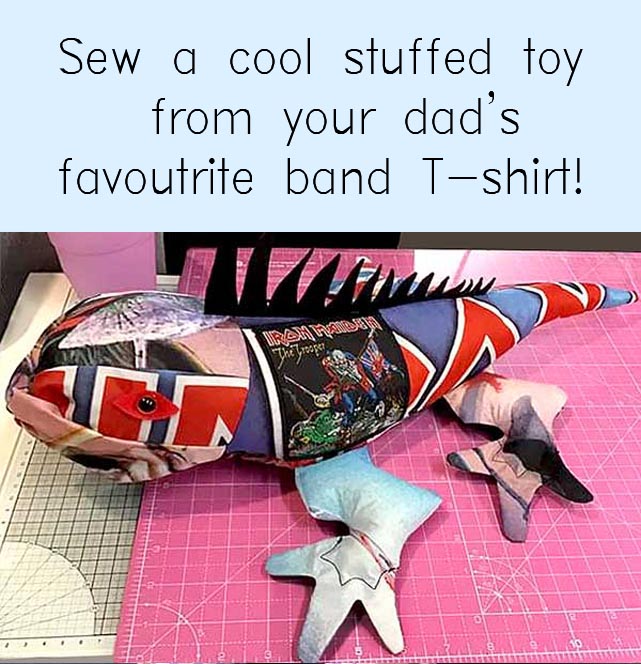 You could dress up Mitch Monkey or any Funky Friend with this free neck tie pattern! 
This Mitch Monkey was sewn by Debbie Hendricks Weideman.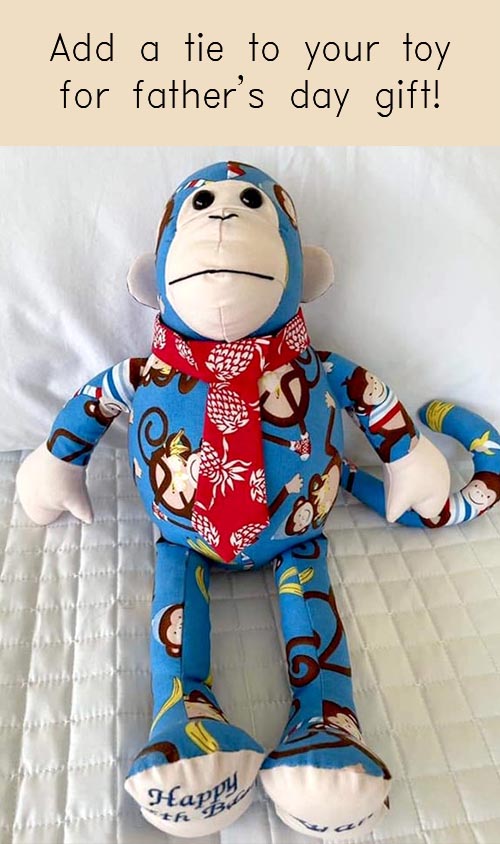 Looking for a *FREE* neck tie sewing pattern for your toys?

CLICK HERE for
my FREE toy-sized
neck tie pattern!

Step 3: Disassemble the Ties
Unpick the tie – it's easy – just unpick( 'rip') the seam down the back of the tie. I used a "Quick unpick" (Seam ripper) but you can also use pointed scissors for this. Unfold the tie and remove any padding. Iron the tie flat so you can lay the pattern pieces on the tie fabric and work out if you have enough. If you don't, you may need to add some coordinating fabric to your toy… or cut up another garment.
You'll be surprised
how much fabric is
in a neck tie!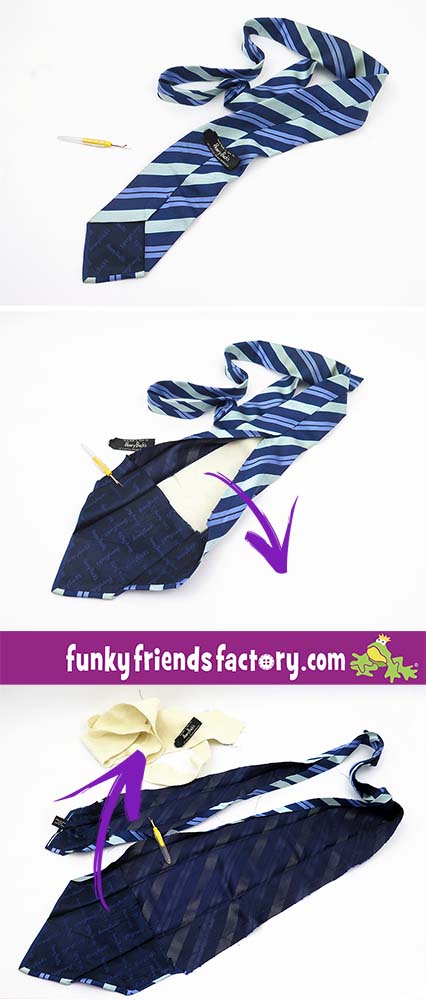 Danielle Dyball used the fabric from 5 ties to make this Melody Memory Bear.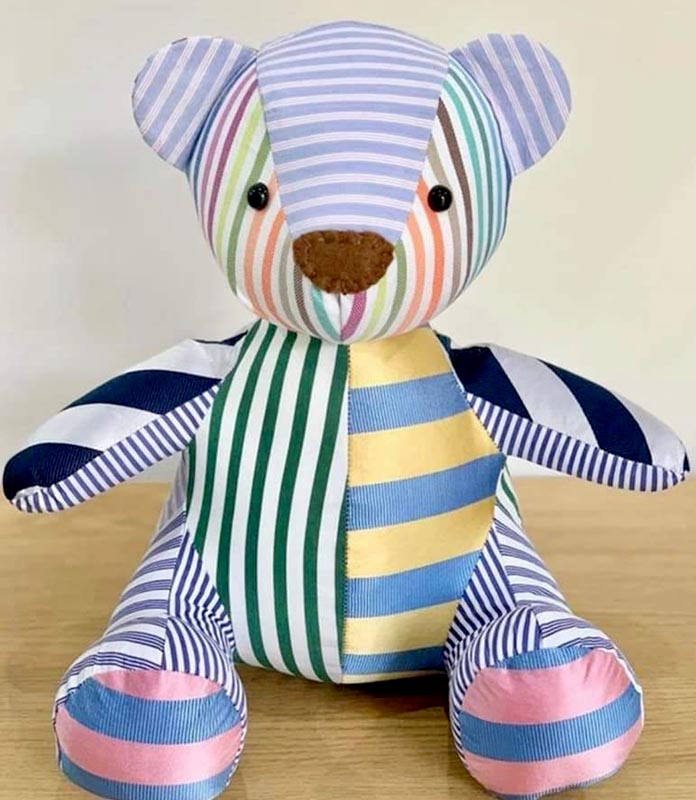 IMPORTANT NOTE:
If a tie is made from delicate fabric, use Google for sewing tips for that specific fabric!
Nic Appleton used a hand-painted rainbow silk tie for some special highlights on this Calico Signature Bear.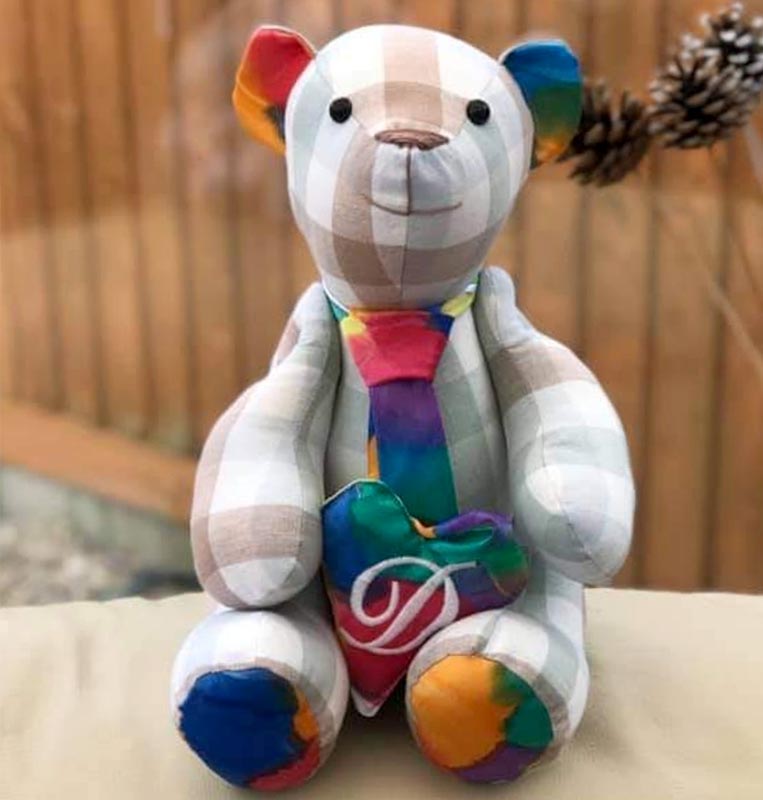 Looking for a *FREE* bow tie sewing pattern for your toys?

Calico loves a good bow tie, so why not make him one with this FREE Bow Tie pattern and video?  

Calico Signature Bears sewn from neck ties by Susan Hunter,
and they are ALL wearing bow ties!  
Step 4: Trace Pattern Pieces onto the Interfacing
If you're using lots of ties, take a bit of time to plan out where you want the different fabrics to be on the toy. Then trace the pattern pieces onto the smooth (non-glue side) of the interfacing and make sure to transfer ALL the pattern markings.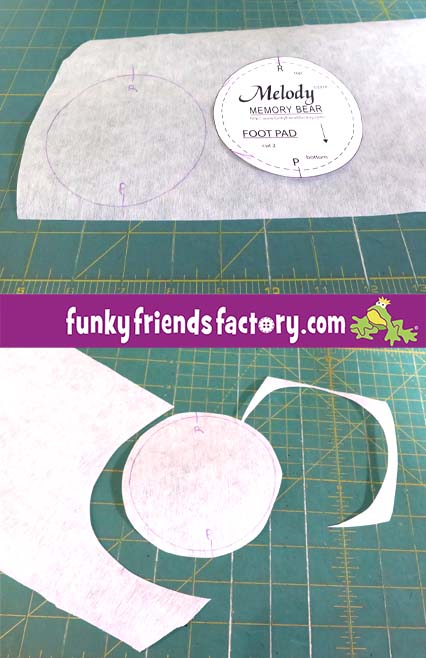 Calico Signature Bear sewn from ties by Susan Hunter.

Step 5: Apply Interfacing
Iron some fusible interfacing onto the back (wrong side) of the tie fabric.
Why is interfacing important?
When you're mixing multiple types of fabric, you need to make sure they all have the same amount of stretch. If some pieces stretch more than others, you risk ending up with a toy that is distorted out of shape! 
The most popular iron-on interfacing in our Facebook group is a general-purpose, mid-weight type like Pellon SF 101, but you can look online for the best type of interfacing for the fabric content of your ties. Sew-in interfacing works, too but it's more fiddly (in my humble opinion!!!!!).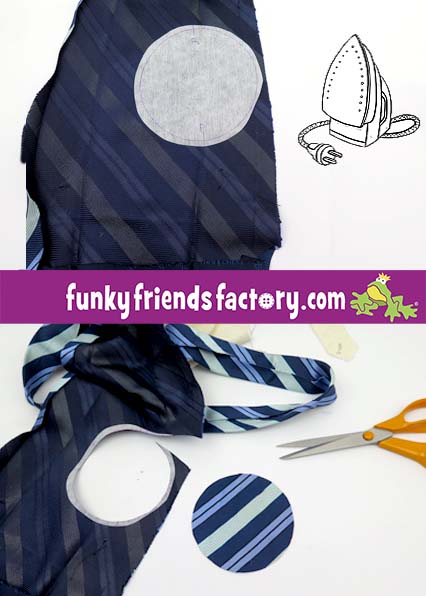 These dapper Melody Memory Bears were sewn from ties by Lynn McClaren.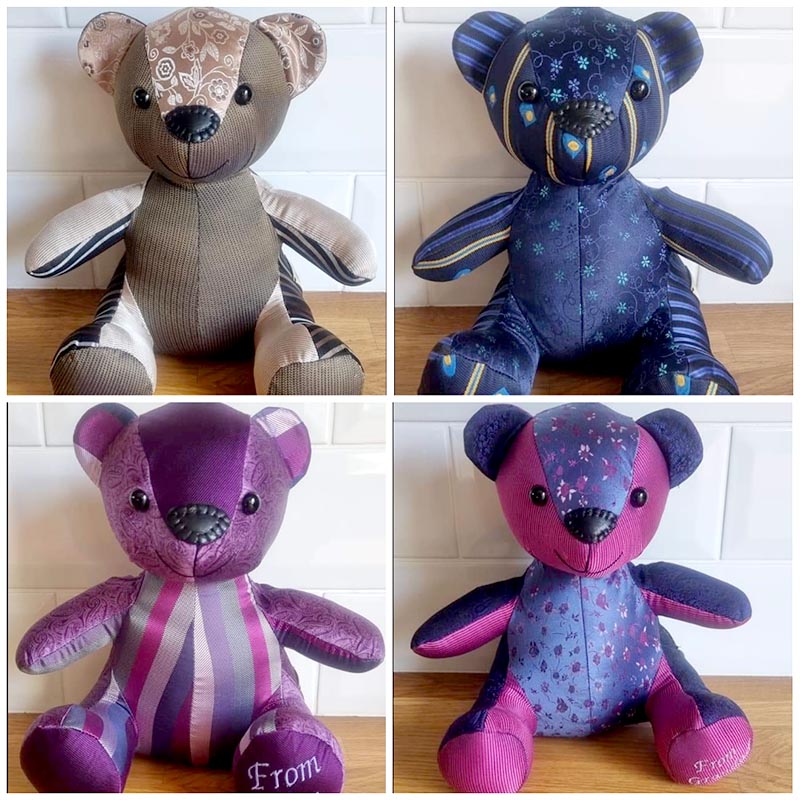 They look so cute together – I had to post another pic here…
MORE Melody Memory Bears sewn from neck ties by Lynn McLaren.

Step 6: Finish Toy as Usual! 
That's all the special prep you need! Now you can just sew your toy as usual, and present your one-of-a-kind gift to your one-of-a-kind dad!
Sweet faces and lots of memories were sewn into these Calico Signature Bears sewn by Emma Emmans.
She even used ties for the noses!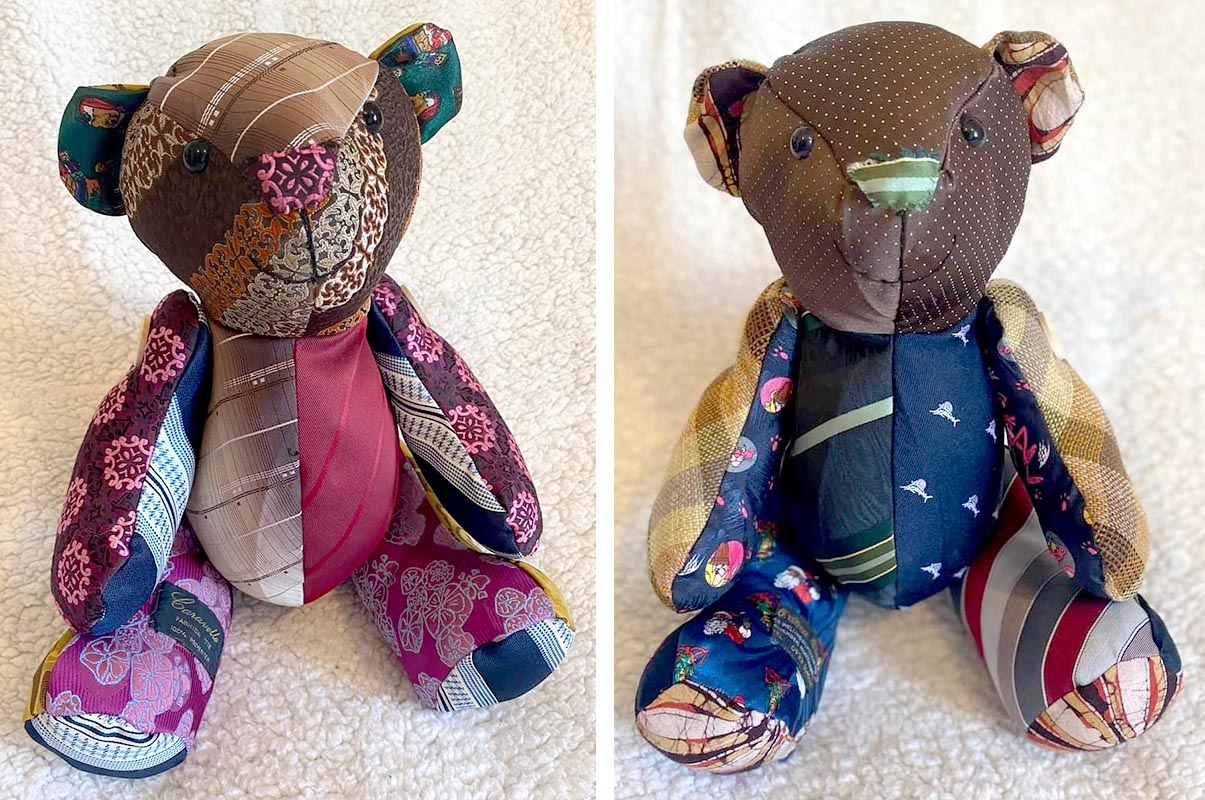 Some Common Questions about sewing toys from neck ties:

Q: How many ties do I need?

A: This varies depending on the ties themselves, but 5 neck ties seems to be about average.

I love the Christmas tie Lynn McClaren used for this Melody Memory Bear.

Q: Is this a difficult project?

A: It takes a little bit of time to deconstruct the ties, but that's the ONLY real difference compared to making a regular toy!

Q: Help! My ties aren't wide enough for the pattern pieces. What do I do?




A: You've got 2 options.

OPTION 1:
Reduce the size of the pattern on your printer. I suggest printing the pattern at 75% or at 80%.

Lori Rodenbush reduced the Melody Memory Bear Pattern to 75% in order to fit the width of her father's ties.

OPTION 2:

Sew the ties together as you would a patchwork quilt. Then you'll have a large piece of fabric made up of ties. Interface this large piece of patchwork and trace your pattern pieces onto the interfacing.

Here you can see that Nat Egan of Rothmore Forever Bears, joined lots of ties together to make a patchwork piece, then cut pattern pieces from it.

The head is made from a coordinating solid color fabric. This pattern is the Keep Me Keepsake Bear.
More Father's Day Gift Ideas 

There are some more ideas in last year's Father's Day post, which includes other gift examples, like uniform bears, "Dad & me" toy sets, sports themes, and rock concert momento items. 

If you'd like to ask questions and get more advice and ideas like these, come join our Funky Friends Factory Patterns Fan Club Facebook group.
Want to win a
FREE toy pattern?
It's so EASY to enter the Pattern GIVEAWAY!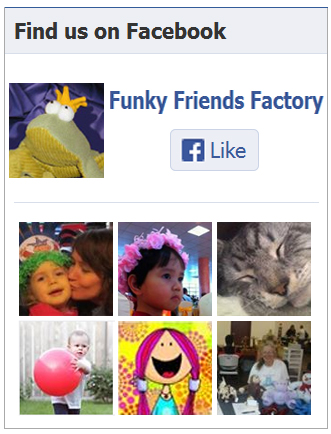 ALL you need to do is post a photo of a FUNKY FRIENDS FACTORY toy that you have made on the Funky Friends Factory Facebook Page .
At the end of each month I draw a winner and post the winner's name on the Blog the following MONTH. I have an Album on Facebook for all the MAKER of the MONTH winners. You can check it out HERE!
NOT on Facebook? ENTER by email! 😀
*** You can send me your photos by email too!
So come on! Share your photos  ~> The next winner could be YOU!!!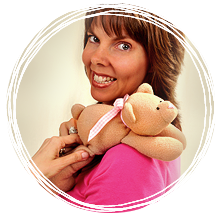 .
Till next time,
Happy Sewing,
Pauline
xxx