You're in for a treat with this December 2022 edition of the Maker of the Month finalists! Funky Friends Factory fans really outdid themselves with this month's entries, which include lots of rainbows, sparkles, sophisticated keepsakes, beautiful bears, and creative upcycled fabric projects. Read down to the end of the post to find out who won.

Let's take a look…
This bright blue Patch Pussy Cat sewn by Jo Ann Carroll even has matching blue eyes. I love the way she arranged 3 different fabrics on her cat… and the cute whiskers she added!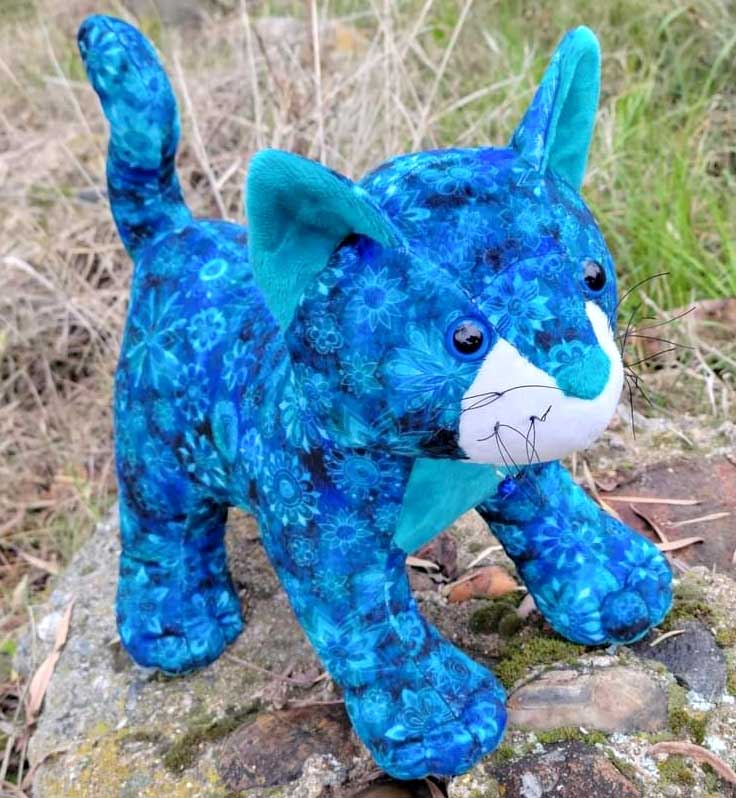 AND LOTS of feline friends! Carol Witten sewed a darling litter of gingham and floral Patch Pussy Cat toys as part of a fundraiser for an animal charity.
.

Click HERE to purchase the Cat Sewing pattern.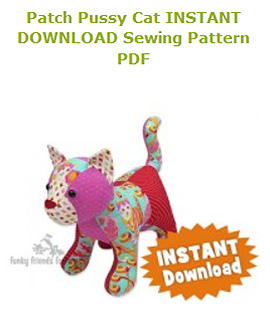 Janet O'Neil Conlon said that this rainbow fur was super slippery to sew, but with a Lloyd Llama this cute as a result, I think it was worth the extra pins!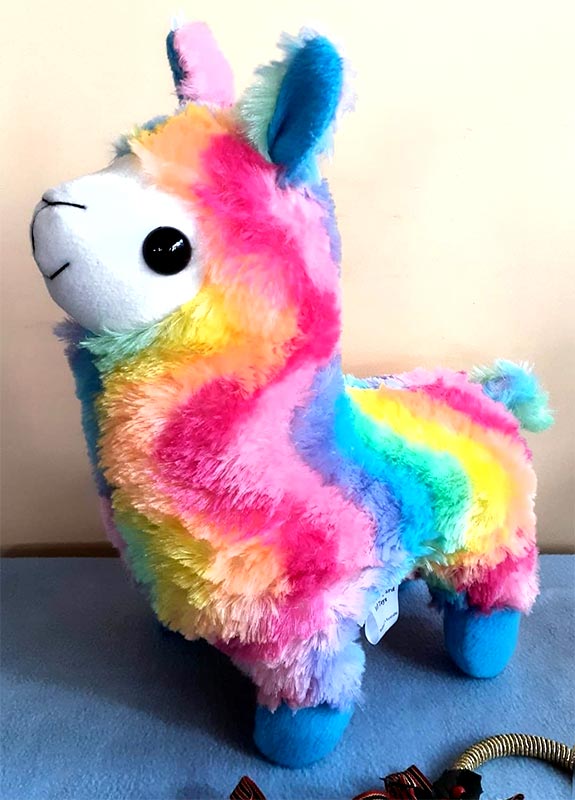 Click HERE to purchase the Llama & Alpaca Pattern.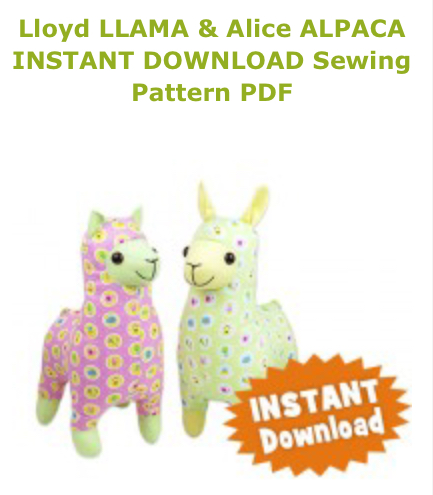 This dancing Camel was sewn by Diana Sageser – looks like he's getting into the Christmas spirit!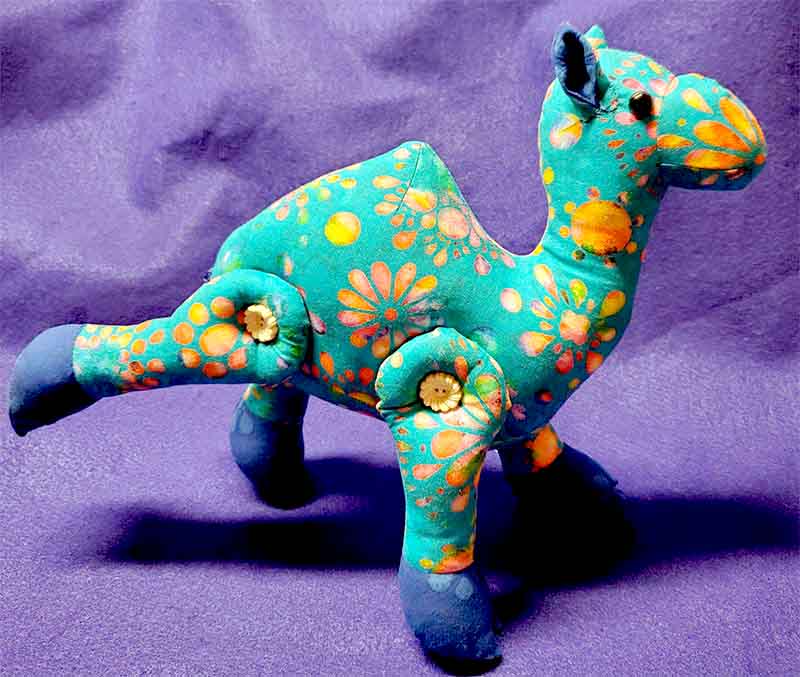 Click HERE to purchase the Camel pattern.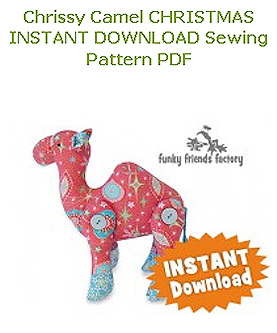 This cute Ollie the Laid Back Owl sewing looks cheerful in rainbow dots and squiggles, as sewn by sewn by Brenda Hill.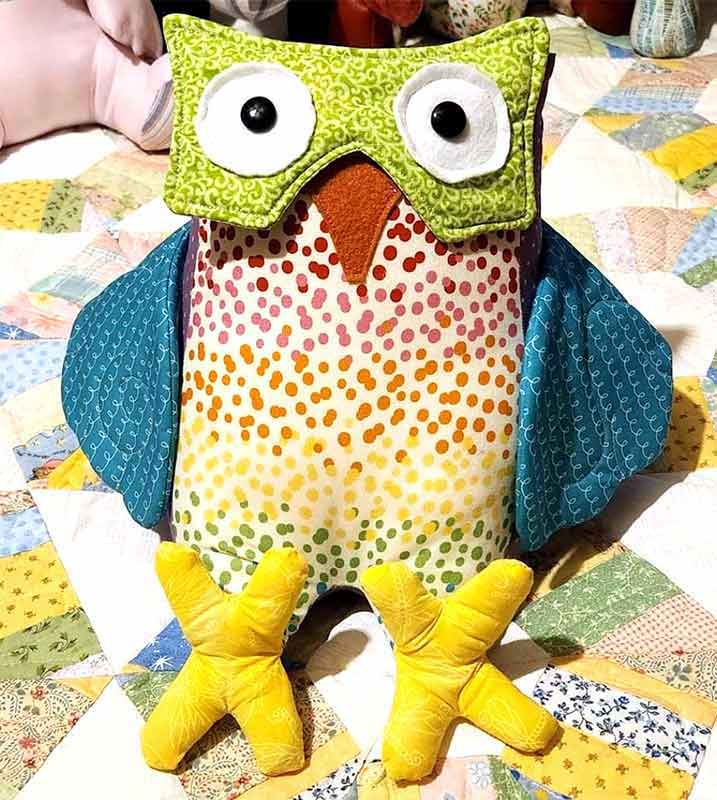 Click HERE to buy the Owl pattern.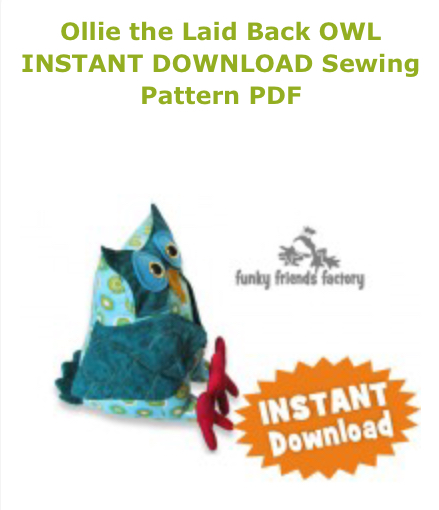 I think Heather HIPPO is one of my toy patterns that looks great in ANY fabric as you can see here in these 2 hippos sewn by Natalie Booysen ~>
Which do you prefer – floral or spots?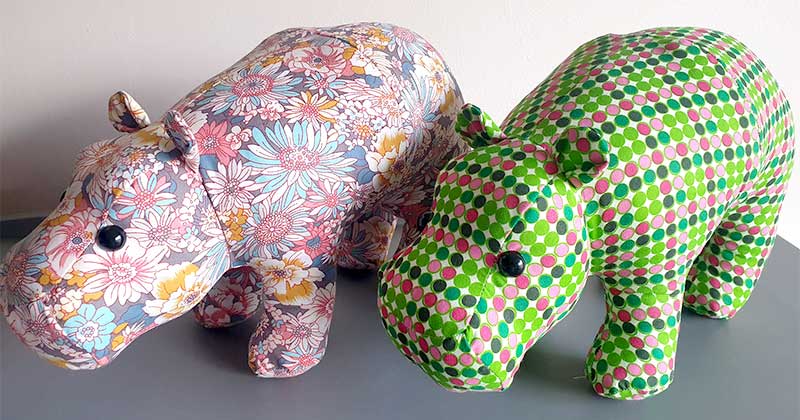 Click HERE to buy the HIPPO pattern.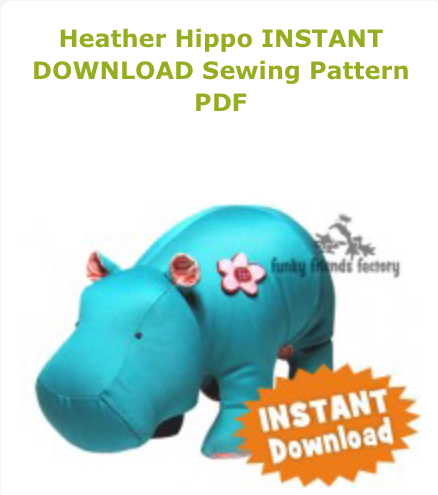 Amy Schlecht Marvin sewed a terrific twin set of Puppy Pete toys for a baby shower.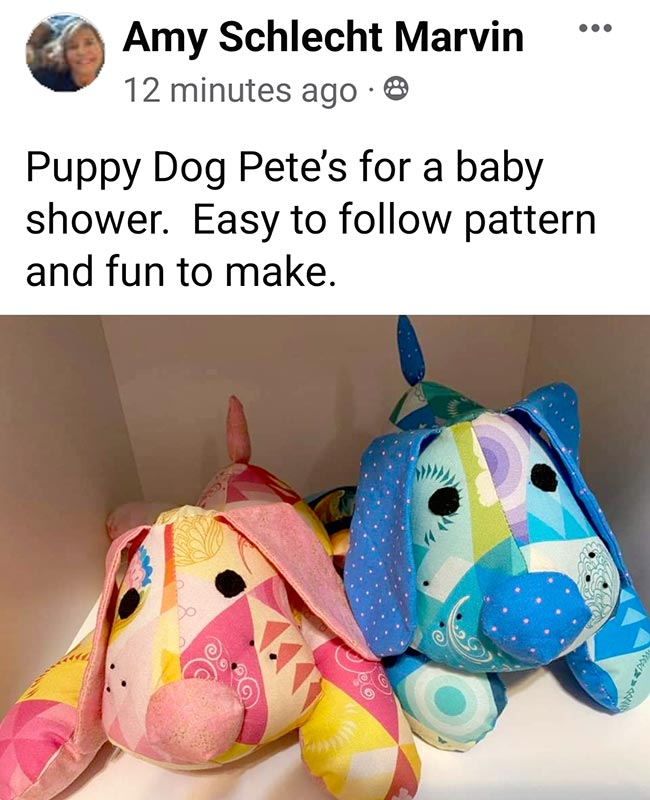 Click HERE to buy the Puppy Dog pattern.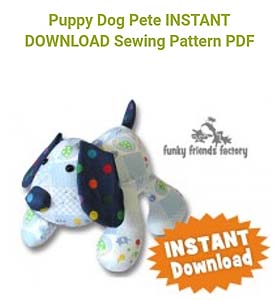 This is the first time I've seen a Mango Meerkat in a tutu, and I've gotta say, I LOVE IT! This cutie was sewn by Sandy Thurlow.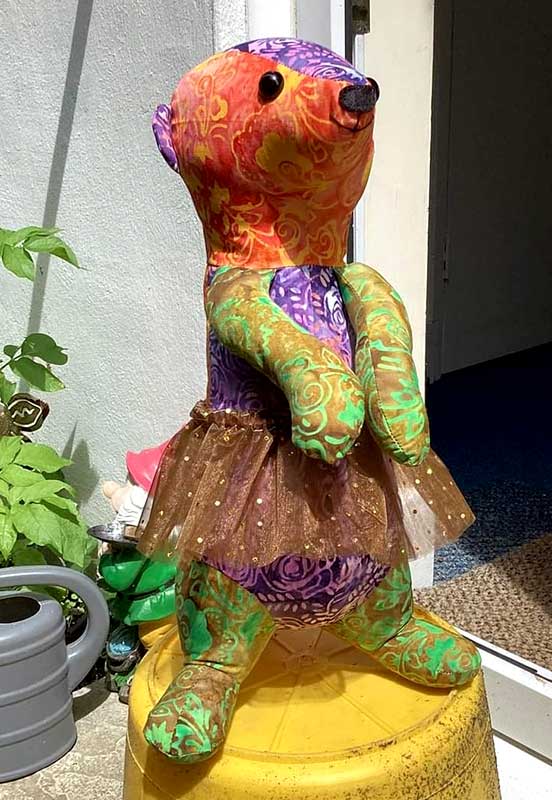 Click HERE to purchase the Meerkat pattern.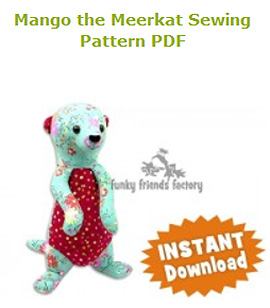 Slowpoke Soth takes every opportunity to hang out around the house! This cheerful version was sewn by Jane Barber.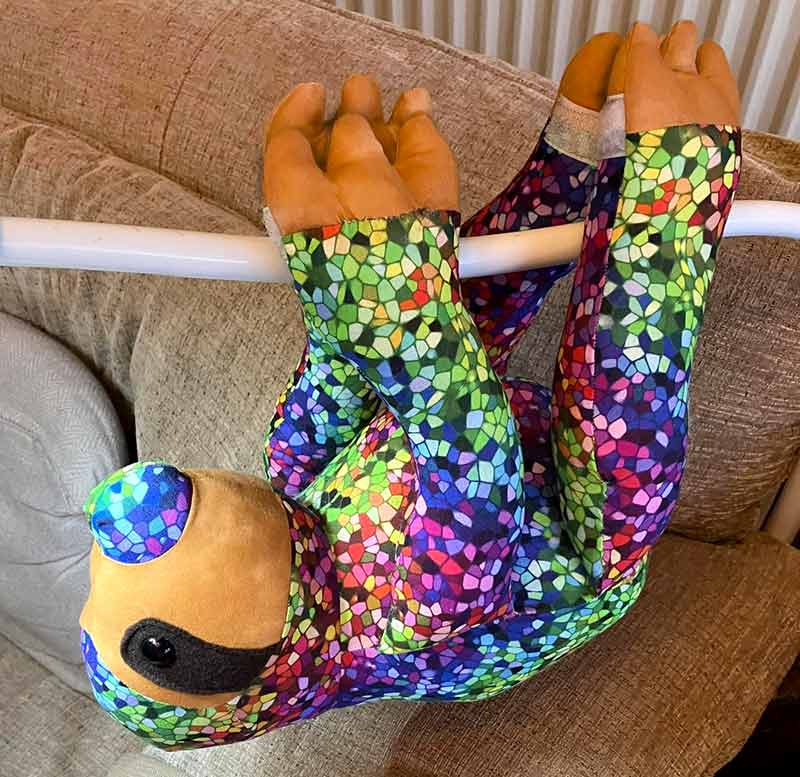 Click HERE to purchase the Sloth pattern.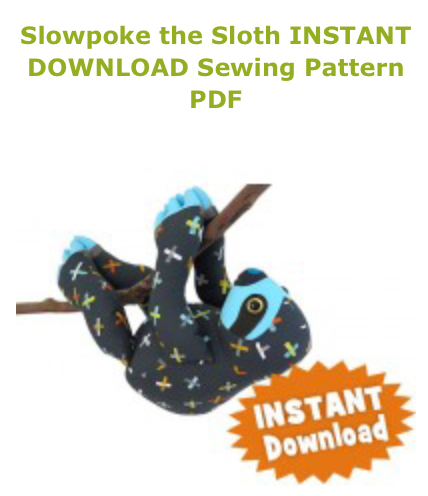 Kids of all ages love the Scrap Snake, as you can see in this fun photo of the snake Christmas presents sewn by Carrie Anciaux – she added rattles for these!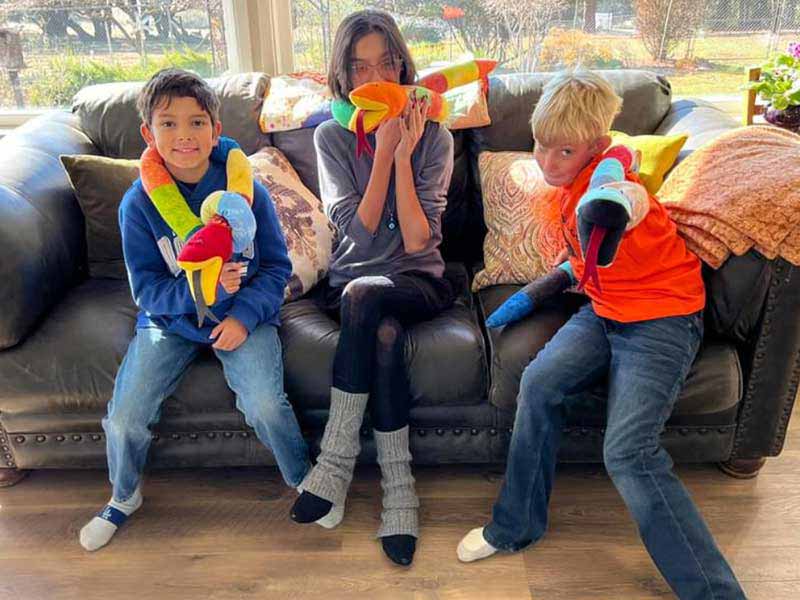 And she also re-sized the  Silly Scrap Snake Pattern smaller for her youngest granddaughter. I know I shouldn't say this BUT I really didn't think the snake pattern would be so popular with girls but it is!!!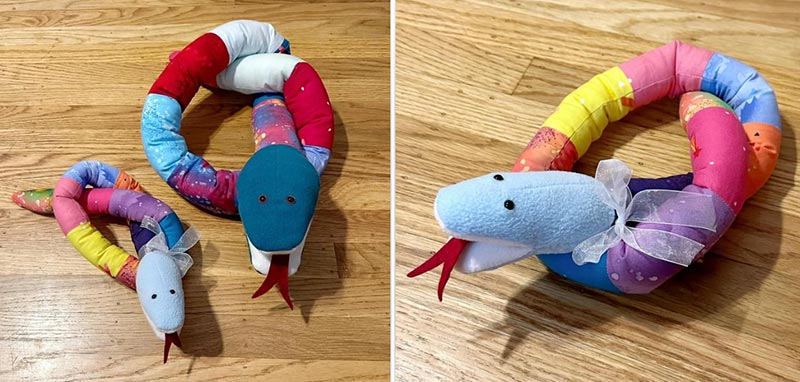 Click HERE to purchase the Scrap Snake Sewing pattern.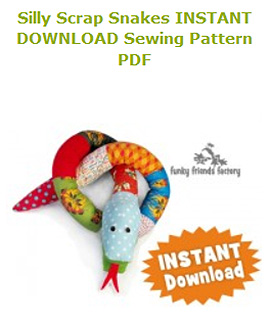 Sue Squirrel managed to find a stash of peanuts on the harbor boardwalk! Cara Wilf-Vaugn sewed this beautiful version of the Sue Squirrel sewn in Tula Pink squirrel fabric. Can you spot the Squirrel on the tail?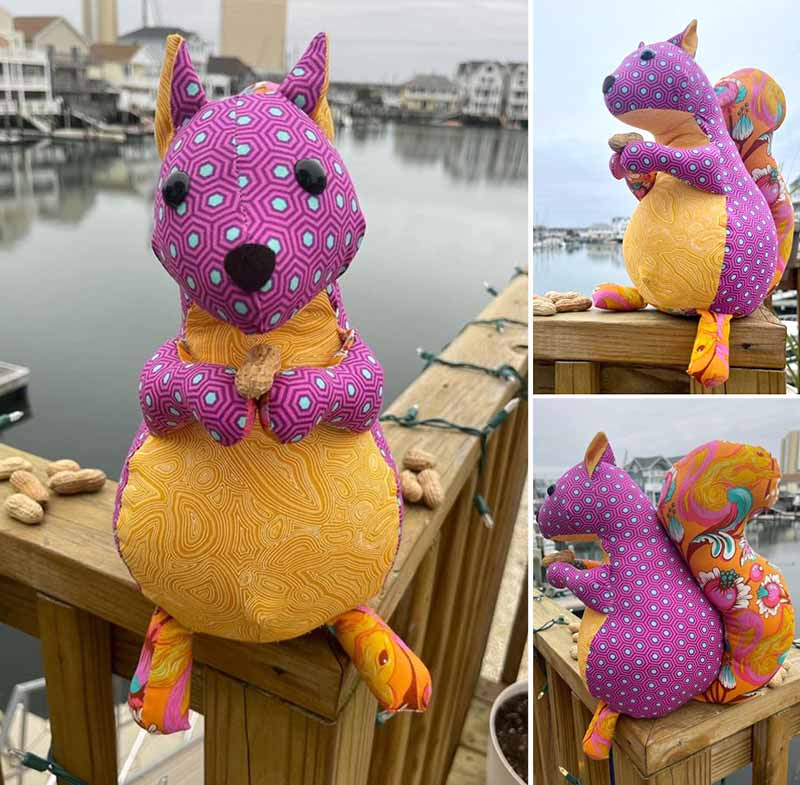 Click HERE to purchase the Squirrel pattern.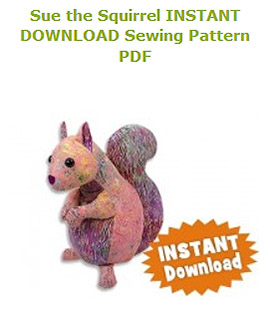 Look how cute a cow looks sewn in colorful puzzle pieces! This pretty Patty the Cow was sewn by Barbara McCullum.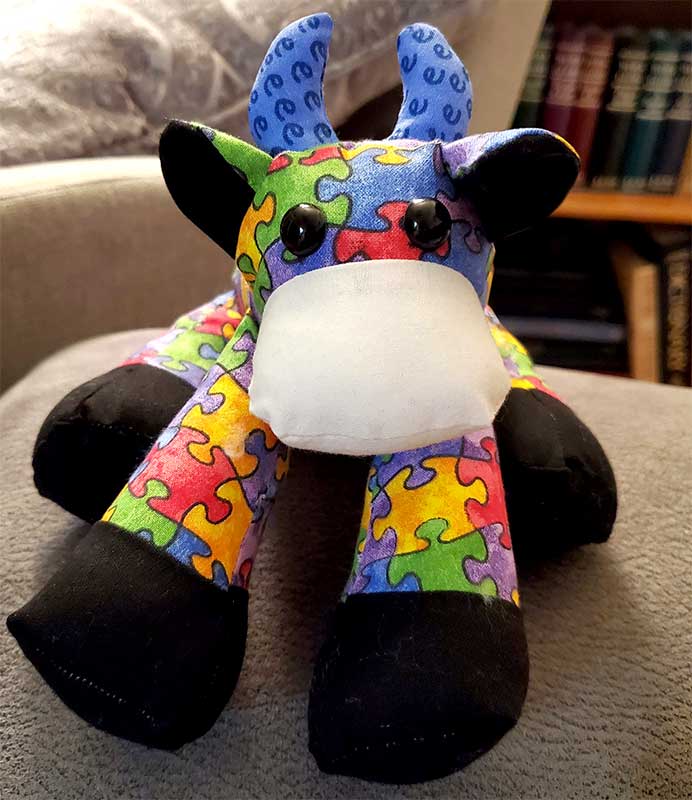 Click HERE to purchase the Cow pattern.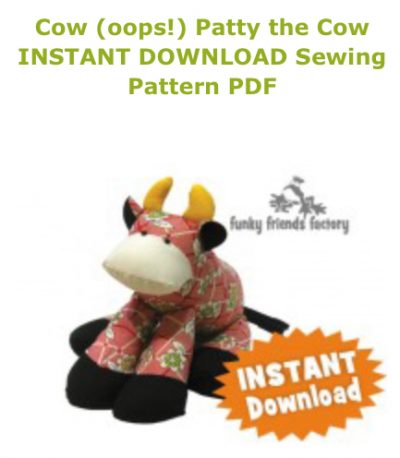 Sweet and sophisticated are great words to describe this Joey Junior Kangaroo by Cathy Grobbelaar.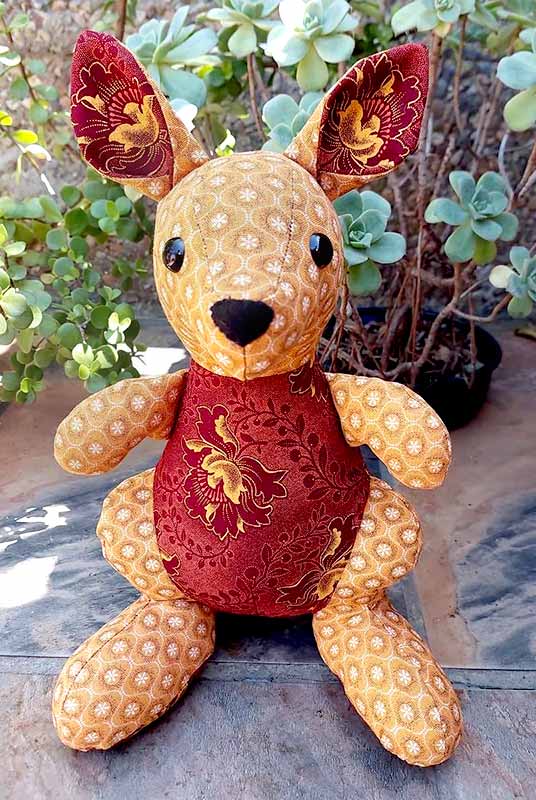 Click HERE to purchase the Kangaroo pattern.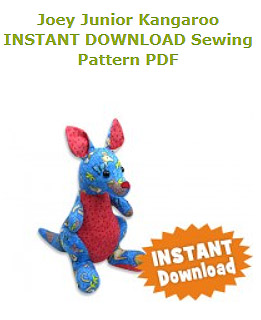 This Tristan Triceratops by Femke Steensma began its life as a baby wrap! What an awesome upcycling project!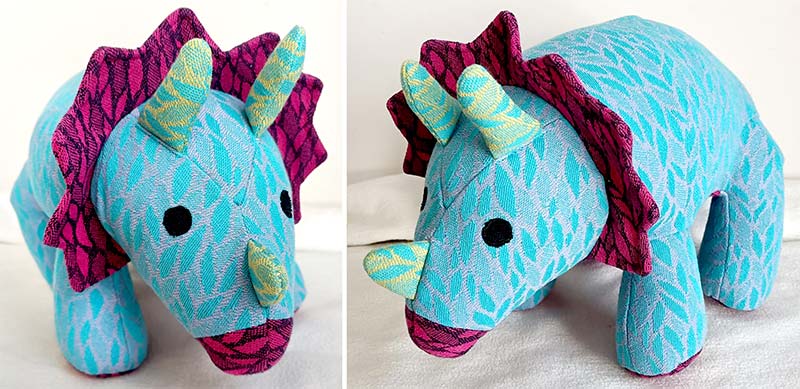 And this Tristan Triceratops sewn by Brenda Hill from minky looks like he's out for a walk in the woods!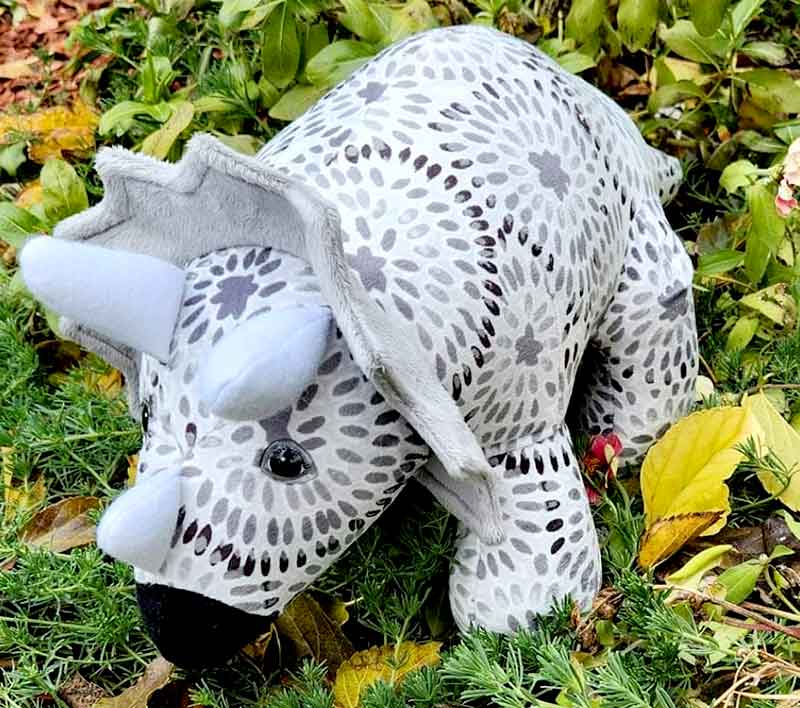 Click HERE to buy the Triceratops pattern.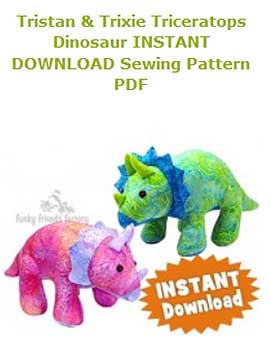 Laura Peters Cartoscelli turned plaid flannel into a perfect Gregory Gorilla!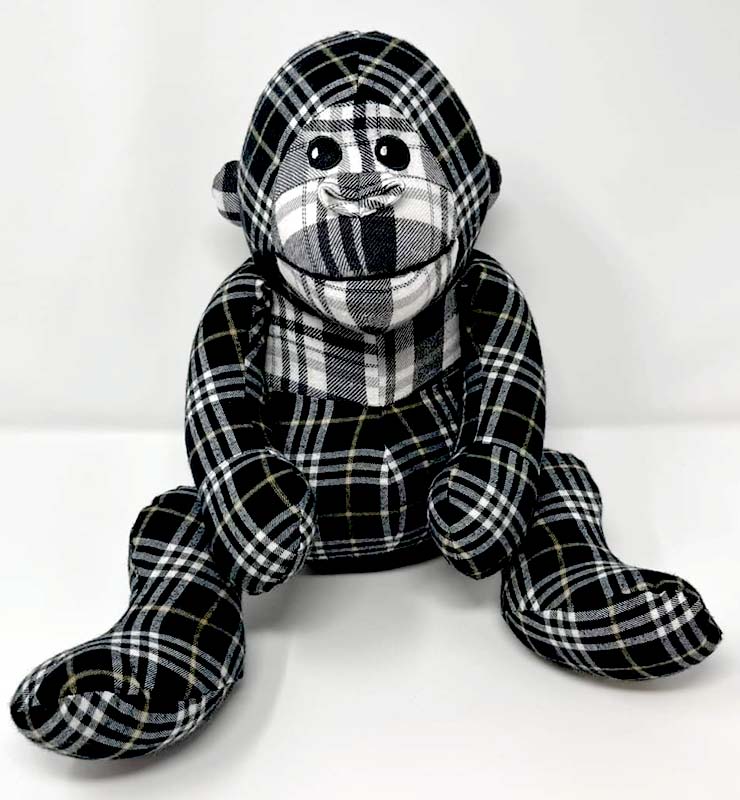 Click HERE to purchase the Gorilla pattern.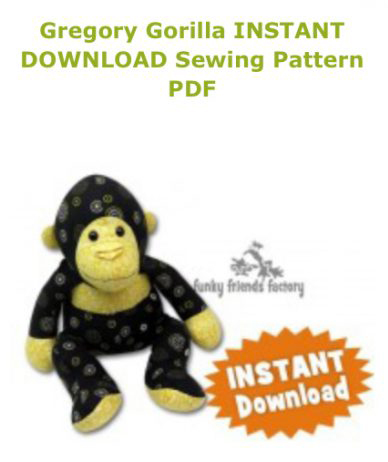 Teresa Campbell Gage has started a tradition of sewing Daisy DRESS UP Dolls for her grandkids. I'm sure this doll will be a great new best friend!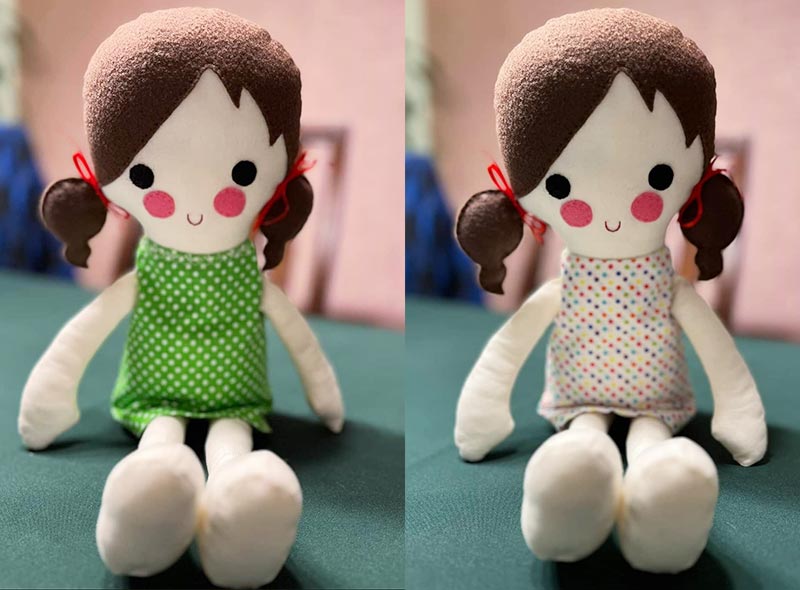 Click HERE to purchase the DRESS UP Doll Pattern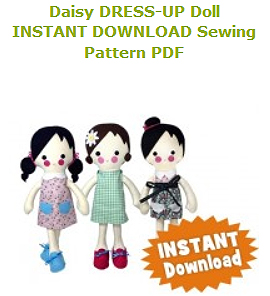 We had some super cute memory bears as Christmas presents!
Sara Summers Cruce Walston used the  Melody Memory Bear Pattern to sew these precious keepsake bears for 4 sister in memory of their mother.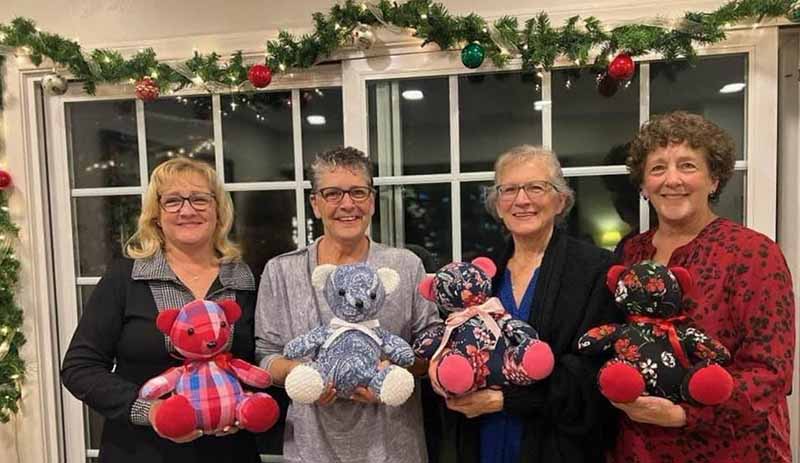 This teeny tiny Melody Memory Bear Pattern was sewn by Eryn Lajoie at 30% – WOW, I wouldn't have the courage to sew such a tiny bear!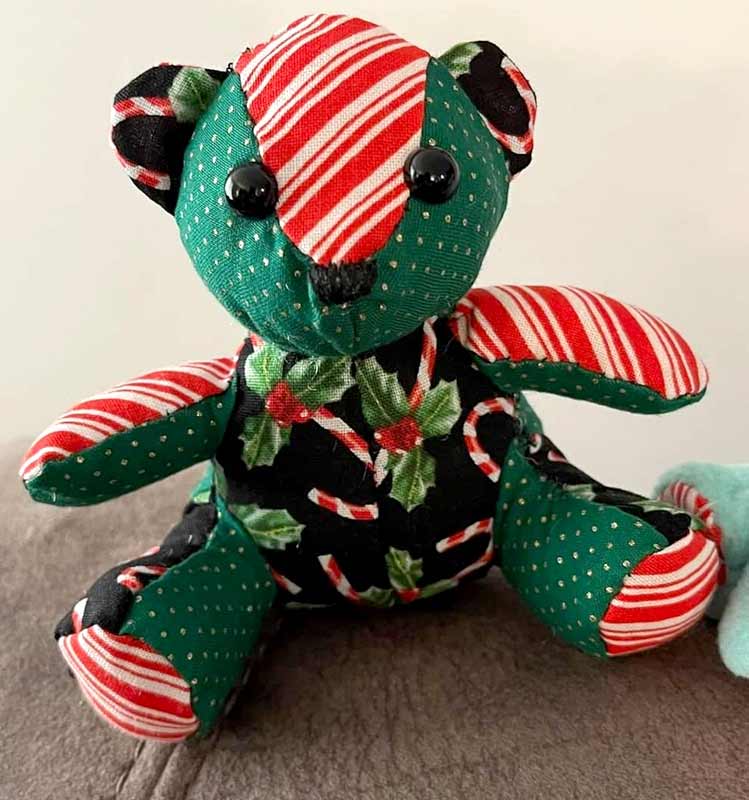 Click HERE to purchase the Melody Memory Bear Pattern.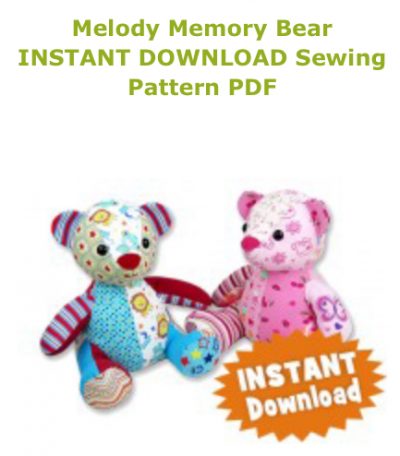 This delightful version of the Keep Me Keepsake Bear pattern , sewn by Meredith Strauss of Scrap Dash Studio. looks so festive in front of the Christmas tree!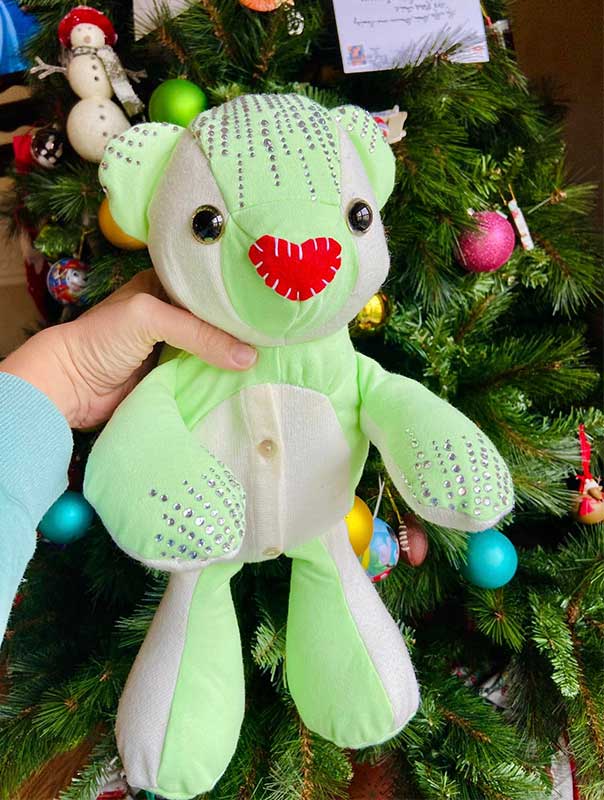 This Keep Me Keepsake Bear sewn by Andrea Peters has such a happy expression on his face. She has perfectly placed the baby clothes accents on every part of the teddy bear!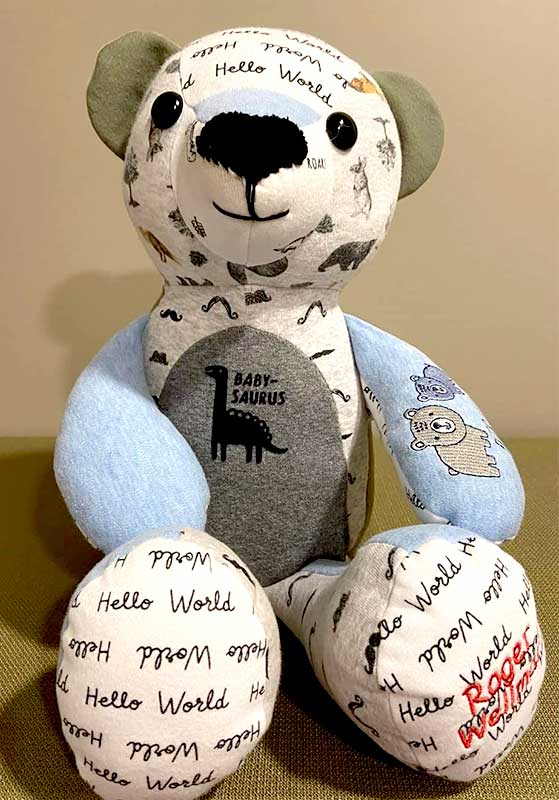 Phyllis Trousdale sewed these gorgeous chenille Keep Me Keepsake Bears for "some special grandkids"!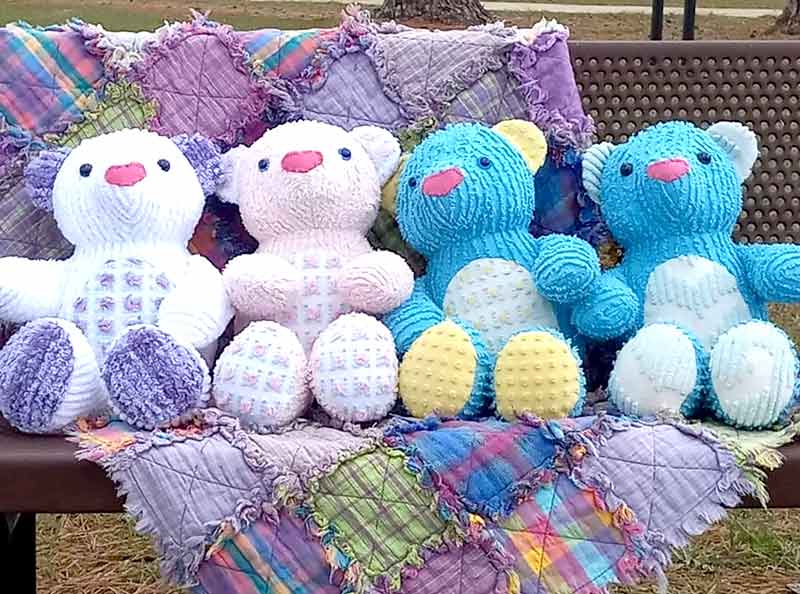 And one more…
I love the thoughtful way Lisa Nelson of Sewn 4 You Memory Keepsakes arranged the fabric details on this Keep Me Keepsake Bear .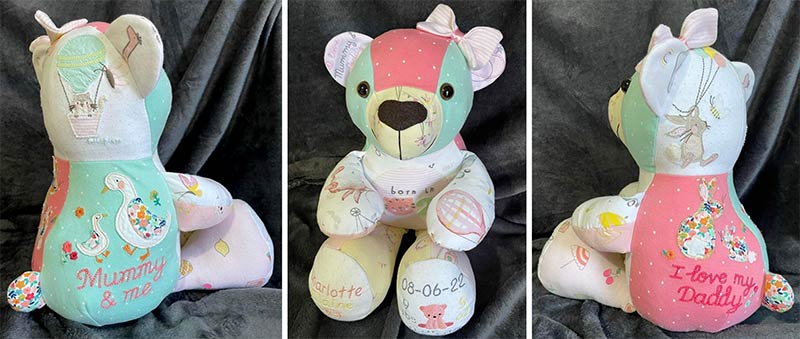 Click HERE to purchase the Keepsake Bear pattern.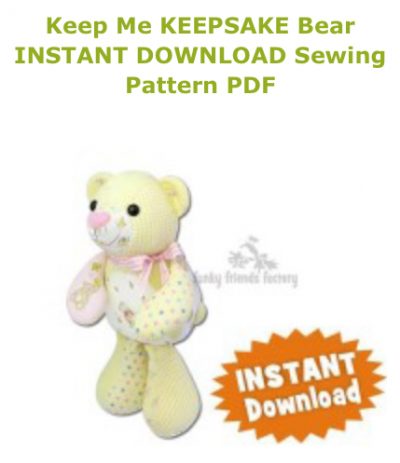 This  gorgeous keepsake version of Buttons the BEST DRESSED Bear was sewn by Phyllis Ingram Trousdale from shirts and jeans!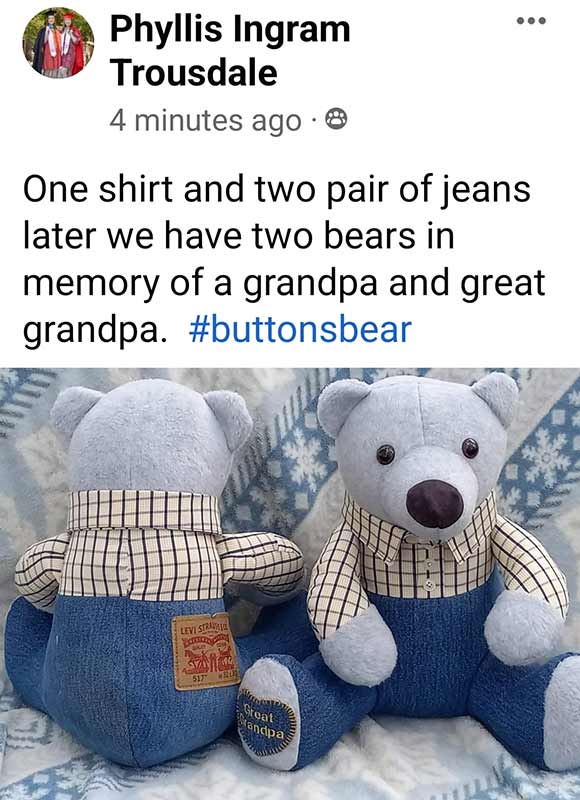 This stripey Buttons BEST DRESSED Bear was sewn by Tracey T Storsii and she used my FREE Flat Cap pattern to add his jaunty matching head wear!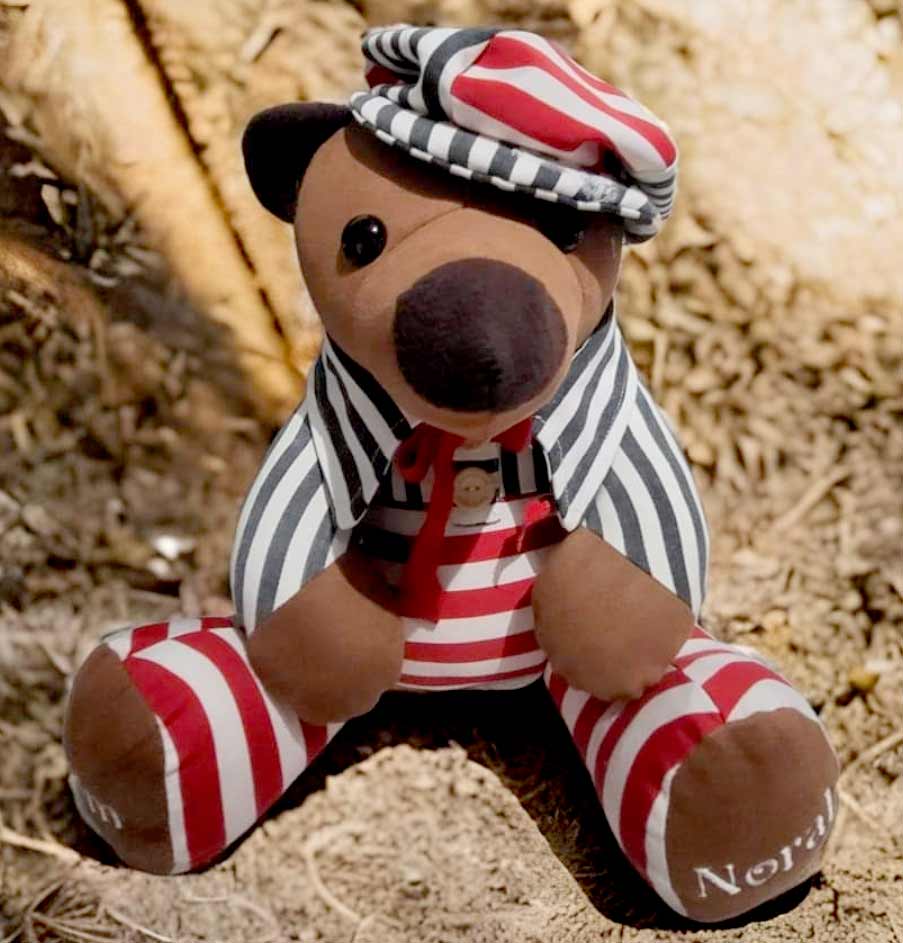 Click HERE to purchase the BEST DRESSED Bear pattern.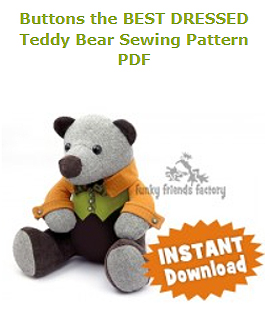 The pretty cute baby keepsake Kelsy Keepsake Unicorn was sewn by Kylie Downs of Voodoo Rabbit Fabric Shop, for her niece.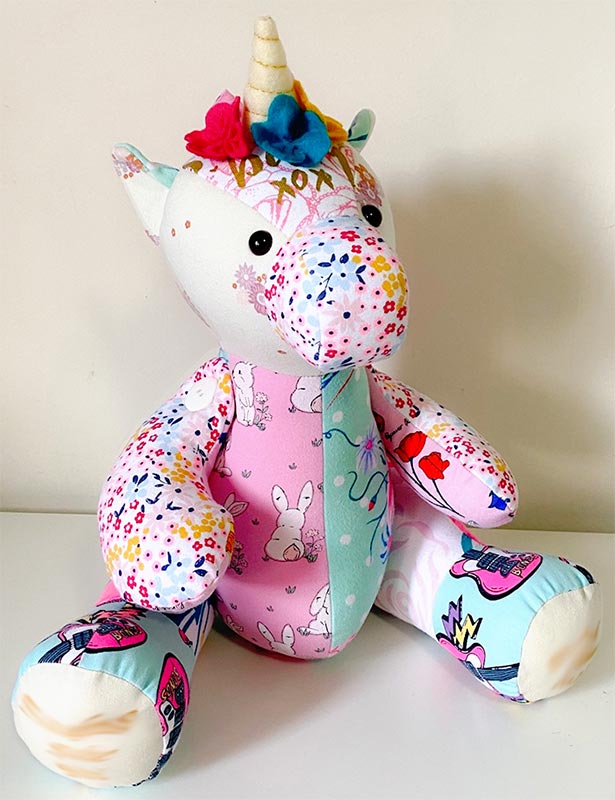 And Nora Johnson Flemming sewed this Kelsy Keepsake Unicorn using some neck ties…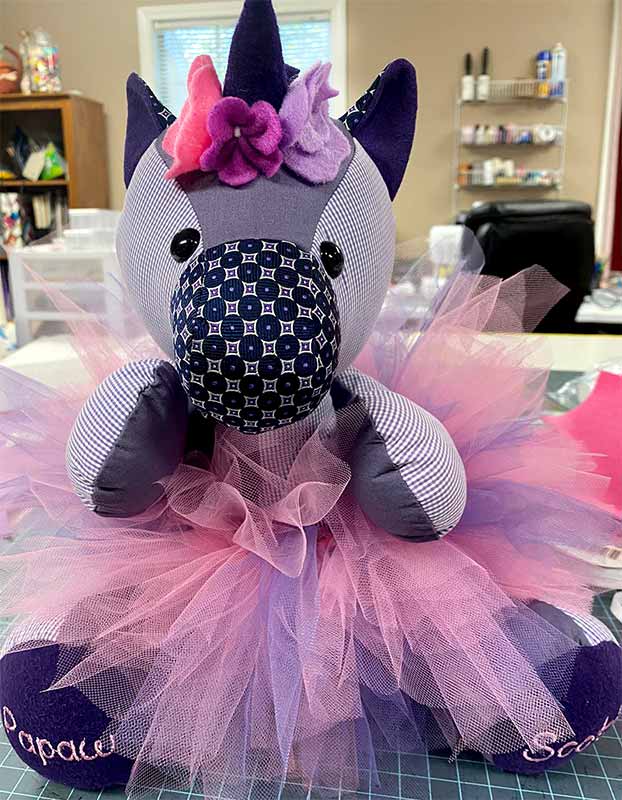 Click HERE to purchase the Keepsake Unicorn pattern.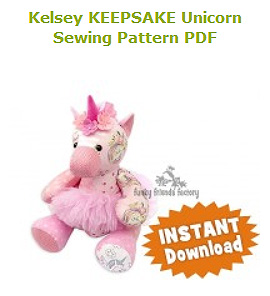 Don't you just want to hug this fuzzy version of Ben the BEGINNER Bear? He was sewn by Joni Hiller Petersen for her 6 month-old grandson.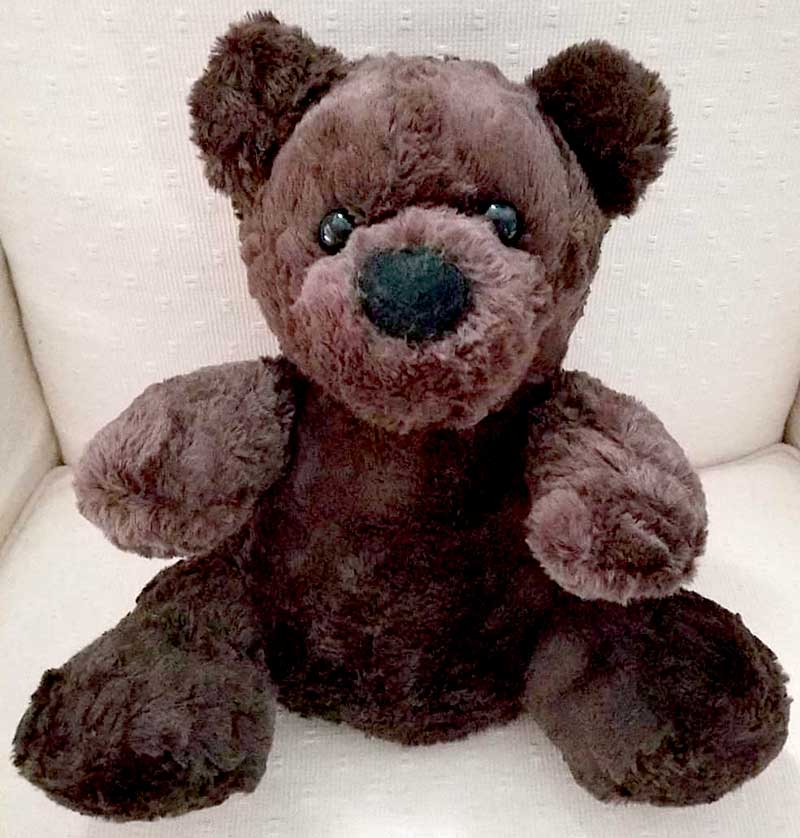 Click HERE to purchase the BEGINNER teddy bear pattern.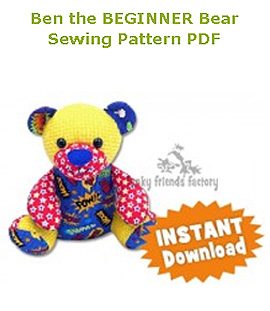 AND this month's winner is…
Congrats to this month's winner, Carolyn Riha.  Don't you love her sweet flowery version of Ben the BEGINNER Bear pattern?
CONGRATS! You win




a FREE Funky Friends Factory Pattern ~>




of your choice!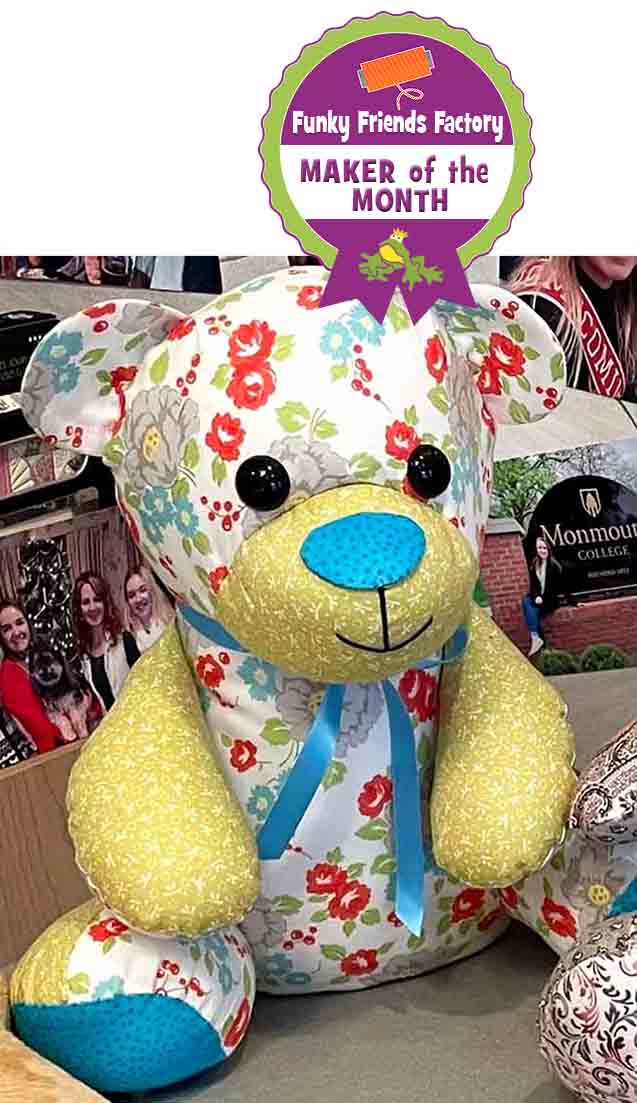 Click HERE to purchase the BEGINNER Bear pattern.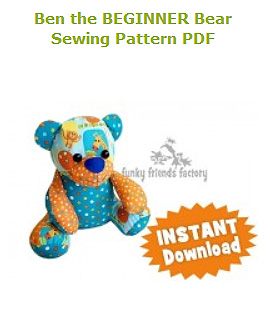 Want to win a
FREE toy pattern?
It's so EASY to enter the Pattern GIVEAWAY!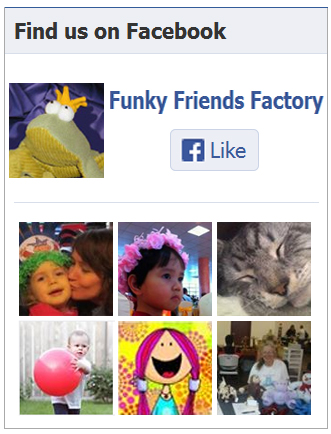 ALL you need to do is post a photo of a FUNKY FRIENDS FACTORY toy that you have made on the Funky Friends Factory Facebook Page .
At the end of each month I draw a winner and post the winner's name on the Blog the following MONTH. I have an Album on Facebook for all the MAKEROFTHEMONTH winners. You can check it out HERE!
NOT on Facebook? ENTER by email! 😀
*** You can send me your photos by email too!
So come on! Share your photos  ~> The next winner could be YOU!!!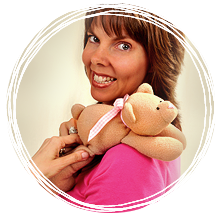 .
Till next time,
Happy Sewing,
Pauline
xxx