Are you finished with your Christmas sewing yet? If you need some inspiration, this week's round-up of holiday toys includes fabulous family gift collections (including 18 Christmas pigs!), creative keepsakes and memory bears, plus pretty penguins and the ever-popular Christmas "ChristMoose" 🎅.
Let's check out
what the elves
have been sewing…
Quite a few families sent us pics of their Funky Friends gifting traditions. Laura Yeager Colson makes a stuffed toy for every family member each year…and that's 18 people! I was absolutely tickled by her collection of Christmas Petunia Pigs. Christmas might not be complete without "12 lords a-leaping," but I'm adding a new entry to the song: "18 piggies posing" 😂.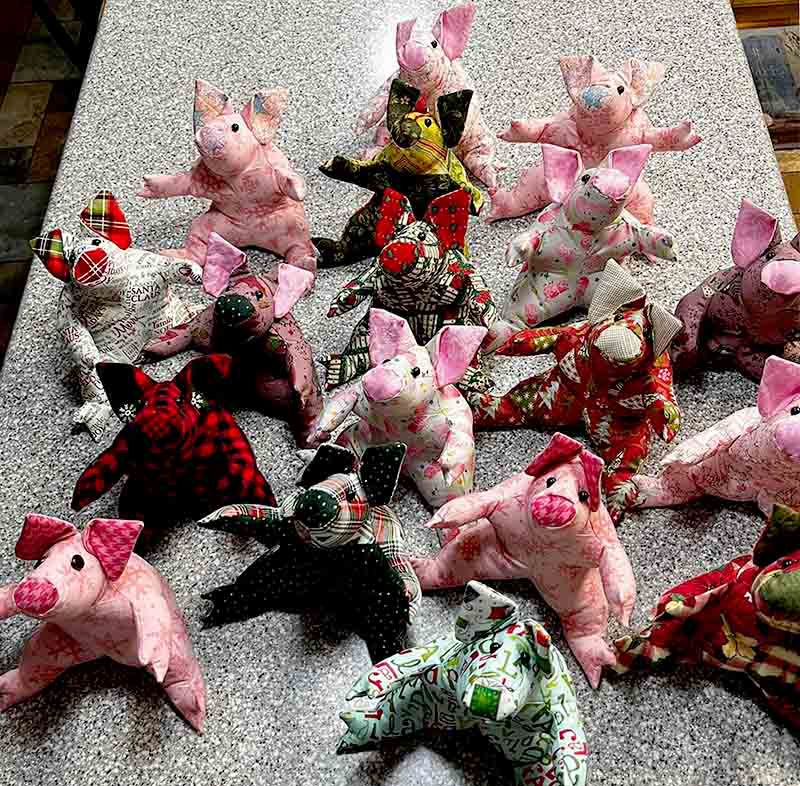 Click HERE to purchase the Pig pattern.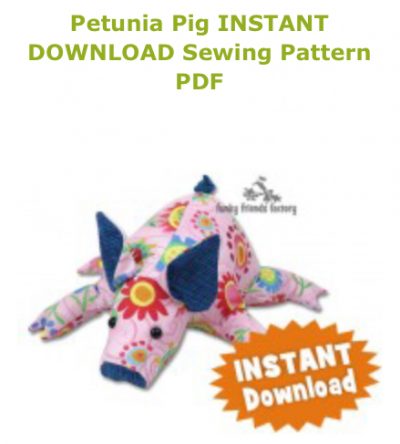 Janice Wray sewed this stunning collection of keepsake toys all for one family. Gathered 'round the fireplace are Calico Signature Bear, Ollie Owl, Butch Bulldog, and Ellie Elephant. I particularly like how she made the toys look like they're wearing shirts and sweaters.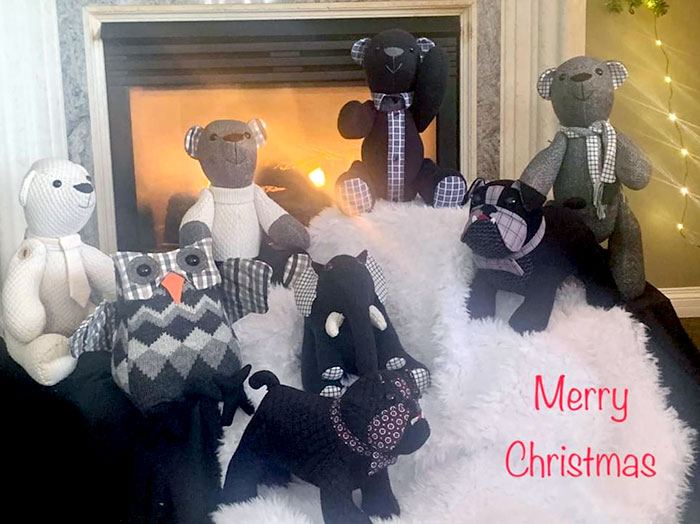 Click HERE to purchase the Owl pattern.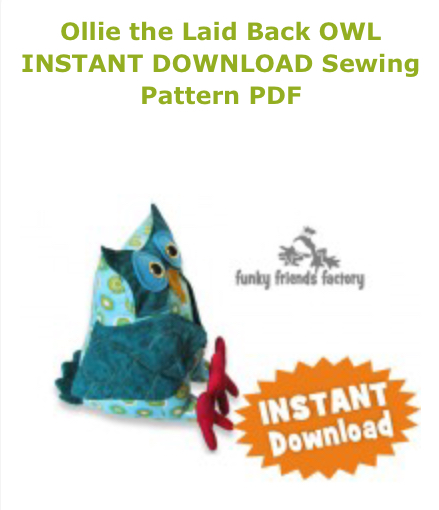 Ange Angela used a set of holiday baby clothes for this cheerful Calico Signature Bear. The fabric placement on this bear is especially thoughtful, including the red nose and the perfectly placed antlers on the forehead.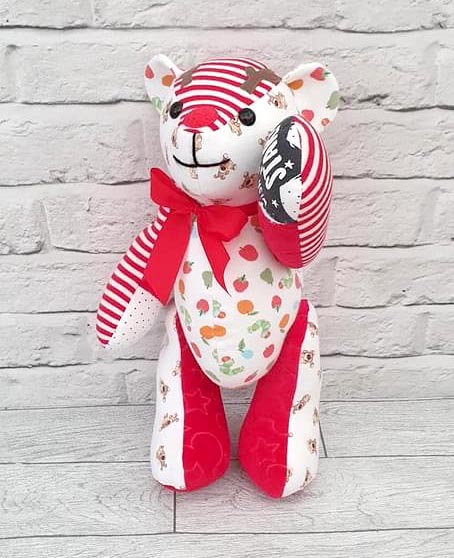 AND her Christmas keepsake bear is so cute…
I had to include another pic of it sitting!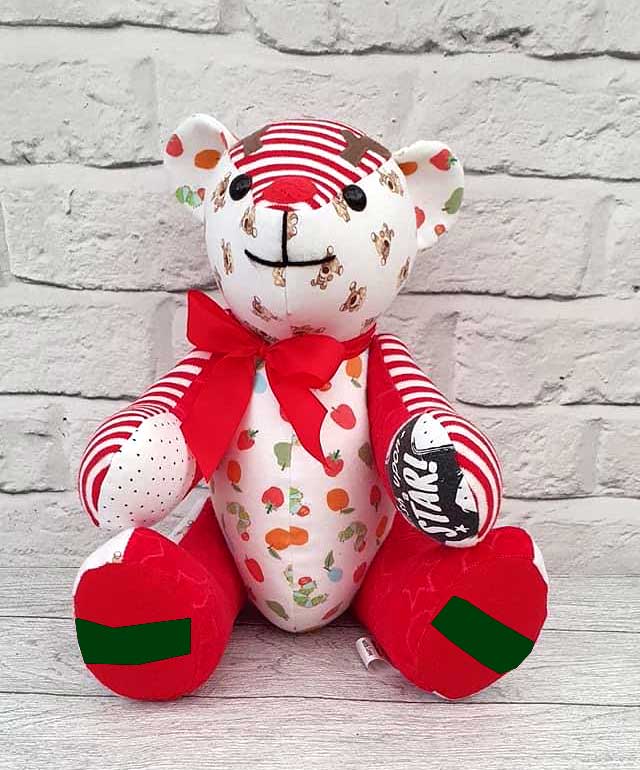 Click HERE to purchase the Calico Bear pattern.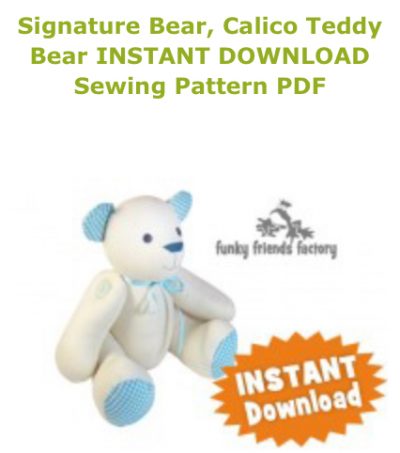 Lots of Funky Friends travel by post for the holidays (don't worry, I'm sure their parcel boxes have air holes). Stephanie Hardy makes toys every year to mail to her family. Here's a happy grouping of All I Want for Christmas Santa, Reggie, Reindeer, and Slush Snowman.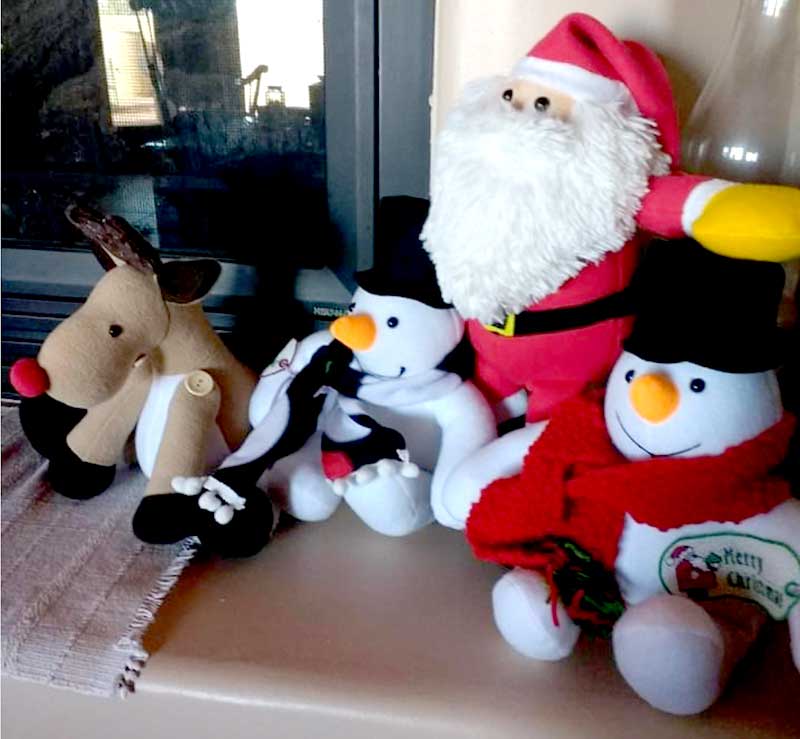 Click HERE to purchase the Santa Sewing pattern.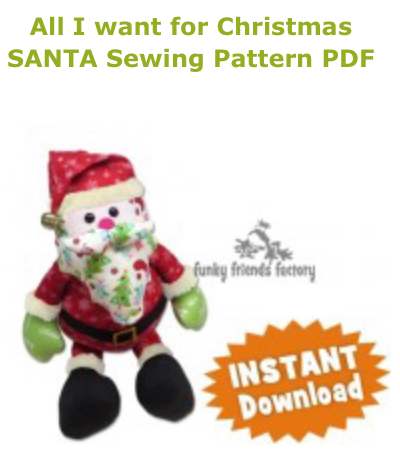 Jan Janners Robertson also whipped up a bunch of holiday cheer in the form of Santa, Reggie Reindeer and Slush Snowman. These cheerful toys were sold to raise money for charity. Well done, Jan!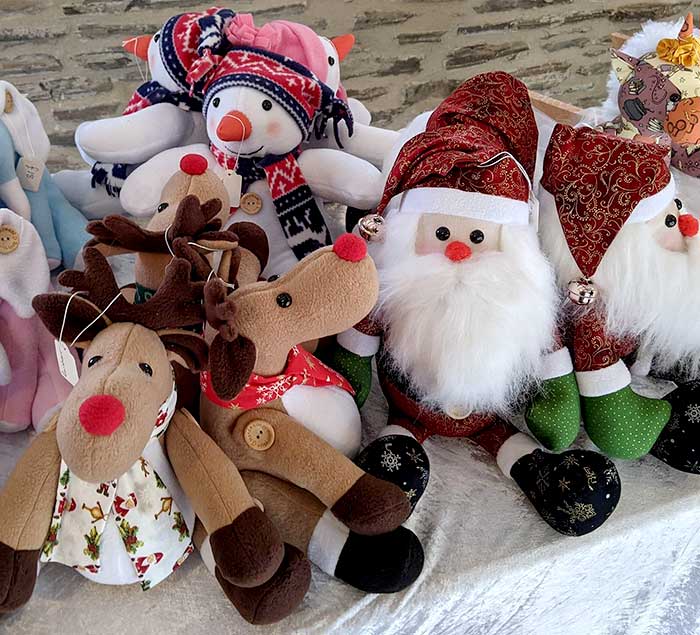 Click HERE to purchase the Reindeer pattern.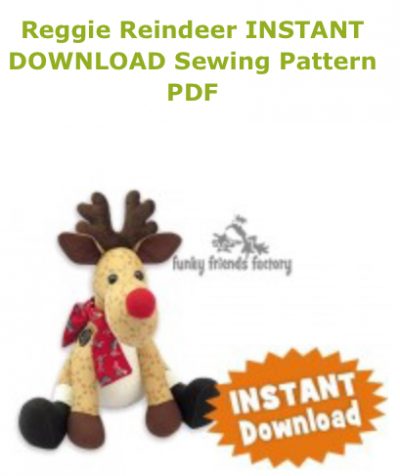 And Jackie Wooding made this terrific trio, too!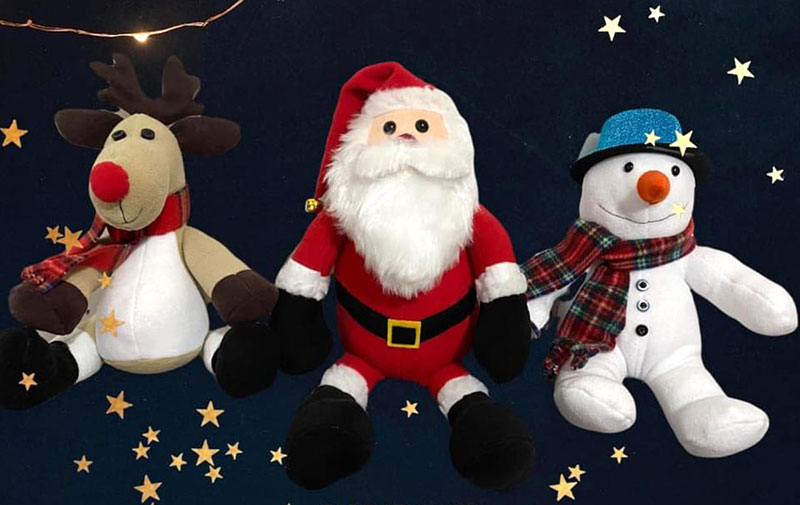 Here's a cozy set of accessorized Slush Snowman twins with their tiny Ginger cookie friends. Maria Galante Moore added hats and scarves to make sure these frosty friends don't get too chilled on their adventures.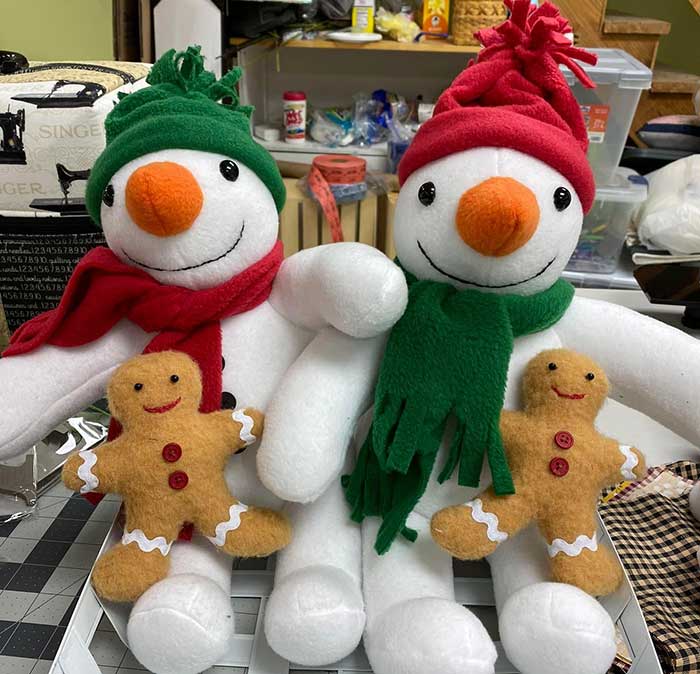 Click HERE to purchase the Snowman pattern.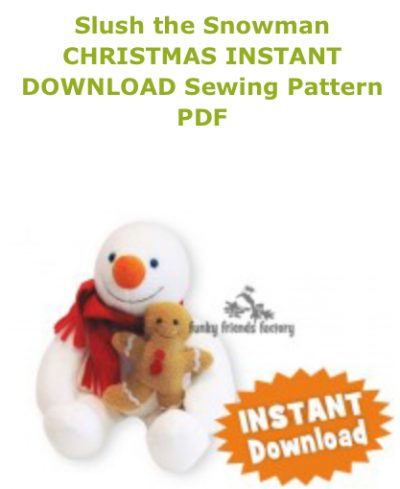 You can get my
FREE Gingerbread Man pattern HERE ~>
to make a Ginger cookie friend for all of your toys!
Gill Reiersen embroidered family names on Ginger and linked sets together as tree ornaments.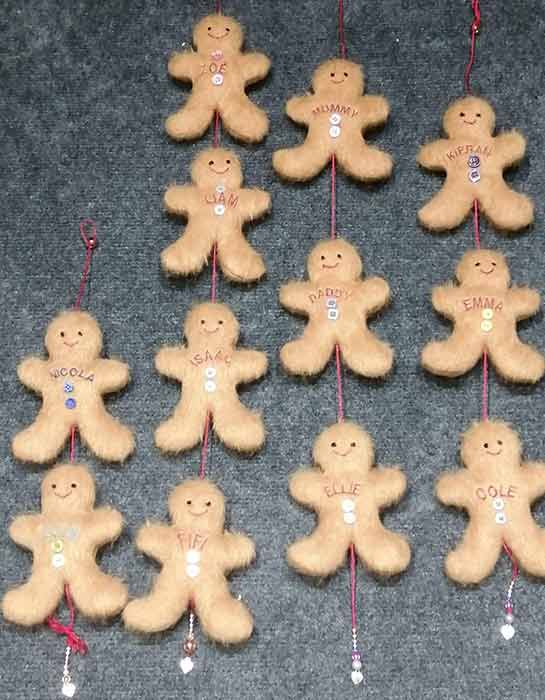 Amy Schlecht-Marvin made her Gingerbread Men without stuffing and used them as Christmas tags! Great idea!!!!!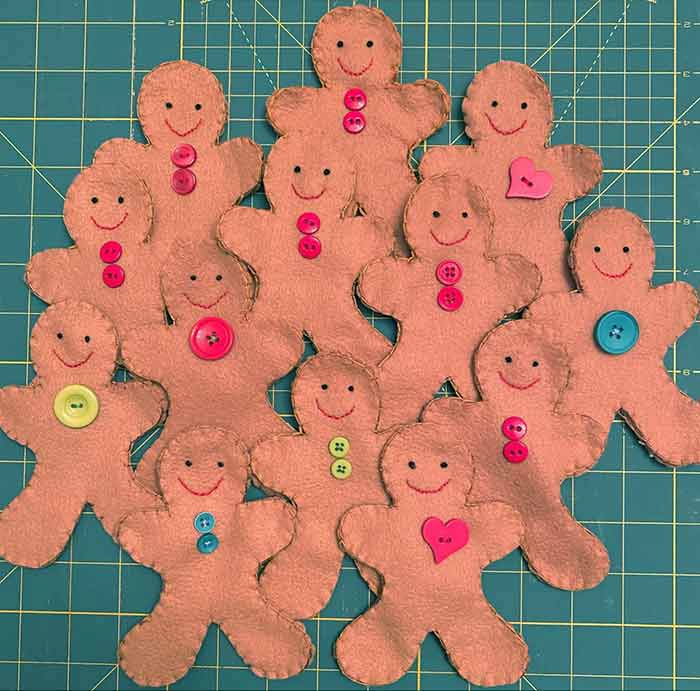 Penny Penguin looks like she's wearing a holiday jumper in these pics posted by Holly Boatright. These keepsakes are made from a jacket and a pair of holiday leggings, and the absolutely perfect alignment of the clothing graphics on the toy pattern pieces deserves some applause 👏.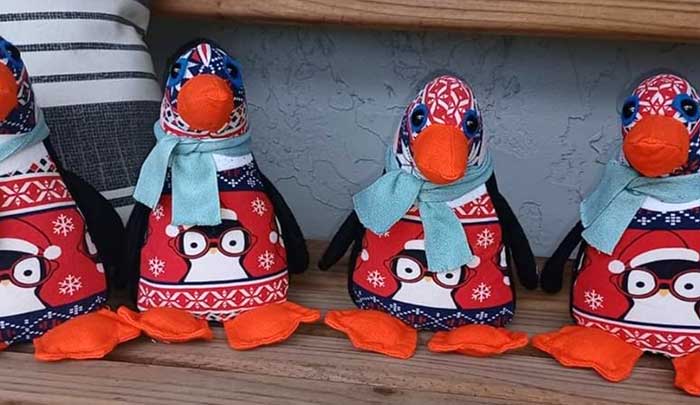 Click HERE to purchase the Penguin pattern.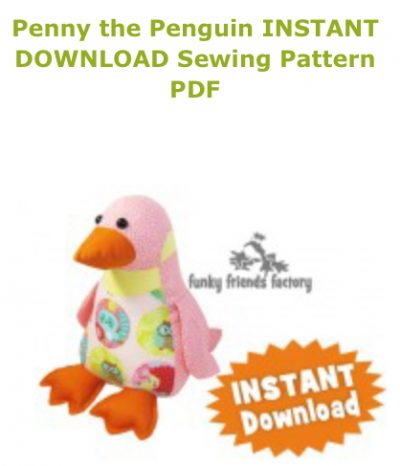 What music does Heather Hippo like for the holidays? That's easy…just put "I Want a Hippopotamus for Christmas" on repeat and she'll be entertained for days! These two Hippos are going to a pair of sisters who both lost their husbands this past year. How lovely of Phyllis Ingram Trousdale to make these special gifts.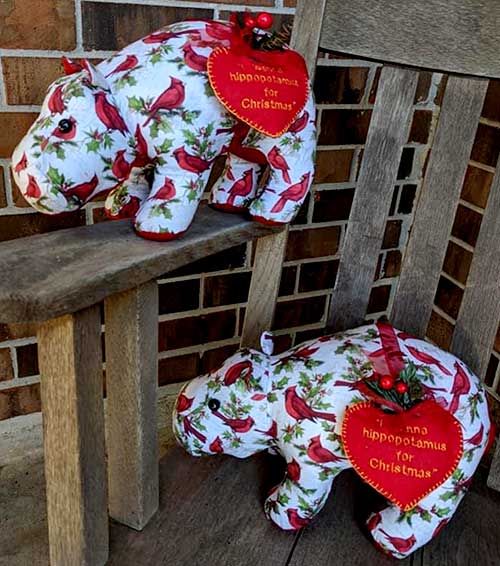 Click HERE to purchase the Hippo pattern.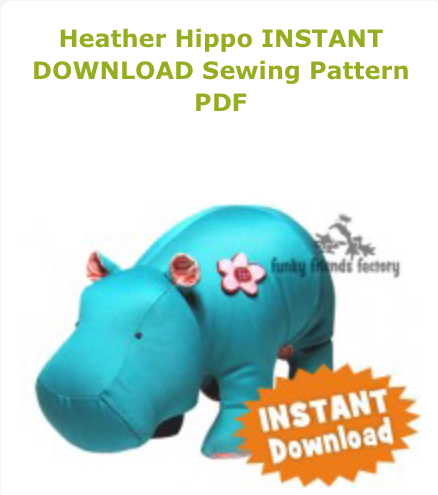 These military uniform Melody Memory Bears by Dana Tom Smith are perfectly coordinated in buttons and bows for their big morning under the tree.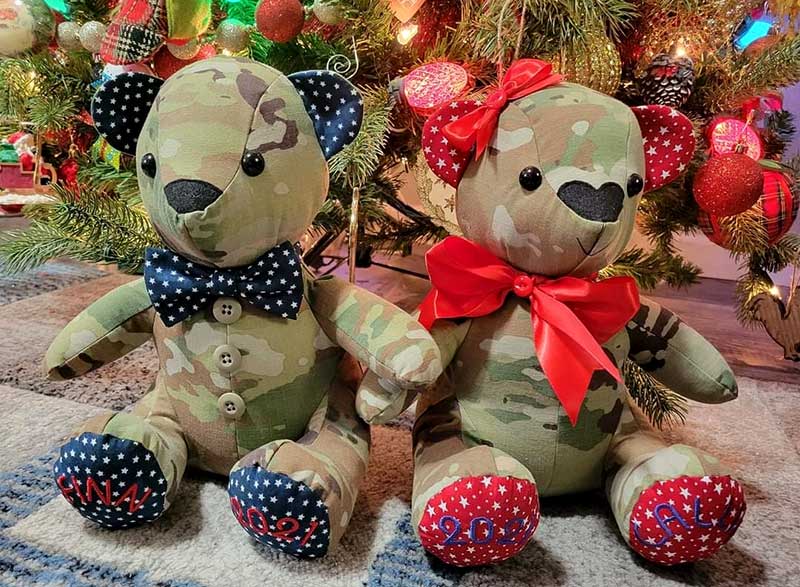 Click HERE to purchase the Melody Memory Bear Pattern.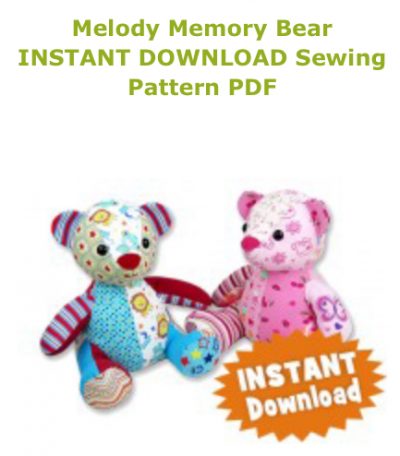 I always love seeing the Funky Friends trends emerging from the work of creative customers. A new holiday favorite is the Mickey Moose pattern made up as a "ChristMoose." Carol Harshbarger was an early adopter of the annual Christmas "Moose mania." With so much personality, no wonder this toy inspired lots of other happy holiday hoofers.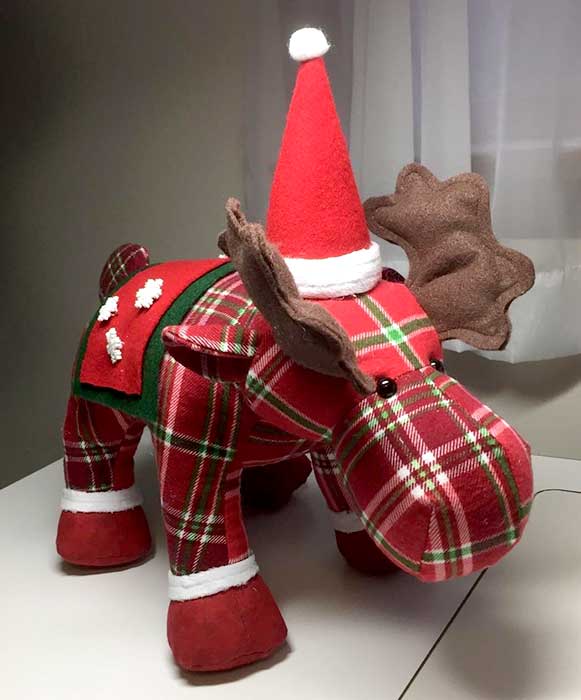 This little Mickey Moose by Orsolya Czili is made from her daughter's first Christmas clothes. The reindeer centered on the antlers and the sparkly eyes make this toy extra magical.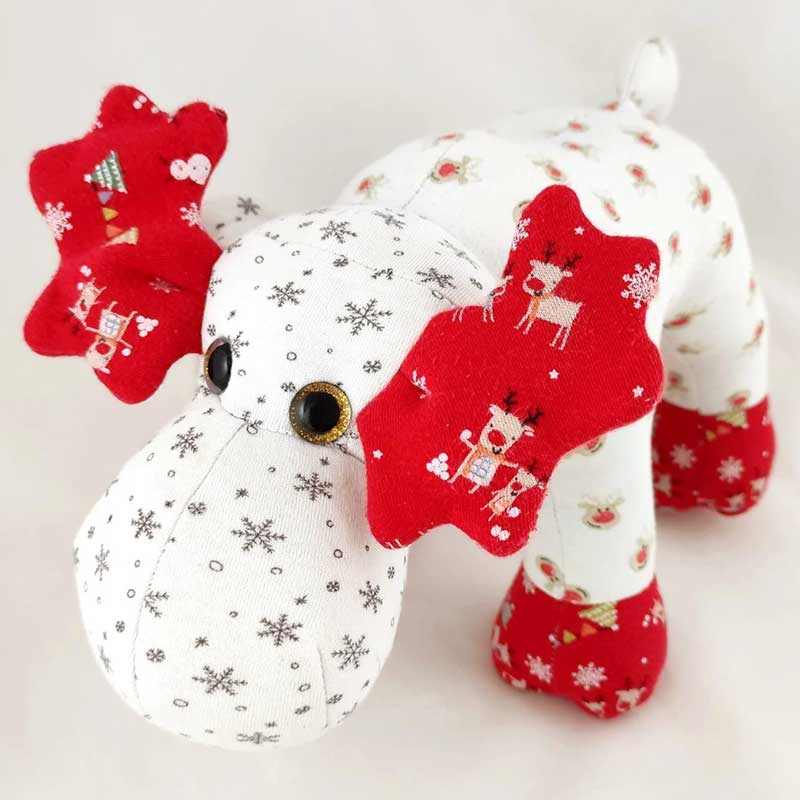 Look how cozy this Moose couple is by the fireplace. I bet they're getting ready to enjoy some roasted chestnuts. Dressed in denim and plaid, Holly Boatright's fashionable antlered pals will be the envy of the Alaskan wilderness.
Click HERE to buy the Mickey Moose pattern.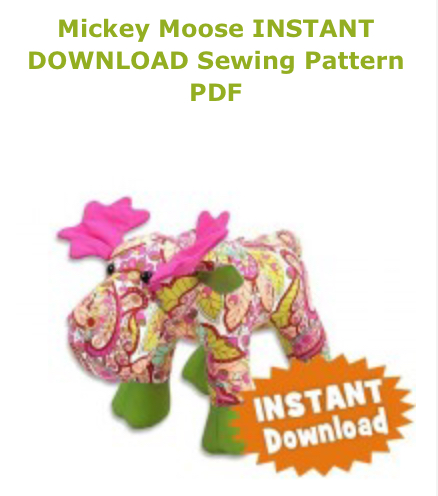 Sometimes it can be a challenge to wrap a large toy, so I've made some printable gift tags that you can tie on an ear or antler. In addition to the regular "Handmade with Love" tags, I added some that say "Happy Handmade Christmas."
Just go HERE to print them out. ~>
From all the Funky Friends, have a holly jolly Christmas!

🎄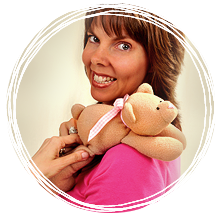 .
Till next time,
Happy Sewing,
Pauline
xxx