If you're a grandparent (or parent, aunt, uncle, etc), you're probably wondering which toy patterns are the most popular this year for presents. We've got you covered! Read on to find out which patterns make "never-fail" presents for a fabulous Christmas morning.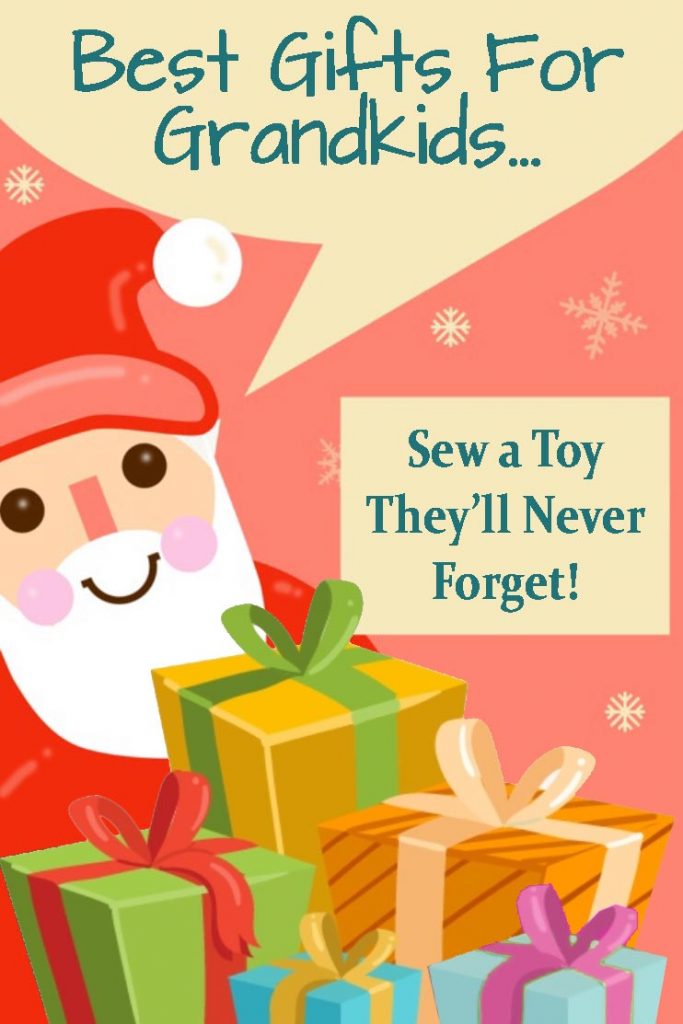 Don't worry if this is your first toy ~>
It's EASY to sew soft toys!

AND you can get started right now with our FREE patterns and FREE toy-making course! This email course will take you step-by-step from gathering supplies to stuffing tips, to your First FABULOUS finished Funky Friend toy AND it comes with my easiest pattern – Plattie Platypus (Yes, it's FREE!)

CLICK HERE to start with
the free toy-making course!
We start with 2023's most popular toy pattern for Grandsons…
Now, I KNOW this pretty pink toy is also liked by little girls and even pets BUT the feedback shows that he is by far the most popular Funky Friends Factory toy sewn for grandsons this year!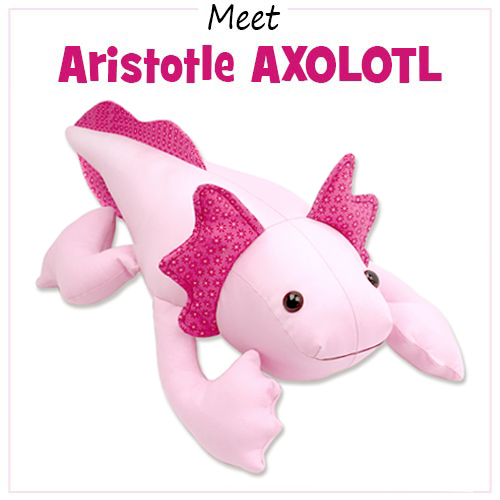 Why is the Axolotl Pattern so popular?
What's an Axolotl, you might be wondering?!😂  Just ask any kid and they'll happily tell you all about this smiley salamander that's a pop culture trend. This pattern has large pieces suitable for beginners, and there are endless ways to customize the toy to a child's specifications (and do ask them…they'll tell you the exact colors they prefer!).
Look who LOVES an Axolotl!
Kim Campbell sewed this awesome Aristotle Axolotl in Shannon's dimple Cuddle fabric – I LOVE the fun texture! 💛
.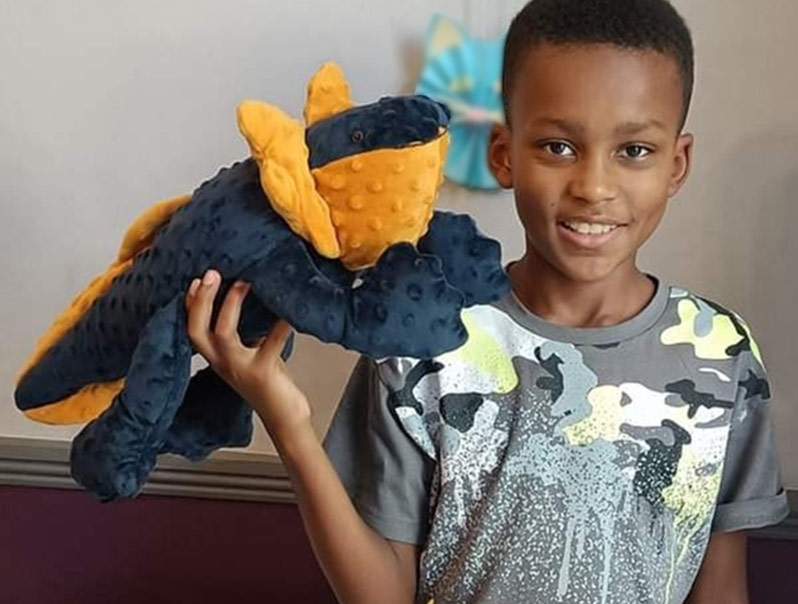 Florence Duty asked her grandson exactly what type of axolotl he wanted and he was thrilled with the result! This Aristotle Axolotl has an especially happy smile.
.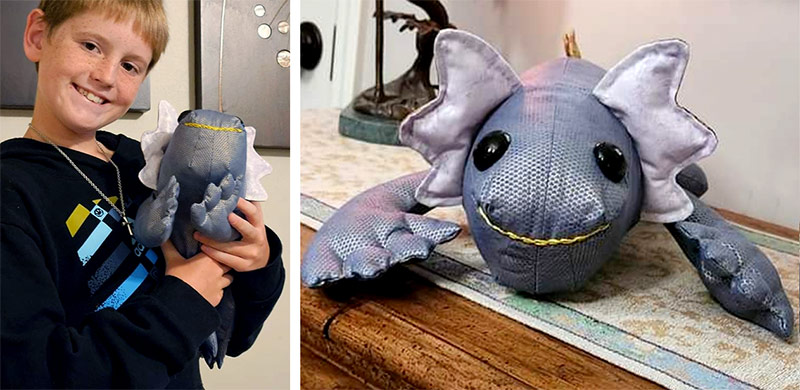 Girls love Aristotle Axolotl, too. Carole Anne Robinson sewed this girly version for her granddaughter. Carole said she used a nice glitter thread on the fins and added sparkles on her nails.
Look! She's had her nails done!
.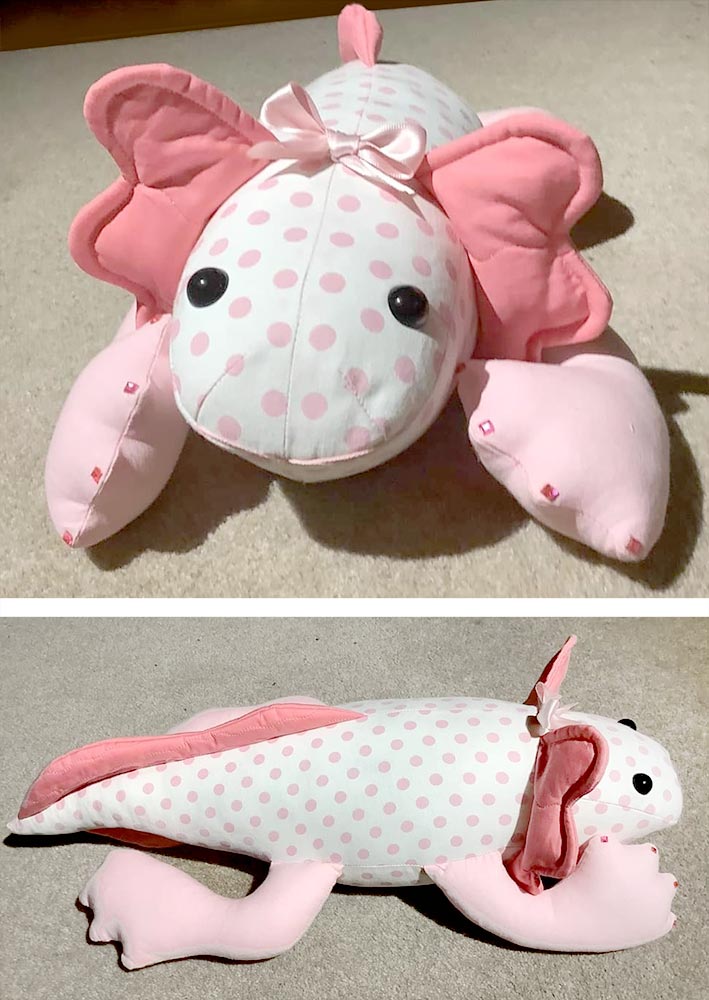 This pic of the Axolotl toy sewn by Courtney Schreiner of Monkey in the Mailbox will give you an idea of his size. This happy Aristotle owner is about 4 years old.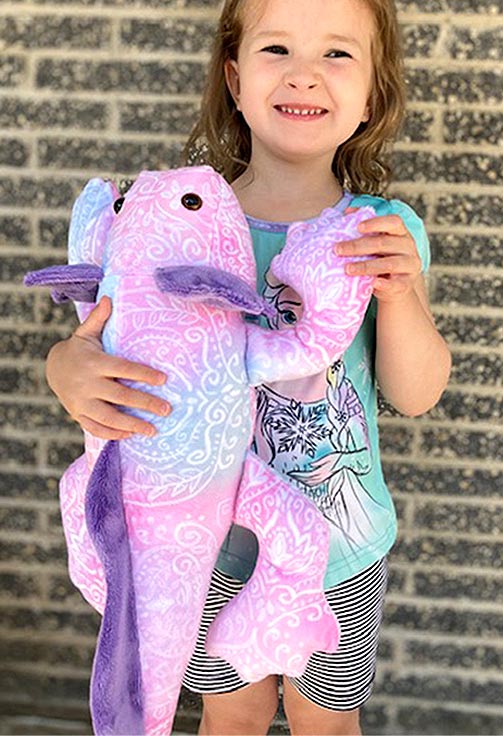 PERFECT GIFT TIP

:

Want to make your gift toy extra special?

 Involve your child or grandchild in the creation of their ideal axolotl by asking them to pick out fabric colors… their toy is bound to be a huge  hit if it's the colour THEY wanted – even if it's a colour that YOU would never have chosen! 🧡


Emma Boulton-Hughes sewed this Aristotle Axolotl. She told me, "My son and I were so excited to see you were making an Axolotl pattern . I woke him up as soon as I'd printed the pattern and he immediately said it had to be orange with red gills so I had to make a quick dash to get fabric".
Here's Aristotle Axolotl sewn by Monica Groh. She said, "I made my first #Aristotle Axolotl – It's not perfect, but my dog loves it.
Awwww!
Doggy nap time!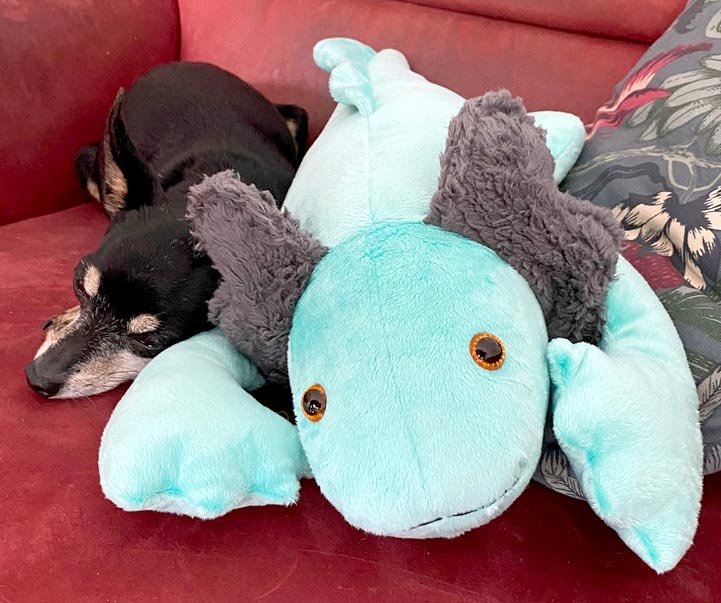 Click HERE to buy the Axolotl pattern.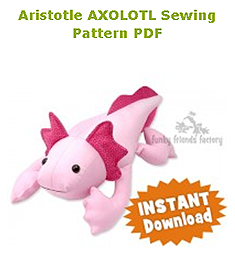 And 2023's most popular toy pattern for Granddaughters…
There may be lots of little boys who would LOVE a unicorn but the feedback shows that the Funky Friends Factory Keepsake UNICORN Pattern is the most popular toy sewn for granddaughters this year!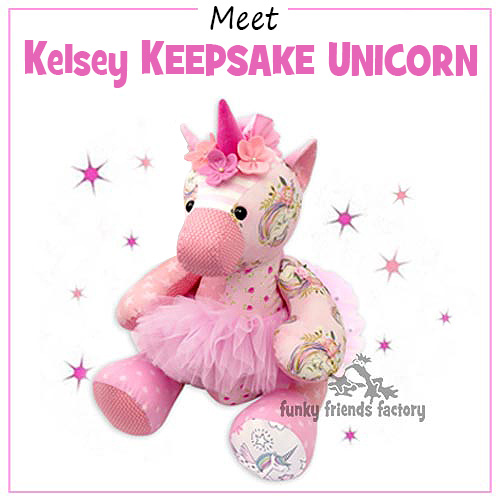 Why is the Unicorn Pattern so popular?
Unicorns are beloved by all ages, as you'll see in the feedback photos below. Kelsey is a jointed toy, which means she can sit or stand for magical adventures.
Look who LOVES Kelsey Keepsake Unicorn!
This adorable version of the Kelsey KEEPSAKE UNICORN Pattern sewn by Sal Thompson.… look how happy this little girl looks with her magical unicorn friend!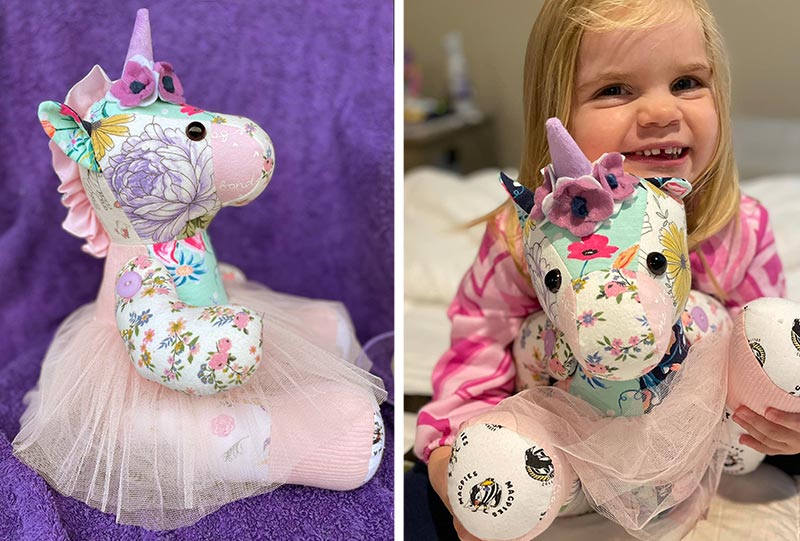 Joan Kawano knew EXACTLY what toy to sew for her granddaughter! She sewed this gorgeous pink Kelsey Keepsake Unicorn for her because she says, "When your granddaughter asks for a pink unicorn, she gets a pink unicorn!" 😁🩷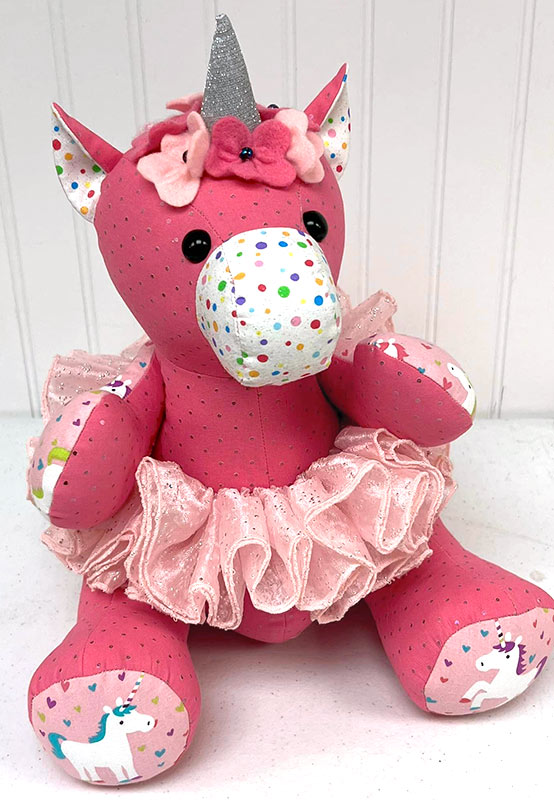 Jan Mitchell made this custom Kelsey Keepsake Unicorn for this little cutie. Look's like she's saying, "Is is REALLY mine?"!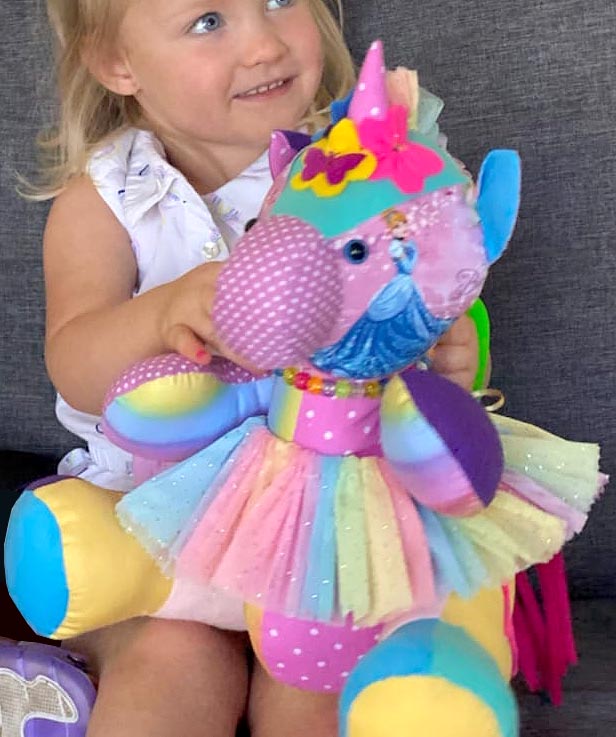 Sandra Hughes sewed this sparkly rainbow Kelsey Unicorn pattern for her granddaughter. 🌈
Look at this happy face! Amy Jerome said that this Kelsey Keepsake Unicorn was the "best Christmas present ever!"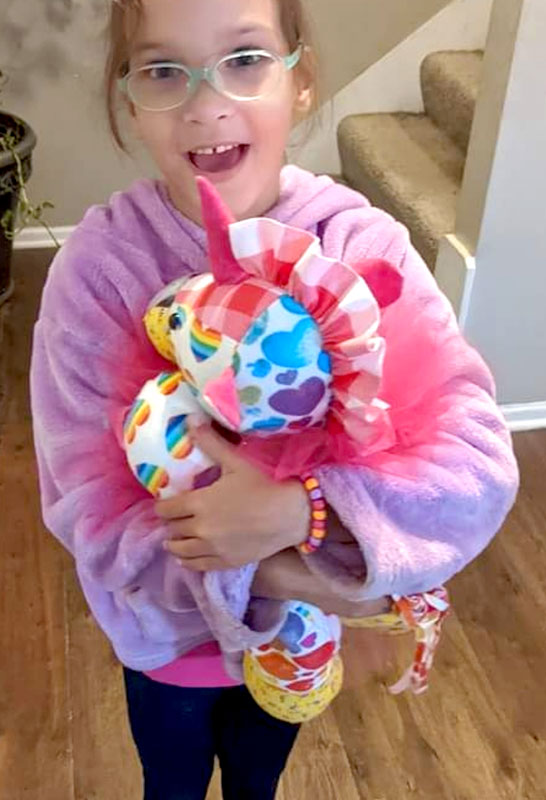 Unicorns don't have to be pink!
Antje Marten sewed these gorgeous "Frozen"-themed Kelsey Unicorns for her granddaughters in glitter minky.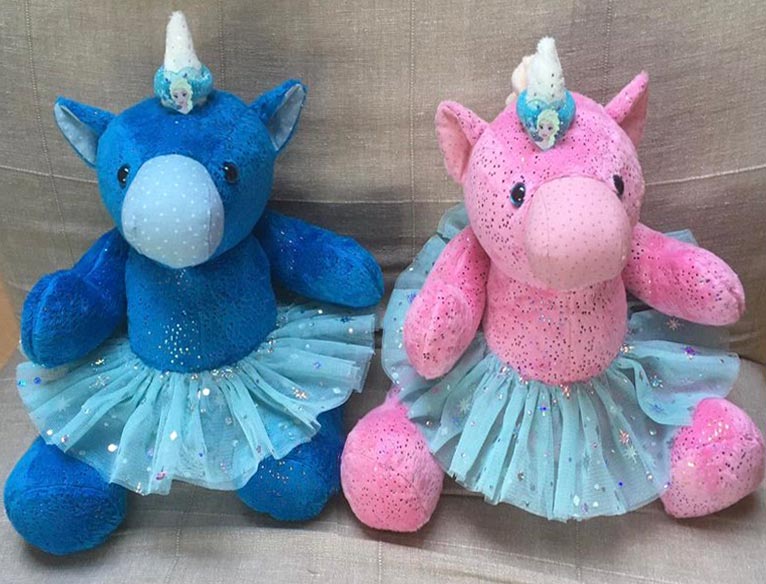 Click HERE to buy the Keepsake Unicorn pattern.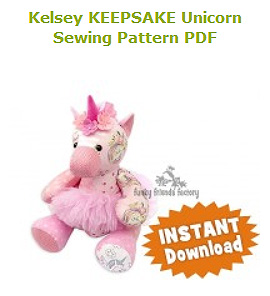 Don't be scared of button joints! ~>


you'll be surprised how EASY they are!

Button jointing is EASY once you know how, and the buttons themselves are actually optional. Grab some strong thread (upholstery thread works or unwaxed dental floss) a long doll needle (the Hemline brand is widely available online) and you'll have a jointed toy in minutes. I have a beginners guide to button joints that walks you through the process – check out this blog post to see how EASY it is to do button joints!

📹 Want to see a VIDEO of me doing the joints on Calico Bear?

If you want to see a video of me doing the joints on Calico Bear, join our Facebook group the Funky Friends Factory Patterns Fan Club and click the "Featured" button under the group header).
MORE FFF toy patterns that have been a BIG hit with Grandkids!
You can't go wrong with a teddy bear! This happy fellow looks so pleased with his cuddly teddy bear. This cutie was sewn by Caroline Moyer in Cuddle fabric.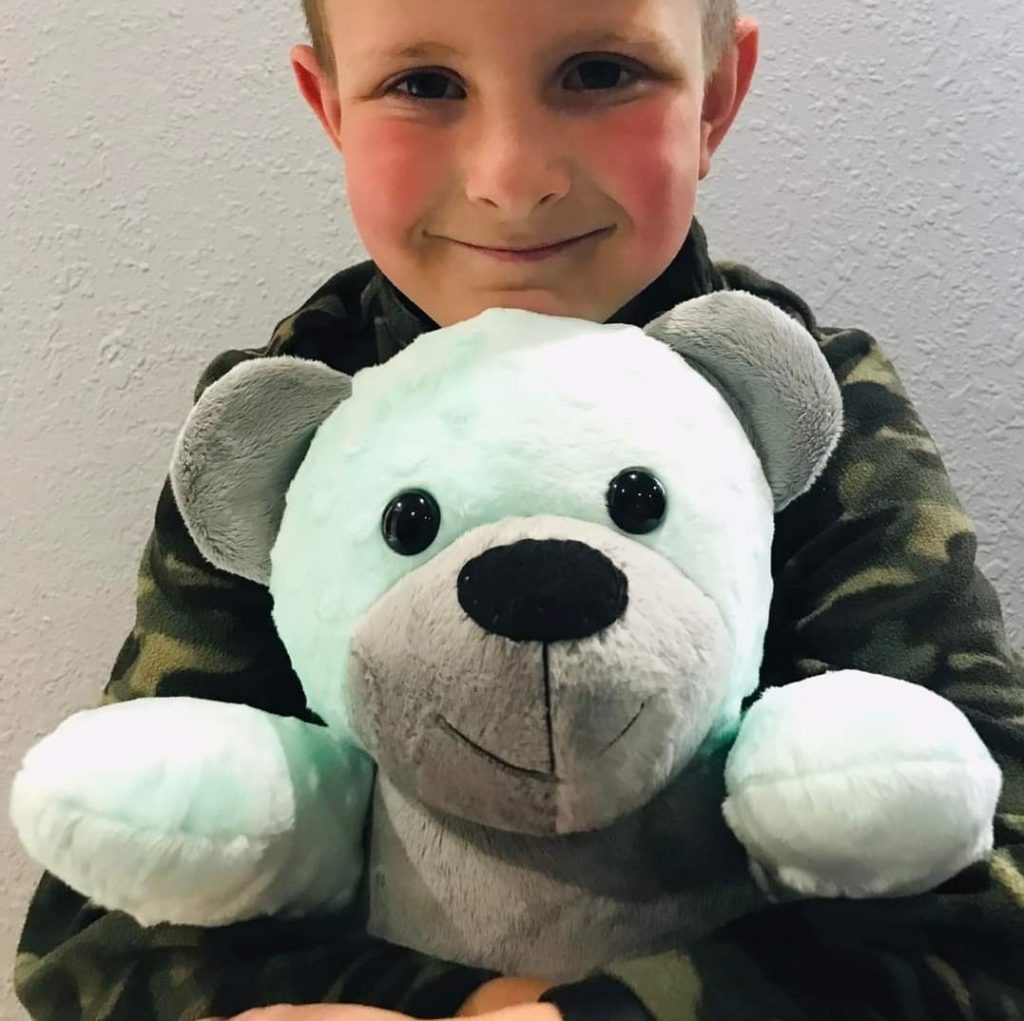 Click HERE to buy the BEGINNER Bear pattern.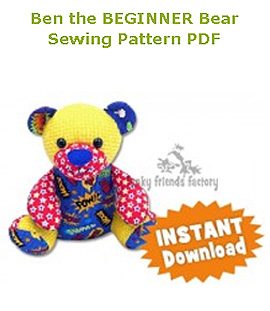 Kids of all ages love the Scrap Snake, as you can see in this fun photo of the snake Christmas presents sewn by Carrie Anciaux – she added rattles for these!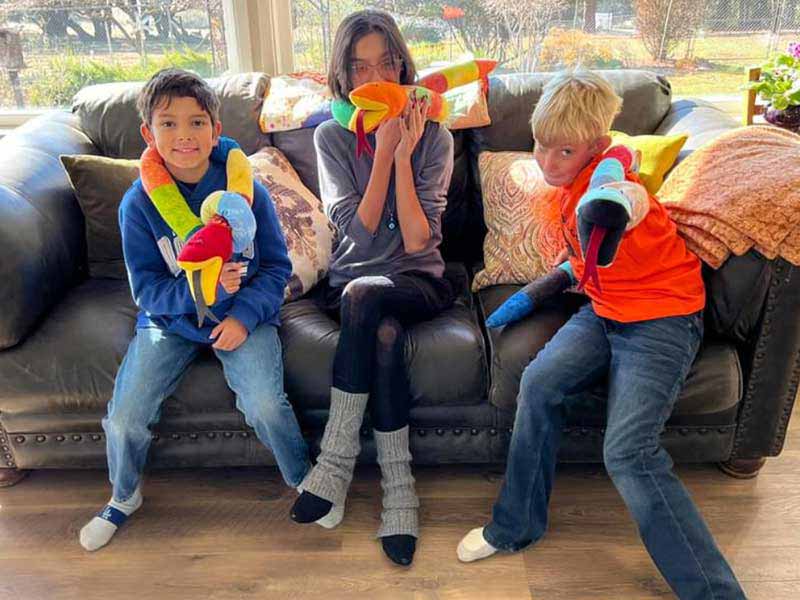 Click HERE to purchase the Scrap Snake Sewing pattern.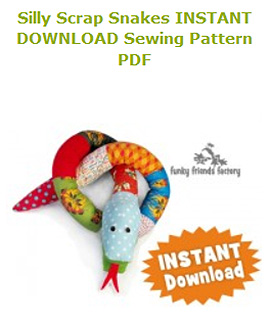 Have you got LOTS of grandkids?
This great idea is from Karen Andeson who used the Mix & Match Monsters pattern to sew monsters for her ix grandchildren for Christmas. 

Click HERE to purchase the Mix & Match Monsters pattern.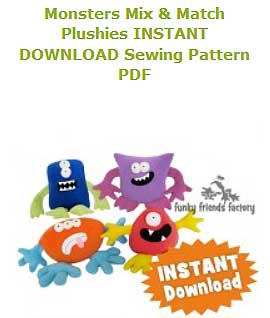 Sharks have been a huge hit.
This sweet spotty Sammy Shark was sewn by Dandelion White.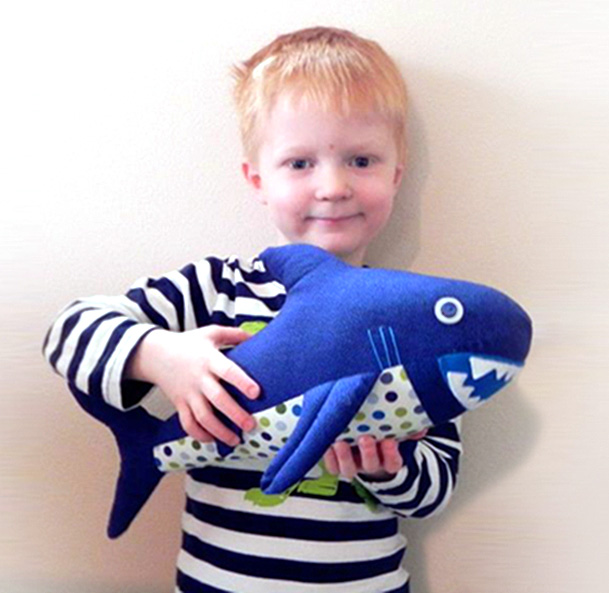 Click HERE to buy the Shark pattern.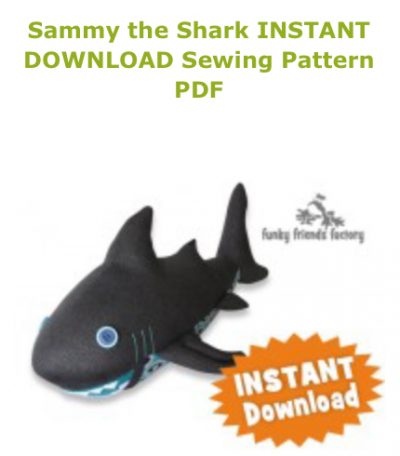 Seahorses seem to be a hit with little girls.
This gorgeous Sparkles Seahorse was sewn extra big, by Emma Chapman, using minky fabric.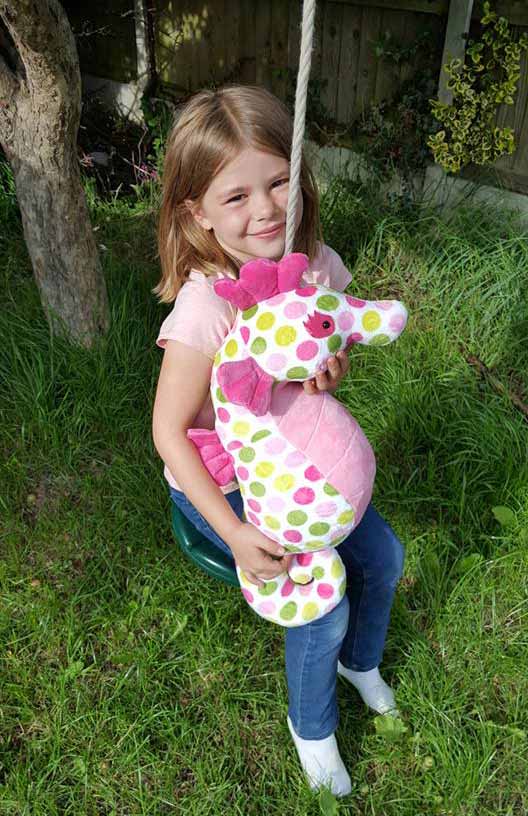 Click HERE to buy the Seahorse pattern.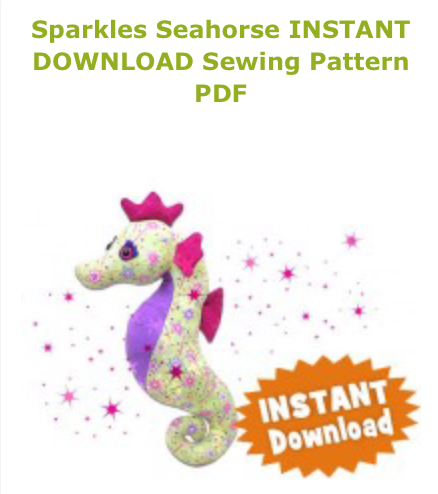 TIP

:

Want to know HOW

to re-size a toy pattern?

If you want to know how to make enlarge a pattern to make a BIGGER toy (or how to 'shrink'(reduce) to make a smaller toy – check out the "How to resize a toy pattern" blog post HERE.

In this post you will find:

How to ENLARGE or REDUCE a pattern.

How to make an EXACT SIZE toy ( a simple math formula).

How to PRINT an enlarged pattern at home (poster print option).
You can't go wrong with a puppy!
Lindsey Mortimer sewed this camouflage fabric Digger Dachshund which clearly was a huge hit! 🐶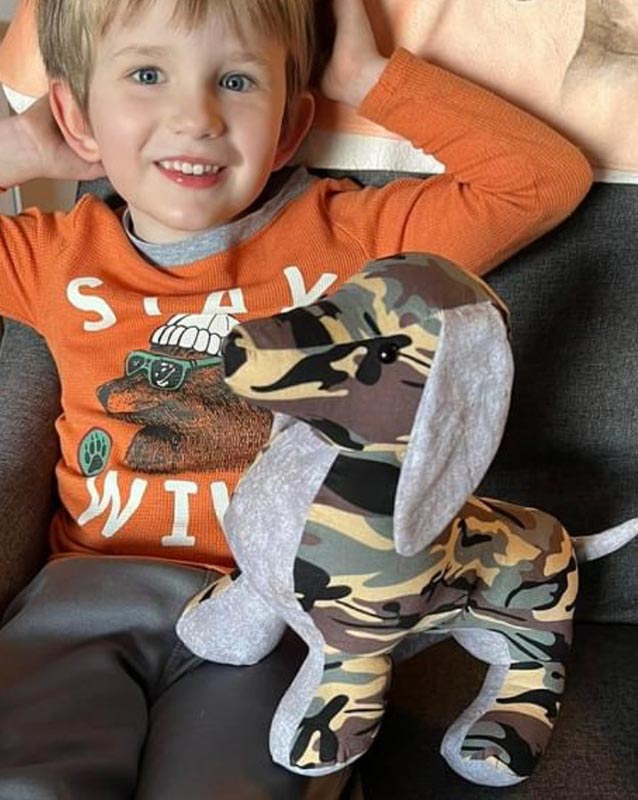 Click HERE to buy the Dachshund pattern.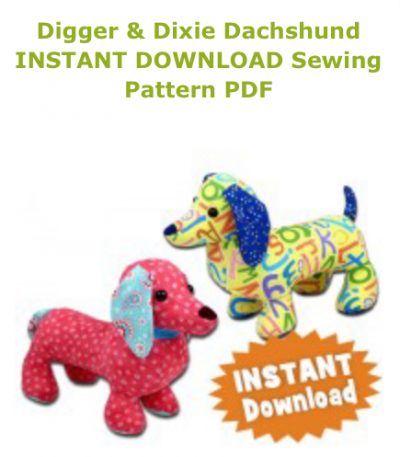 Did someone say dinosaur?
I don't know what it is about dinosaurs but look how happy this little boy is with his cuddly fleece Ttistan Triceratops sewn by Katherine Archers.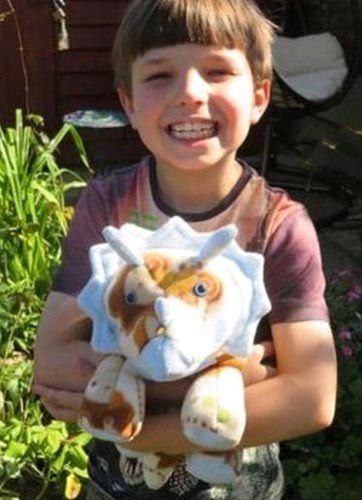 Click HERE to buy the Triceratops pattern.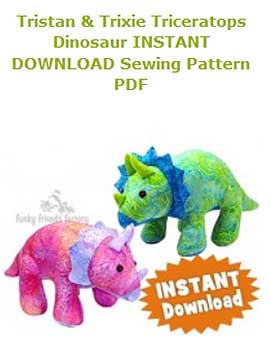 MOST popular FFF toy pattern for babies?
Babies seem to LOVE the bright cheerful colours of Bumble the Bee. Look what a success this gift sewn by Janet O'neil Conlon turned out.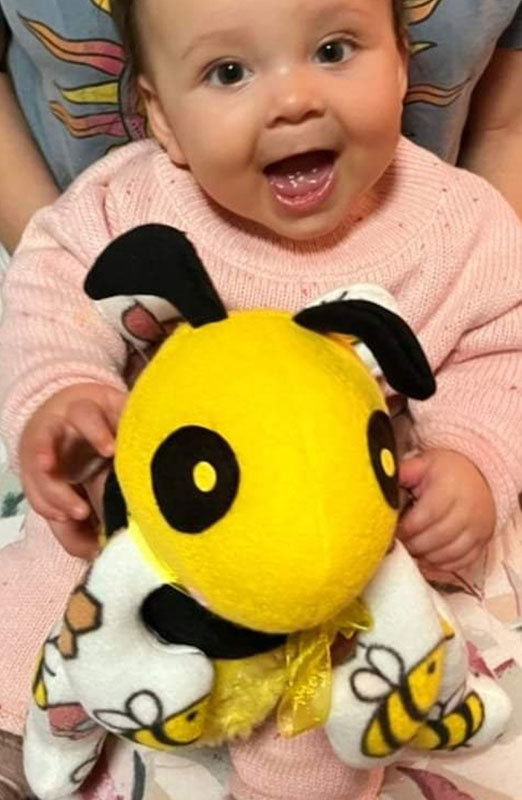 Click HERE to buy the Bumble Bee pattern.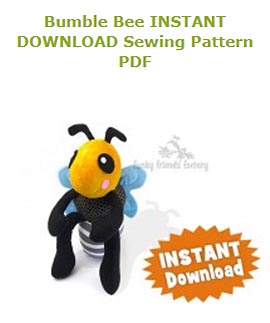 Want to sew something seasonal?

🎄🎅

Jennifer Newman Brown made twin versions of Slush the Snowman for her twin grandchildren. 
Click HERE to purchase the Snowman pattern.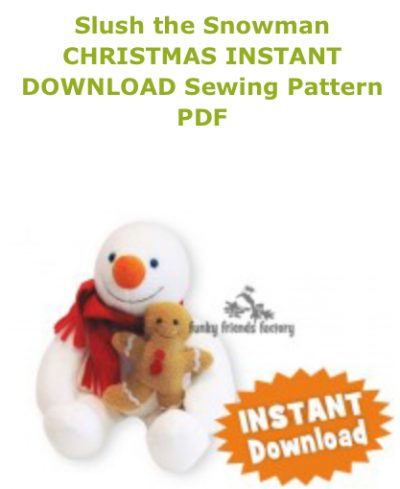 A Reggie Reindeer makes a very sweet baby gift for a baby's first Christmas, like this sweet feedback pic from Gail of Gail's Sewing Room.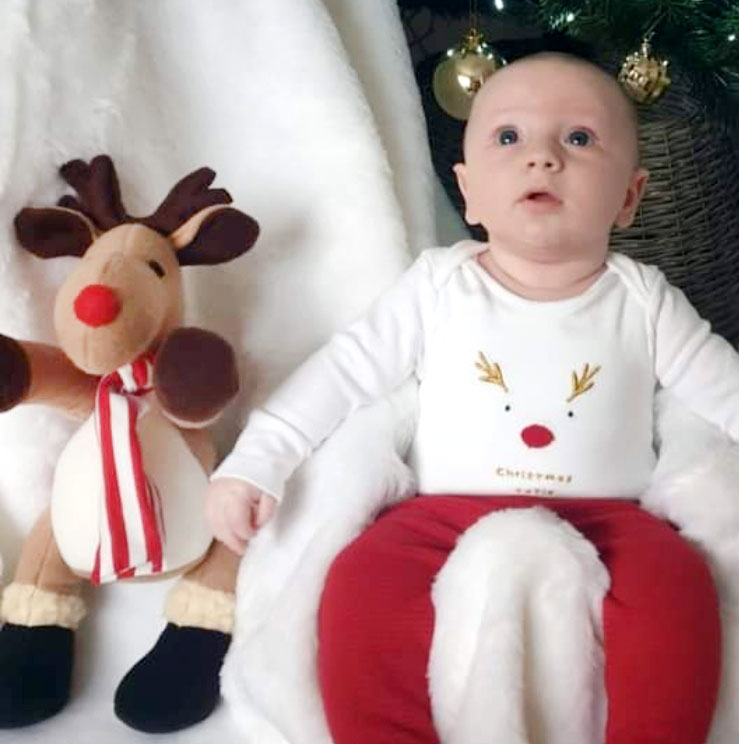 Click HERE to buy the Reindeer pattern.
Looking for other top gift picks?
Checkout our Holiday Gift Giving Guide HERE! We've got nearly 100 options divided into categories from babies to adults, plus photos of people holding the toys for scale. You'll find gifts for everyone on your list…even those "hard to buy for" teenagers!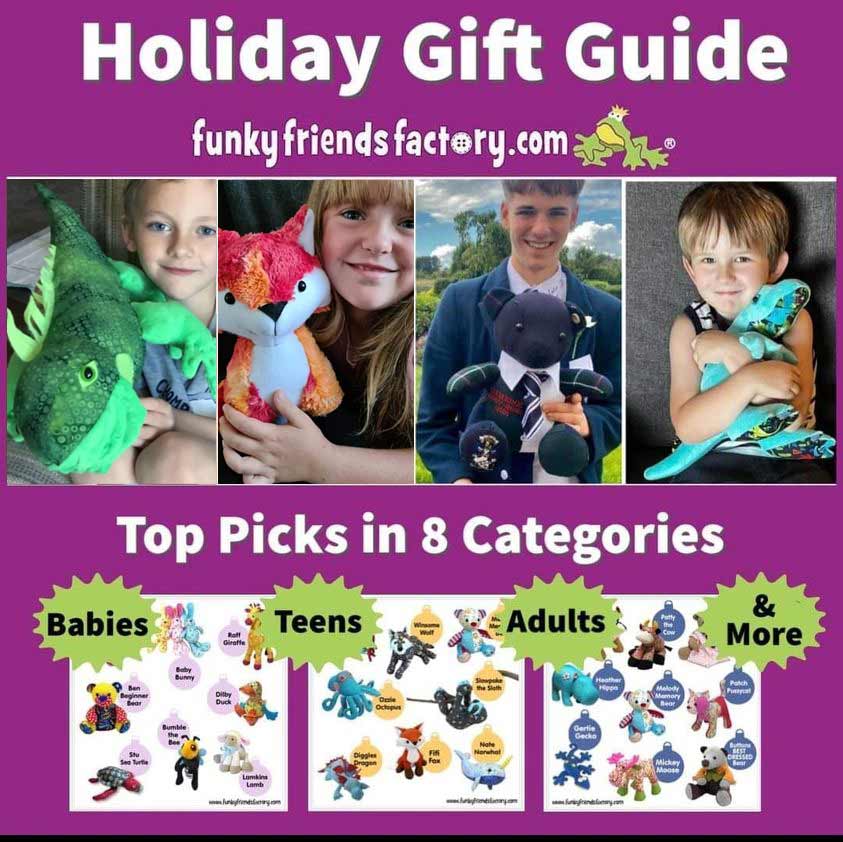 Need some gift tags?
Whether you make toys as gifts, or sew toys to sell – a hang tag is a great reminder that your creations are "Handmade with love" ❤️Get the FREE printable tags HERE!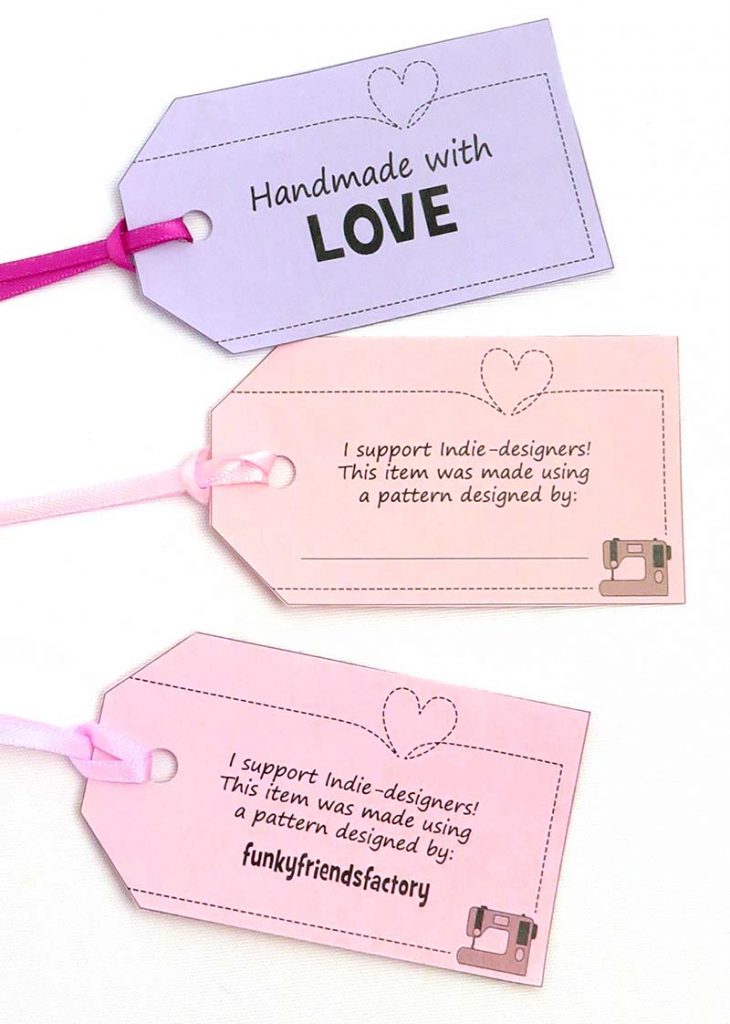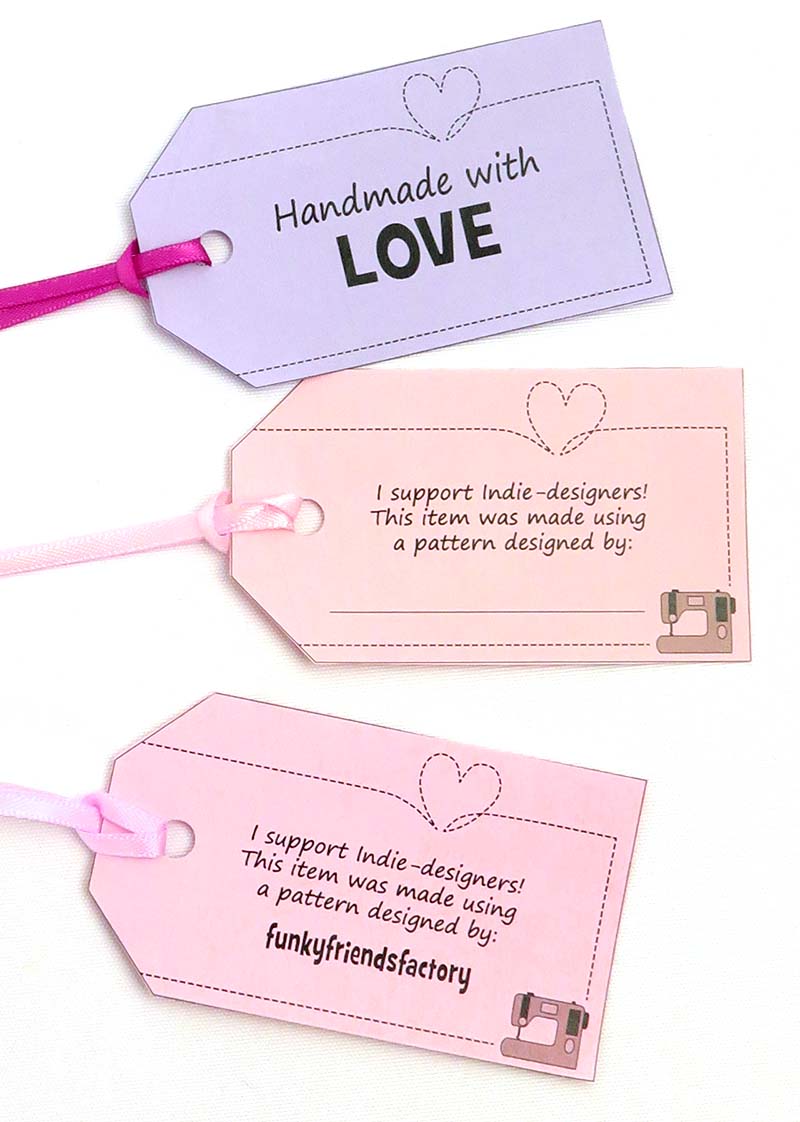 It's such fun giving someone a gift that you know they'll LOVE – and this should give you LOTS of fun inspiration for everyone on your gifts list!
Leave me a comment below – I'd love to know what Funky Friend you'll be sewing this silly season!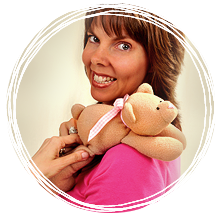 .
Till next time,
Happy Sewing,
Pauline
xxx