If you're looking for some great holiday gift ideas, this edition of Maker of the Month has fun examples, including some feedback pics of kids holding their new Funky Friends. We've also got some exciting firsts, including a Calico Bear that's 5 feet tall and a great photo of a Slowpoke Sloth toy meeting a REAL sloth! There's also a clever gift idea for expectant moms, new moms, and all moms! Read down to the end of the post to find out who won.

Let's take a look…
What a sweet toy to sew for a baby's first Easter – Easter Bunny Bunny sewn by Erica Woolmington – is pretty much the same size as the baby!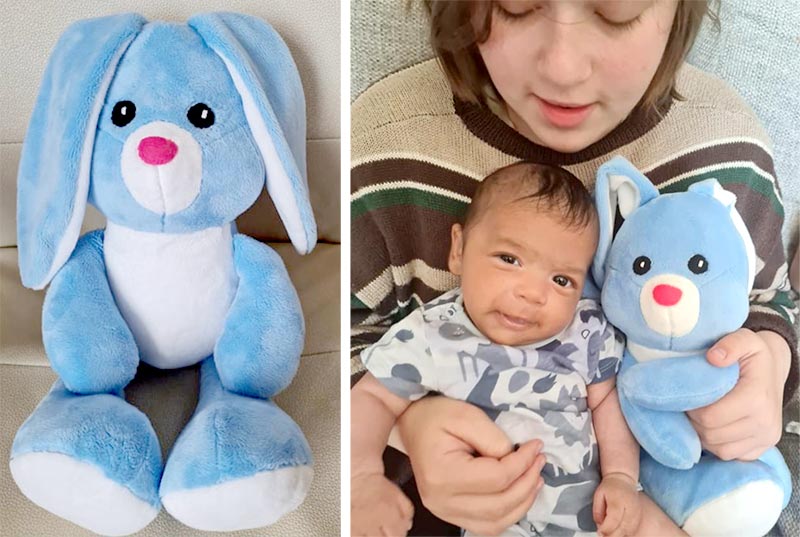 Click HERE to buy the Easter Bunny pattern.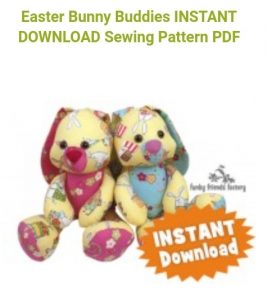 This gorgeous Slowpoke Sloth was sewn by Diana Sageser for someone VERY special…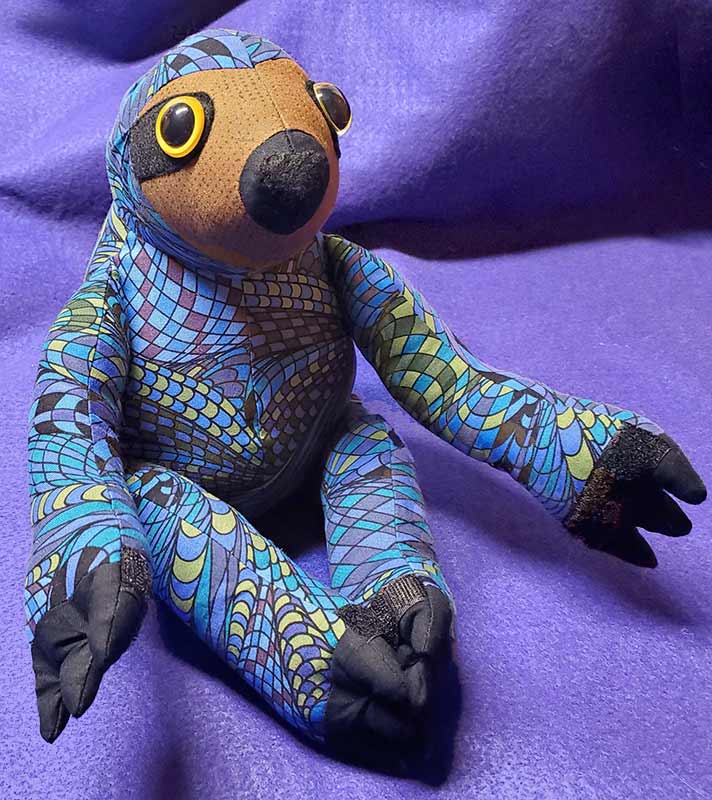 And here she is
delivering it in person!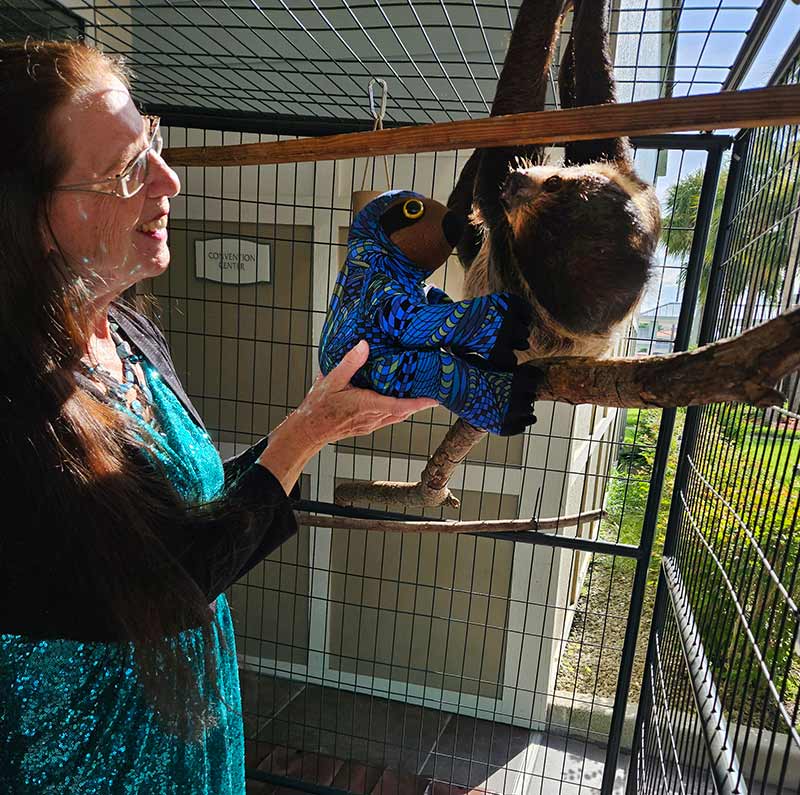 Click HERE to buy the Sloth pattern.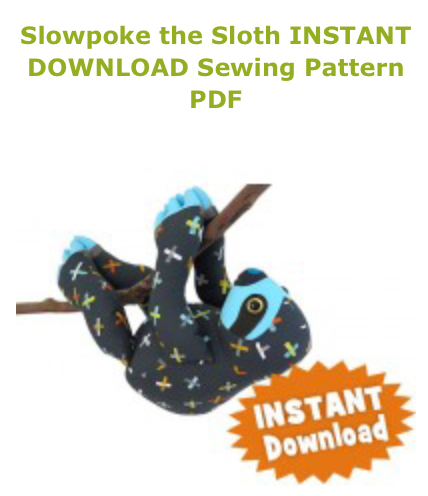 Next up, some happy hippo homemade toys!
Gene Anderson sewed this happy herd of Heather Hippos out of Tula Pink Everglow fabrics. They're even got false eyelashes.


Sandie Varjgt Oravec sewed this sweet little version of Heather Hippo at 60%. I love how she included the soda can for reference.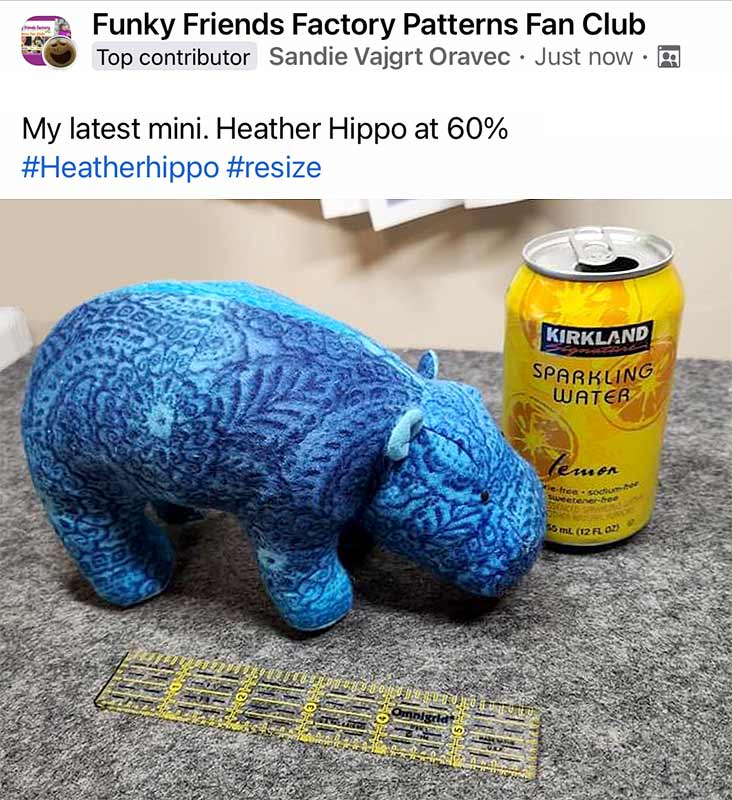 Click HERE to buy the HIPPO pattern.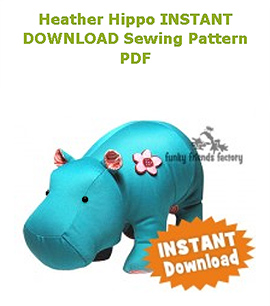 This gorgeous Ollie Owl was sewn by Nat Egan…. I love the thick running stitch she's used to highlight the eyes, beak and wings!!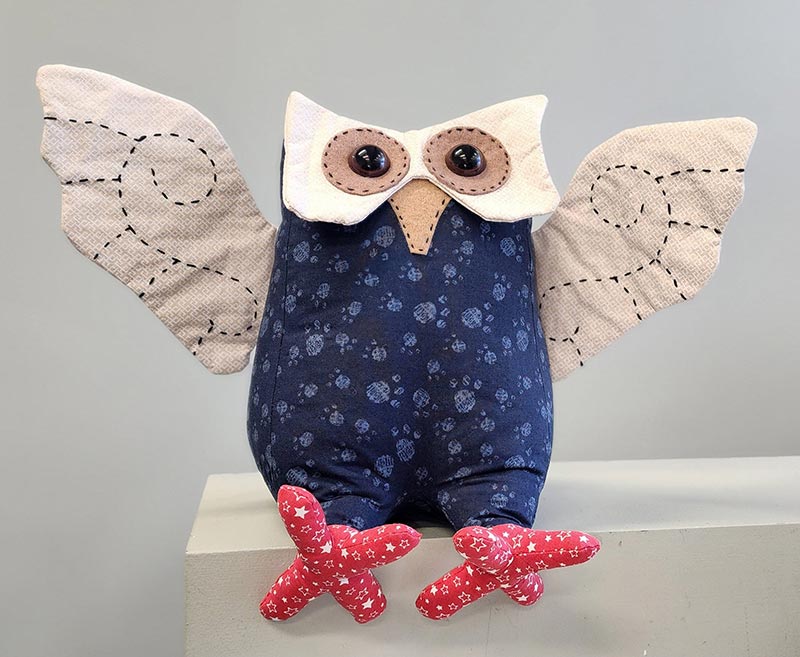 Click HERE to buy the Owl pattern.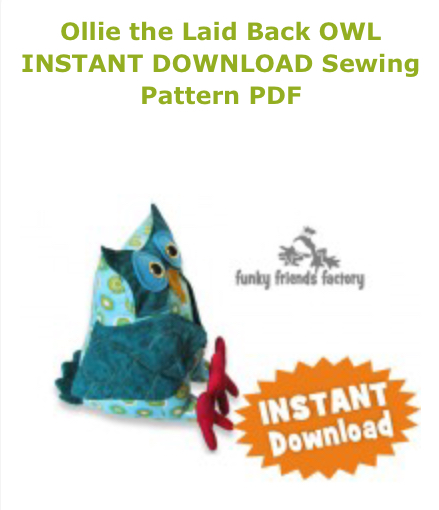 Artie Aardvark looks great in any colour as you can see with this seasonal softie sewn by Jennifer Eggleton in shades of Fall (Autumn). 🍂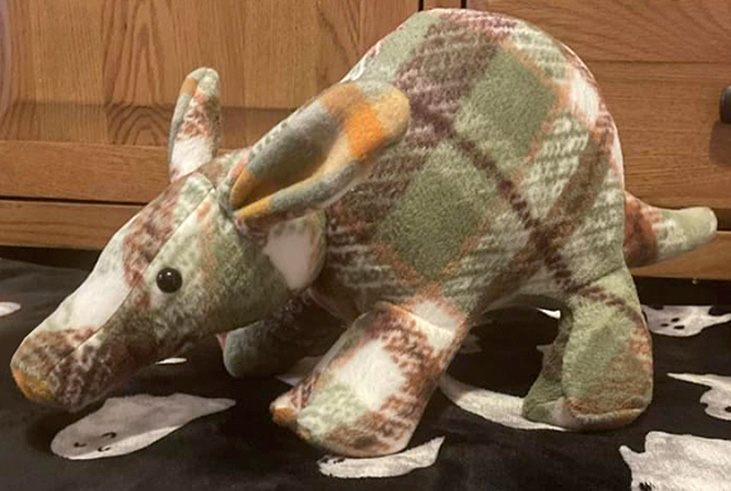 Click HERE to buy the Aardvark pattern.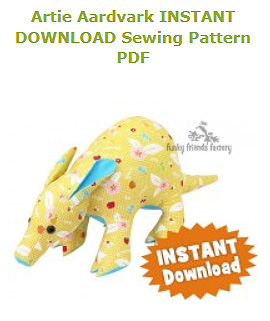 This marvelous menagerie of Mango Meerkats was sewn by Rene Kolb for a friend – to give them to HER friends as gifts! What am A-M-A-Z-I-N-G gift for a friend!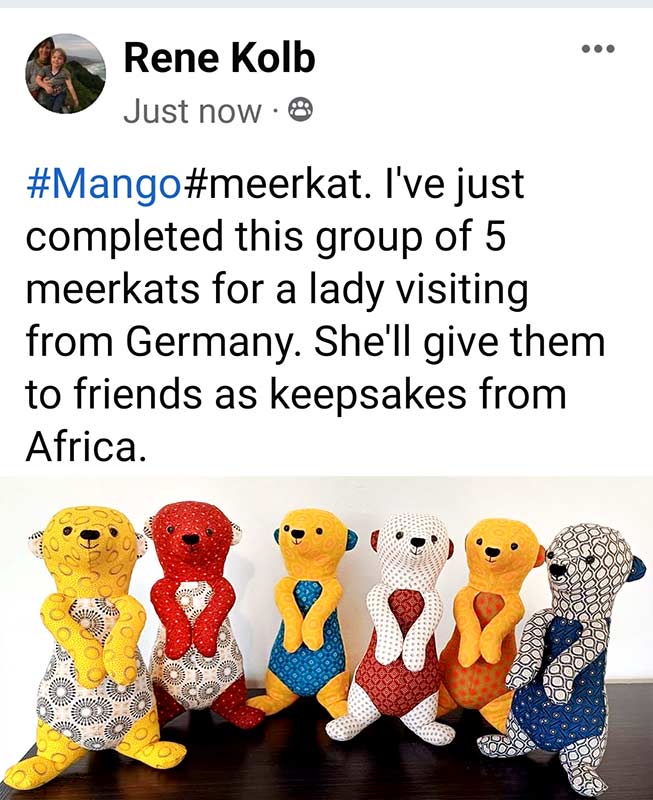 Click HERE to purchase the Meerkat pattern.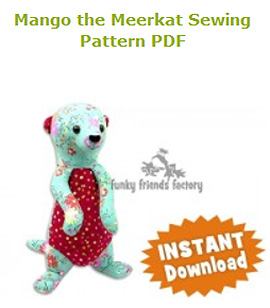 This was a great month for the Unix Unicorn Pattern!
This unique version of the Unicorn Pattern was sewn by Anna Osbourne – using faux/fake fur and shiny gold fabric!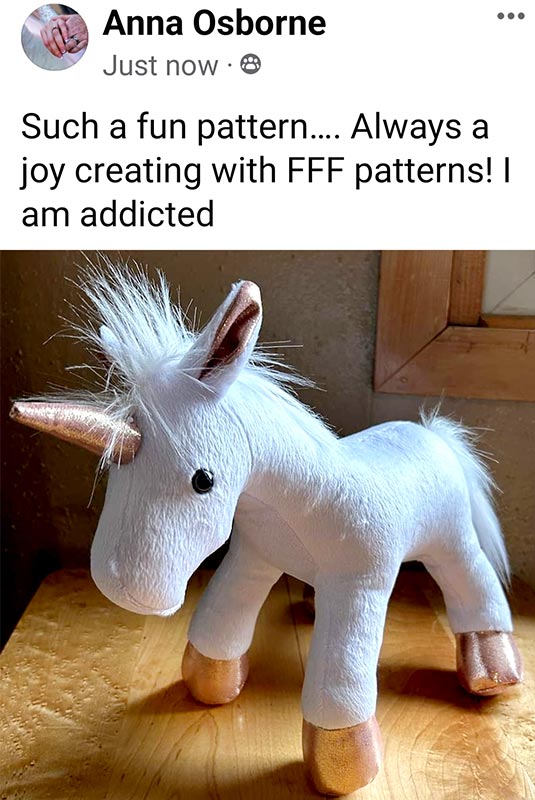 This fun pair of Unix Unicorns was sewn by Susan Lipka – at 100% and 80%. She used some fun variegated yarn for their manes. 🧡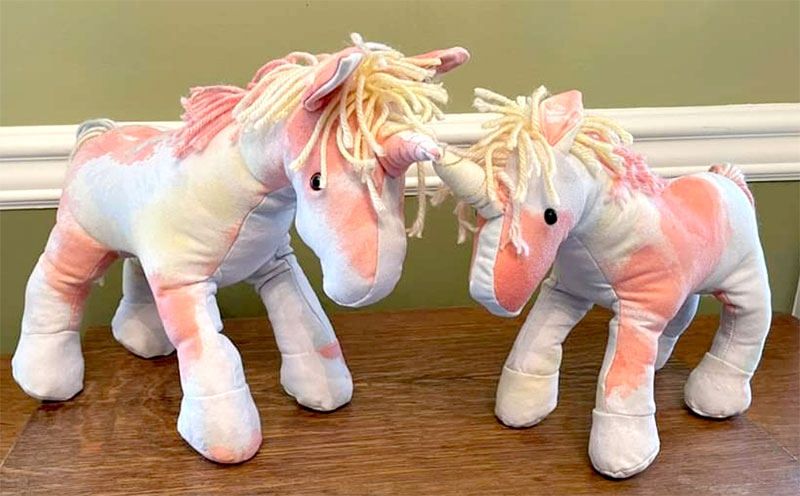 This cute colourful pair of Unix Unicorns was sewn by Jane MacKenzie… aren't these bold colours AWESOME for a unicorn toy?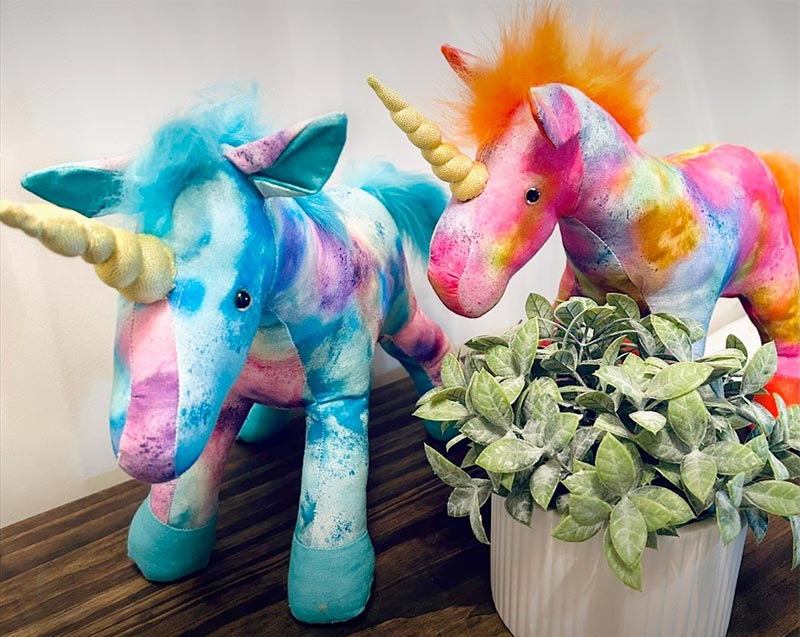 This rainbow Unix Unicorn was sewn by Martina Starc. She added some crochet tassels for the mane – verrrrrrry cute!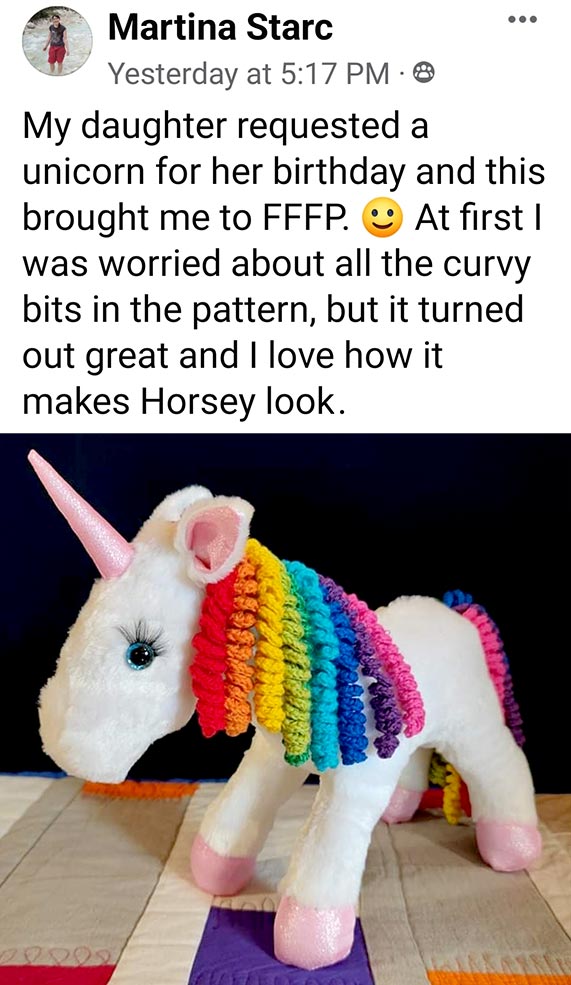 Click HERE to buy the Horse & Unicorn Pattern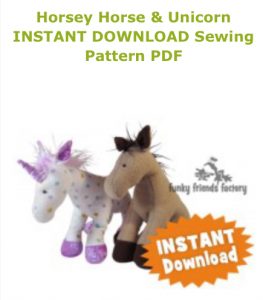 Talking of magical creatures… in minature!
This delightful version of the Diggles Dragon sewing pattern was sewn by Paddi Sprecher from a man's sequined shirt.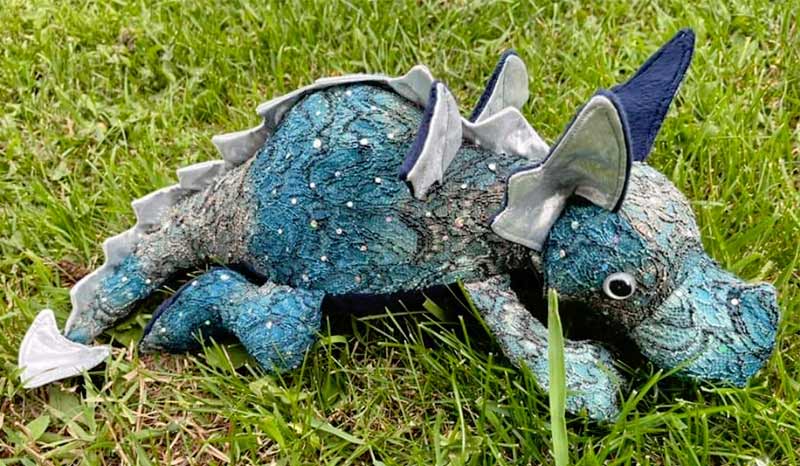 Click HERE to buy the Dragon Sewing pattern.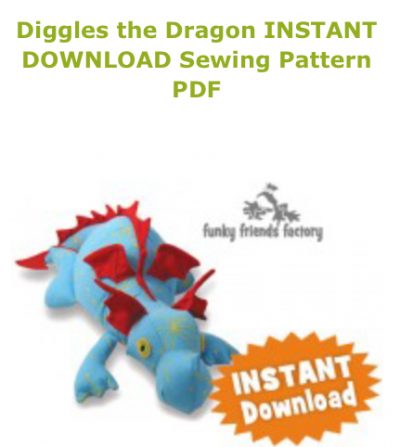 Another terribly cute TINY toy –Trixie Triceratops sewn by Sandie Valgrt Ovarec.
Isn't Trixie
too cute at 60%?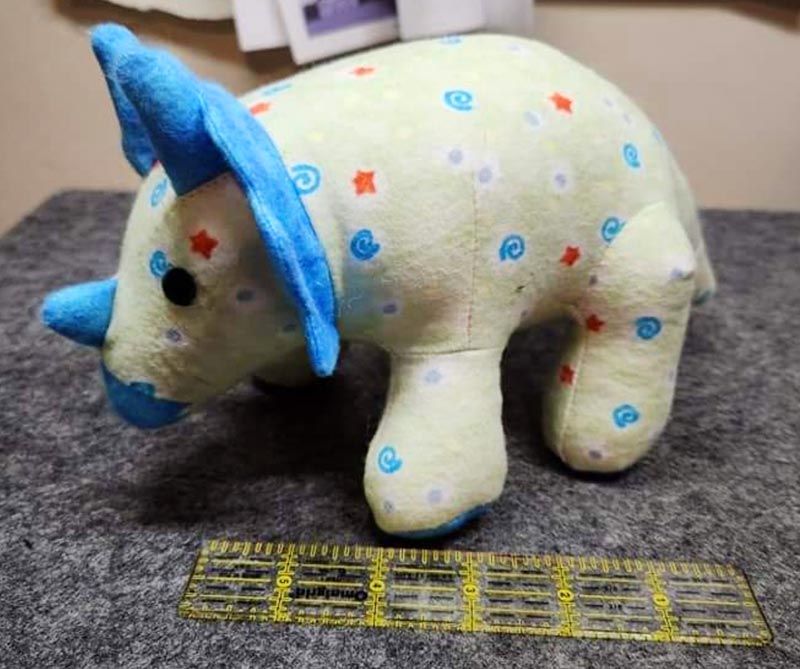 Click HERE to buy the Triceratops pattern.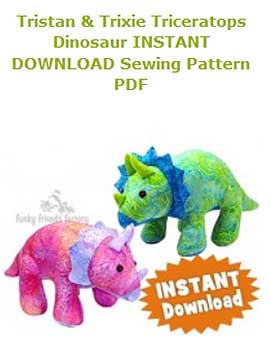 Now for a bit of fun! These fluffy Fleur Flamingoes were sewn by Lisa French. she embroidered some fun eyes too!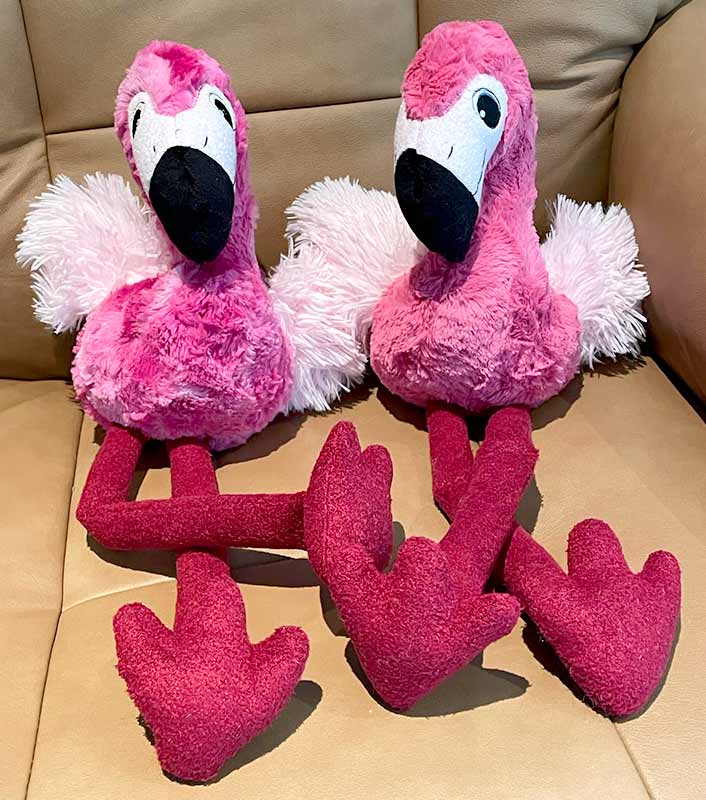 Click HERE to buy the Flamingo Pattern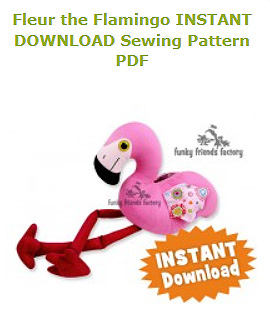 We had some super cute memory bears this month!
This Melody Memory Bear Pattern was sewn by as a signature bear by Lynette Colley. I love the way she's added a pop of colour with a fun patterned fabric!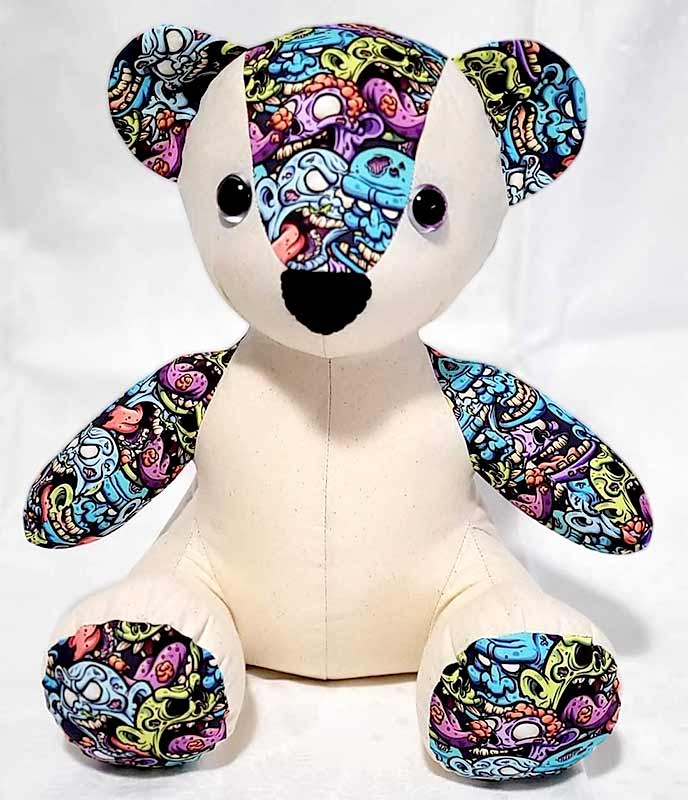 Click HERE to purchase the Melody Memory Bear Pattern.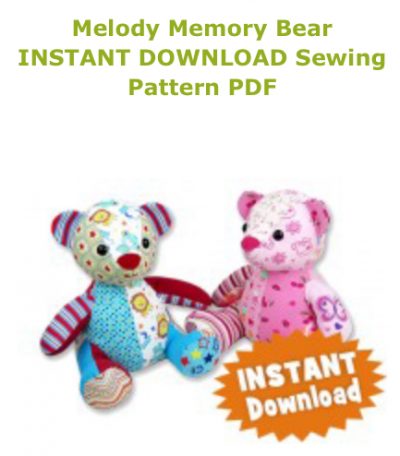 This smiley Keep Me Keepsake Bear pattern was sewn by Bernadette Walsh. Memory toys made with clothes in matching colors looks especially cute.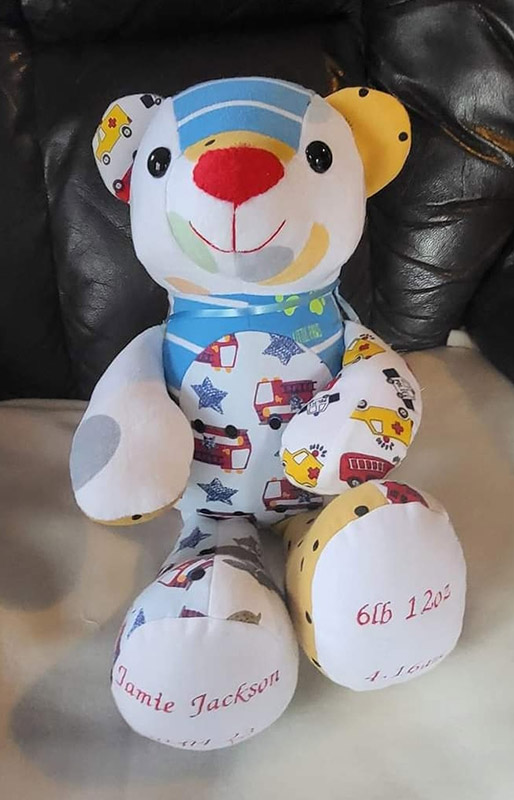 This photo shows the Keep Me Keepsake Bear pattern sewn from lots of different fabrics including fake fur by… it's amazing how different each bear looks – but they're equally cute!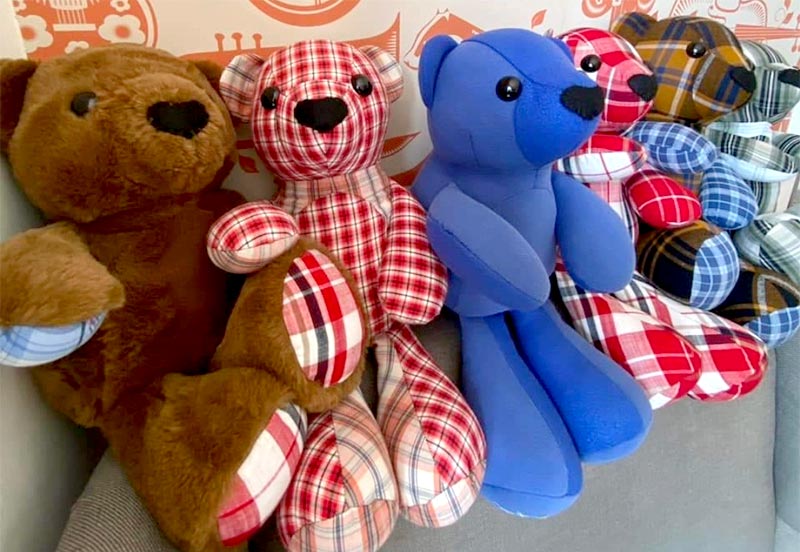 Click HERE to purchase the Keepsake Bear pattern.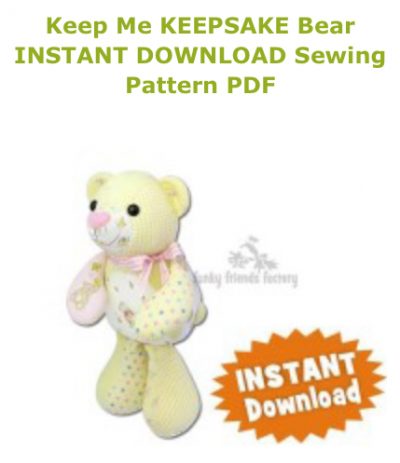 This sweet Calico Signature Bear was made from several pieces of clothing by  Ange Angela. If you look closely you can see the penguin logo of a man's shirt on the bear's tummy.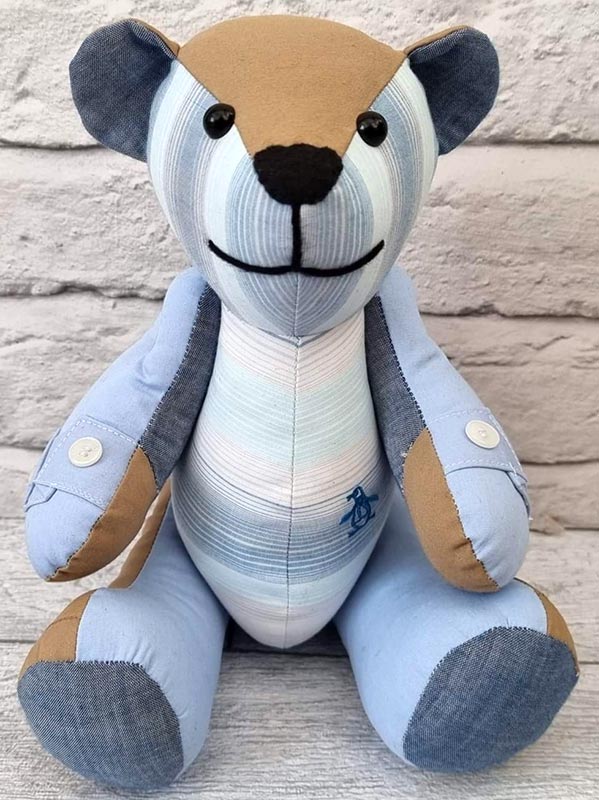 This ENORMOUS Calico Signature Bear was sewn by Chris Barnes from his military fatigues and nylon flags. He enlarged the teddy bear pattern 350% – so it's 5ft tall!
(He used 4inch(10cm) wooden buttons for the button-joints, and 1,5inch (38mm) craft eyes and 25lbs(11kgs) of toy stuffing!)
And here he is
sitting on a car!!!!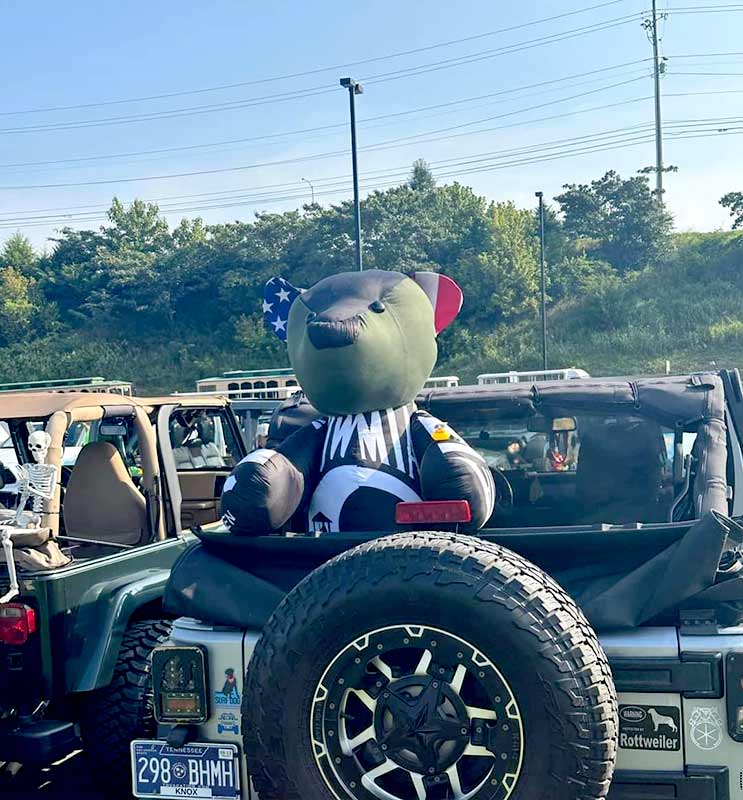 Click HERE to purchase the Signature Bear pattern.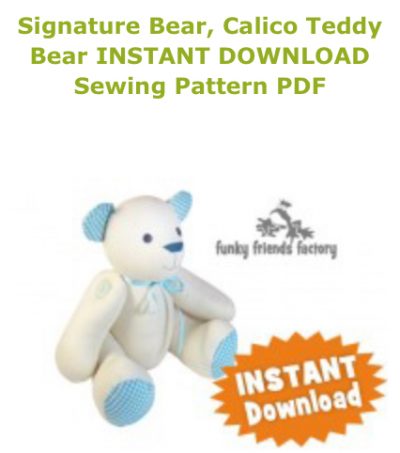 This Buttons the BEST DRESSED Bear was sewn by Julie Shea. He's wearing a jaunty denim hat made from my free flat cap pattern, which is available with ALL my Free Patterns HERE… or you can click to download just the Flat Cap pattern with the link in the TIP BOX below.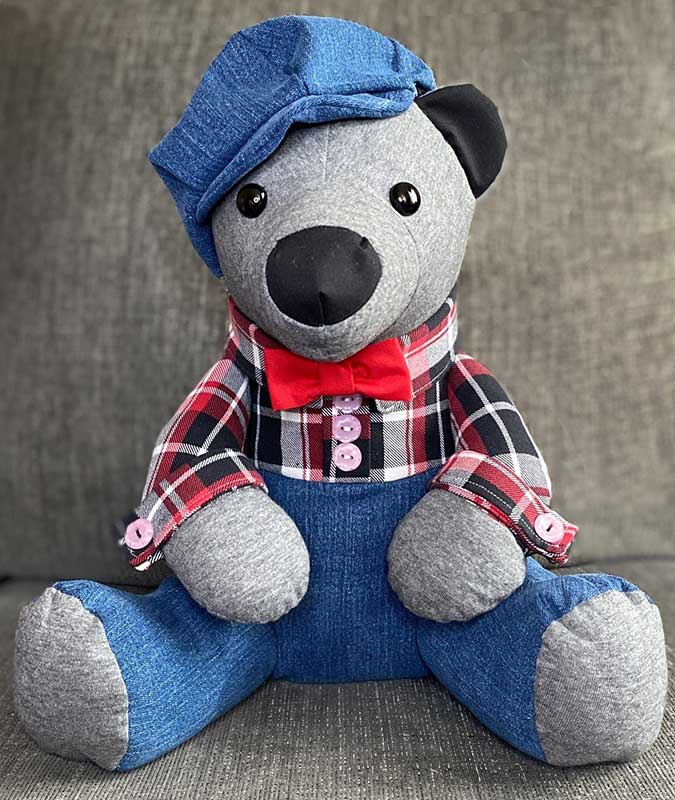 These 3 adorable Buttons BEST DRESSED Bear were sewn by Margye Morse… (Thanks for the lovely compliment Margye!💗)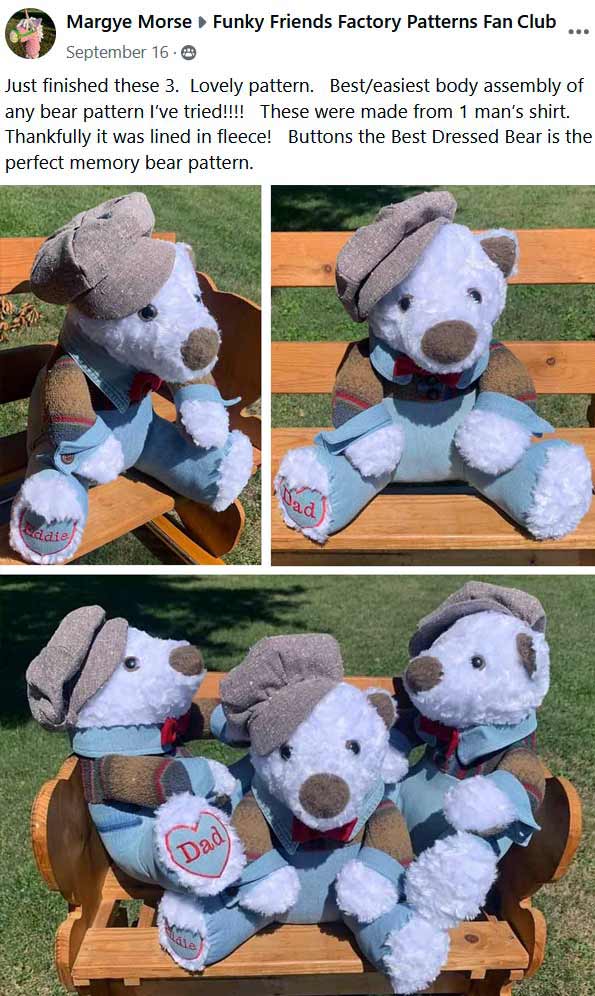 Click HERE to purchase the BEST DRESSED Bear pattern.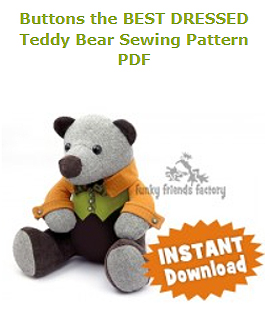 TIP

: Want a FREE flat cap pattern for a teddy bear or soft toy?

I have design a flat cap pattern for my teddy bear patterns. I have also created a step-by-step photo tutorial so you can see how to sew my FREE flat cap sewing pattern!

CLICK HERE for
a FEE Flat Cap pattern & tutorial!

This Kelsey Keepsake Unicorn was sewn by Sarah Weinert…. in mermaid fabric!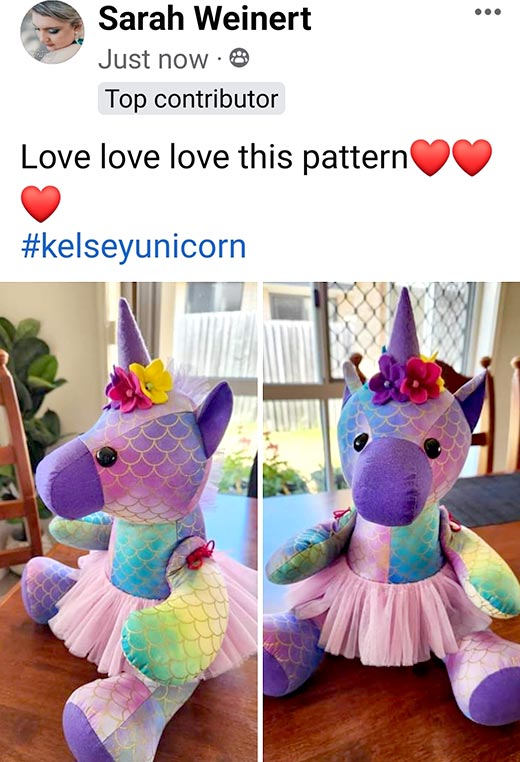 Click HERE to purchase the Keepsake Unicorn pattern.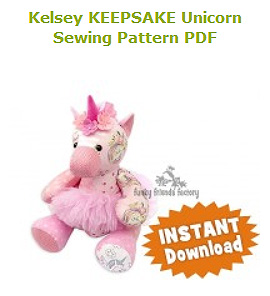 This Ben BEGINNER teddy bear was sewn by from a sweater by Joanne Kearne – isn't she an adorable keepsake bear?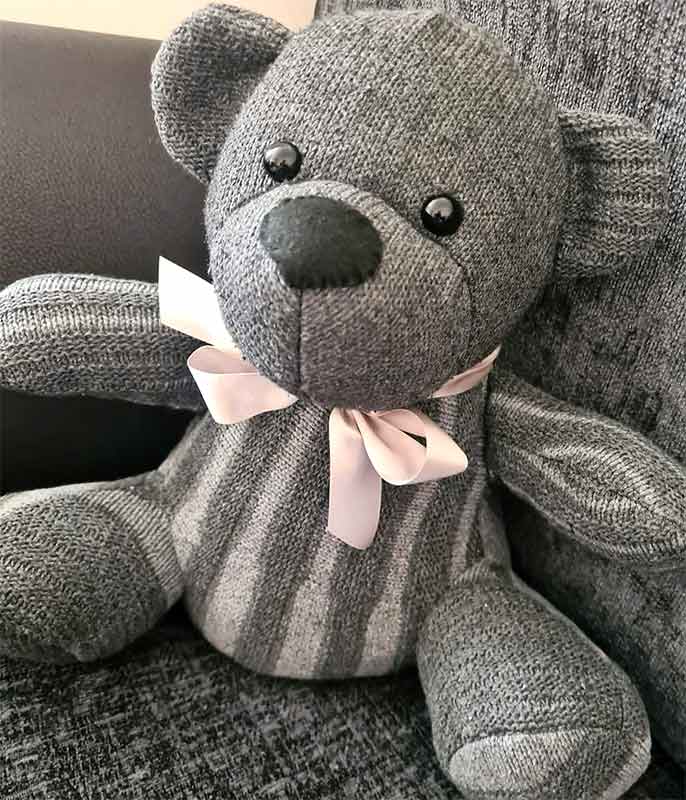 Click HERE to purchase the BEGINNER teddy bear pattern.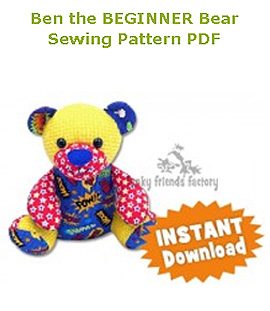 AND this month's winner is…
Congrats to this month's winner Diana Sageser who sewed this Ben BEGINNER teddy bear for her stepdaughter-in-law's fourth little boy. She found that the baby onesie fit perfectly on the tummy piece. Ben the Beginner Bear is designed with a single, no-seam tummy to fit clothing designs like this onesie. The striped fabric is a hospital receiving blanket. This is a great gift idea for any parent or grandparent!
CONGRATS Diana! You win
a FREE Funky Friends Factory Pattern ~>
of your choice!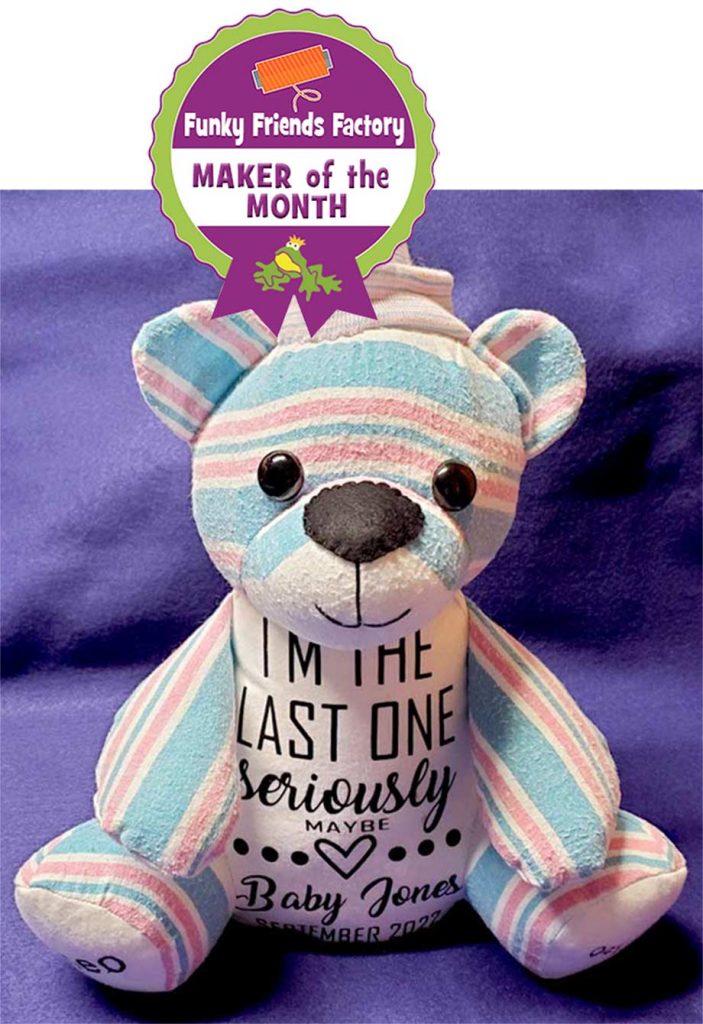 Click HERE to purchase the BEGINNER Bear pattern.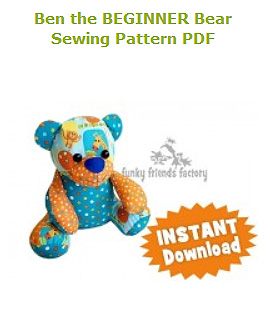 Want to win a
FREE toy pattern?
It's so EASY to enter the Pattern GIVEAWAY!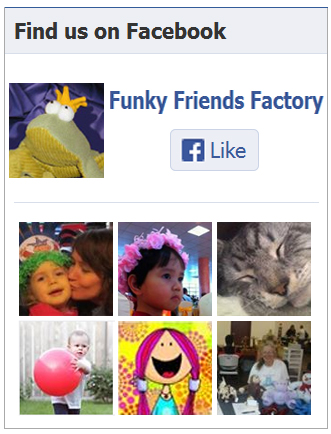 ALL you need to do is post a photo of a FUNKY FRIENDS FACTORY toy that you have made on the Funky Friends Factory Facebook Page .
At the end of each month I draw a winner and post the winner's name on the Blog the following MONTH. I have an Album on Facebook for all the MAKEROFTHEMONTH winners. You can check it out HERE!
NOT on Facebook? ENTER by email! 😀
*** You can send me your photos by email too!
So come on! Share your photos  ~> The next winner could be YOU!!!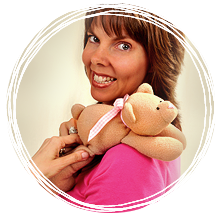 .
Till next time,
Happy Sewing,
Pauline
xxx