Some Funky Friends Factory toys have button jointed limbs (Reggie Reindeer, Calico Signature Bear, Chrissy Camel and of course, the newest kid on the block – Kelsey the Keepsake Unicorn pattern) so I have made this photo tutorial for those of you who haven't done this before.
Button joints are a simple way of making movable parts for a soft toy or doll. They are made with normal buttons and some strong thread. I like them because there's no need for fiddly nuts and bolts like you have with traditional teddy bear joints! This jointing process itself is easy –
all it takes
is a little bit of practice!😁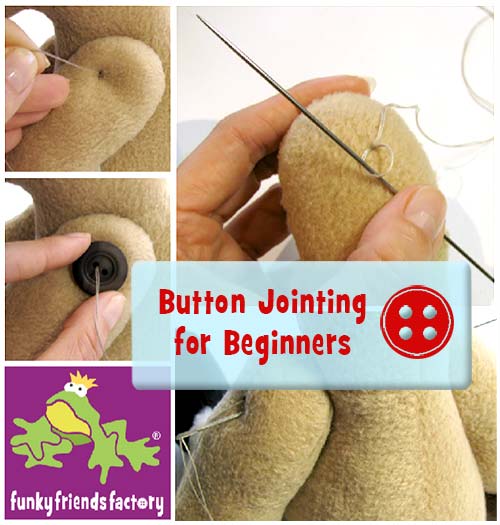 I like to do button joints in TWO stages:
FIRST I sew the arms on, THEN I sew on buttons.
I'll tell you why later…
OK, let's show you HOW to do this!!!
STEP 1:Get the right needle & thread.

You will need a long doll's needle and strong thread. My needle is 7inches/18cm long, I find this is long enough, I have seen longer ones but a long needle is much harder to handle.If you don't have a doll's needle, use a long darning needle and squash the toy till the needle 'pops' out the other side – beware of pricking your fingers! I use Gutterman Topstitch thread or upholstery thread. You can also use dental floss for extra strength and durability. It is a bit 'sticky" but is very strong, which is also good when you want to pull the joints nice and tight!
STEP 2

I use my doll's needle to line up the arms in the right position on the body. (You can use lots of pins if you don't have a doll's needle)
STEP 3

I use a permanent marking pen to mark where the needle went in and out of the arms and body. (Remember to mark the arms on the outside AND inside as you'll be sewing right through them!)
STEP 4

Secure the thread with a knot on the inside of one of the arms.
STEP 5

Then sew through Reggie's body… (Sounds a bit gruesome!)
STEP 6

… and through his other arm! (OUCH!)
STEP 7

Sew back and forth a few times, pulling the arms into the body a bit. Make sure that the arms are pulled tight, as they will loosen up a bit with time.(I normally make them tight enough so that the arms can just twist around.) Secure the thread with a knot on the outside of the arm, then CUT your thread.


You may be wondering why I don't just sew the arms AND buttons on at the same time…?
From past experience, I found that I couldn't pull the Button Joints as tightly when I sewed the arms and buttons on in one step. I find it's much easier to make sure that the button-joint is pulled nice and tight, and tied very securely first, before I add the buttons and so now I always do it in two stages like this! This is also good when you want to change to a coloured, decorative thread, that may not be very strong, but will match your buttons! When I made Chrissy the Camel I used an aqua blue embroidery thread which matched her lovely turquoise buttons. This wasn't very strong and would have snapped if I tried to pull the button joints nice and tight!
STEP 8

Change to a darker thread now if you want to match your buttons. Secure the thread with a knot on the outside of the arm.
STEP 9

Thread on the first button, sew through the body and arms as before, but this time going through the buttonholes, threading on the other
STEP 10

Sew back and forth a few times, then sew in through the button and come out of the body between the body and the other arm.
STEP 11

Finish off with a knot on the inside of the arm so that it will be hidden between the arm and body.
STEP 12

Sew back into the body and come out at the back. Pull the knot nice and tight. (If you pull your thread out of the body a little bit as you snip it, so that the end 'springs' back inside the body.)
And that's it! Your toys should turn out 'cute as a button'!
Please share the LOVE!!! If you think this information was helpful – share it with your crafting friends!!! 💗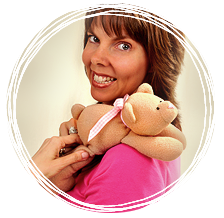 Happy sewing,
Pauline


PS: Please let me know if you have any more Button Jointing tips to add!