There's only one week left until Valentine's Day, so I'm showing off LOTS of Valentine toy feedback photos to inspire your seasonal sewing for your sweetheart PLUS there's a Valentines mini-contest so you can
WIN a FREE
Funky Friends Factory Pattern
of your CHOICE!
What's this COMPETITION all about?
Well, you know those sugary conversation heart candies with little phrases on them? Take that idea and apply it to a Funky Friend by adding a fun Valentine's Day message… Don't worry –  you don't need to have a toy finished in order to enter the competition ~ you just have to tell us your cute Valentines message!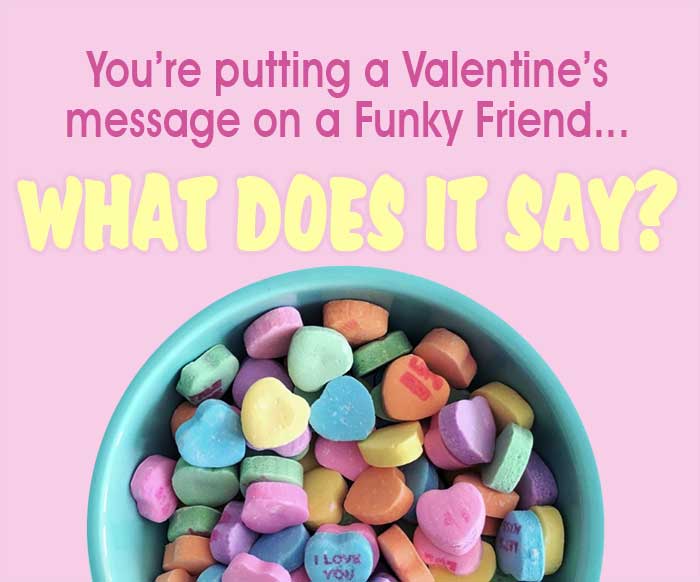 Here an example: wouldn't it be cute to add "Significant Otter" on Oscar Otter's shell or tummy? You can add a phrase with embroidery, heat transfer vinyl letters, or a simple heart-shaped tag or note when you give the toy to your loved one!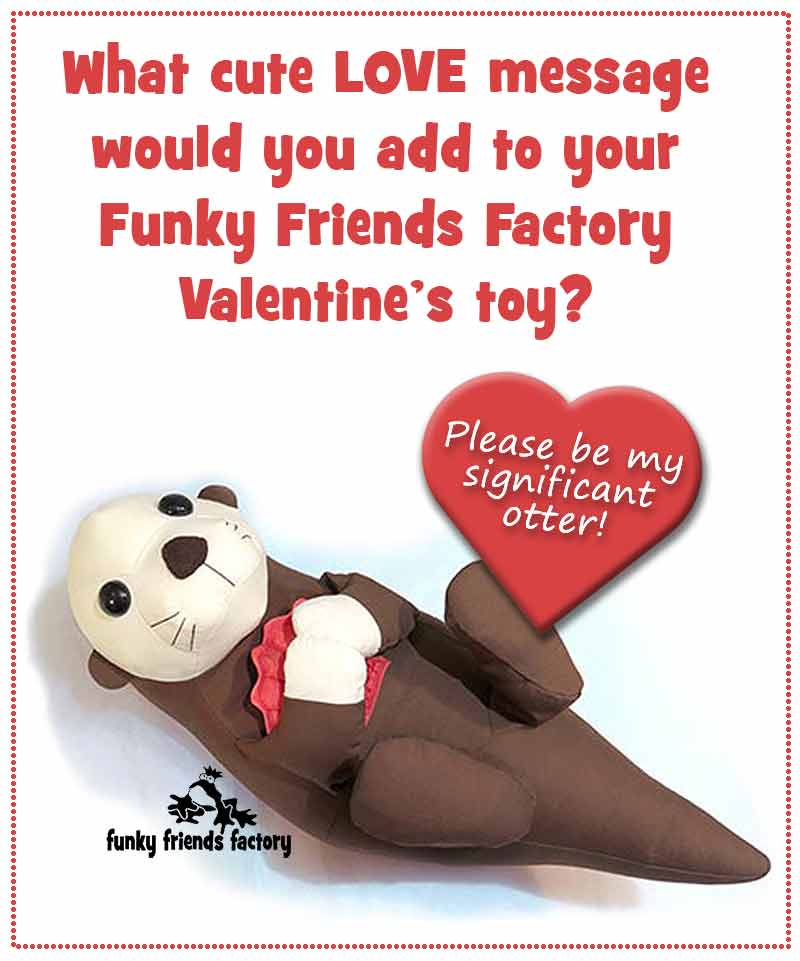 I'll show you some more examples below, but first:
Here's how to enter the contest right now… no sewing required!
To enter to win a free Funky Friends Factory pattern, leave me a comment below telling me WHICH FUNKY FRIEND you would use as a Valentine's Day gift and WHAT CUTE MESSAGE you would attach. For example, you might select Bumble the Bee and add the phrase "Bee Mine." For an alphabetical list of all the animals, just click on the word SHOP in the menu above. You don't need to sew the actual toy, just tell me the Valentine's Day Love Message you'd pair with a Funky Friends animal.
Check out these two examples from Fabulous Fabric Things. Here is their version of the Fifi Fox Pattern can let someone know you think they're "so foxy"
Click HERE to purchase the Fox pattern.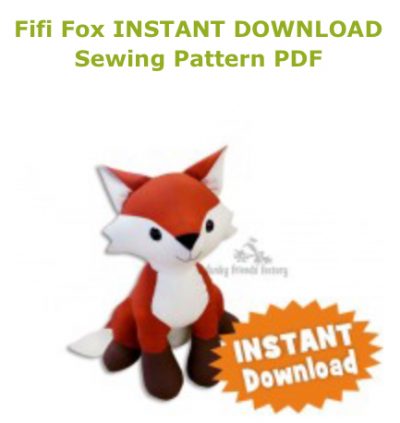 … and Randy Rhino (also sewn by Fabulous Fabric Things) who's feeling pretty "randy" with this cheeky sign added to him!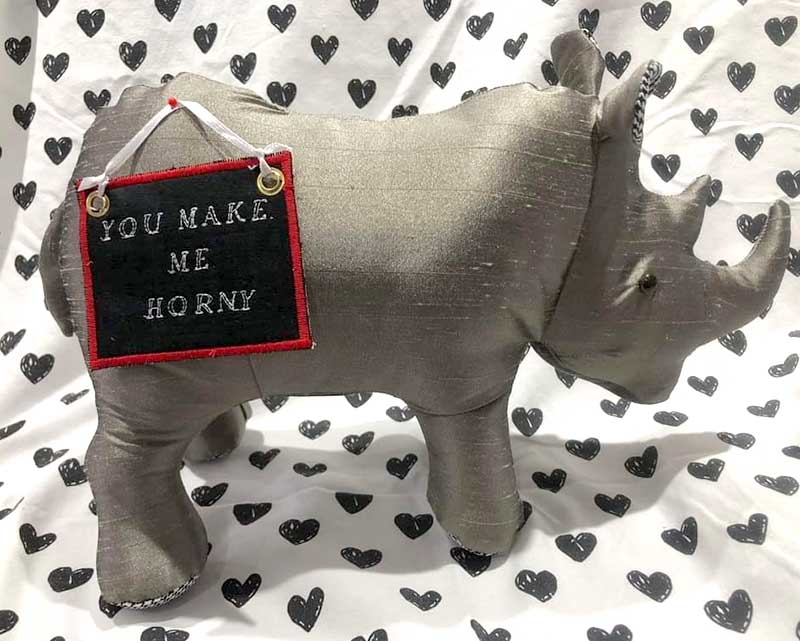 Click HERE to purchase the Rhino pattern.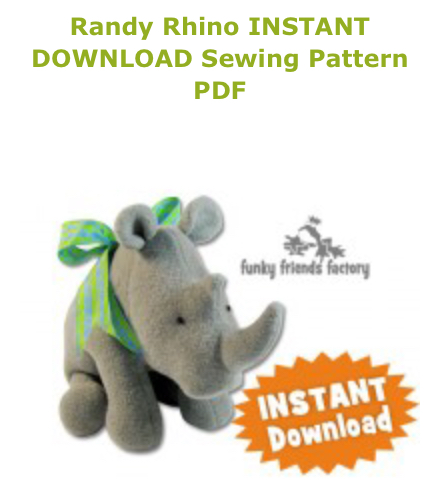 Julie Longland made this denim Larry Lion with a special message on his one paw to tell her husband that he's "roar-some."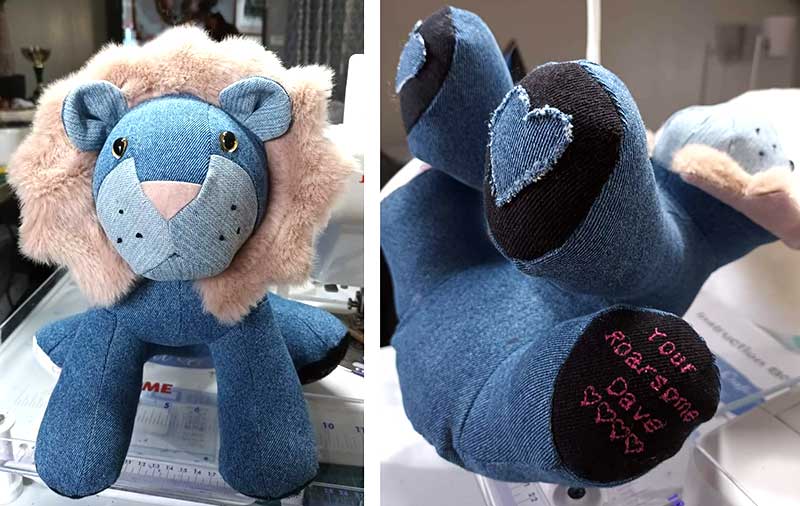 Click HERE to purchase the Lion Sewing pattern.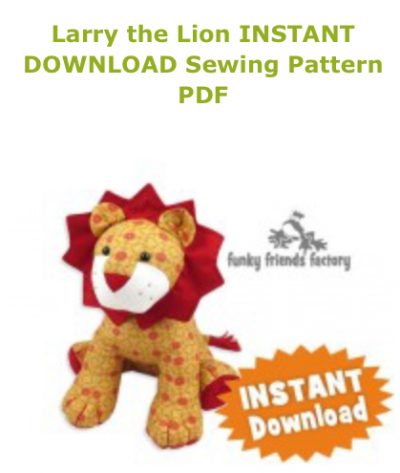 Here are some other toys that say "be my Valentine" with lots of heart
Of course you don't have to add a personalized message in order to make a fun and funky gift…. and please excuse my silly puns!
Barb Olivieri-Scarsella made a super sweet Kitty Kate for her granddaughter. 
AND LOOK!!!!
Her granddaughter's real cat thinks it's "purr-fect" too!!!!!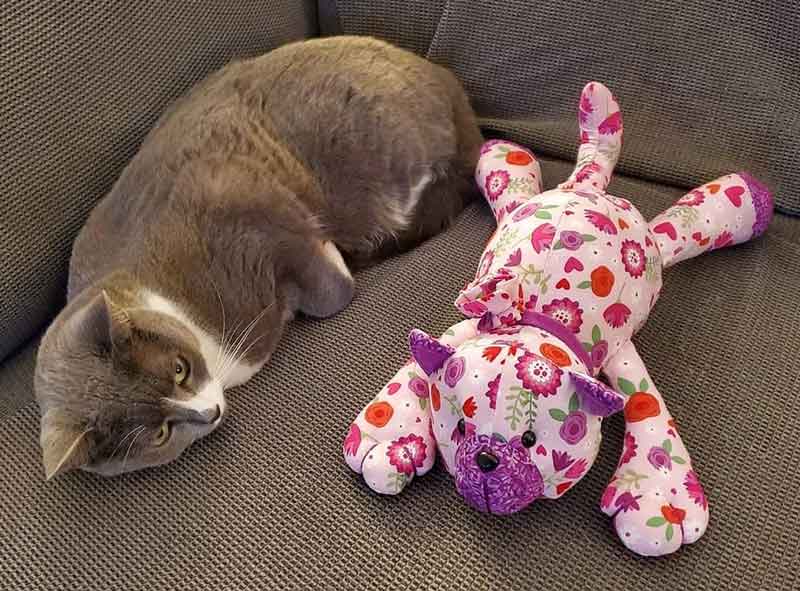 Click HERE to purchase this Cat pattern.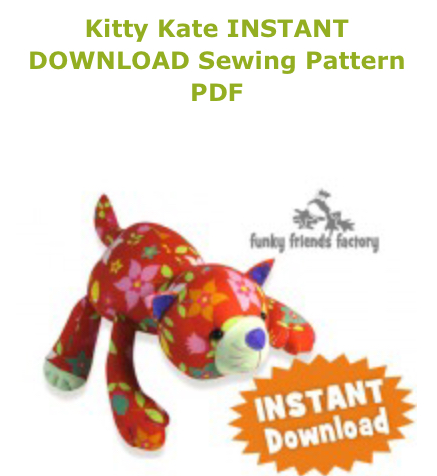 Christine Storrs sewed the Patch Cat Pattern in rainbows and hearts for a bright and cheery gift that's totally "the cat's meow."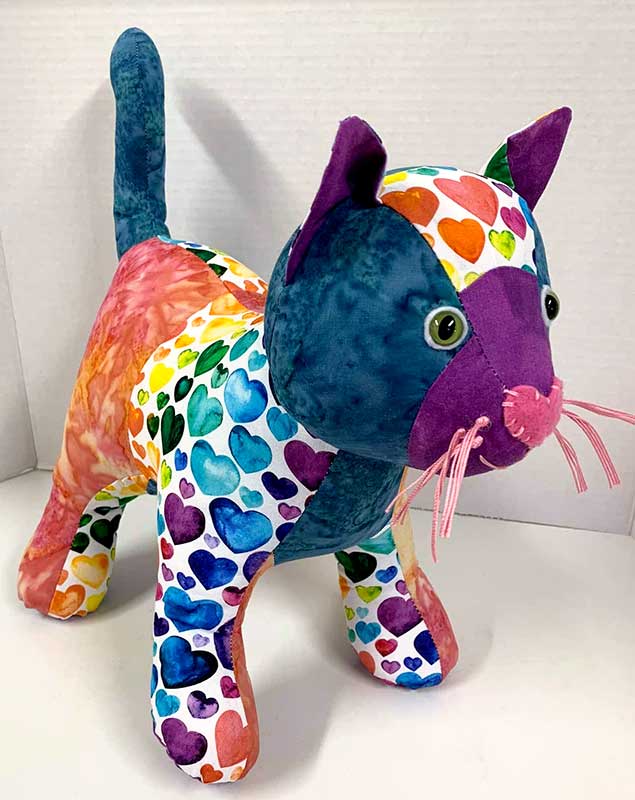 Click HERE to purchase the Patch Cat Pattern.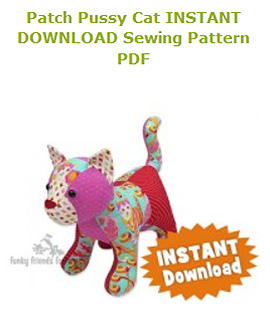 On the "puppy love" front – here's a Puppy Pete by Kathy Vorse Dickinson in Valentine's fabric.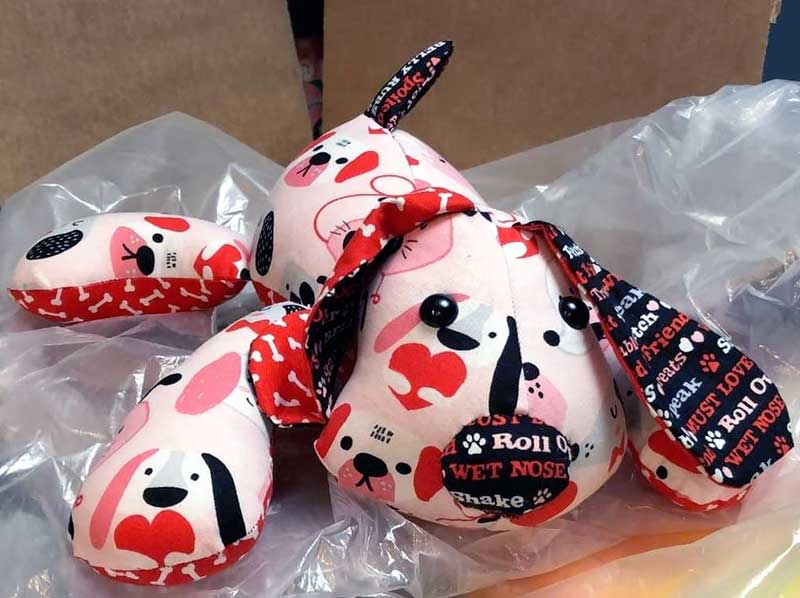 Click HERE to purchase the Puppy Dog pattern.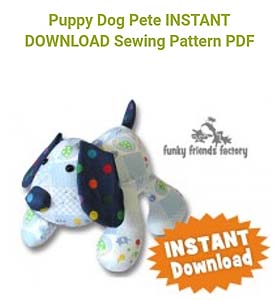 This Petunia Pig sewn by Diana Segasar is perfectly "pretty in pink."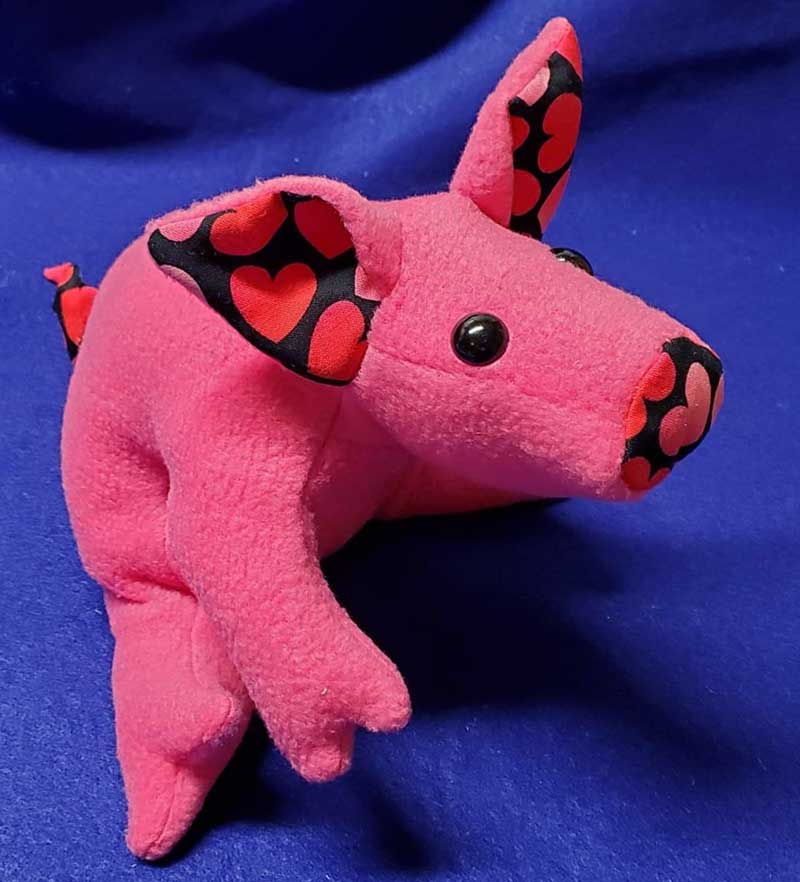 Click HERE to buy the Petunia Pig pattern.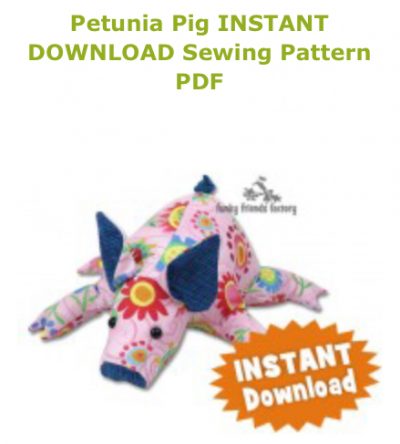 And finally, here's a "tutu cute" Kelsey Keepsake Unicorn sewn by Sharon Hale. The flower buttons down the front look great with the tutu!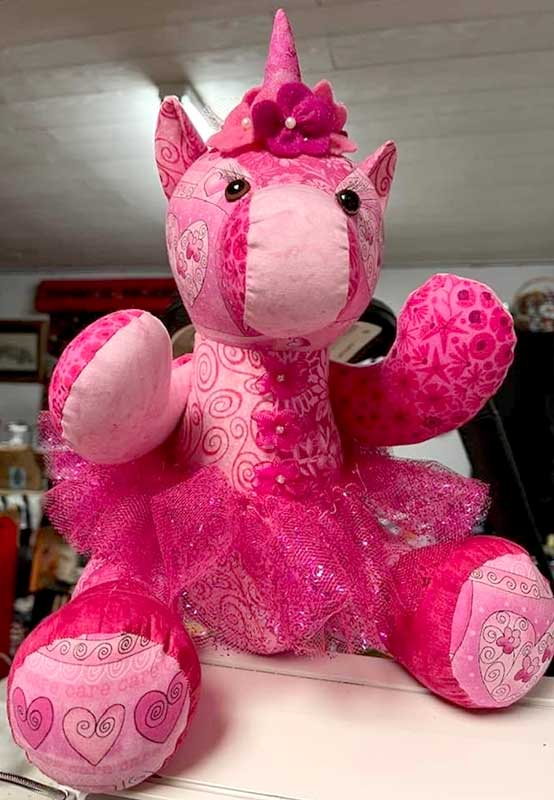 Click HERE to purchase the Keepsake Unicorn pattern.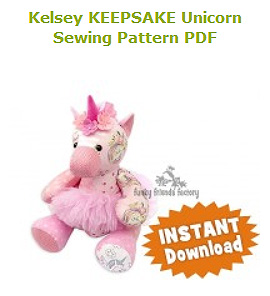 Want an extra chance to WIN?
Share any of the pictures above on your Social Media (Facebook, Pinterest, Instagram etc). Use the hashtag #FunkyFriendsFactory so we can find your post.
*** The winner will be drawn on Valentine's Day February 14th 2022 (Australian Time) ~ using random.org and announced here on the blog AND on the Funky Friends Factory Facebook page.***
I can't wait to see the LOVELY sayings you come up with!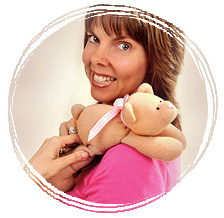 bye for now,
Pauline ❤️