Winsome Wolf has generated more excitement than any of my recent patterns, and I know there are a lot of you who have been eagerly awaiting the release of my Wolf Pattern AND here she is…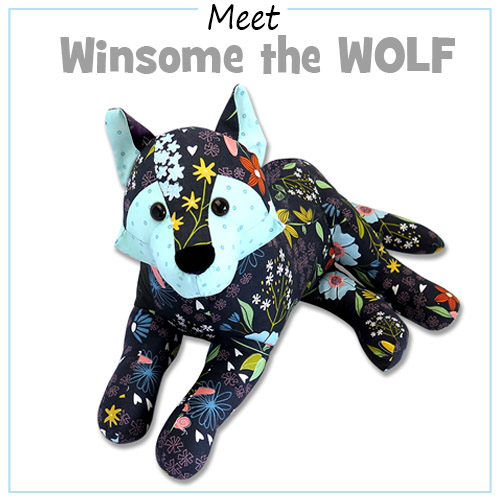 What SIZE is the finished Wolf?
She's 60cm(24 inches) long, printed at 100% – That's from her front paws to the tip of her tail.Yes, Winsome is a BIG pup!
Difficulty Level
This pattern is advanced as it has LOTS of pieces because of the way she is lying with her legs out to one side…like a WOLF! If you're a beginner, I wouldn't suggest Winsome as a first stuffed animal. You can try my FREE Honey Teddy Bear Pattern first, if you like… AND there's also a FREE Toy-making Course on the "BEGINNERS START HERE" page of my website if you are NEW to sewing soft toys! 
TIP: Even if you're an experienced toy maker, PLEASE follow my advice about labeling your fabric pattern pieces. Winsome has lots of pieces you could accidentally flip or reverse.
I even made a special reminder just for this reason!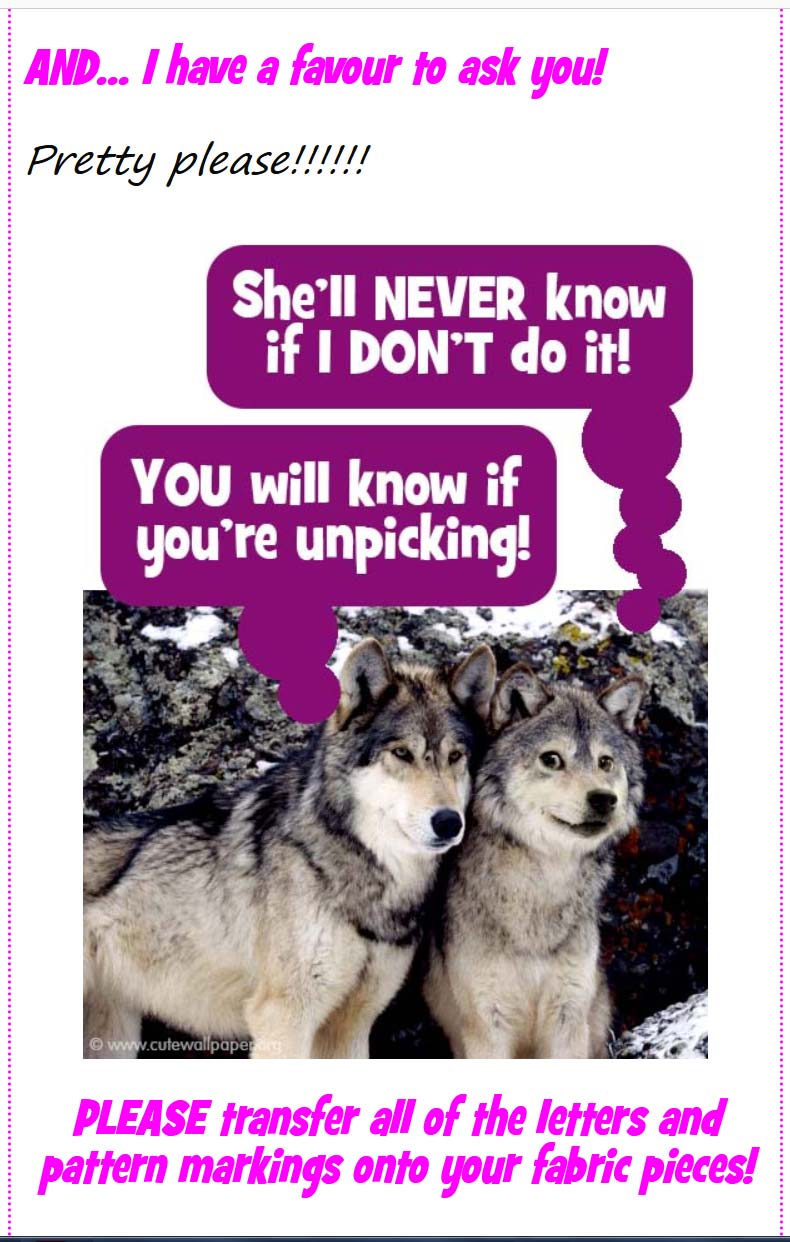 Is there a Photo tutorial for the Wolf Pattern?
YES! I have created a step-by-step photo tutorial so you can see EXACTLY how to sew this cute Wolf Toy Pattern – with lots of clever keepsake making tips and tricks!  As usual, you can access the tutorial using the link in the See-Me-Sew section of the pattern.
(*Please check you typed this link in correctly,
~> or you'll get an error page! 😱 )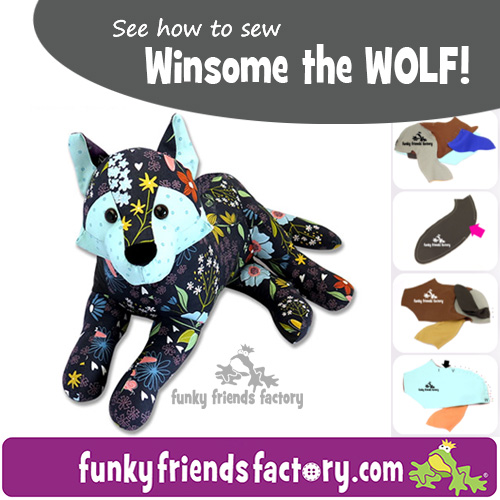 What fabric should I use?
Avoid THICK
 or very FLUFFY fabrics

for the wolf's FACE!!!
Delightful in denim, great in galaxy print, and marvelous in minky… Winsome the Wolf will warm your heart. The tester's found it wasn't good to use a THICK fluffy fabric for the face because you don't get a nice sharp wolf face shape! If you want to use Cuddle® or fake fur for your wolf, I recommend using the standard C3 Cuddle® ("flat" or "low pile" version) for the FACE PIECES (so you can see the cheek definition) and the fluffier (thicker or longer pile Cuddle® and faux fur fabrics) for the wolf's BODY. 
MUST I use gray(grey) fabric for the wolf?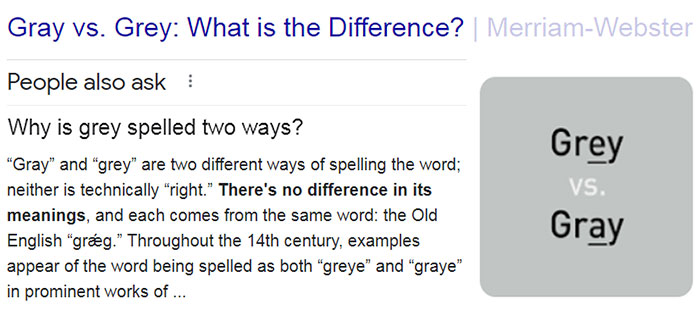 You can use ANY COLOUR you like for sewing the  Wolf Toy Pattern  – as you will see from these feedback photos from the Testers!
Here are just some
of the lovely feedback photos…
First up is this very pretty flowery version of Wolf Toy Pattern sewn by Debbie Weideman. See…. wolves can be made in ANY colour – NOT just gray/grey!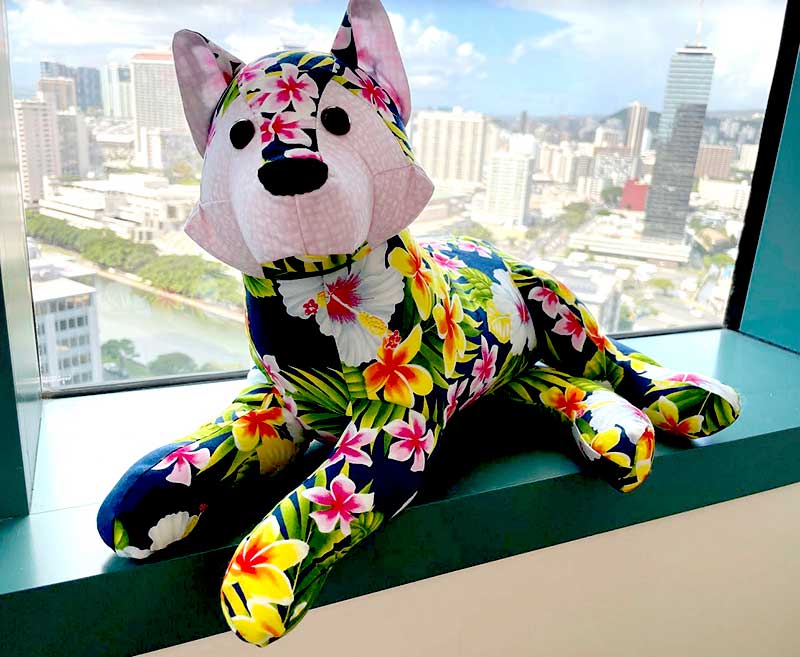 To give you an idea of her size – here you can see the Wolf Pattern sewn in Cuddle® by Courtney Schreiner.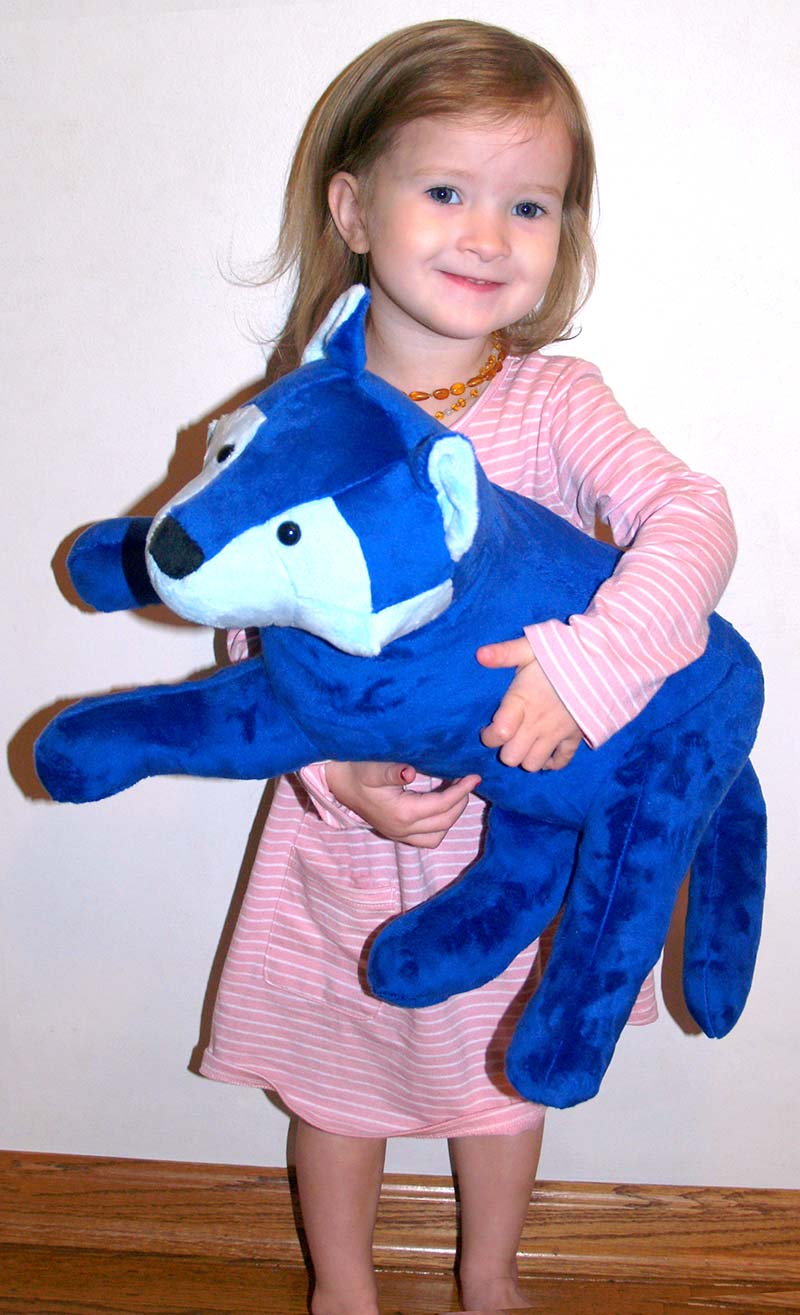 And here she is an AWESOME denim version of Winsome Wolf sewn by Mireille-Leurs…. I LOVE the idea of sewing recycled toys from pre-loved clothes BUT I especially love recycled denim jeans because of those seams! They would make it a teeny bit harder to sew – BUT that's what denim needles are for Right?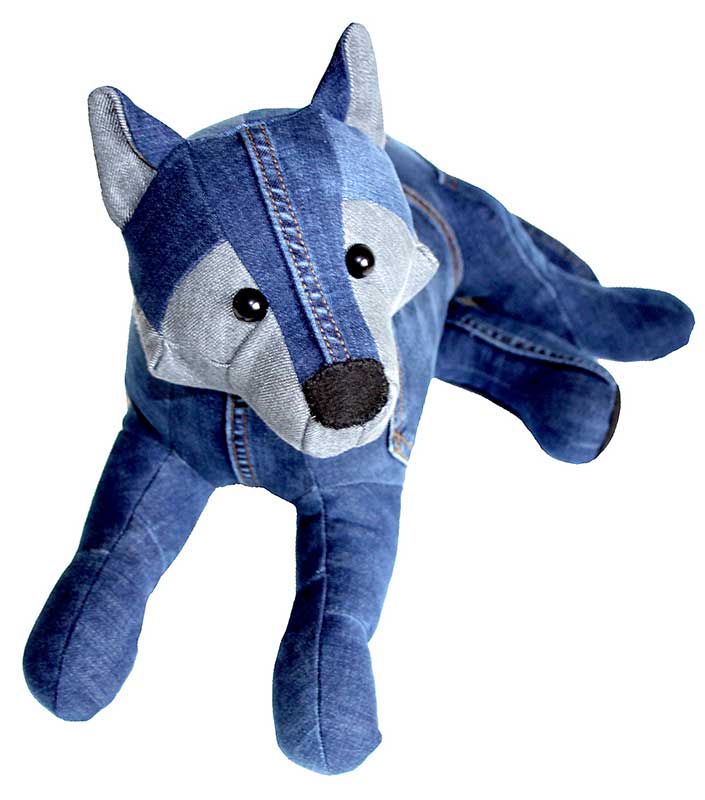 Hiding in the shrubbery!!! LOVE IT!  Here we have a rather chilled-out Winsome Wolf sewn by Gabriele Girndt Sharp.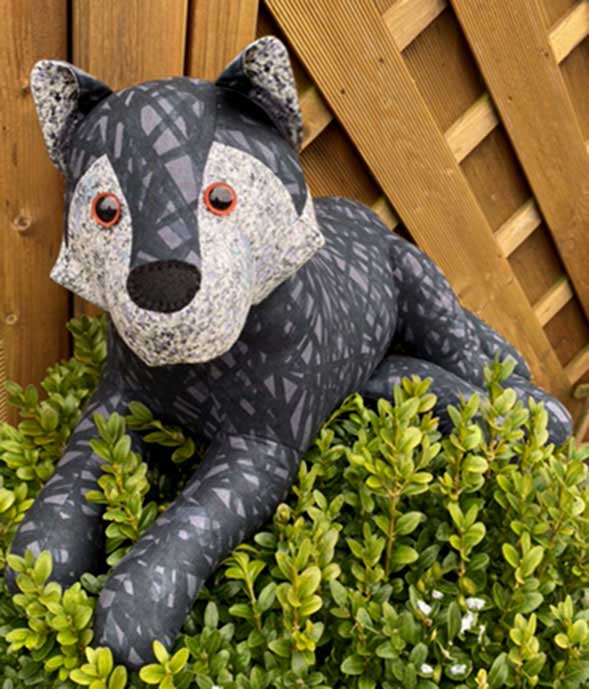 Keeping with the SHRUBBERY theme (?) here we have a sweet flowery fabric version of Winsome Wolf sewn by Kim Illiaretti.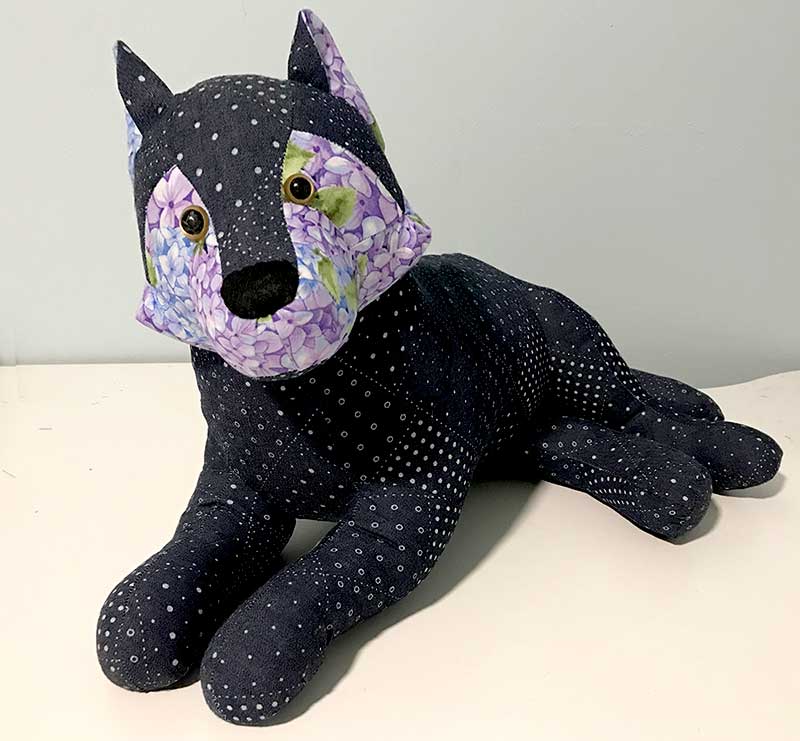 Winsome Wolf looks really sweet sewn in fleece too – LOVE this flowery fleece friend sewn by Shirley Bray.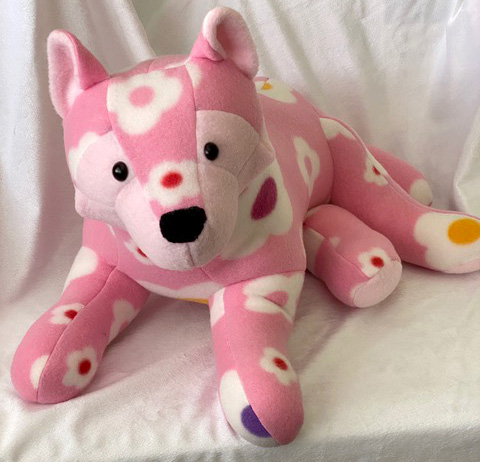 AND even plain grey fleece is AWESOME for a Winsome Wolf too – This sweet fellow was sewn by Shirls Smith.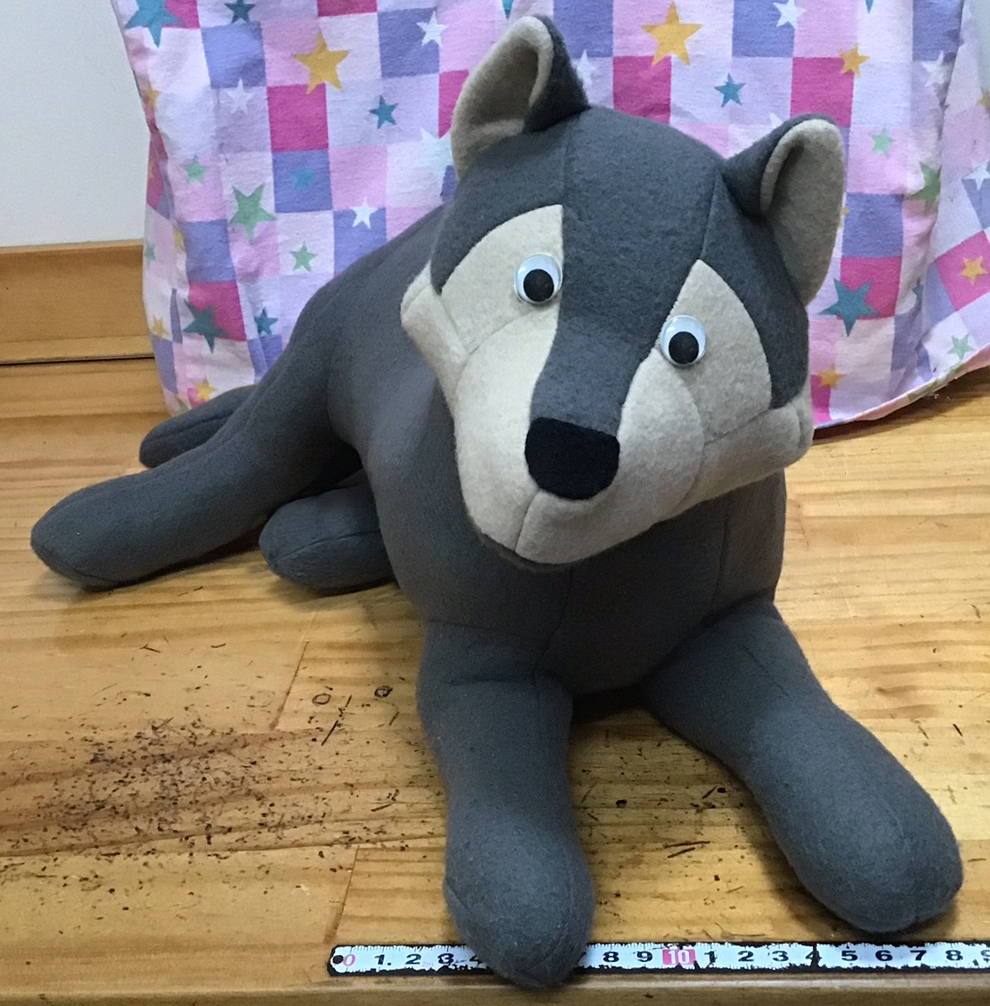 OF course WOLF FABRIC is awesome – if you find it! This amazing Winsome Wolf was sewn my SHazz McHarry…… JUST GORGEOUS!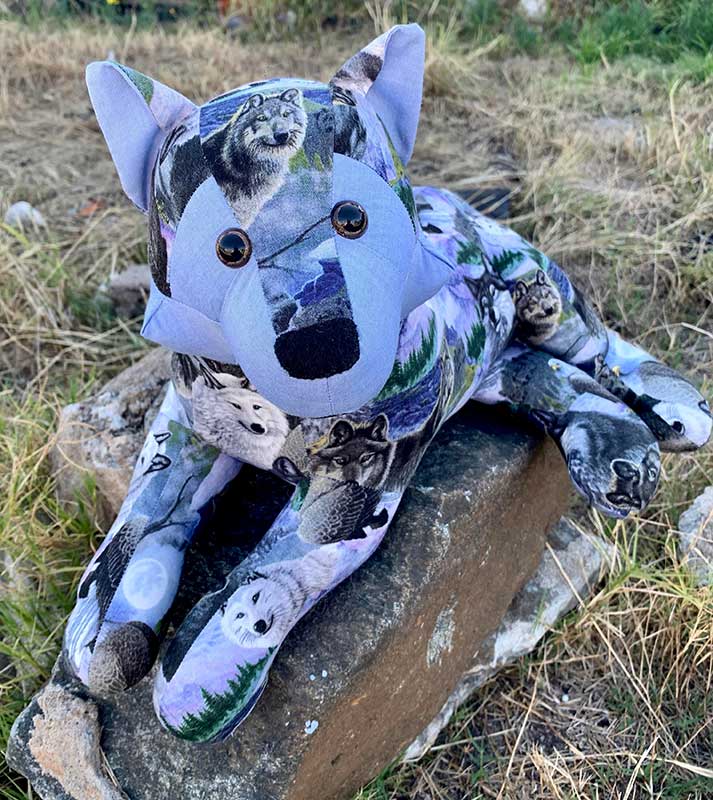 Paula-Blevins sewed this VERRRRRRRRRRRRRRRY fluffy version of Winsome Wolf and I think it's very sweet even though it has lost a little bit of its pointy wolfish-look – we decided it's a baby wolfie!!! 😀
This adorable keepsake toy version of the Wolf Pattern was sewn by Emma Deacon…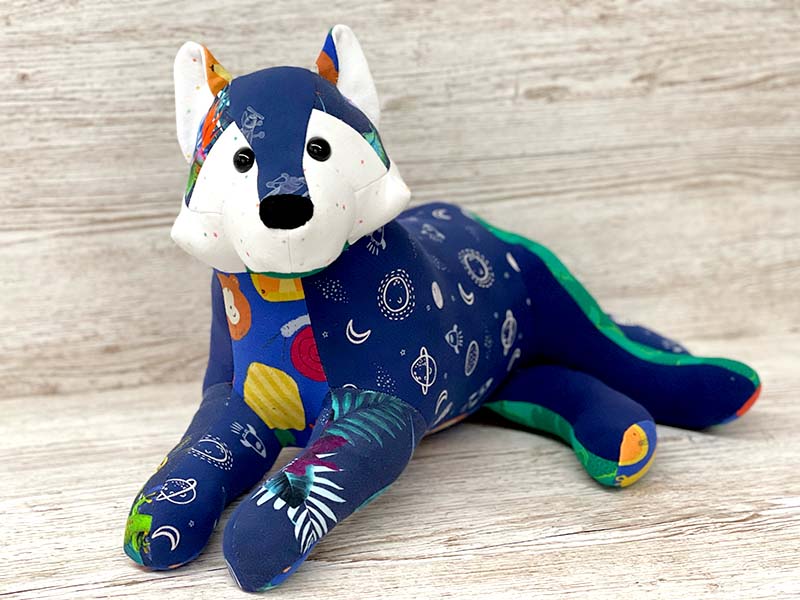 Emma sews BEAUTIFUL keepsakes – I love her attention to details with the placement of the dinosaur fabrics and tiny stars on the face! If you want to get a custom made keepsake – check out Emma's Etsy shop The Sewing Bumble Bees!

AND last BUT not LEAST!!!
We end off with this very colourful Winsome Wolf sewn by Sandy Thurlow in galaxy print fabric – I think it's OUT OF THIS WORLD!!!   😄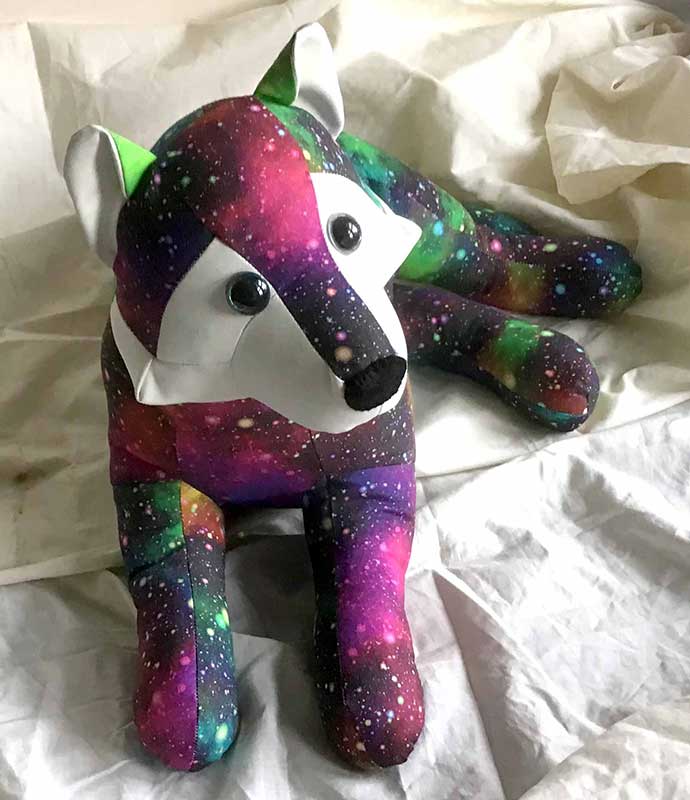 THANK YOU
to ALL the Testers ~>
I love ALL of your lovely feedback photos!!!!
In case you missed the link above – the Wolf Toy Pattern is available to download from the website NOW!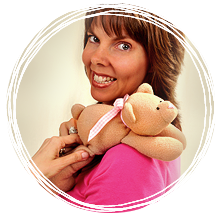 Till next time – Happy Sewing!
xxx
Pauline