Eeeeeek!
If your sewing machine has got a little bit over-excited and swallowed up your fabric before, you will know HOW ANNOYING it can be to have to cut your fabric free and untangle your sewing machine threads before you START ALL OVER AGAIN.
If this starts to happen with EVERY seam you sew, then something's definitely NOT right! This started happening to me the other day so this time I decided to take some photos to show you the SIMPLE STEPS I use to fix this!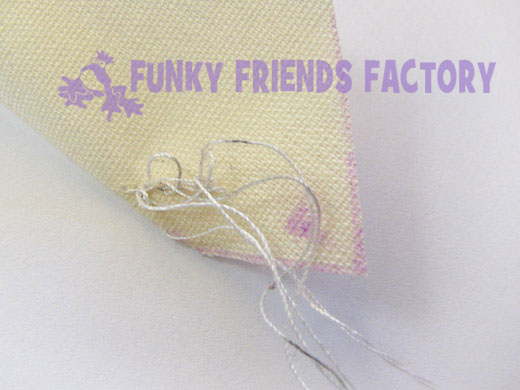 OK, who hates HOUSEWORK?
I do!!!! I hate the dreariness of cleaning and dusting the house and the thought of cleaning my sewing machine is just as painful – ha!ha!  BUT I LOVE to sew and if I want my machine to work properly, I just have to give it
a clean and service!
So I dig out my handy tools – a cute little screw driver and brush that came with my sewing machine. NOW, looking at this photo, I'm soooooo embarrassed  – they look filthy!!! I guess that shows that I use them!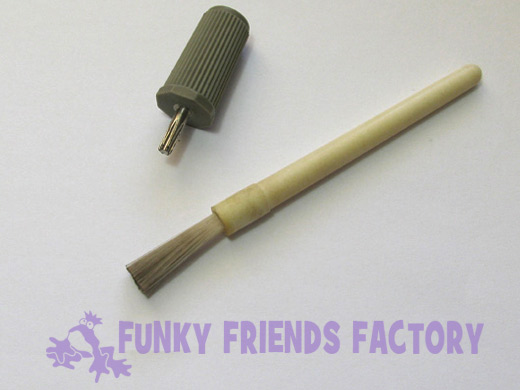 First thing I check… is under the bonnet – oops, I think the correct term is under the needle plate! I use the tiny screw driver to unscrew the needle plate and remove it so I can see what's lurking below…
OMG – how embarrassing!
It looks so dirty!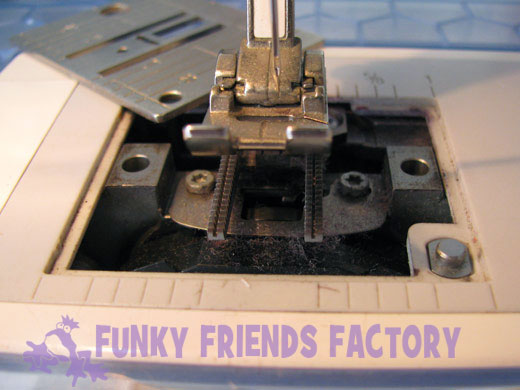 Well, it's fabric fluff – NOT normal dust and dirt – so I guess I can be forgiven! BUT it is quite amazing just how quickly all this fluff or lint builds up! I know that if I am sewing with fluffy fabrics like fleece, minky, chenille, flannelette, even corduroy, the lint builds up MUCH quicker.
OK, here is a pic after I have used the teeny brush to give it a good sweep clean!
My mum would be proud!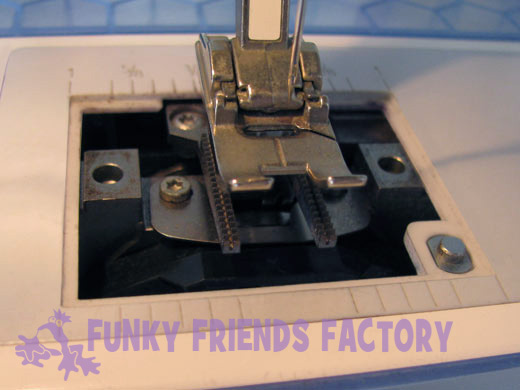 Then I check the bobbin mechanism. Yuk! That is full of fluff too! No wonder the threads are NOT running through smoothly!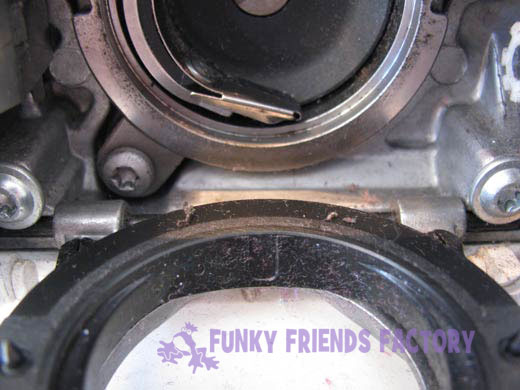 You can use a hair dryer to blow out the fine particles but I prefer just to use my LUNG POWER to blow it out myself!  WOW – what a difference a quick dust can make!!!
Clean as a whistle!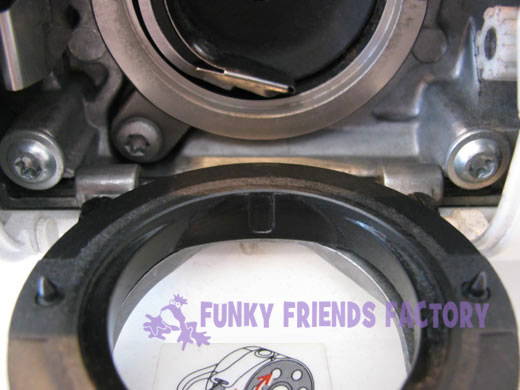 Then I oil my sewing machine. I only put the teeniest drop of sewing machine oil where the manual says… don't want to flood the engine!!! Please CHECK YOUR MANUAL – some sewing machine do NOT NEED OIL!
I'm feeling a bit like a mechanic by now!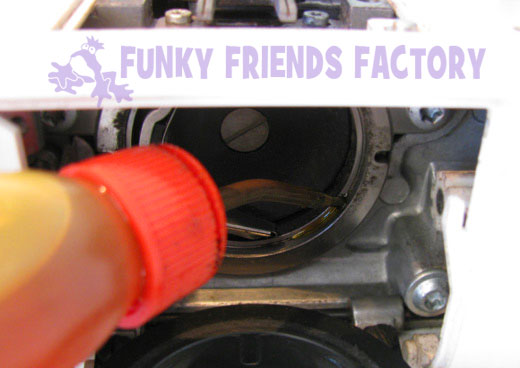 Then I run the sewing machine for a bit without any thread – just to allow the oil to work in. Then I reload my bobbin in the bobbin cartridge. I make sure the thread is threaded in the right direction and flowing freely before I put the bobbin back in the machine and check it is locked in place, nice and tight.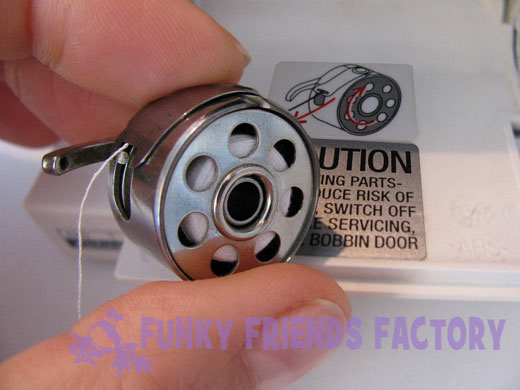 Then I change my sewing machine needle and make sure I don't have it back to front!
HOW often should you change your sewing machine needle?
Mmmmmm…
MORE OFTEN than I do??? 🙂
No,seriously, it depends on the individual and what you are sewing and how much sewing you are doing. I have heard that you should change your needle after every 4-5 hours of sewing. I'm terrible with changing needles, probably because I don't realize how much time I have spent sewing (time flies when you're having fun!) I just know by the time things start choking and snagging, my needle is WAY PASSED its USE BY DATE!!!!


Back to the top of the sewing machine…

Next I checked my sewing machine's tension dial. When I bought my sewing machine, I went for lessons and they told me it is unlikely I would need to change the tension and to their credit – they were right! So I just like to make sure that I haven't knocked it and changed the tension by mistake and that it is still set to the default setting.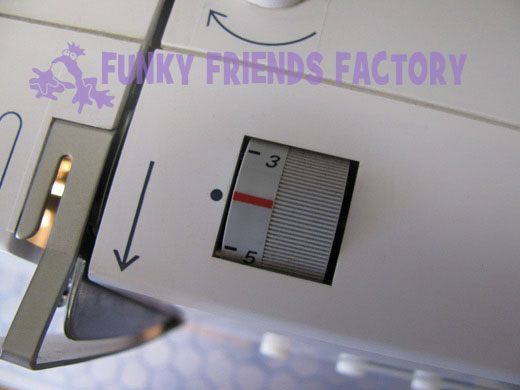 Then I re-thread my top thread and give the sewing machine a test! I like to use a zig-zag stitch and sew back and forth until the white cotton actually looks white! 🙂 This cleans up the excess oil – now you can see why I only use the tiniest drop of oil!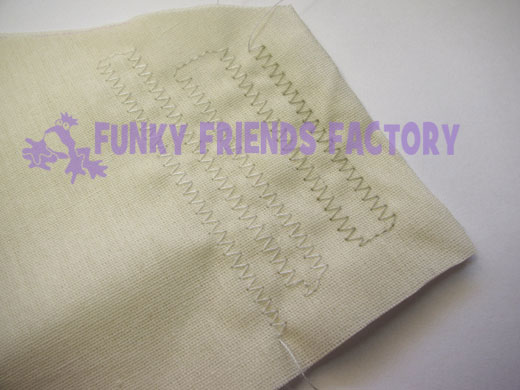 Then I try sewing a seam again… fingers crossed… have I fixed it????
HOORAY! What a difference!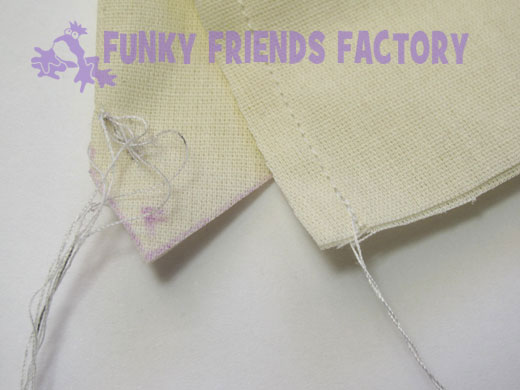 My machine is back to
sewing like a NEW one!
MOST TIMES once I have tried ALL these simple home-maintenance steps, things are good as new, BUT if my sewing machine is still not sewing perfectly, then I know it is beyond MY own abilities to fix it and I need to take my sewing machine in for a professional service. BUT for now, I'm a VERY HAPPY BUNNY as I can carry on sewing!!!!
It's not rocket-science, but I hope this info may have helped someone with THEIR jammed sewing machine…
Have you got any sewing machine maintenance tips?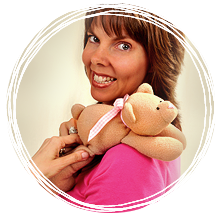 .
.
Till next time,
Happy Sewing,
Pauline