Mango the Meerkat looks amazing in so many different fabrics – from fleece to Cuddle – and more! If you want to sew your own plush meerkat – the Meerkat Pattern is available on the website HERE.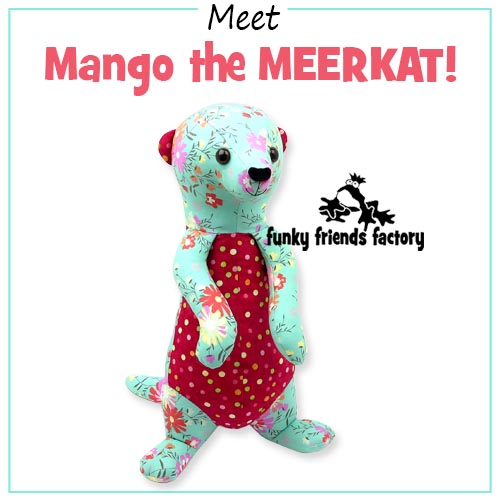 Look at
these LOVELY
Tester feedback photos…
This sweet sewing companion was sewn by Shirley Smith – just look at his adorable face!!!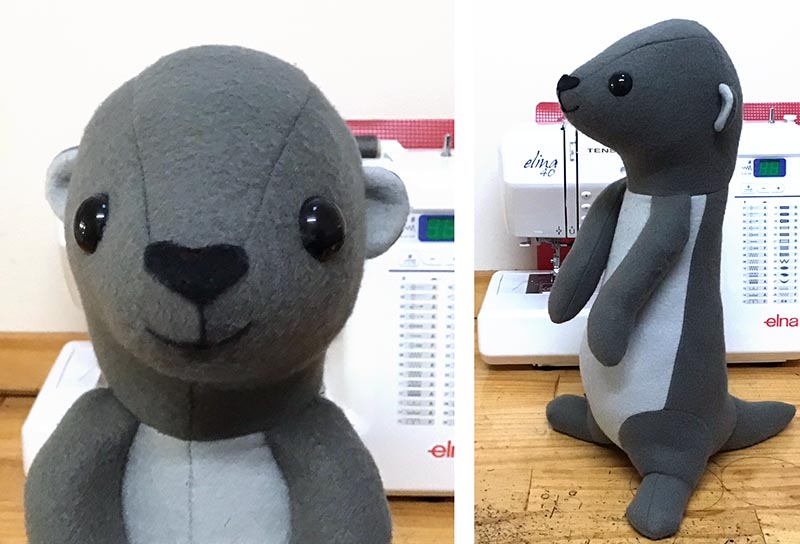 Next we have a sweet little Mango Meerkat sewn by Katy S. – he obviously loves to read based on the fabric she's used.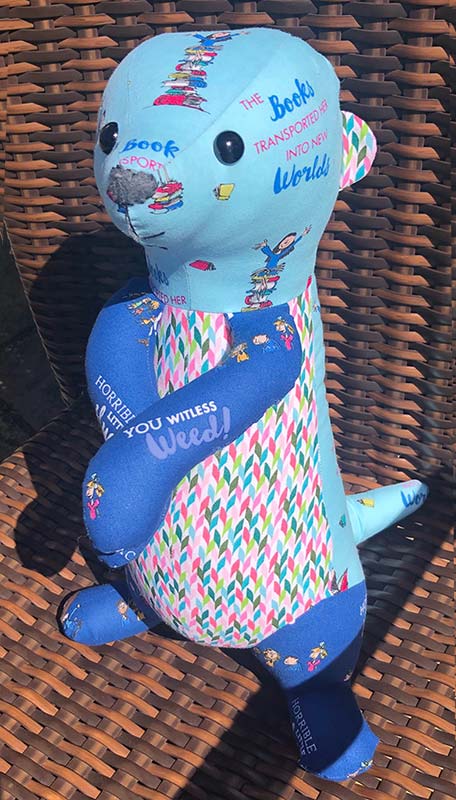 This yummy yellow Meerkat was sewn by Monika Groh in anti-pill fleece.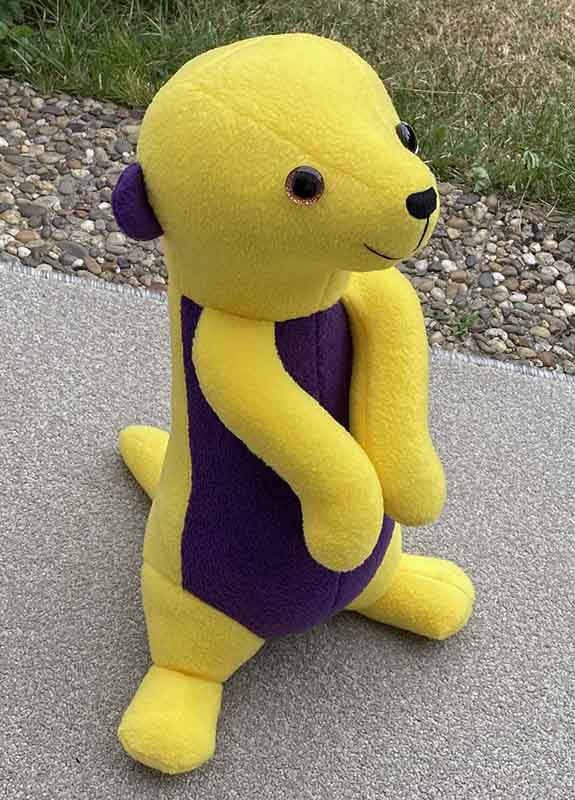 This rooty-tooty fresh and fruity version of Mango Meerkat was sewn in strawberry theme fabric by Carolyn B.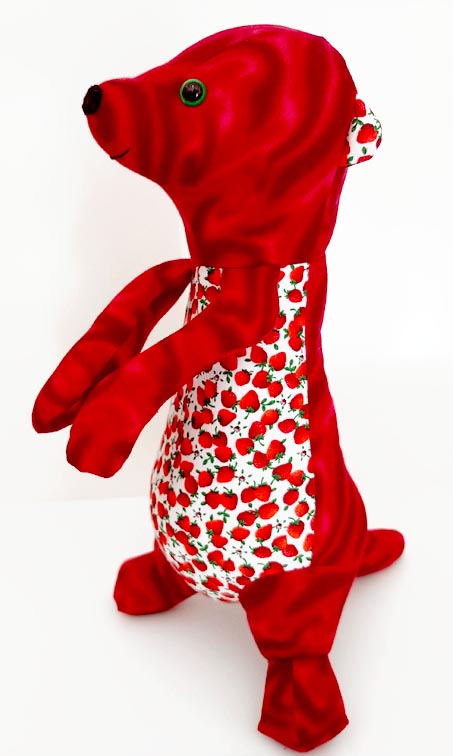 This adventurous Mango Meerkat frolicking in the fields was sewn by Caroline Moyer of Handmade by Caroline. I bet he's ready to use those hay bales in the field as a lookout post.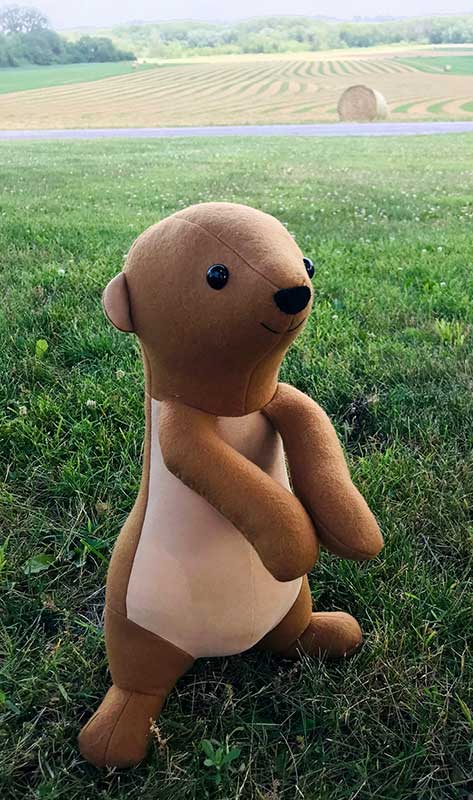 And just look at his sweet face…
isn't he
adorable?
Mango Meerkat is on an adventure by the river in this photo by Kristin K.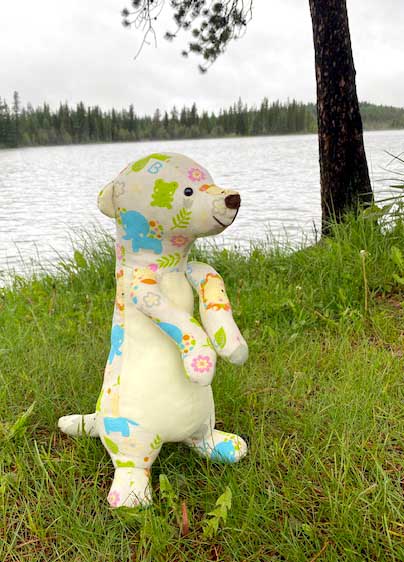 Meerkats like to blend into their surroundings, and this little guy is sure doing a good job. Jackie Wallace of Quiltmakers Place sewed this adorable Mango meerkat.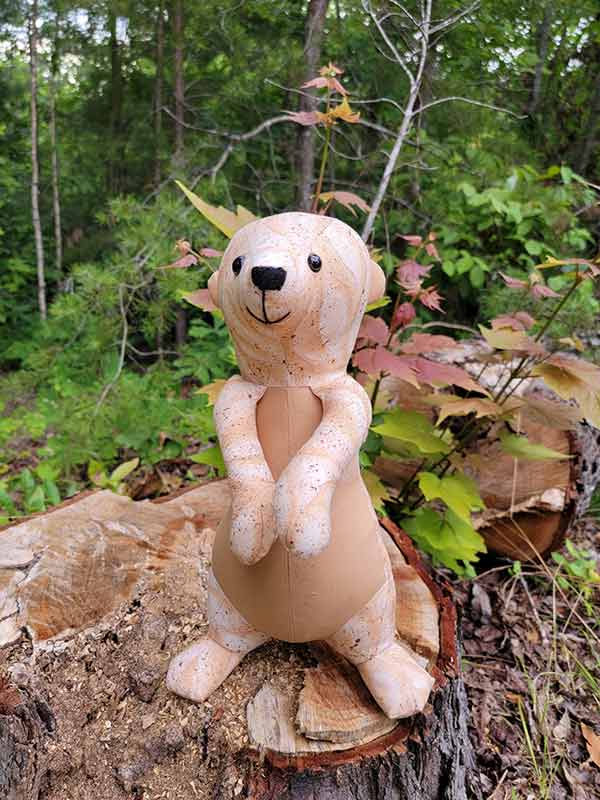 Several of our Pattern Fan Club members commented that this version of Mango was their favorite so far. He's sewn in a terrifically textured version in boucle fur. Sewn by Jackie Flower.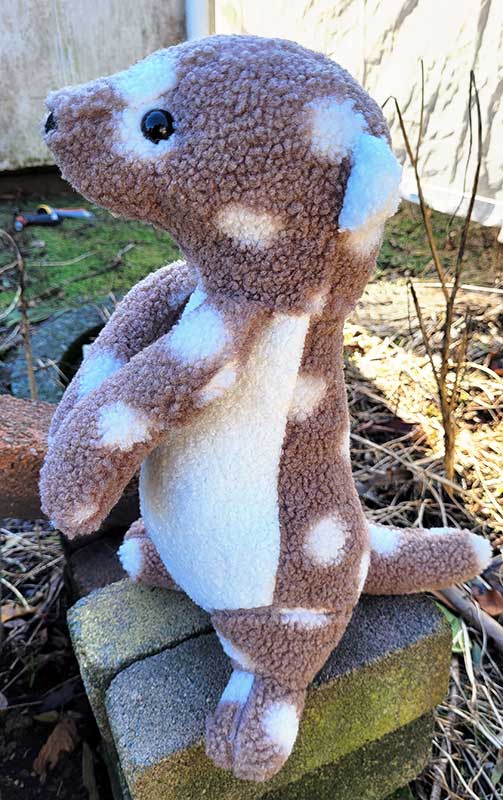 The fluffy little ears on this Mango Meerkat show he's alert and ready to listen for fun. Meerkat sewn by Patty M.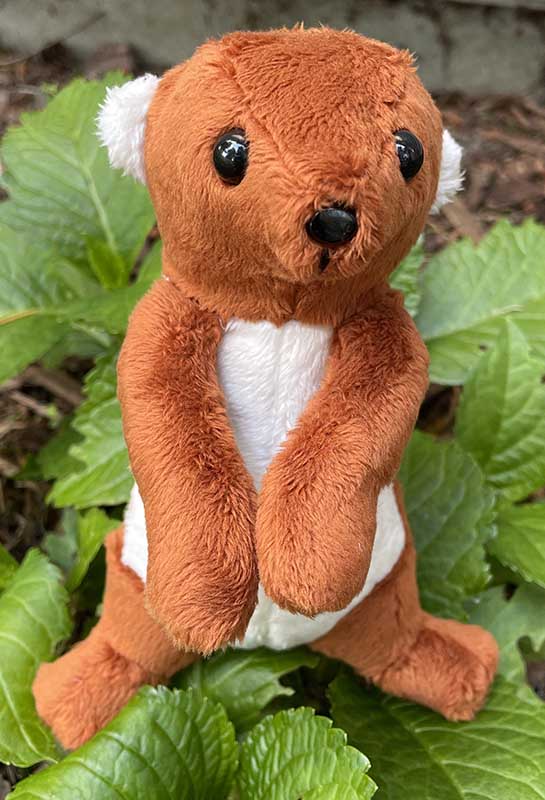 Paula Blevins sewed this textured version of Mango the Meerkat using faux fur and fuzzy felt. Here is her puppy (Rudy) checking out her latest creation!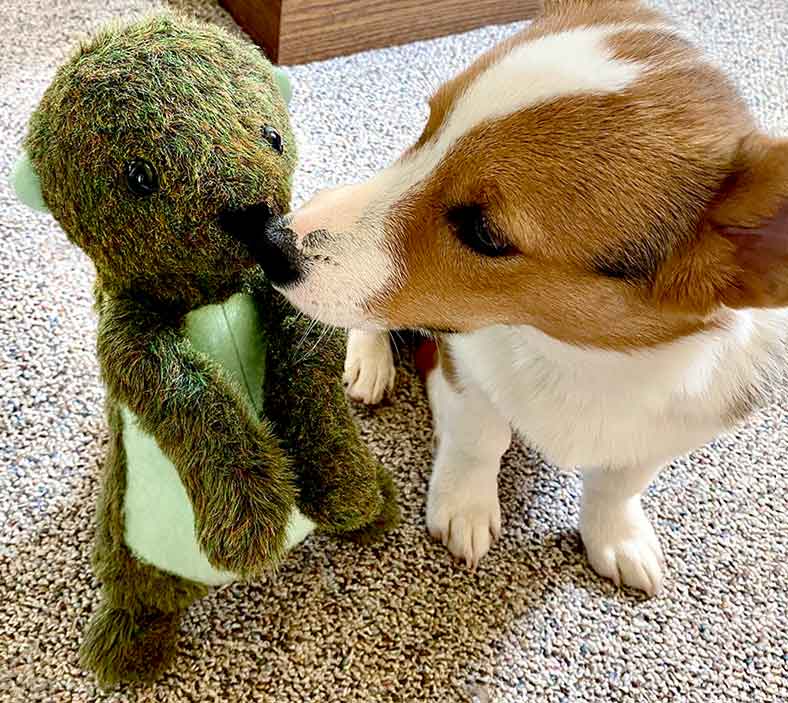 Paula said she had so much fun sewing her first Mango that she just had to make another! I think her puppy loves Meerkat 2.0, too!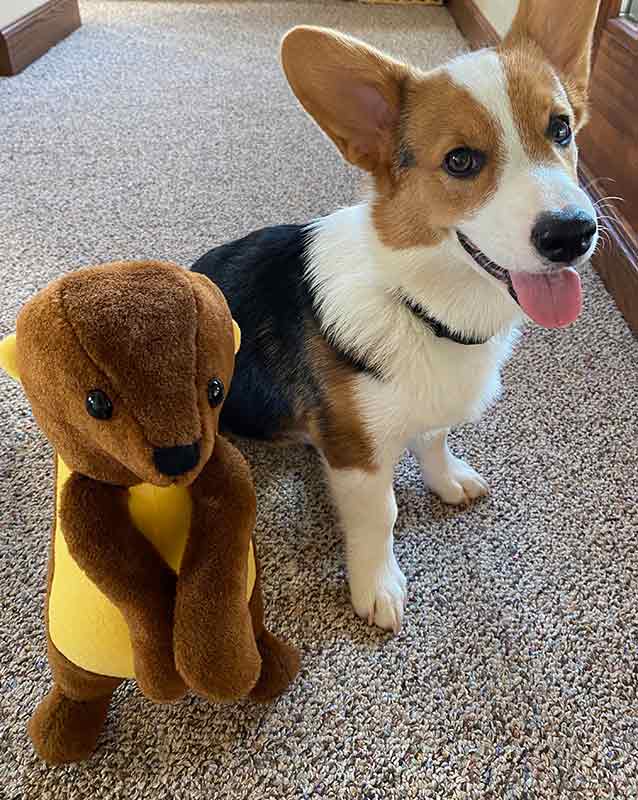 Saree Wilson sewed this sweet blue version of Mango the Meerkat…  Saree said her kids were ready to snap up Mango before he was even finished. I couldn't decide which picture looked cuter so I included both photos!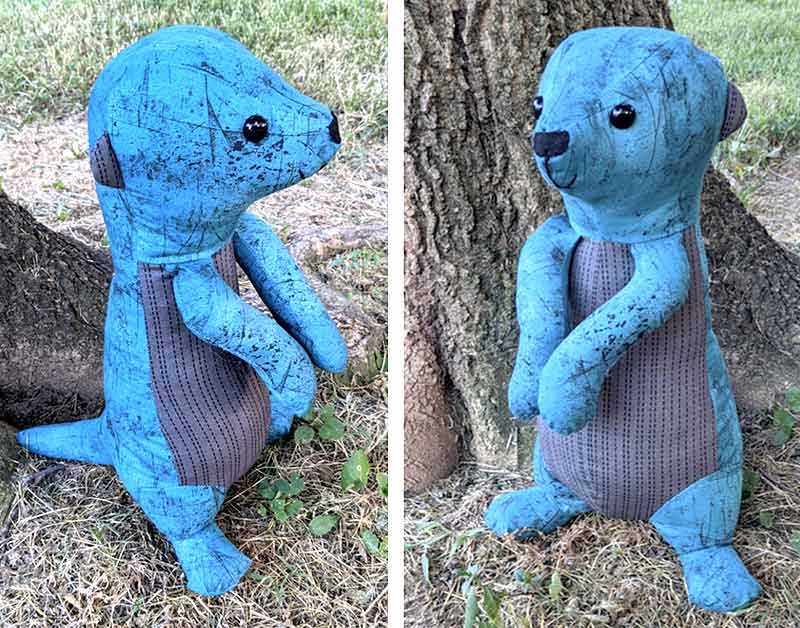 This perky little Mango Meerkat sewn by Kathleen G. is pretty in pink – the low volume print on the tummy and the floral pattern makes a delightful contrast.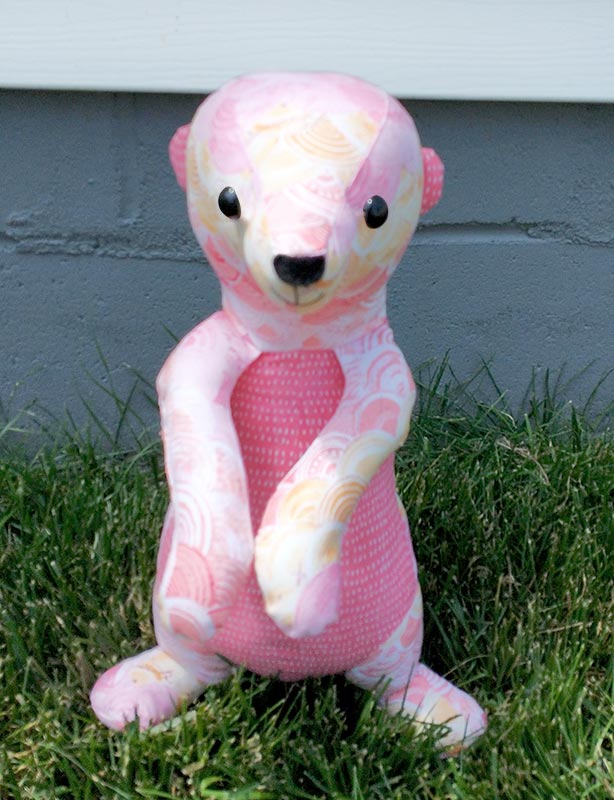 More pet-love!!!! This marvellous Mango Meerkat sewn by Michelle Woodcock of Chunky Monkeys seems to be much appreciated by the existing furry members of the household!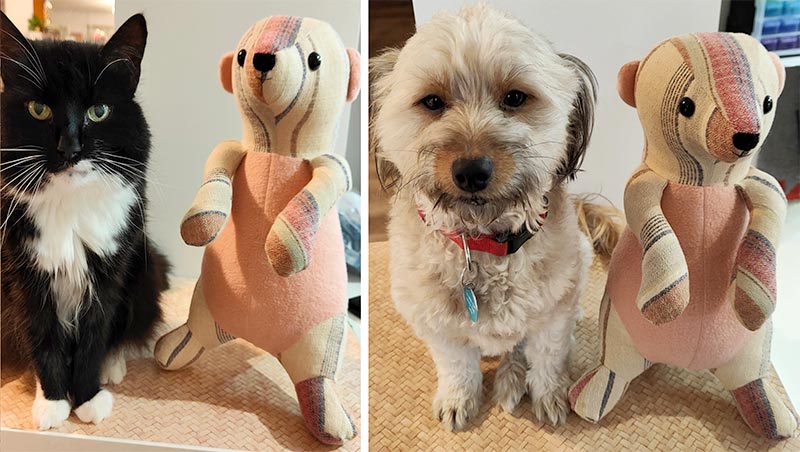 Natalie Booysen sewed this floral and fancy Mango Meerkat. Her photos were so cute I had to include more than one!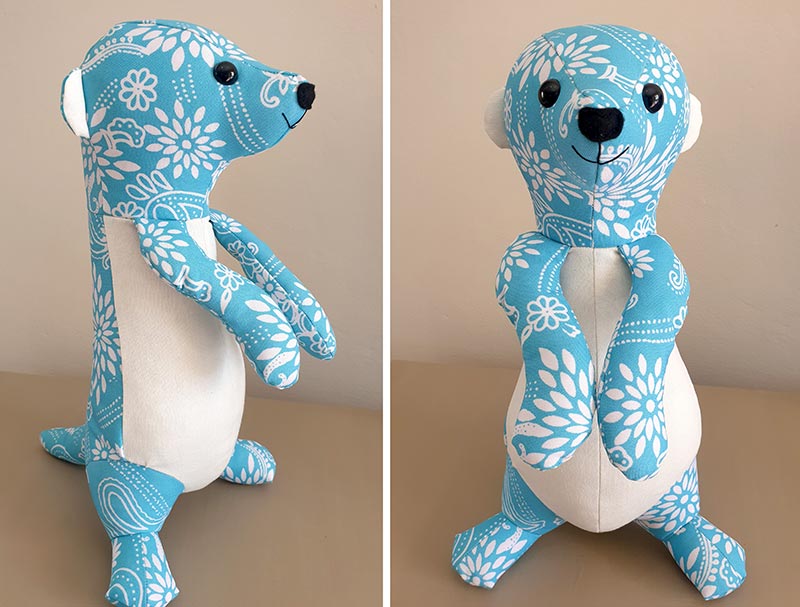 AND one more…
Polka dots are the look of the day for this fashionable teal Mango Meerkat sewn by Sandra Thurlow.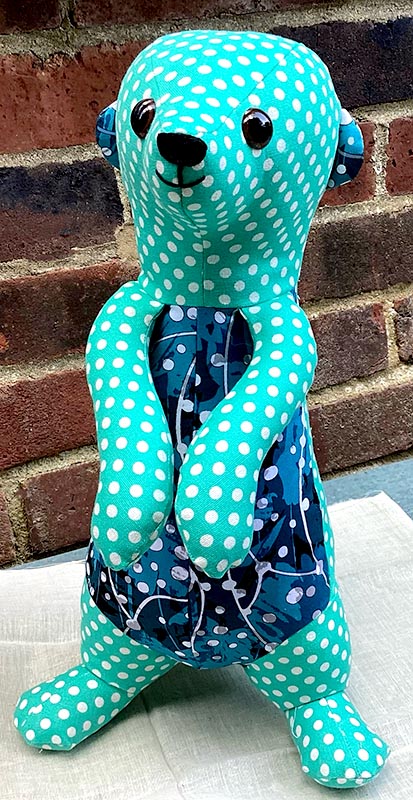 That should have given you LOTS of inspiration for your own meerkat!
In case you missed the link – the Meerkat Pattern is available on the website HERE.
Till next time, Happy sewing!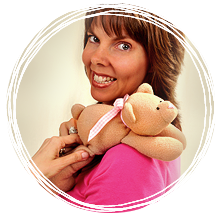 Bye for now
xxx
Pauline