I am so excited to show you the first feedback photos of Taylor the Tiger from our Pattern Testers. Taylor Tiger looks amazing in so many different fabrics – from batik fabric to Cuddle – and more! Whether you want to make a keepsake from clothing, a school mascot memory toy, or a fun playtime companion, Taylor Tiger is happy to oblige!
If you want to sew your own toy Tiger ~>
the Tiger Pattern is available HERE.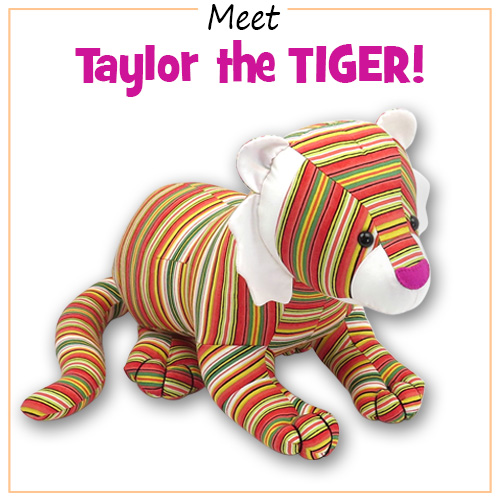 Look at
these LOVELY
Tester feedback photos…
Let's kick off tiger time with some fun, unusual fabric choices. This Taylor Tiger was sewn by Gabi Girndt using batik fabric, which is specially dyed using a wax resist process. You don't need to use tiger stripe fabric to make a toy that absolutely shouts "I'm a terrific tiger!"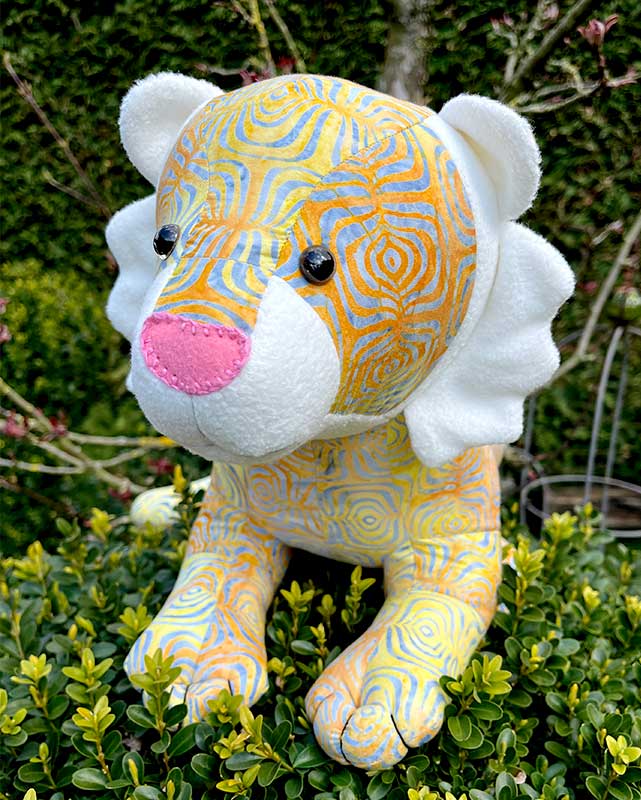 Nat Egan of Rothmore Forever Bears sewed this awesome pink camo Taylor Tiger – isn't she adorable?! 💗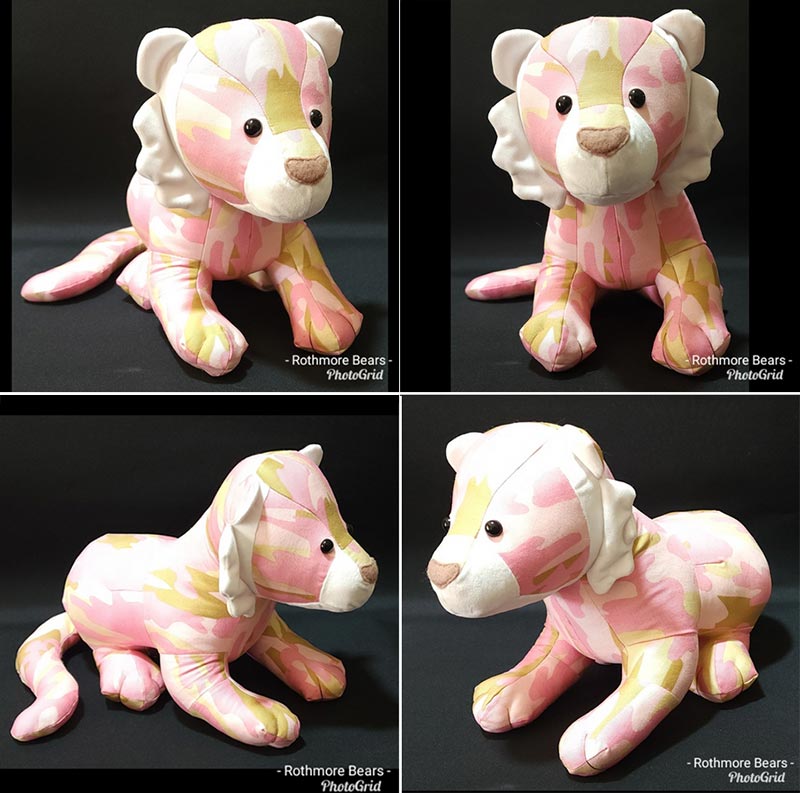 Judie Flower sewed this bright, multi-coloured Taylor Tiger for her 5 year old granddaughter, who is about to turn 5 and is mad on anything related to a zoo. I LOVE this cute tiger so much, I'm jealous of a 4 year old! LOL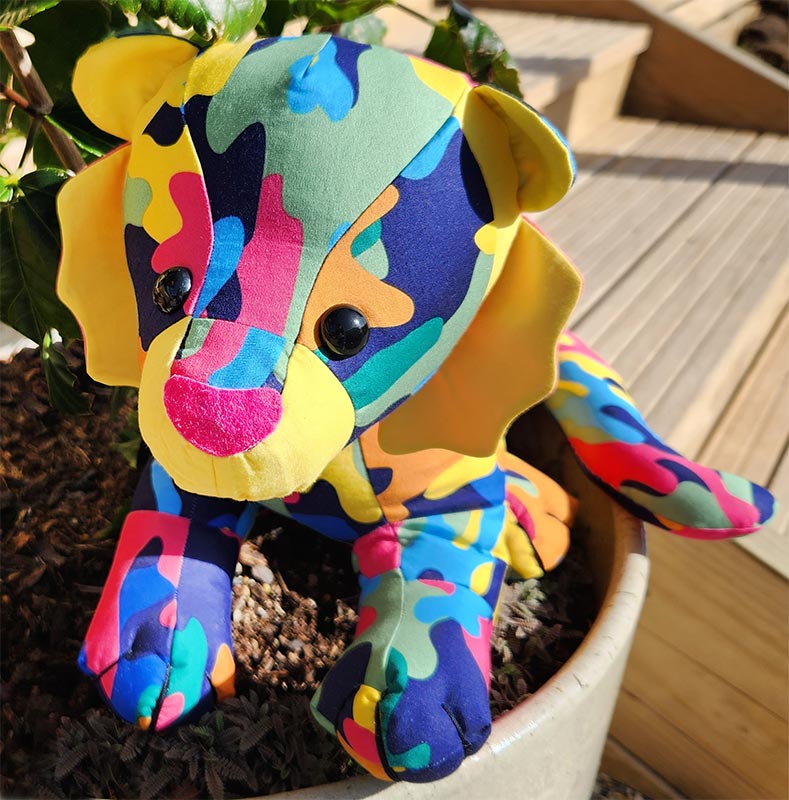 This solid color Taylor Tiger was sewn by Jenny T, who said she really liked the way the tiger came together.. me too, Jenny! Tigers are popular school mascots, so this would be a good option for using school colors on a toy.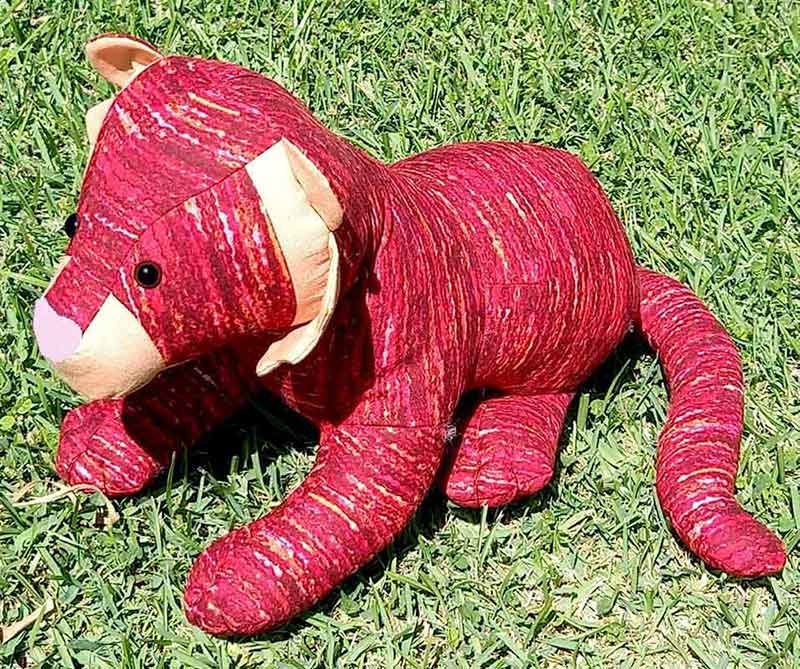 Some super stripey fabric Tigers:
Lori LeBlanc said Taylor Tiger was a fun pattern with just the perfect amount of challenge, and she totally enjoyed making him! Lori used cotton interlock fabric which is quite stretchy, so she interfaced all the fabric pieces pieces before sewing. This type of fabric is frequently used in clothing and shows off how you could make a cute Taylor Tiger from a striped shirt.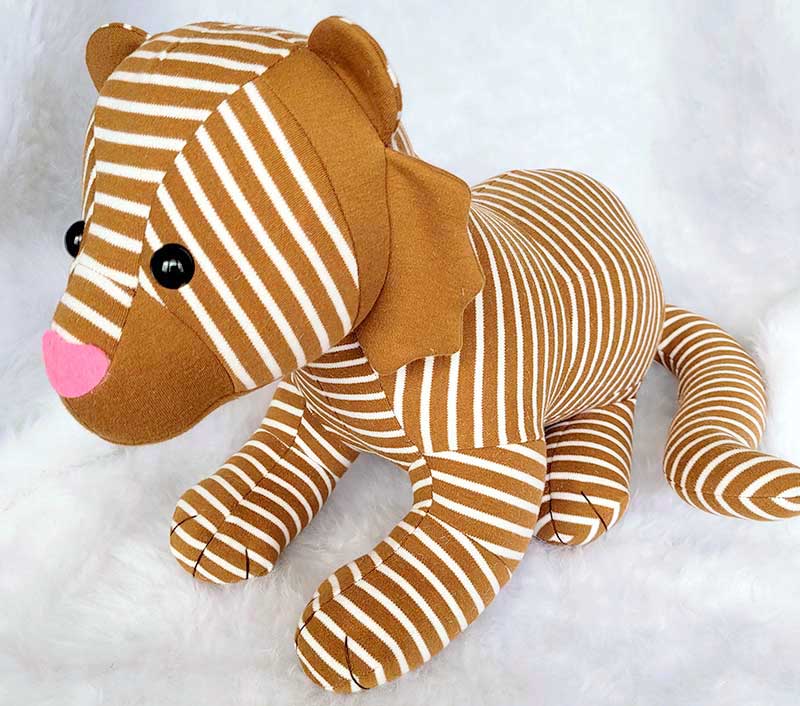 I LOVE the way the stripes look at the back. There's a lot of white in the striped fabric so Lori's choice of a darker fabric for the contrast fabric (instead of white) looks GREAT!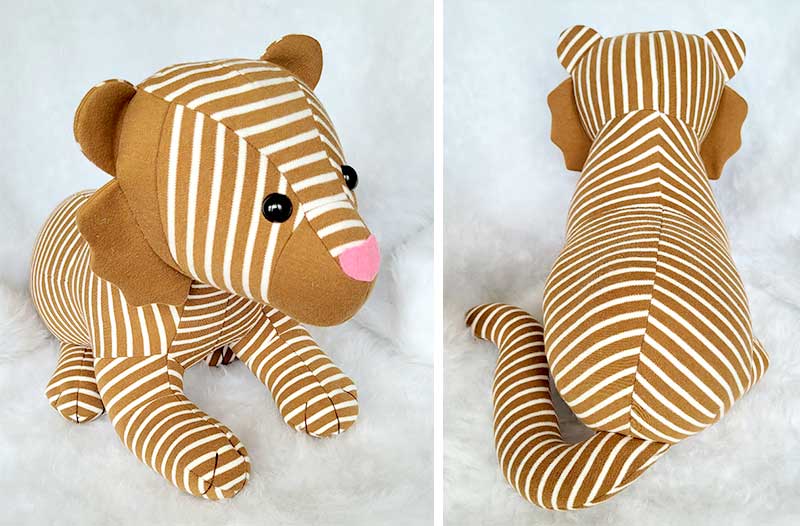 Amanda Roots was really excited to get the Taylor Tiger Pattern  as tigers are one of her very favourite animals. She used black and white striped fabric to create this ADORABLE white Tiger! Once again, I think this stripey Taylor could be a good example of how to used a striped shirt with this pattern.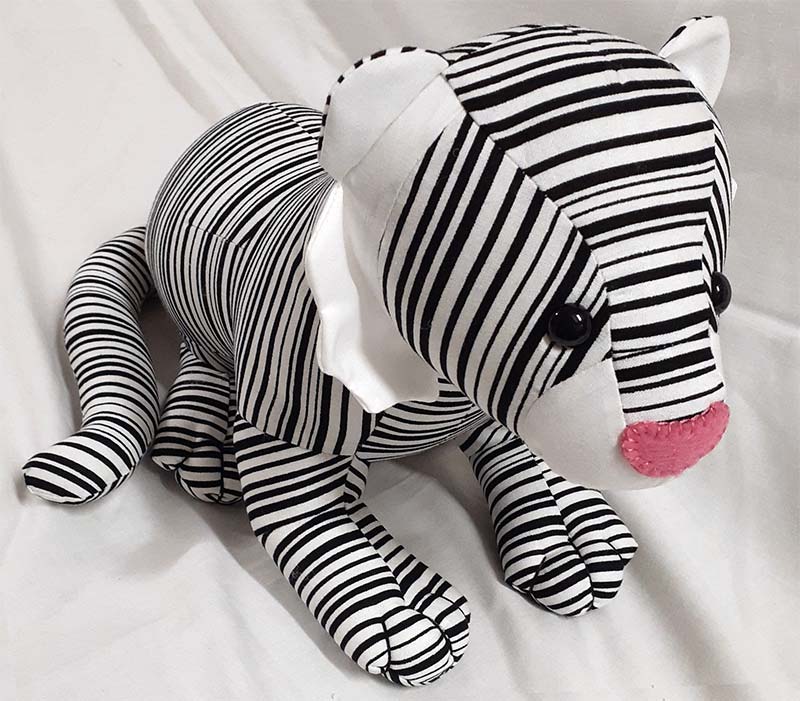 This sweet stripey Taylor Tiger was sewn by Vicki Wheeler, and she used a thicker linen-type fabric. These unusual colors make a fun toy!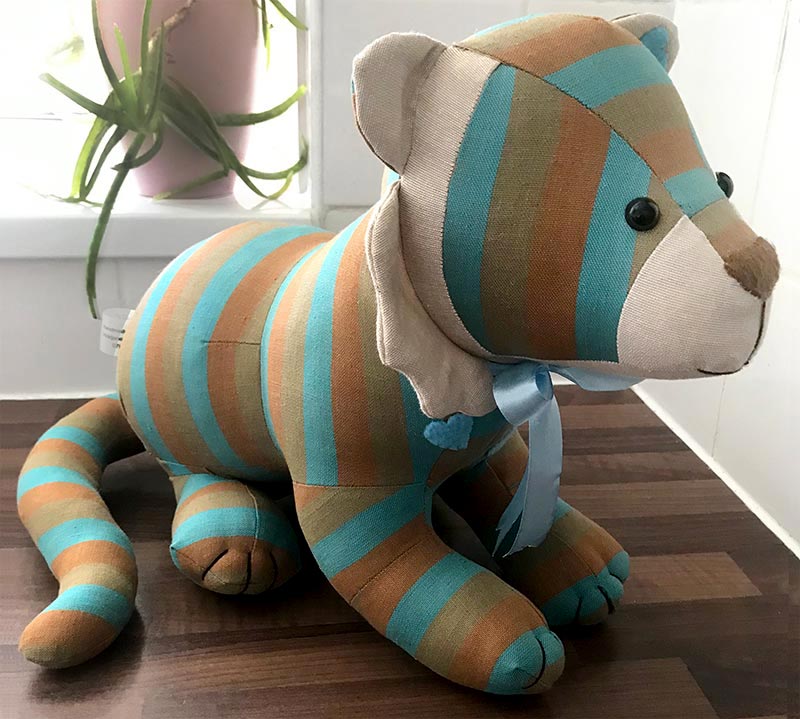 A Tiger makes a cute keepsake toy!
This Taylor Tiger was sewn by Kirsty Allen of The Embroidered Fox using a few of her son's clothes he had outgrown! I'm sure a lot of kids would love a keepsake like this one.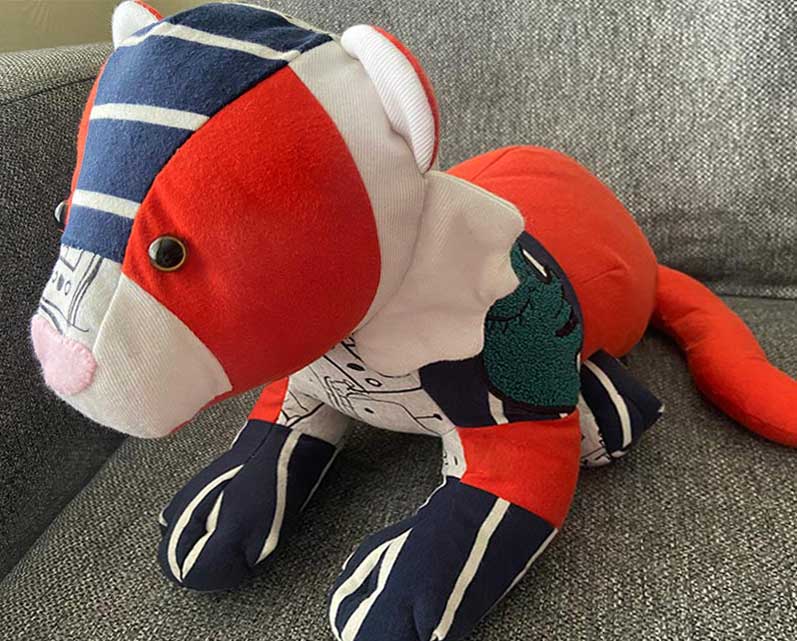 This Taylor Tiger was sewn by Katy Sinar. She said she's so happy with her tiger that there's a problem: she made Taylor as a gift but she wants to keep him! 💗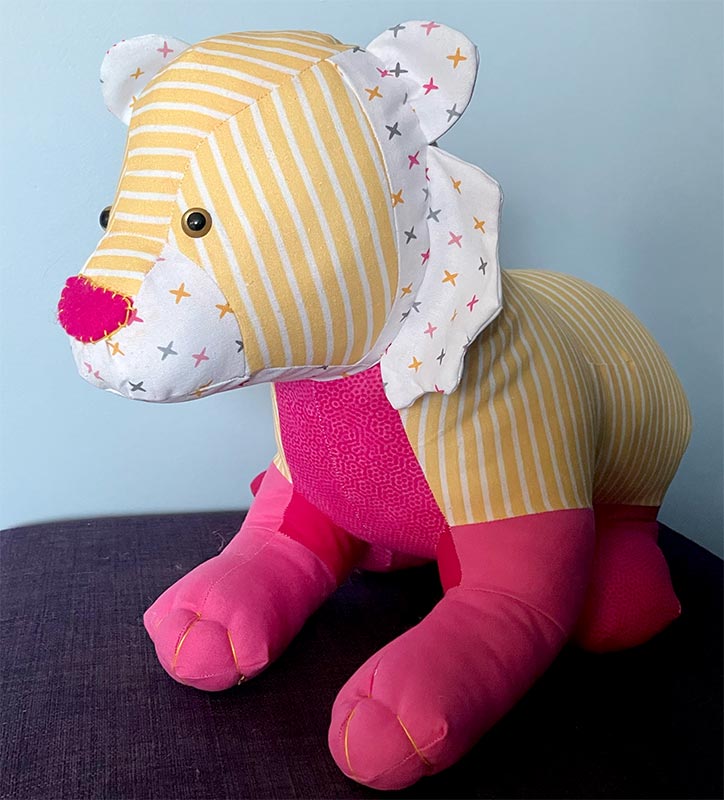 The tiger pattern looks TERRIFIC in tiger print!
This Taylor Tiger in the snow was sewn by Kirsten K in Canada. I LOVE the way Tayor has turned out in Tiger print fabric!!!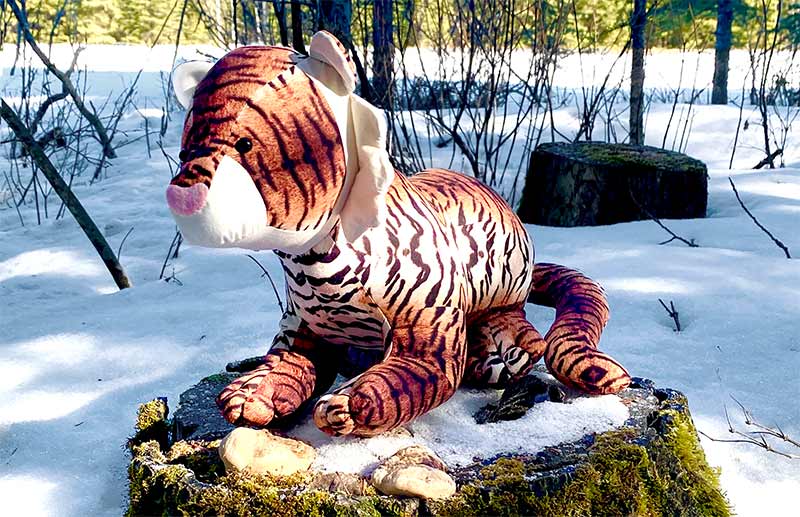 This adventurous Taylor Tiger frolicking in the grass was sewn by Rebecca Lane.
What a sweet face!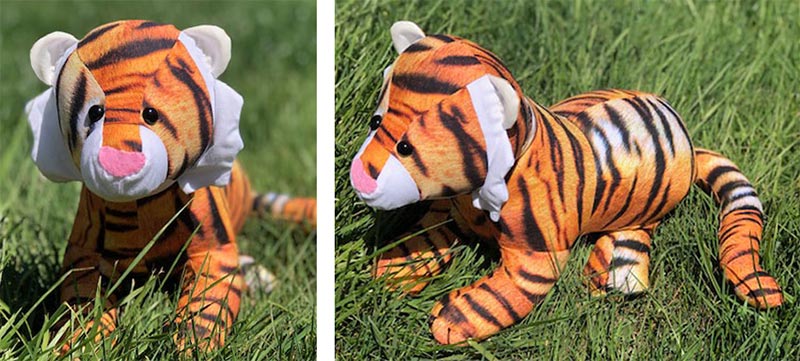 A wonderful hand painted white Tiger!
This AMAZING white Taylor Tiger was sewn by Kirsty Barnet in luxe minky and she hand-painted the stripes!!!! WOW, isn't she talented? (I could never do that!)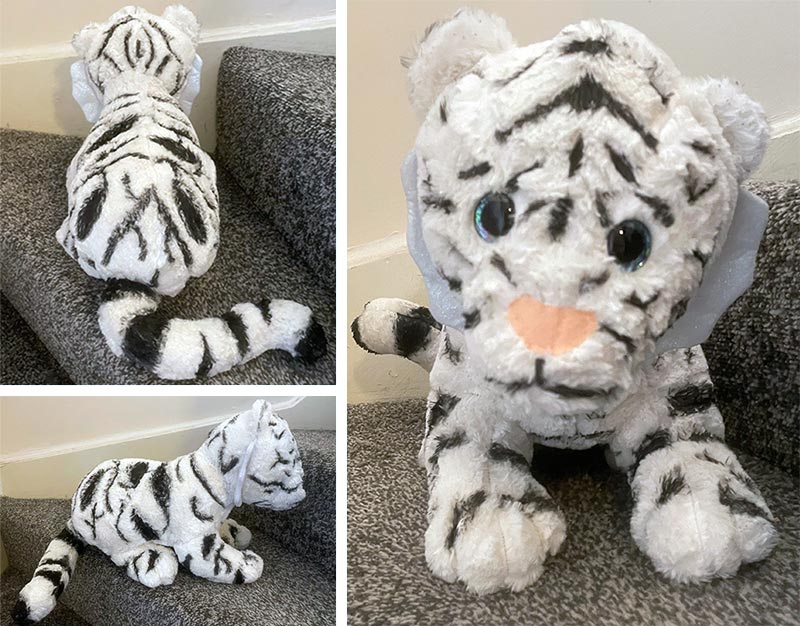 AND one more…
This Taylor Tiger sewn by Sandra Thurlow who said she was very happy with how the tiger turned out BUT next time she won't use fur for the chin as it was a bit much!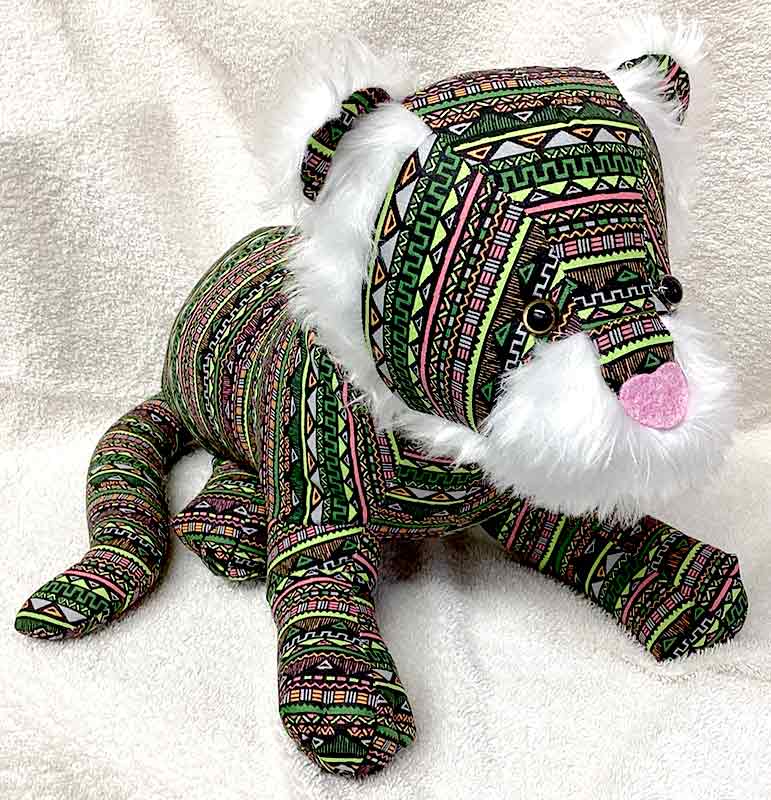 That should have given you LOTS of inspiration for your own Tiger!
In case you missed the link – the Tiger Pattern is available on the website HERE.
Till next time, Happy sewing!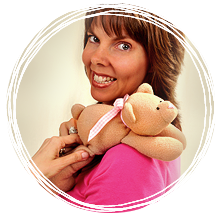 Bye for now
xxx
Pauline