Taylor Tiger Testing has been one of the MOST FUN testing periods for ME because I have received so many happy emails from Testers who found it so much easier than I said they would! PLUS I LOVED seeing how different the tigers toys turned out! I know there are a lot of you have been eagerly awaiting the official release of my Tiger Pattern so without further ado….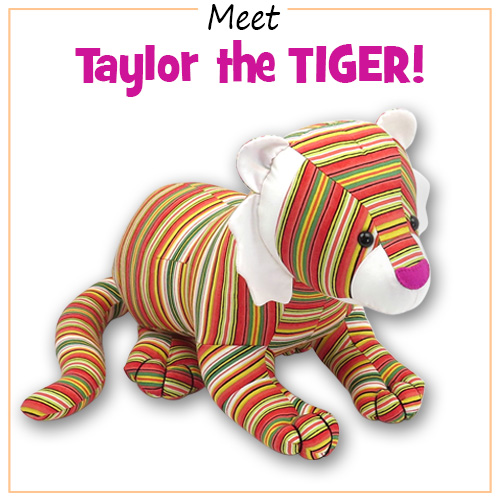 Where can you buy the Tiger sewing pattern?
Want to sew your own toy Tiger? The Taylor Tiger Pattern is available HERE.
What SIZE is the finished Tiger?
Taylor the Tiger is 42cm/16½ inches long (from the back to the tip of the nose – the tail is to the side so I didn't count it as extra!). 
Is there a Photo tutorial for the Tiger Toy Pattern?
YES! I have created a step-by-step photo tutorial so you can see EXACTLY how to sew my tiger pattern – with lots of clever toy making tips and tricks!  As usual, you can access the tutorial using the link in the See-Me-Sew section of the pattern.
(*Please check you typed this link in correctly,
~> or you'll get an error page! 😱 )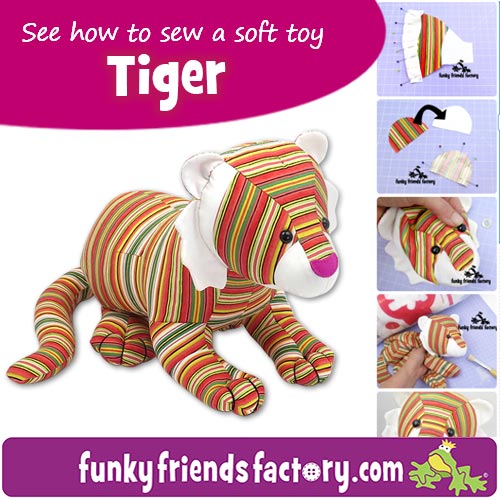 Difficulty Level:
I would say that the Tiger toy pattern is an advanced pattern ONLY because the legs are quite complicated and go together in a rather unusual way. Some of the Pattern Testers were beginners and they said they found the instructions and photo tutorial made it simple for them to sew Taylor, they just had to concentrate as there were LOTS of pattern pieces! I'd still like to say, "If you are new to sewing soft toys – try starting with one of my easy patterns. You can try my FREE Honey Teddy Bear Pattern first, if you like… AND there's also a FREE Toy-making Course on the "BEGINNERS START HERE" page of my website for beginners too!" 
TIP: I have added LOTS of VISUAL tips to make this pattern easier for beginners! Even if you're an experienced toy maker, PLEASE follow my advice about about transferring all of the pattern markings and letters to the fabric pattern pieces. Taylor has lots of similar shaped pieces, which means there are LOTS of opportunities for muddling/mismatching the pieces.
What fabric should I use/not use for a tiger toy?
You don't need orange fabric, or stripes and you can use ANY COLOUR you like for sewing the Tiger Toy Pattern – as you will see from the feedback photos from the Testers below…
Tester's Tip

: 

Don't use THICK

or VERY FLUFFY fabric


for the Tiger's SNOUT!!!

The tester's found that using very THICK fluffy fabric for the snout area wan't great because – the "Tiger's SMILE got lost".  If you want to use Cuddle® or fake fur for your tiger, I recommend using the standard C3 Cuddle® ("flat" or "low pile" version) for the SNOUT and CHIN PIECES  and the fluffier, thicker Luxe Cuddle®, longer pile Cuddle® and faux fur fabrics, for the tiger's SIDE HEAD and RUFF(SIDE BURNS).
Here are just some
of the lovely feedback photos…
Delightful in denim, cute in Cuddle®, and fun in fleece… Taylor the Tiger will warm your heart. 
How sweet is this – a teeny Taylor Tiger, hanging out in the long grass? Emily S sewed this stripey toy for her 9 month old…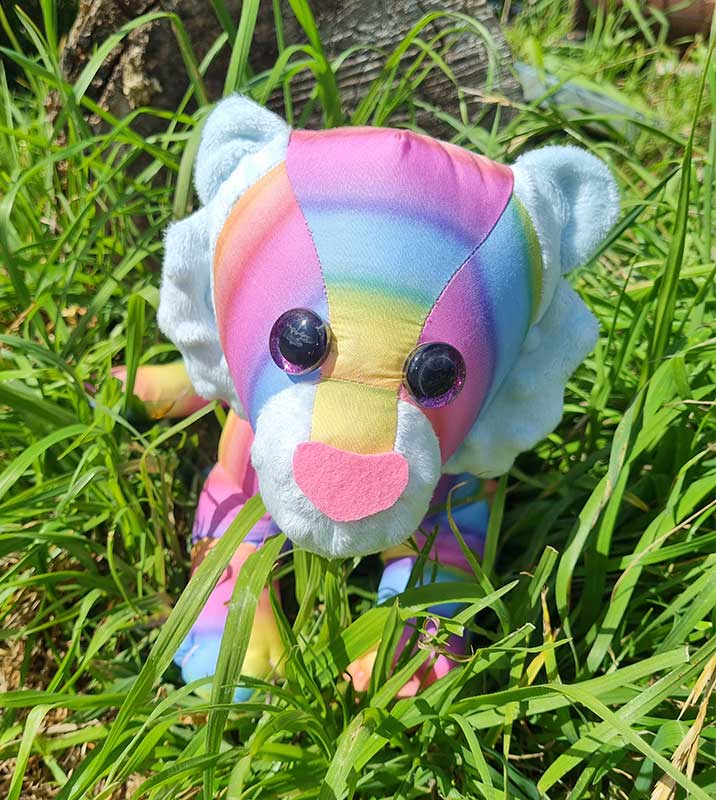 Look at that
CUTE reaction!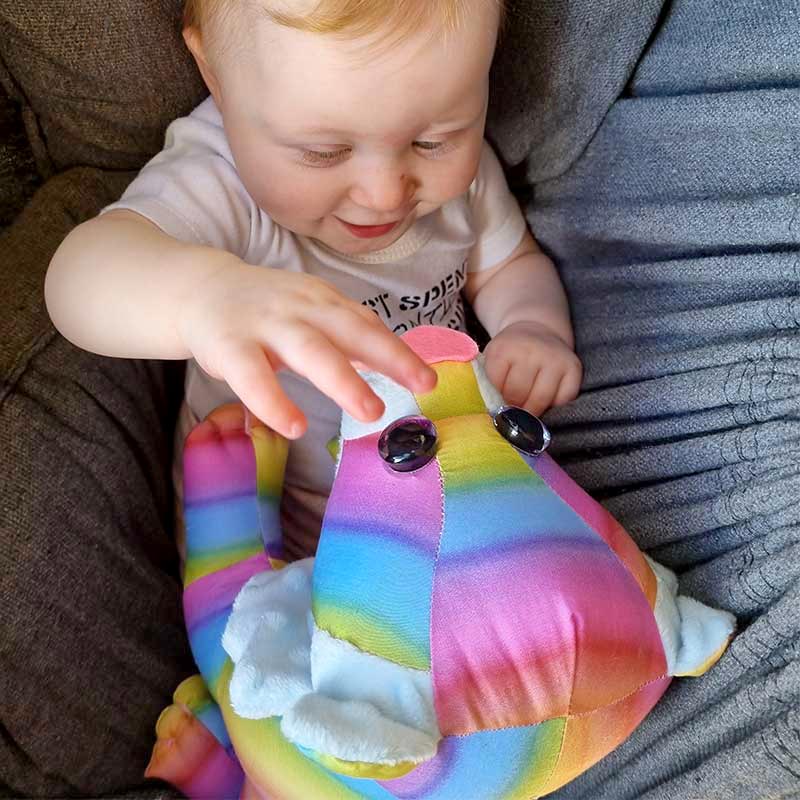 This Taylor Tiger was sewn by Beth Vincent using quilting cottons.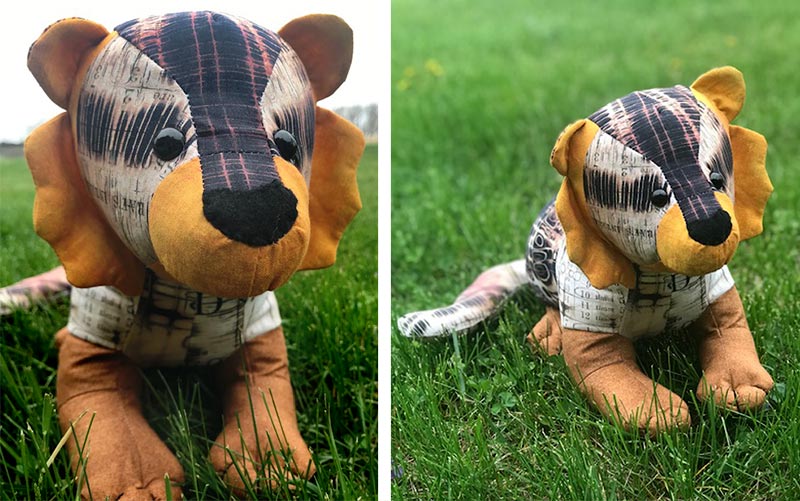 This Taylor Tiger was sewn by Karla Strauss using Rainbow cuddle fleece purchased from JoAnn's Fabric & Craft and long pile Mongolian faux fur…

isn't her Taylor Tiger
MAGNIFICENT!?!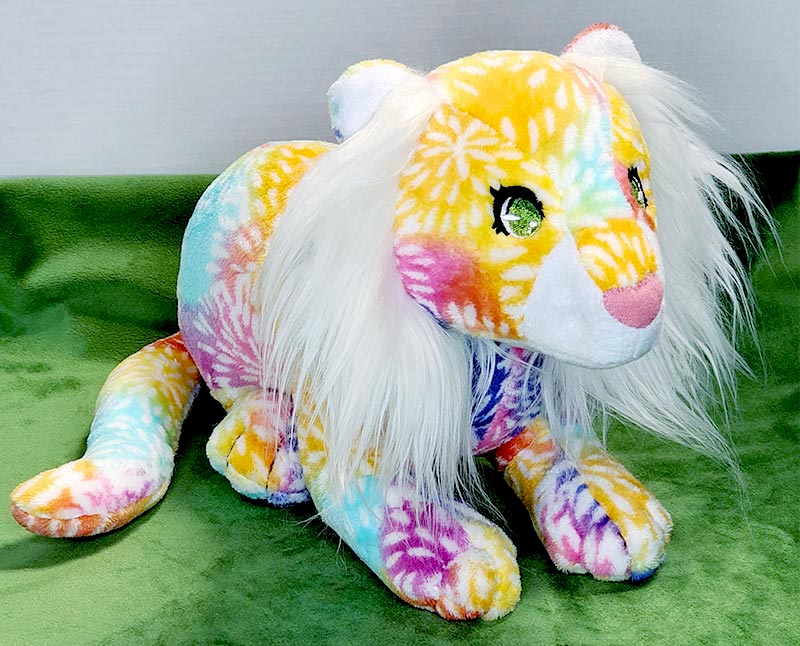 This Taylor Tiger was sewn by Jonell Hart using a selection of quilting fabrics and a fun RUFF made from tasseled trim!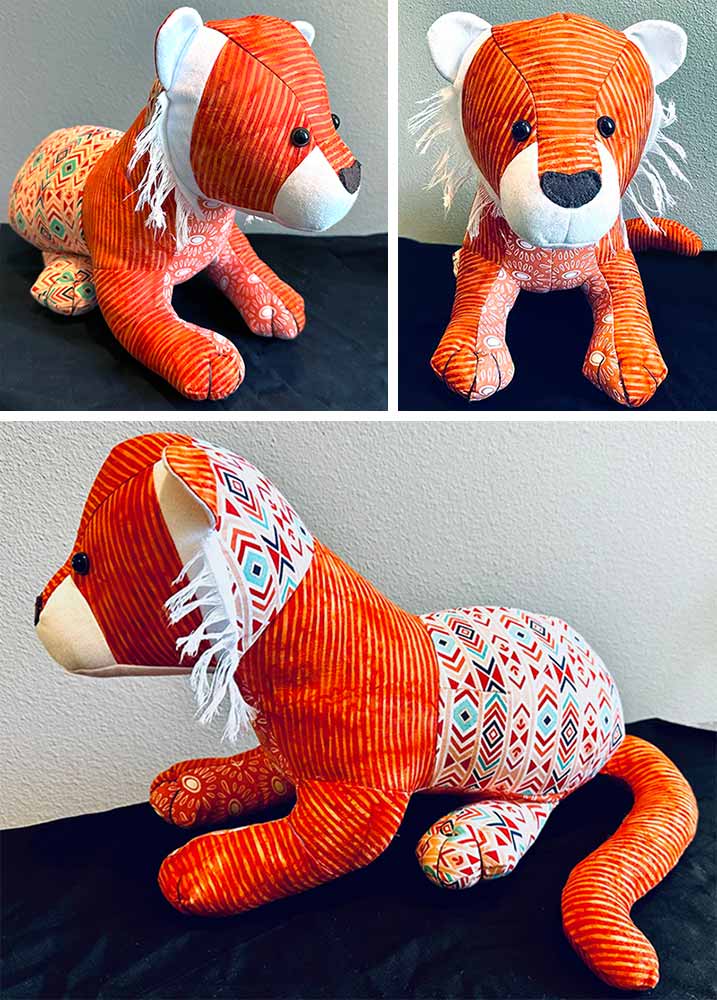 This Taylor Tiger was sewn by Akrivi Fassa, with fleece. It was made as a party gift for her daughter's classmate and she picked the fabrics.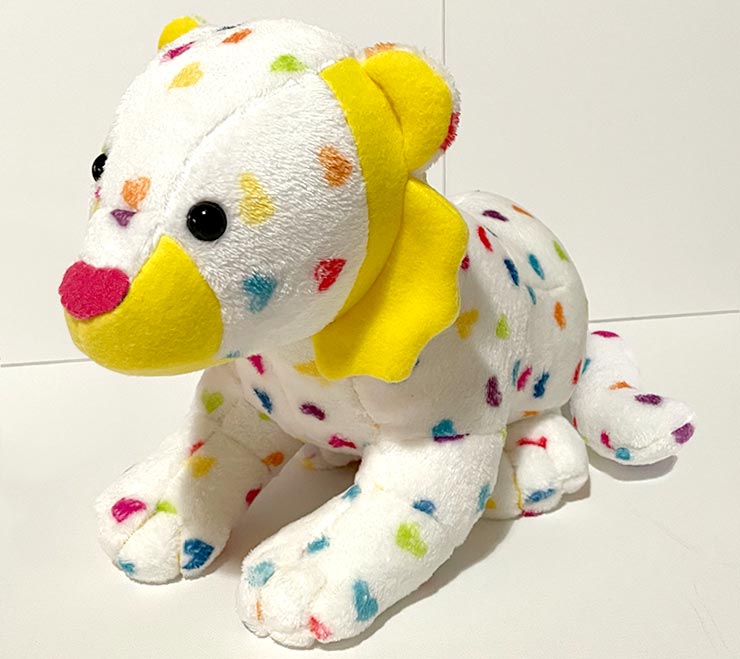 This Taylor Tiger was sewn by Charlene Chambers of Cha Cha Handmade Corner using a batik fabric. Charlene says she absolutely loves the way Taylor is crouching and she's going to make some friends for him!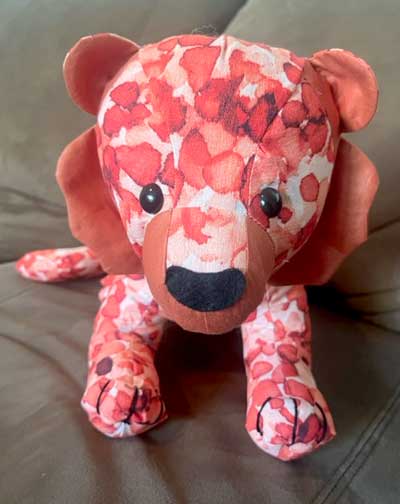 This Taylor Tiger was sewn by Wendy M using a cotton print picked by her husband – great choice for a tropical tiger – don't you think?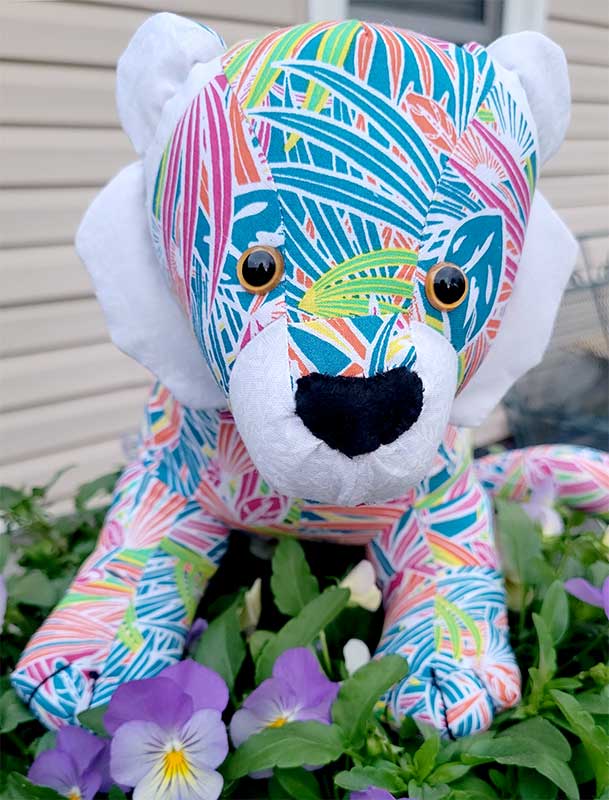 This Taylor Tiger was sewn by Erin Milburn. She used this AMAZING fabric designed by Sharon Kessler for Vera Bradley Designs because she loved the pattern of the fabric & thought it would make Taylor Tiger pop with the vibrant colors. .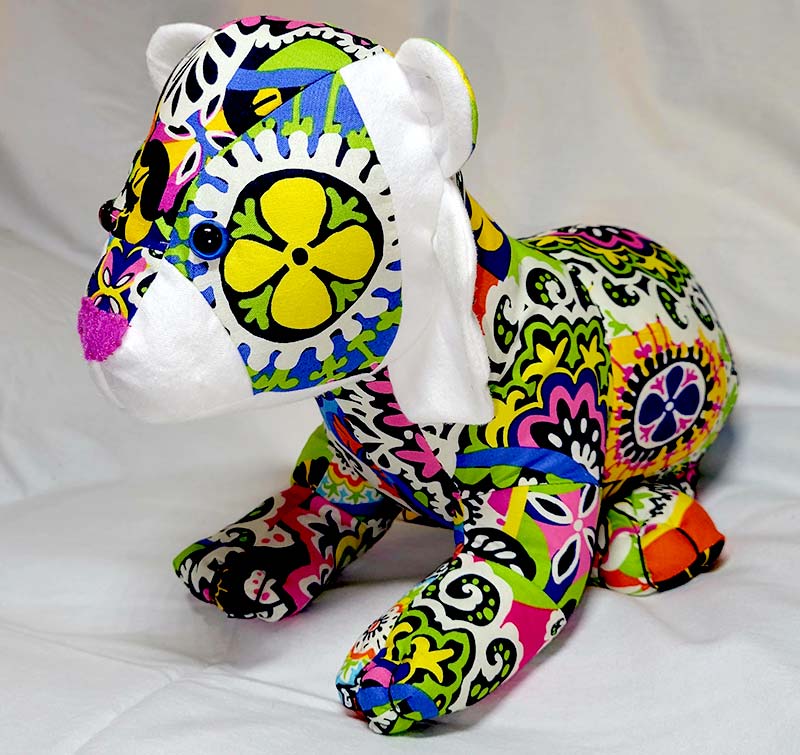 Anna Esser used a fun fleece print for her Taylor Tiger toy as she wanted it to be nice and soft. Isn't it sweet?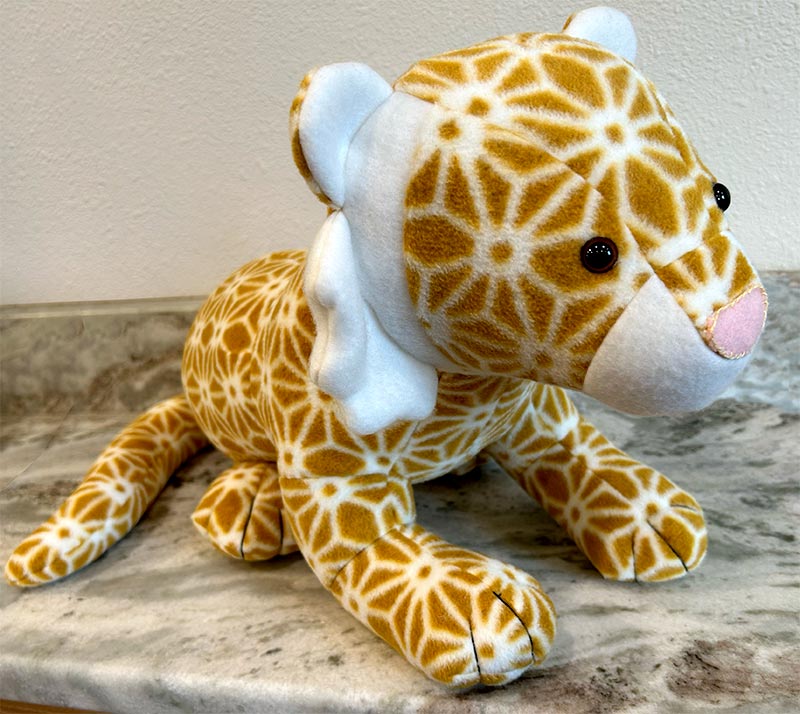 Nicole De Graw used a fun selection for her "scrap buster" Taylor Tiger toy! She said she just used what she had at hand and thought she could make it work – it sure does, I think your Taylot Tiger is TERRIFIC!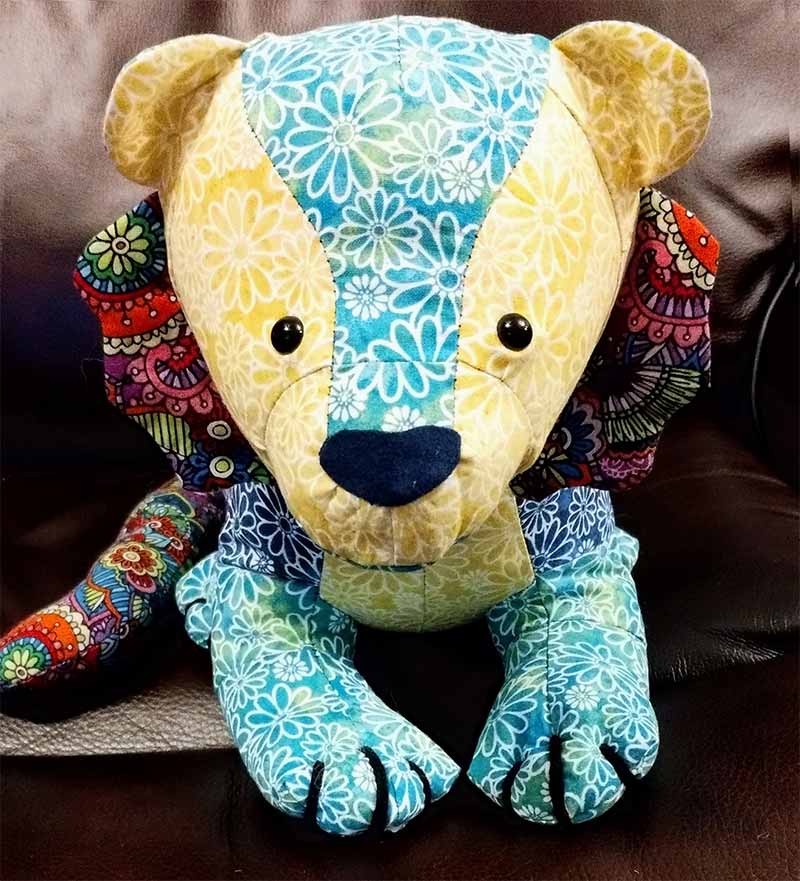 And her you can see the patchwork effect she created from combining fabrics from her stash!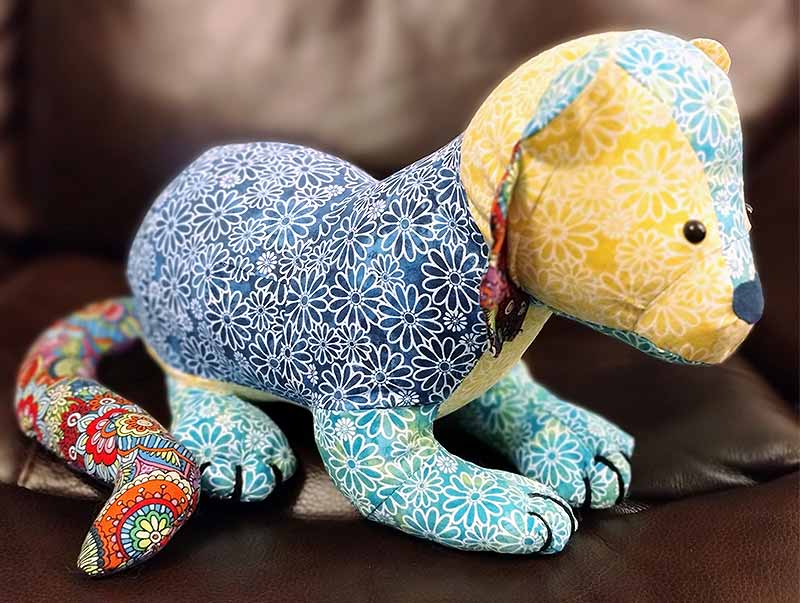 This Taylor Tiger was sewn by Anna G using a fun geometric rainbow print and felt for baby-safe eyes.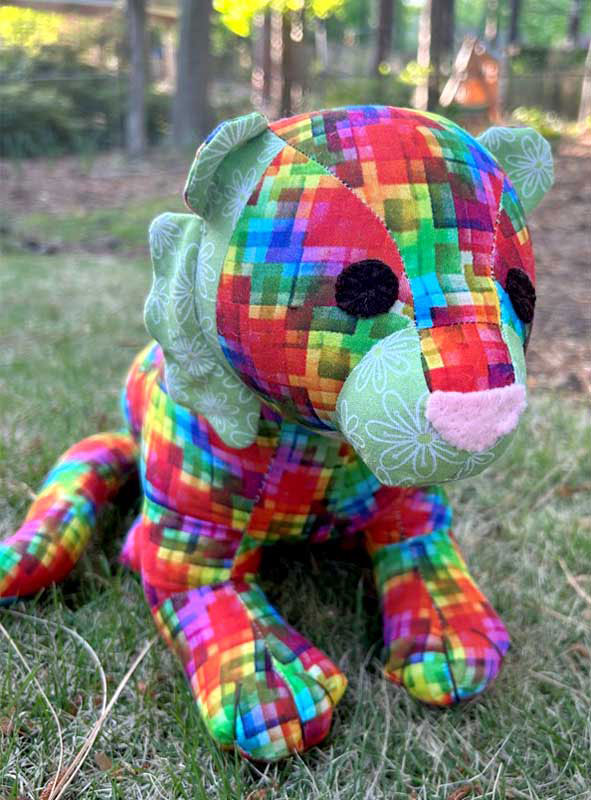 Some super stripey fabric Tigers:
This sweet striped Taylor Tiger was sewn by Natasha G, in quilting fabrics and a bright red nose to make the colour POP!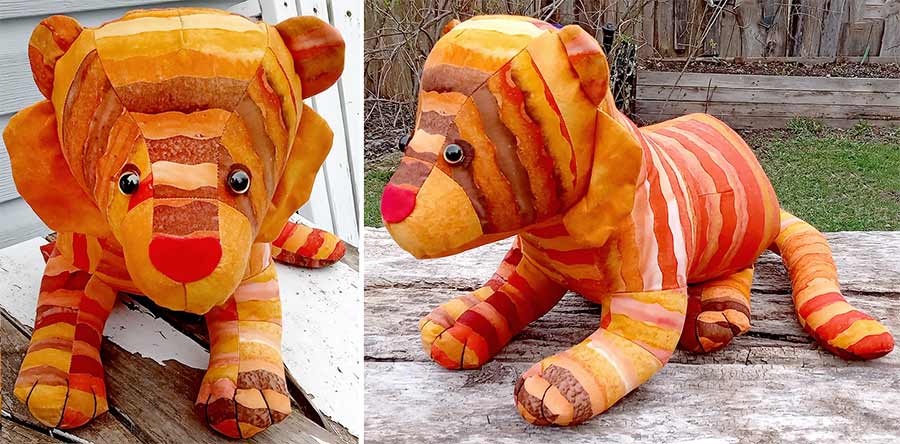 This sassy, stripey Taylor Tiger sewn by Steve Palmer  – I think she's almost Funky Friends Factory colours! 💜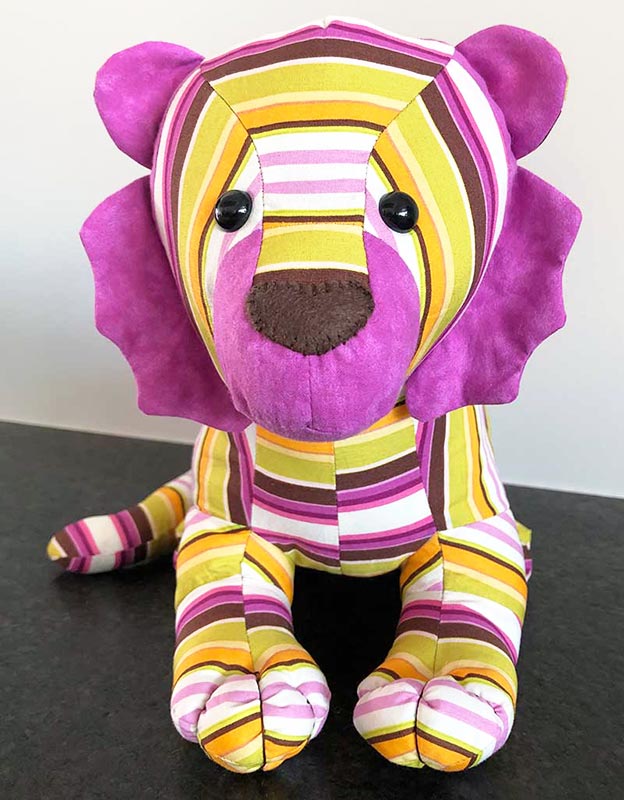 Francine B wanted to create a multicoloured tiger so she used an assortment of quilting fabrics for this fabulous patchwork Taylor Tiger  – it looks like it has made a little person very happy!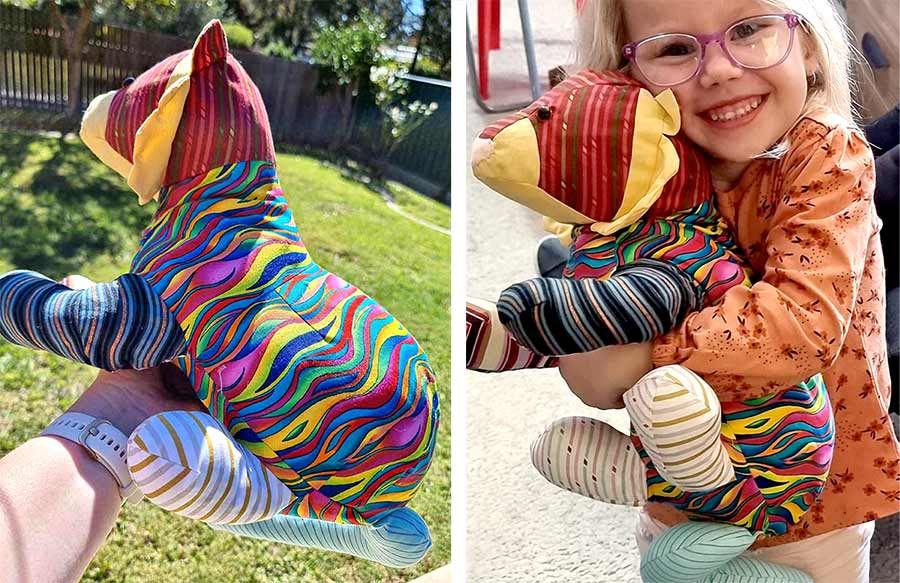 This Taylor Tiger was sewn by Dixie Ball of Dixiekins. She used flannel and machine embroidered eyes as this tiger is for a child under 3 years old.

I'm not normally a fan of green or stripes BUT I TOTALLY love the combination in the green, stripey Taylor Tiger, sewn by Wendy Hutton!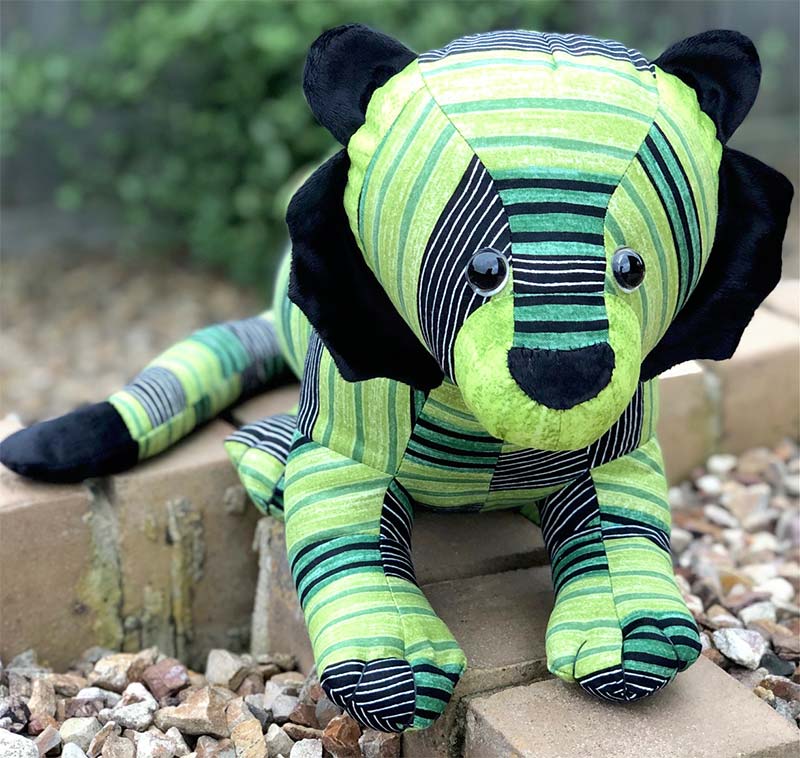 I LOVE the way the swirls in this fleece fabric create a stunning stripey effect on this Taylor Tiger sewn by Rae Waters.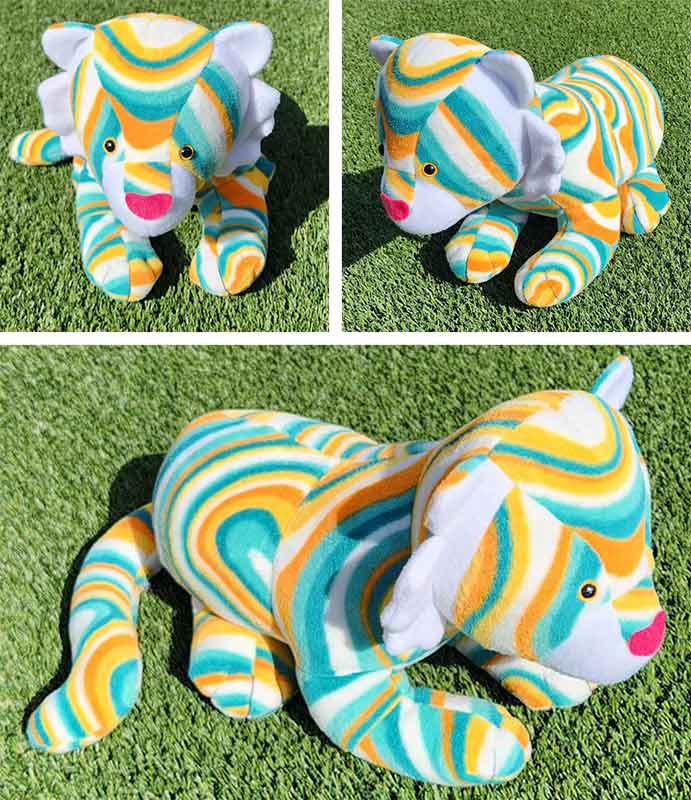 A Tiger makes a cute keepsake toy!
This Taylor Tiger was sewn by Debbie Young who upcycled two of her little boy's old jumpers and a t-shirt, because she wanted the stripes!😀 🐅 🐯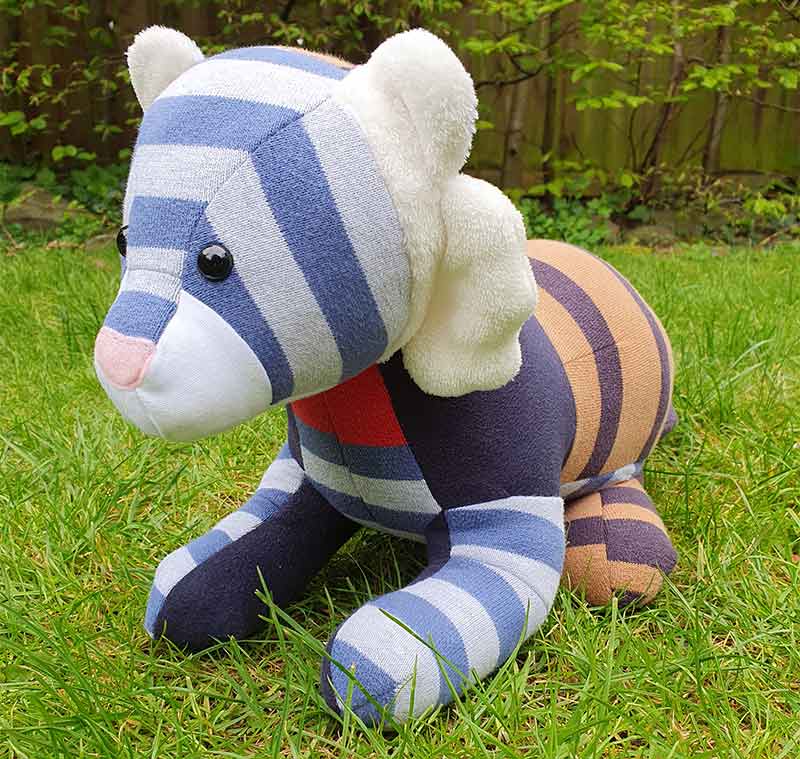 Denise E made a sweet keepsake Taylor Tiger from one of her son's tops… isn't he sweet sitting in the sunshine?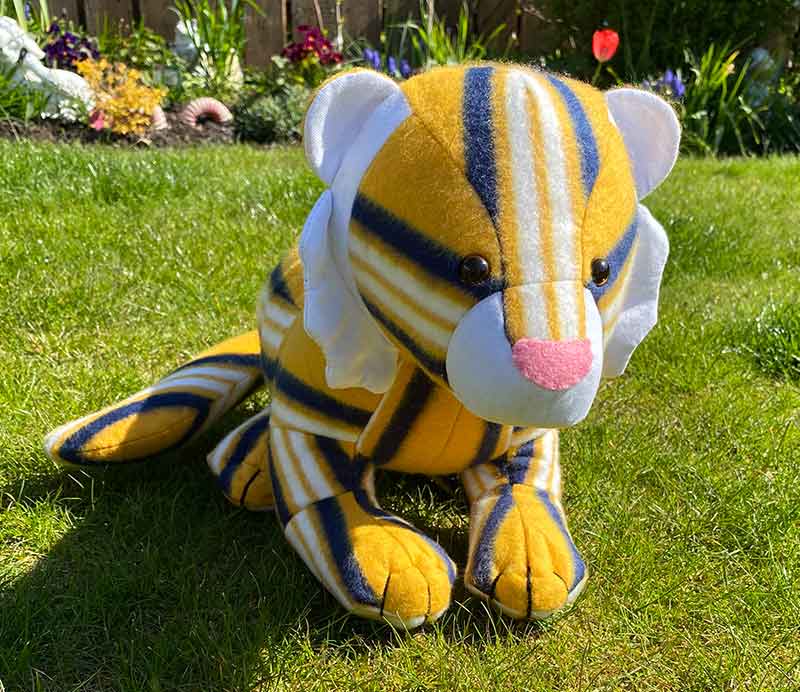 Michelle Fish decided to make a memory toy Taylor Tiger from baby clothes. She liked the large size of the Taylor Tiger pattern because she could use more clothing items and those with big motifs – like the word ROAR on the tail!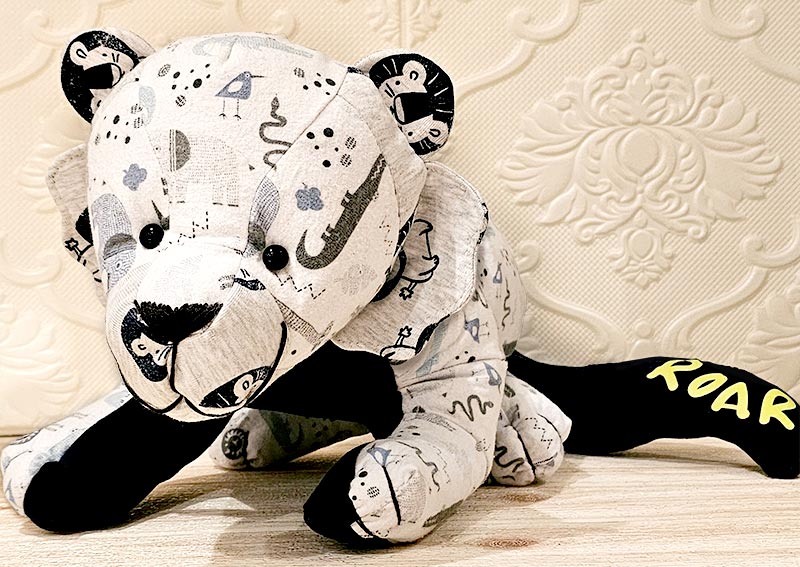 A Tiger makes a cute sports mascot!
This Taylor Tiger mascot was sewn by Jaime Cox who used Louisiana State University Tigers fleece fabric, that was given to her by her mother-in-law who they lost recently. Jaime is planning to gift this precious tiger in memory of her. ❤️❤️❤️ 
Jane J. made a terrific Taylor Tiger mascot in the team colors for the Memphis Tigers, using a quilter's cotton with fur accents.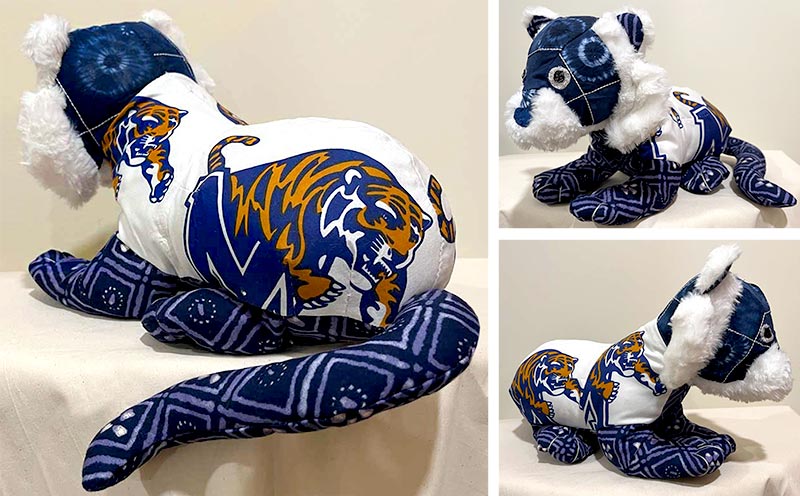 Use your animal fabric panels and prints!
This Taylor Tiger was sewn by Caroline Dunn using a large panel print.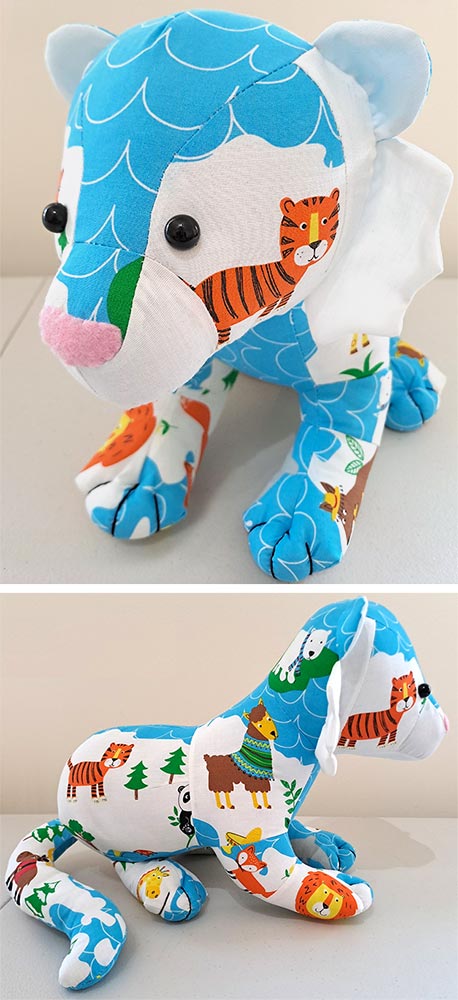 The tiger pattern looks TERRIFIC in tiger print!
This Taylor Tiger was sewn by Lindsey Mortimer using terrific tiger stripes. Nose tip: She used fabric glue for the nose.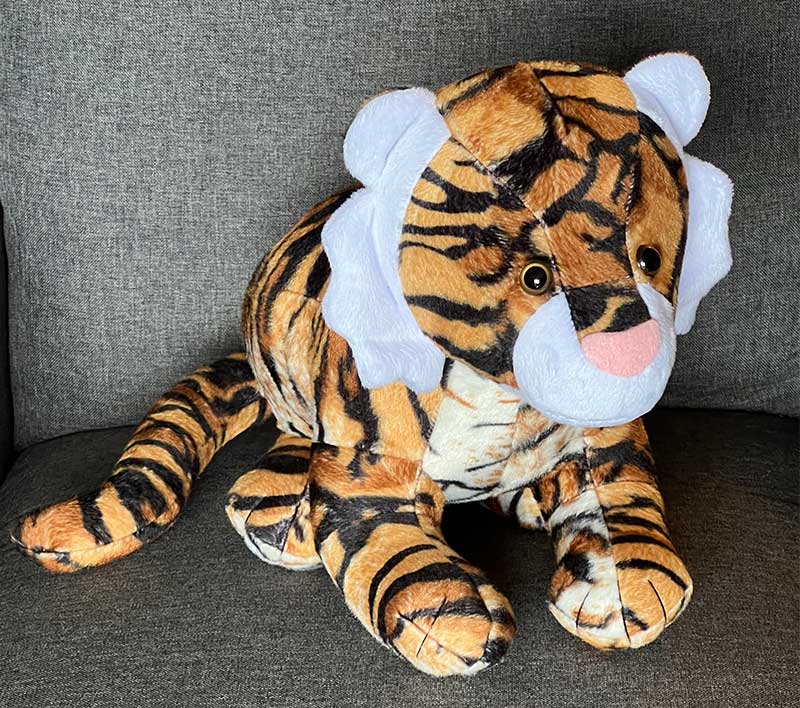 Kathy Dickson had this tiger striped fabric in her stash for over 10 years so she was very excited about the new Taylor Tiger pattern! I saw this sort of comment a lot…people have been hoarding tiger fabric!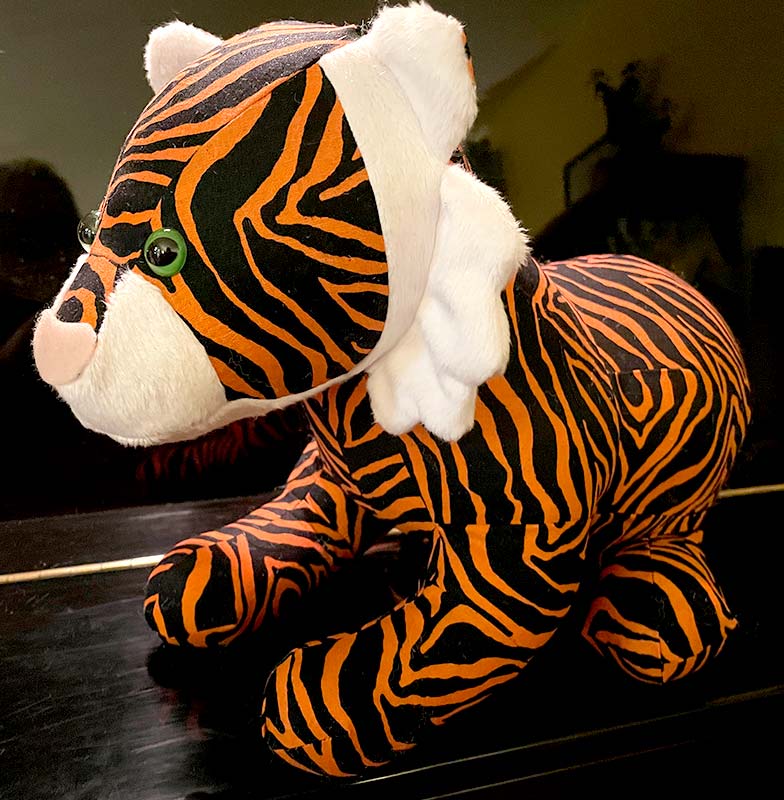 A wonderful WHITE Tiger!
This ADORABLE baby-faced white Taylor Tiger was sewn by Caroline Savage.  Visit Handmade by Caroline to check out the other gorgeous Funky Friends she's sewn!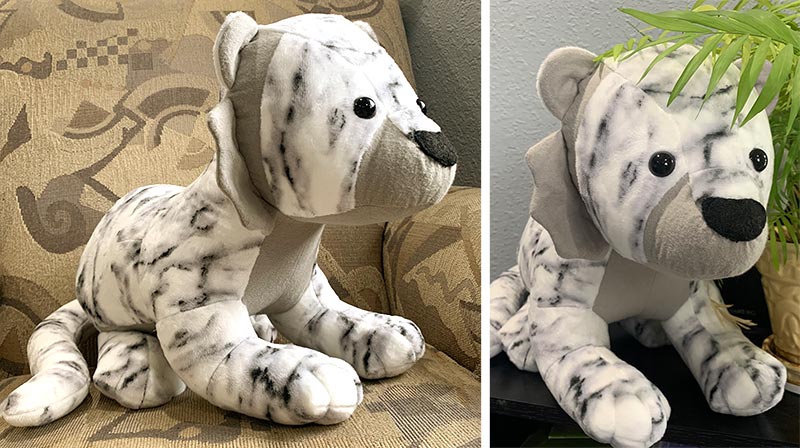 This stripey white Taylor Tiger was sewn by Patty M… in zebra stripes – too cute! Taylor would look great in cheetah spots, too!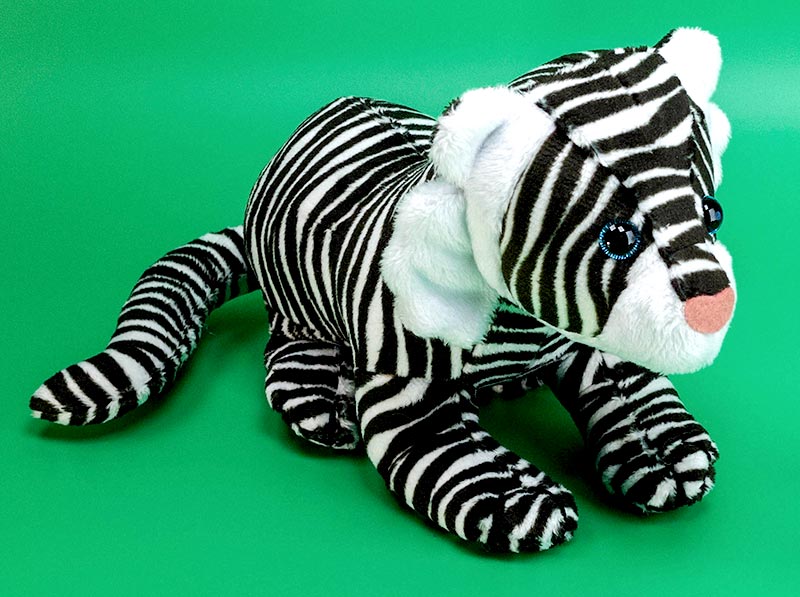 AND one more…
This glittery, rainbow Taylor Tiger was sewn by Elrita Faure. She used custom printed polytex and denim for the contrast – GORGEOUS!!!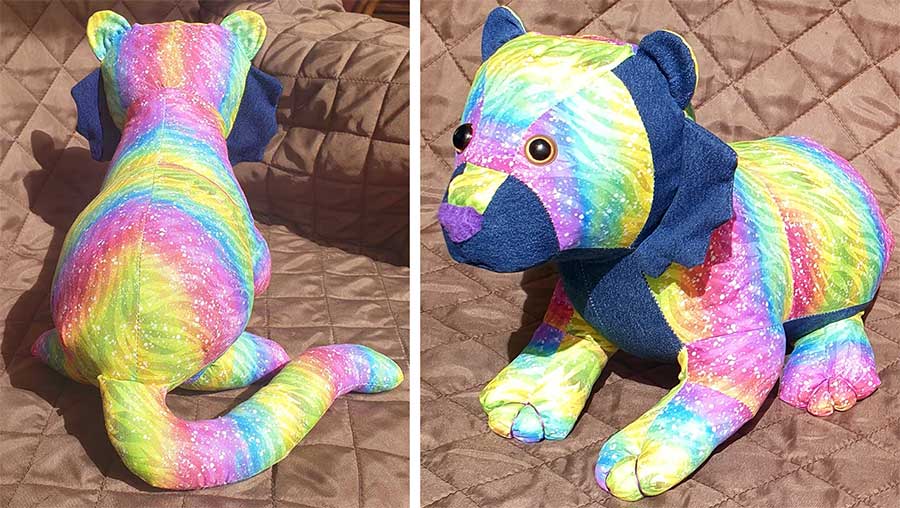 THANK YOU
to ALL the Testers ~>
I love ALL of your lovely feedback photos!!!!
In case you missed the link above – the Tiger Toy Pattern is available to download from the website NOW!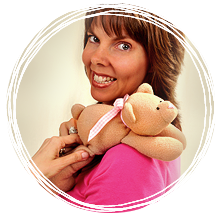 Till next time – Happy Sewing!
xxx
Pauline