It makes me so happy when someone posts their first toy creation, so we're starting a new blog series to celebrate makers posting their FIRST Funky Friends.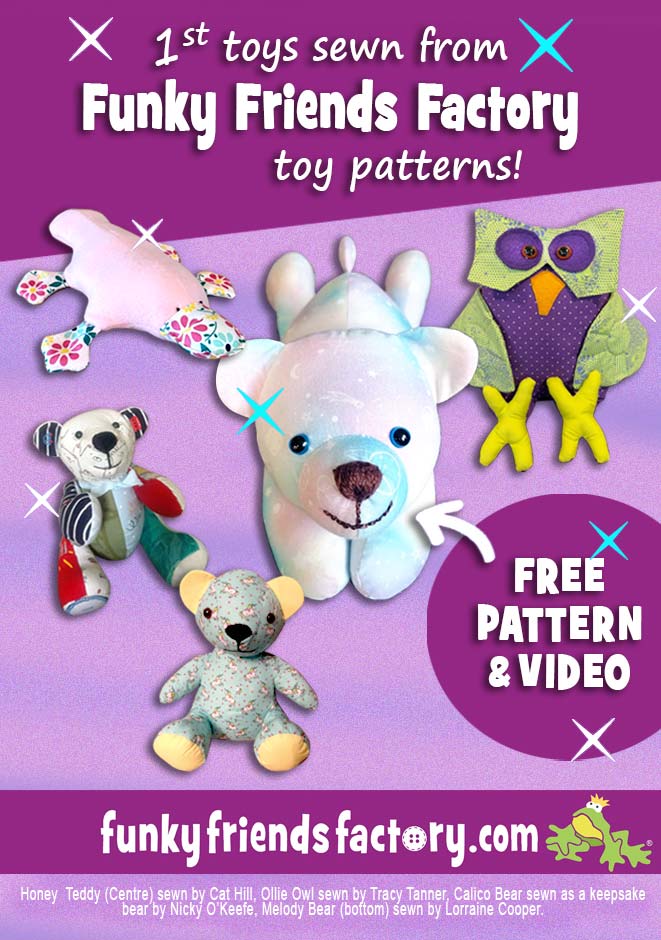 I'd love to see YOUR first funky friend, so join our Facebook group and post your pic.  Make sure to tell us it's your first Funky Friend (add the hashtag #firstfunkyfriend) and share a little bit about the experience like these makers. You'll get great feedback comments in our group, and all posts are eligible to win a free pattern in our monthly MAKER OF THE MONTH contest. See the bottom of this post for more details on that.
It's EASY to sew your first toy!

Get started right now with our FREE patterns and FREE toy-making course!

 
BUT 1st, let's start with the FREE toy patterns…
Whether you're new to sewing OR just new to sewing Funky Friends Factory patterns, I suggest you CLICK HERE to start with the free toy-making course! This email course will take you step-by-step from gathering supplies to stuffing tips, to your First FABULOUS finished Funky Friend toy AND it comes with my easiest pattern – Plattie Platypus (Yes, it's FREE!)
CLICK HERE to start with
the free toy-making course!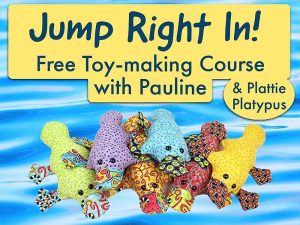 Everybody loves Plattie Platypus! Moira McLeod sewed him up as a new friend for this child.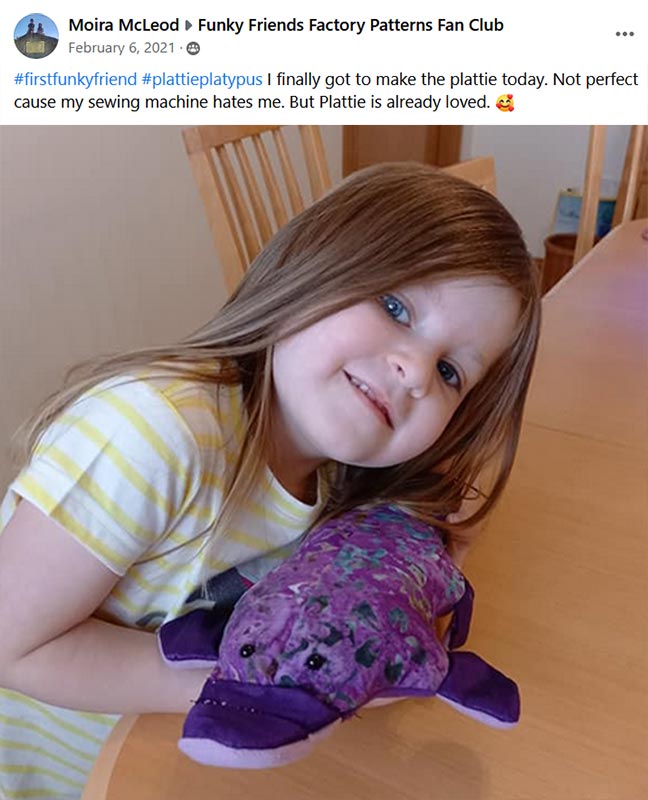 Kids like making this pattern, too. Plattie Platypus is a fun, educational first sewing project for anyone. Lesley Newell showed us a pic of her 10-year-old granddaughter and her Plattie, who she named Lola!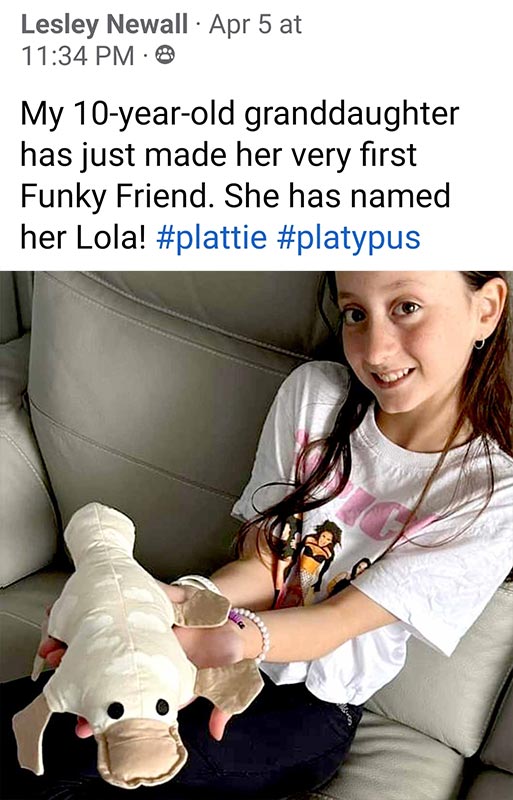 Want a FREE teddy bear pattern?
Many people want to start sewing a teddy bear right away. If you're looking for a free Teddy bear pattern – Honey Teddy is a GREAT option!!! He's not my easiest bear pattern (see below for that), BUT he comes with a VIDEO of me sewing him!
Sign up for the newsletter HERE
 – and you'll receive the PDF pattern for free!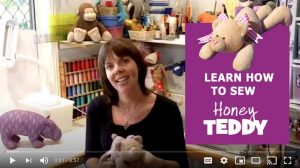 Sandra Pitts transformed fabric scraps into this lovely Honey Teddy. Tip for sewing Honey Teddy as a first toy: If you're new to sewing, you may want to print the pattern at 120% or use fleece fabric so you have more room to work. Honey Teddy is sized to be the perfect size for a baby to snuggle, so that means he is smaller than some of the other patterns.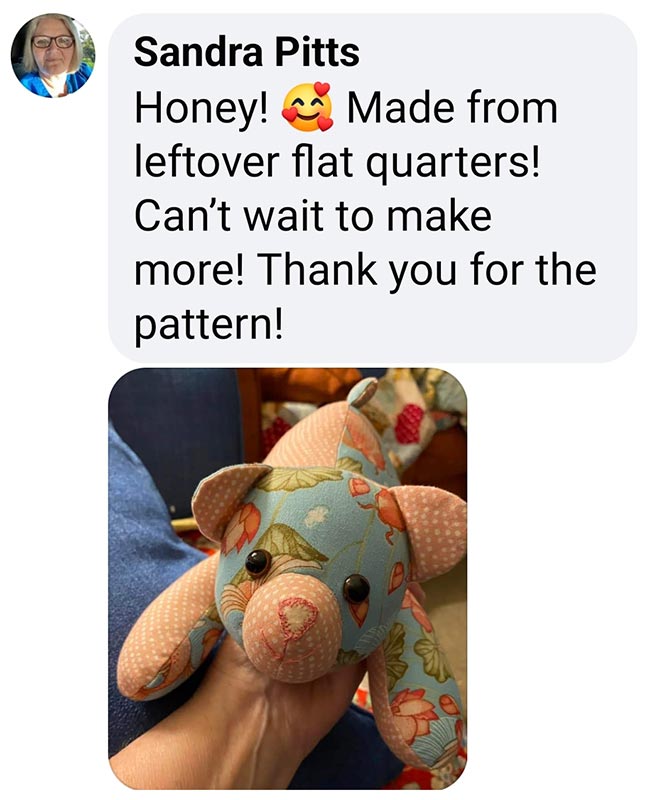 Next –  my most popular teddy bear pattern for beginners:
Ben the BEGINNER Bear is a chubby baby bear perfect for hugs, and he's the star of the Patterns for Beginners section of the toy pattern shop.
A first birthday is the perfect occasion for a first Funky Friend. Here's a Ben the BEGINNER Bear sewn by Ana Arezima Wismer for her granddaughter's first birthday. She used Tula Pink fabric for her first Funky Friend. Love that happy smile and hug!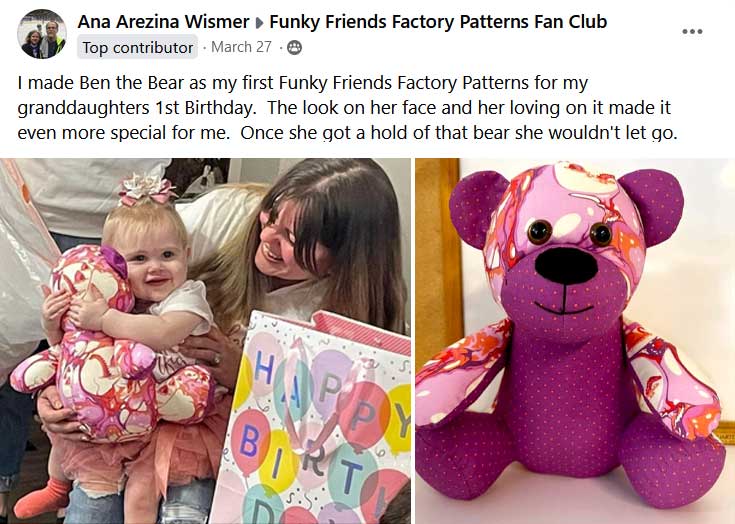 Here's a beautiful bunch of Ben the BEGINNER Bears sewn by Sandy McDonald.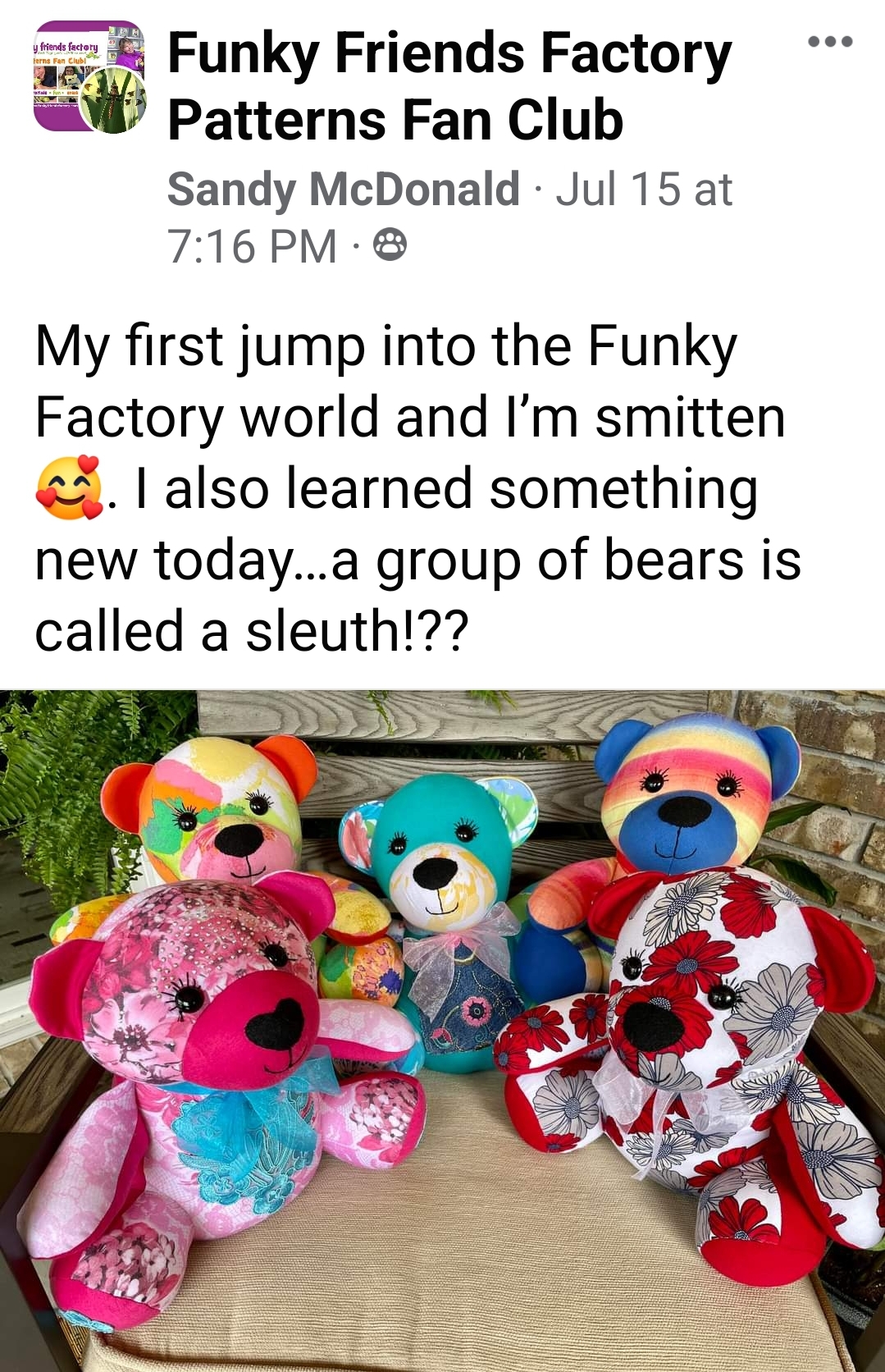 Diana Benz Racher says she is addicted to Funky Friends after sewing the Ben the BEGINNER Bear pattern!!!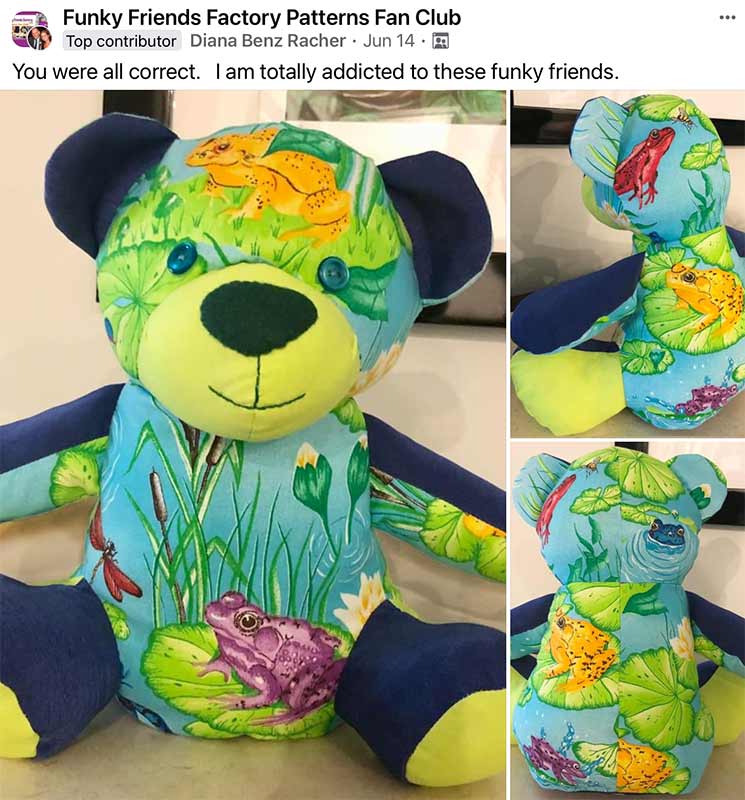 Click HERE to buy the BEGINNER Bear pattern.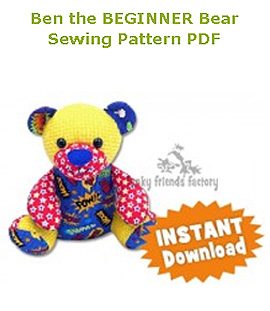 We have LOTS of different teddy bear patterns!

If you're interested in a different style of bear, there are lots of options! This blog post (Compare the Bears!) goes over everything you need to know to pick a bear pattern – like the SIZE of the teddy bear, SEWING LEVEL required, FEATURES and uses for each bear pattern eg. best teddy bear patterns for keepsakes, t-shirt logos, for beginners, etc.

 
Let's meet some other recent FIRSTS in the Bears Category!
Melody Memory Bear Pattern:
Melody Memory Bear is a really popular choice for a first project! Dannii Hankey sewed up this bright and cheery Melody Memory Bear as her first pattern. >
TIP FOR SEWING MELODY AS A 1st PATTERN:

Melody isn't one of my easy patterns but LOTS of people want to sew her as a 1st toy. It is very important that you sew her together in the right order – so transfer all the letters and pattern marks onto the fabric then follow the instructions so you don't sew any seams earlier than instructed. (That's it, that's the tip! Easy, right?)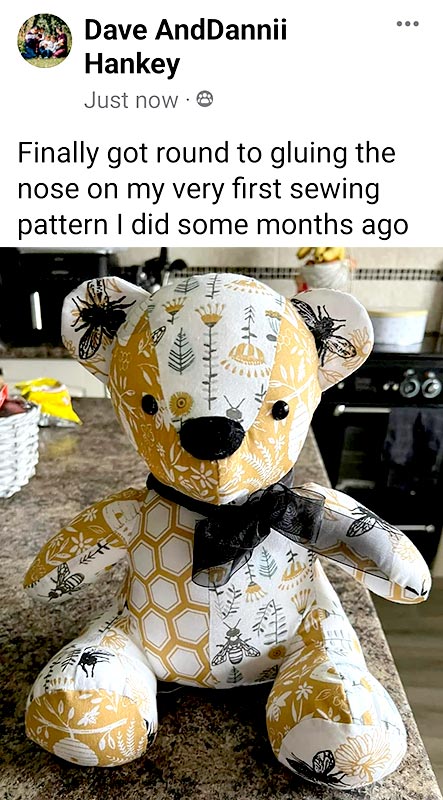 Click HERE to buy the Melody Memory Bear Pattern.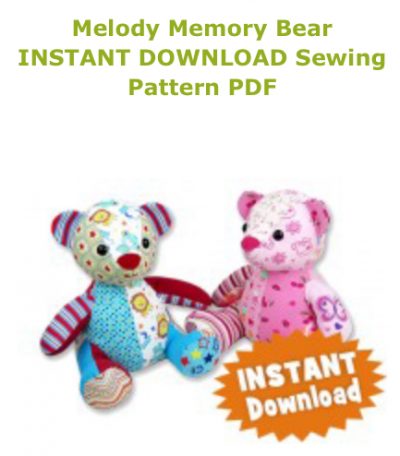 Calico Signature Bear Pattern:
Lots of people gravitate to Calico as a first pattern because he has arms and legs that move. Nicky O'Keefe used Calico to show off some baby clothes.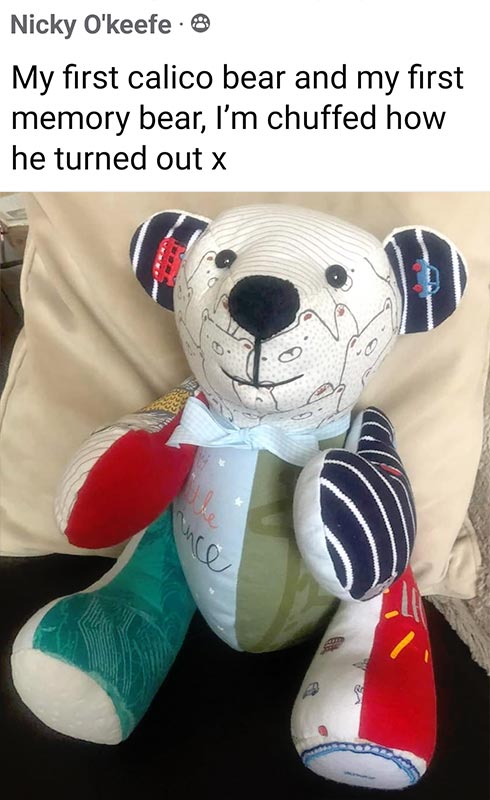 Click HERE to purchase the Signature Bear pattern.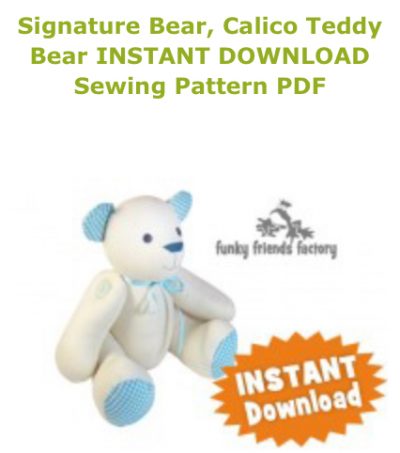 Buttons BEST Dressed Bear Pattern:
If you're looking for a pattern to sewn a teddy bear wearing clothes – Buttons is the Best Dressed Bear is for you! Don't worry, he's not difficult. Everyone seems to remark that he's much easier than they expected. Brooke Herzberg Cline said that in her post below! I think Buttons (without the cuffs and collar added) is as easy as Ben the Beginner Bear and easier than Melody (everyone has their own opinion on this, though).  People like that Buttons has a built-in nose that you do not have to sew on by hand!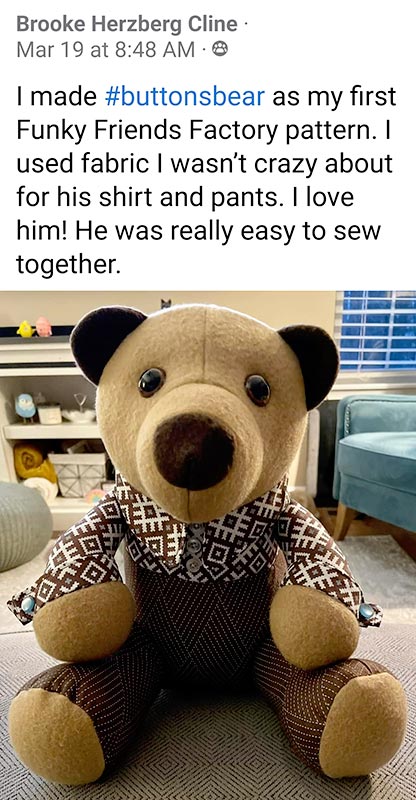 Click HERE to buy the BEST DRESSED Bear pattern.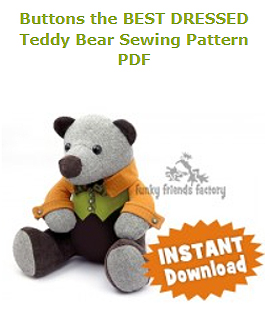 Now for some NON-BEAR toys…
This Easter Bunny Buddies pattern  sewn by Emily Contrino is a fabulous first toy. This pattern has a nice, big "no seam" (single piece) tummy like Ben the Beginner Bear if you want to use a onesie design on it. The Easter Bunny looks great in all prints and fabrics. Tip for sewing the Easter Bunny Buddies as a first pattern: Once again, make sure to add all the pattern markings to the fabric. It's easy to accidentally rotate the cheek pieces, which makes the neck line not match up  in the back. Luckily, this is easy to prevent and it's actually the only question I've ever seen asked about this pattern.
Click HERE to buy the Easter Bunny sewing pattern.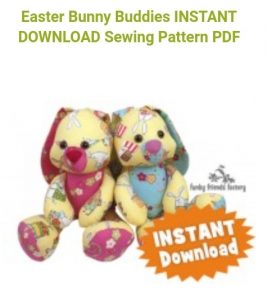 Dizzy Dolphin pattern is listed as one of my "beginner"  toy patterns and I've had kids sew it as a first pattern lots of times. Dizzy is fast to make, just like her friend Sammy Shark. This pretty purple and blue dolphin was sewn as a clothing keepsake by Diane Montague.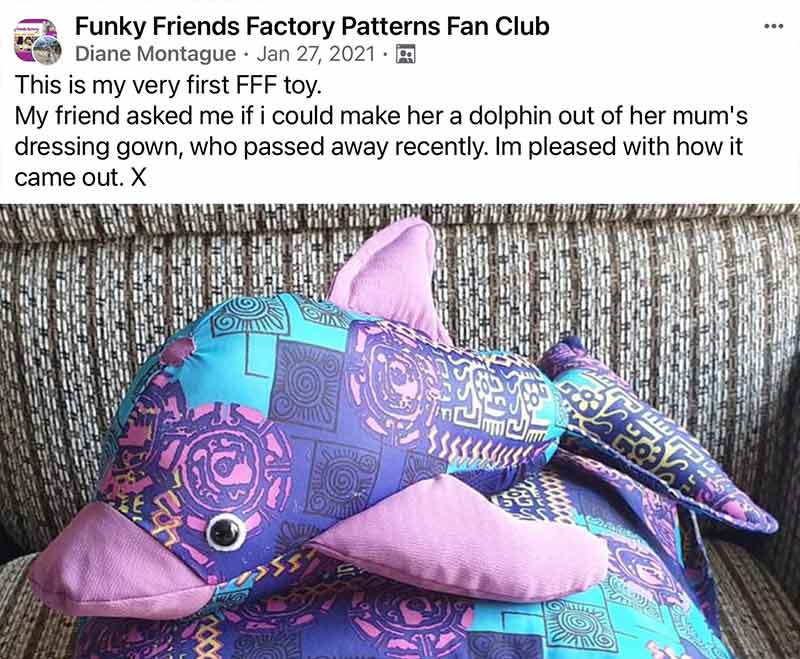 Click HERE to buy the Dolphin pattern.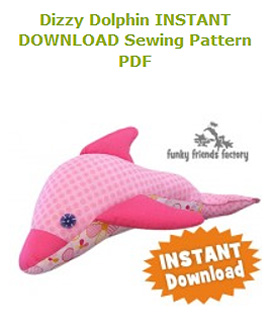 Wow, this is a fabulous Lucky Labrador And Melissa Simulcik says below that it's her first toy project EVER. 
TIP FOR TOY SEWING SUPPLIES:

You might notice that this toy has felt eyes. If you don't have plastic toy eyes on hand, that's fine! Just cut out some circles from black felt and sew them on by hand when you're finished stuffing the toy. It's also a great baby-safe option!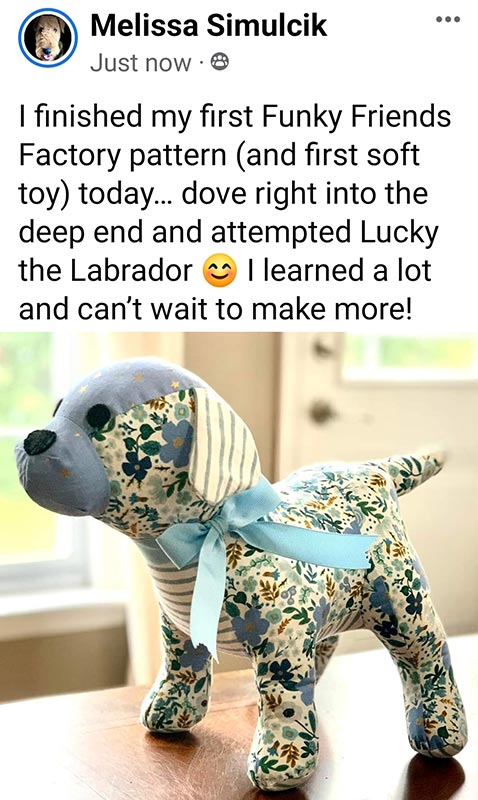 Click HERE to buy the Labrador pattern.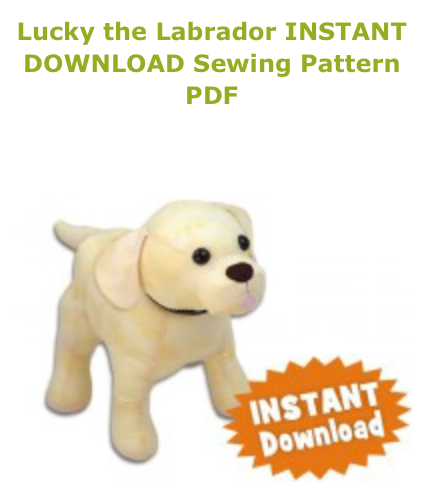 I had no idea the Mickey Moose Pattern would be so popular when I released it, and it's a fairly frequent "first" Funky Friend, too. This batik fabric version was sewn by Katrina Penroad Heath. Don't forget to turn his antlers "up" rather than down before you take a photo…he likes having "happy antlers."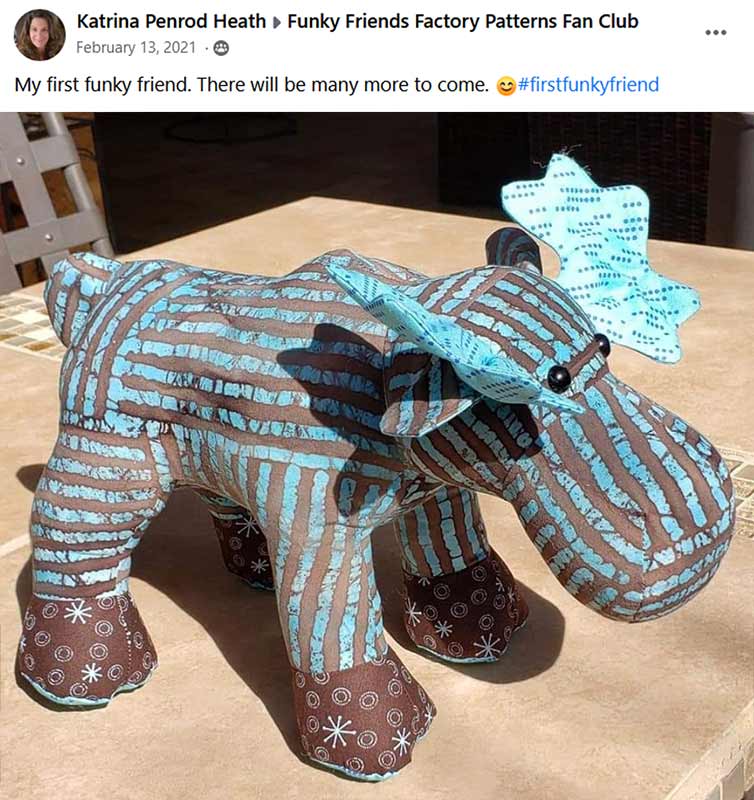 Click HERE to buy the Moose pattern.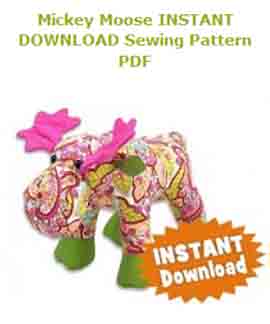 I'm blown away by this next project!
I consider this the most challenging Funky Friend because the toy itself is not symmetrical. If you don't add all the markings to the fabric (my main tip for EVERY maker, EVERY time) you will have trouble fitting things together. Denise York sewed Winsome Wolf as her very first soft toy ever! I don't recommend this for everyone, but I've seen my wolf pattern sewn as a 1st toy at least 4 times.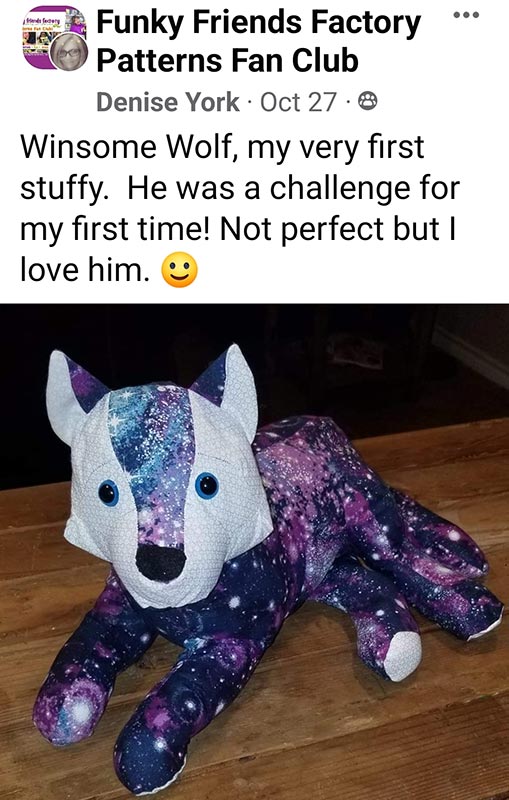 Click HERE to buy the Wolf pattern.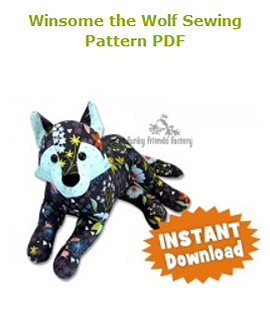 Which FFF patterns are "easiest" ?
This varies so much depending on the person, so I don't specifically rank the patterns, except for those in the "beginner" section (they have larger pieces and fewer seams). Once you've sewn a few patterns, you'll get familiar with the basic techniques, like sewing paw pads. Then all the patterns are about the same difficulty level, even if they're really different shapes or have more pieces!
My main tips for beginners:

1. Always add all the letters and pattern markings TO THE FABRIC.

2. Try FLEECE FABRIC if you're new to sewing…it is forgiving and doesn't fray.

3. DON'T WORRY about any mistakes you may make (I still make mistakes!).

4. Take it SLOW – making the toy will be more FUN and a lot easier than you expect!

 
Want YOUR 1st toy to be featured ?
Be sure to add the #firstfunkyfriend tag when you post your first creation, and tell us a little bit about the experience, too.
Want to win a
FREE toy pattern?
It's so EASY to enter the Maker of the Month Pattern GIVEAWAY!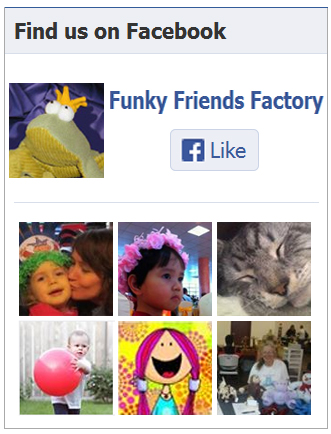 ALL you need to do is post a photo of a FUNKY FRIENDS FACTORY toy that you have made on your Facebook account and tag it by adding @FunkyFriendsFactory (This will allow me to find it!)
OR you can also post a photo of your Funky Friend in our Find out about our Pattern Fan Club FB Group. 
At the end of each month I draw a winner and post the winner's name on the Blog the following MONTH. You can check out past winners in this Album on Facebook of the MAKEROFTHEMONTH winners.
NOT on Facebook? ENTER by email! 😀
*** You can send me your photos by email too!
So come on! Share your photos  ~> The next winner could be YOU!!!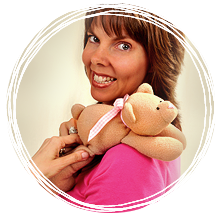 .
Till next time,
Happy Sewing,
Pauline
xxx