So what is this DIARY all about???
Well…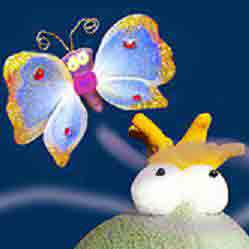 Since Jo became a part of the Funky Friends Factory team, she has been slowly sewing her way through the Funky Friends Factory patterns, as I wanted her to get a feel of what it was like to sew each of the toys.
I love finding out how people find the patterns especially beginner toy-makers AND It suddenly occurred to me that it would be fantastic if we could make a blog post for each Funky Friend that Jo makes, so she can share her experience as she learns how to sew the toys.
I am sure Jo will have some toy-making and toy-sewing questions that I no longer ever think about! I will also be able to find out which parts are harder than I thought and could do with a little more explanation! Plus it will just be fun for Jo and I to see how her toys turn out! : )
I had just finished putting together the photo tutorial of the Silly Scrap Snake at the time…
so we decided to start with this pattern.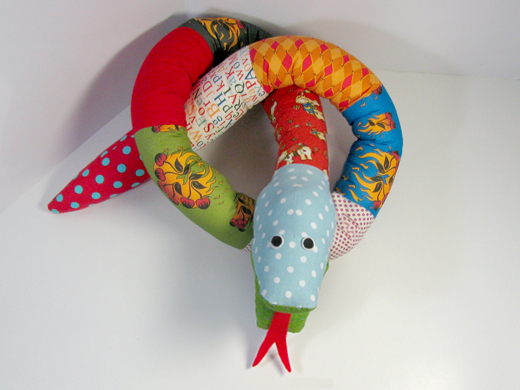 Pauline: RIGHT! Let's ask Jo about her very first toy-making session!
Jo… can you tell me about the very first Funky Friend you sewed?
Jo: "The first Funky Friend I made was the Silly Scrap Snake. I know it is one of the easiest pattern to make but I had a hard time sewing the head."
Pauline: Well, I don't think you are alone!  : ) The head is harder than the body! The body is made up of lots of simple-to-sew rectangles… but the head is a little trickier as it is made up of lots of different shaped pieces. So for a beginner, I think it would really help to look closely at the photos in the Silly Scrap Snakes picture tutorial and then follow the written instructions step by step, making sure to tick each one off as you go , so you don't leave any out and also get them done in the right order! : )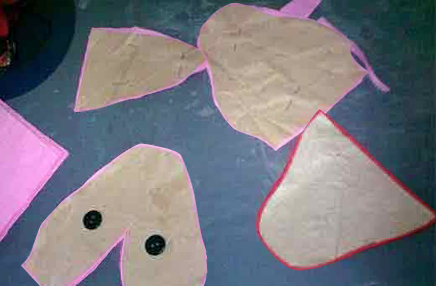 Jo: "I kept on looking at the photo tutorial and it looks very easy but when I'm putting the parts together I'm confused and made some mistakes. First I sewed the wrong side of the fabric when it should be right sides together!"
Pauline: Although this is a very easy mistake to make as a beginner – it is also a very easy mistake to make when you have sewn LOTS of toys! I still do this every now and then so this is why I have a 'quick-unpicker'!!! : )
Jo: "Another hard thing to deal with was using the sewing machine."
Pauline: So, Jo, what had you sewn on the sewing machine before you tried the Silly scrap Snake?
Jo: "I had sewn a school project when I was in 3rd year high school which was a pajama set. When I was making that my grandmother was always by my side to tell me what to do. It's was quite different to making the Funky Friends Factory toys because I didn't have step by step instructions. If you asked what have I sewn before making the Silly Scrap Snake ALL BY MYSELF?? NOTHING!!!"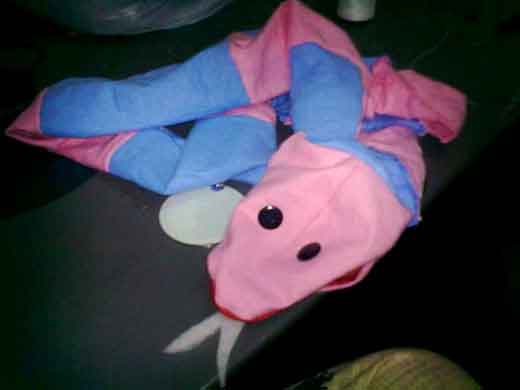 Pauline: Wow, so you really new to sewing, not just sewing toys! I wondered why you wanted to sew the toys by hand!
Jo: "Yes, it's because I didn't really know how to use the sewing machine. It moves so fast!!! I can't handle it. That's why I thought I'd rather sew by hand than use the sewing machine and have to rip the seams so many times! Also, as the head of the snake has curves, I found it hard to sew this, because of the speed of the sewing machine."
Pauline: This made me laugh – sorry Jo… I'd better explain! I STILL get mad when I have to unpick something. That is why I recommend a 'SLOWLY-SLOWLY' approach! Always check you have read the instructions, placed and pinned correctly, then sew slowly, puling the pins out just before you sew over them. Using lots of pis stops the fabric from slipping BUT the other good thing about using lots of pins is that you have to sew slowly, little bit at a time so you can pull out the pins!
Pauline: Hey Jo, I was really excited to see how well your first toy turned out, I think it was awesome… what did you think of it?
Jo: "I was very glad with the out the outcome. He became an instant celebrity!!! My grandma loves it so as my brother,sisters and my nephew. I knew it, one snake is not enough!! I have to make more…"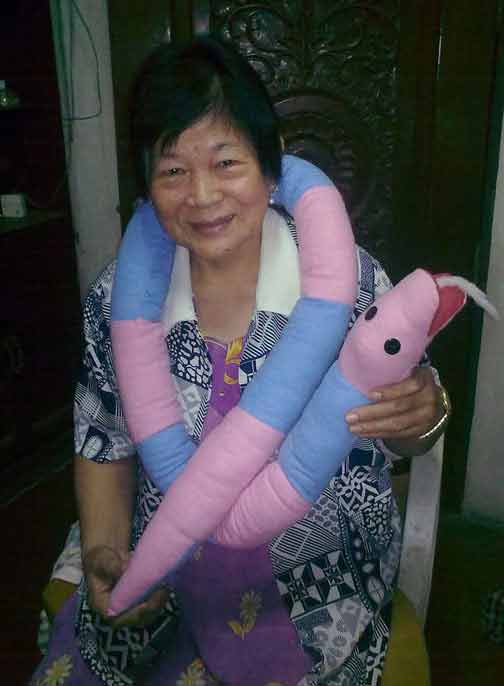 Pauline: Well, I can't wait to see how your next Funky Friend turns out…
Till next time,
Bye from
Pauline and Jo