If you missed the Wolf pattern release – you can see the the Tester's pics HERE. I think that the wolf pattern is the most challenging of all the Funky Friends Factory toy patterns, so I was amazed by some of the unusual fabrics–like faux fur, minky, etc–that people have been using. I'm beginning to think that my cotton original is pretty tame compared to the wild beauties you've made!!! If you want to sew your own wonderful, woodsy friend the Wolf Pattern is available on the website NOW.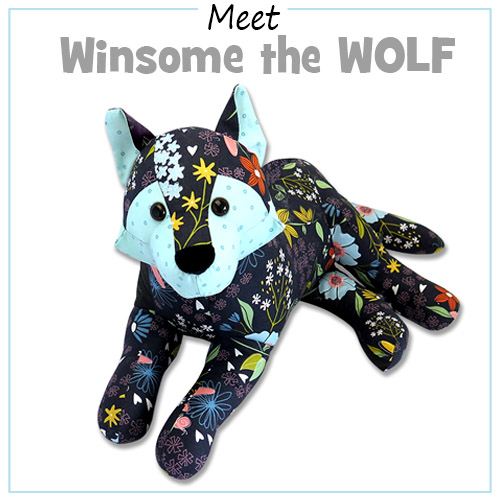 Look at
these LOVELY
feedback photos…
Alyssa King of Snuggle Soft Designs used Cuddle® fabric from Shannon Fabrics to sew this fluffy wolf who looks right at home in the snow.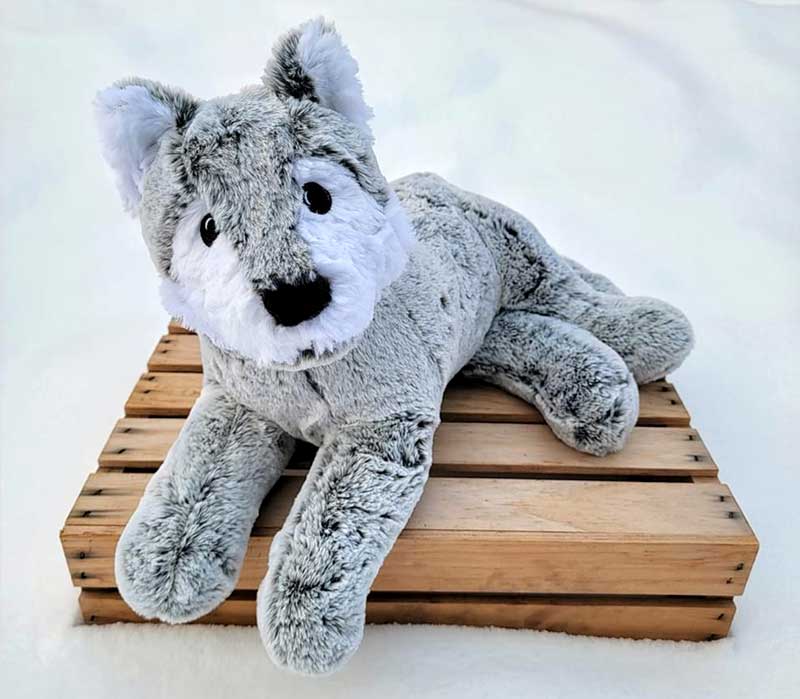 Carolyn Breau sewed a handsome keepsake-worthy Winsome Wolf from denim and flannel.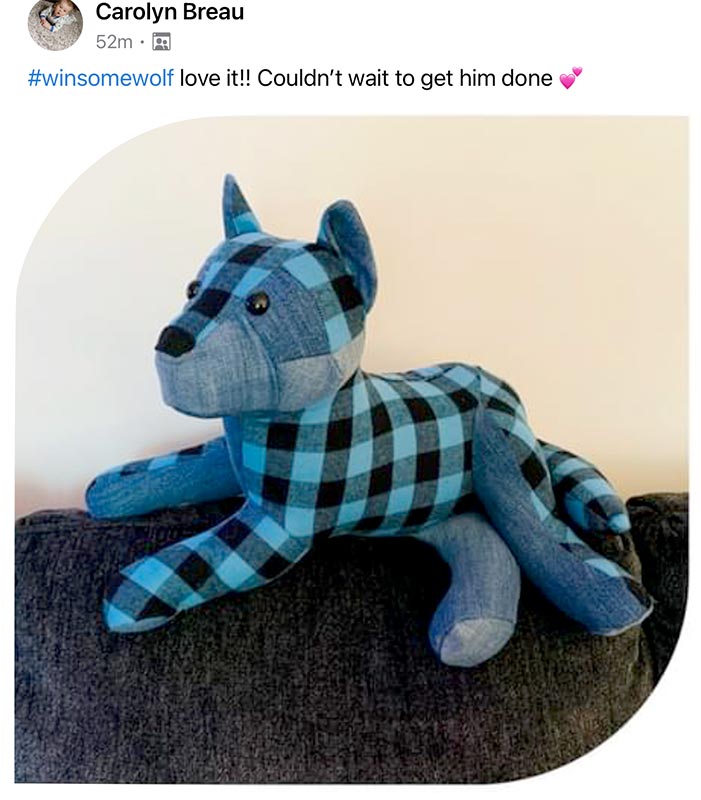 Michelle Newton sewed up this stunning faux fur/minky Winsome Wolf in the colors of the North American Red Wolf.
This wolf caused quite a stir in our Facebook group!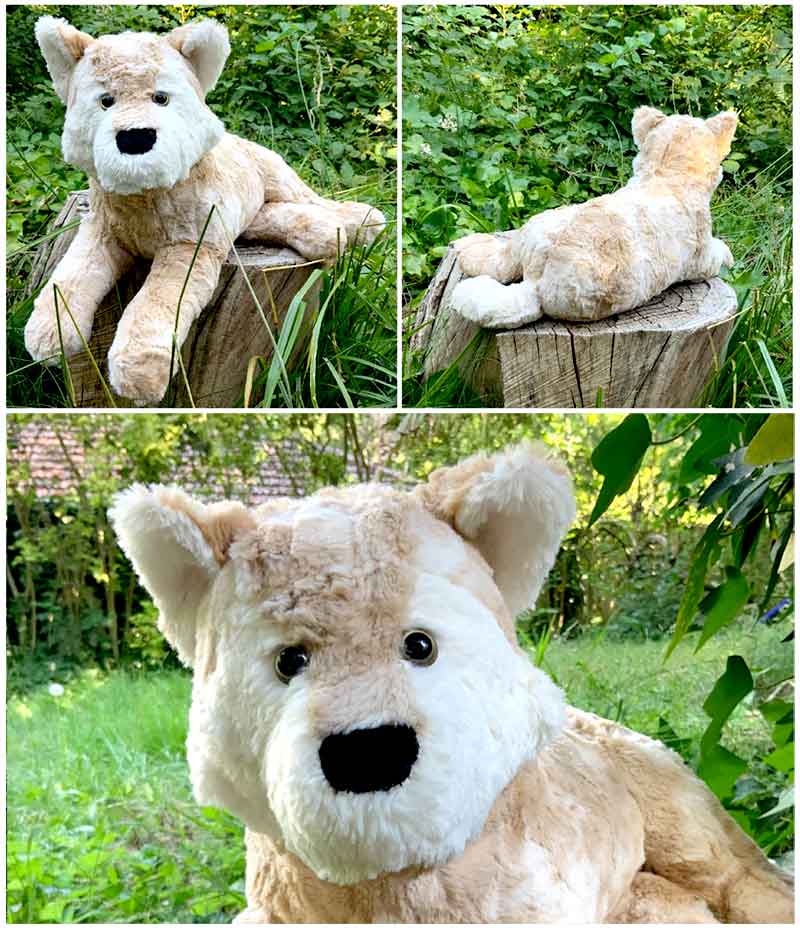 Here's a very friendly wolf sewn by Helen Coppins… I'm NOT sure if she sewed it for her dog, but it certainly looks like her pup enjoys having a new friend!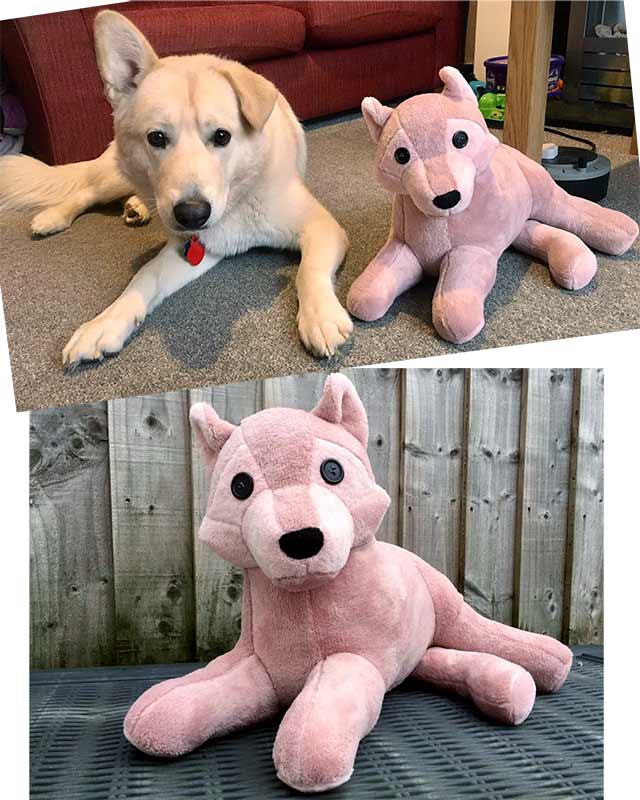 What a fabulous fancy mix of prints on this Winsome Wolf sewn by Magalie Bretonnet! I love how the blue in the fabric 'picks up' the blue of her wolf's eyes! So pretty! 💙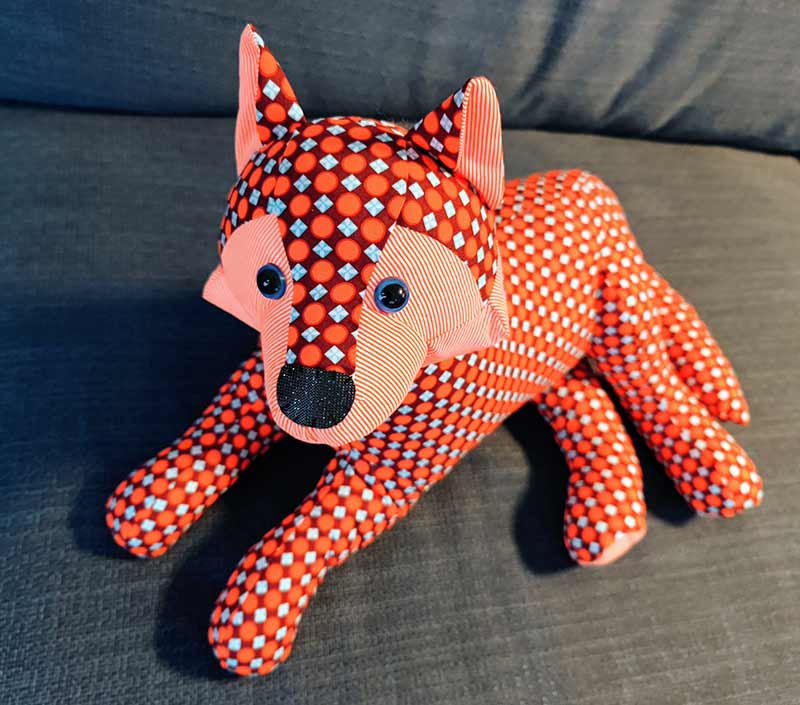 Jaime Marie Cox used high school t-shirts (the school's mascot is a wolf) to make a keepsake gift for a school employee.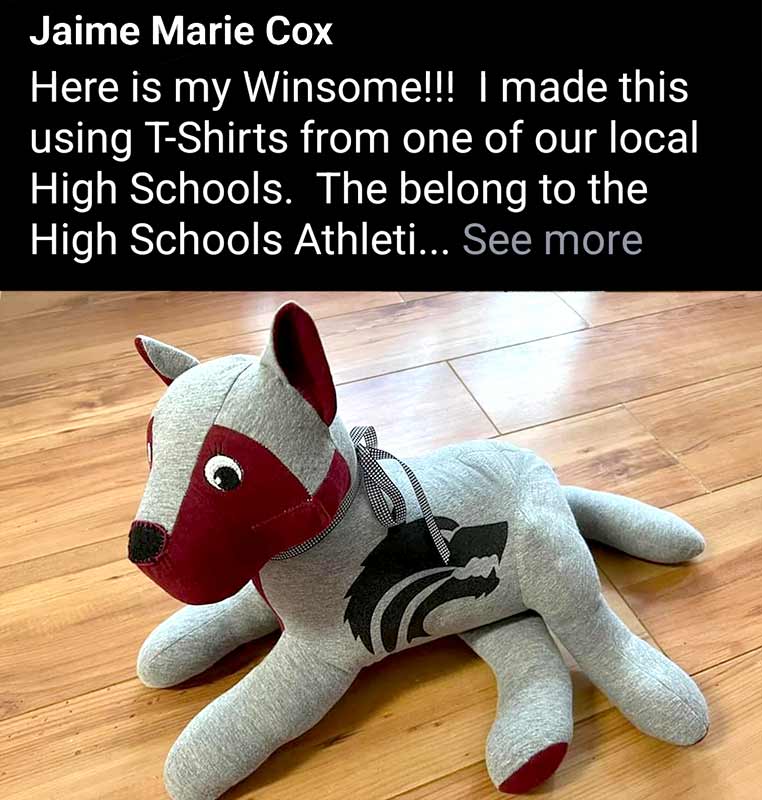 Of course, you can use regular quilting cotton for your Winsome Wolf. Stacey Parsons selected a low volume gray print for her project – which you might think is pretty plain – but look at that sweet face!!!!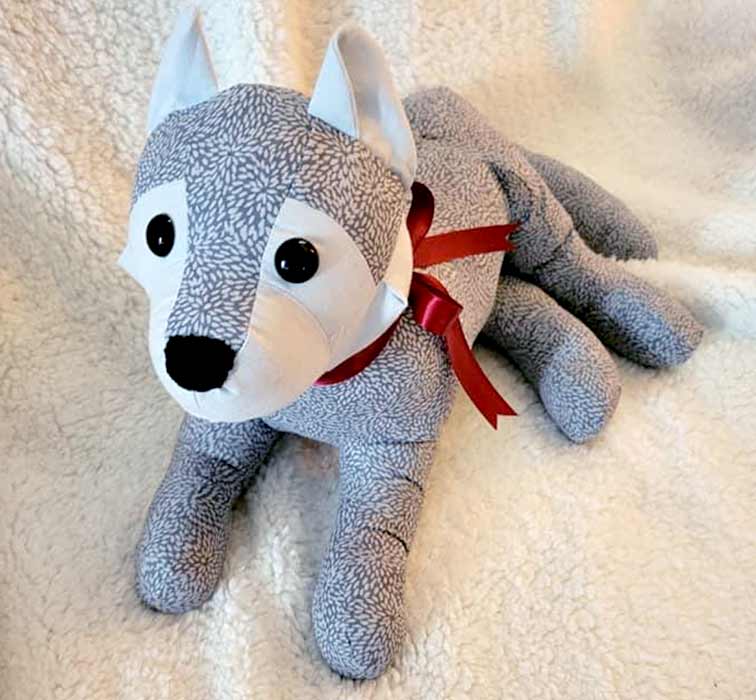 Woof! Here's a wild Winsome Wolf by Shazz McHarry… I think her dog has taken ownership of it!!!!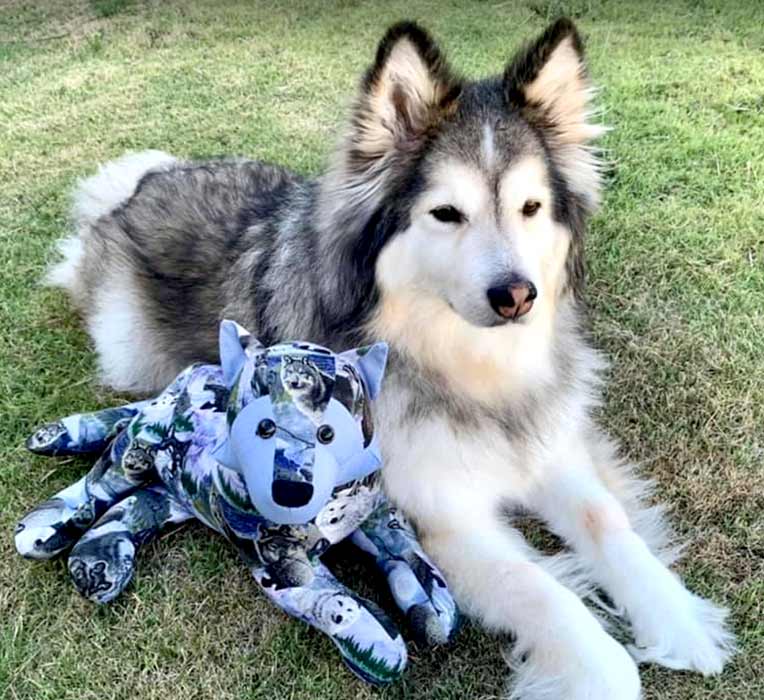 This colorful Winsome Wolf by Jeannie Boniface looks ready to run through a fairytale forest.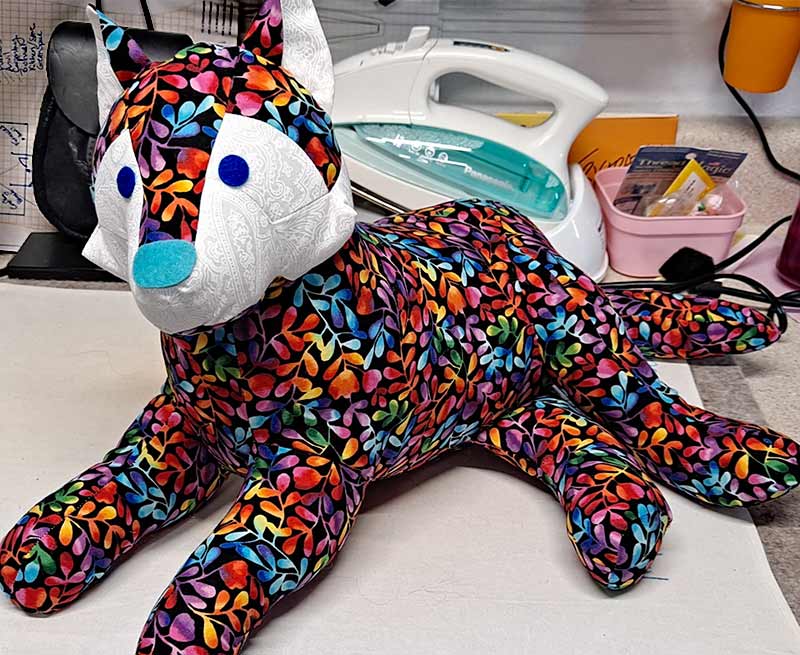 Emilie Gorham took her fleece Winsome Wolf outside in the sun for some photos.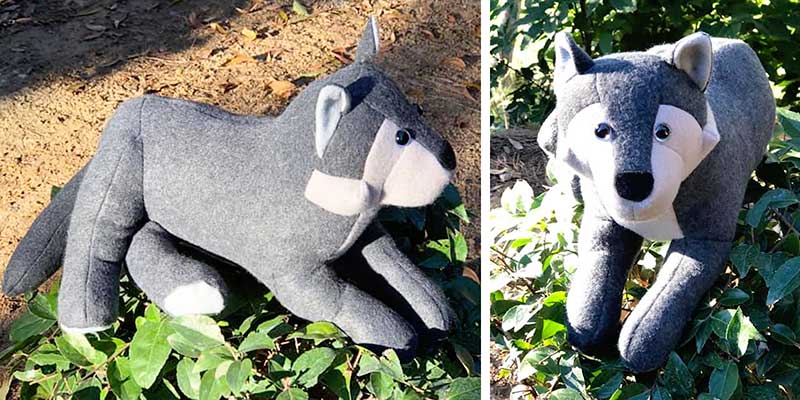 This stunning wolf by Christine Storrs would blend in with the ferns in a leafy dell.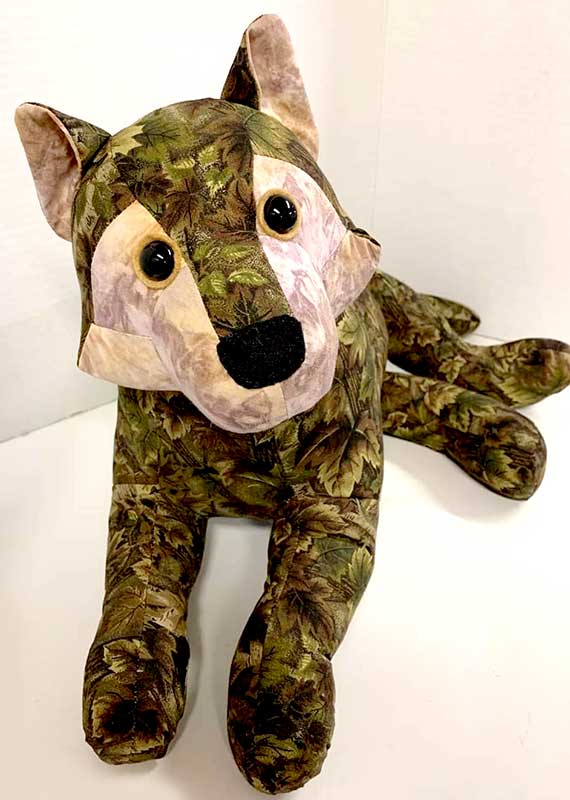 Winsome is a BIG toy, but you can print the pattern a little smaller, if you prefer. Courtney Schreiner of Monkey In the Mailbox has made Winsome Wolf in 2 different sizes, the blue ~>
… the blue wolf is at 100%
and the "Wild Cat" (rainbow) wolf at 80%.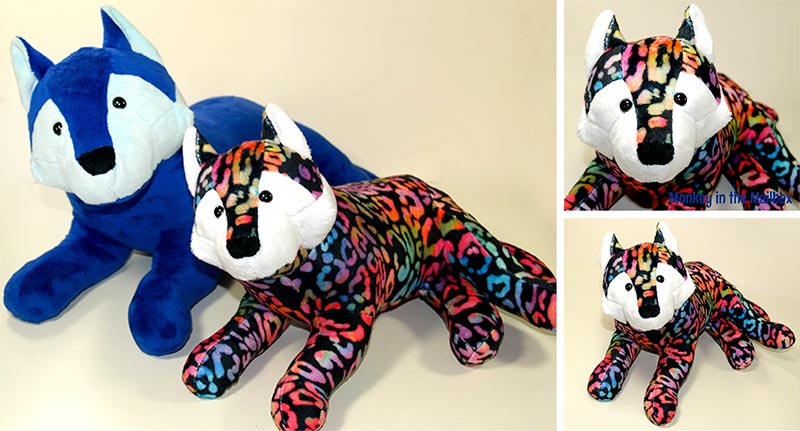 The amazing multi-coloured fabric, in the photo collage above, is called BMA Wildcat Digital Cuddle® Multi – from Shannon Fabrics. I think it would look AWESOME  for a LOT of the Funky Friends patterns. You can check it out HERE – plus lots more cool Cuddle® fabrics on the Shannon Fabric's website.
AND one more…
Lynnette Holland made a woodsy duo of Fifi Fox and Winsome Wolf. They look ready to decorate a nursery!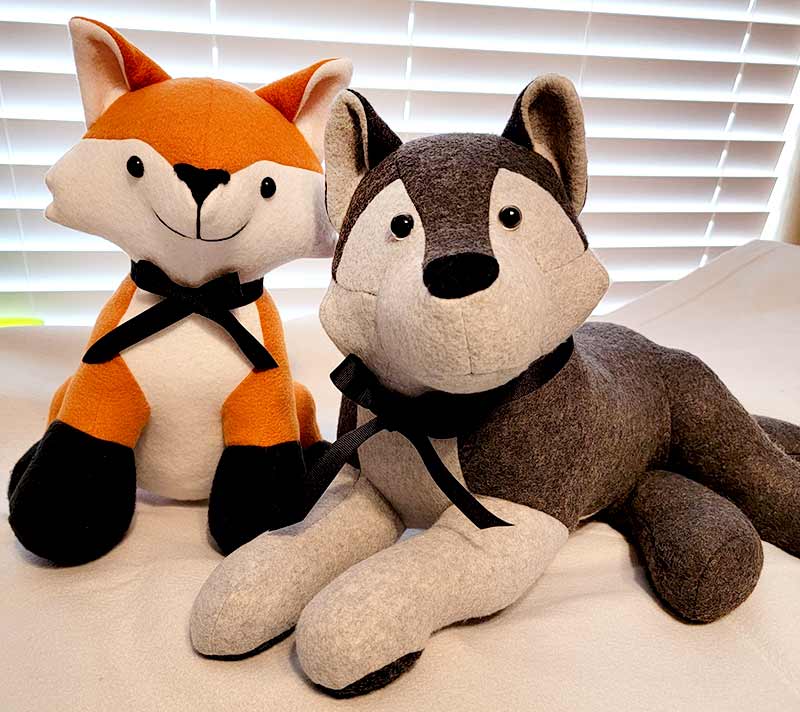 That should have given you LOTS of inspiration for your next soft toy wolf!
Till next time, Happy sewing!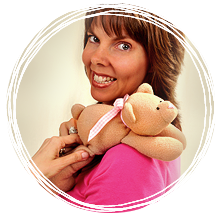 . .
Bye for now
xxx
Pauline