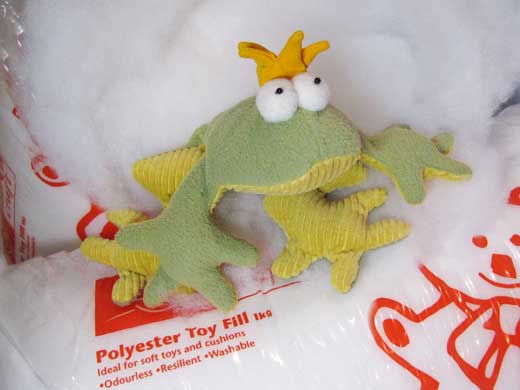 I often get asked what toy-stuffing I recommend, and I'd have to say… it depends!
Depends on WHAT?
WELL, sooooo many things!
For example, it depends on WHO the toy is being made for – a baby/young child or an adult? This is the FIRST thing I consider when choosing my toy stuffing!


Baby and Toddler Safe Toy Stuffings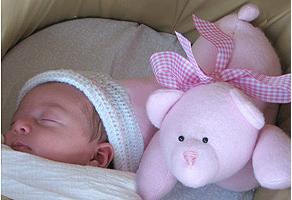 If you want your home made toys to be 100% safe for babies and toddlers, you need to consider that NOT all toy fillings are suitable!
Some contain toxic and harmful materials/ chemicals.
Toy stuffing containing small bits like pellets are dangerous because of the possibility of choking. If the stitching isn't strong and the toy-stuffing 'escapes', the baby might swallow it and choke.


* Most baby toys should be made with extra strong stitching BUT it is always best to be careful when choosing toy fillings so your baby toys will be safe both inside AND out! : )
Other things to consider when choosing your toy stuffing.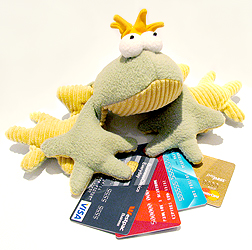 .
It also depends on the particular 'feel' you want for the finished toy, and other practical considerations like the availability of the stuffing material (locally or online) , as well as the cost – how much you want to spend on the toy stuffing…


Different Toy Stuffing Materials
.
These days we have the choice of Organic, Synthetic or Eco friendly toy stuffings…
Organic Toy Stuffing is made from things that grow, and processed according to organic standards, while Eco friendly Toy Stuffing is either harmless or less harmful to the environment and most of Eco friendly toy stuffings are biodegradable.
Synthetic toy fillings are man-made but some are mixed with natural fibers like cotton, linen and wool.


Synthetic toy stuffing is usually the cheapest toy stuffing option, and organic the most expensive… unless you grow your own! : )
Okay, let me get on with it!!!
Here is the full list of ALL the toy stuffings I have found…
( – as well as places for you to get them all online.)



POLYESTER TOY STUFFING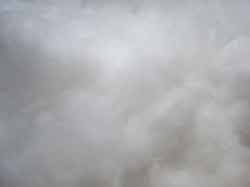 Polyester toy filling is now the MOST COMMONLY USED toy stuffing for manufactured as well as home made dolls and stuffed animals. It is a synthetic fiber derived from coal, air, water and petroleum. Extremely light weight which makes it suitable for children's toys and especially great for baby toys which you want to be very light.
I have found a good high quality polyfil toy stuffing from fairfieldworld.com (USA), gerrys.com.au and from www.worldofwool.co.uk
Try to use the BEST quality polyester you can find, for your soft toys and teddy bears. LOW quality polyester can cause lumps and uneven areas in your toys.
COTTON TOY STUFFING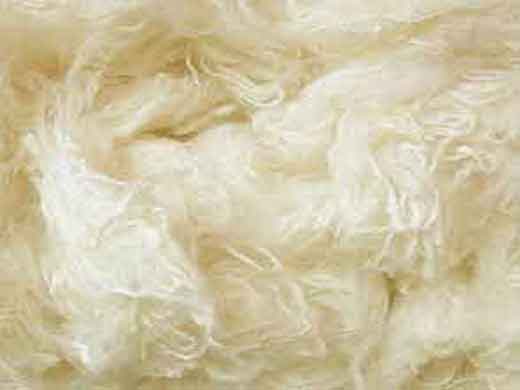 Cotton is a natural fiber of vegetable origin. It is a soft and fluff, Light weight stuffing material. Good quality cotton will have been preshrunk. Cotton fiberfill is available online from www.worldofwool.co.uk


WOOL TOY STUFFING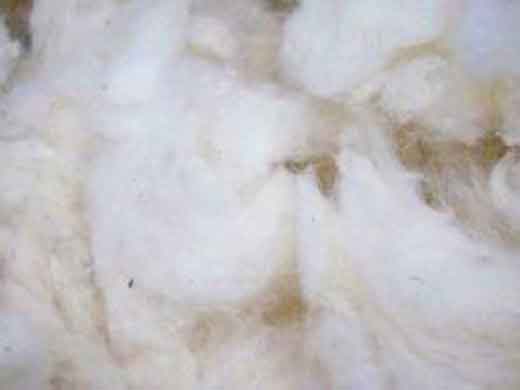 Wool posseses qualities that are great for children's toys. It is natural, soft, durable and elastic. However, this toy stuffing material cannot be machine washed or dried in heat, as the wool tends to become uneven and compressed.
Wool toy stuffing is available from gerrys.com.au and from www.worldofwool.co.uk



MOHAIR TOY STUFFING
Mohair is a natural fibre stuffing similar to wool but from the Angora goats. Mohair is fire-retardant, hypoallergenic, antibacterial. It compacts much more than polyester toy stuffing which will make toys firmer and heavier.
It is available from Edinburgimports.com (USA) and www.worldofwool.co.uk
BAMBOO TOY STUFFING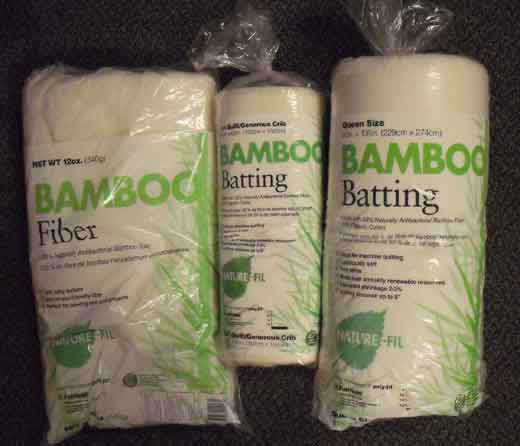 Bamboo fiber is biodegradable, anti-bacterial, and has a lovely soft feel on the skin. This can be pure, which is 100% organic, or mixed with polyester stuffing.
This is avaliable online from www.worldofwool.co.uk
CORN TOY STUFFING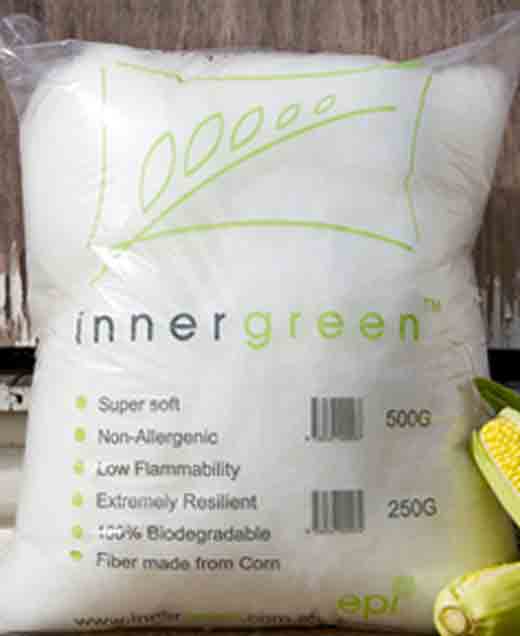 Corn stuffing is one of the newest eco-friendly stuffing material. Fibers are derived from corn starch sugars. Like the other organic stuffing materials, this is best for children's toys because it is light weight, hypoallergenic and washable. It is very expensive but it is 100% biodegradable.
Corn stuffing is available online from innergreen.com.au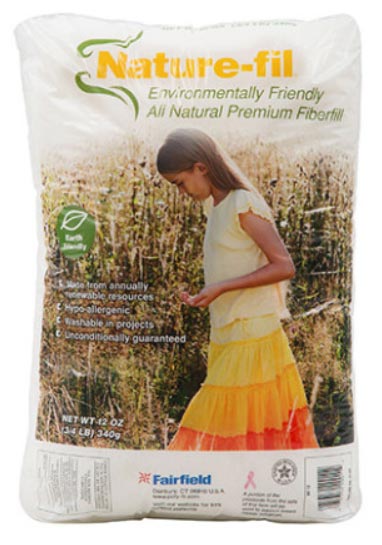 Nature-fil is an environmentally friendly, all natural PLA fiberfill made from corn sugar. It has a texture similar to polyester fiberfill with superior resiliency. PLA fiberfill is hypoallergenic and biodegradable.
Nature-fil is available from fairfieldworld.com (USA)
PELLETS
Also called beads, these give your toy a bean-bag 'feel'. Pellets give weight and stability to your toy, and will help you achieve the desired pose for your stuffed toys. Pellets can be used for the whole toy (like Prince Charming Frog) to make them a bean bag toy, OR only in certain parts – eg in the arms, legs and how do I say this… sitting area!!!! (bottom?) which is referred to weighting or a weighted toy.
There are LOTS of types of toy stuffing pellets: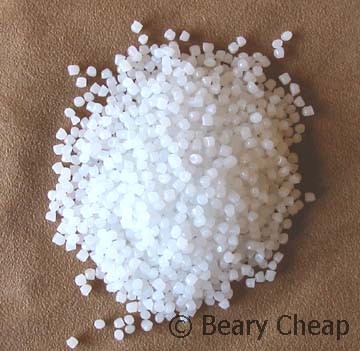 Plastic Pellets
Plastic Pellets are NOT suitable for children's toys because anything smaller than 3cm(just over 1 inch) is considered a choking hazard for children under the age of 3 years old. They are relatively light weight as far as pellets go and so these are perfect for adding just a little it of weight to your soft toys. Plastic pellets are available from gerrys.com.au and from Shamrock Rose.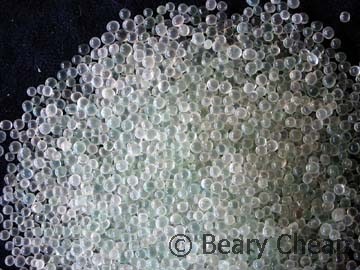 Glass Pellets
Glass Pellets are medium weight and also NOT suitable for children's toys for children under the age of 3 years old. These fine beads are perfect for adding weight in smaller areas of your toys. I have used these for making teddy bears as they are great for adding a fair amount of weight in small areas of the toy.
Glass pellets are available from Edinburgimports.com (USA), teddysbits.com.au and from www.christiebears.co.uk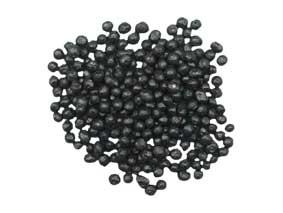 Steel Shots
Steel shots provide heavy weight with a small amount of stuffing. These pellets should NOT be used in toys for children under the age of 3 years old.
These steel shots are also available online from Shamrock Rose and teddybits.com.au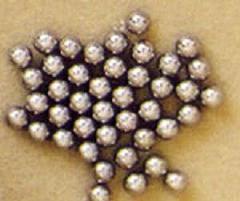 Steel Balls
Steel Balls are super heavy weight and commonly used as base. Steel balls should NOT be used for toys intended for children under the age of 3 years old.
These are available online from www.christiebears.co.uk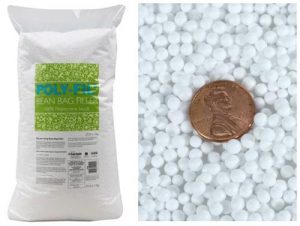 POLYSTYRENE BEAN BAG FILLING
Expanded polystyrene beads are the ultimate fill for bean bag toys. Light weight ad great for stress toys too! NOT be used for toys intended for children under the age of 3 years old.
They are available online from fairfieldworld.com (USA)
FABRIC SCRAPS as TOY STUFFING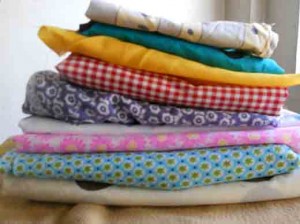 Fabric scraps are also used for stuffing toys. Recycling unused garments like old T-shirts is a way to re-purpose fabric that would end up as land-fill. This kind of stuffing can create an uneven look and if this happens, the fabric scraps should be cut into smaller pieces and stuffed more firmly then it will become less lumpy.
Fabric Scraps are available in local fabric stores in a very inexpensive price, or use your own recycled fabric scraps from your other sewing projects!



WOOD WOOL TOY STUFFING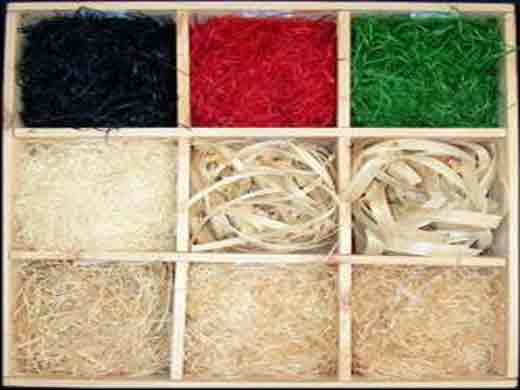 Wood wool is also called excelsior. Made from thinly shredded wood. It is used for stuffing bears in the old fashioned way. Used in the very first bears ever made this product is a must for an authentic looking antique bear. It can be dusty and is NOT washable. It is categorized based on thickness and width of strand as super fine, wood wool, extra fine, fine medium and coarse. It also comes in different colors.
It is available online from www.christiebears.co.uk , gerrys.com.au and Edinburgimports.com


OTHER TOY STUFFING MATERIALS
Some fillings can be found around the house or workshop…and needn't be bought …
Acrylic Yarn / wool
Saw dust (this was the original stuffing used for antique teddy bears)
Dried Lavender


WOW! It's quite incredible – there are just so many choices of toy fillings that can be used.. and like I said – it depends on the preference of the toy-maker! I certainly learnt about some new toy stuffing options while putting this list together and I hope it has given you some more ideas too!
Do you have a favorite toy stuffing material I haven't mentioned???
Please let me know and I can share it with everyone too!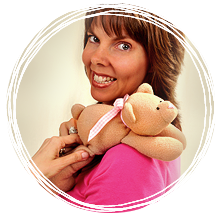 .
.
Happy Sewing,
Pauline