I LOVE seeing your toys with their smiling new owners. Here are some of my favorite feedback pics of 2021. This blog post is jam-packed with fun photos you're going to love!

Cute smiles
created in 2021!
Judy Brown Hunsaker's grandson is all smiles on his birthday with his new friend Digger Dachshund.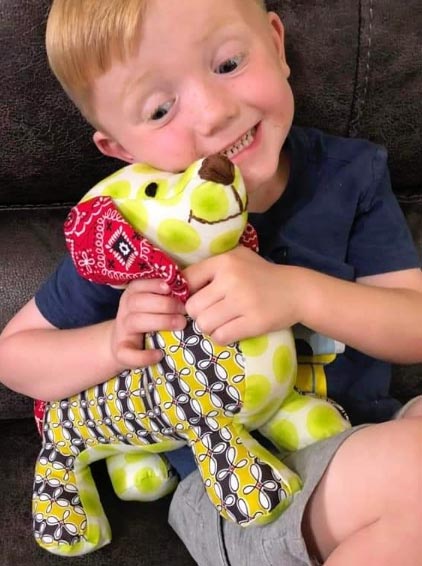 Click HERE to purchase the Dachshund pattern.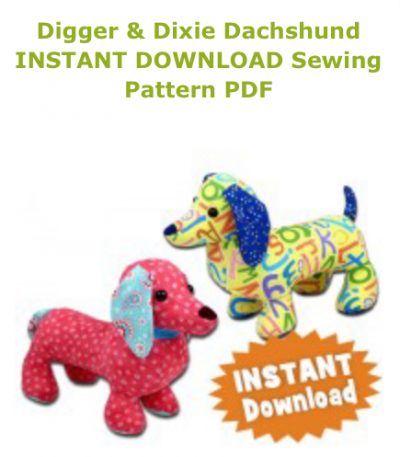 Jennifer Churcher made these adorable custom toys for her (adorable) granddaughters for Christmas – Timmy T-Rex, Ellie Elephant, Kelsey Keepsake Unicorn and a neon pink Patch Pussycat (a special request). Jennifer posted a video of the girls opening their toys and it was a delight to see how thrilled (and polite!) they were in thanking her for their Christmas presents!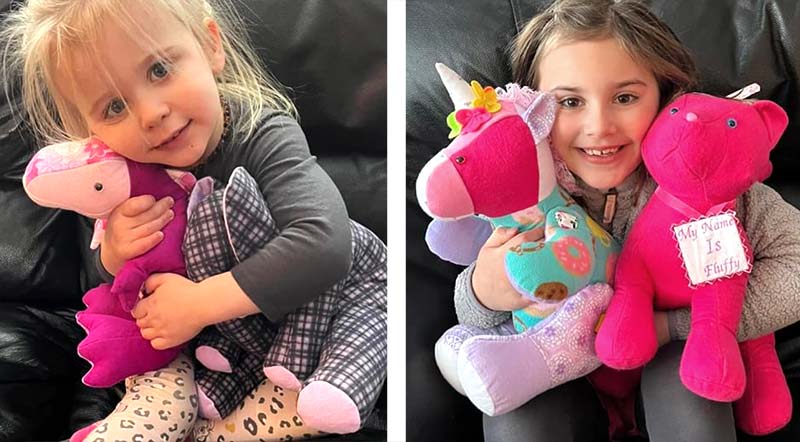 Click HERE to purchase the Patch Cat Pattern.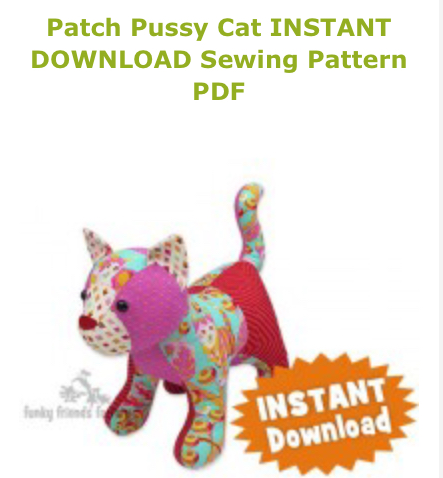 Jennifer Newman Brown had twin grandkids, so of course she needed twin Slush Snowmen.

Click HERE to purchase the Snowman pattern.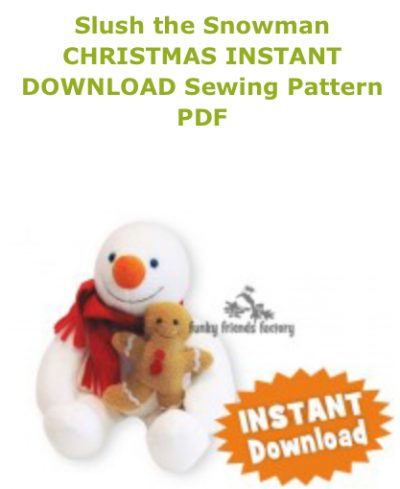 We've watched Trish McBride's daughter grow up through pics of her with her Funky Friends. Look how happy she is with the Fifi Fox 'Santa brought her' this year!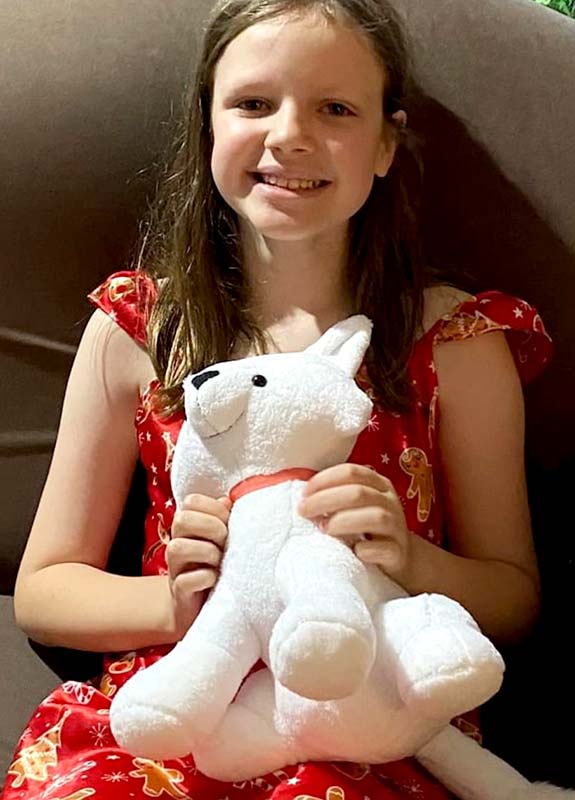 Hayley Sayers sews all her toys by hand. This was her first Fifi Fox, and her daughter clearly loves her fluffy toy fox!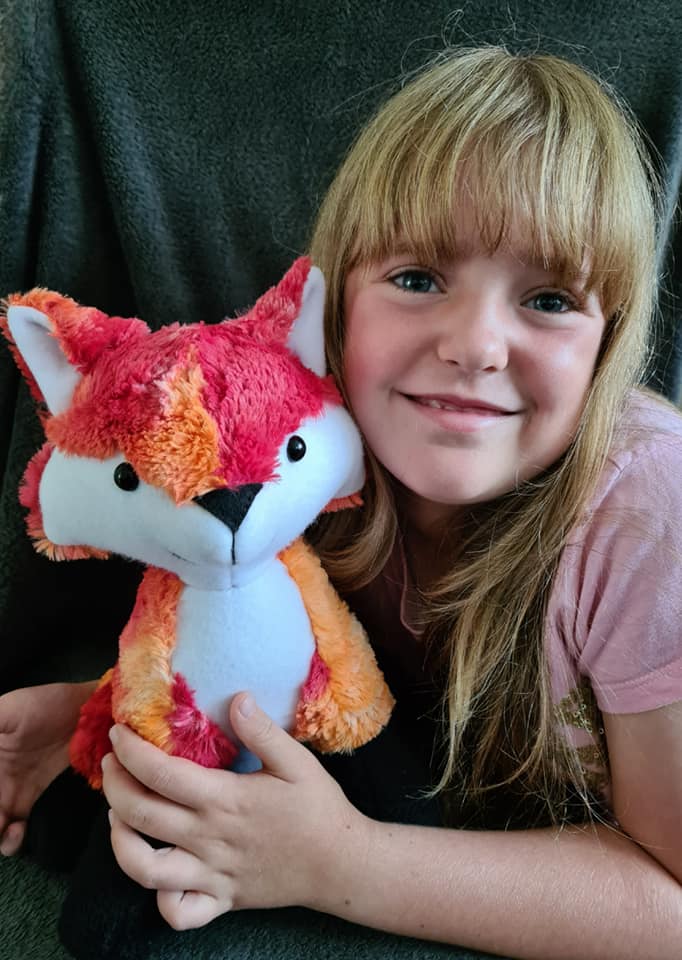 Click HERE to purchase the Fox pattern.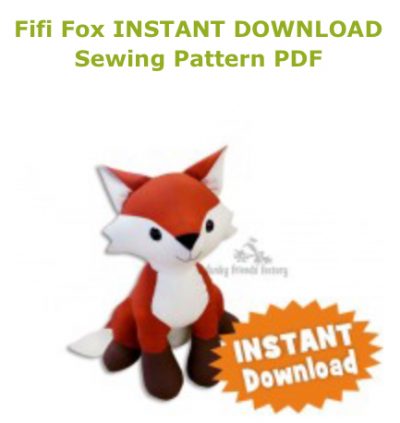 Casandra Helzer enlarged Plattie Platypus for her teenage son and said he loves his new mascot.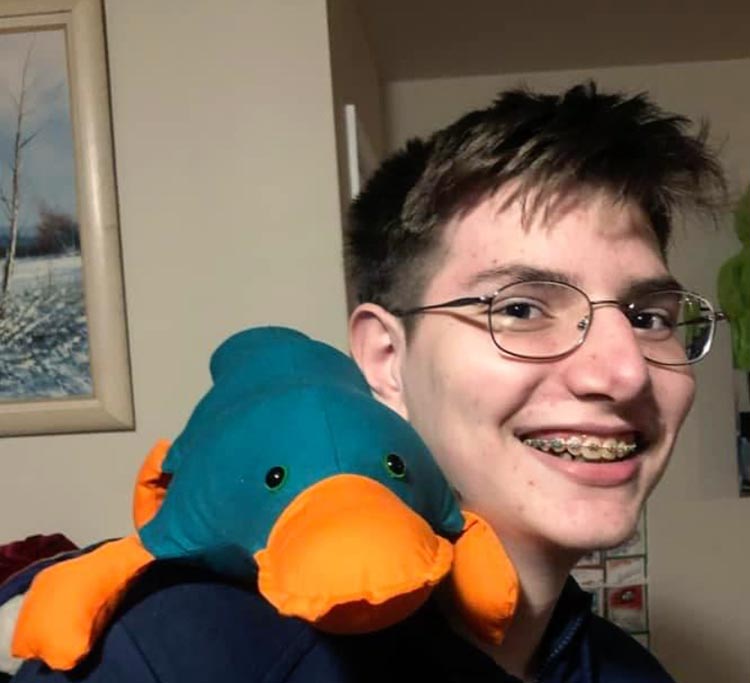 Click HERE to purchase the Platypus Pattern.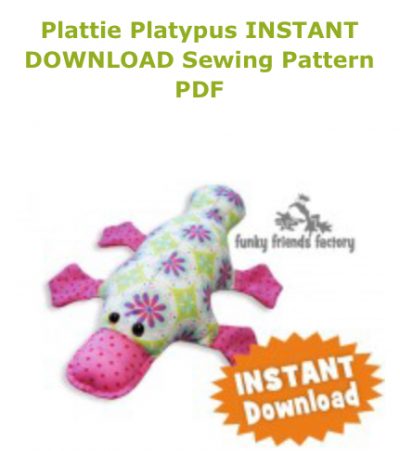 Lindsey Clarke's daughter received this Patch Pussycat made from her favorite clothes for her birthday.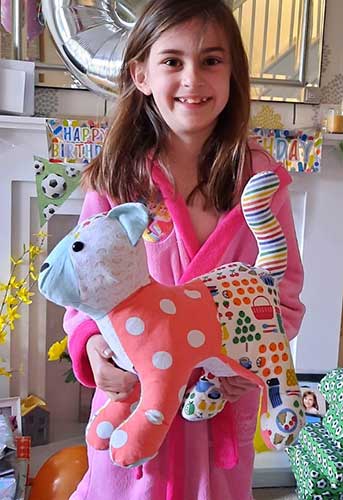 Click HERE to purchase the Patch Cat Pattern.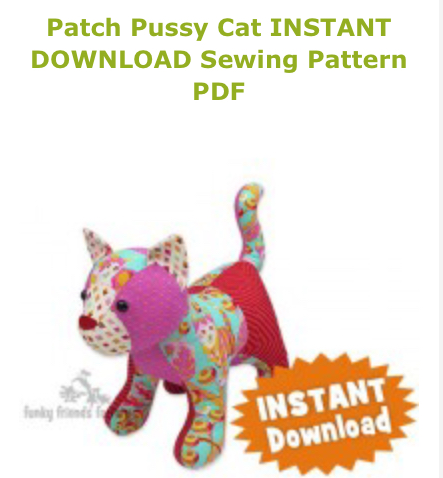 Amanda Neat Wilson made this mega-sized, 300% Timmy T-rex for her toddler and he clearly LOVES him! The toy itself weighs 10 pounds(4½kgs)!!!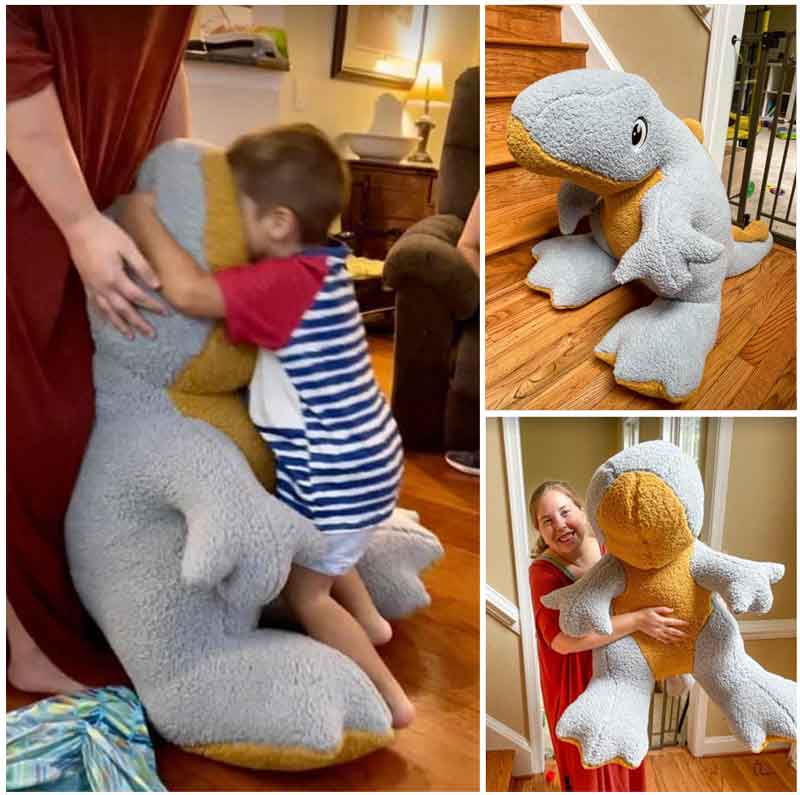 Click HERE to purchase the T-Rex pattern.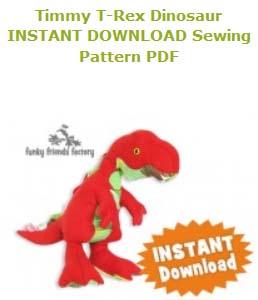 Talking of SIZE – Kelly Anderson's daughter and her keepsake version of the Calico Signature Bear are almost the same size!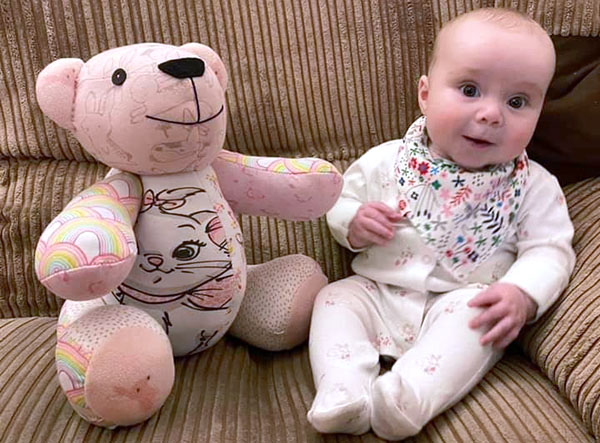 Click HERE to purchase the Calico Bear pattern.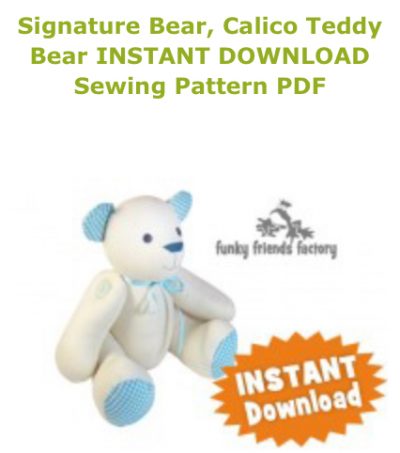 And, this is one of my all time favourite smiles!
Henriette Robson made this huge Melody Memory Bear from her mother's clothes and gave it to her father for a special gift.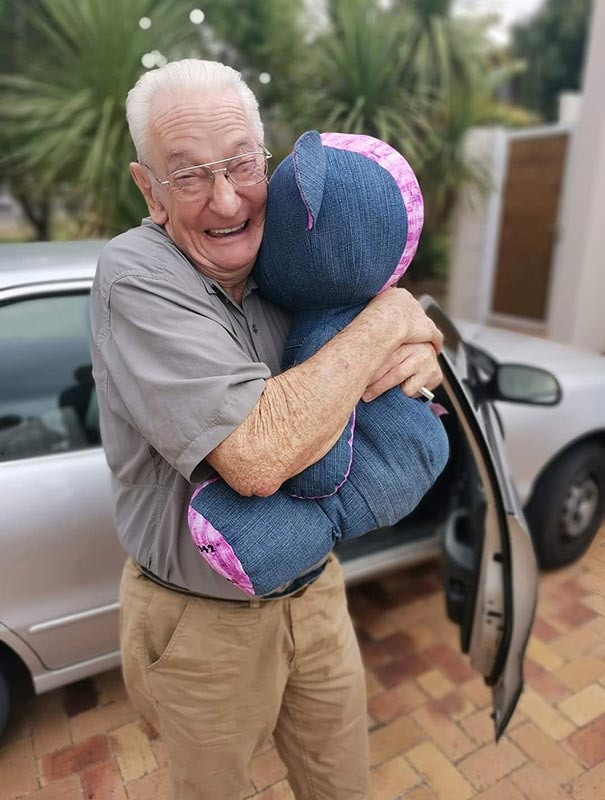 Click HERE to purchase the Melody Memory Bear Pattern.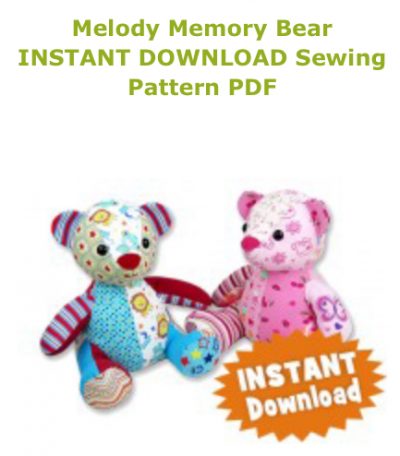 Want to win a
FREE toy pattern?
It's so EASY to enter the Pattern GIVEAWAY!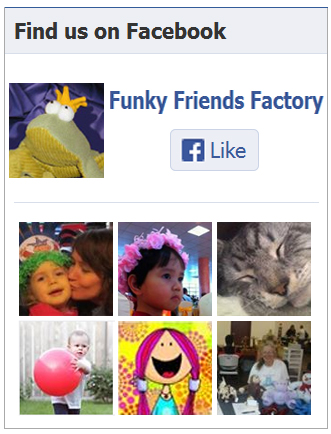 ALL you need to do is post a photo of a FUNKY FRIENDS FACTORY toy that you have made on the Funky Friends Factory Facebook Page .
At the end of each month I draw a winner and post the winner's name on the Blog the following MONTH. I have an Album on Facebook for all the MAKEROFTHEMONTH winners. You can check it out HERE!
NOT on Facebook? ENTER by email! 😀
*** You can send me your photos by email too!
So come on! Share your photos  ~> The next winner could be YOU!!!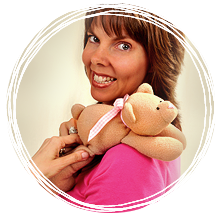 .
Till next time,
Happy Sewing,
Pauline
xxx