It's time for our November finalists to have their time in the spotlight. Check out these highlights from the visitor's posts on the Funky Friends Factory Facebook Fan Club Page!
Strike a pose! This version of the Daisy Dress-up doll Pattern by Pat Nash is ready for the runway in her coordinated outfit and shoes. Pat opted to attach the clothes to the doll due to the young age of the recipient, and I think that's a great idea to make sure Daisy doesn't lose her stylish wardrobe while she's on adventures.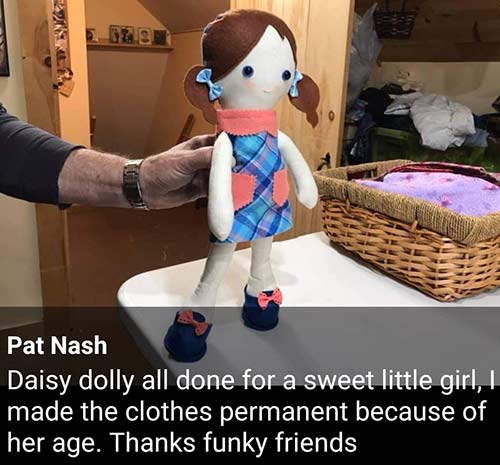 Sue Hayashi says that the Bee Sewing Pattern is her favourite – and it looks like her fluffy dog agrees – about the Bees!!!!!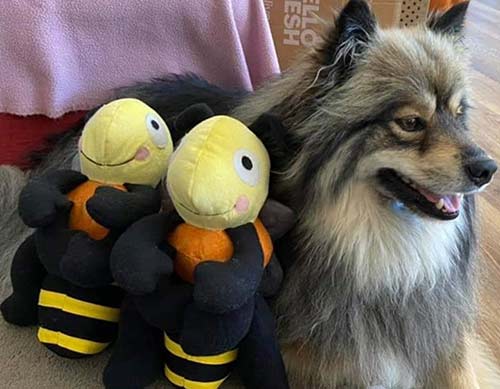 Cathy Stocker used the Larry Lion stuffed animal Pattern for this adorable striped memory toy. She wondered if he needs a smile. What do you think?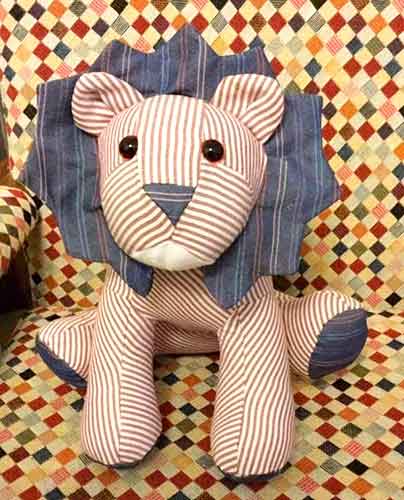 There's something about a shaggy dog that melts my heart. Michelle Woodstock used unusual upholstery fabric to make a long-haired breed using the Digger & Dixie Dachshund Pattern. Isn't it dog-gone cute?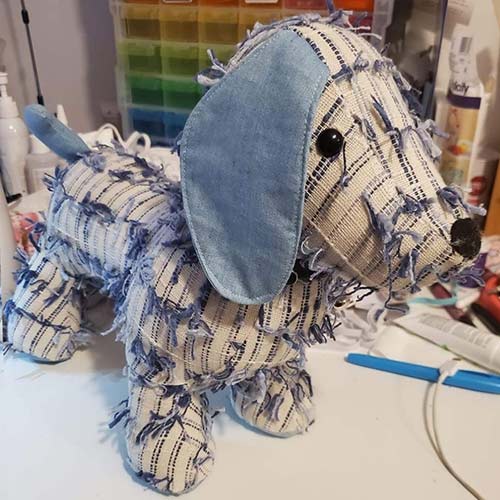 This may be an interior decorating first! Matching  cushions and custom Guinea pig. Sonia Ayshford made this happy yellow version of the Guinea pig Pattern for a friend.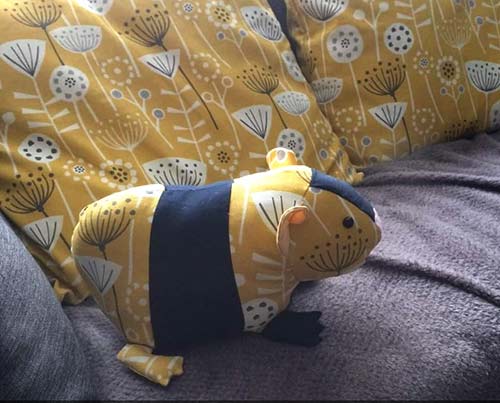 Shazz McHarry always does a fantastic job with the hobby horse pattern and this month's crop is no exception. As usual, all Shazz's horses have "intense" manes perfectly matched to the fabric.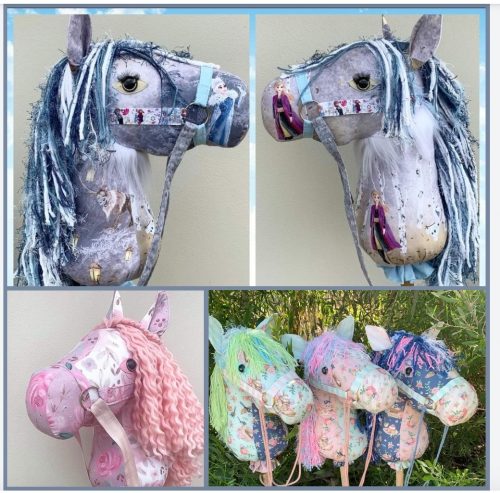 This floral version of the Melody Memory Bear Pattern, sewn by Sue McGhie is a pastel delight posed in her garden setting. I'm sure Melody appreciated going for a stroll in such a lovely spot.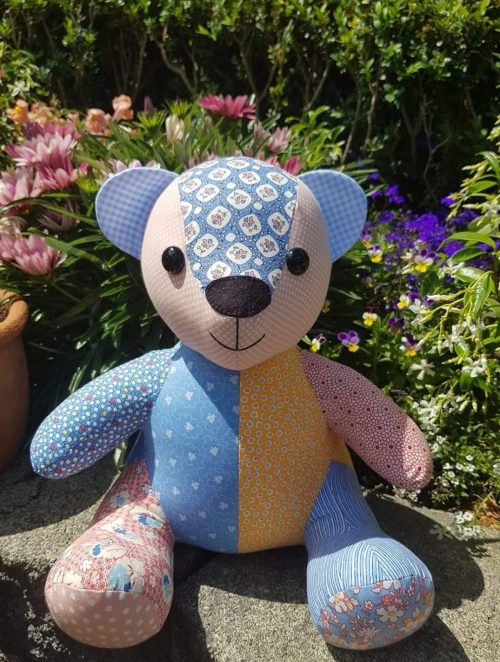 Isn't this little bear all dressed up! Michelle Germaine added a white collar from a beloved garment when she whipped up this Melody Memory Bear. The human-sized collar gives the impression of a tiny bear-sized waistcoat.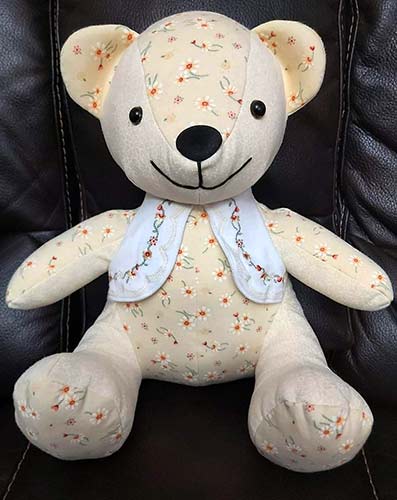 What magnificent sea mammals! Swirly purple and spotted batik were great choices when Elyse Cook made the Manatee sewing pattern.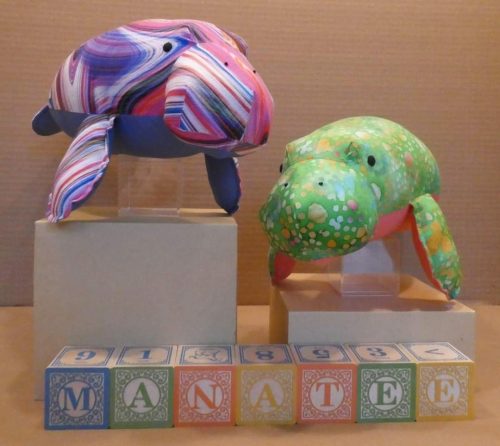 This month's winner is…
Wow, just wow! Now this is a lemur!! Whitney Trinity sewed up the Lemur stuffed animal Pattern in vibrant lemur-themed fabric. The face and tummy feature a lemur's favorite treat, leaves!
CONGRATS Trinity! You win
a FREE Funky Friends Factory Pattern ~>
of your choice!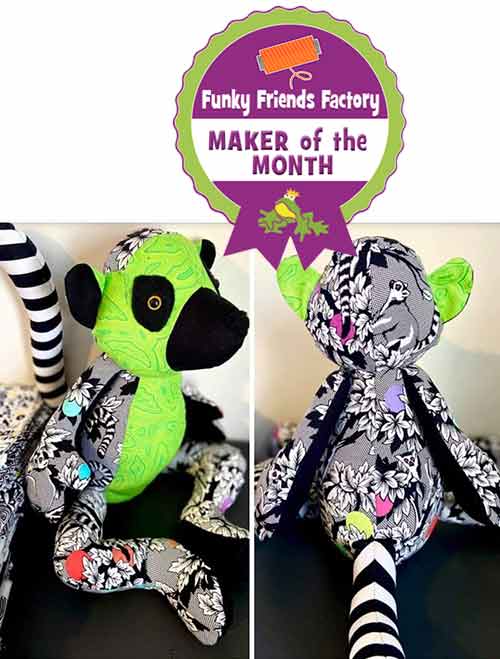 I love to see photos of the toys that people have sewn from my soft toy patterns.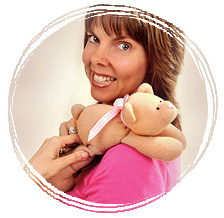 bye for now,
Pauline
xxx