Yeehar! Finally, the time has come to release my NEW Chameleon pattern! 
Is there a Chameleon Pattern tutorial?
YES! I have created a step-by-step photo tutorial so you can see EXACTLY how to sew this cute toy Chameleon Pattern – with lots of clever keepsake making tips and tricks!  As usual, you can access the tutorial using the link in the See-Me-Sew section of the pattern.
(*Please check you typed this link in correctly,
~> or you'll get an error page! 😱 )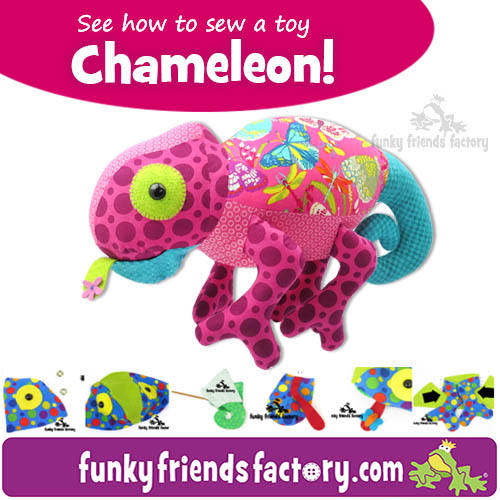 Coco Chameleon looks good in all sorts of colours and textures – the feedback photos from the Testers was like opening Christmas presents – I had no idea what would be inside – and I LOVED every one!
Here are just some
of the lovely feedback photos…
First up – rainbow chameleons!
I am LOVING this bright rainbow Coco Chameleon sewn by Jacquie Hancock of Sewn Bears & Buddies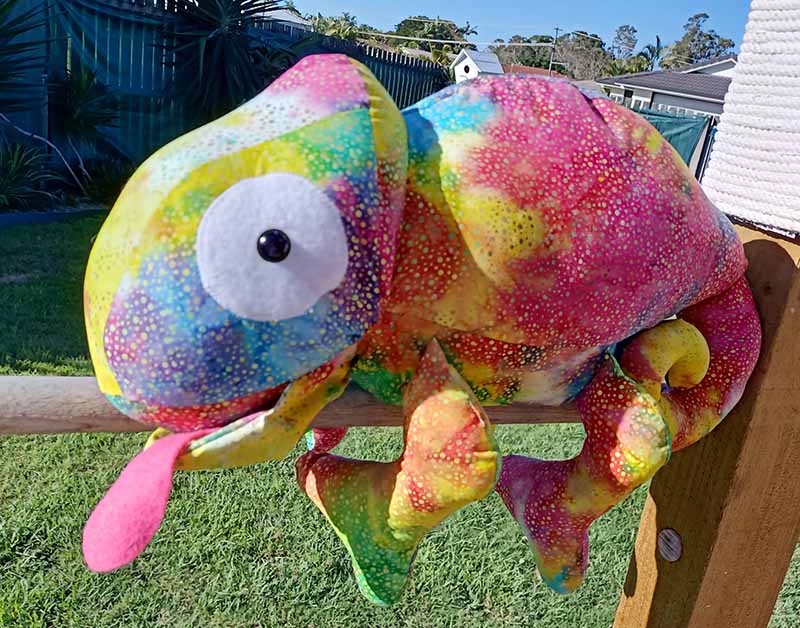 This rainbow Coco Chameleon sewn by Pat Ares can be seen "blending in" to the rainbow fabric it's on!!!!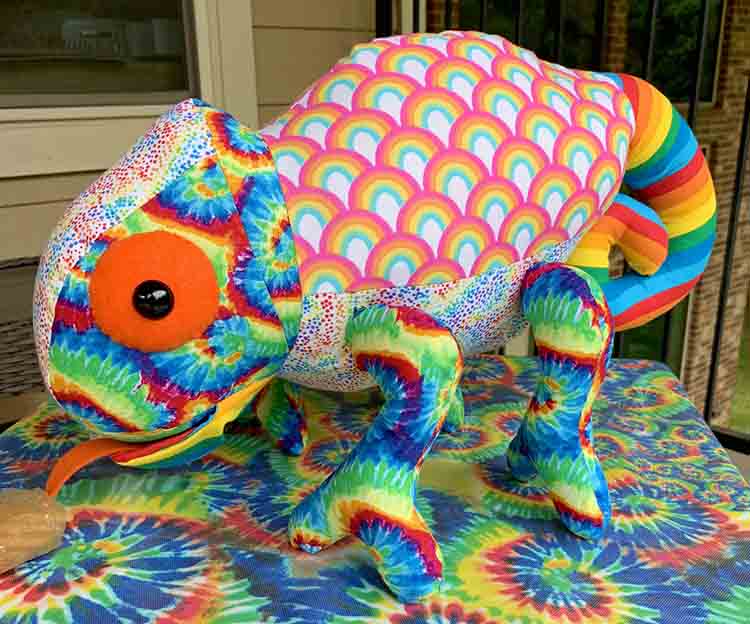 This rainbow Coco Chameleon was by sewn by Courtney Schreiner of Monkey in the Mailbox.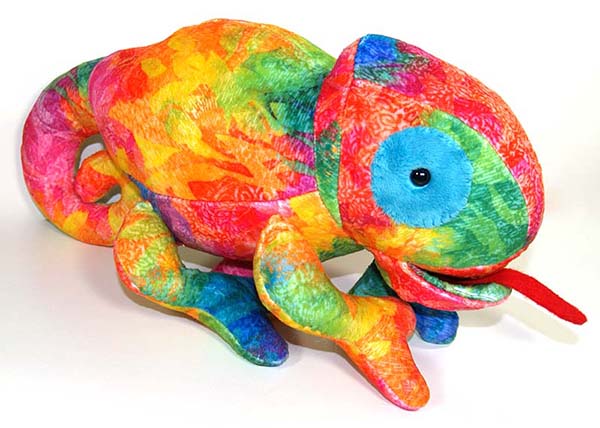 Chameleons in the pot plants!
This cute cheerful Coco Chameleon sewn by Cassandra Helzer- Lovely Cuddles Quilting and Crafts looks so happy hiding out in the greenery!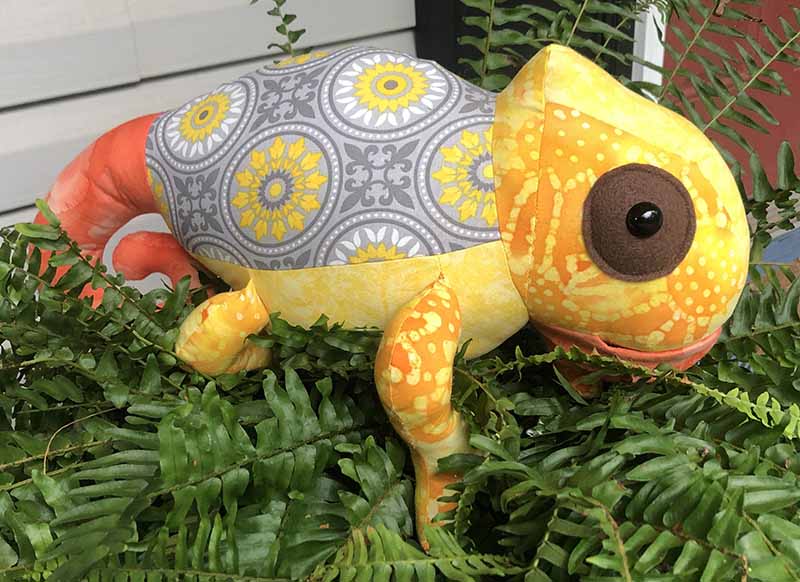 AND check out this shiny-eyed Coco Chameleon sewn by Thomas Drew-Dutton of Tedds Handmade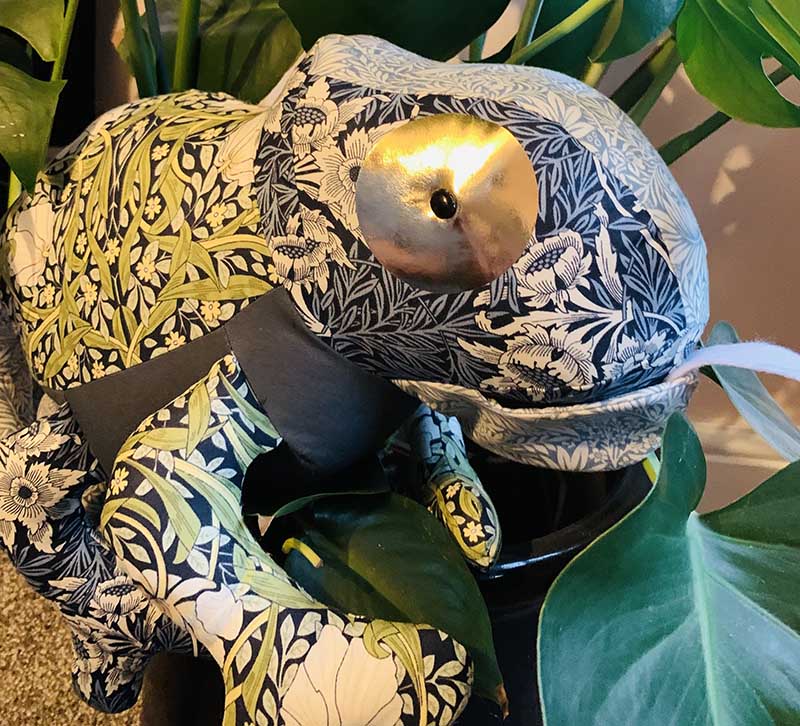 Chameleons outdoors!
What s a cute collection of Coco Chameleon hanging out on the hedge! These were all sewn by Jen Hansen's children – who sew BEAUTIFULLY!!!!!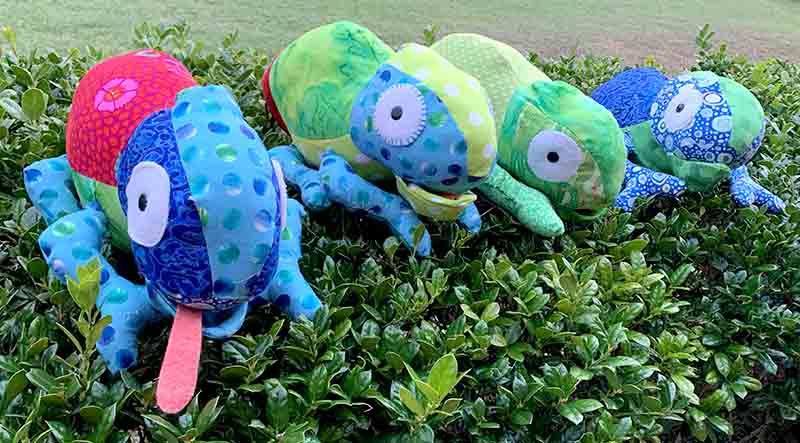 Can you spot this cute swirly-whirly Coco Chameleon, sewn by Diana Sageser, hiding out in these colourful croton leaves!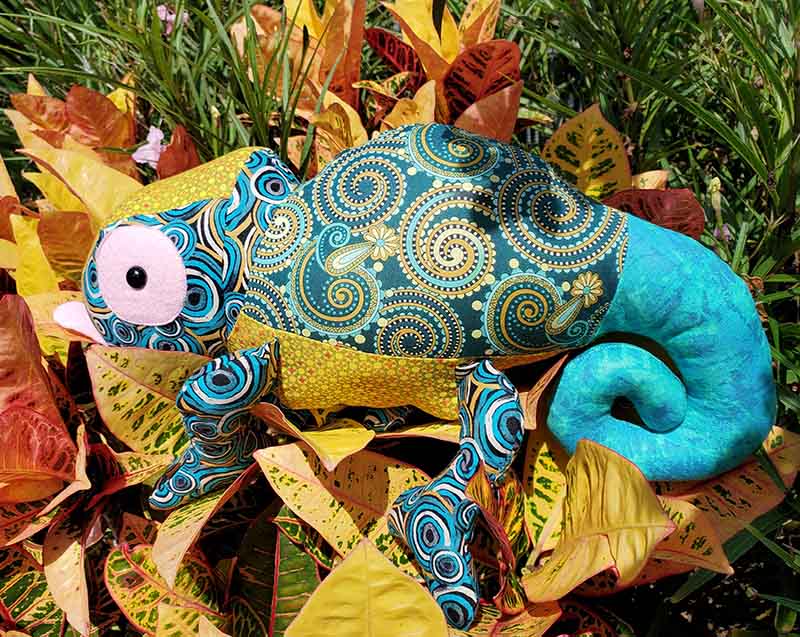 I LOVE this truly camouflaged Coco Chameleon sewn by Jo Ford, blending into the background!!!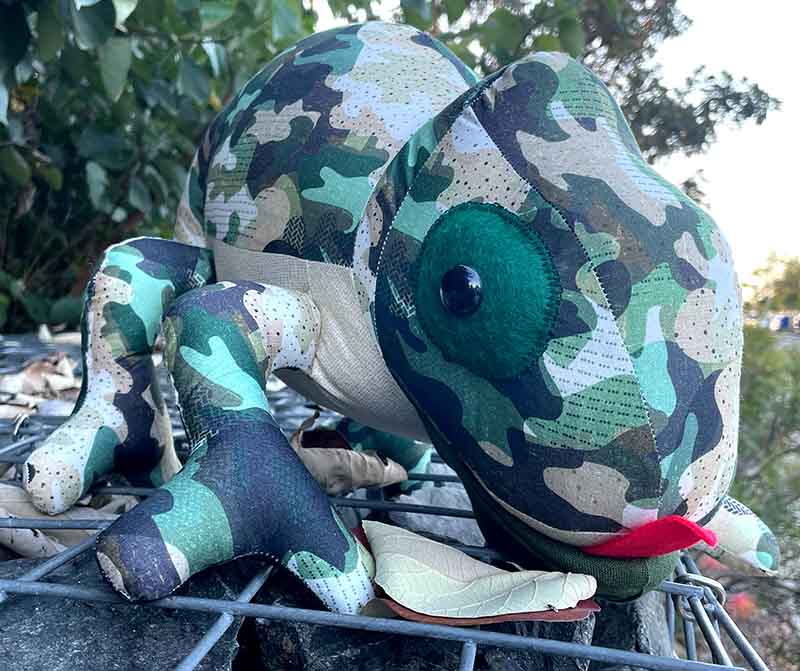 This "cute as a BUG" Coco Chameleon was sewn by Shazz McHarry of Hobby McHorses! ❤️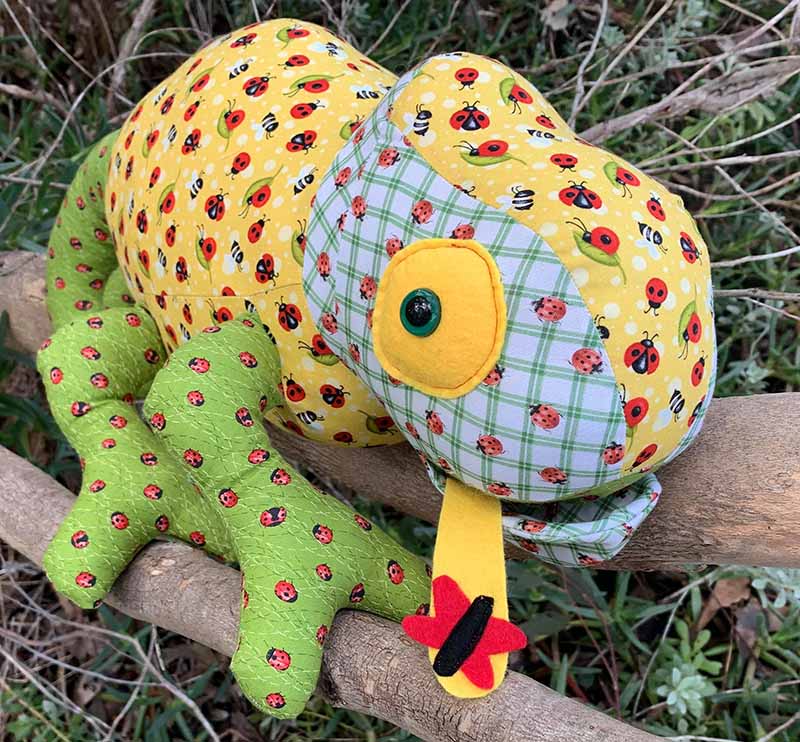 Purple Chameleons!
Yes, my favourite colur is PURPLE…. so you can imagine how much I love these next testers feedback pics!!! 
This beautiful purple Coco Chameleon was sewn by Flora Schumacher.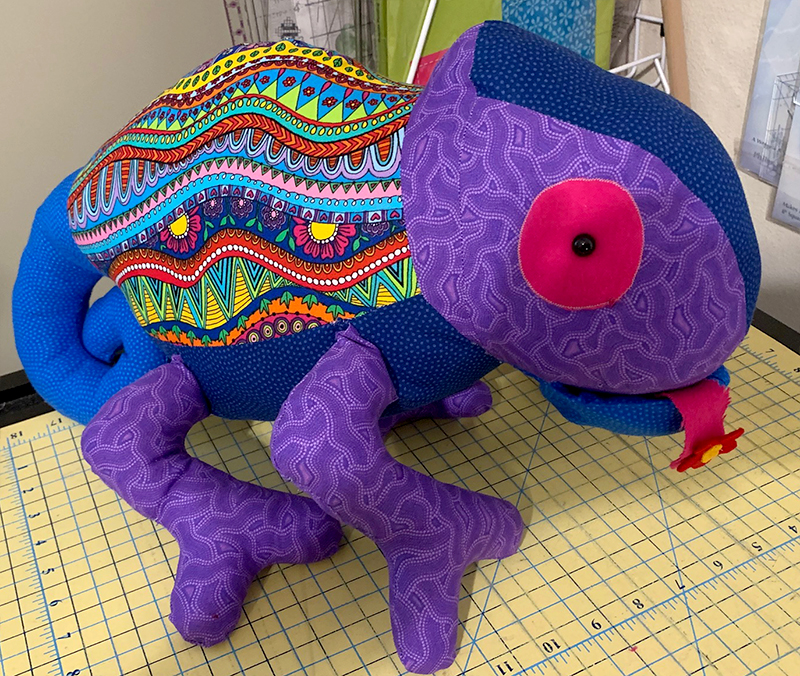 And this pretty purple flowery Coco Chameleon was sewn by Caroline Howse. I love the way she positioned the felt FOOD butterfly on her head! (I wonder if Coco could catch it there?)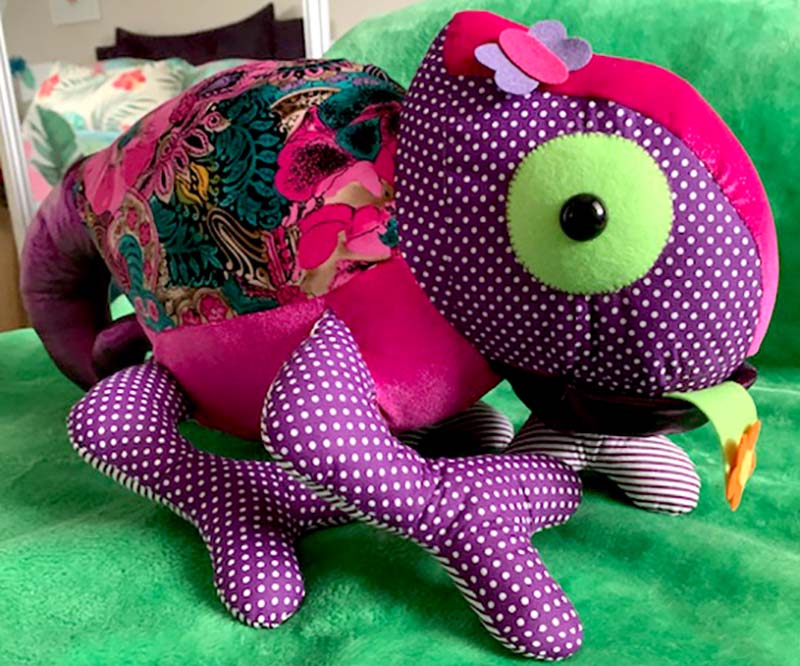 AND last BUT not LEAST!!!
I could go on forever as the feedback photos were ALL AMAZING… BUT I will end off with this SMILEY Coco Chameleon sewn by Christine Storrs…. because she just leaves a BIG SMILE on my face!!! 😄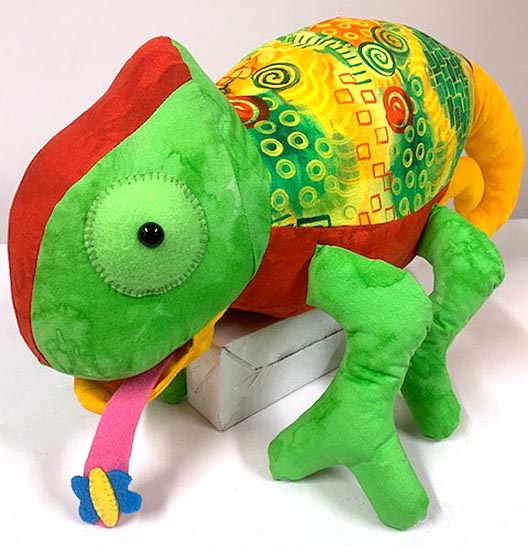 THANK YOU to ALL the Testers ~>
I love ALL of your lovely feedback photos!!!!
In case you missed the link above – the Chameleon toy pattern is available to download from the website NOW!
Till next time, Happy sewing!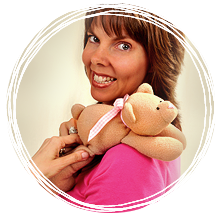 . .
Bye for now
xxx
Pauline