I am excited to be working with a lovely customer of mine who is running workshops in the UK, to teach people how to sew lovely keepsakes from baby clothes.
Cheryl is a foster carer who began to sew lovely keepsakes, made from my Funky Friends Factory patterns, for her foster children so they had a special memory to take with them when they move on to their forever homes. She kept getting asked to make keepsakes for other people and realised that if she kept going she could turn her hobby and love of sewing into a business… and that's how Bear in mind Keepsakes started!
​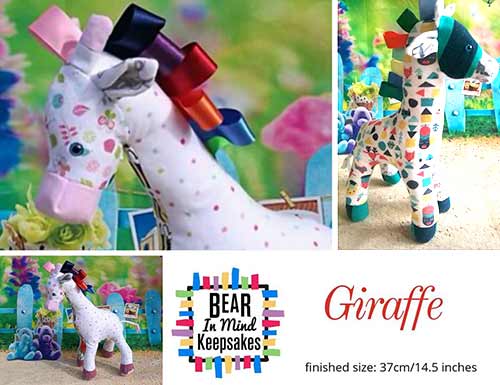 Cheryl had an idea to share her love of sewing keepsakes with her community by offering workshops and so we have set her up as a Funky Friends Factory wholesale customer so she can purchase patterns to teach classes with the Funky Friends Factory patterns.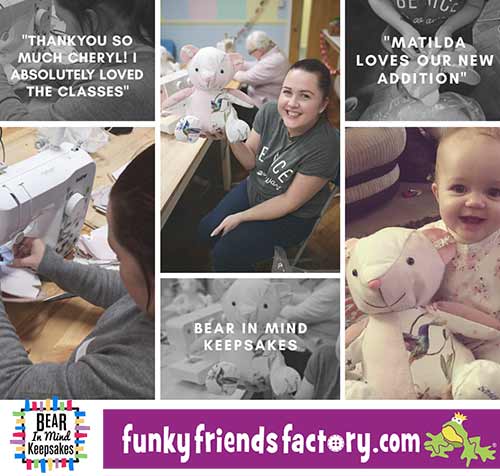 How does it work – how can you join a workshop?
Please contact Cheryl Lally either via the BEAR In Mind Keepsakes website or via the BEAR In Mind Keepsakes Facebook Page.
Cheryl is offering a beginners class teaching the basic skills to sew your own keepsake bear from my Melody Memory Bear pattern. The cost of the class includes your own printed original pattern to take home with you so you can make more memory bears after the class!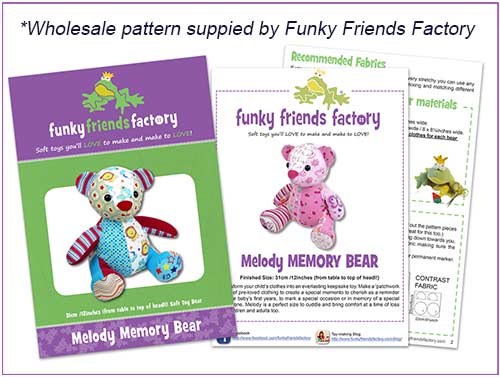 Cheryl chose to use this pattern for her workshops because she finds this has been her most popular keepsake requested by her own customers but she also makes lots of different animal keepsakes from my other Funky Friends Factory patterns and may do classes with these as a follow on down the track.
I LOVE these treasured keepsakes Cheryl has made from my Timmy T-rex dinosaur Pattern!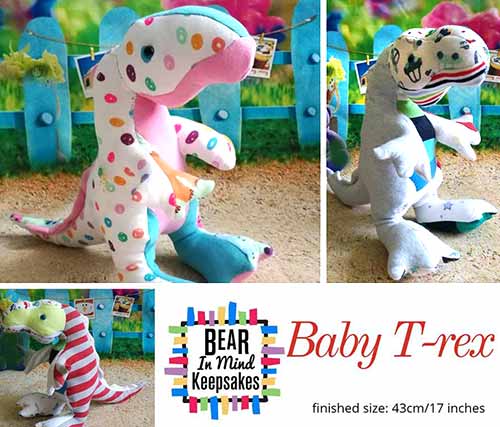 Would you like to offer Funky Friends Factory Classes/workshops in your area?
You don't need to be a fabric shop owner or a full time sewing teacher to offer classes teaching your customers how to make a toy with my patterns.

All you will need is a wholesale account to buy each student their own original pattern. This is very easy to set up and you can build the cost into your classes and even make a little extra profit per pattern!
PLEASE NOTE: Photocopies or multiple print outs of your copy of a pattern are not permitted as per the Funky Friends Factory copyright policy.

Drop me an email me to find out about a wholesale account if you're interested in teaching workshops with the Funky Friends Factory patterns. Tell me a bit about yourself, what your plans are and we can work out how to make it happen! 🙂
Let's share the keepsake making LOVE!!!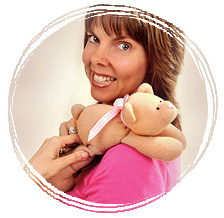 bye for now,
Pauline
xxx