Yeeeehar! After many years of requests – my NEW Meerkat Sewing Pattern is ready for testing!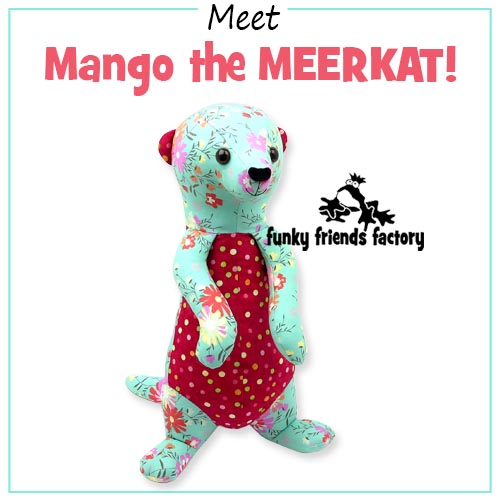 This new toy pattern was designed for a special friend – Korina (of Korinas Kreations) who has been sewing Funky Friends for years – well, ever since she walked into the little shop I had in the North Pine Markets and asked me 
Are these toys
hard to sew?
Korina came back the next week with a HUGE SMILE to show me the very first Funky Friend's toy she'd sewn. Since then she's sewn 100s of Funky Friends toys since then – I think she's sewn almost ALL of my toy patterns!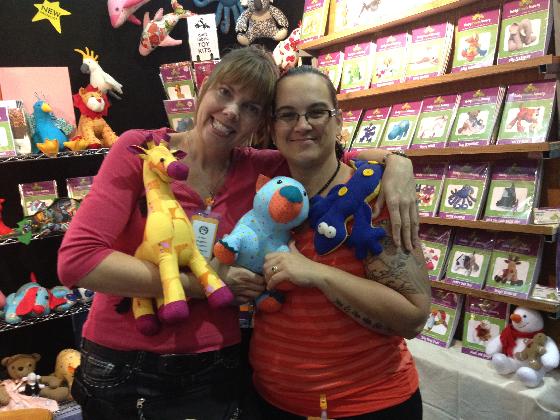 Finally in 2022 the Funky Friends fans voted for me to design a meerkat toy for my next toy pattern – so Korina has finally got her wish granted and…
I am VERY excited
to share this merry
Meerkat with you too!
What SIZE is the finished Meerkat?
He's 37cm(14½ inches) tall (from the top of his head to the table he's standing on). Stuffing tips are included to make him stand tall (as long as he's not sleepy). 
What FABRIC can I use to sew a meerkat toy?
I sewed my Meerkat with quilting cottons but you can use most fabrics for your merry meerkat! And a meerkat doesn't have to be BROWN!!!!
Look how sweet
Mango the Meerkat
looks in mango coloured fabric!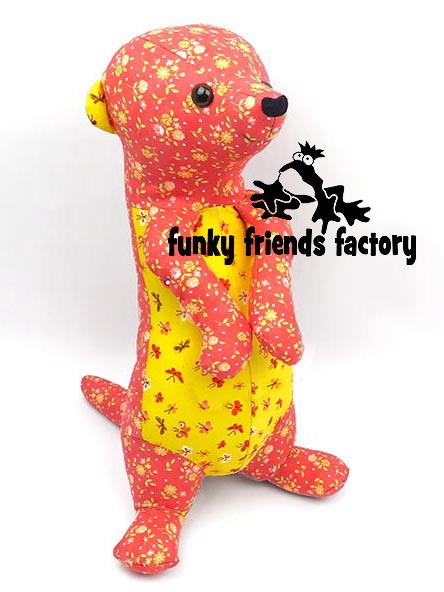 Difficulty Level:
This Meerkat Toy Pattern is suitable for adventurous beginners (he's NOT difficult but he does have some small pieces).
Is there a Photo tutorial for the Meerkat Pattern?
YES! I have created a step-by-step photo tutorial so you can see EXACTLY how to sew this Meerkat Toy Pattern – with lots of clever keepsake making tips and tricks!  As usual, you can access the tutorial using the link in the See-Me-Sew section of the pattern.
(*Please check you typed this link in correctly,
~> or you'll get an error page! 😱 )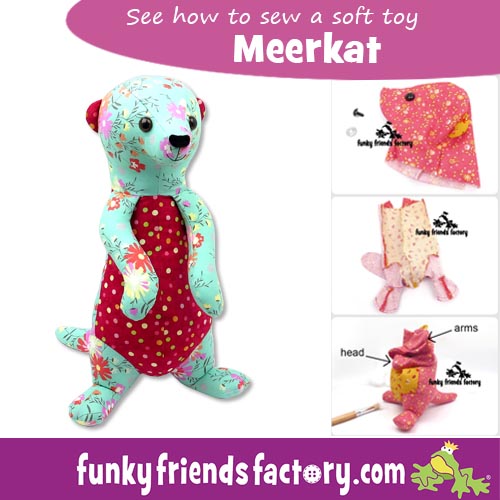 OK, so how does testing work?
We now have over a thousand people applying to test each new pattern, and I just can't get to read all the applications OR give away that many free patterns each time! So we tried out a new way to do testing (to let as many people as possible be able to test my new patterns) and it worked out really well so we'll be doing testing like that again…
So, ANYONE can be a Tester ~>
You don't have to be a very experienced sewer or even a brilliant toy-maker. You can test the pattern even if you have NEVER sewn a toy before!
BUT, you need to be FREE in the next 10 days!!!
*** We have a deadline!***
You need to be able to sew up the toy and send in the photographs by the deadline date – June 30th, 2022 (In YOUR time zone!) You will need to buy the pattern first and sew a Meerkat toy – so you can answer the Feedback Survey questions AND send in photos of your finished toy.
Once your feedback is received ~> you'll receive a Tester's THANK YOU VOUCHER* so you can get another Funky Friends Factory pattern for FREE! (* The voucher MUST be used within 30 days on ANY existing Funky Friends Factory pattern.)
What's GREAT
about this~>
1. FFF fans will be able to get two patterns for the price of one!
2. AND I can afford to have UNLIMITED testers!!! 😃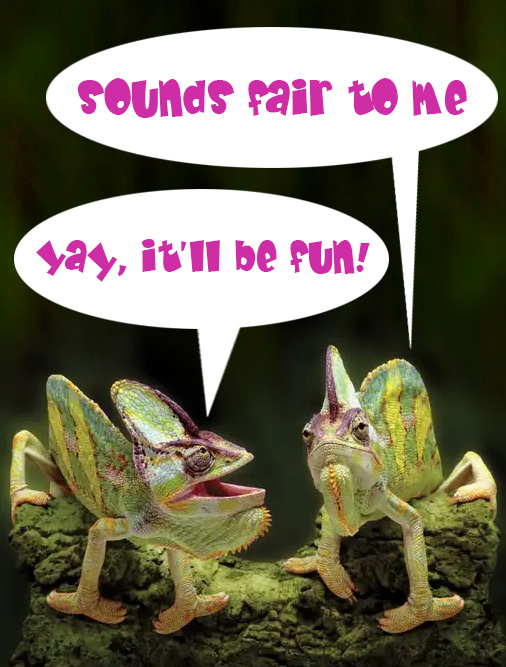 So what do you need to do to be a TESTER?
STEP 1:
BUY the Mango Meerkat pattern by clicking the BIG orange button below…(after you've read steps 2 – 4! 😀)
STEP 2:
Sew up the Mango Meerkat pattern, and once you have finished – come back and fill out the TESTERS SURVEY HERE.
(The DEADLINE is 30th June 2022 – in YOUR time zone!)
STEP 3:
Send in your photos by the same deadline date…… 👌 PLEASE READ THE following important information about the kind of photos I need, plus where to send the pics! 👌
Please submit 2 to 4 photos meeting the following simple criteria

:


More than one angle (ex. Front, side, left and right!)

Use natural light, outside if possible or next to a window (morning/evening light works BEST!)

Use a non-distracting backdrop for indoor photos (on a plain chair or table top, a blank wall, a plain sheet works well too.)

Send your photos to me by email. Please

CLICK this link to email me your photos!

*** If you'd like examples of these types of photos, search for the #toyphotography tag in our Facebook Pattern Fan Club Group search engine. Here's an infographic we made to explain more about this – >
STEP 4:
This is the cherry on the top ~>>> Once you have submitted your feedback survey and photos we will send you a THANK YOU VOUCHER to buy ANY pattern on the Funky Freinds Factory website.

***Please use the voucher before it expires!***
*** THANK YOU VOUCHER is valid for 30 days.***
Read everything?
READY to be a tester?
Great… click on the big orange button!

NOW I can't wait to see your merry Mangoes!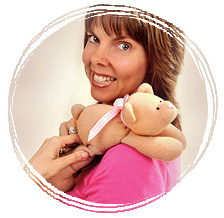 Till next time, happy sewing,
Pauline
xxx