People have been begging for me to release a pattern for a Keepsake Unicorn ever since I did a pattern ADD-ON back in May 2020. At the time I decided to give the ADD-ON away for free because most of us were in lockdown and I wanted to do my part to help my community get through the stress and boredom of being locked up indoors.
That free ADD-ON wasn't a complete pattern and I removed it  after a year because most people were no longer in lockdown AND because I wanted to create a pattern that would be up to my usual Funky Friends Factory standard…
It's taken me a long time to complete the pattern BUT I'm happy to say she's finally done and I am proud to introduce the Kelsey KEEPSAKE UNICORN Pattern! The pattern has a full set of instructions, a layout diagram, a requirements list for notions and fabrics, a step-by-step photo tutorial and most importantly – ALL of the pattern pieces are included! There are pattern pieces for the MANE, TAIL, FLOWER & STAR FELT DECORATIONS and… wait for it… I have added a TUTU!

I think she looks adorable in pretty pinks with rainbows, stars and and glittery tulle-netting for her tutu… BUT this Keepsake Unicorn doesn't have to be this PINK!!! LOL 
Look how cute the Unicorn Pattern
looks made up in BLUE!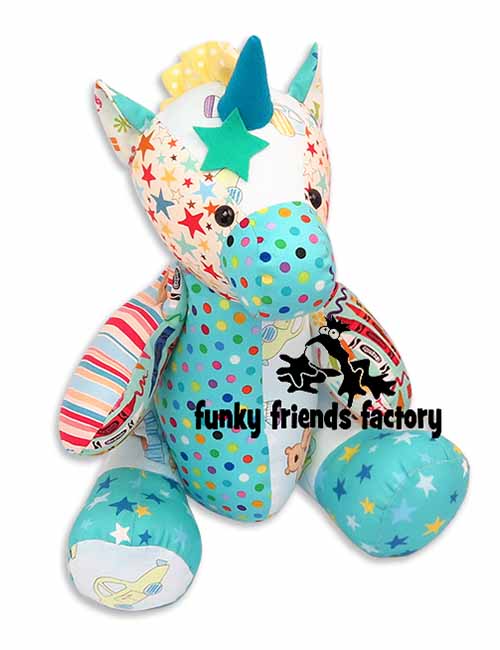 Is there a Pattern tutorial for the Keepsake Unicorn?
YES! I have created a step-by-step photo tutorial so you can see EXACTLY how to sew this cute Keepsake Unicorn Pattern – with lots of clever keepsake making tips and tricks!  As usual, you can access the tutorial using the link in the See-Me-Sew section of the pattern.
(*Please check you typed this link in correctly,
~> or you'll get an error page! 😱 )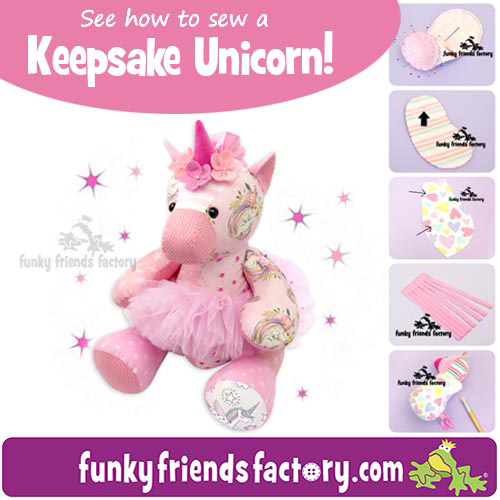 What fabric should I use?
You can use any type of fabric to sew your keepsake toy (I recommend that you use interfacing to line fabrics that are thin and very stretchy). Mixing and matching different types of fabrics makes a memory toy look awesome! 
Kelsey Keepsake Unicorn looks good in all sorts of colours and textures – as you can see from the feedback photos from the Testers!
Here are just some
of the lovely feedback photos…
I am LOVING this bright girly Kelsey Keepsake Unicorn sewn by Lisa Smallwood of Sewn 4 You.
Don't you love the
cute eye-lashes she's added?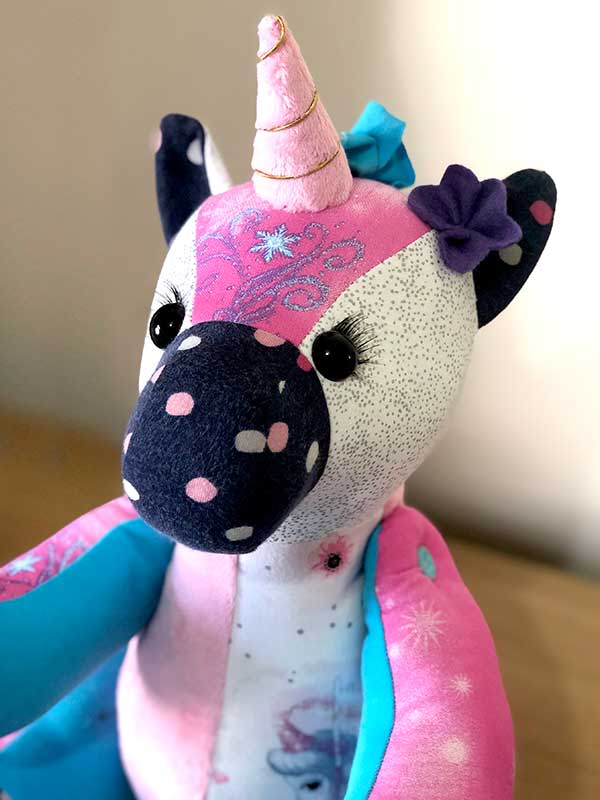 Lisa also sent me some photos from other angles so you can see the cute TAIL and TUTU!!!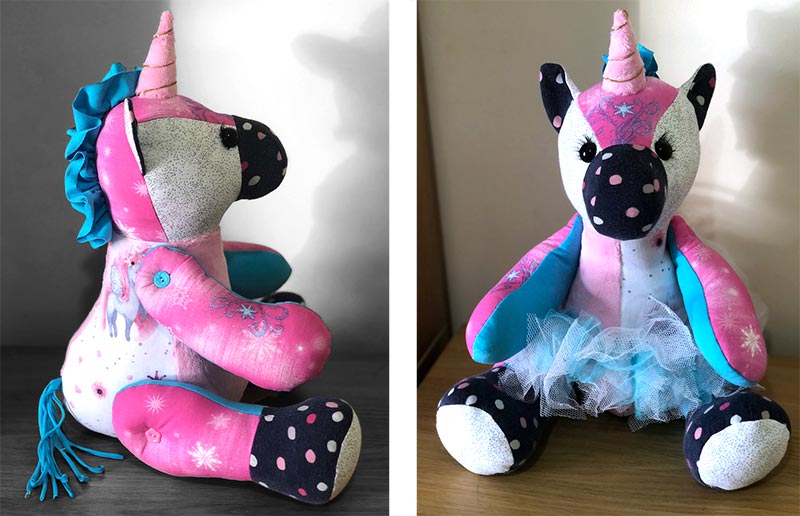 This adorable memory toy version of the Unicorn Keepsake Pattern was sewn by Emma Woodley of The Sewing Bumble Bee. Look at all the special details of the baby clothes that Emma has been able to incorporate in this precious keepsake…. like the words – I LOVE Mummy on the arm!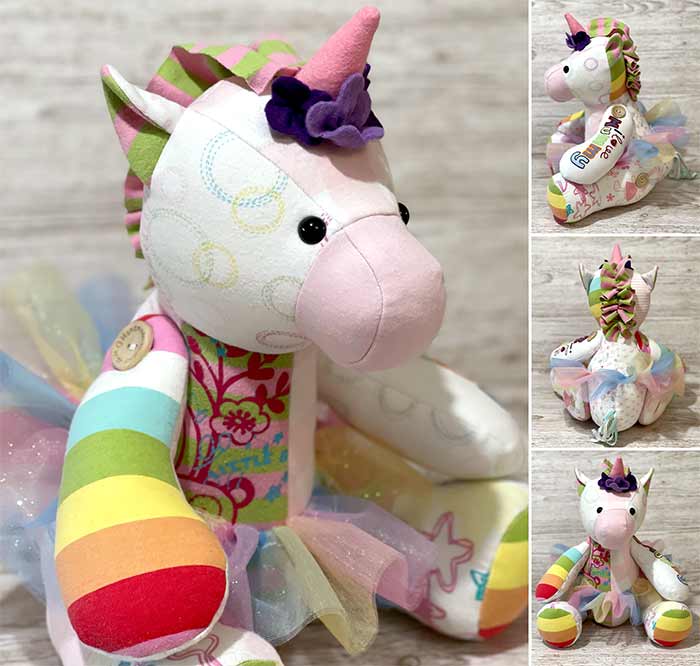 This cute fleece version of the Kelsey Unicorn Keepsake Pattern was sewn by Shirls Smith. She also used starry fleece and fleece for the orange star which ties in nicely with the orange stripes on the arms!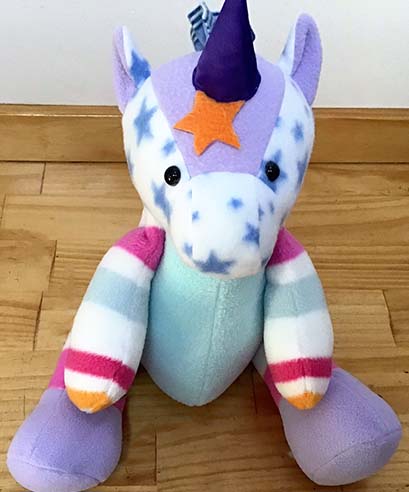 Another adorable memory version of the Kelsey Unicorn Keepsake is this cutie sewn by Kellie Hollis of Memories Are Made.
I love the cute star buttons!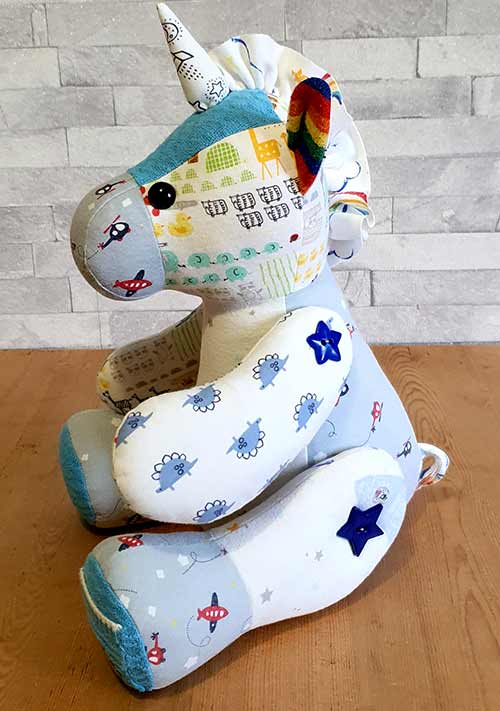 Angela Blackmore from AngeMadeIt sewed this starry version of the Keepsake Unicorn which is quite a cuteness overload on its own….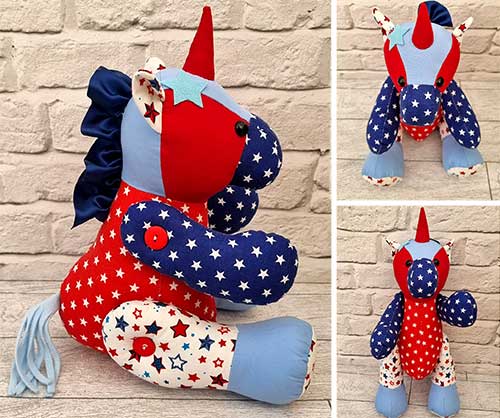 …then a friend gave her
a bunch of her daughter's baby clothes…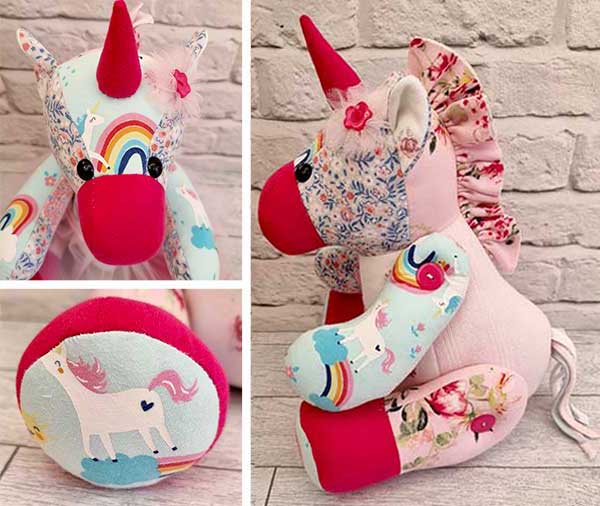 This very sweet version of the Kelsey Keepsake Unicorn Pattern was sewn by Jasmin Hutchison of Designs by Jasmin… I love the wooden buttons she's used and the way she's "fussy cut" the clothing items and placed "I love daddy" strategically on the Unicorn's hoof!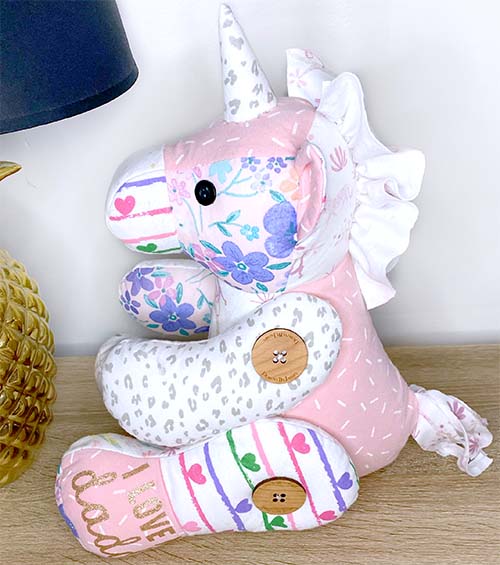 This very sweet "Minnie Mouse" Unicorn Keepsake was sewn by Kim Illarietti.

Look at her fluffy mane!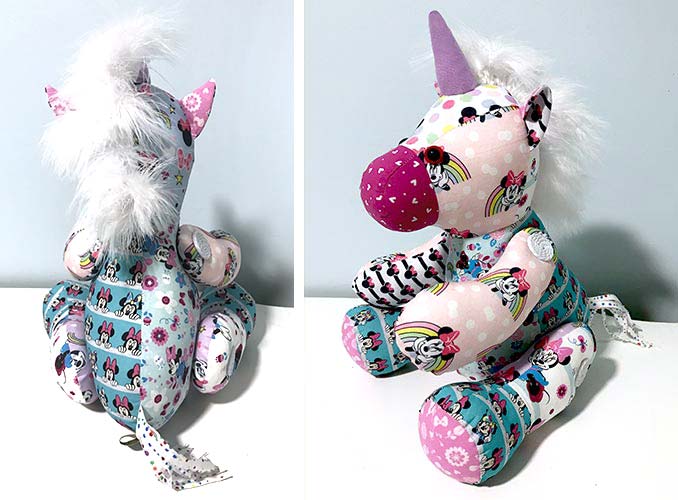 Next up we have a sparkly, tourquoise Unicorn Keepsake sewn by Hayley Sayers of Soft Federation . I especially love the photo of her standing up –

it looks like she's doing ballet!!!
This very cuddly version of the Kelsey Keepsake Unicorn Pattern was sewn by Alyssa King of Snuggle Soft Designs in Shannon Fabrics Cuddle® fabric! (I just want to pic up this unicorn and cuddle it! LOL )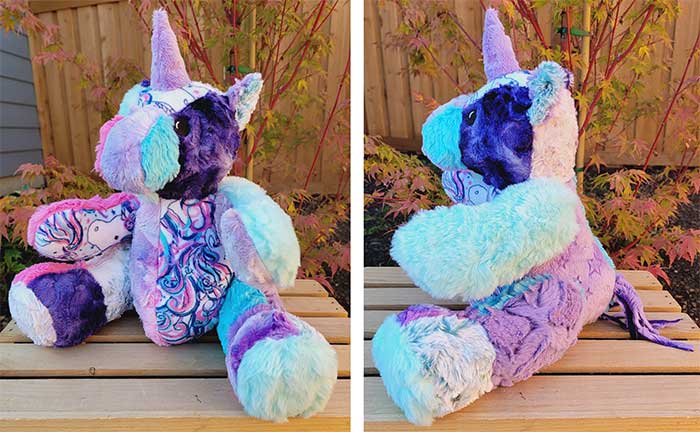 AND last BUT not LEAST!!!
We end off with this very happy, sunshiny Kelsey KEEPSAKE Unicorn sewn by Sandy Thurlow.
Look at that sparkly tail!!!  😄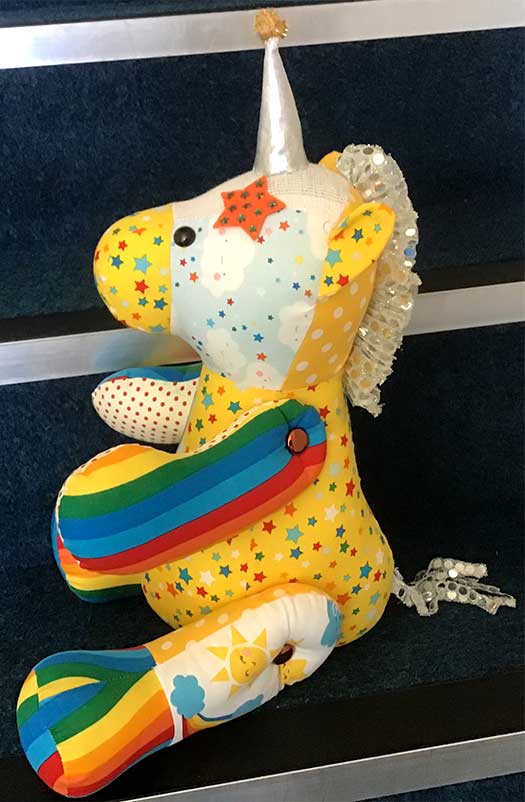 THANK YOU
to ALL the Testers ~>
I love ALL of your lovely feedback photos!!!!
In case you missed the link above – the Kelsey KEEPSAKE Unicorn Pattern is available to download from the website NOW!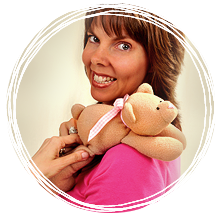 Till next time – Happy Sewing!
xxx
Pauline