We have lots of OPPOSITES in this month's finalists – a huge cat vs a teeny tiny dog, bright birds vs pale unicorns… and everything old is new again with antique silk handkerchiefs and tweed suits upcycled to make keepsake toys. Read down to the end of the post to find out who won!

Let's take a look…
First up is one of the easy Funky Friends patterns, Baby Bunny, sewn in one of my favorite easy-going fabrics, fleece. If you don't want to embroider a nose on your bunny, a little felt triangle works great. Paula Blevins sewed up these pretty pastel bunnies as baby gifts.
And these cheery rainbow versions of Baby Bunny sewn by Susan Mitchell, are sure to make you smile! It's a whole different look than the first set of bunnies above, but just as cute.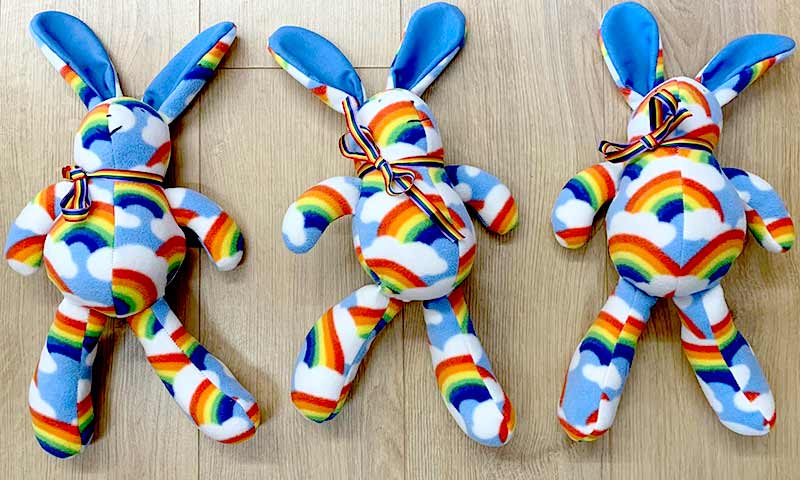 Click HERE to purchase the Baby Bunny pattern.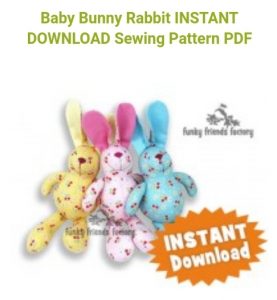 Here's a big, beautiful group of Ben the BEGINNER teddy bears sewn by Sandy McDonald.
This was her first try at
a Funky Friends Factory pattern!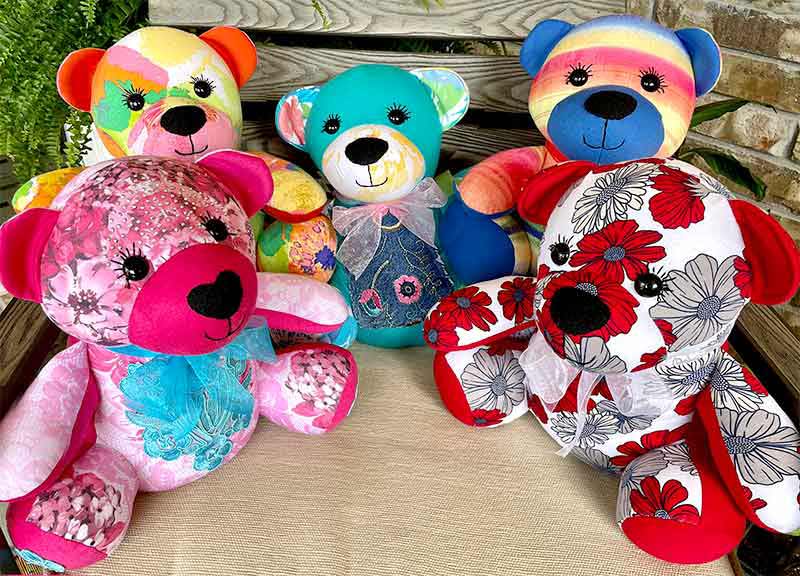 This Ben the BEGINNER teddy bear sewn by Denise Erskine is made out a material that's incredibly unusual…vintage handkerchiefs! This is a great idea for upcycling collectible hankies.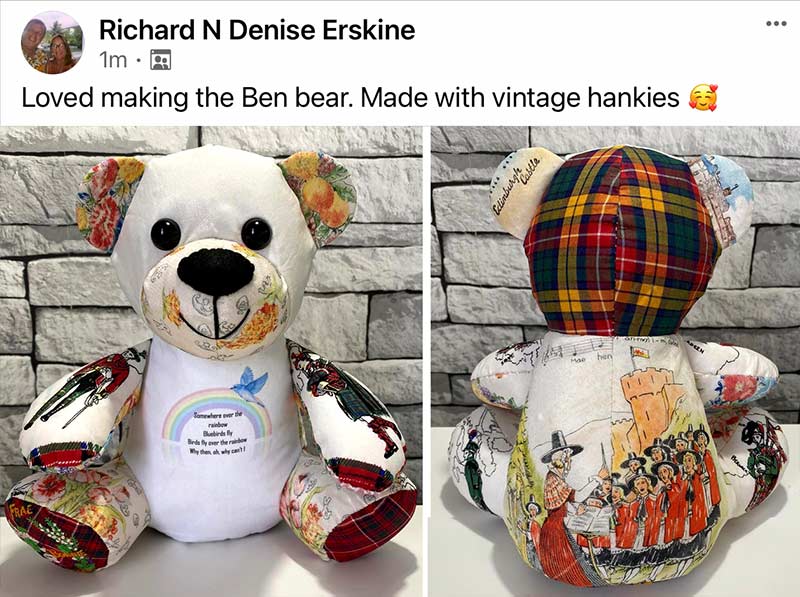 Click HERE to purchase the BEGINNER teddy bear pattern.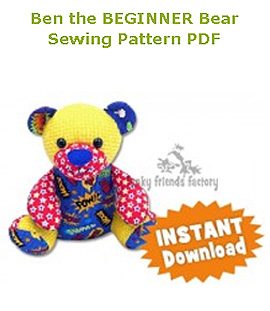 I first envisioned Buttons BEST DRESSED Bear pattern as a "grandpa" type of bear, but this sweet keepsake bear sewn by Jaunita Fleming Jackson shows that Buttons makes a great girl bear, too! I especially love the lace cuffs!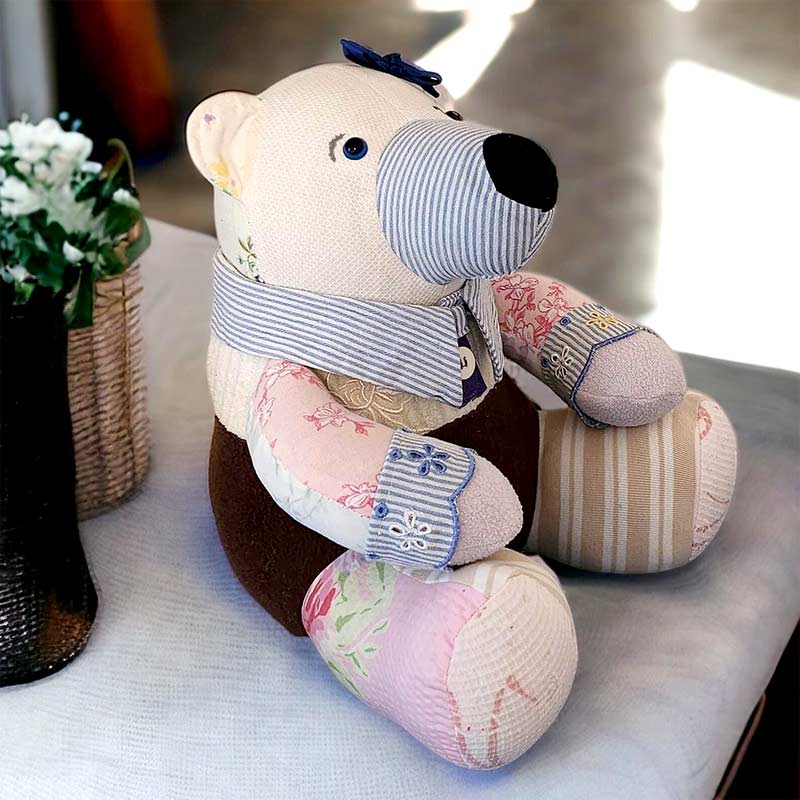 Retirement keepsakes are always some of my favorites because they incorporate so much personality of the gift-recipient. Here's a Buttons BEST DRESSED Bear dressed as a police officer. Judy Roy Bean made use of the footpads for shirt logos and added a patch to the vest. (I've seen people put emblems on the back of the vest, too!)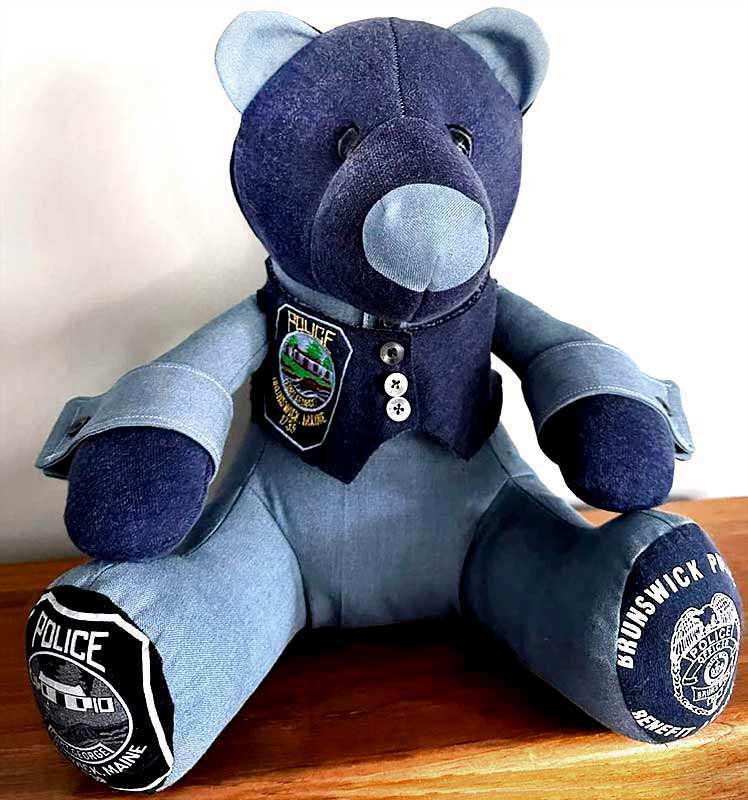 Click HERE to purchase the BEST DRESSED Bear pattern.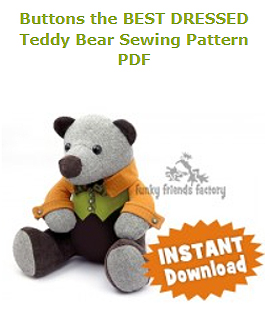 Speaking of uniforms, childhood sports jerseys are a fabulous material to use for making keepsakes. This Calico Signature Bear sewn by Chris Fowler easily accommodates a collection of soccer uniforms.

Heather Givan sewed this Calico Signature Bear from an older gentleman's favorite suit. She said the Harris Tweed was much easier to work with than she expected. She used the suit lining for the contrast fabric and preserved the original buttons.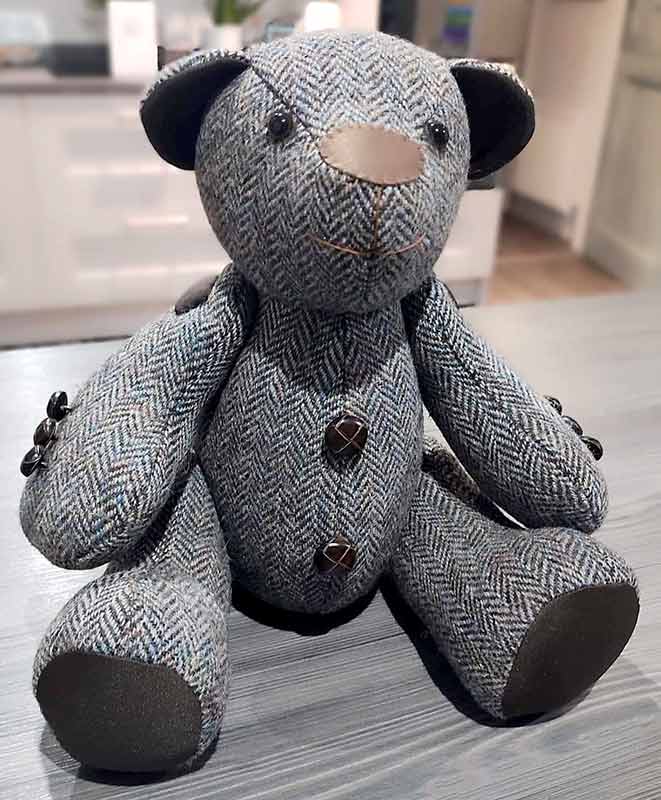 Click HERE to purchase the Signature Bear pattern.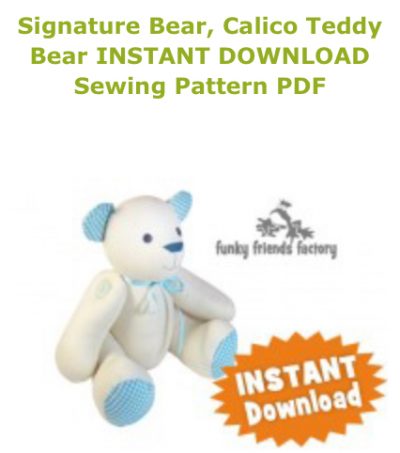 This Melody Memory Bear Pattern looks like it would be friends with the tweed suit Calico Bear above. Judy McKinnon used the lining of a waistcoat to add fun color to the bear, and the buckle embellishment makes a necklace.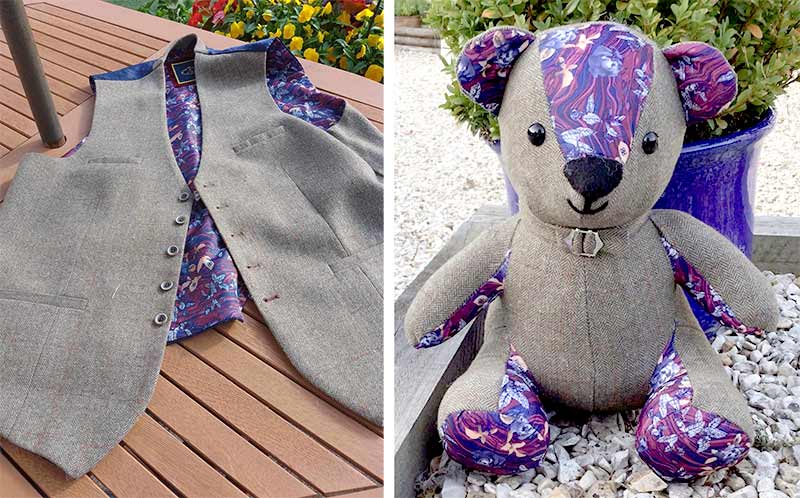 Seems like we haven't had a bear made from a knitted garment featured lately. This Melody Memory Bear Pattern sewn by Cara Van Gils Belt is stylish in a combination of a sweater and denim.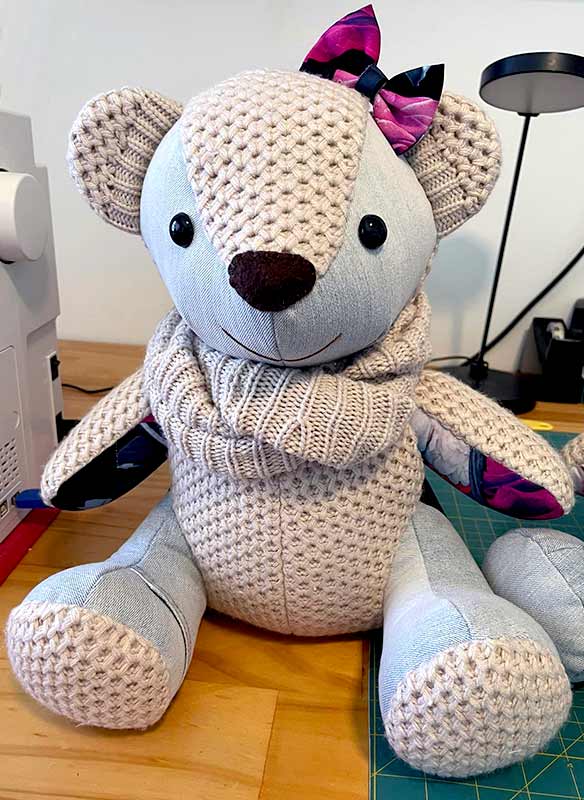 Click HERE to purchase the Melody Memory Bear Pattern.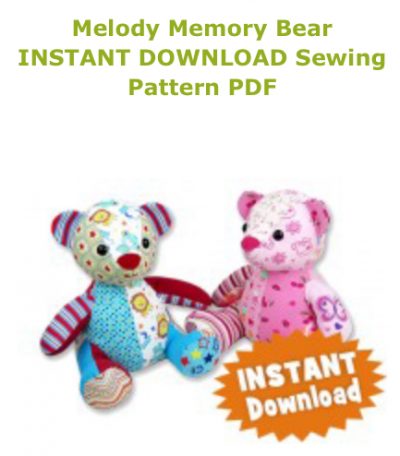 Preston Polar Bear seldom gets to wear a color other than white, so I'm sure he was happy to be sewn in a blue floral by Nat Egan. He has a leather nose, too!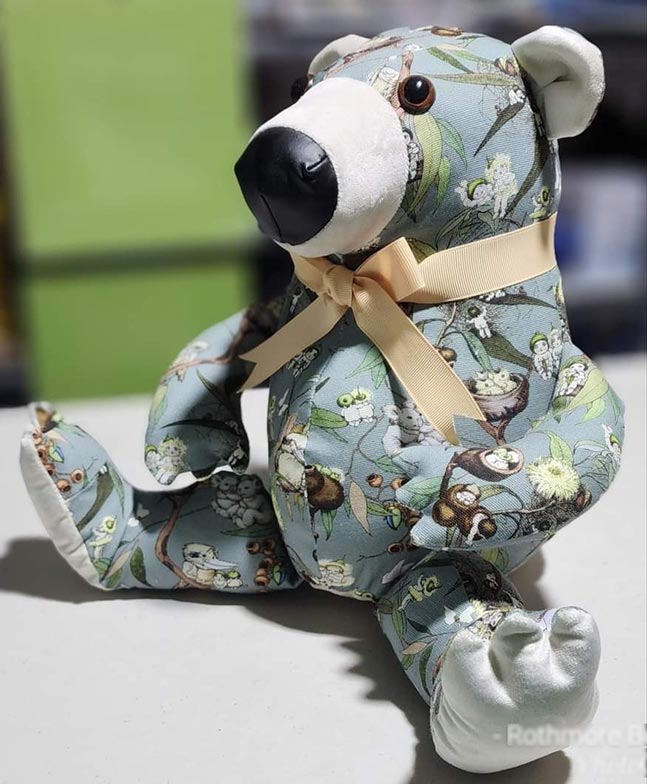 Click HERE to purchase the Polar Bear pattern.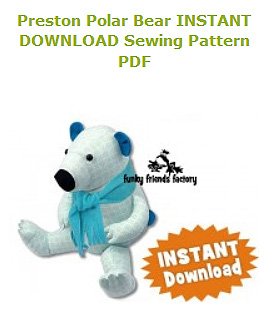 One more bear for the bunch this month…a sweet Panda Ning sewn in fleece by Jenny Loader. You can use felt or fleece for the eye patch appliques on this pattern.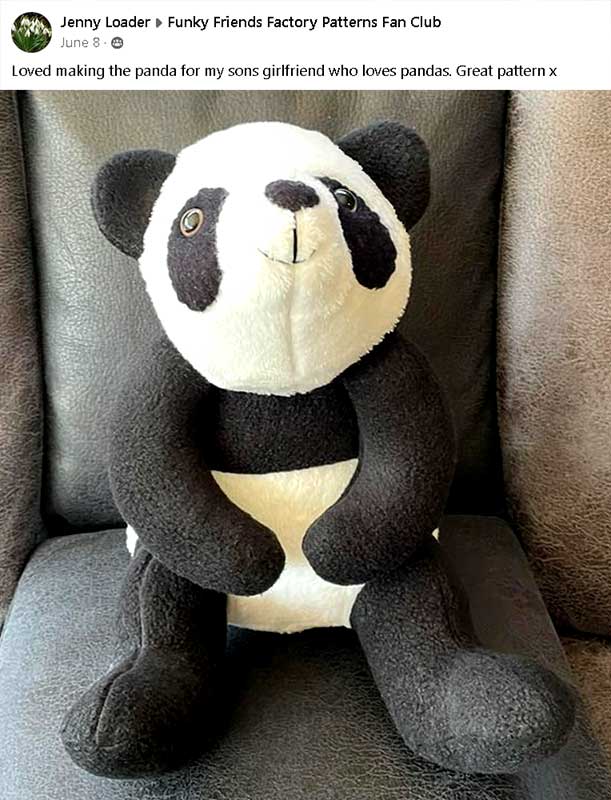 Click HERE to purchase the Panda pattern.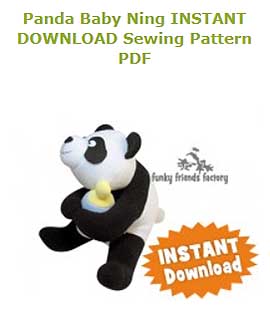 From bears we move to birds…
I love the iridescent legs on this Fleur Famingo sewn by Nancy Jahnkow Goodman. Fleur's legs are always a fun place to show off a fancy fabric, and if you have wide skinny scraps to use up, then it they will be a perfect fit.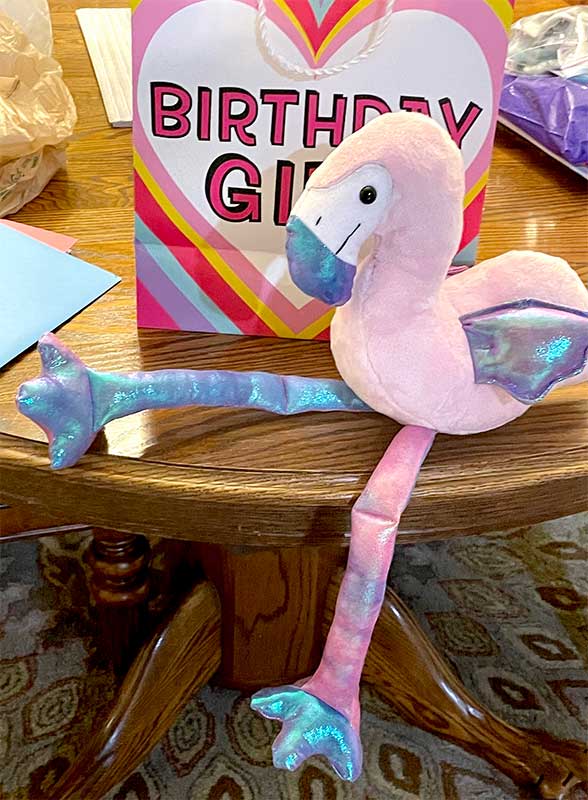 Wow! This is definitely the biggest version of Fleur Famingo I've ever seen. Linda Horton enlarged the flamingo pattern so that the body portion alone is 3 feet tall.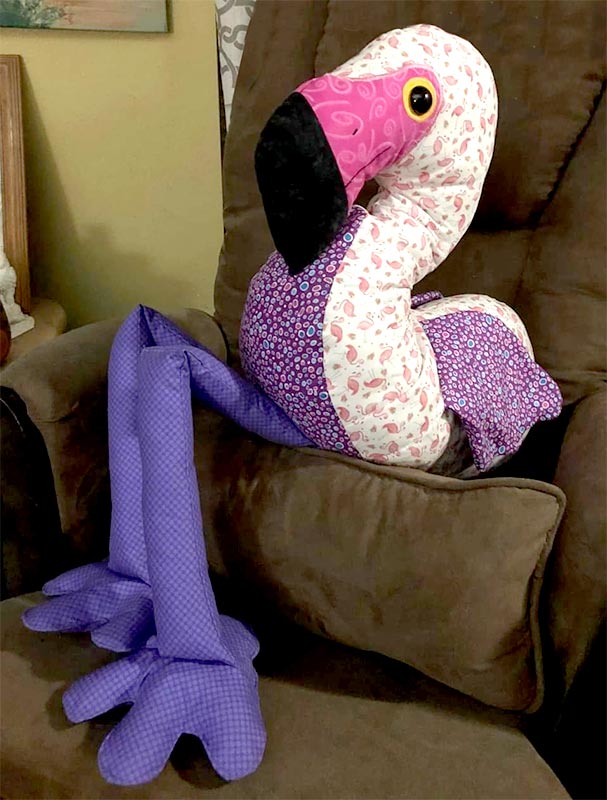 Click HERE to purchase the Flamingo Pattern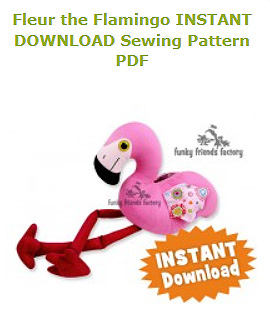 It's drab winter here in the southern hemisphere, so I'm enjoying seeing your colorful makes online. This bright and beachy-hued Penny Penguin sewn by Akrivi Fassa shows that "summer" is a state of mind.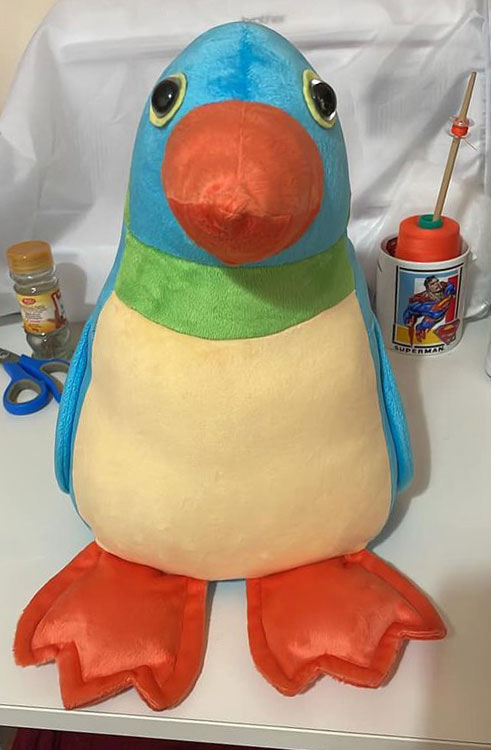 Click HERE to purchase the Penguin pattern.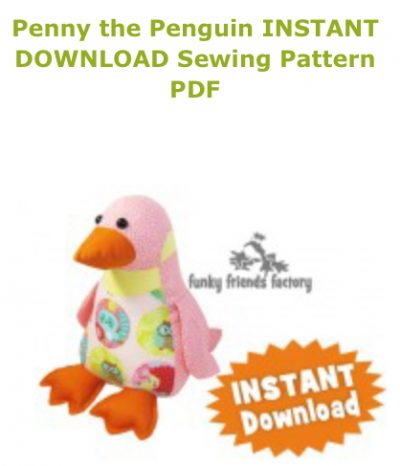 Sharon Hale dressed Bill the Bald Eagle in his patriotic best for the July 4th holiday in the USA.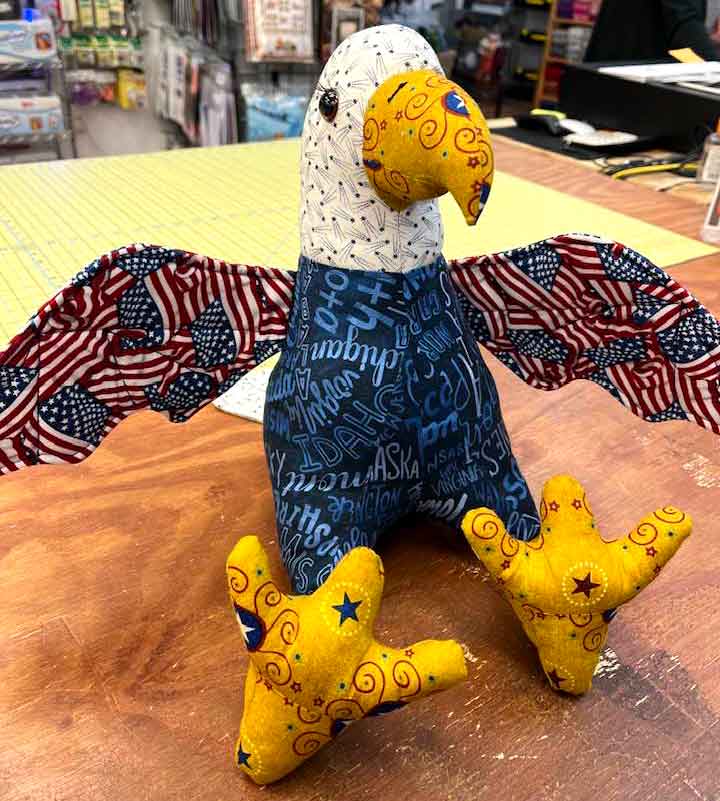 Click HERE to purchase the Bald Eagle pattern.

Many people may assume that the national bird of Australian is the kookaburra, but it's actually the emu! Kylie Kookaburra doesn't mind, tho, especially when she's hip enough to be made from old blue jeans. This kookaburra was sewn by Mellini Sloan.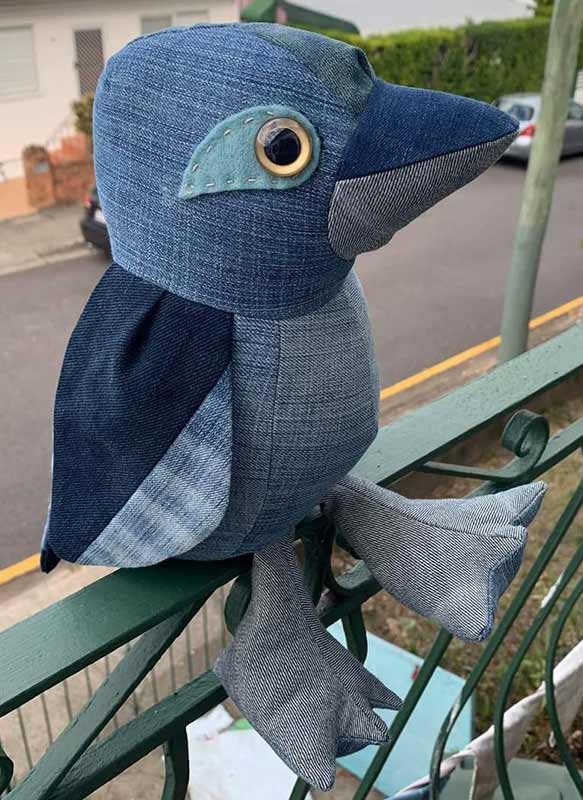 Click HERE to purchase the Kookaburra pattern.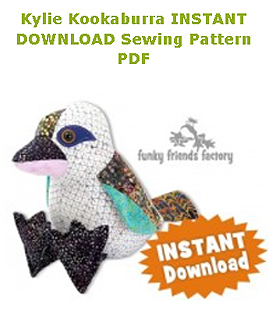 Giddy Goat is wearing some cheerful fleece, as sewn by Janet O'Neil Conlon. 
Click HERE to purchase the Goat pattern.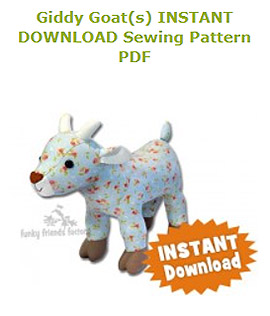 Talk about colorful! This Larry LION sewed by Karla Strauss certainly got people talking in our Facebook fan group….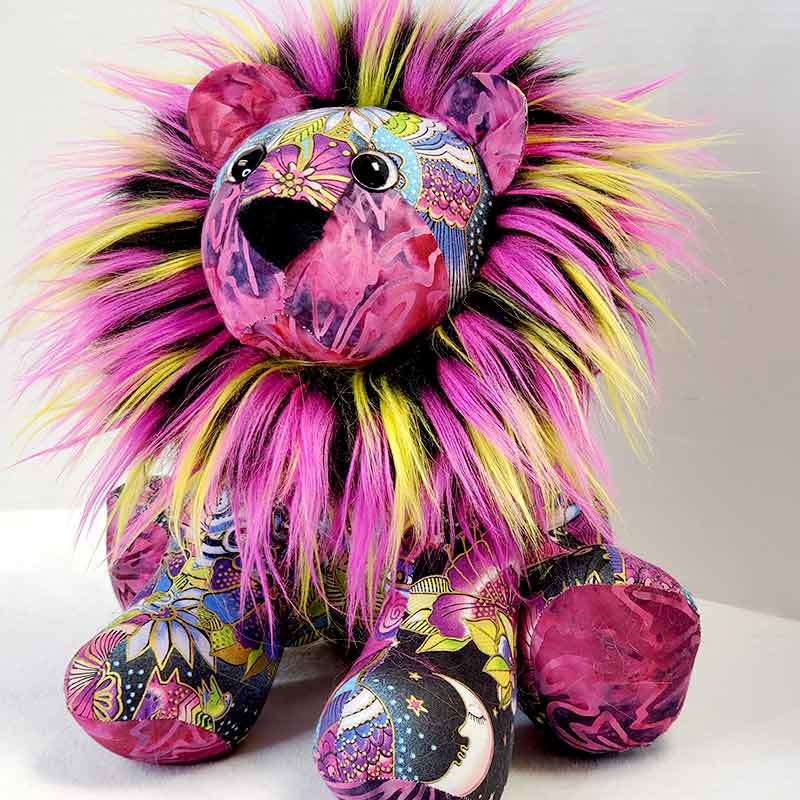 I've got to show you TWO photos
of this fancy toy!!!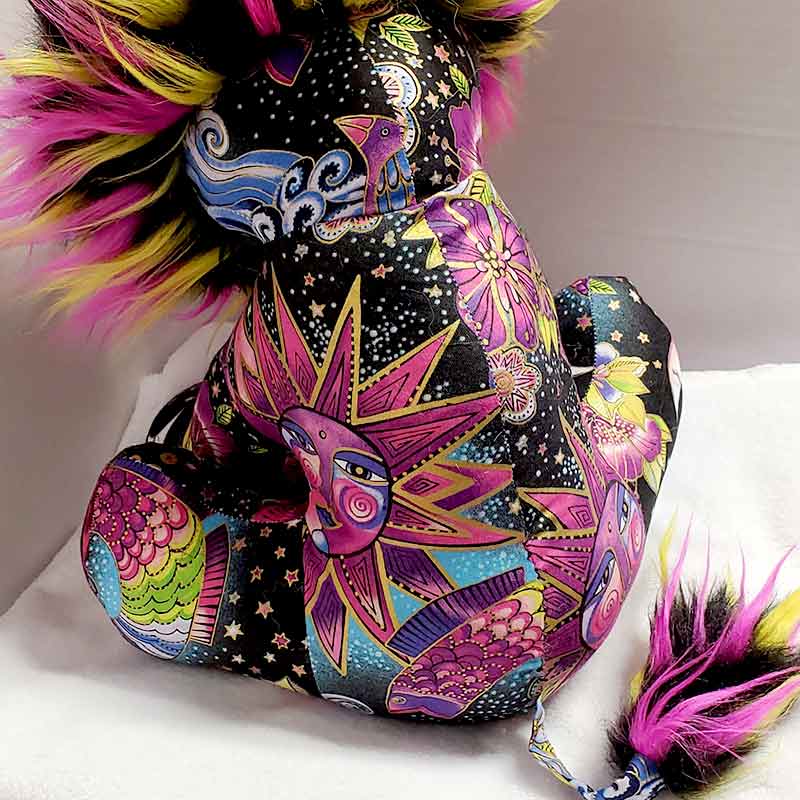 Click HERE to buy the LION pattern.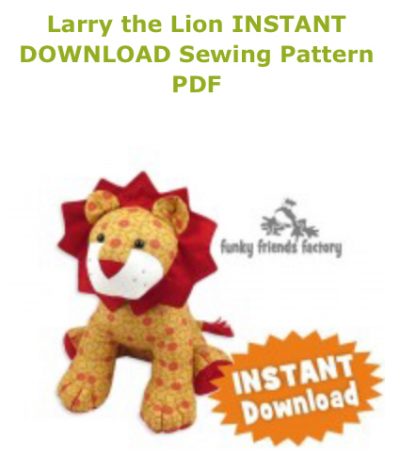 Randy Rhino looks great in absolutely any fabric, but this strawberry fleece is super cute. Great choice, Jennifer Eggleton!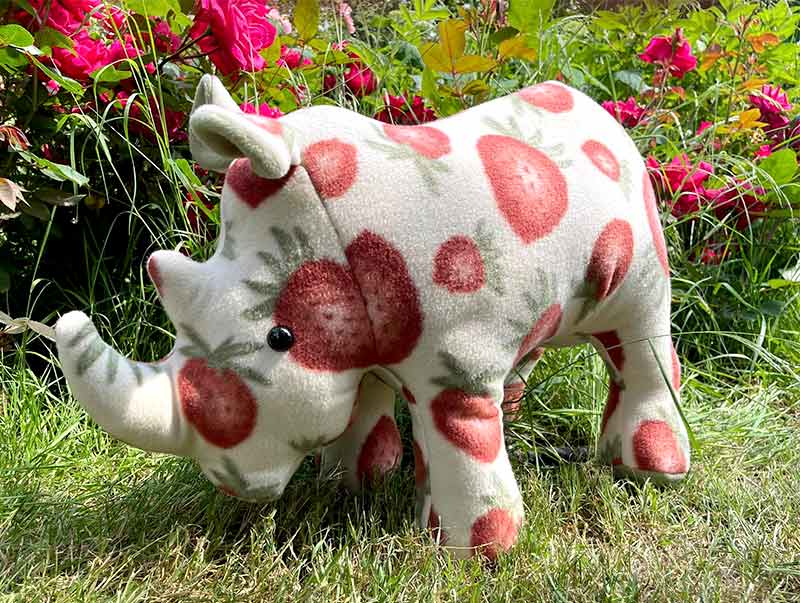 Click HERE to purchase the Rhino pattern.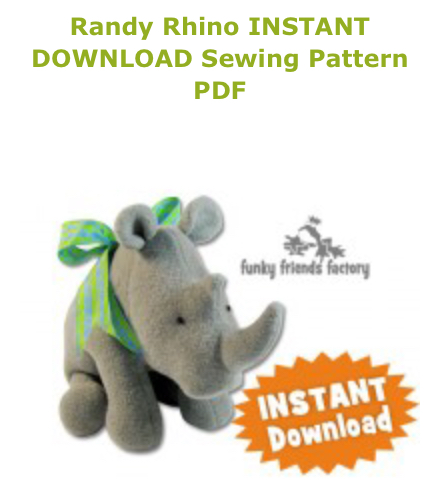 A trip to the seaside sounds good right about now. Sparkles Seahorse looks absolutely gorgeous in batiks, as sewn here by Jess Lidds.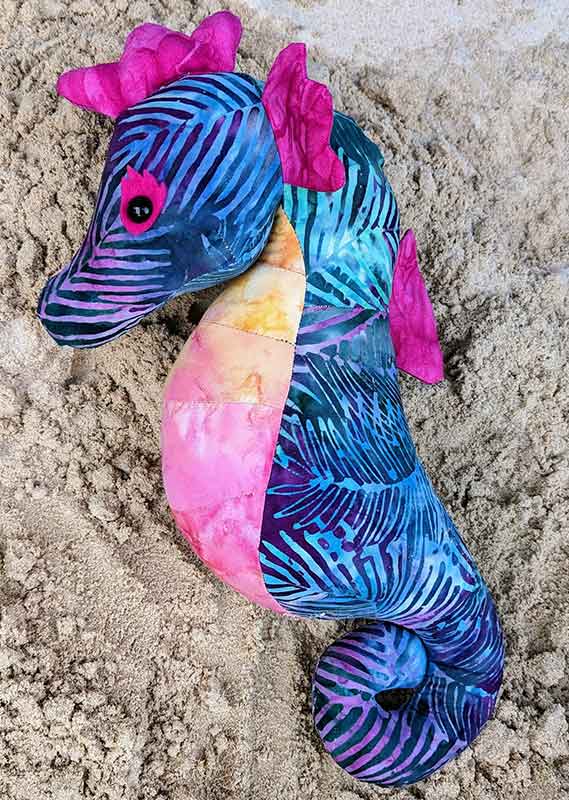 Click HERE to purchase the Seahorse pattern.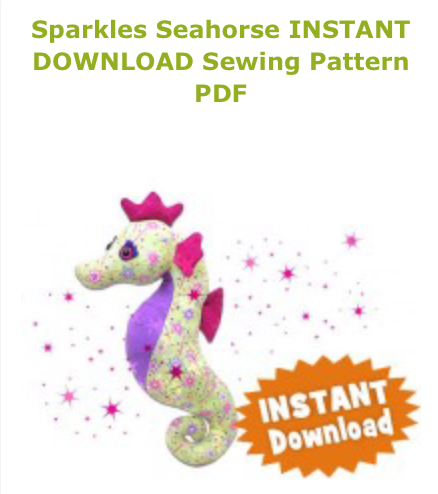 The Funky Friends Factory sea creatures seem to be making lots of kids happy during this school break. Julie Gohring sewed this happy batch of toys, which includes Sparkles Seahorse, Oreo Orca, and Monty Manatee.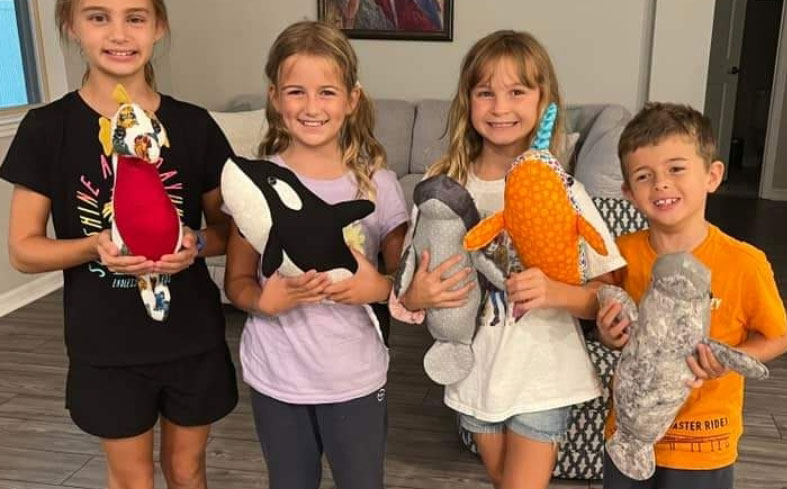 Click HERE to purchase the Manatee Pattern.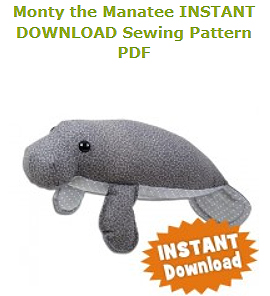 Tessa Wisniewski used a sparkle minky for this Oreo Orca, and the new whale owner looks pretty pleased.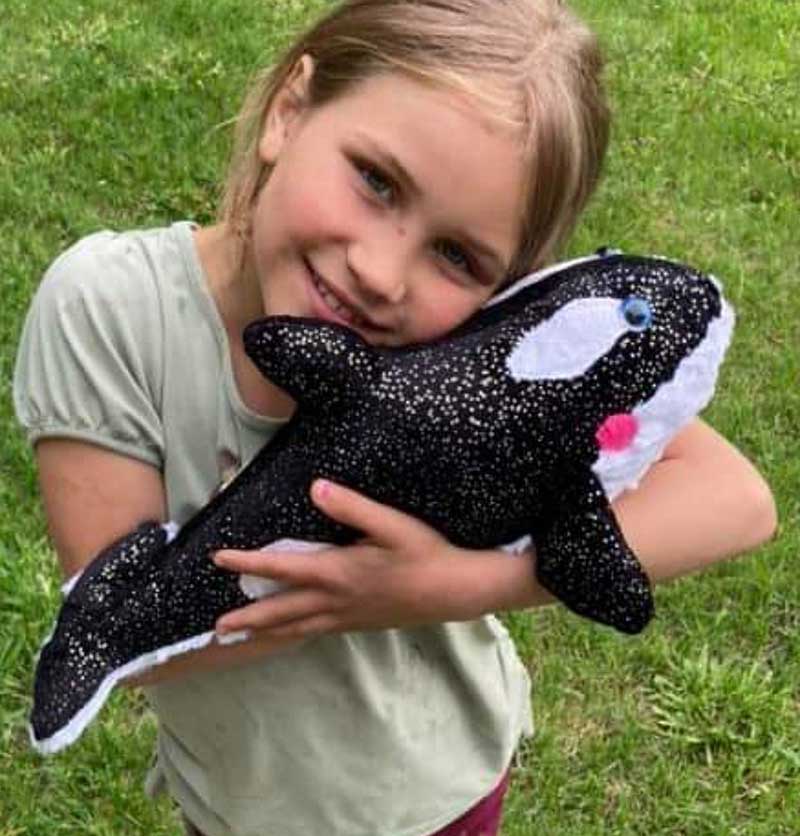 Click HERE to buy the Orca toy pattern.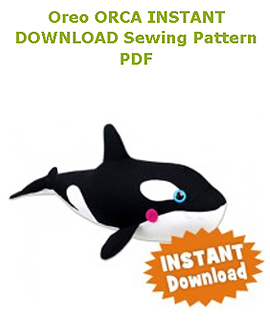 It would hardly be a Maker of the Month post with Kelsey Keepsake Unicorn. Stacie Elkins added extra fancy details like eyelashes and ribbon flowers to this clothing keepsake Kelsey.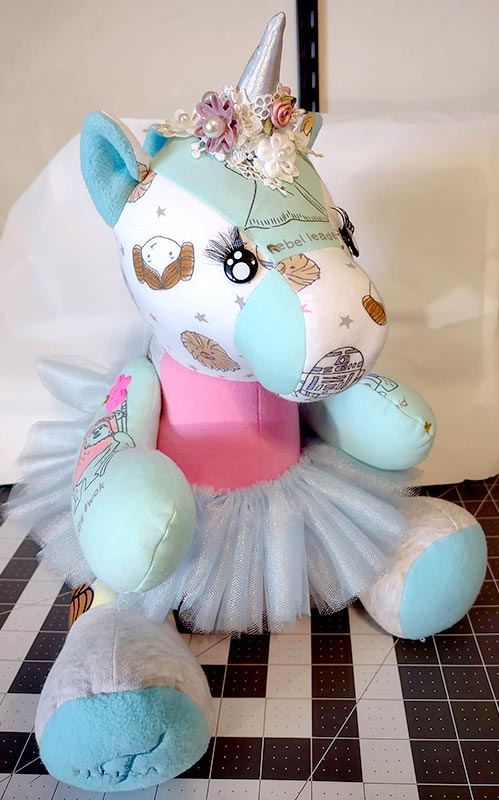 This little beauty brings happiness wherever she goes. Here's a Kelsey Keepsake Unicorn sewn in Shannon Fabric's Cuddle fabric by Diane Joy Kemple.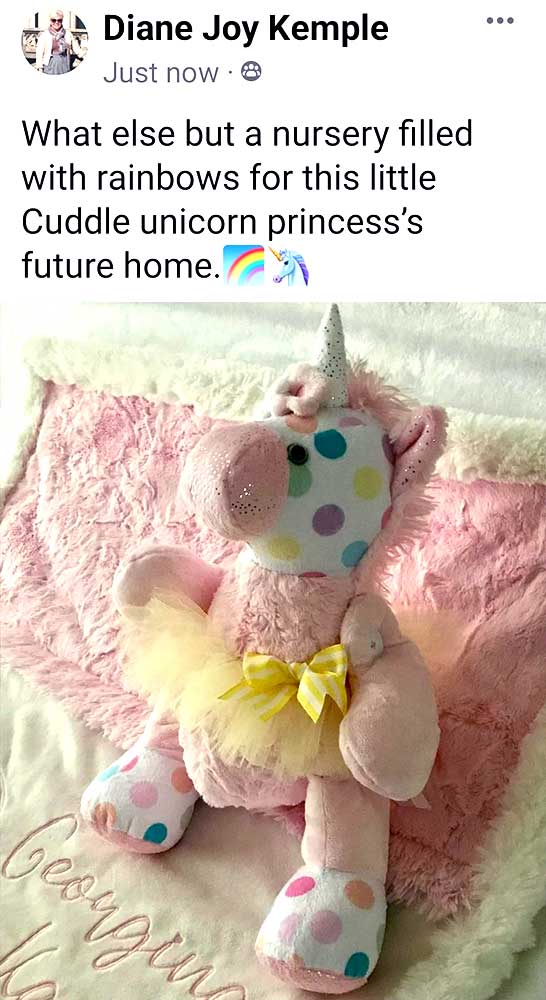 Click HERE to purchase the Keepsake Unicorn pattern.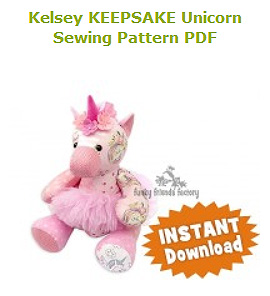 Check out this cat and dog combo! 
I was amazed by this HUGE  Patch Pussy Cat sewn by Karen Carns. Not only is it super-sized, it's also upcycled from a quilt!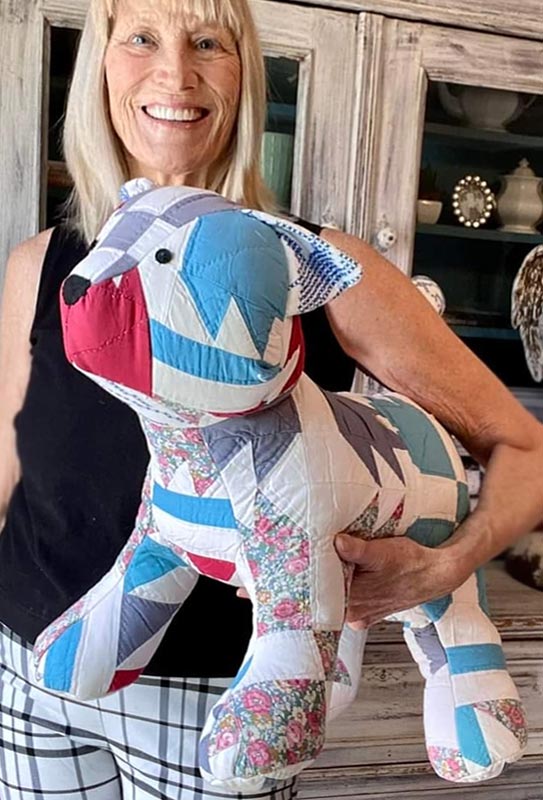 Click HERE to purchase the Cat Sewing pattern.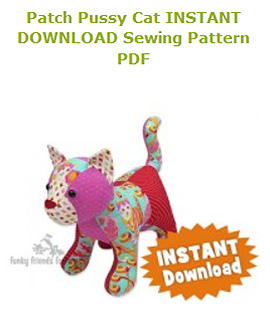 Contrast that huge cat with this teeny, tiny dog. Caroline Jones sewed this Puppy Pete at 65% of the original pattern size.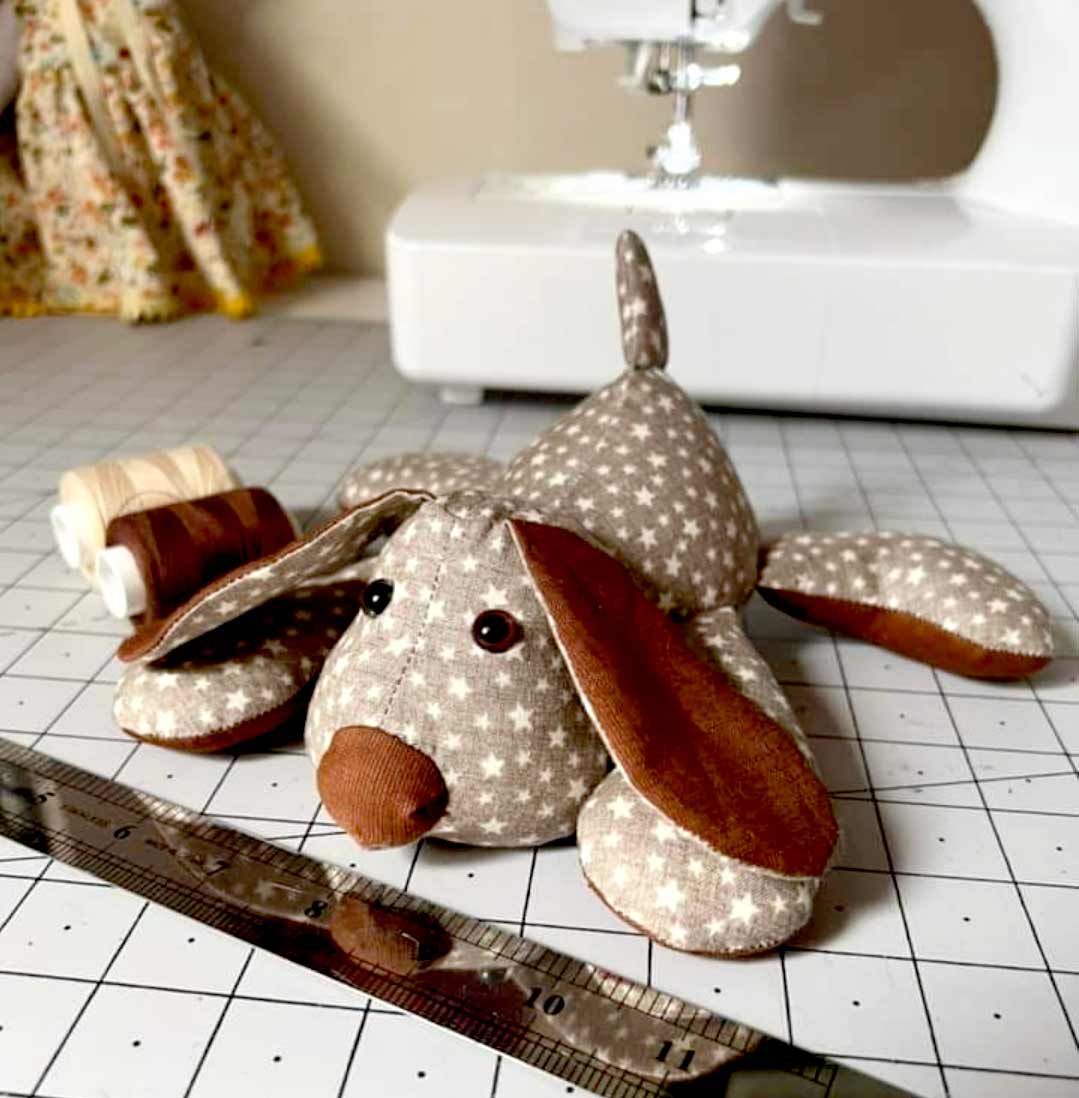 Click HERE to buy the Puppy Dog pattern.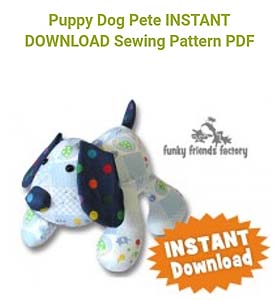 AND this month's winner is…
Congrats to this month's winner Joy Davies. Joy sewed Larry Lion in the lion print from Tula Pink's Everglow fabric line. She had some extra fabric, so she used my cat toys pattern to make a mouse and goldfish. I'm sure this "big cat" will appreciate the gesture!
CONGRATS! You win
a FREE Funky Friends Factory Pattern ~>
of your choice!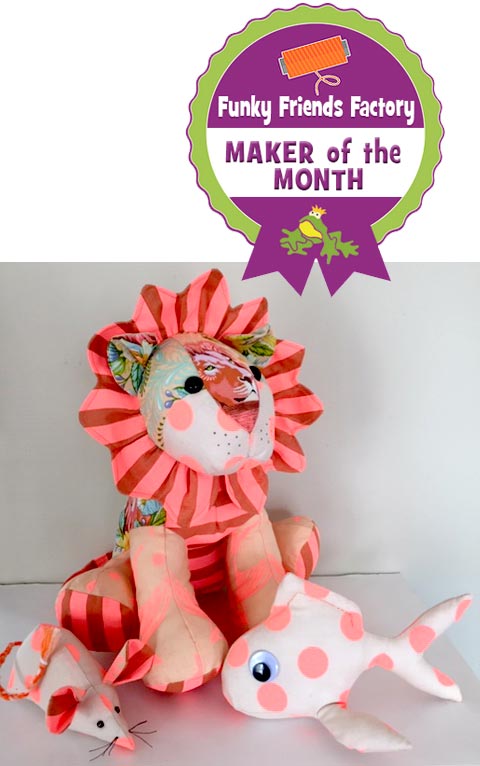 Click HERE to buy the LION pattern.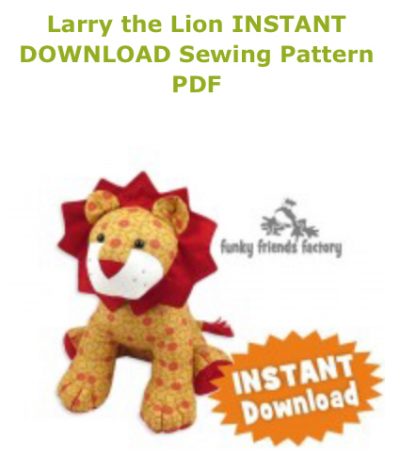 Click HERE to buy the Cat Toys pattern.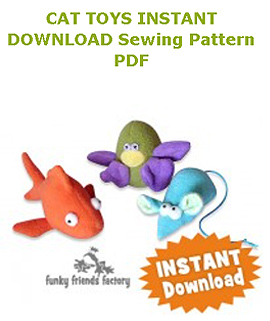 Want to win a
FREE toy pattern?
It's so EASY to enter the Pattern GIVEAWAY!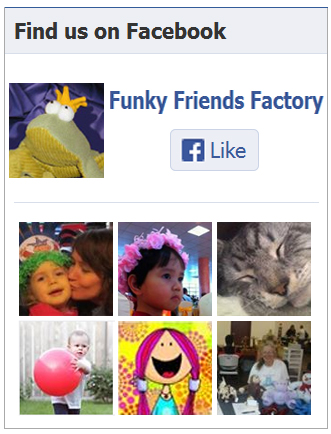 ALL you need to do is post a photo of a FUNKY FRIENDS FACTORY toy that you have made on the Funky Friends Factory Facebook Page .
At the end of each month I draw a winner and post the winner's name on the Blog the following MONTH. I have an Album on Facebook for all the MAKEROFTHEMONTH winners. You can check it out HERE!
NOT on Facebook? ENTER by email! 😀
*** You can send me your photos by email too!
So come on! Share your photos  ~> The next winner could be YOU!!!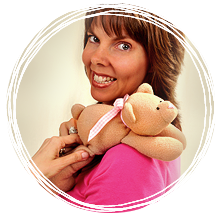 .
Till next time,
Happy Sewing,
Pauline
xxx