Do you want to buy a unique soft toy? 

If you're looking for a custom toy – why don't you take a look at our featured home sewing businesses? We are highlighting toy-makers who sew F-A-B-U-L-O-U-S Funky Friends toys AND who support the independent designer community by giving pattern credits on their websites and social media posts!  💗
Today we are highlighting…
Jasmin Hutchison and her business ~>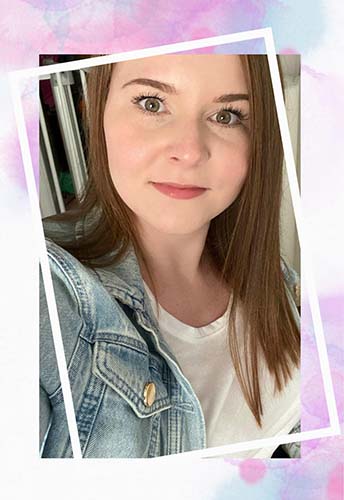 One of the first Funky Friends toy patterns that I saw Jasmin sew was this really cute keepsake version of my Digger & Dixie Dachshund Pattern. You can see the care Jasmin takes when making her customer's keepsakes and the attention to detail too!
Look at the way Jasmin  has postioned the kitty embroidery
on the Dachshund's foot!
Let's find out a little more!
Can you tell us a little about yourself?
I live in Fife, Scotland, I'm a Mum of 2 girls. I've been sewing for over 10 years and making keepsakes for over 6 years now. I love pineapples and anything paranormal and true-crime related.
Jasmin makes doorstops
from my Pineapple Pattern!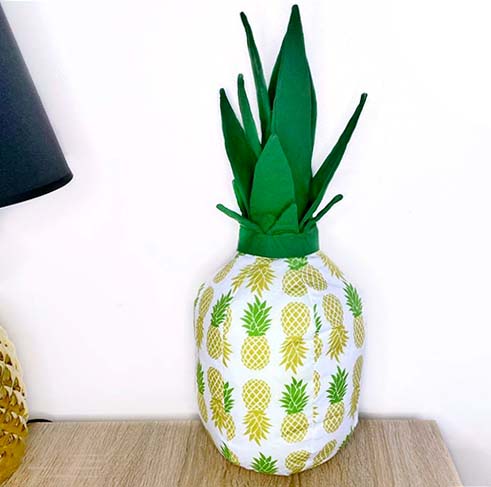 How did your Keepsake business come to be?
I studied Fashion Design and Fashion Business at university and designed a few clothing ranges but life took a turn when I started sewing gifts for my friends' babies, about 6 years ago, which developed into my Keepsake Business!
I love Jasmin's super cute keepsake
version of the Patch Cat Pattern.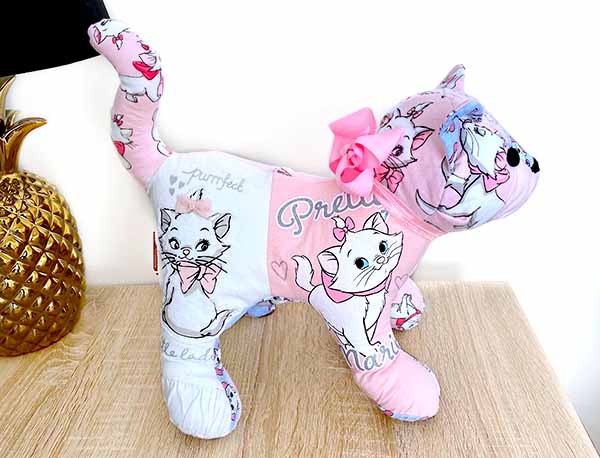 And this sweet Trixie Triceratops Keepsake!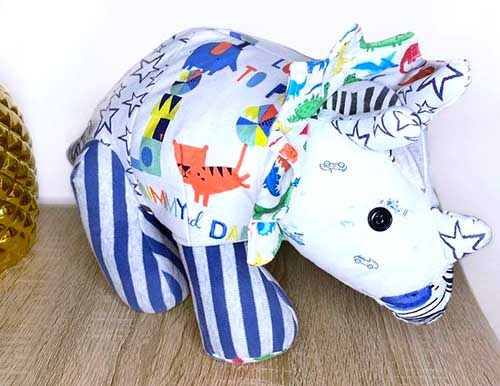 What do you love the most about your keepsake business?
Although I absolutely love sewing keepsakes from baby clothes sewing memory keepsakes (in memory of a lost loved-one) have a special place in my heart because they mean so much to the customer and their family. Although it won't stop their grieving, it can give a moment of happiness and something to hold when you're missing your loved one. A customer came to me with the request to make a bear but all she had was a naval patch that belonged to her dad. The customer picked the fabric herself so it would match the colours of the patch. I love the way the patch fits perfectly on the tummy of Melody Memory Bear . I think it looks great.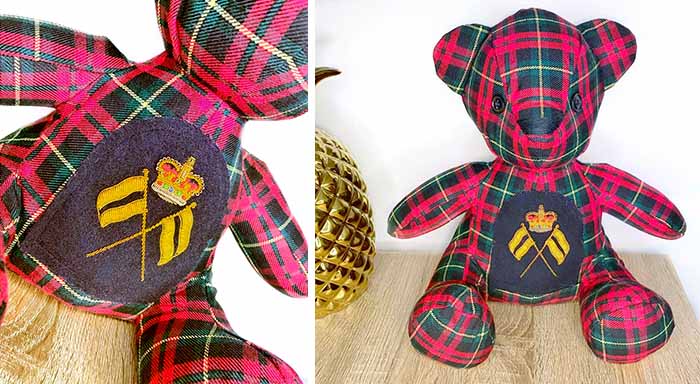 What is the most special keepsake you've made?
This mini version of the Keep Me Keepsake Bear Pattern was made from a single baby grow that sadly didn't get to be worn . I am so thankful and grateful that I am trusted to turn these irreplaceable items into special keepsakes.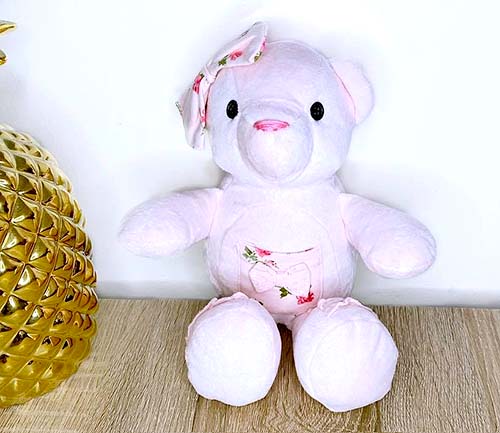 What customized items do you offer?
I also create School Uniform Bears. This cute version of Melody Memory Bear was made from items of school uniform. I included the school tie and a shirt that is full of good luck messages for the school leaver.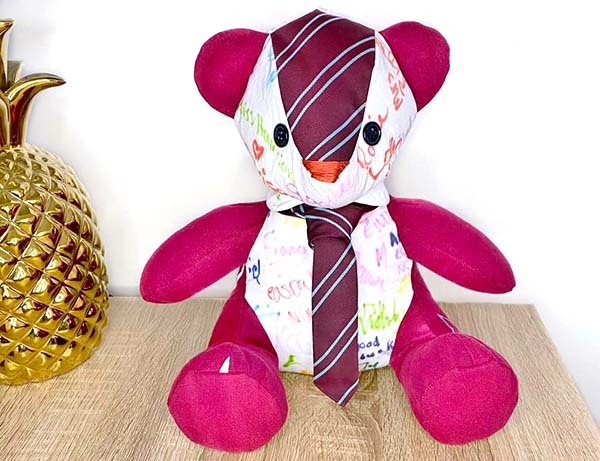 I also make bespoke Patchwork Memory Cushions which are a wonderful way to remember a lost pet.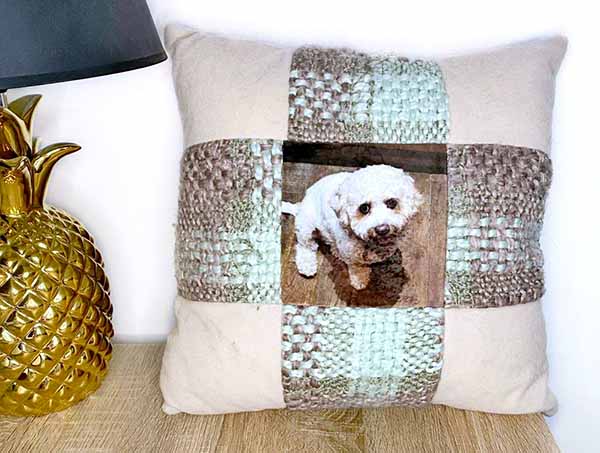 I sew Shirt Cushions too. This one was made from a football polo shirt but they can be made from any top – from a football shirt to a dressing gown. They are a great way to keep the shape of the shirt but transform it into something you can snuggle into!
Jasmin also makes Birth Weight Bears!
I love making Birth Weight Bears because they're so much more sentimental and quite surreal to hold. I put weights in the tummy so the weight isn't distributed evenly as if it was a baby you're holding so it can feel a bit heavier. This Melody Memory Bear sewn as a weighted bear was made for a special little boy using his first baby grows and baby outfits and if I'm honest I think this is the best bear I've done I just love how it turned out!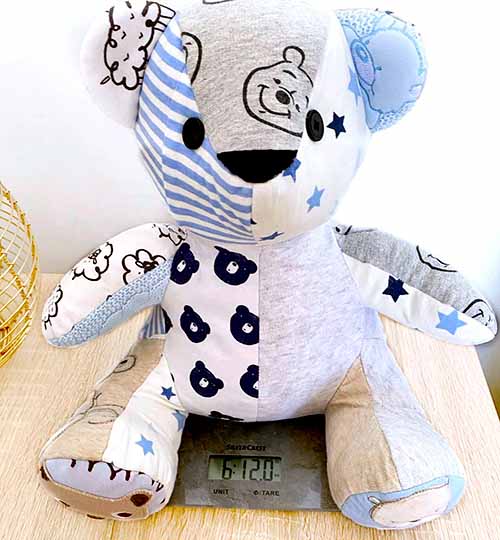 As you can tell – I highly recommend Jasmin!!!
If you want to buy a Memory Bear or custom Soft Toy – please visit the Designs by Jasmin business page (if you can't see yourself using my toy patterns to sew your OWN soft toy!) … and she can sew a Funky Friend for you!
Do you want us to feature
the Funky Friends toys you sell?

This Q&A series is my way of saying THANK YOU to Funky Friends Factory fans who not only sew fabulous Funky Friends toys to sell, but ALSO support the independent designer community by giving pattern credits on their websites and social media posts!  If you tag your social media posts with #funkyfriendsfactory  – we can find your posts… and who knows, maybe our next featured Super Softie Seller could be be YOU!!!! 
I can't wait to see YOUR Funky Friends toys for sale!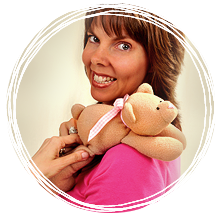 Till next time,
Happy sewing,
Pauline