As a Christmas treat I'm giving away my FREE Christmas Hats sewing pattern that I have designed in 6 sizes so there's one for every member of the family –  softies and humans too!
Yeeeehar ~>
Now you can sew Christmas Hats
for EVERYONE!!!!
At first I had planned to design the free Christmas Hats Pattern for all my Funky Friends soft toys only BUT I had so much fun sewing them that I have added to the pattern and included sizing the pattern for kiddies, teenagers/small adults as well as a large adult size so there's a size to fit everyone!
I took a pic of me wearing each of the 3 hat sizes for comparison. Here I am modelling the kiddies, teenage(small adult) and large adult version of the Christmas hats.
Small, medium and
OMG where I am I???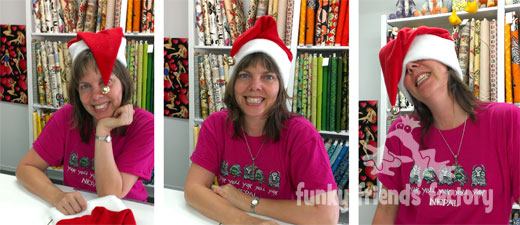 For the toy's hats, I made the white band from fleece BUT I used minkee fabric for the human sized hats which makes the hats feel so gorgeous and cuddly, and quite luxurious! I think I've been spoilt now – I'll never go back to those cheap and nasty Christmas hats from the dollar shop!!! LOL!!! 😀
Sooooooooo  if you are looking for a easy Christmas sewing project to get into the festive mood …
CLICK HERE for the 
FREE Christmas Hats Pattern! 
From me and mine, to you and YOURS ~>
Happy Christmas and ALL the best for 2015!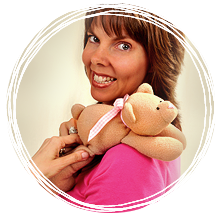 .
.
Happy Sewing,

Pauline
xxx