Our Funky Friends fans have already sewn some gorgeous toys for St. Patrick's day this year. ☘️
Check out
these cute green toys!
First up we have a sweet shamrock Digger Dachshund sewn by Paula Slater.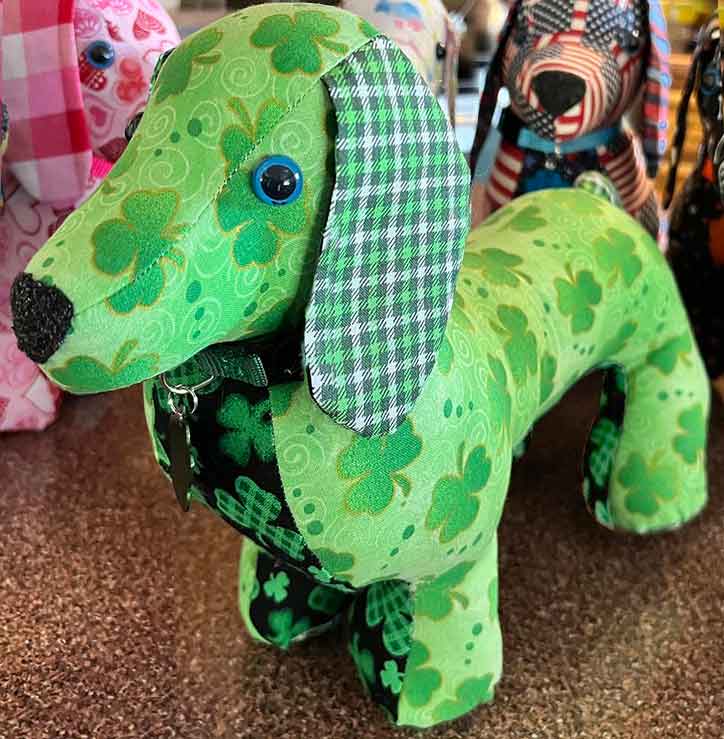 You can see how Paula mixed up the fabrics to sew this second shamrock Digger Dachshund pup!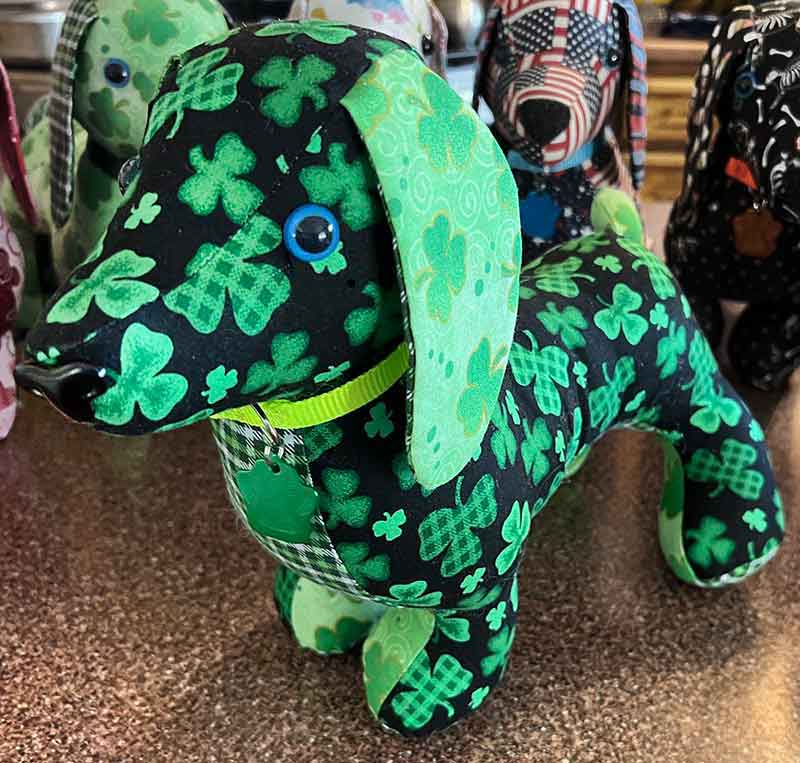 Click HERE to purchase the Dachshund pattern.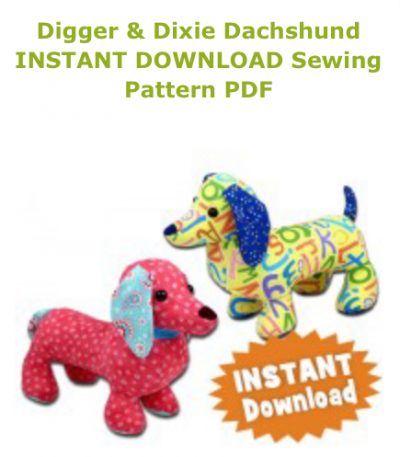 Ben the Beginner Bear looks lovely in any fabric and makes a fabulous St Patrick's Day toy. This Ben the BEGINNER bear was sewn by Rae Pajkos Waters.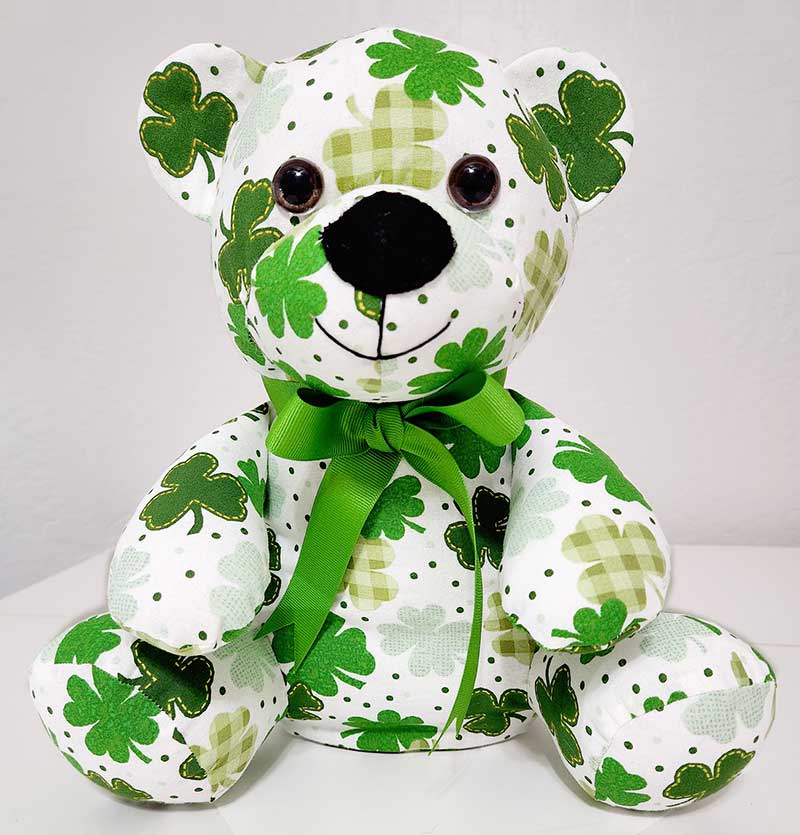 Click HERE to purchase the BEGINNER teddy bear pattern.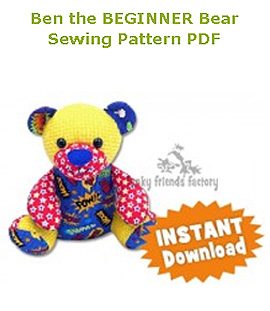 Melody Memory Bear makes a fun St Patrick's Day toy too. This cute bear with embroidered shamrocks was sewn by Margo Wetherley.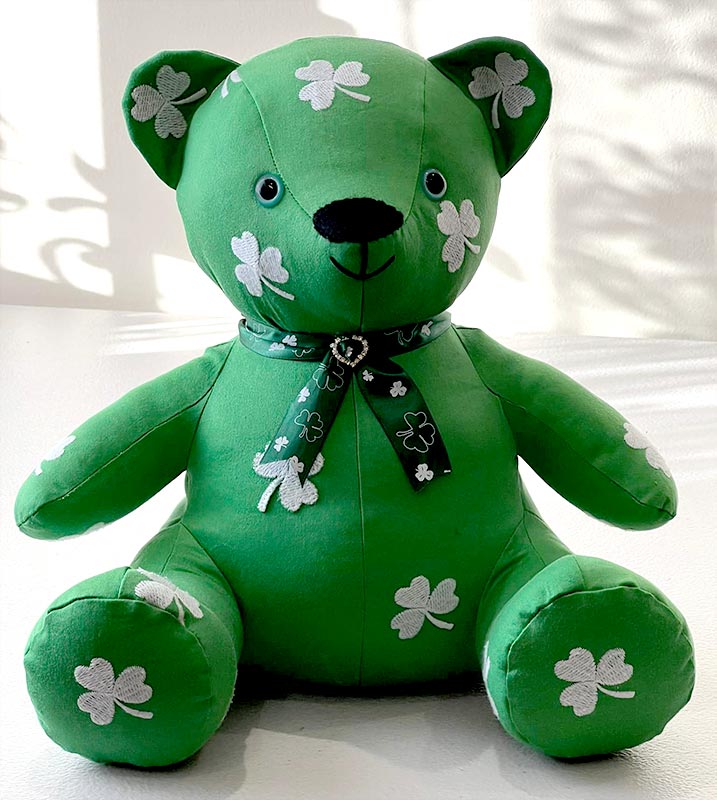 And this Melody Memory Bear sewn in shamrock fabric was sewn by Margaret Kerman Robinson.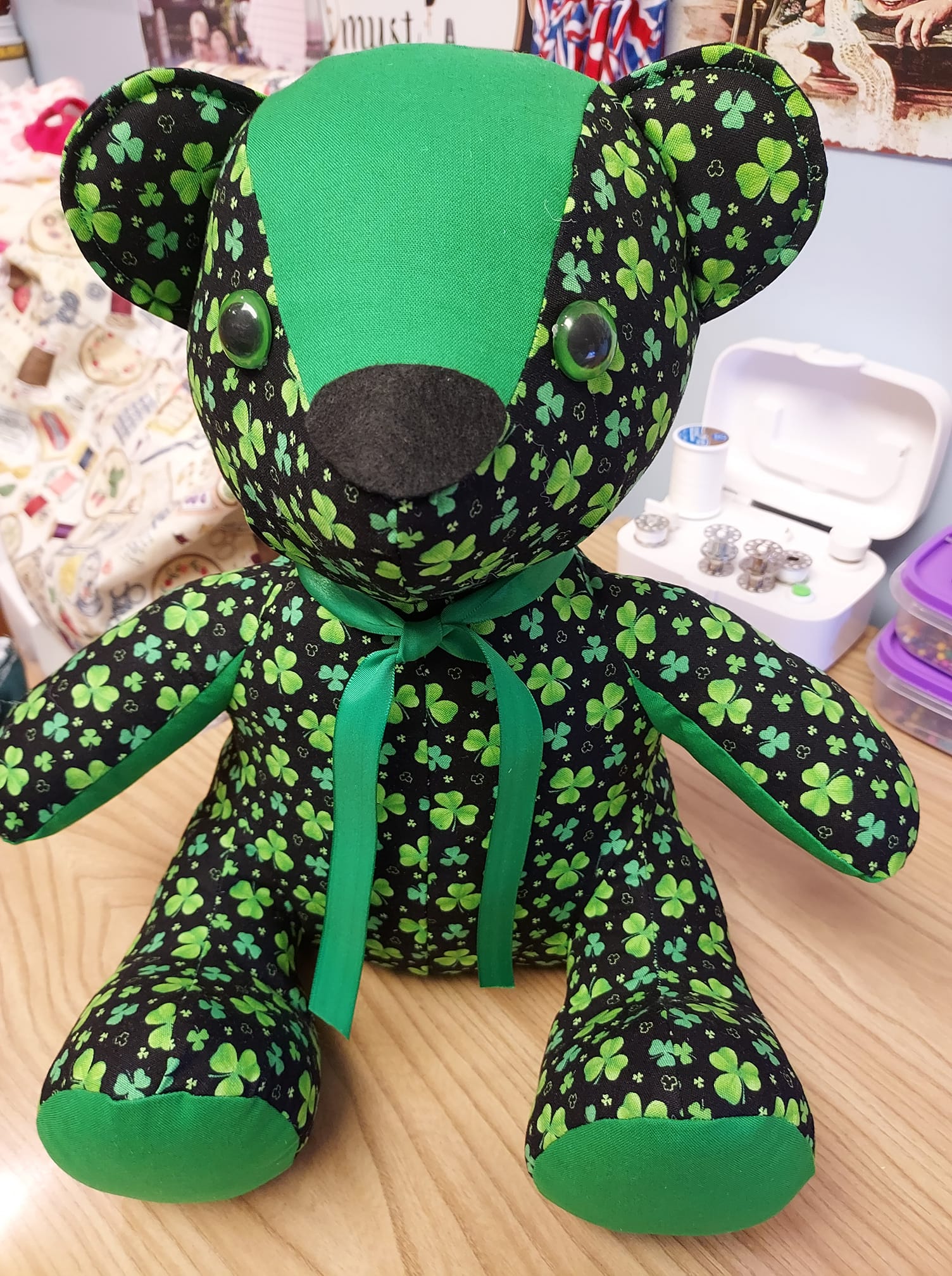 Click HERE to purchase the Melody Memory Bear Pattern.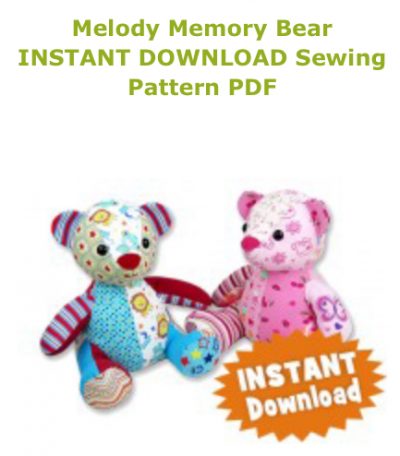 Last year we had some cute toys too like this lucky green elephant sewn by Rebecca Karstad. My Georgie Good Luck Elephant pattern  comes with his own felt shamrock (which Rebecca attached to his trunk). There are more pics on the blog post of St Patrick's Day toys from 2022.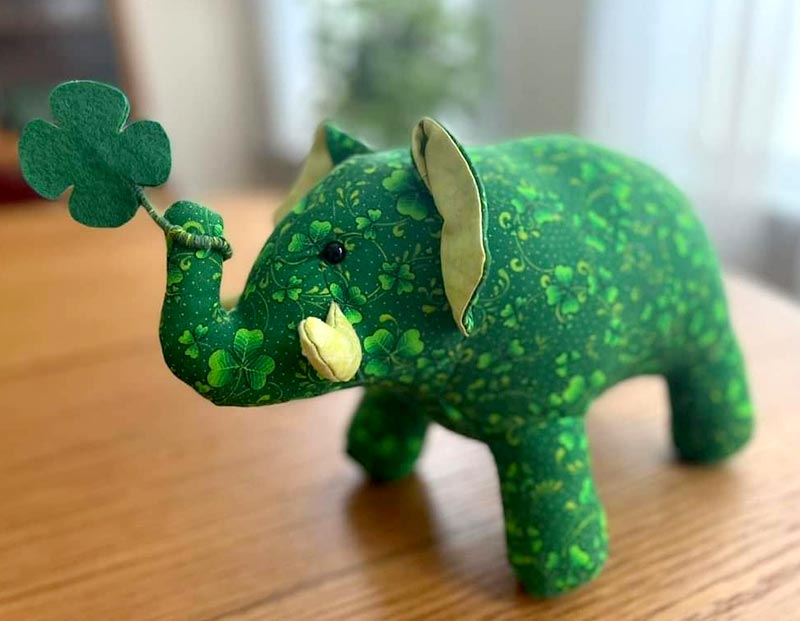 Click HERE to purchase the Good Luck Elephant pattern.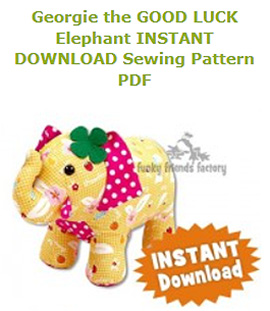 A St Patrick's Day treat for you!
I want you to be able to make ANY Funky Friends Factory toy their own lucky 4 leaf clover or shamrock from felt. So I have made a selection of sizes so you can choose according to the size of the Funky Friend you're sewing.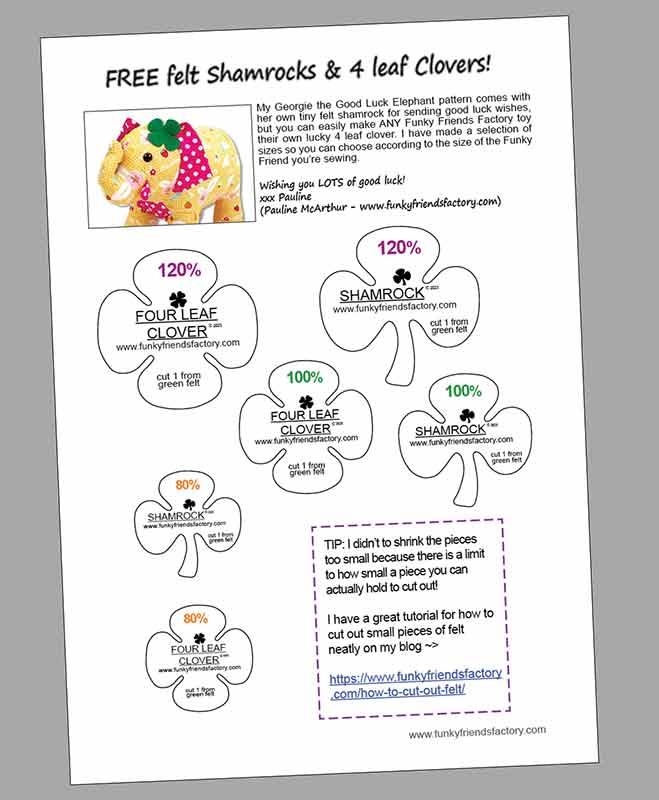 Well, that should get you into the St Patrick's Day mood  – to be sure, to be sure! ☘️
Want to win a
FREE toy pattern?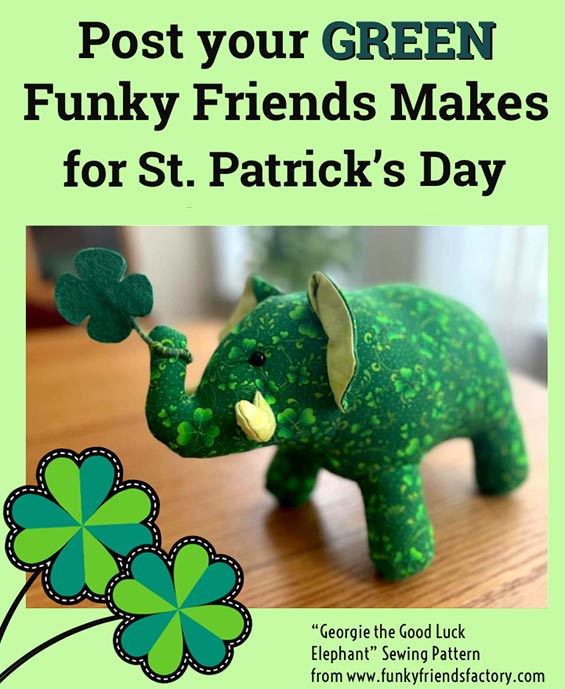 It's so EASY to enter the Pattern GIVEAWAY!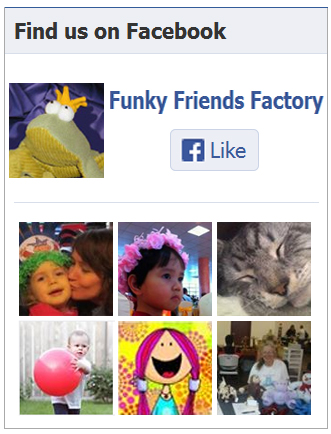 ALL you need to do is post a photo of a FUNKY FRIENDS FACTORY toy you have made on the Funky Friends Factory Facebook Page.  Add #stpatricksday to your post so we can find it.
At the end of each month I draw a winner and post the winner's name on the Blog the following MONTH. I have an Album on Facebook for all the MAKEROFTHEMONTH winners. You can check it out HERE!
NOT on Facebook? ENTER by email! 😀
*** You can send me your photos by email too!
So come on! Share your photos  ~> The next winner could be YOU!!!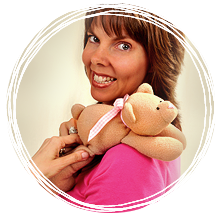 .
Till next time,
Happy Sewing,
Pauline
xxx