I have started using 100% wool felt for my soft toys and I've found it's lovely to work with as it has such a nice luxurious feel of 'quality' about it!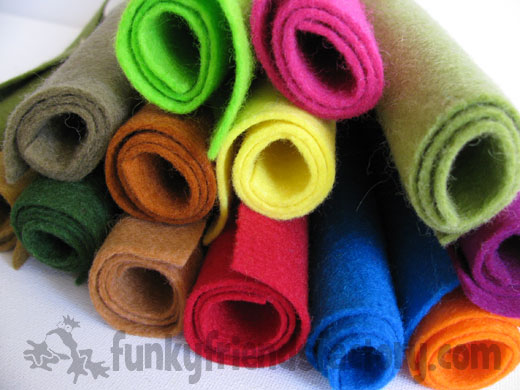 Acrylic Felt is so cheap and easy to find and 100% Pure Wool Felt is so much more expensive… MAYBE, like me, you have wondered
'Is it worth paying so much more
for 100% wool felt?'
So I decided it was time to do some research to find out 
the differences between Acrylic and wool felt,  and THIS is what I found out!
Well, as always, there are pros and cons! You have to weigh these up and decide what quality of felt to use, and if you feel it's worth spending the extra dollars!!!
OK, so what's so good about 100% Wool Felt anyway?
It's the most durable type of felt, (Great for making heirloom quality toys).
It has less fuzz than other felts and it will not pill.
It is thicker, more tightly woven and has stronger fibres so it holds up better to wear so seams won't rip when stuffing your toys!
It has slight elasticity so it can be manipulated and shaped.
100% natural wool is both stain and water resistant.
Wool is naturally fire resistant.
Wool has anti-bacterial properties that keep it from mildewing.
Wool is hypoallergenic.
It is both ecologically and animal friendly. (It is a natural and sustainable resource.)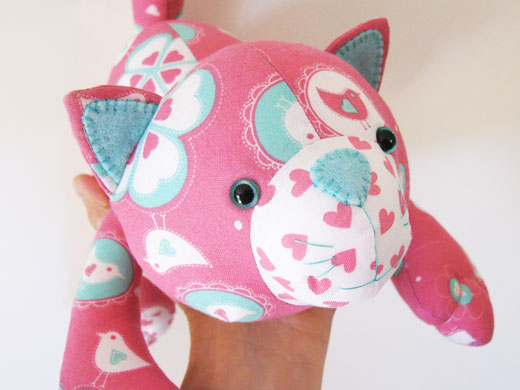 I used 100% Wool Felt from Winterwood for this Kitty Kate.  Besides the fabulous colour of the felt that I LOVE, (and which I just couldn't find in any craft store that stocked only Acrylic Felt)  I really liked the fact that the edges of the felt pieces didn't disintergrate, as I cut them out and sewed them in place, like they do when I used Acrylic felt. The chunkiness of the wool felt also gives the toy a nice 3-D texture look which makes you just want to pick her up and cuddle her! (The gorgeous fabric is Girly Parade from Two Monkeys Fabric Store.)
Are there any disadvantages of 100% Wool Felt?
It is much more expensive.
Wool felts are thicker which can make sewing and shaping it more difficult.
It shrinks a lot when washed.
It can be hard to find in a large array of colors. *

* I'm NOT sure I quite believe this last point though when you look at Winterwood's wool felt color chart!




NOW, what's good about Acrylic Felt?
It's much cheaper. (Great for practicing or kiddies crafts)
It's easy to find at any craft store.
It is stain resistant as long as it isn't an oil based stain, like lipstick.
Acrylic felts wash very nicely and won't shrink.
Colors do not fade (the plastic fibers themselves hold the color.)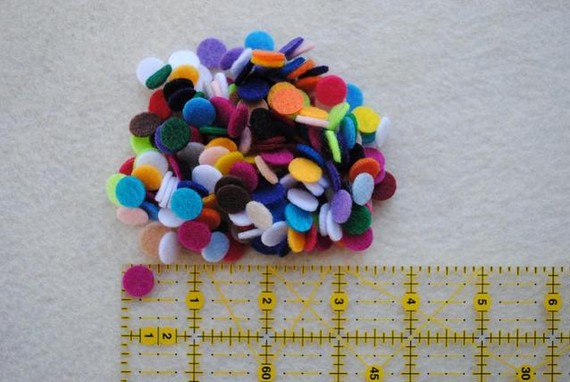 I have used these pre cut Acrylic Felt spots which I got from Ifeltspritely. I use them  to test out color options when designing my toy sewing patterns. And when I know the toy will be only for display NOT play, I use them for the finished toy too! It can be hard to cut perfecly round, equal sized felt circles for soft toy eyes, so they make it really easy to add felt eyes to your toys. They also come in so many colours – I felt like a kid again playing with my felt pieces!!!


And what are the disadvantages of Acrylic Felt?
It will pill and fuzz. (Not good for craft projects like toys that'll be handled often!)
It's stiffer and harder to shape.
It's thinner – so may be more see through.
It's much weaker and seams are more likely to tear.
It catches fire almost instantly when exposed to a flame.
It's durable because plastics degrade very slowly.(Not too eco friendly!)
Also not environmently friendly as large quantities of chemical pollutants are created when it is manufactured.*

* Eco felt is called this because it is made from recycled plastic (mainly bottles) instead of plastic pellets, but it is still made from the same material, with the same disadvantages as standard Acrylic Felt.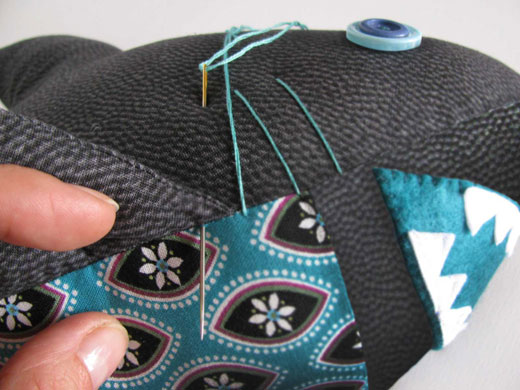 I used Acrylic Felt for this Sammy Shark. I don't know if you can see it but when I sewed the blue felt in place with a blanket stitch, the acrylic felt is not very firm so the stitches dig into the felt ans make it pucker. Not the best but hey, I got a great color match and this toy is for display ONLY, so it should look good for a while!!!
So what's my verdict?
Mmmmmmmmm! If I was just testing a pattern out, or making something I didn't need to last for a while (like dog toys!), I would use Acrylic Felt. If I just cannot find the right colour of Wool Felt, I would use Acrylic felt or a Wool Blend which is a combination of the two. As long as the toy wasn't going to be handled to roughly, it would be OK!  BUT if I wanted to make a good quality toy to last and last and LAST, especially when I want to give the toy as a gift or if I wanted to sell the toy, I would use Wool Felt.
So if I had to offer any advice on choosing between Wool Felt or Acrylic, I'd say,
"Try both and THEN decide what Felt you'd like to use when!" : )
I'd love to know which Felt you prefer or have used for making YOUR Funky Friends?!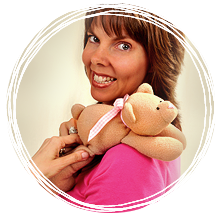 .
.
Till next time,
Happy Sewing,
Pauline