We've drawn a winner in our Easter Contest!
Our Annual Easter & Spring Theme Funky Friends Factory competition just wrapped. It's our most popular contest of the year, so it was difficult to pick just a few entries to showcase this week. You won't want to miss seeing the HUGE, 6 foot tall Easter Bunny Buddy below, as I think it's the biggest Funky Friends Factory toy ever!
Let's take another peek
at some of the 100s of entries…

We had LOTS of Easter Bunny Buddy entries!
The Easter Bunny Buddies Pattern was the most popular entry choice for the 2023 contest. The cute face, floppy limbs, and plentiful options for personalization make this bunny a sweet treat all year long.
Joan Kawano whipped up a set of boy and girl bunnies for her grandkids' Easter baskets. Looks like the bunnies had their eggs ready early, too.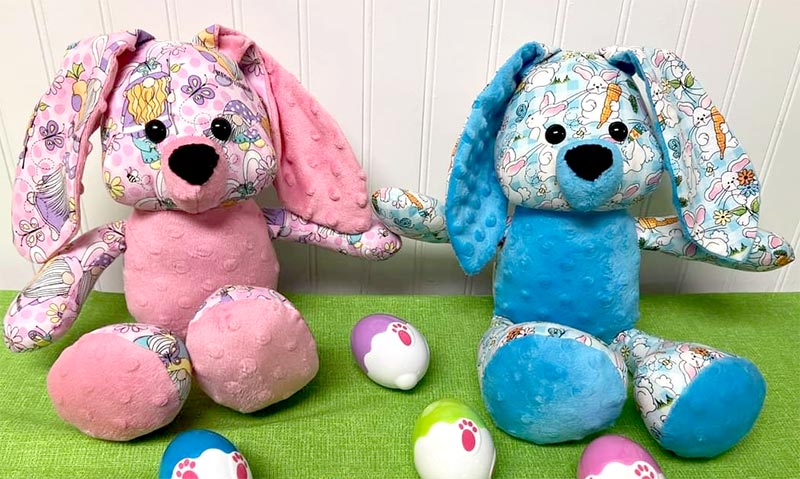 Hooray for Susan Supko, who finished her VERY FIRST sewing project just in time for Easter! She sewed this Easter Bunny Buddy for her granddaughter using fabric from Kaffe Fassett, on of my favorite Funky fabric lines. I love the big smiles from the bunny's new owner.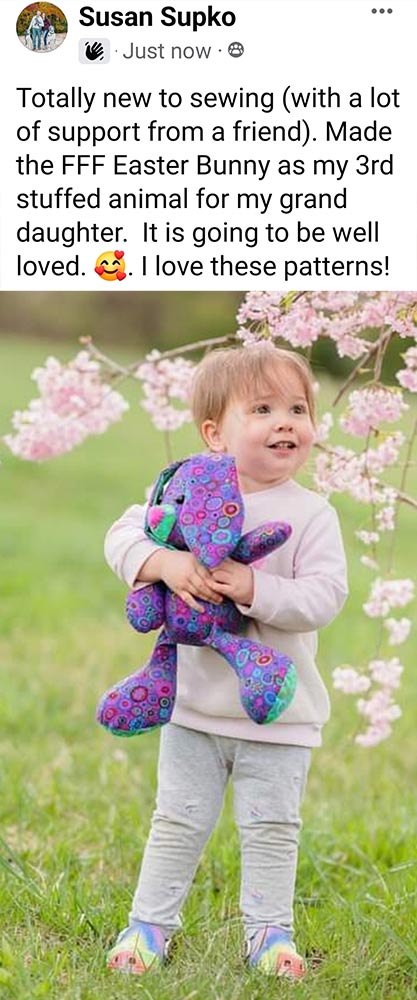 Speaking of big smiles, I think this must be
the BIGGEST
Funky Friends Factory toy
I've ever seen!
Jo Ann Carroll enlarged the Easter Bunny Buddies pattern to 6 feet tall! Here's the proud maker hiding under her giant bunny!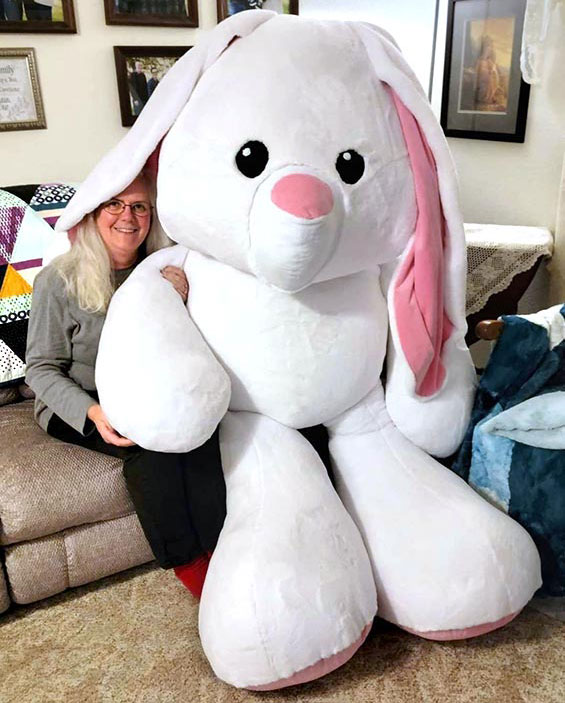 And the big, beautiful bunny was on display at Cali Quilt Co Quilt Shop for Easter photos, as seen here in this FB post by Denise Fierro.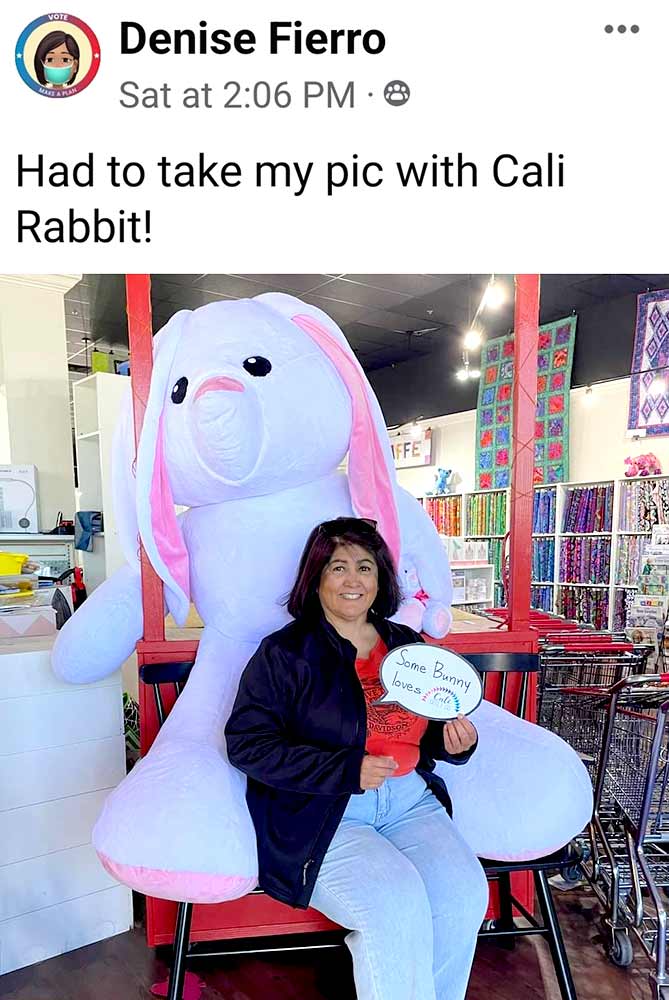 Easter Bunny Buddies aren't just for kids, Tina Marie Palazzolo Pankow sewed these bunnies for adult friends. They are perfectly coordinated.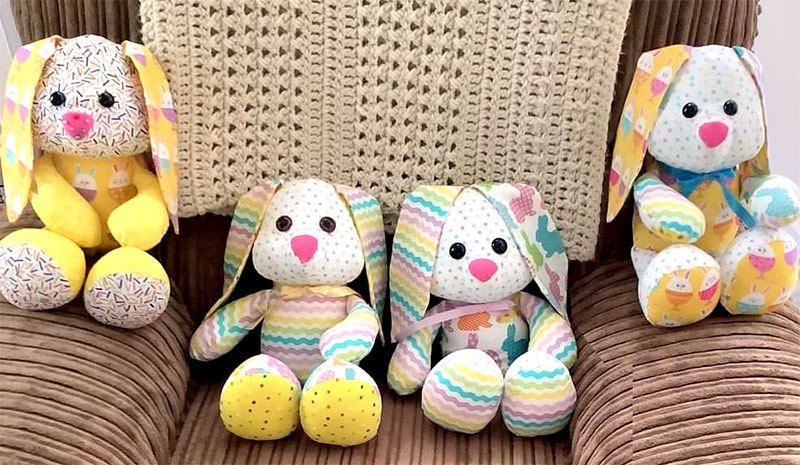 Anna Gilman emailed me this stunning set of Easter Bunny Buddies made with baby-safe felt eyes. (I have blog post with more toy-safety information HERE.)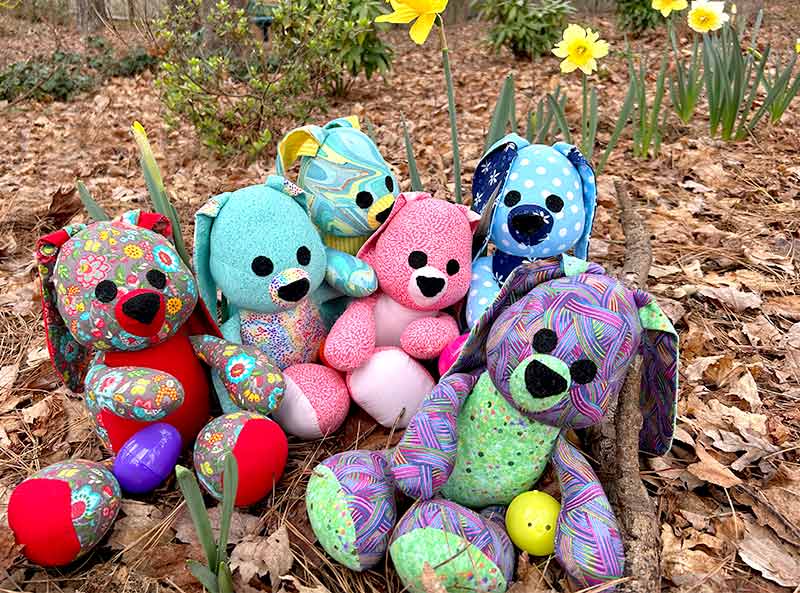 Click HERE to purchase the Easter Bunny Buddies pattern.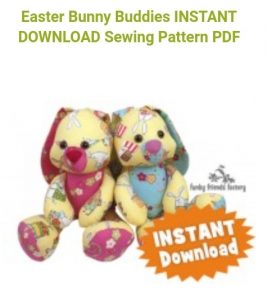 Baby Bunny Pattern
We can't have an Easter post without Baby Bunny! This little cutie was the very first Funky Friend I designed, over 20 years ago! Here's a beautiful blue bunny sewn by Sharon Hale.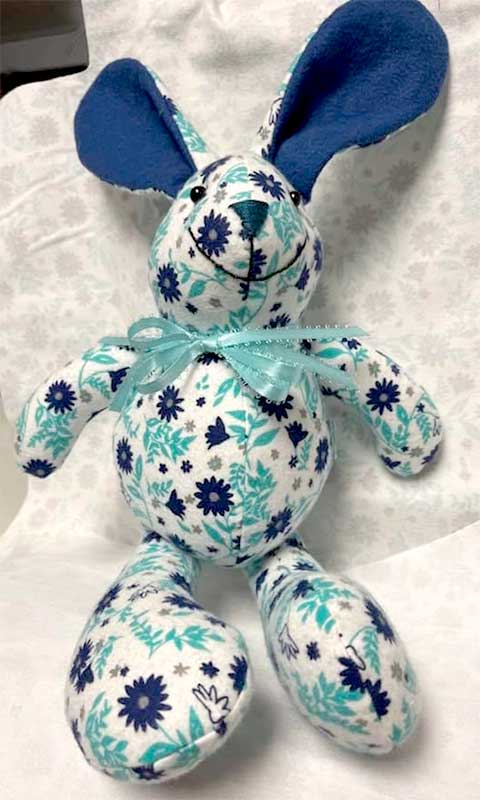 This Baby Bunny was entered in our contest last year by Shelley Noisette, but not featured in a blog post. This face is soo adorable I had to show it to you this year.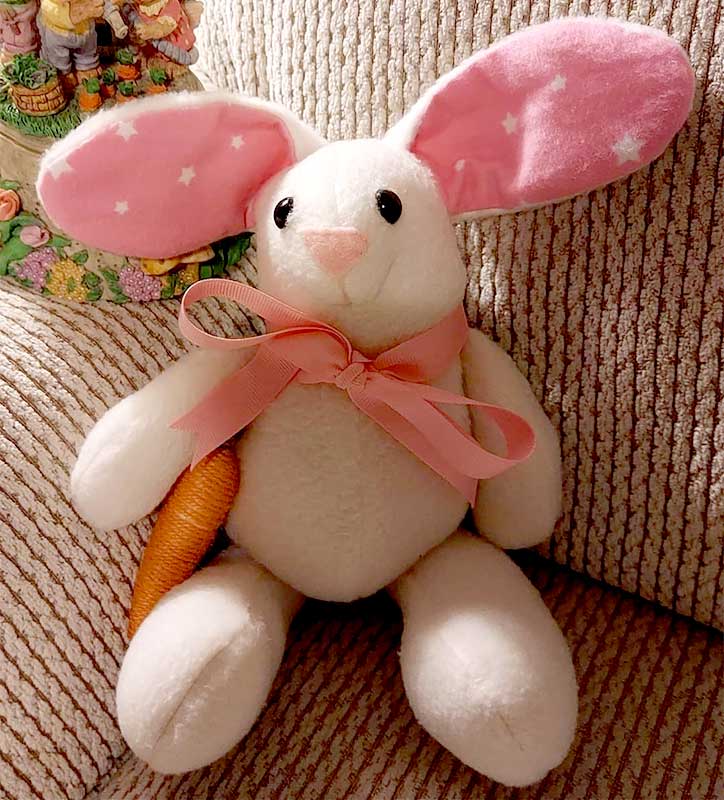 Click HERE to purchase the Baby Bunny pattern.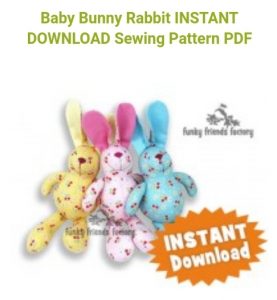 Egghead the Easter Chick Pattern
Egghead the Easter Chick really came into his own this year, with more entries in our contest than ever before! This chubby chick is a fun, fast sew…it's easy to make a flock for a bunch of Easter baskets.
Stephanie Hardy sewed this sweet, spotty, set with Cuddle fabric from Shannon Fabrics.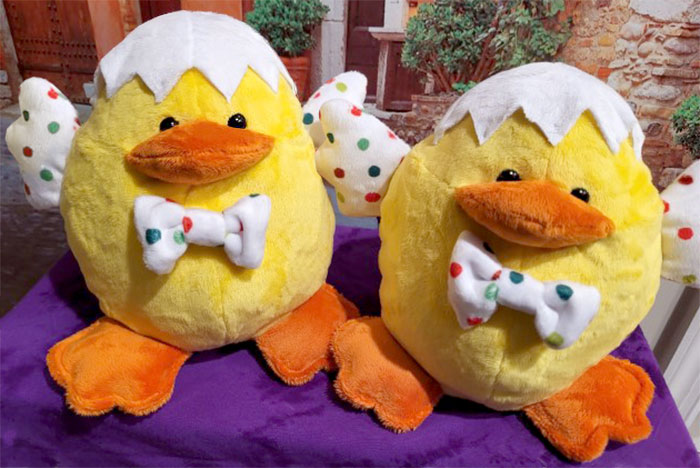 Kim Illarietti used embroidered eyes and minky on this bird-y bunch!

This happy little Egghead sewn by Kathy O'Connor made me smile.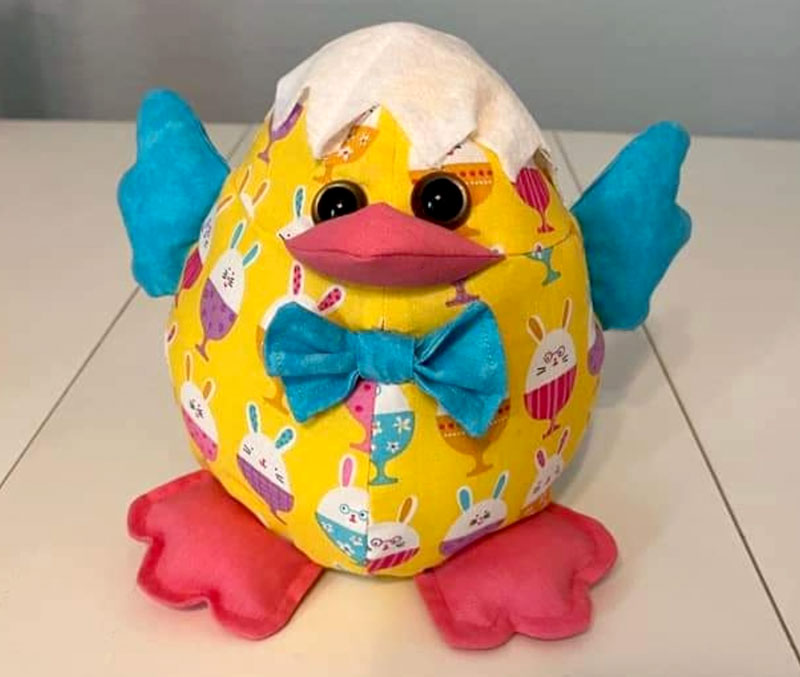 Click HERE to purchase the Egghead Easter Chick pattern.

Lamkins Lamb Pattern
I'm loving this little Lamkins sewn by Jayne Webb.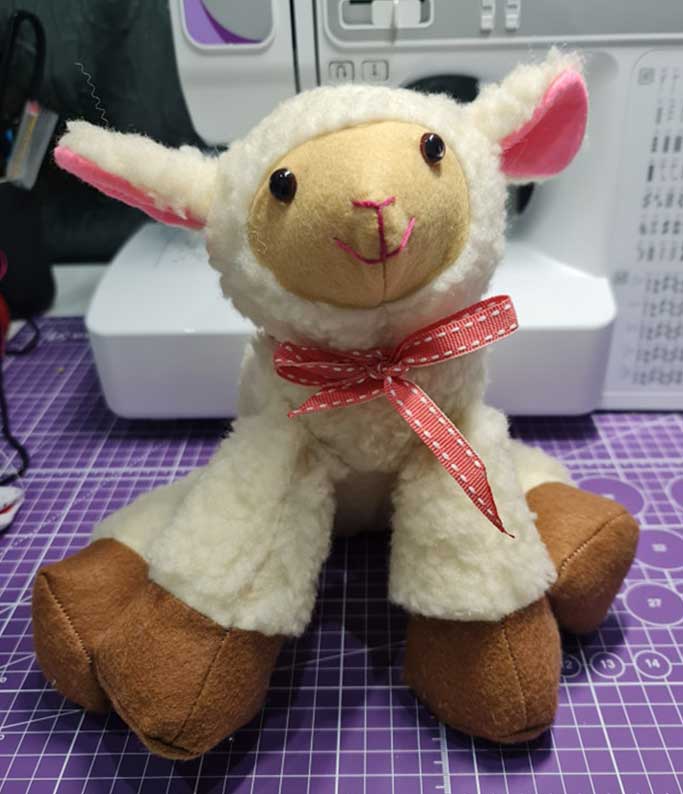 Here's a Lamkins Lamb from earlier in the season, sewn by Jonell Hart. in floral fabric.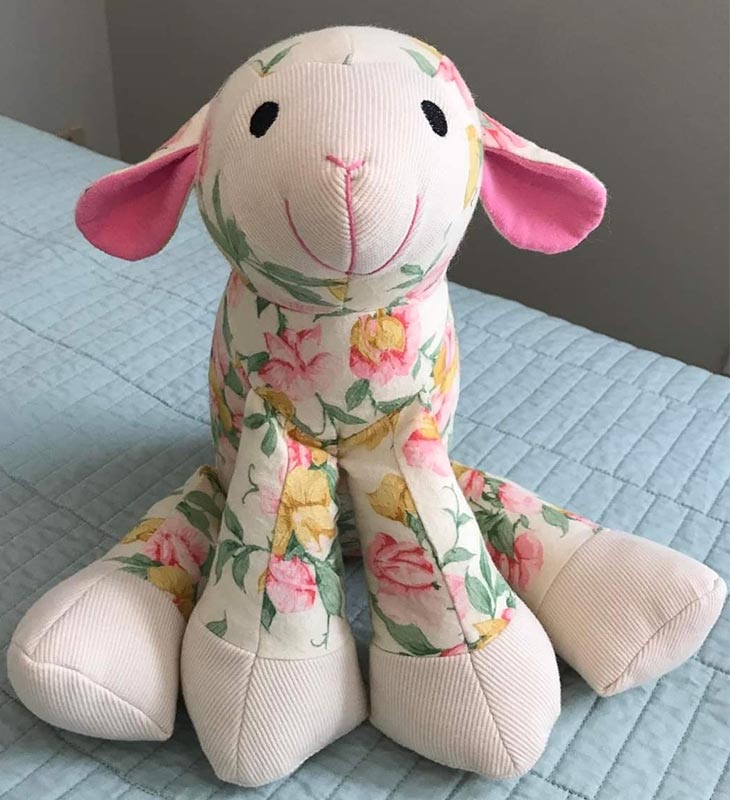 Click HERE to purchase the Lamkins Lamb pattern.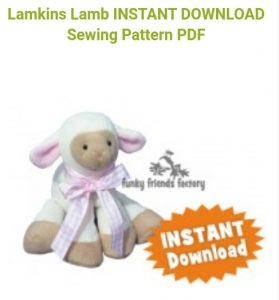 Make Way for Dilby Ducklings: 
I love the mix of terry cloth, cotton, and minky textures on this Dilby Duck sewn by Kerry Thomas. Looks like Dilby laid some Cadbury eggs…how thoughtful!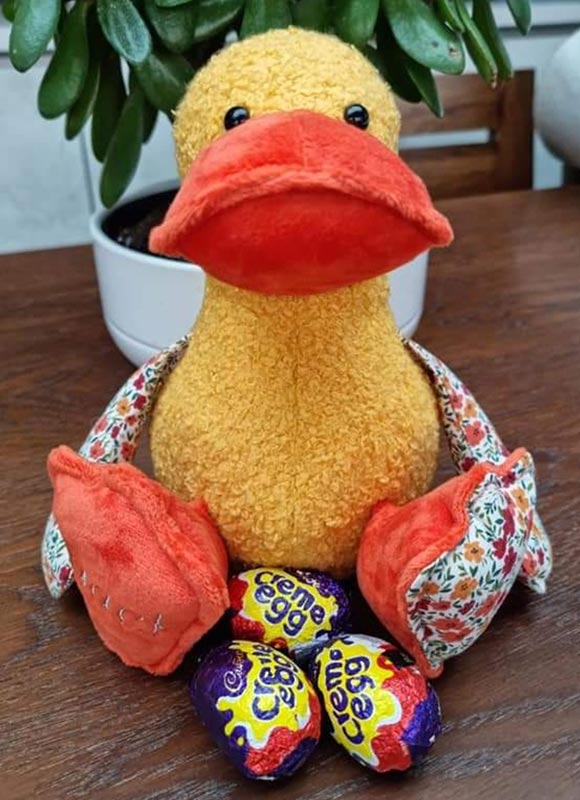 This flowery Dilby Ducking sewn Elizabeth Percival of Dolli-mixtures Keepsakes is just gorgeous.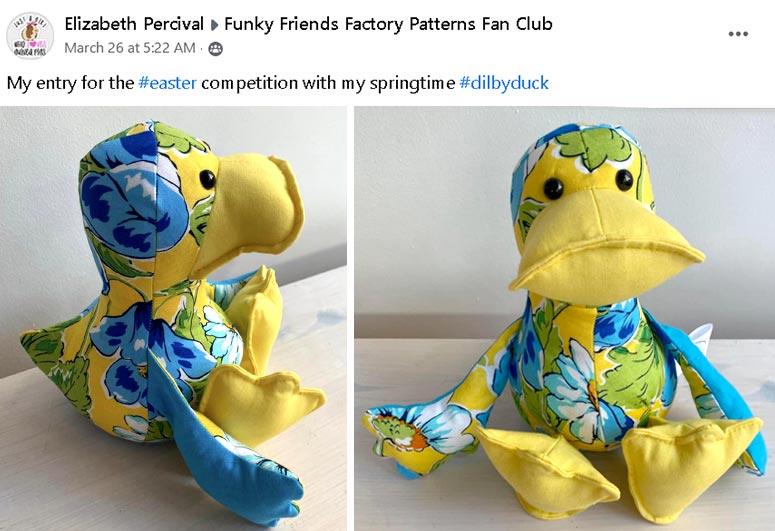 Click HERE to purchase the Dilby Duck pattern.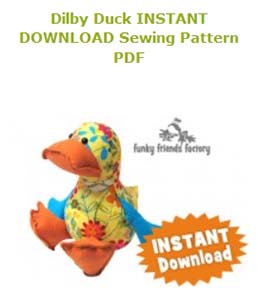 Some non-traditional Easter animals…
You could enter our Easter Contest with ANY Funky Friends Factory pattern – as long as it was clearly made in an Easter or Spring theme.🌷
Paula Blevins sewed these two pastel Kitty Kate Cat toys for the contest.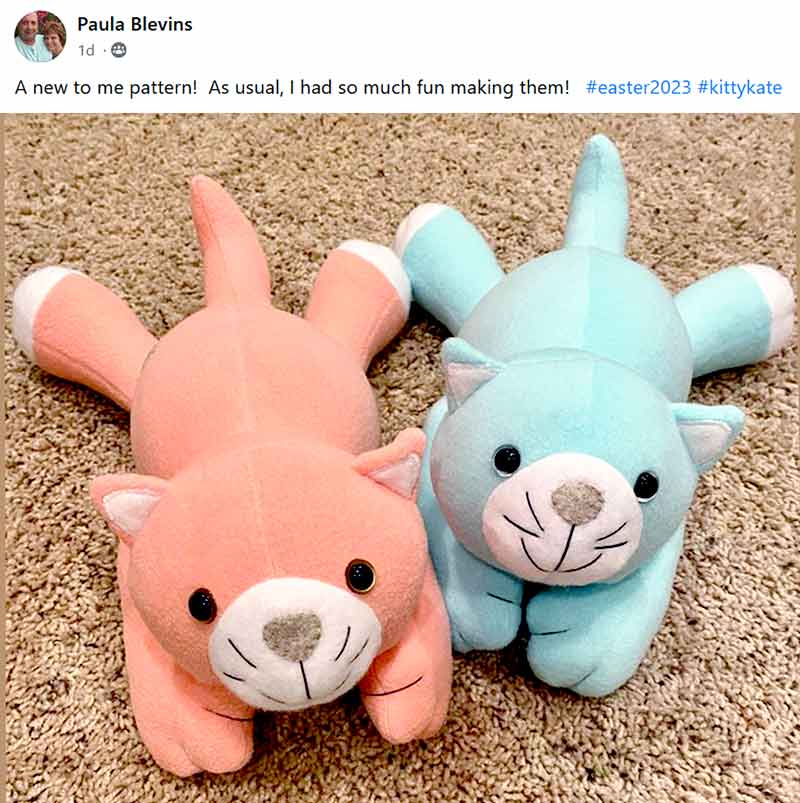 Click HERE to purchase this Cat pattern.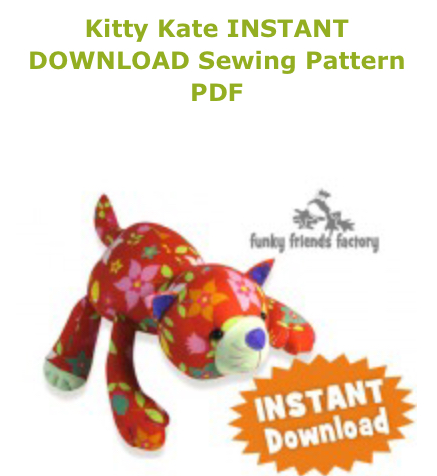 I think these are our first Easter Llamas! Lara Lynn used seasonal fabric to sewn this festive set of Lloyd Llamas.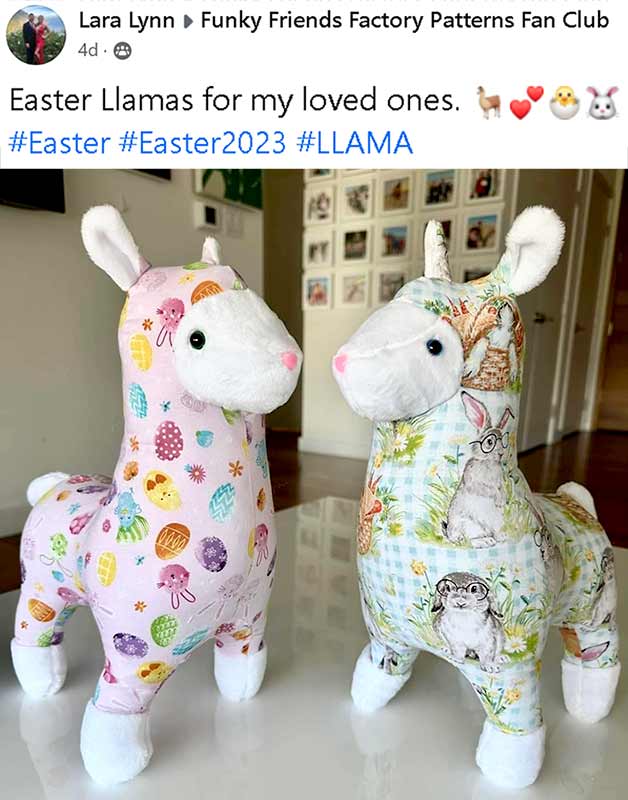 Click HERE to purchase the Llama & Alpaca Pattern.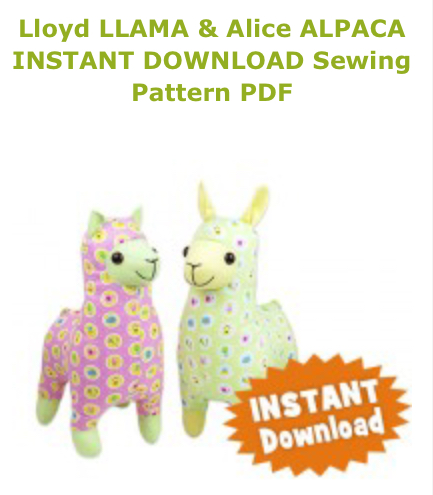 WHAT'S the prize?
The prize or this contest is a Funky Friends Factory Pattern Gift Voucher ~>
valued at


$50!!!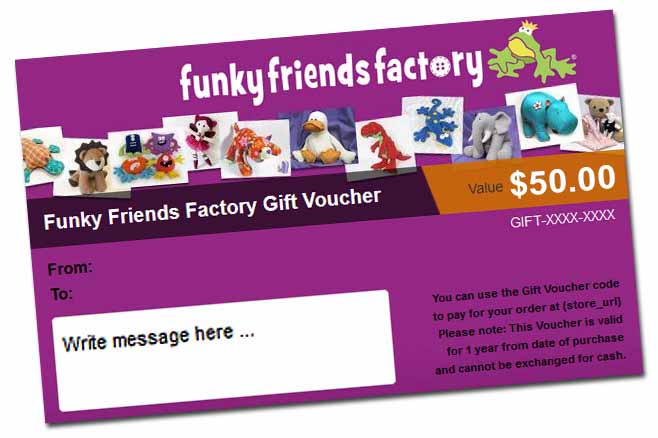 And the winner is…
Although Kathy O'Connor entered several toys in our contest for several entries but it was this pic a chocolate rabbit Easter Bunny Buddy that was drawn as out 2023 winner! 🏆
Congrats Kathy!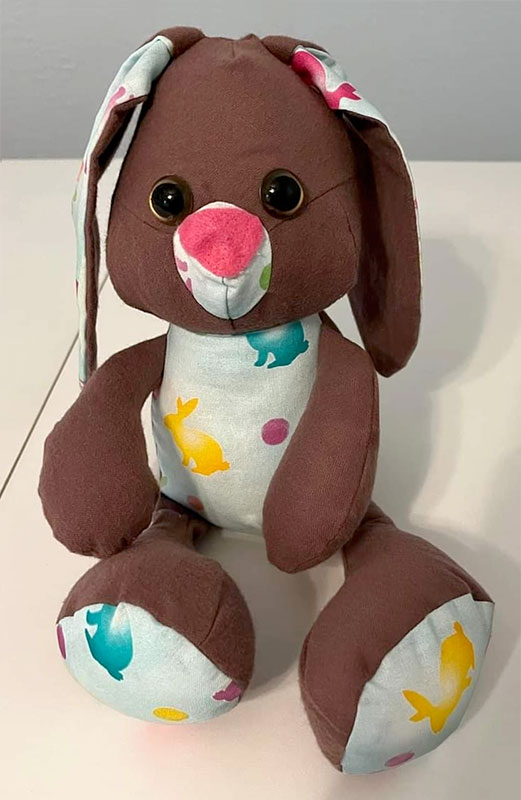 Click HERE to purchase the Easter Bunny Buddies pattern.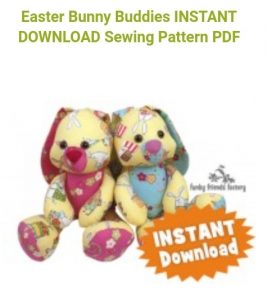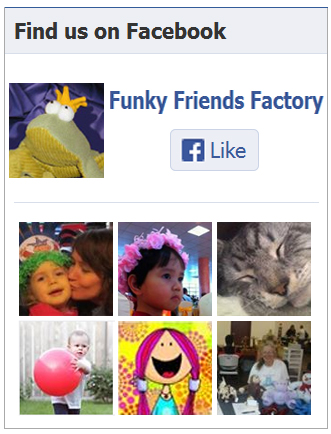 Thank you to everyone who entered, it was such fun seeing your Easter entries!
Hope you had a happy EASTER & got LOTS of chocolate eggs!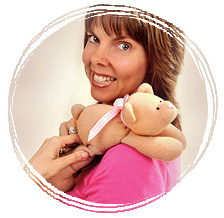 Till next time,
Pauline
xxx