It's Part 3 of the
Recycled Denim Contest
"ideas & inspiration" blog post series!
In addition to the lovely personal stories about the up-cycled clothes that inspired these toys, this post features examples of toys that make particularly delightful use of the design features of denim clothing: seams, pockets, patches, buckles and buttons. 
*** You've got until April 30th 2021 to enter ***

…so check out the TIPS FOR SEWING with denim and ENTRY INSTRUCTIONS at the bottom of this post.
The winner will be chosen at random, so don't let a lack of experience with denim get in the way of entering the contest…and learning some new skills along the way!
NOW… get ready
for some cool RECYCLED DENIM


TOY inspiration!
Long-time "Funky fan" Lorna Moore uses denim almost exclusively in her up-cycled denim business Jeanethic Modifications. She uses a hearty vintage Singer sewing machine to power through all those jeans seams, as you can see in these two adorable toys. First there's a Larry Lion with a wonderful surprise on the tip of his tail…the fringe is made from the frayed denim!
Click HERE to purchase the Larry Lion pattern.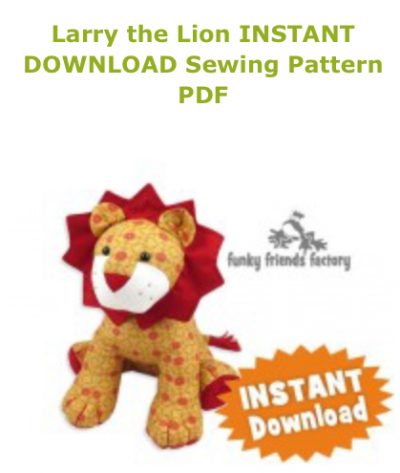 This Gregory Gorilla from Lorna got tons of "oohs and ahhs" from the members of the Funky Friends Factory Patterns Fan Club on Facebook. He's got decorative braiding details on the side of his leg and seams on his cute feet.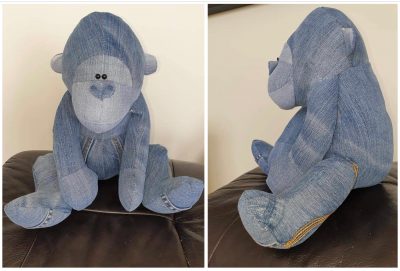 Click HERE to purchase the Gregory Gorilla pattern.
Andrea Hurst used all the interesting details of a denim shirt to make this Puppy Pete Keepsake. She used the buttons and placket in multiple spots, as well as an embroidered logo and a tag. That's true up-cycling!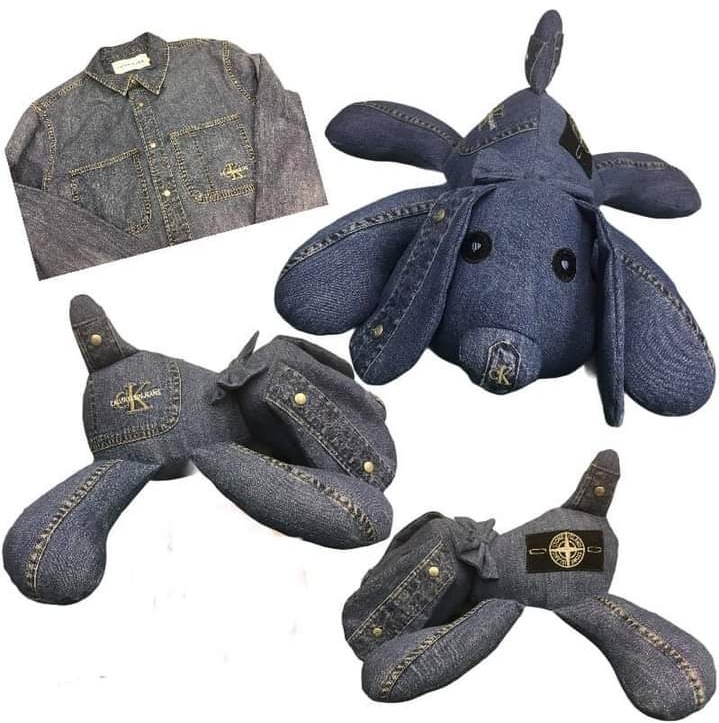 Click HERE to buy the Puppy Dog Pete pattern.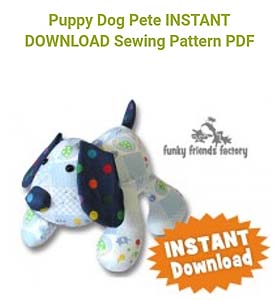 Look at that perfectly placed forehead seam! I bet Madelein Boshoff traced her pattern pieces right onto the leg seams, which can be a bit difficult to sew, but gives a great effect. Note the seams on the little arms, too.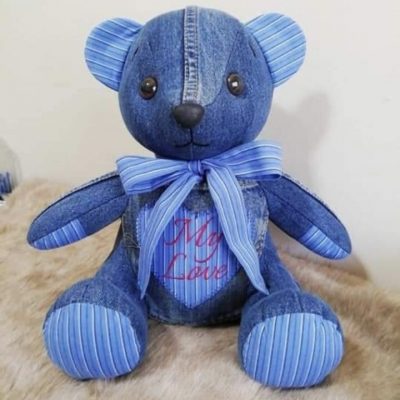 Clare Bateman used a light denim chambray shirt to sew this sweet and soulful Melody Memory Bear. Clare saved the buttons placket and hand sewed it to the front of the bear after stuffing.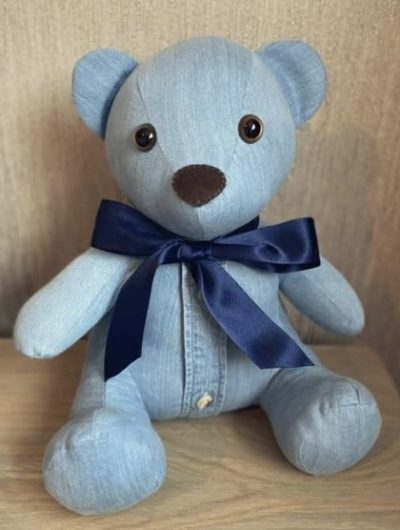 And it's even more Melody in denim! These twin bears were made for Laila Pye's twin granddaughters. She said they were "over the moon" when they got them. I like how both bears have the same forehead fabric, but the bodies show lots of unique clothing details from dunagrees and other denim garments.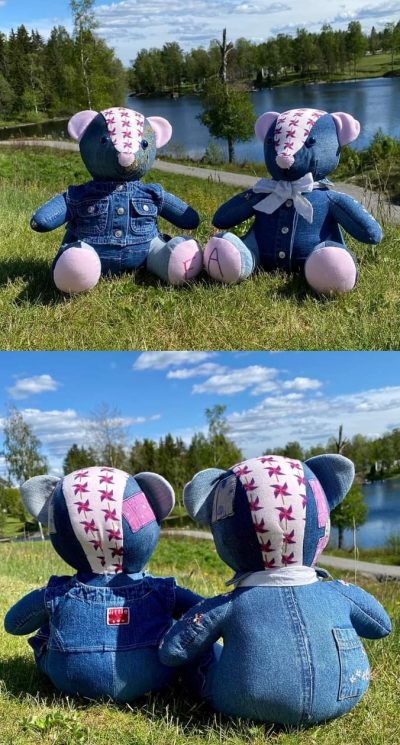 Click HERE to buy the Melody Memory Bear pattern.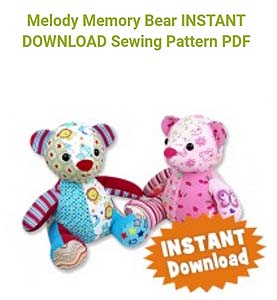 Teri Wolff must have a great sense of humor to dress up her denim memory Mickey Moose in such a fabulous outfit! A darker denim sets off the hooves and shows off the tiny shoelaces Teri added.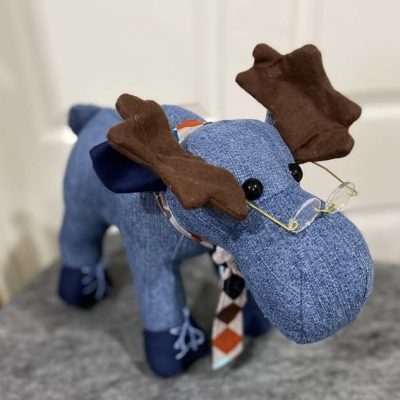 Click HERE to buy the Mickey Moose pattern.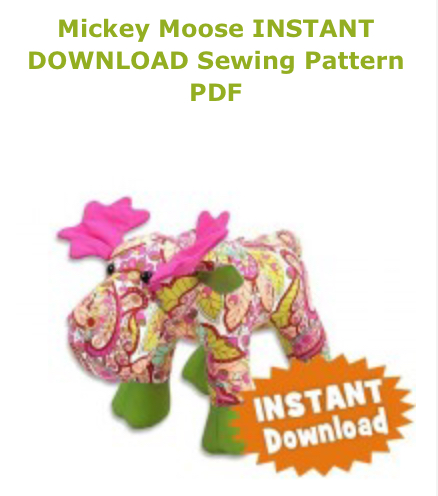 Denim toys make great pillows and decor items, as you can tell from the funny comment Maria E. Barnes wrote about her Heather Hippo: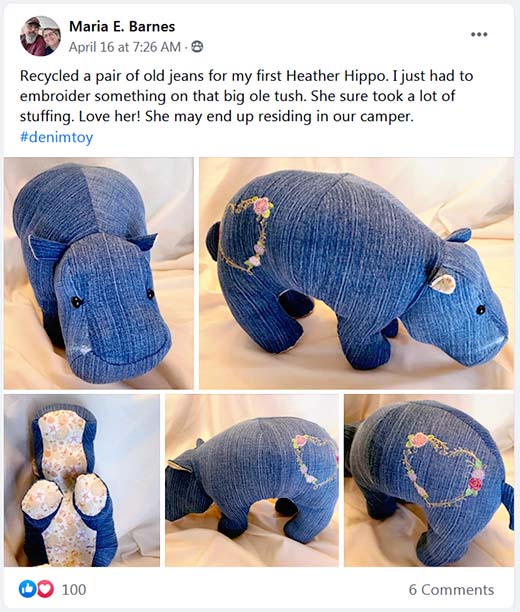 Click HERE to purchase the Heather Hippo pattern.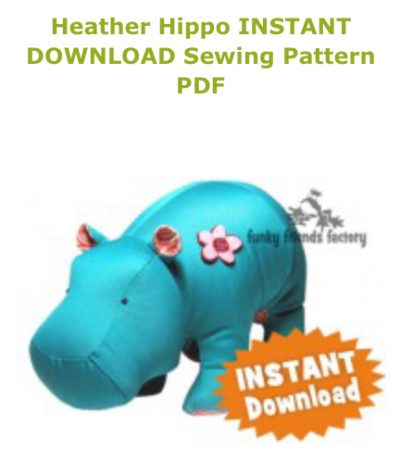 This little piggy is darling in denim, and her maker Darina Grace thinks so, too. Read her fabulous up-cycling commentary for Petunia Pig: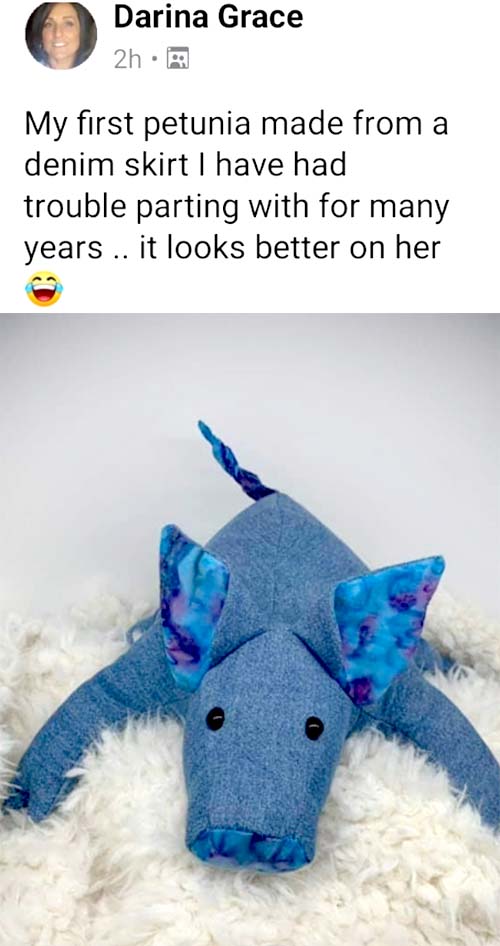 Click HERE to buy the Petunia Pig pattern.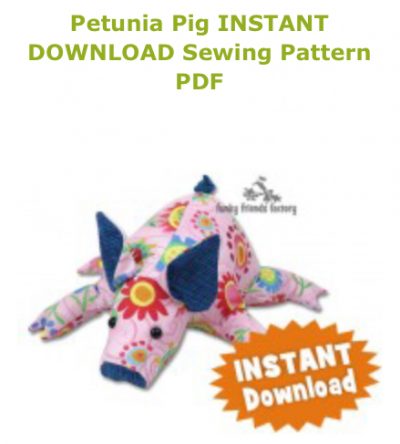 Perfect fabric placement adds a loving touch to this Keep Me Keepsake Bear by Kathy Schmid Vitz. Kathy removed the collar from the decorated blouse that inspired this toy and sewed it on by hand after the toy was finished. It's an easy way to make your toy look like it is wearing custom clothing.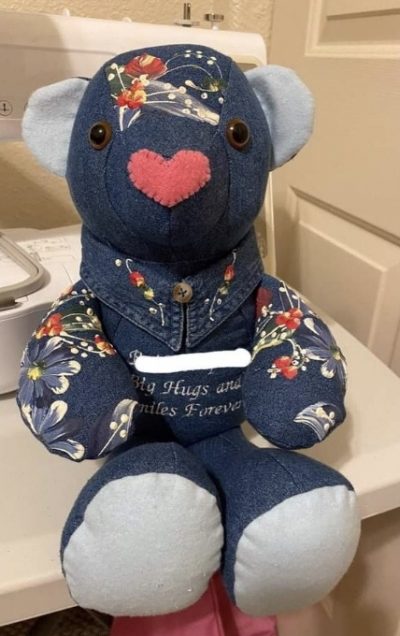 Click HERE to buy the Keep Me Keepsake Bear pattern.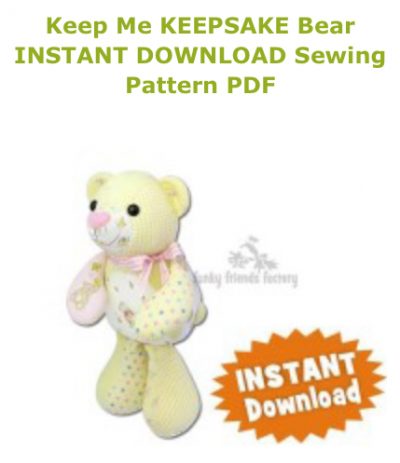 Are you getting excited to sew denim toys?
YES! It's time to hunt down all you old denim jeans, jackets, shirts, dungarees, and overalls to turn into super cute recycled toys for the COMPETITION! 
⚠️ BUT first – a warning!!! ⚠️
If you have never sewn with denim, there are a few things to keep in mind in order to prevent damage to your sewing machine…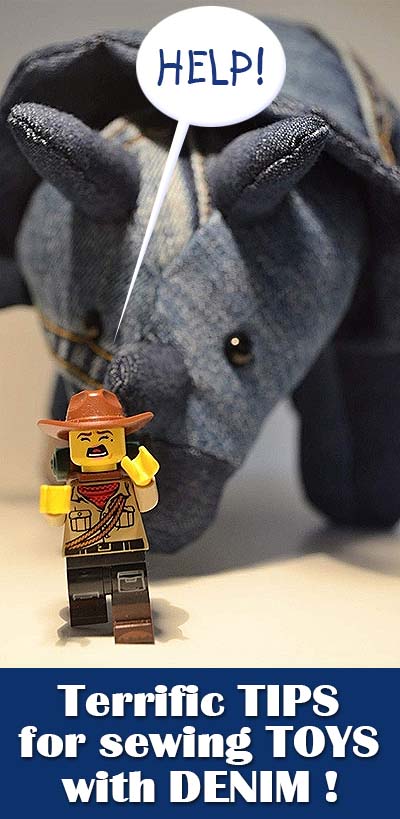 The adorable version of Trixie Triceratops above
was sewn by Sarah Kilshaw!!!
Here are some TIPS for sewing with DENIM fabric:
⚠️ First up, make sure to use a sewing machine needle that's specifically labeled for Jeans or Denim.  Here are a few examples.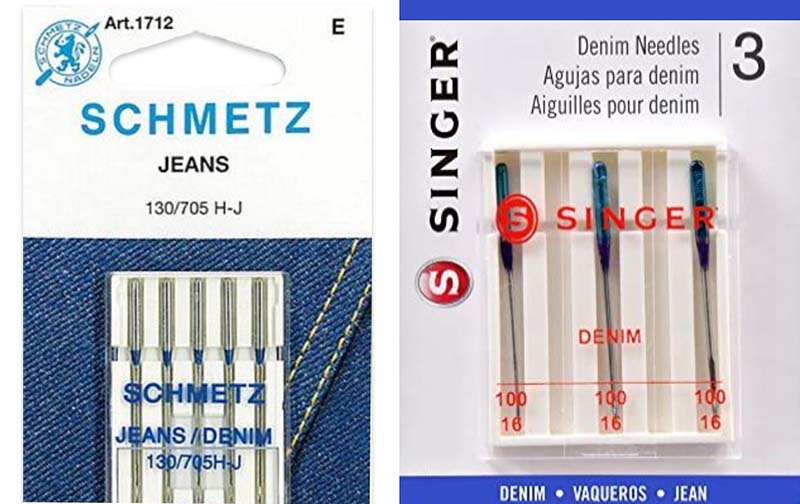 ⚠️ Next, if this is your first time sewing with denim, you need to watch out for BULKY SEAMS. The best approach would be to avoid tracing your pattern pieces over any bulky seam lines at all. To do this – lay the denim flat and only use the parts that don't have seams.
⚠️ For the more ADVENTUROUS – if you like the look of the denim seams (and other features like studs, pockets etc) and want to try INCLUDING them into the toy, there are some easy ways to avoid problems. Sewing over a bulky seam too quickly or with the wrong needle can jam up or even break your machine, so I recommend hand cranking your machine over any seams….
GO SLOW!
Alternatively, you can buy an inexpensive "seam jumper" tool like the one pictured below. It will help your machine sew through the bulk.
Ok, let's get back to the Recycled denim SEWING COMPETITION…
WHAT can you WIN?
You can win a WIN a Funky Friends Factory Pattern Gift Voucher ~>
valued at


$50!!!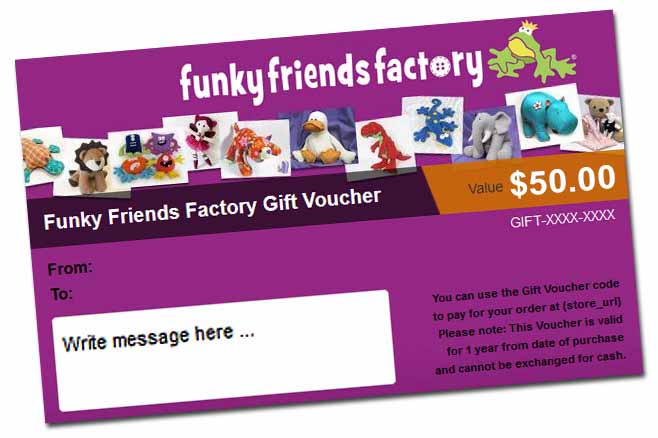 HOW do you enter?
It's easy! Post a photo of ANY Funky Friends Factory Pattern that you have sewn using recycled denim, on the Funky Friends Factory Facebook Page (or in our Pattern Fan Club Group!) to be in the running to win a Funky Friends Factory GIFT VOUCHER…
(It can be ANY Funky Friend Factory pattern that you have sewn as a RECYCLED DENIM TOY. You can add some highlights of other fabrics BUT it needs to be OBVIOUSLY created from denim clothing – or it can't be entered in the draw.)

Want an extra chance to WIN?
Share any of the pictures above on your Social Media (Facebook, Pinterest, Instagram etc) and leave a comment to let me know where you posted them!
*** The winner will be drawn on Wednesday 30th April 2021 ~ using random.org and announced here in the comments AND on the Funky Friends Factory Facebook page. ***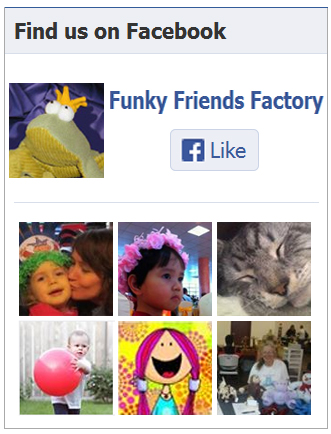 I can't wait to see your recycled denim Funky Friends on Facebook…
Happy RECYCLING everyone!!!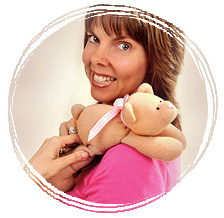 Till next time,
Pauline
xxx