Welcome to Week 3 of our Creative Spaces Blog Hop. This week's theme is Sewing Room ORGANIZING TIPS so you will get heaps of inspiration from the 16 designers posts.
* If you missed week 1 (My Studio before and after) you can read it here…
and week 2 (My favourite Sewing Tools) you can read that here
* AND don't forget to check out MY GIVEAWAY at the end of this post!!!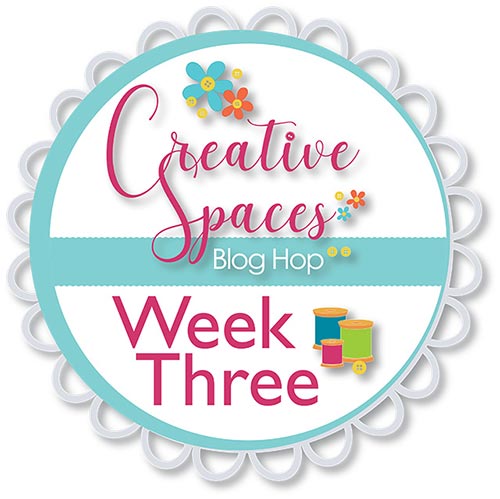 OK, here goes ~ Week three:
My Sewing Room ORGANIZING TIPS.

I was wondering how I was going to say ANYTHING on this topic AND I know a LOT of my close friends would NOT believe me if I said I can offer advice on how to organizs a sewing room… BUT I seem to have surprised myself! While taking photos around my sewing studio for this post, I realised I AM quite organised… I just keep it well-hidden! AND that is MY secret TIP for keeing your sewing space organized… keep things hidden!!!! 😀
TIP 1. CURTAINS!
I don't sew a lot of things besides my softies, mainly because I don't get the time to do much else, but also because there's something about sewing a purely practical item (like curtains or pillow cases) that just doesn't appeal to me – personally. Don' get me wrong, I drool over quilt patterns and would give my right arm, (or maybe left leg!?) to have the time to make my own "memory quilt" from all the left over bits of fabric that I have been saving from my toy-making projects. BUT, back to the point, I HAVE sewn some curtains – ONCE – for my sewing room! They are made from plain calico (muslin) and 'blend in' so well into the background of my sewing studio that I almost didn't think about them, until I was photographing the 'choas' under my desk-space, and then the penny dropped ~>
Look at what the space would look like without them!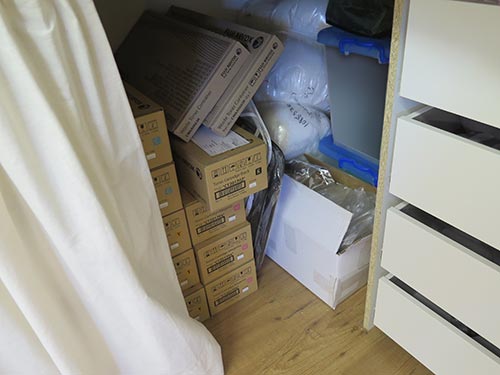 I realised –
curtains ARE
an organization trick! 🙂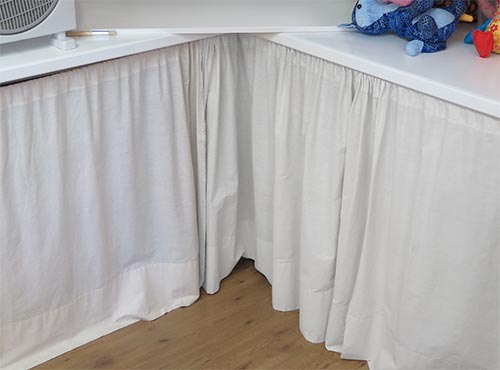 TIP 2. IKEA WALL ORGANISERS:
I think IKEA must be Swedish for ORGANISED! 🙂 How cool are these awesome storage containers for removing clutted form your sewing work space! They are really cheap too, and flexible – you buy a rail and add on as many buckets as you need. I am "still in training" to pick up and put back as I go along BUT…
it feels great to have such a big clear space to work on! 🙂

It took me a while to find them on the IKEA webiste because I thought they'd be in the Office section but they are in the kitchen section as they are designed for kitchen utensils. They are called SUNNERSTA containers or wall organisers! 🙂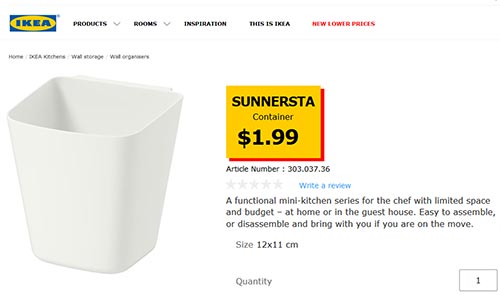 TIP 3. DRAWERS:
Or is that draws? I never know! 🙂 Again IKEA came to my rescue BUT any drawers will do. So much 'mess' can be hidden away in a chest of drawers! I LOVE bright, funky colours BUT something about the cool, white outside of these draws when you shut them…
makes me feel verrrrrrrrrrrry
calm and serene and ORGANIZED!!!! LOL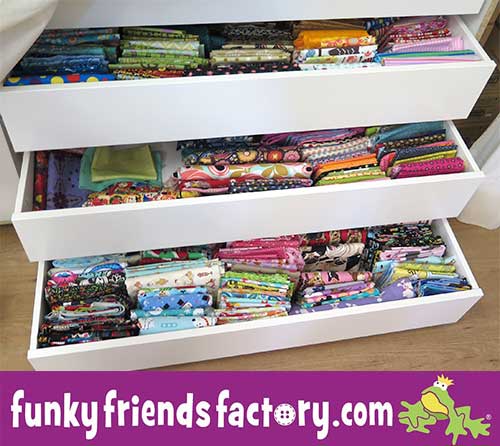 There are all sorts of sizes but I like the wide ones from IKEA for my fabrics. They are called Komplement Drawers.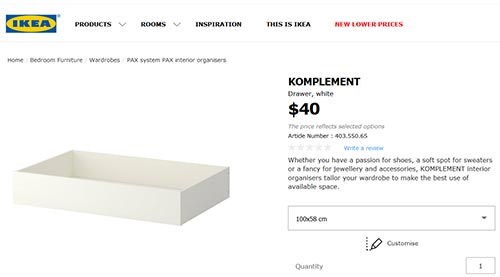 TIP 4. STATIONERY DRAWERS:
I love stationery shops… maybe you're the same? (I don't know what it is?) Stationery shops are filled with nifty organizing things like these handy stationery drawers. I use them to store heaps of different things – all my stationery (of course!) as well as POST stuff like pre-post satchels, stamps, envelopes and ribbon… craft eyes, felt pre-cut shapes and sewing tools too!
OOPS! I have to admit my labels aren't the neatest!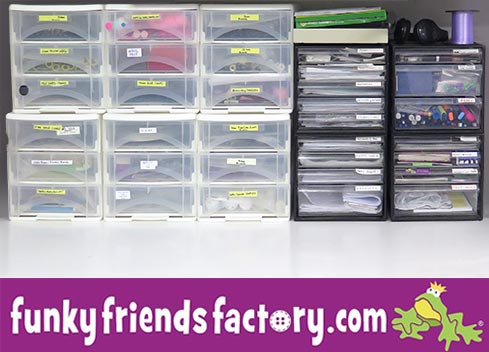 TIP 5. FOOD STORAGE CONTAINERS:
These are white plastic containers are actually 5 litre ice-cream containers… and I have 100 of them! 😀
Now before you think I am a greedy pig – I actually found a local ice-cream manufacturer and bought them EMPTY!!! They are great for storing all sorts of sewing paraphenalia. As you can see I keep zips, thread spools, elastic, bias-binding, cord, ric rac and velcro in them!
*You can label them easily with a permanent pen.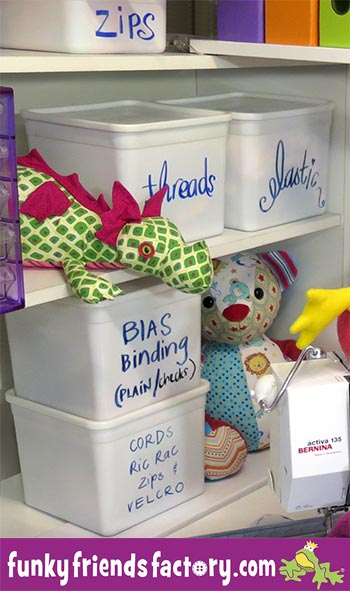 Well, I am afraid… that's all I've got!

After that talk of ice-cream, I think it's time for my lunch! Don't forget to check out all the other lovely designers to see their organizing tips, I bet they have MORE than me!?
Mondays
Tuesdays
Wednesdays
Thursdays
Fridays
Saturdays
Sundays
And now for…
A FunkyFriendsFactory Giveaway!
I am giving away a complimentary Membership of my Sew Many Funky Friends Club as a prize for this Blog Hop.
What IS the Sew Many Funky Friends Club?
It's a super cool community for people who love to sew Funky Friends Soft Toys and you can find out more about it on https://sewmanyfunkyfriendsclub.com/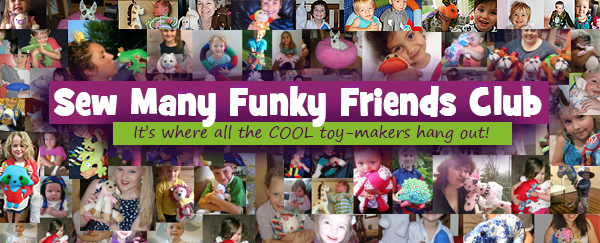 I will draw a winner just before my last post of our Blog Hop from all the comments on my posts…
So be sure to leave a comment on this blog post – to let me know if YOU have a fabulous organisation tip for a sewing room or if you think you might try one of MINE – to be entered to win a complimentary Membership for the Sew Many Funky Friends Club!!!
Thank you for letting me share my sewing room organizing tips with you!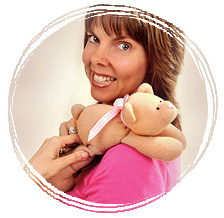 bye for now,
Pauline
xxx