I had such a great time at the Show – 5 days of chatting and clowning around with the other stall holders, hanging out with my toys and meeting some of my lovely online friends in person! WHAT FUN!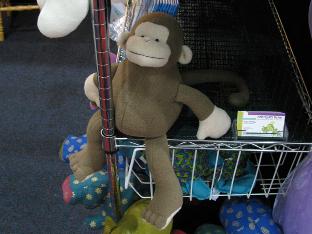 It went by in a flash and before I knew it it was time to pack it all up and go home – Waaaaaaaaaaaaaaaaah! : (
Well the good news is my darling hubby came home from his boy's fishing trip JUST in time to help me dismantle my stand – and even brought home some freshly caught fish too!
I really had some awesome neighbours…
I was next to Leonie and Mal (and their fun friend Lisa) from Stacey's at the Gap. They offer fully-catered quilting and scrapbooking retreats at their 10 acre cattle property, which is surrounded by world heritage listed Main Range National Park, just over an hours drive from Brisbane. I've been to Cunningham's Gap and it is just breathtaking!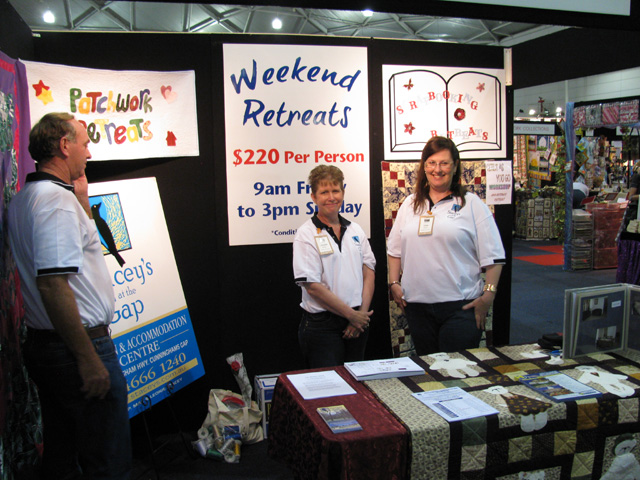 On the other side were the lovely ladies from Kaszazz scrapbooking… …and opposite me were the festive bunch from Photo Continental.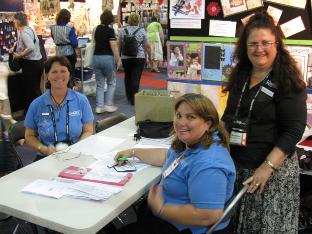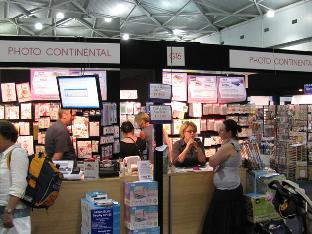 ..And, now I am proud to say – I actually know someone exhibiting their own artwork at the show!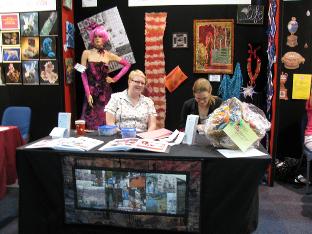 On the left is my friend Mel from work who had her fabric art on display, some free form machine drawing, an exquisite quilt and the funky purple and black outfit on the mannequin is her artwork too!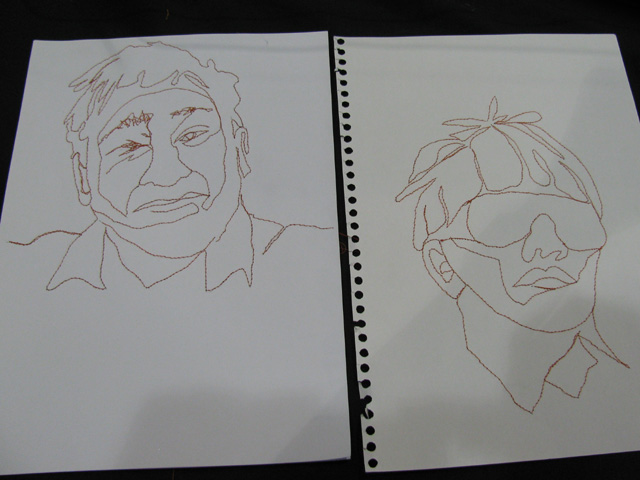 ..this is sewing NOT sketching – WOW what a steady sewing machine you have Mel! : )

I just wanted to say a HUGE thank you for every one who stopped by to say hello to me and my Funky Friends, I didn't remember to get out my camera for everyone – so here are SOME of the lovely people I saw at the show!

This is Claire (who I met at a previous show), Amanda (who told me she actually reads my blog – yeeeeehar!) and Nicole from Purrfect Petsitting who I met through facebook – she has made the most gorgeous toys from my Cat Toys pattern for the pets she's sitting, it's true – you can check out her cat toys on the on the Funky Friends Factory Facebook Fan page!



Cherie (from Cherie's corner), Robyn (who was up from NSW!) and Bethany… who has bought soooo many patterns her mum says she must be my biggest fan!!! : )




This Donna (who's son has a "ellie-Fint") and Susie with Artie Aardvark (who went home and MADE up the Stu the Sea Turtle Pattern while I was STILL at the show!!!! She made him for her son who broke his collar bone that day and he turned out so cute – check them out on her blog!
Kerry, in the middle was so excited as she JUST bought the Homespun magazine for the Chrissy Camel article!) and Kathy who bought my Baby Bunny pattern last year and has made TONS of baby-safe bunnies!


And last but not least…

It was lovely to meet online friends in person and I even got to meet Fiona and 'Grandma Mac" herself of Grandma Macs Quilts….and in the middle is Karen who made me laugh when she said she's SUCH a fan she's saved me in her favourites!! : ) And lastly, a big thank you to Mal and Leonie who helped 'man' my stand so I could get a quick gap every now and then… Mal it seems couldn't stop himself from playing (rearranging?) my toys, maybe it took him back to his childhood??? : )
Well, as you can see… I had a blast, and I didn't want it to end… I am now looking forward to next year's Craft and Quilt show…
See you there!
Bye for now,
Pauline