Well, if there's one thing I rather NOT focus on, it's my feet!!!! Being so tall I guess I can just ignore them (all the way down there!) BUT as a teenager, I remember 'dying a thousand deaths' every time some insensitive classmate would say at the top of their voice,

"Oooooh look how BIG your feet are
– they're HUUUUUUGE!"
 Isn't it funny how these things stick with us as adults?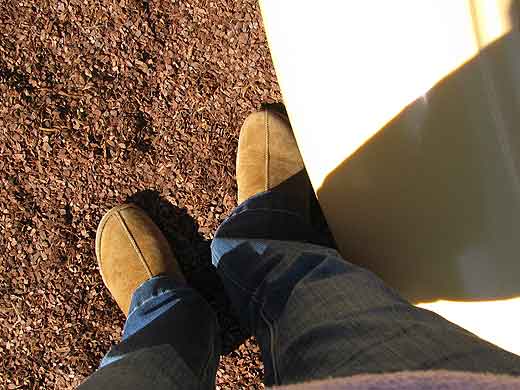 Right, moving swiftly along…
I got a lovely email from Jen recently, whose nieces and nephews are all huge fans of Ellie the Elephant. Jen asked if I could help her with some tips for sewing her softies' feet as her foot pads always end up with pinching or puckering on the seams, no matter what she does. So let me get straight to it ~> and show you how to make PERFECT FEET for your next softie creation – nice and neat, without any pesky puckers or pleats, and of course, dainty and pretty to look at!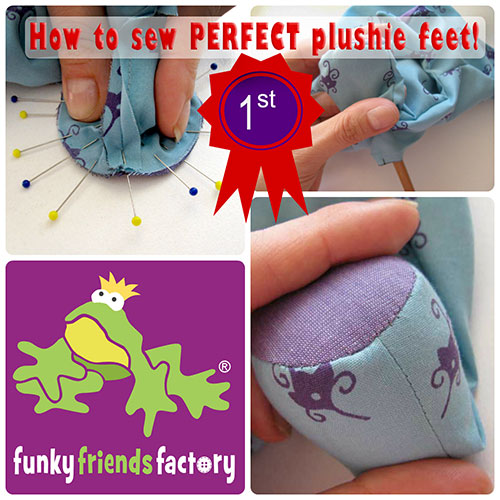 First let me show you this 'not-so-nice-looking foot' for those of you who may be wondering what on earth I am talking about. OK, here is a wrinkly, pinching, puckered, foot…
I almost don't want to show you!
It's not bad, BUT certainly not BEAUTIFUL!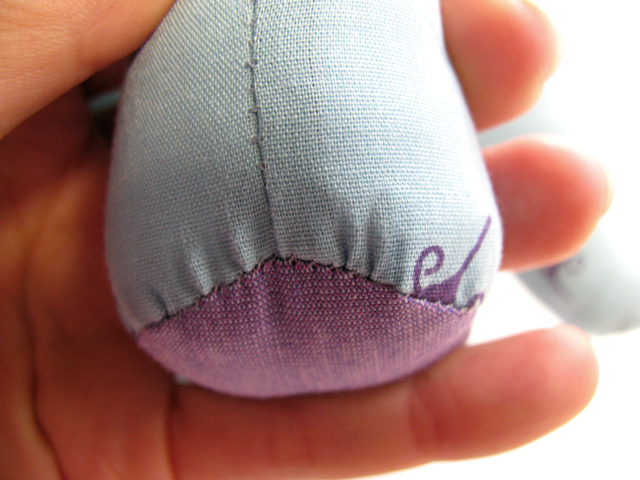 Right let's banish those pesky puckers,
once 'n for all…
STEP 1


Pin the foot pads in place, starting with 4 pins, front back and on each side.

(North, South, East and West, if you like!)

STEP 2


Place another pin between the first 4 pins, so you should have 8 pins so far.
STEP 3


Turn the foot over and pin from the other side. Place a pin in between the pins on the first side. You should end up with a 'pinwheel' which looks a LOT like the new pins which you buy at the haberdashery store!

(This is also the position in which you will SEW the feet)
STEP 4


Sew with the foot pad flat, facing down, and all the pins sticking outwards. (Makes me think of an octopus!) I move my sewing machine needle to the very LEFT position and sew with the edge of the fabric running along the inside of the right-hand prong of the machine foot so that I get a ¼inch/5mm seam. ('scuze all the technical terms!)

* Pull the pins out just before you are about to go over them. Pins can do a lot of damage to your machine or your eyes if they snap!!!
STEP 5


Clip or snip your seam, be extra careful NOT to snip your sewing line! (This allows the seam to flex a bit which helps smooth out the puckering.)
STEP 6


I always use my thumb to turn the feet 'into the body' BEFORE I turn my softies inside out. (I do this with all smaller parts as it makes turning the toy much easier.)
STEP 7


Then I use a wooden chopstick as a turning tool to help me turn the seems properly. I smooth them out by running the end of the chopstick back and forth so the stitches can be seen, right around the edge of the footpad.
STEP 8


ALL that's left to do is to stuff your feet FIRMLY so the toy stuffing 'puffs out' the foot.

AND all the pesky puckers are GONE!
Well, it was fun making these pics, and I hope that it helps you to make the MOST GORGEOUS softies' feet ever!
.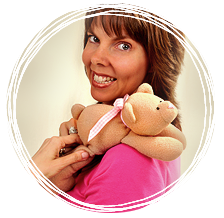 Till next time… happy sewing!
xxx
Pauline