I'm totally impressed by the creativity of this week's Easter themed Funky Friends toy entries for the EASTER SEWING COMPETITION! 
Check them out and read how you can enter yourself down below… 
Some Beautiful EASTER TOY
SEWING COMPETITION Entries…
I've never seen a version of the Easter Bunny Pattern sewn in giraffe print (left), but Kathy V. shows you can make & sew toys in any fabric!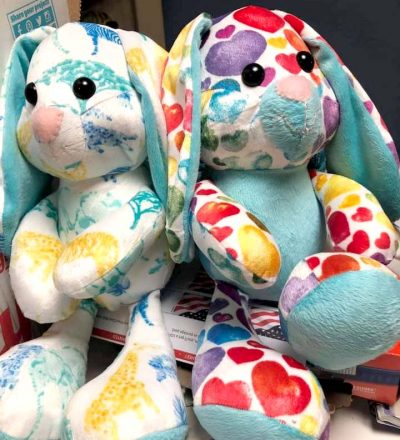 The bunnies are multiplying! Liz A. made a mountain of yellow rabbits from the Easter Bunny Buddies Pattern .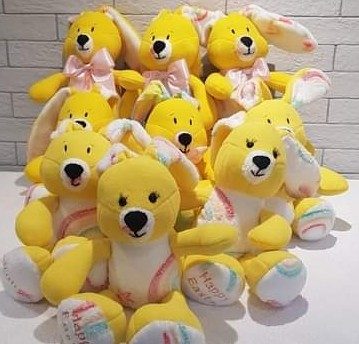 Ready for more yellow bunny fun? Here's a bright Easter Bunny Pattern sewn by Paula B.
Christine S. used some white felt behind the craft eyes on her version of the Easter Bunny Buddy to help them stand out against a dark fabric. Looks great! 👀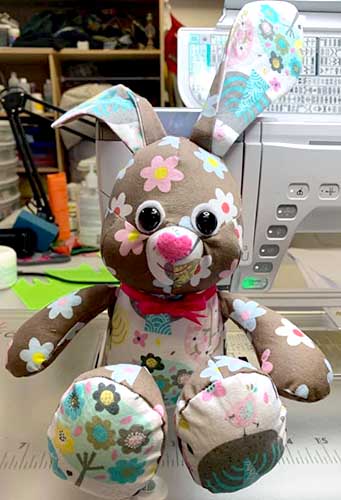 Click HERE to purchase the Easter Bunny Buddies pattern.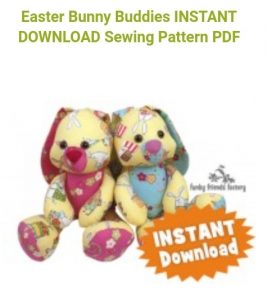 Who says a duck HAS to be YELLOW??? This purple version of the Dilby Duck Pattern sewn by Emma C. reminds me of vibrant springtime flowers.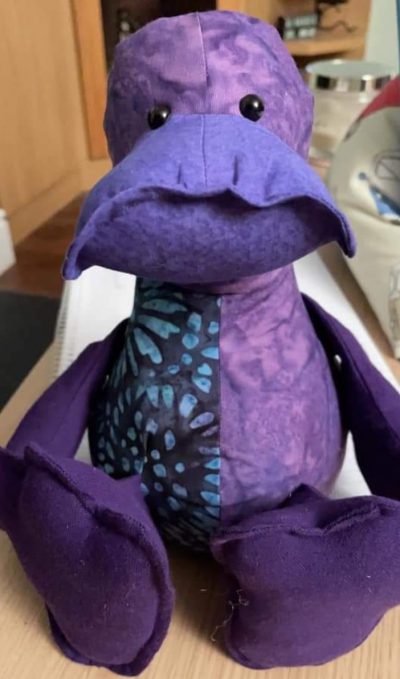 Click HERE to purchase the Dilby Duck pattern.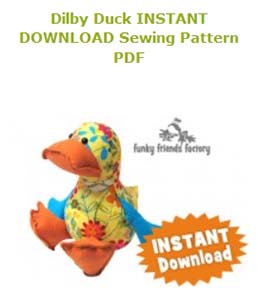 Emilie G. is sewing six Egghead Easter Chicks this year and shared her first two with us. That jelly bean fabric is so fun.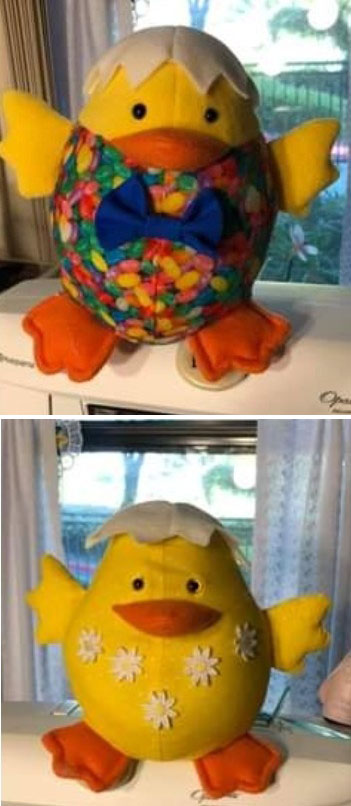 And I can't believe it, but I think this is the first Egghead the Easter Chick I've seen in the rosebud swirl style minky fabric. I love the texture of the fabric on this chick by Cherie E., and she says this little guy makes her smile every time she sees him.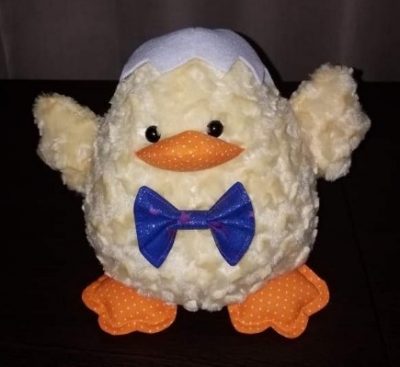 Click HERE to purchase the Egghead Easter Chick pattern.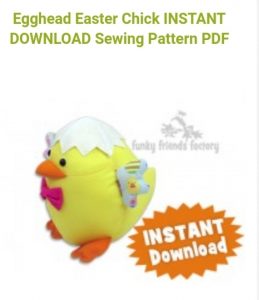 We didn't have an entry for the  Lamkins Lamb Pattern this week, so here's a favorite lamb from the past sewn by Bunty's Basket Keepsakes.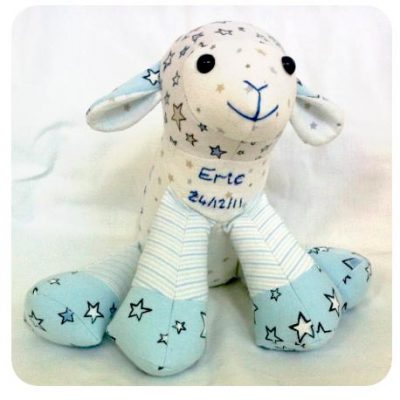 Click HERE to purchase the Lamkins Lamb pattern.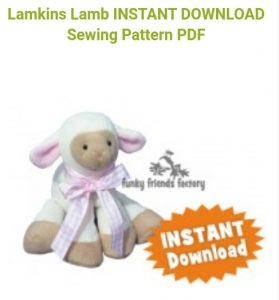 We had a ton of Baby Bunny toys pop up (hop up?) this week, including this adorable matching pair Nina T. sewn for her grandkids. I like the creative fabric placement!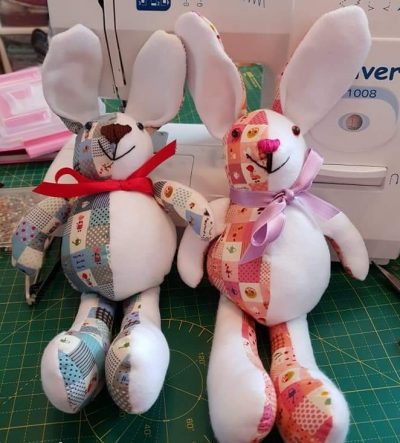 How sweet is this little Baby Bunny Pattern sewn in cupcake fabric by I LOVE it!!!!!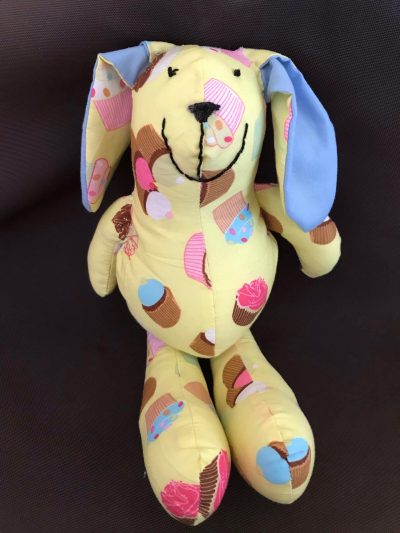 Click HERE to purchase the Baby Bunny pattern.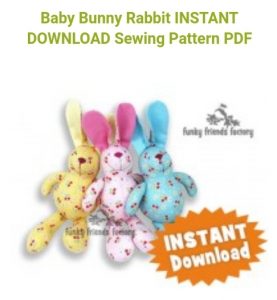 And last, but not least…
Any Funky Friends Factory pattern can be dressed up for the Easter Contest!!
JudyH decided to sew a Puppy Pete for her granddaughter's Easter present (who she re-named "Penelope"). With a tutu and an Easter bonnet in tow, Penelope is ready for her big debut.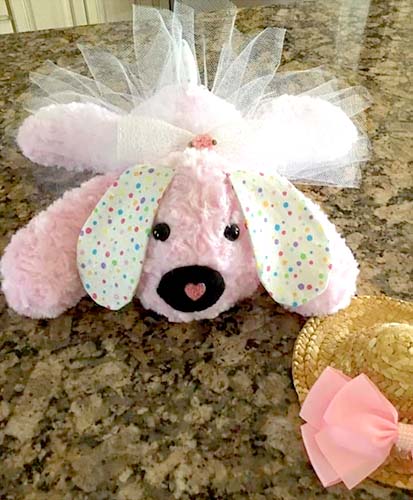 Click HERE to purchase the Puppy Pete pattern.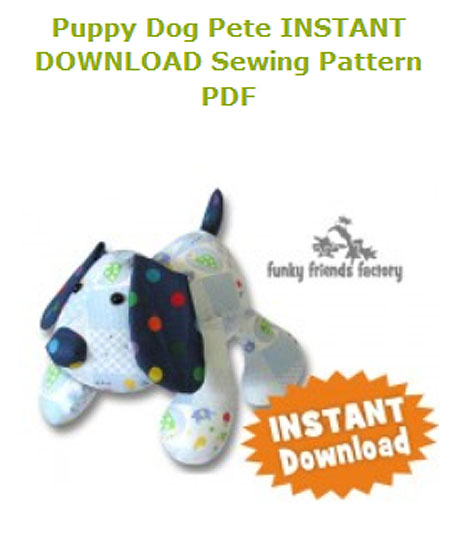 Why don't YOU enter your own Funky Friend for the Easter SEWING COMPETITION?
WHAT can you WIN?
You can win a WIN a Funky Friends Factory Pattern Gift Voucher ~>
valued at


$50!!!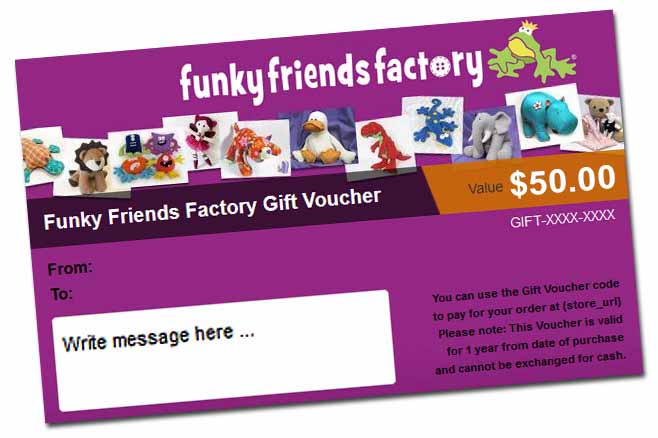 HOW do you enter?
It's easy! Post a photo of ANY Funky Friends Factory Pattern that you have sewn as an EASTER TOY on the Funky Friends Factory Facebook Page… (or in our Pattern Fan Club Group!) to be in the running to win a Funky Friends Factory GIFT VOUCHER…
(It can be ANY Funky Friend Factory pattern that you have sewn – one of the Easter Patterns or any other Funky Friends pattern sewn up in Easter colors or Easter print fabrics! In other words – it needs to be a Funky Friends Factory toy YOU have sewn that LOOKS "Eastery"!)

Want an extra chance to WIN?
Share any of the pictures above on your Social Media (Facebook, Pinterest, Instagram etc) and leave a comment to let me know where you posted them!
*** The winner will be drawn on Wednesday 31st of March 2021 ~ using random.org and announced here in the comments AND on the Funky Friends Factory Facebook page. ***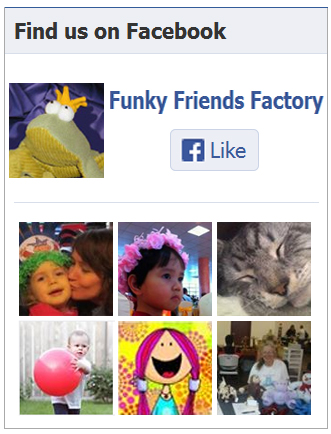 I can't wait to see your Easter Funky Friends on Facebook…
Happy EASTER sewing everyone!!!!!!!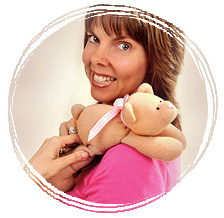 Till next time,
Pauline
xxx